Enter dates to see full pricing. Additional fees apply. Taxes may be added.
4 Rentals
· Turrialba Volcano
4 Rentals
· Turrialba Volcano
This is a family 3 bedroom home, 2 bathtub,front porch,back yard, gated,garage, cozy home ,children friendly,nice view of the mountains,and volcano. House is not too far from shopping center,downtown,bus stations,schools,church, and gas stations.etc
This house is located in a city named Turrialba in Costa Rica, in Turrialba you can enjoy hiking,swimming in rivers, river rafting, sky diving,an hiking to the Turrialba Volcano to the surrounding small villages, has a good restaurants, people is friendly, crime is very very low, is surrounding by a semi-active volcano, falls, coffee mills, sugar mills. Bus stations, restaurants, rivers, river falls, lots of hiking places,view to the semi-active volcano,river kayak ,friendly people, low crime city,Indian national park., coffee refinery,sugar mills..bird watching, and much much more.. Host lives in Turrialaba city, for any questions,her local phone numbers and other information will be provided as soon as house is booked.
Turrialba is a place where you can relax, enjoy the clean air, people is friendly. crime is pretty low, and there are lots of things you can do there or from there, and most of all the house is affordable for you and your family Taxis and buses are always at hand, the main bus station and downtown is not even 4 blocks away from the house.. Turrialba holds a scientific research studies in a Academy named IICA , now named CATIE. Turrrialba was chosen among many countries in the americas, for its most fertile land .
The host canceled this reservation the day before arrival. This is an automated posting.
Jessica
The host canceled this reservation 49 days before arrival. This is an automated posting.
Brian
Graciela was a great host and very friendly. She was available when we needed something and responded fast whenever we had a question. The house is perfect for what we needed and has everything a family would need. We had a beautiful stay in the house and a nice time in the area. It is a very beautiful region. Thank you Graciela!
Maya
November 2016
We wished we had more days to spend at this house in Turrialba. Graciela was so very kind and accommodating. The house was very clean and comfortable and the amenities were much appreciated. The hot water was a perfect temperature and the off-the-street parking was very secure. The house is located in a convenient part of town on a quiet, dead-end street. We would have given a 5-star rating had there not been a rooster perched in a tree near our window that crowed all night.
starr
June 2015
La casa es muy acogedora, con bonitas vistas en una zona tranquila de la ciudad, totalmente equipada. Graciela fue muy amable y atenta con nosotros.
Elena
December 2015
Nos sentimos como en casa en esta propiedad muy cómoda. Graciela y su hermano Marcelo eran muy amable ! Gracias por todo ! :)
Gwenola
July 2016
Graciela en haar broer Marcello hebben alles gedaan om te zorgen dat onze vakantie plezierig verliep. We werden hartelijk ontvangen in een schoon en ruim huis. Het huis is ook zeer geschikt voor gezinnen met kinderen, je kan probleemloos lopen naar het stadje, het ligt gunstig naast een busstation. Het huis is van alle gemakken voorzien, het is echt om aan te raden om hier aantal dagen te verblijven. We hebben genoten van gastvrijheid en mogelijkheid om kijkje te nemen in leven van Costaricanen. Gaciela en Marcello zijn zeer behulpzaam en vriendelijk, ze helpen je graag met tips en informatie.
Lucja
July 2015
Room type
Entire home/apt
---
Property Type
House
---
Accommodates
5
---
Bedrooms
3
Turrialba
Villa Luz de las Nubes is perched on the side of a mountain overlooking the valley of Turrialba and facing (at a safe distance) the Turrialba Volcano. The view is spectacular. The house is very comfortable and spacious,with everything you will need to feel at home. The nearest village is Tuis (about 2 kilometers)the next larger one is La Suiza which has a bank, stores, restaurants. The major city is Turrialba and it is about 35 minutes away. The area where the farm is is strictly rural.
The house is spacious. The huge windows create an incredible natural ambiance. The three large bedrooms sleep seven and air mattresses are available if you need them. The kitchen is large and well equipped. We do not have heat or air conditioning. You won't need it. The windows are screened and I choose to leave them open both day and night. Guests may wander the entire farm if they choose. There are wonderful spots for photography and birdwatching. They can help care for the animals or learn to milk a cow! The horses are available for lessons or a guided tour. Please make yourselves at home. Mi casa es tu casa! Our wonderful caretakers, Yenory and Alfredo, will be your hosts. They live in a separate house on the finca and will be available 24/7 to assist you. Housekeeping, laundry, and cooking can be arranged but are not included in the rental price.
Our area is quiet and safe. The gate is locked at night . If you choose to eat out rather than to use our kitchen to prepare meals there are several excellent options in the area ranging from typical to gourmet. Turrialba even has a sushi place! There are many interesting excursions easily accessible if you have a car. These include: white water rafting, kayaking, canyoning, canopy tours (zip lines), botanical gardens, archaeological ruins, butterfly farm, coffee plantation tour, horseback riding, bird-watching and trips to the volcanoes. You may even choose a trip to the wonderful caribean beaches and the Sloth Rescue Center in Cahuita! We suggest that you rent a 4-wheel drive vehicle at the airport as the access to the farm is steep. You probably wouldn't choose to walk it frequently! I will be happy to send detailed directions and gps is available with most rentals. Be sure to bring your camera, good hiking shoes and a sense of adventure!
We were welcome by Alfredo and Yenory. They were very nice and helpful poeple The house was as discribed by Jacquelyn and was very confortable. If the notice for using the Washing machine were posted that would have been great. We would not had to wait for someone to show us as this Washing machine is Well different for the one we use here in France
Dominique
January 2016
The drive up the mountain was a bit rough but totally worth it; the house was beautiful and the view was AMAZING!
Blaine
March 2014
The description says the property is near Turrialba. But it is in fact two towns further down near Tuis. A 45 minute cross country drive from Turrialba. It was a challenging drive, we had an accident on the road to the property trying to negotiate a small bridge. The property itself is large, big enough for a family escape. I think that is what this property is best suited for. We were warmly welcomed and shown around, knowing just a few words of Spanish will help you here a lot. We like dogs, but not borderline starving ones. The black and white springer spaniel looked gaunt. The other two fawn dogs looked in much better health. All the dogs are very placid and lovely, it was a shame to see one chained alone, howling while the other two were not. Once you do reach the property the views are uniquely spectacular. Also there is wildlife in the area such as birds and toads which you can watch from the home. Aside from the travel and the dog which we think needs more tlc the property and host are good. It just wasn't for us. The journey up killed it for us, luckily we had insurance. Few other things. The toilets often didn't flush. The windows don't close tight so make sure you use the mosquito net. My wife fell onto it and the string holding it up broke, apologies I didn't fix it I wasn't tall enough to re-tie it.
Ty
August 2016
¡Pura Vida au Costa Rica! Nous avons passer 3 nuits dans la maison, nous aurions voulu rester plus. La maison est très belle est grande. La vue du volcan est magnifique. Les matinaux seront récompensés car les oiseaux sont très beau, de très nombreux colibris tournent dans le parc. Il s'agit d'un ranch avec des chevaux, des vaches. Les employés Yenory et Alfredo sont très présents et très gentils. Ils s'occupent du parc et des animaux. La route n'est pas aussi mauvaise que ça bien que le 4x4 soit judicieux, certains locaux sont moins bien équipés voir la font en moto. La maison est dans une réserve naturelle, nous avons aperçu des Toucans et des vautours. Turrialba est un endroit super, de nombreuses activités sont possibles. Nous avons visité le site archéologique à 1h de route de la maison. L'endroit est bien pour un long séjour et pour rayonner au Costa Rica. Cerise sur le gâteau pour les enfants, il y a une belle cabane dans un arbre qui s'illumine la nuit grâce aux lucioles.
Olivier
August 2016
Room type
Entire home/apt
---
Property Type
House
---
Accommodates
7
---
Bedrooms
3
Turrialba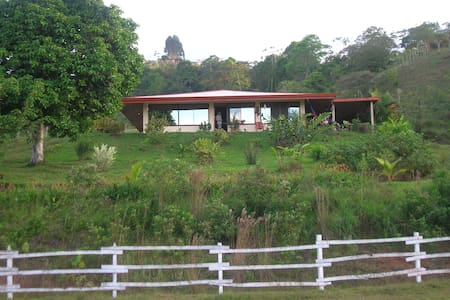 Our cozy and comfortable cabin are fully equipped with kitchenette facilities, also includes a fire stove per room, unique volcano views and plenty of space to enjoy your stay.
The cabins are located in a working cattle ranch, our property with over 100hectares can offer our guests plenty of space for hiking, mountain biking,sightseeing, or just relaxing.
Room type
Entire home/apt
---
Property Type
Cabin
---
Accommodates
6
---
Bedrooms
1
Volcan Turrialba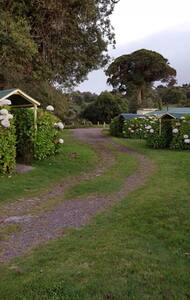 My place is not close to anything! is a hidden cabin in the montains, special for hiking, birdwatching or just relax away from crowds and cities. You must bring everything you need to eat and drink. There is clean water and electricity. We will supply wood for the smokestack. WiFi you can bring some prepay movil device to connect to web. You'll love my place because of the views, the outdoors space. My place is good for couples, solo adventurers, families (with kids), and furry friends (pets).
This is near National Park Volcan Turrialba, National Park Volcan Irazu, National Monument Guayabo, Waterfalls Acquiares, etc. You can see from the top of the hill both coasts, caribean and pacific. The only way to get there is by renting a 4x4 car, or a cap or Uber. But the best choise is to rent a car because you need to make some groceries shopping before hitting the mountain.
Plenty of tree, wild life, fauna, clouds. There is no public transportation to the house. If you want to go by public transportation you will walk for hours and hours.
Room type
Entire home/apt
---
Property Type
Cabin
---
Accommodates
5
---
Bedrooms
2
Turrialba