In the heart of Venice, here is a charming pool house which has all of the basics needed to have a wonderful time exploring LA. Must love dogs (I have 2!) and shower/bathroom is rustic and outdoors with a cool surf board door. See photos!
Welcome to the best spot in Venice 7 blocks to the beach and Abbot Kinney Blvd! With your own private entrance, you have a charming pool house in the back of my house with all of the amenities necessary to spend most of your time exploring the city. You have your own private entrance with two twin beds (one pulls out and they can be put together to make a king bed), TV, Wi-Fi, access to beautiful outdoor seating , the kitchenette has a refrigerator with separate freezer, coffee & espresso maker, toaster oven and microwave, filtered water dispenser, but no full kitchen, washer/dryer and access to my bikes, boogie boards & skateboards! The shower/bathroom is located outside in a fenced-in area with a surf board door. I will provide the basics: shampoo, conditioner, body wash & hair dryer. Plenty of free street parking available. ***MUST LOVE DOGS: I have 2 friendly dogs that live with me in my house in front, I will keep them inside for the most part while you are here, but they will be around.
Venice Beach, arguably both the most relaxing and exciting part of Los Angeles. It is in the perfect location to maximize your stay with easy access to the Venice Boardwalk, Santa Monica, Marina del Rey and Brentwood. It's an easy drive to Malibu, West Hollywood and other areas in the city.
I had a great time staying at Jana's. It's the full on VB experience and minutes away from the beach, amazing food and great shopping on Abbot Kinney Bvld. I would go back for sure. Thanks Jana!
chris
2015-10-09T00:00:00Z
Jana made us feel welcome and set the tone for our entire trip. The backyard is very pretty with charming lights and decor. The inside of the pool house has all the amenities you would need and more! We tried out the jacuzzi and loved it. The bed was comfortable and I had a great sleep. She was very accommodating and a great host!
Yesenia
2015-12-10T00:00:00Z
Jana was so inviting and helpful. So many great places to eat and drink only short walking distances away. Loved taking out Jana's bikes and cruising around the beach and neighborhoods. It was nice to come home in the evening to the hot tub - even played a little ping pong and darts in the garden there. We had a great stay - thank you so much, Jana!
Justin
2016-01-06T00:00:00Z
Place was amazing couldn't have had a better
Matt&Marcy
2016-04-17T00:00:00Z
Jana was a fantastic, friendly host and provided all the amenities we could have wanted, plus lots of helpful recommendations of delicious places to eat in the area (we loved La Cabaña and Cafe Gratitude!). It was super fun to have a pool (with a slide), table tennis, and the bikes to go down to the beach and canals were a great touch! The room was great too, with a huge TV and lots of bits and bobs like coffee, tea, toiletries, fridge, microwave... Loved the outside toilet idea. And the bathrobes and towels were really soft. We were so sad to leave.
Kathryn
2015-09-03T00:00:00Z
To stay in Janas poolhouse was great fun! we enjoyed the stay very much especially the fantastic yakusie! Jana cared perfectly about everything. Was so great to meet her!
Andrea
2016-09-09T00:00:00Z
What can I say about this amazing spot it was by far one of the best Air B experiences..and Jana is truly amazing. Something so soulful about the place!
B
2016-04-30T00:00:00Z
This was my first airbnb experience and I think that this place really captures the spirit of a perfect airbnb stay. The pool house is amazingly well-appointed and comfortable. It was larger than expected and there is plenty of space to lounge outside. Jana is extremely warm, friendly, and detail-oriented. It was easy to get in touch with her, and she made me feel very well taken care of. It was a quick walk to great food and shops on Abbot Kinney, and from there, not far to Venice Beach. I had a short, but delightful stay, and had a great time getting a taste of this fun neighborhod!
Kate
2015-11-08T00:00:00Z
Room Type
Entire home/apt
---
Property Type
House
---
Accommodates
2
---
Bedrooms
Venice, CA, United States
A spacious guest house with a lot of natural light with easy access to Santa Monica, Brentwood, and all of West LA!
We are offering our recently built backhouse/studio in a centrally located residential neighborhood with very easy access to Santa Monica beaches, UCLA, and all of West LA. The studio is the entire second story (500 square feet) over a detached 2 car garage and shares the large and professionally landscaped backyard for the main house. There is 1 QUEEN size bed plus a queen size pull out couch that is surprisingly comfortable, a full bath, and a wet-bar with fridge/freezer, microwave, and coffee/tea accommodations. We can provide pack-n-plays and some toys, if needed, for anyone visiting with small children. The studio has an air conditioner/heater, but the A/C is rarely needed in the summer since there is a wonderful cross breeze and we are close enough to the ocean. Currently the garage is used mostly for storage and laundry so there will be very minimal noise of opening/closing the garage door below you. - Kitchenette with refrigerator, freezer, microwave, toaster, coffee maker and hot water kettle - Very comfortable Queen size bed. - Couch can sleep an additional 2 - 47" Flat Screen TV (added Jan 2013) with cable - DVD player - Clean Linens - WIFI/Internet access - Beach towels available, just ask - Spacious back yard with swings and a slide - "Pack and play", and toys available - Easy parking in front of house * Please tell us a bit about yourself so we know who we're communicating with. Thank you!
Great location, clean house. everything you need is there. Parking is also available.
Yaakov
2016-07-01T00:00:00Z
Nice place , Santa Monica beach nearby. A little bit too small for a family of 4 people; for a couple it would be perfect. Support of owner was great, thank you!
Yogi
2016-08-12T00:00:00Z
Wonderful clean and quiet. Very comfortable bed. All you need for a great place to stay. Close to grocery store and restaurants. Will be back for sure ! Thanks Julie
Margaret
2016-10-18T00:00:00Z
Ok
georges
2016-08-08T00:00:00Z
Thanks for the wonderful stay, Julie! The guest home was clean, very quiet, and safe. The parking was really easy - never had a problem finding a spot. Julie and her husband were both very kind and welcoming (offering suggestions and such during our brief conversations). We loved the private entrance as well. Highly recommended!
Phil
2012-07-27T00:00:00Z
The apartment was very comfortable, clean, bright, sunny and well equipped. The hostess was very gracious. Our needs for a brief stay were fully met.
Len
2014-01-09T00:00:00Z
Julie is a great host. My husband stays in the unit regularly and it is always immaculate and ready for him. Julie couldn't be easier to work with!
Margaret
2016-02-19T00:00:00Z
The room is great. It's big and has a good bathroom. Julie's house isn't so far from downtown. The room has a different acess than the main entrance. So you can come and go without disturbing the host. The only problem that a had was the internet. The wifi didn't work. For me, that I'm from another country, without a cellphone number from USA, was really bad.
Caio
2015-10-01T00:00:00Z
Room Type
Entire home/apt
---
Property Type
House
---
Accommodates
4
---
Bedrooms
Los Angeles, CA, United States
Historic 1906 Bungalow. 3 blocks to the Beach and 1 block to Main Street. Walk to Pier and 3rd street promenade. Completely private, quiet w/private entrance. Rustic Décore with Bohemian vibe. Jacuzzi Bathtub, Queen Bed. Free WiFi, HDTV with DVD player and wide selection of DVDs. Free parking, on street. Common yard area with rooftop deck .
Newly renovated and rustic 1906 Bungalow with bohemian vibe. You get the back half of the house with private entrance. Great Jacuzzi Tub and Shower with endless hot water. Street parking with the use of a parking pass. Common area in the backyard has a fire pit and many chairs to chill in.
Walking distance to Venice Beach, Shops, Restaurants and Nightlife, Santa Monica Pier, 3rd Street Promenade
The place is full of character, has got very relaxed feel to it, overlooking lovely inner yard with other bungalows - each in different style. There's a gorgeous frindly cat, and a bird feeder, where beautiful blue jays get their peanuts from. The bungalow has got modern fittings and is spacious. Its on a lovely quiet street, very close to bars/breakfast places/ farmer market on the next street along. & so close to the beach!
Iza
2014-09-28T00:00:00Z
This place was the perfect size for what we were looking for. Not a lot of space, but we were only there to sleep and were out during the day. The plumbing and furnishings are all new and very nice. The jacuzzi was a treat at the end of the day. The little garden area between the houses has a great backyard party atmosphere. It's a very cool little community, very laid back. We only saw Jeff once, but he was a very nice guy. He'd already anticipated our questions and everything was easy to find on the sheet of instructions he left. Street parking can be a little tricky, but we always found a spot eventually. We'd definitely stay there again.
Kathryn
2016-01-19T00:00:00Z
Comfortable, quiet, private, and a great location in Santa Monica - exactly as advertised.
Jeff
2016-02-05T00:00:00Z
Amazing location! Very quiet and comfortable, love the bath tub wish I could have stayed longer!
Celina
2016-11-06T00:00:00Z
Jeff's place was cozy and friendly, and Jeff was an amazing host. Overall I loved the vibe and would recommend staying at Jeff's place. Close to Food, shops and the beach in beautiful Santa Monica. It was lovely.
Stacie
2014-05-01T00:00:00Z
Wow, what a fantastic stay, Jeff was such a nice and caring host, fun to talk to, and full of great advice on the area. The bungalow itself was clean, modern, stylish, and spacious. The place is probably a 8 minute walk from the beach, if that, and its 2 mins away from Santa Monica's main street which is full of restaurants, shops, and other stores. If you are considering a stay in Santa Monica, just get this place, you won't find anything better for the money.
Devon
2014-06-09T00:00:00Z
My friend visited me in LA and I found this place for her to have a special night in venice close to the beach. I actually didn't stay but this is the best location ever for somebody who wants to enjoy Santa Monica/Venice. It is two blocks from the main street and the famous Urth Cafe. It was clear that the place is maintained with care. The tab, the sink and the wood on the floor and ceilings were shinning. My friend said she could literally stay there for a long time. They have a patio/common outside area and it is so Venice - It was great. Jeff responded to email/text quickly and he had everything ready for my friend. Thank you very much!
May
2014-08-05T00:00:00Z
This bungalow was exactly as described. Clean, comfy, rustic, lovely. Jeff was friendly when I met him, albeit for just a moment during my one night's stay. Made me feel right at home. Great location - super close to cafes and restaurants, the beach, and major thoroughfares on the west side. The bath tub was dreamy indeed. But don't forget to bring your own bath suds/goodies! Loved the privacy offered, and the beauty of the inside, Jeff built this space out in a functionally beautiful way, the decor was simple but had enough detail and spice to make it come alive and show you its magic. In the morning, I went and got breakfast from a cafe on the corner and spent some enjoyable time in the courtyard outside the bungalow, finishing up some work online in the sun and gorgeous LA weather. I would definitely recommend this loveliness to anyone staying in LA that does not need a kitchen space!
Natalya
2014-10-30T00:00:00Z
Room Type
Private room
---
Property Type
Bungalow
---
Accommodates
2
---
Bedrooms
Santa Monica, CA, United States
Relax in bright and light garden suite in Santa Monica. Private bedroom and bathroom. Garden has been organic for a little over 25 years. You may even pick your own fruit and flowers from the garden, when in season. Park with children's play area, exercise equipment, learning garden, orchard, just opened across the street...very nice.
Relax in bright and light garden suite in Santa Monica. Garden has been organic for a little over 25 years. You may even pick your own fruit and flowers from the garden, when in season. Guest suite has one bedroom, one bath and shared fully equipped kitchen (except no microwave) and dining area. You will only be sharing the kitchen and living room with myself. The guest suite is a shared unit in a triplex. It is an end unit. My family lives in two of these units and we have a full-time renter in the middle unit. We are approximately 3 miles from the beach. We are a couple of blocks from the park and Bergamot Station art district. We are about 1 mile to Santa Monica College. In the neighborhood you can walk to shops, restaurants and Trader Joes. There is also a quaint concert center at McCabes Music Center on Pico. The local bus stops are only a few blocks away. Santa Monica Pier and shopping malls are about 3 miles away. Free parking in front or side of guest suite. "On May 12, 2015, the Santa Monica City Council adopted the Home -Sharing Ordinance reiterating its ban on the rental of entire units as vacation rentals. The Home-Sharing Ordinance also legalized the short term rental of a portion of a person's home when the host lives on- site throughout the visitor's stay and when the host obtains a business license. Hosts are also required to collect and remit Transient Occupancy Tax (TOT) if not collected and remitted by the hosting platform."
Children's Park just a few blocks away. Redbox movie rental about 1 mile from here. Beach Bodies office across the street. Light rail train station within few blocks away. Beginning 2017 new park across the street.
My husband and I just had an absolutely fantastic stay at Marlene's. We arrived in LA with only a few days to find an apartment for my new job here, and I was incredibly stressed out about getting a lot of things done in a short span of time. Marlene's lovely cottage gave us respite from the stress, and was the perfect place to unwind after long days of running around. The neighborhood is pretty, quiet, and an easy walk to Trader Joe's, local shops, and restaurants. The darling Sachi was a delightful addition to our stay-- nothing brings a smile to my face more quickly than my daily dog visits! I would be happy to come back to this calm, peaceful oasis any time!
Kit
2014-02-13T00:00:00Z
Marlene's place was very nice, I was able to get 2 healings from her husband, cook my own food there and have a good night's sleep. The only issue for my daughter and I was the wifi connection was poor. If you want to watch Netflix, this is not the place. But, otherwise, it was a good first Airbnb experience. Thanks!!!
Bess
2014-04-07T00:00:00Z
Great hosts! When we arrived, they were waiting for us and gave us a tour of the garden!! Pleasant space with good vibes. We will definitely stay here again should we return to the area!
Stephanie
2014-09-01T00:00:00Z
The house was clean and comfortable. The bed was super comfy, I conked out as soon as my head hit the pillow. Marlene was super flexible in coordinating when we could arrive. Would stay again.
Eric
2014-09-27T00:00:00Z
Marlene is a very nice and respectable lady,When I stayed,She shared lots of organic grape with me,I am very appreciated for her hospitality and the garden is gorgeous ,there are many kinds of lovely fruit trees,I love this organic garden!if you wanna find a comfortable accommodation,Do not miss Marlene's apartment !
Jason
2016-07-21T00:00:00Z
The apartment is exactly as picture and it has everything you could need and expect! The location is perfect, easy to get to Santa Monica beach and Getty museum. The host is very kind and was there waiting for us when we arrived. We would definitely recommend this house and come back if possible. Thank you Marlene for having us stay here.
Jiayu
2015-05-23T00:00:00Z
Marlene and her husband were such a lovely hosts. Everything in the apartment was clean and organized and we had the best last 2 days in our trip. Thank you very much for everything you did for us and for your perfect hospitality. Shelly and Ofer
Shelly
2015-10-06T00:00:00Z
Marlene was a very gracious hostess, she welcomed me to the triplex, introducing me to George the tortoise and showing me around the garden. She explained all the details about the room, which includes a full bath, living room, and a kitchen which is shared, although I did not experience anyone in the kitchen during my stay. There was coffee available for breakfast, bread and yogurt were in the fridge but I brought in my own cereal etc. It is a very clean, peaceful, and simple dwelling, the bed is very comfortable. Garden was lovely. Nice energy around the home. There is construction currently underway across the street, noise not bad but something to be aware of. Did not have a chance to experience the healing treatment with her husband. Perhaps next time!
Barbara
2016-05-24T00:00:00Z
Room Type
Private room
---
Property Type
Apartment
---
Accommodates
4
---
Bedrooms
Santa Monica, CA, United States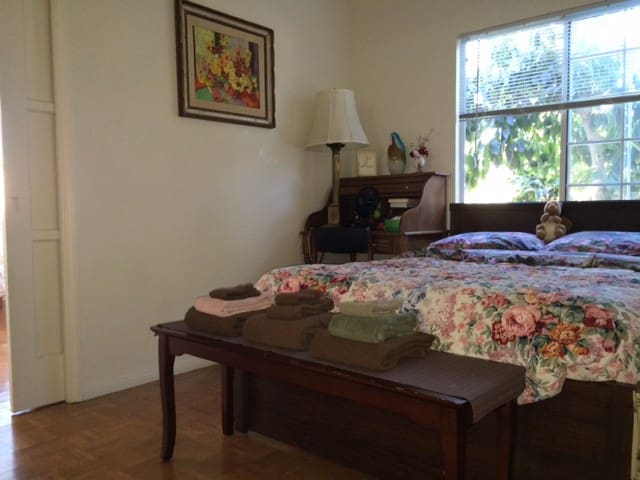 Come stay in our cozy bungalow, a separate and private stand alone, only a short walk to Venice Beach and the ultra trendy Abbot Kinney Boulevard. Whether you enjoy star watching, art galleries, shopping, or delicious food, this block has something for everyone. As Venice residents for over 20 years we constantly take advantage of this great neighborhood and love walking to the local coffee shop to grab a bagel or a piece of the yummy pizza or listen to live music just down the block. The bungalow's location truly can't be beat for the traveler coming for either fun or business. The bungalow has all the amenities for a comfy stay- a brand new queen bed, TV, refrigerator, microwave, and coffee maker. Sunlight streams into the space and there are wonderful ocean breezes in the afternoon making this a real gem of a place to stay. Our newly landscaped backyard garden designed with native California plants that attract butterflies hopefully enhances your stay if you have time to relax outside on the Adirondack chairs or the bistro table. The main room also provides a desk, sitting chair, dresser, suitcase holder, plus a simple cooking area and nicely suits two. The private bathroom has a closet to store additional suitcases and hang clothes as well as a nice size mirror. Internet is free and all linens and towels are provided. You can access the bungalow located behind our house from a private back entrance. We're on one of the most desirable streets in Venice in what is known as the "walk street" area where you can meander the neighborhood on sidewalks and see great architecture and gardens. Ample street parking is available. In addition to Abbot Kinney Boulevard (named the trendiest street in America by Esquire Magazine), it's wonderful to stroll the Venice Canals modeled after those in Venice Italy. World-renowned Venice beach is always a main attraction with sidewalk entertainers and vendors you surely won't see elsewhere and the infamous Muscle Beach (where Arnold Schwarzenegger trained). There is an incredible bike path along the ocean with a number of convenient places to rent bikes nearby. Santa Monica Pier is only a short 10-minute drive away and we're only 15 minutes from the Los Angeles International Airport. A number of buses stop just blocks away if you don't have a car. We are a smoke-free environment and respect the privacy of all our guests. We encourage all potential guests to complete a profile before booking. Hope to see you soon!!
Our experience with Julia was absolutely wonderful ! We would return in a heartbeat. Julia was a wonderful host. The bed was comfy , the bungalow very clean, perfect location , I can't say enough good things about this accomodation and host .. Thank you Julia and I hope next time we are in Los Angelea, your sweet place is available again !!
Deborah
2015-05-06T00:00:00Z
Julia was a great host! Very informative and friendly. We talked for a little only to find out how small the world is and how we shared a similar connection with New England and the Boston area. I've never expected to find this kind of hospitality in a city like LA! He place was immaculate and absolutely the cutest. And the price was such a bargain! The area was wonderful and even though it was raining (which never happens in SoCal) we had an amazing experience. We felt at home and with complete privacy and enjoyed our time very very much. Thank you Julia!
Lucas
2014-11-01T00:00:00Z
Julia's back bungalo was cute and inviting. Little extra things like filtered water, snacks, and coffee were a sweet added touch that made this place special. The location is close enough to all the action, but having a car/bike is necessary.
Selena
2015-03-23T00:00:00Z
Julia was great! She said I could check in anytime, the bungalow was open. It was light and bright. The cold water in the fridge was great! The neighborhood was cute and great for walking! The bungalow had A/C, a heater and a fan, anything you need for comfort. The bathroom is tight, but useable. It was great for 1 person.
Kristin
2016-12-04T00:00:00Z
Great little shack, totally accommodated our needs and would definitely stay again!
Adrian
2014-01-22T00:00:00Z
My girlfriend and I had a great stay at Julia's Venice Bungalow. Just a short walk to anything you would want to see in Venice, and in a beautiful neighborhood.
Robert
2014-04-17T00:00:00Z
Julia and her husband were lovely hosts. The guest house is in a terrific location and has all the essentials. We were there during an exceptionally hot weekend and the bungalow got very toasty, but Julia was quick to offer extra fans for us. This is a great place for the value and we'd gladly recommend to others! Cheers
Chloe
2015-10-11T00:00:00Z
Great hosts
Lindsay
2017-03-18T00:00:00Z
Room Type
Entire home/apt
---
Property Type
Cabin
---
Accommodates
2
---
Bedrooms
Los Angeles, CA, United States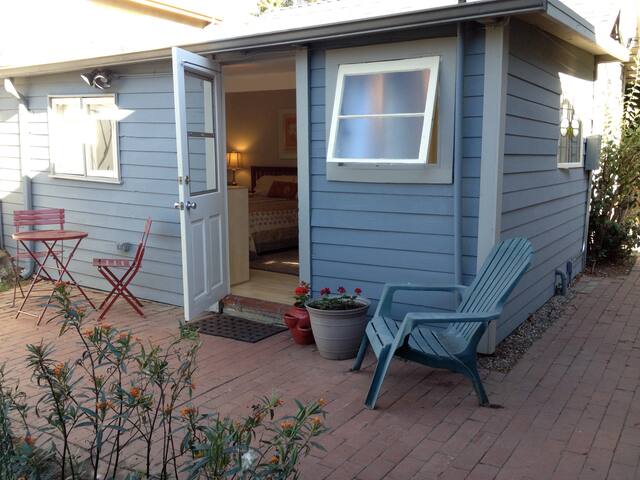 Enjoy a completely private room with ensuite bathroom in a quiet and residential area of Santa Monica. The beach is 15min walk away and so is Main street with lots of bars, restaurants and nightlife! The room has a queen size bed, TV, fridge and WiFi
Cute private room in our house with private bathroom, TV with Netflix, comfy queen size bed, 2 armchairs, Nespresso machine, kettle, private fridge, a beach bike and WiFi ! The room has a large window to offer lots of natural light, a big closet for your luggage and clothes and we offer free access to our laundry room during specific hours. It takes about 15min to walk to the beach and less to reach main street with the cafes, bars, restaurants and nightlife...Easy access by bus from LAX airport Enjoy Los Angeles' best beaches in this safe and green area and be 20" walk to the Ocean, the third street Promenade, the Santa monica Pier, the Whole Food Venice, 15" walk to Main street, 10" walk to Santa Monica College and 30" walk to the Penmar Golf, the Gold's Gym Venice and trendy Abbott Kinney! Conveniently situated by the I-10 highway, you can quickly get to the Walt Disney and Sony studios, go party in West Hollywood or spend some time on the walk of fame in Hollywood and relax by the beach after that frenzy...A 5min drive and you'll be cruising on the famous Pacific Coast Highway (PCH) on your way to Malibu! You can enjoy breakfast around the corner at the Novel Cafe or walk to main street and experience Dogtown caffe or the Urth Cafe, both great places as well! Santa Monica college is a throw stone away and so is the good nightlife on main street in Santa Monica! Landing at LAX and on a budget? Bus 3 gets you here for 1.25$ with minimum walk!
Green, safe and quiet! Within walking distance to the beach, great breakfasts, juices and lunches around the corner at novel cafe. Super easy access to I10 for downtown LA, studios, Pasadena and the PCH to get to Pacific palisades, Malibu...
The room is great, comfortable bed, immaculate bathroom , has a mini kitchen with a delicious black coffe , and I can not forget to thank the bottle of wine . I can say that was the best experience I had with Airbnb .
Luciana
2015-06-29T00:00:00Z
The Globetrotter provided us with a wonderful place to stay! It was clean, cozy, and was packed with the basic essentials. It was a walkable distance from everything! Check in and check out were easy and painless, and Farhat made sure that our stay was perfect. He checked in with us and responded quickly whenever I messaged him. While the room is smaller than the pictures seem, it was a great place and it was just what I was looking for.
Melanie
2015-03-13T00:00:00Z
The perfect location for our stay in Santa Monica! The place is small but it's all we needed. Nice and private with our own bathroom! Would definitely come back to the cocoon room.
Jennifer
2016-09-05T00:00:00Z
The room and bathroom are very nice and clean, not forgetting the comfy mattress :-) AEF are very quick to response all of our queries. Check in/out process was easy and quick. Location is perfect - in a safe and quiet neighborhood and close to cafes, restaurants and shops. The only negative thing is the ceiling is quite thin - we could hear the other guests upstairs cooking,doing dishes and dragging their bags when they were up at 6 am. But other than that, we had a nice stay at AEF place.
Anita & Craig
2014-01-17T00:00:00Z
Everything was great staying at the Globetrotter spot! While I did not actually meet Ferhat, he was super accommodating and made the experience easy. The room is quaint and for the price it can't be beat. It's a little loud with tv noise upstairs and be prepared to use the provided fan. The wine and snacks were a fantastic touch. We would love to rent again.
Jimmy
2014-07-18T00:00:00Z
The place was as depicted in the photos and despite it being small, it was really cozy. Bed was comfortable and the place was clean. The only thing that affected us the second night was the glare from the light outside. It would be great to consider getting blackout blinds for that room since it's necessary to leave the light on for the other guests.
Tia
2015-03-02T00:00:00Z
Farhat is so awesome! Unfortunately I couldont meet him but any time he worry about me. His house is like a sweet room! He prepared everything and welcome wine also. It was very comfortable, clean and convenient. Im lucky and happy! I could spend good time in this place. If I will go to LA next time, absolutely I decide this house :)
MANAMI
2014-10-31T00:00:00Z
We only staid one night but the place was super nice and clean. Easy to get hold of the key even though we came late in the evening.
Tom
2014-07-23T00:00:00Z
Room Type
Private room
---
Property Type
Apartment
---
Accommodates
2
---
Bedrooms
Santa Monica, CA, United States
Beatuiful large one bedroom/1bathroom apartment. Could potentially fit up to 5 people. One block away from 3rd Street Promenade and 2 blocks away from the ocean. New building features, patio, gate parking and great location! Walk to everywhere including public transportation.
Beatuiful one bedroom/1bathroom in 2 bedroom condo. Mini refrigerator in the room. Free wifi. Free parking. One block away from 3rd Street Promenade and 2 blocks away from the ocean. New building features, patio, great location! Walk to everywhere including public transportation. License numb(PHONE NUMBER HIDDEN) queen size bed with own bathroom. You also have one mini refrigerator in your room. if you want to save money and stay in great, clean, lovely location with your family or friends. This apartment will be the best choice. Laptop friendly. Free wifi. Free parking. You can use kitchen. And coffee or tea everyday. I might not able to meet up with guests because busy work sometime. But my parents will always be there for the guests. And I will try my best if I am off work. Will love to welcome my guest in person. my neighborhood is very very quite, safe, and convenient walk to everywhere to shopping, get coffee, restaurant, bar, beach. block away from bus station to go to beverly hills, hollywood, or LAX. When you use outside the balcony. Pls enjoy it. But when you coming back the apartment. Pls bring all you belonging back to the apartment. The building Manager doesn't like staff outside. Thank you very much. And also pls say you are my friends and here for visit. We just try to keep in low key here. Thank you again for understanding.
Tomoko was a very kind and supportive host. We only had one night on arrival in LA but found the apartment easily and enjoyed a well needed comfortable nights sleep. Really appreciated the free parking as we had a hire car. Also the location is fantastic, walk to Santa Monica Pier and surrounding areas. Thanks for having us!
Wendy
2016-06-29T00:00:00Z
Great spot, great apartment with a fantastic host. Will definitely stay here again
Mark
2014-02-03T00:00:00Z
Nice apartment within walking distance to the Santa Monica Beach and the shopping street. Great way to stay when in Santa Monica. The area is quite and the flat was well suited for our family of 4 (2 adults and 2 teenagers). The flat is clean and has everything needed, including wifi (so the teenagers could survive :-)) and garage parking, there is a nice balcony area as well. Tomoko was very helpful and met us when we arrived and showed us around.
Linda
2015-07-09T00:00:00Z
Excellent appartment....great location...great communication. We will be back.
David
2014-07-05T00:00:00Z
Nice, but small room in great location. No active invitation to use communal space
Charlotte
2016-05-23T00:00:00Z
Outstanding. Very clean. Very comfortable. Conveniently located. Quiet, good wifi, TV with cable. I'll definitely be back. One of the best Airbnb experiences so far. Thanks!
Mark
2016-04-15T00:00:00Z
Great location & great value. Tomokos place is clean, she is quick to respond to messages. Check in was easy with her father showing us around. Recommended! We only wish we booked more nights.
Liana
2016-08-13T00:00:00Z
Accomodation was as described. Clean and quiet. Near everything.
Martha
2015-01-07T00:00:00Z
Room Type
Private room
---
Property Type
Apartment
---
Accommodates
2
---
Bedrooms
Santa Monica, CA, United States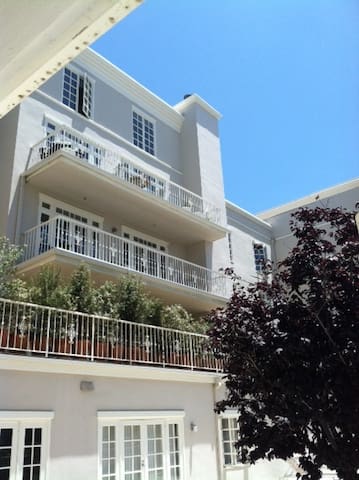 This truly one of a kind guest house is nestled inside gorgeous California gardens less than a mile from the beach and 3rd St. Promenade. You have total privacy in a one bedroom/one bath cottage, sitting area, private kitchen and separate entry way. Santa Monica Business License number: 220585
This gorgeous, lush home is a one of a kind find in Santa Monica. In addition to a private cottage, there is ample outside seating in the gorgeous outdoor spaces. With flowing fountains, towering plants and bustling wildlife, you'll feel like you've been transported to paradise. The guest house has a bedroom with a full size bed, closet, bathroom, kitchen and sitting area. The kitchen has a refrigerator/freezer, dishwasher, stove/oven and dual compartment sink. There are doors leading outside from the bedroom and the sitting room. There is a washer/dryer set in the garage for guest use. There are also two bikes available for your use; we just ask that you please make sure to use the locks we provide. There is a shared 2 car garage, one space will be used by us, but the other is yours to come and go as you please. There is a gate leading directly to your bedroom door, so if you choose to have total privacy, that is very easily managed. If you would like to speak with us, we live in an adjacent building, where the main kitchen and master bedroom are.
It is close to everything, while still being removed enough for it to be peaceful. We are a 15 minute walk from 3rd St Promenade, and no more than a 10 minute walk (or 5 minute bike ride) to Main St and the Beach. This makes all of these areas very accessible, but we don't get caught up in the hustle and bustle of those highly trafficked areas. We're also 4 blocks from the Metro Stop, making is incredibly easy to go into Downtown LA.
This was a wonderful hidden treasure in the heart of Santa Monica. We loved it and would love to stay there again if we find ourselves in the area again.
Kelly & Chrissy
2016-10-18T00:00:00Z
English: nice private little room with clean bathroom, fancy chicken and a cute living room. Ashley and Matt are super nice ! It was like living in my own house. 中文:Ashley 和 matt 非常的友好 住在她们家两天都很开心 我是自己开车去的 Ashley给我了车库开关 房间是独立的房间 除了洗衣服要去她们的房子里 其他时间都在小屋 独立干净现代的洗手间 房间 还有一个完整的厨房跟小客厅 还有花园和一个电视机的娱乐房间
Toni
2016-08-03T00:00:00Z
Ashley and Matt were great hosts! They communicated well with us before arrival, checked us in smoothly, and gave us all the privacy we desired. We walked to Santa Monica Pier for dinner and overall had a fantastic stay.
Daniel
2016-09-05T00:00:00Z
Ashlsy and Matt are very nice. Their house is very lovely just like its owner. it's as beautiful as a garden. we really enjoyed our time there. and the house is very close to Santa Monica Beach. Pretty good allocation. We really hope we could come back and stay there again!
jing
2016-10-07T00:00:00Z
Ashley and Matt were really friendly and accommodating! Their place was clean, close to shops and the freeway, and in a great location. It had a very relaxing atmosphere. I would highly recommend!!
Meghan
2016-08-12T00:00:00Z
We loved this unique cottage near the ocean. The hosts were very gracious and helped make our vacation unforgettable!
Chad
2016-11-08T00:00:00Z
This place is amazing. Great private backyard to enjoy the plants and birds. Everything you need is within walking distance. Matt and Ashley are great hosts also!
Craig
2017-01-26T00:00:00Z
Ashley is a wonderful host--friendly, accommodating and genuinely concerned that her guests are comfortable and enjoying their stay. The cottage is lovely and with the private garden patio, it is a relaxing home-away-from home and the perfect retreat. We had everything we needed during our 7-day stay and were a bit sad having to say good-bye! Thank you, Ashley, for recommending activities, restaurants and experiences that definitely enhanced our first visit to Santa Monica!
Barbara
2016-11-04T00:00:00Z
Room Type
Entire home/apt
---
Property Type
House
---
Accommodates
2
---
Bedrooms
Santa Monica, CA, United States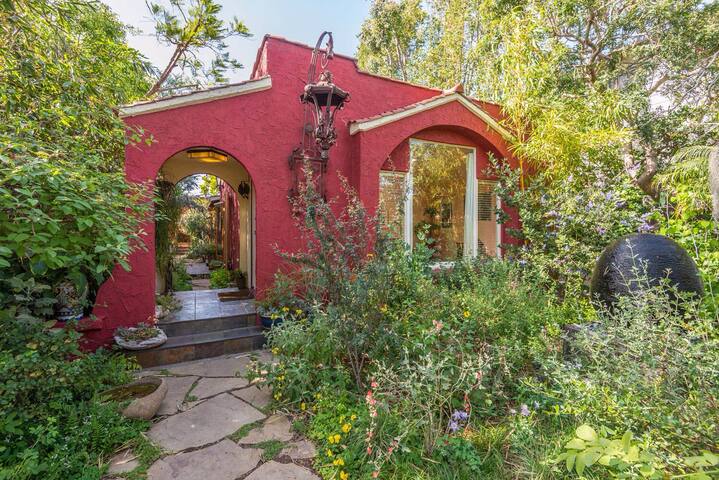 Luxury apartment with private balcony and bathroom located right on the Santa Monica Beach! Within walking distance to shopping, entertainment, and restaurants of Main Street and the Santa Monica Pier. Laundry and dryer on site as well as a pool, hot tub, and gym. Also very close to the Third Street Promenade, ArcLight Cinemas, Venice Beach Boardwalk, Montana Avenue, Wurstküche Venice, groundwork coffee company, Baby Blues BBQ, Library Alehouse, La Cabana Restaurant, and Gold's Gym Venice.
It was a great stay overall. Omar was very helpful and accommodating. Location was perfect, walking distance to both Santa Monica and Venice beach and all the main attractions. Would definitely recommend Omar's place!!
Av
2017-03-30T00:00:00Z
Fantastic host, fantastic room, fantastic location! Very much worth the price! Would definitely recommend!
Jessica
2017-04-02T00:00:00Z
Omar was a very accommodating host. His apartment is located right by the beach and barely over a mile from the pier. It's within walking distance of restaurants, shopping stores and even the Santa Monica farmers market. The furniture in the room itself is new and modern and the bathroom was clean and well kept. The balcony also has a very beautiful view and at such a reasonable price. Will definitely stay here again the next time I'm in Santa Monica.
Ian
2017-03-26T00:00:00Z
Room Type
Private room
---
Property Type
Apartment
---
Accommodates
2
---
Bedrooms
Santa Monica, CA, United States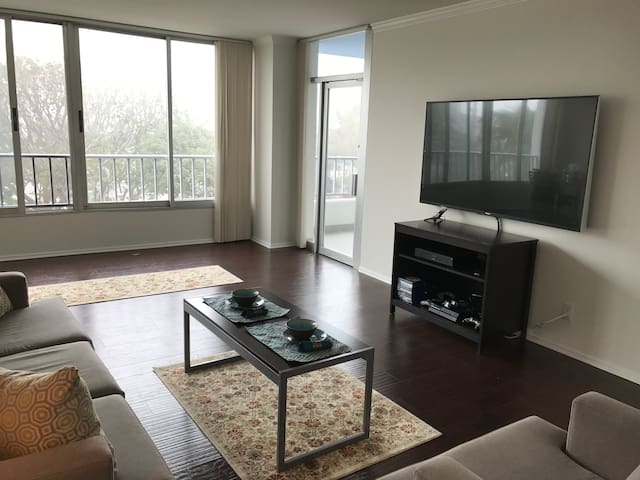 Enjoy a cozy space in a large loft with a lovely view. This room has a quality European style foldout sleeper-couch, which provides a luxurious sitting and resting place during the day and a comfortable sleeper during the night. The condo is located in a luxury condo complex in the heart of Santa Monica within a short walking distance from the best restaurants, 3rd street Promenade and famous Santa Monica Pier. A great bus system and Light Rail are within short walking distance.
Beautifully decorated & spacious 1500 sq. ft 2 bedroom/2 bathroom luxury condo in the heart of Santa Monica with fully-furnished, daytime shared living space. Short walking distance from the best restaurants, 3rd Street Promenade and famous Santa Monica Pier. A great bus system and the Light Rail are within the short walking distance from us, which is a super convenient way for exploring LA landmarks including Staples Center, Disney Concert Hall, Universal Studios, etc. Guest will have use of a cozy space in a large loft with a lovely view. This room has a quality European style foldout sleeper-couch, which provides a luxurious sitting during the day and a comfortable sleeper with a mattress topper to ensure a good night's rest. Scandinavian design library wall with table is very convenient for a business traveler . We keep everything clean, elegant and comfortable. Daily cleaning of the space is provided. Gated building garage parking is available for an additional $10 per night payable by credit card or cash upon arrival.
You'll be walking distance from just about everything including excellent restaurants, entertainment and shopping! Very easy access to essentials like grocery stores, banks & pharmacies. The neighborhood is high-end and considered to be safe. The 3rd Street Promenade is 2 blocks north. The beach is 4 blocks west. Additional high-end shopping in several neighborhoods a short distance away. World class museums and art galleries are also close by. Santa Monica Pier and Annenberg Beach House are about a 15 minute walk away. A great bus system and the Light Rail are within the short walking distance from us, There's a big Farmer's Market off the 3rd Street Promenade every Wednesday and Saturday offering organic produce, flowers, and dry goods that you can buy directly from the farmers that grow them.
This is the best location if you want to live by the Santa Monica beach. It is close to the beach and Santa Monica Blvd (which is where all the stores and shops are). Lana is also a great host, giving me suggestions on what to do, where to rent bikes, what good places to eat, etc. She is very friendly and she keeps everything clean. The kitchen can also be used by all guests and it was great that everyone adhered to the time curfews (when not to use the kitchen, etc). You might think with a curtain to act as a barrier is a lack of personal space. But I felt I had no issue with that; the other guests usually stay in their rooms so you basically have the whole space to yourself.
Erica
2017-02-27T00:00:00Z
it was awesome house in wonderful neighborhood.i like it
Mohammed
2017-03-02T00:00:00Z
Great place to stay if in Santa Monica. Centrally located to 2nd Street Promenade and walkable to Montana Ave. Very clean and quiet! Well worth it. Would stay there. again.
james
2017-03-17T00:00:00Z
It was a great pleasure meeting you Lana. I enjoyed your place, our conversations and I look forward staying at your place again.
Sara
2017-02-11T00:00:00Z
I had a wonderful stay by Lana. The location is perfect, she is very friendly and treat each guest as a family member. I will go any time again with pleasure there. Michaela
Michaela
2017-02-04T00:00:00Z
Great location in walking distance to the beach and an easy bus ride to Hollywood. Clean room exactly as describes/pictured and Lana was very friendly and helpful .
Adam
2015-10-05T00:00:00Z
We had a great stay at Lanas place. She was an amazing host, and interesting to talk to. The place was also in a fantastic location right near the beach and a good shopping area. She and her daughter and very creative and make their guest feel very welcome, and they looked after us well.
Joel
2015-10-24T00:00:00Z
Lana is a very sweet and nice host. She will give you a lot of recommendations for where to go and what to eat. She is easy to communicate. Feel lucky to live in her house.
Lin
2016-12-27T00:00:00Z
Room Type
Shared room
---
Property Type
Condominium
---
Accommodates
1
---
Bedrooms
Santa Monica, CA, United States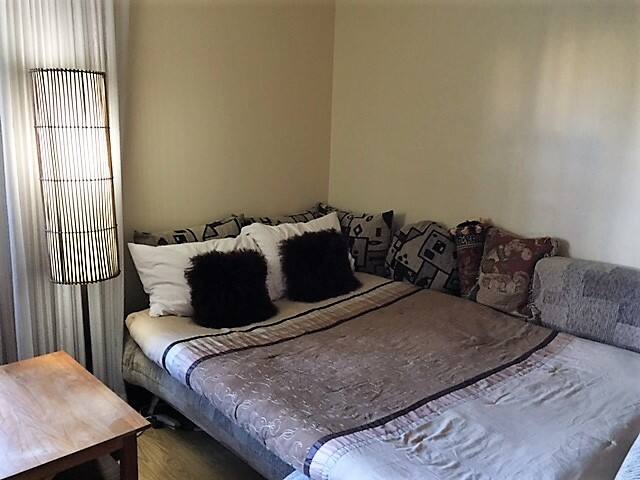 My beautiful place is Santa Monica, is a 5 minutes walk from the beach and 3th Street promenade and Montana Ave. Restaurants & bars all in walking distance. Wonderful patio, everything you need included (TV, Wifi, microwave, dishes...) with a nice fireplace. It's a save and quite neighborhood. Nice and light.
Best location in this area, beautiful furniture and details, everything is clean, modern and brand new Many flowers and an amazing patio with BBQ place. There's a bath tub, moving showerhead and space for your utilities. Nice kitchen with plenty of space. Big TV screen, a bar and a beautiful fireplace. A great patio to relax and have BBQ :-) I'm renting out a big couch and the living room space. It's very comfortable and you'll have sweet dreams. I have bedding and everything you need to feel warm and cozy in this wonderful place at this perfect area in Santa Monica.
It's a very clean neighborhood, save and quiet. The beach is only 5 minutes away (walking distance), you can see it when you walk a few steps. Famous Montana avenue with many shops and restaurants is also 5 minutes away, so is the 3th street promenade, with tons of shops, restaurants and bars. You can walk everywhere from my location. I also have the street view. And Venice, Marina Del Rey or Malibu are close by. You're only a 20 minutes drive away from Beverly Hills. I have a parking space.
Amazing location and amazing host (Pary) - great communication. Overall, very happy with the stay. The only issue was the people in the unit above who were quite loud between 1-2am. Peaceful part of SM and exceptionally close to everything via walking.
Daniel
2017-03-31T00:00:00Z
Pary is a very accommodating and sweet host. Very warm and welcoming. She helped me carry my items into her home, cleared space in her refrigerator, and made sure I had everything I needed. I didn't want to get in her way on my last day, but she was very flexible with my departure time, which was very helpful. The location is unbeatable, as you can literally walk to the corner and see the ocean. It's also right next to the shopping strip and Whole Foods!
Crystal
2016-05-21T00:00:00Z
Pary was great with communication and as a host. The place was very clean and in a great spot.
Scott
2016-07-22T00:00:00Z
Pary was very responsive! Flexible and she made my short stay very easy. The bed is comfortable and clean. She has another door separating the living room from the bedroom which makes it so quite and kinda like your own space. I know their are comments about the bathroom but it's functional and as clean as can be since it's an older building which u am familiar with since I live in New York so that was not a big deal. Most importantly if you are looking for a cost effective place that is centrally located this is your best bet and she also has parking !!! Walking distance to the beach pretty amazing !!! For the price
candice
2016-10-20T00:00:00Z
The house is very cute and comfortable. Pary-Annabelle is very sweet and communicative. Great location.
Elizabeth
2016-10-22T00:00:00Z
Pary is a very sweet host, thank you for everything, I enjoyed staying at your place!
Victoria
2016-11-25T00:00:00Z
Pary was great she was very accommodating to me and my fiancé when we needed a last minute place when we decided to extend our vacation. The apartment was very close to the beach in a great location.
Isaiah
2016-07-07T00:00:00Z
I felt very welcomed and accommodated in this ideally located apartment. This is my favorite part of Los Angeles. Pary is a VERY charming and accommodating person.
Peter
2016-06-11T00:00:00Z
Room Type
Private room
---
Property Type
Apartment
---
Accommodates
2
---
Bedrooms
Santa Monica, CA, United States
Venice California. One of the most visited spots in the world! You will enjoy a private room; private entrance and bath just blocks away from the famous Venice Beach. Use of bikes and surfboards. Great for short or long term stays. Pet Friendly.
Private room with private bath and private garden entrance in Venice, CA. Great for long term OR short term stays! Excellent location; 6 miles from LAX, 4 miles from Santa Monica Pier and Santa Monica Promenade, where you will find more than 300 restaurants and shops and two theatres. Abbot Kinney has become the hottest boutique and restaurant destination on the West Side, and it's only six blocks away. 1 mile from the famous Venice Beach boardwalk, where local artisans display their wares for purchase. Stroll the boardwalk; then walk the white sand up to the water side to swim, snorkel, sunbathe, or surf. This is a gorgeous room in a private detached home in a quiet neighborhood. Includes private bath, shower, queen size bed with sealy mattress, reading lamp, desk and chair, Fios internet (fastest) ceiling fan, skylighted bathroom with shower, 2 large closets with plenty of space to put luggage and hang clothes. Luxury sheets, down comforter, and Temperpedic pillow. The room includes breakfast pastries upon arrival, your own personal fridge in the room, coffee maker with Starbuck's coffee, tea, and porcelain cups. Your private entrance opens to large garden paradise. Enjoy your fresh coffee and breakfast on charming patio table. Large galley-style fully stocked kitchen is available at different times of the day as well as clothes washer and dryer. The room rental includes 2 bikes to cruise down to the beach (with bike deposit) linens and towels, soap and shampoo. Limited kitchen and laundry access. Also includes use of SURF BOARD and boogie boards! PETS: Pets are welcome, ($75 weekly fee per pet will be applied, or $200/month). Your precious critters will enjoy our large fenced, grassy backyard. You will be located 4 blocks from California's largest Whole Foods Market; enjoy all day hot and cold buffet food bar, organic produce, organic meats, and some of California's freshest fruits and vegetables. You can also enjoy any of the 3 Farmers' markets located in the area during the week. Very American self serve laundry services 4 blocks away. Less than one block walking distance is Venice landmark coffee shop: Deus Ex Machina; making custom bikes, custom surf boards and coffee; serves espresso, cafe Americano, and specialty pastries. Walking distance to the famous Venice Canals, the venice walk streets, and Penmar Golf Course. Near bike paths and beach walk paths. The location has excellent access to bus routes to downtown L.A., UCLA, Hollywood, Studio City, and Disneyland. The most relaxing place to have your vacation! Near Santa Monica College, Santa Monica Flight schools, Otis Art school, and Bergamont Station Art Galleries. Plenty of free street parking. As your host I will inform you of all the secret Venice hangouts! Guests have access to fully equipped kitchen with laundry machines. Private entry to patio, garden and back yard. Beach Cruisers and surf boards. Free street parking. We are a family and welcome our guests as such. Guests can enjoy their privacy or can chat on the patio or in the kitchen with the kids and I! A quiet and friendly neighborhood with some famous landmarks very nearby! Super accessible to airport, buses and freeways. This location cannot be beat for proximity to great things to do and convenience to necessities like groceries, post office, and shopping. Beach and bike paths less than one mile away! SANTA MONICA BLUE BUS ROUTES AND PASSES: (website hidden) This is a family home. Please note that we are a family with children and puppies. Weekday mornings you can expect children and puppy noises from about 6:30 to 7:30 AM. Unless you are a heavy sleeper you probably will be awakened. The good news is you get to go back to sleep at 7:30am when we leave! On weekends we like to sleep in. Our wake up time is about 9 or 10 AM. If you are a very light sleeper or plan on suffering from jet lag, suggest you bring earplugs. Saturday night is sometimes movie night and you may hear the noise from a movie until about midnight. Other than those two times the house is generally quiet as we are mostly out and about doing our family things! Access to huge wrap around fenced yard with grass and Bird of Paradise. Also a huge patio complete with covered breakfast table, ping pong table, and propane BBQ. Bikes are included (with a returnable deposit) as well as various kinds of surf boards. Guests have access to fully stocked sky-lighted kitchen with microwave, stove, oven and double kitchen sink. There is a sweet table for eating in the kitchen and access to laundry machines, iron and ironing board. Long term guests have access to vacuum, mop broom, plastic garbage bags, should they choose to freshen up their own room. Professional cleaning is also available by appointment at the rate of $60 We are a family and we welcome you as part of ours. We love to meet up and chat in the garden but if you are super busy touring the town our paths may or may not cross. We are always available for questions or tips about the neighborhood. This is a family neighborhood. You will see mostly single family homes, children on bikes and skateboards, lots of trees and plentiful flower gardens. This is a friendly neighborhood where a warm hello in passing is pretty much the standard. Very safe for walking any time of the day or night. By car we have excellent freeway and streed access. Plenty of free parking on the street. If you choose not to drive we are one block away from the bus that goes North/South and one block away from the bus that goes East/West. That means you can pretty much go anywhere by bus! We are a quick bus trip away from L.A.'s newest metro train that takes you even to the far reaching areas of Los Angeles. Only one street to and from the airport takes about 15 minutes depending on traffic. Bike paths abound and for local jaunts this is the preferred way to travel. Of course, the old fashioned walking is always very enjoyable and fruitful! We are a family with kids and puppies, as such you can expect some kid noises at different times of the day. During the week we wake up about 6:30am. There will be noise and a good chance you will be awakened. The good news is you can always go back to sleep when we leave for school at about 7:15am. If you expect to be jet lagged when you arrive you may want to bring some ear-plugs! On the weekend wake up time is closer to 9am and we usually watch a movie until about 11pm on Saturday nights. Other than that our home is relatively peaceful as we are out and about doing our family things! I am a professional Yoga and Pilates (mat) Trainer to the Stars here in Los Angeles. If you are interested in PRIVATE YOGA classes during your stay that can be arranged based on my availability. I have special discount rates for singles, or couples while staying with me. I you want one or several private Yoga/Pilates sessions it is best to inquire directly before you arrive if possible.
This is a family neighborhood. You will see mostly single family homes, children on bikes and skateboards, lots of trees and plentiful flower gardens. This is a friendly neighborhood where a warm hello in passing is pretty much the standard. Very safe for walking any time of the day or night.
I really enjoyed staying at Angela's private room for 6 weeks. The room is very clean and has everything you need, it actually is like a hotel room. The queen size bed is very comfortable and the neighborhood is very safe and friendly. Angela is a very nice host who really makes sure you are enjoying your stay. She even showed me around and took me with her kids to the 4th of July fireworks at SMC. There are now 3 surfboads available for all kind of levels. I can very much recommend this room, especially for long-term stays!
Jonas
2013-07-27T00:00:00Z
Staying at Angela's place was a delight, the room was clean, comfy and warm. The little patio was very pleasant to take the breakfast or even have dinner. Angela makes sure you have everything you need. The neighborhood is quiet and nice to walk around, close to cafe and restaurants and only 30 min walk to the beach ! I deeply recommend staying at Angela's !
camille
2016-03-12T00:00:00Z
It was a really nice place to stay, well located, very nice host and bikes were useful and fun!
EMMA
2015-01-01T00:00:00Z
Staying at Angela's was perfect for us. She was very welcoming and the room was very comfortable and convenient. The location was great for us. We enjoyed our stay and wi book again if we return to LA.
John
2015-01-31T00:00:00Z
Angela was a super host, she was very helpful and we had a wonderful time staying at her place. Location was good, walking/cycling distance to a number of good restaurants and the beach. We enjoyed being able to sit outside in the garden for breakfast or having evening drinks. Neighbourhood is quiet, comfy bed.
Gillian
2012-07-08T00:00:00Z
We had a great stay with Angela and would come back anytime. Angela was very helpful and even though she was away on business for a couplemof days she wrote and made sure we are okay and have everything we need.
Anne
2014-10-04T00:00:00Z
Angela and her Kids are amazing hosts. we had a beautiful time there. super relaxed vibe. beautiful room, privacy, cozy backyard. super warm welcome, with water & juice in our own fridge. the bikes are very helpful too. and venice is our favorite part of LA. great place - we would come back anytime!!
Tobias
2014-07-20T00:00:00Z
Nice room, clean. Lots of energy around but not from cars or traffic.
Dani
2016-10-23T00:00:00Z
Room Type
Private room
---
Property Type
House
---
Accommodates
2
---
Bedrooms
Los Angeles, CA, United States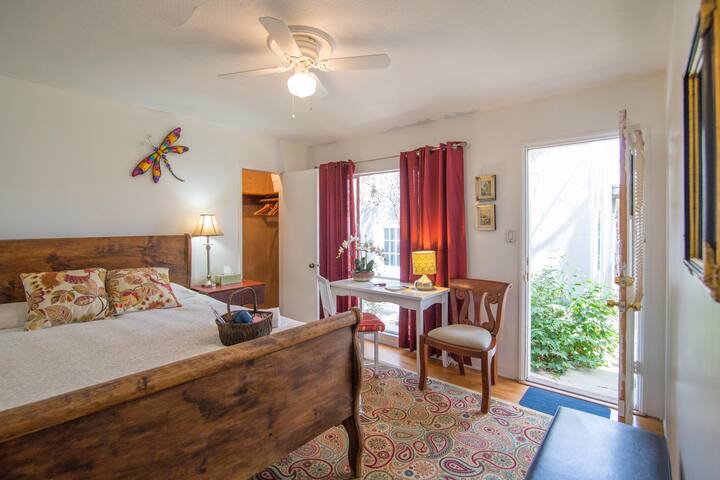 Hello & Welcome! Explore all that greater Los Angeles has to offer while based at my Santa Monica apartment. You'll sleep well and have a comfortable stay, be close to the beach, nightlife and all that LA has to offer. (Santa Monica Business License #217431)
Welcome! Come and go as you please with your own set of keys... make yourself at home, just as you would your own. Guest Bedroom and Bathroom: Queen size bed, plenty of closet, dresser and night stand space. Light-block shades & wood shutters. Guest bathroom is immediately adjacent to bedroom and all yours. (I use a different bathroom). Towels and bed linens provided and soap, shampoo, etc., available upon request. Kitchen: Available for full use. Cereal, oatmeal, milk, juice, bread, eggs, and fruit typically available. Let me know what you prefer and I'll make sure to have them available. Cook as much as you like. Stock the fridge with any preferred foods you'll want to use during your stay. (No metal utensils in pots/pans, cutlery must be hand washed, clean up when finished.) Living Room / Dining Area: Two comfy couches, basic cable TV, and wifi. This space is great for hanging out to plan adventures, get work done, or for curling up and relaxing. For more information on what to do while visiting Santa Monica visit Wikipedia and search for "Santa Monica attractions and cultural resources". I'm also available to provide recommendations. Don't miss out on Venice Beach and the Venice Canals... neat places to visit. Children: Up to two youngsters may join two adults. Their sleeping arrangements can be made up on the floor next to the bed with couch cushions, pillows, sheets, and blanket... it is a workable setup. Laundry: Coin laundry available in building and nearby laundromat on Montana Ave. Laundry detergent and fabric softener are available. An iron and ironing board are also available. Personally, I frequently use Naki Laundry which offers same day laundry pick up and delivery service. Yup, they pick up and deliver laundry at my apartment door. Los dos Gatos: Sunny and Flash are extremely people friendly kitties and will want to greet and hangout with you. They are generally not allowed in the bedroom unless you say so. They don't have access to the bedroom when it's not being used. Once booked, check out the house manual for wifi information and important notes.
The apartment building is part of a quaint residential enclave within short walking distance to restaurants and shops on Wilshire Blvd, Santa Monica Blvd, and Montana Ave. Also within an easy walk are The Third Street Promenade in Downtown Santa Monica and Palisades Park overlooking Santa Monica State Beach & Boardwalk. I love the neighborhood because it is quiet, far enough away from the buzz of downtown Santa Monica's tourist locations but close enough to be a comfortable walk there as well as to the beach! I also like the neighborhood because it has everything within 3-4 blocks including a grocery store, public transportation, coffee shops, pharmacies, dry cleaners, and more.
Jimmy was awesome.
EDGAR
2017-01-25T00:00:00Z
Thank you to Jimmy (the adorable Flash and Sonny the cats too of course!) for a comfortable and enjoyable stay in Santa Monica. We hope to visit again soon!
James
2017-03-04T00:00:00Z
We had a fantastic experience stating with Jimmy. Communication was excellent, place was great value and location. We hung out with Jimmy one night and had a great time experiencing LA with a local. Highly recommend Jimmy's place!
Brent
2017-01-03T00:00:00Z
Jimmy was very quick to respond to our questions/concerns, and the room was great! Jimmy and Ricardo were very friendly yet respectful of our privacy when we were resting.
Alisha
2016-12-30T00:00:00Z
My bf and I had a wonderful time staying at Jimmy's apartment. His place was clean, comfortable, and located in a quiet residential area within walking distance to the beach, nice parks, and 3rd St Promenade. Above all, Jimmy (and his two adorable cats!) was a fantastic host! He was very accommodating, welcoming, easygoing, and did everything to make sure we were comfortable. We enjoyed talking and hearing about his line of work (Bostonians may recognize something familiar in his apartment... that's encouragement for more Bostonians to visit ;) Jimmy was even kind enough to mail me back a scarf I had accidentally left behind. All in all, we would absolutely recommend Jimmy's place if you're in need of a place to stay in Santa Monica/LA. We enjoyed our stay and truly appreciate Jimmy's accommodation. Thanks again for hosting us!
Carolyn
2013-11-20T00:00:00Z
Jimmy and I connected instantly when we realized we share the same hometown. What a crazy coincidence. Between jimmy,Ibrahim, and their two cats, it seems like a full house but there apartment was spacious, clean, and breezy. They super chill about sharing their living room and kitchen with us. Thanks!!!
Jen
2015-07-04T00:00:00Z
Jimmy is a great friendly guy who was very helpful in every way. The apartment and location was just as described and the cats made one feel right at home.
John and Jean
2014-08-04T00:00:00Z
Jimmy was our first Air BnB experience and it couldn't have been better. Jimmy and Ibrahim were great hosts - ensuring we had everything we needed, giving some great recommendations (Swingers for brunch is a must!), really making us feel welcome and even inviting us along to a bbq. The flat itself is in a great location - close to the beach, shops and buses. And after a long flight the welcome we received from the cats was lovely. Would highly recommend staying here - if only we could have stayed longer!
Georgia
2015-05-19T00:00:00Z
Room Type
Private room
---
Property Type
Apartment
---
Accommodates
2
---
Bedrooms
Santa Monica, CA, United States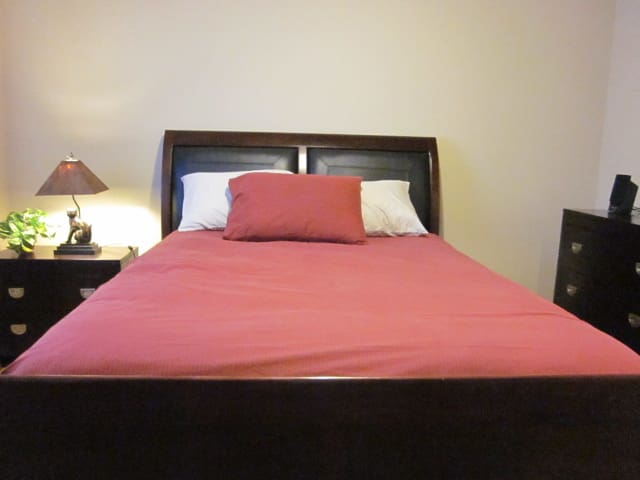 License# 218716
Newly furnished Room, very light, Cozy, private and Clean. Private Bathroom which is right next to the room. The bathroom has a shower and also is very light and clean. The Living room is very colorful with lots of Art and soft furniture. The Kitchen has a great feeling and is open to the living room. My bedroom is very separate from the rest of the house and your bedroom as well. This place is a little bit of heaven, tucked away in a beautiful lush garden oasis! I am 3 blks from Main st, which has many fine restaurants, Coffee houses, Bars, Surf shops, Food trucks every tuesday night, Farmer's market every sunday morning, Yoga, Vegan and Raw food establishments. !0 min. walk to Venice Beach, 15 min walk to Santa Monica Pier and the Promenade which has Movies and shopping galore! Public transit 1 block away. This neighborhood is very safe! My Home is unique because I am so close to everything but you wouldn't know it if you walked into my yard! The kitchen, living room and yard. I am in and out a lot so whatever feels comfortable. I am available for questions and hanging out or I can leave you on your own :] A great place to walk around and people watch, Shop, go to movies, free outdoor music, Eat, ride bikes, swim….. Bikes, Buses, the metro. many choices! There is street parking and reserved parking for $15 per night. Bikes for rent - $10 per day. Surfboards - $20 per day.
I love being so close to the beach! So many places to go on foot! The people are very friendly!
We had a wonderful stay at Santa Monica. April's house is clean and warm, we like the beautiful garden very much. During the stay, we feel very comfortable and private. We will highly recommend you to select this property.
Earina
2014-12-25T00:00:00Z
April was a good host, very discreet and friendly. Overall, we had a good time at her place. I enjoyed the proximity to the beach, and the room was comfortable and clean. However, the house is in-between Venice Beach and Santa Monica, which makes it necessary to drive to both locations, especially at night. The restaurants on Main Street offer several interesting options and are an easy walk from home (more so during the day than at night). I would recommend renting the parking space offered by April because parking on the streets can be tricky, especially in the evening.
Esther
2015-04-02T00:00:00Z
This is a real gem of a place only 10 minutes walk to Santa Monica beach. I arrived late in the evening and April left a key for me to let myself in. The double bed in the room in her bungalow was very comfortable, and she left lots of towels out to use, including a beach towel. There is a very chilled vibe to this bungalow including a well kept garden with various places to sit out under the stars. April is a very good host - really interesting and very helpful with local information. She's also an artist - check out her wave sculptures...she might even sell you one! Don't hesitate to book if you are looking for an authentic place to stay in SM.
Ian
2014-03-17T00:00:00Z
Great stay, loved the place, especially the secluded yard.
Gerhard
2016-09-23T00:00:00Z
April was one cool surfer chick!! She is a surfboard shaper and a well living, creative person with a very large smile. Her house is BEAUTIFUL. Once you're inside the gates, you're inside her little oasis. It's fantastic. The room was fitted out perfectly, she lets you use her kitchen and cook if you want to and you have your own bathroom which is also modern and clean. We really loved April and her place it was airy and beachy and everything you want for a Santa Monica holiday. She was born? and raised in the area and grew up beach front in Venice beach before it turned in to the crazy it is today. It was really interesting hearing the alternative to how things used to be. Anyway… we had a great time, we'd definitely suggest staying here. It it SUPER SWEET!! Thanks April!!
Kate
2014-06-23T00:00:00Z
A beautiful and lush spot! Great location, so close to the beach as well as plenty of cafes and restaurants. April's home & garden are both magical, so cared for, colorful and creative. Truly -- this place feels like an oasis in the middle of a city. An excellent Airbnb experience! April, too, was very warm and welcoming, making our whole stay easy and comfortable from start to end.
Marie
2016-04-17T00:00:00Z
I really enjoyed staying with April in her home in Santa Monica. Loved the neighborhood and location--so close to the beach and the great shops and restaurants of Santa Monica. Be sure to check out the food trucks on Tuesday evenings! The room was very well kept, totally neat and clean, the bed was super comfortable and I slept great each night. April is a wonderful host and I thoroughly enjoyed our conversations together. Not only do I highly recommend April's home but I'm looking forward to returning in the near future.
Len
2014-04-11T00:00:00Z
Perfect location and experience!
Piers
2016-08-16T00:00:00Z
Room Type
Private room
---
Property Type
House
---
Accommodates
2
---
Bedrooms
Santa Monica, CA, United States
Sophisticated, comfortable writers home with pool. Steps to Expo line to downtown or the ocean, close to UCLA, Beverly Hills, Fox, Sony, and beach. Ideal vacation home for two couples or family with kids, or ideal longer-term rental for sabbatical or writing/directing/editing gig.
Westwood area, relaxed elegance, light-filled open concept, county-style home perfect for your Los Angeles vacation or extended business trip. Close to Sony, Fox, Culver City, Beverly Hills and beach. This desirable location is walking distance to Trader Joe's, Landmark multiplex, restaurants and shops. Easy access to Exposition Line to Santa Monica and DTLA, multiple bus lines and the 405 & 10 freeways. Sleeps two couples or couple with children. Two bedrooms each with en suite bathrooms, one with queen bed. other with queen and fold-out double. Cook's eat-in kitchen, dining room with table for 8 or more, comfy living room with working fireplace, 2 HD 42" TVs with DirecTV. Delightful private garden perfect for the hot summer days with with fruit trees, roses, lavender, pool, outdoor living/dining area with BBQ. Daily housekeeping available, weekly pool and garden maintenance. Ample parking. Relaxed elegance and comfort in quiet neighborhood close to everything. Conveniently only 20 minutes away from LAX Airport
Quiet,extremely safe family neighborhood with single family homes. Great shopping nearby including Trader Joe's, Whole Foods, Westside Pavilion. Landmark Cinema 7 minute walk.
Bianca"s house is great, it has big windows that I love and gorgeous interior design. The location is really good too, there is a Nordstrom 3 minutes away from the house and close drive to Beverly Hills. The owner of the house is welcoming, always reply on time when there's a question from us. Amazing experience, will come back stay here again.
nan
2016-08-04T00:00:00Z
A great home from home. Sitting outside was so peaceful around the pool. We enjoyed using the BBQ, which is what outside living in California is all about. Would consider staying again.
Ian
2016-07-15T00:00:00Z
Maison confortable et bien située (commerces, métro, routes...) tout en étant dans un quartier calme et sécurisé. Hôte sympathique et disponible pour répondre à nos attentes.
Thierry
2016-08-24T00:00:00Z
Room Type
Entire home/apt
---
Property Type
House
---
Accommodates
4
---
Bedrooms
Los Angeles, CA, United States
This is not just a private room but a freestanding guesthouse with it's own entrance. Located in the wonderful Sunset Park area of Santa Monica, you are close to the beach and cool shops, cafes and restaurants.
The guesthouse is cozy and very clean and convenient. It has a nice bed, a work desk, a spacious closet and a small dining table. There is no full kitchen but a fridge, a microwave and a water cooker are provided so you can make yourself coffee, tea and simple meals. Plates, cups, towels and sheets are also provided. The bathroom is clean and has a shower. The guesthouse is very private and has a separate entrance from the main house. It is perfect for one person. I might consider a couple ($15 a night extra).
It's a beautiful residential neighborhood, perfect to chill out a few days. It is also perfect if you are coming on a business trip as it is close to everything (LAX, Hollywood, Downtown LA are - depending on traffic - about a 20 min drive) There are also many businesses just blocks away, e.g.. Activision, Ocean Park Casting, Audi and VW PR and Marketing, the big internet search engine with G, Universal Music, Santa Monica Art Studios and many more.
So goood
Christopher
2016-11-15T00:00:00Z
Katja responded same day to questions prior to booking, and responded within 15 mins when I was staying there. The place was as described and looked like the pictures. It was actually even bigger than I thought it looked from pics. Felt cozy and open at the same time thanks to the skylights. I'm used to my bedroom which has black out blinds, but I didn't mind the brightness as I wanted to be up early every day anyhow. I felt like I had privacy which was nice even though the guest house is on her property where she lives. The neighborhood felt safe with a Trader Joe's within walking distance and a crossfit gym. I would stay here again. Thank you, Katja, for a pleasant stay!
Erin
2016-06-25T00:00:00Z
Katja' Santa Monica Bungalow, was the perfect resting place after 3 long days on a working trip! The space is clean and modern and accommodated my needs for lodging sweetly!
Erin
2017-03-17T00:00:00Z
Private, cozy space. Katja is a gracious and communicative host.
Erik
2017-01-08T00:00:00Z
The experience I had in Santa Monica was a great one and it had a lot to do with the my welcoming stay. The private guesthouse looked just liked the photos and upon arrival I was greeted by Katja, a friendly/warm hearted host . Very quiet spot made me feel like I had my own personalized space and was able to get great sleep just like I would at home. Close to great locations in town and an overall beautiful property. Katja was extremely pleasant and I would love to come back again to stay!
Linda
2016-04-05T00:00:00Z
My stay at Katja's place was very enjoyable. She responded quickly to my messages about checking in late and when I arrived everything was just as I expected. A very quiet, comfortable and comfortable place.
Kris
2016-05-17T00:00:00Z
Katja and her husband are amazing. Check in was smooth and easy. One suggestion I had which I got from reading the reviews was to bring an eye mask because of the sky lights. If you are sensitive to light, it's a must! But for the price, this place can't be beat!
Allison
2016-08-22T00:00:00Z
Host was nice, place is very clean. Room is quite spacious. Overall it was a nice staying experience at Katja's place.
Ivy
2016-10-30T00:00:00Z
Room Type
Private room
---
Property Type
House
---
Accommodates
1
---
Bedrooms
Santa Monica, CA, United States
This beach luxury apt located 2nd st, just a hop away from 3rd st promenade, skip away from pier, and a jump from the beach. Walk to whatever you need in Santa Monica. Next to the Huntley and Fairmont with the famous "Bungalow". Ocean view roof! parking! Private Bathroom!
This is the luxury apartment a block away from the park that overlooks the beach. The building has an ocean view!!! with a picnic bench and a bike you can borrow. You get your own private bathroom! Right next to I-10, next to beach, 3rd st. Promenade, Montana Ave shops, Pallisades Park, famous 4th street stairs, Whole Foods, and any kind of restaurant you can imagine. All within walking distance. I will help guests as best as I can :) Most beautiful area in LA County. Quiet yet lively neighborhood. Always something to do or easy to relax. You can walk ANYWHERE you need to go. But if you must go out of Santa Monicia, easy to catch a bus. Big 42" tv in your room! Tons of cable induing HBO. Basic heathy breakfast options available for you above fridge :) Plus your own private bathroom!
Most beautiful area in LA County. Quiet yet lively neighborhood. Always something to do or easy to relax.
Renee was a lovely host - very informative and responsive before and during our stay. The apartment was clean, and well appointed. Amazing location!!! Just a few blocks walk to loads of restaurants and shops, and 1 block back from the beach promenade (although note: the beach at Santa Monica you need to cross the freeway to get to via a walkway bridge, which was easy enough) and the beach was huge, with golden sand a lovely walkway along it! In terms of our 3 night stay, it was slightly different to as advertised because Renee had a long term lodger staying with her - so had offered her main room to us, and she stayed out in the lounge. However with Renee's late working hours, and so subsequently sleeping in, we didn't feel comfortable about going into the communal living space to make ourselves coffee/breakfast in the morning, and so we didn't - we just left the apartment early. Also then at night, we felt like we needed to stay in our room - as the lounge was essentially someone's bedroom. So we just got coffee and breakfast out everyday, and came home to our room after being out for dinner. Renee's lodger (who we hadn't met, so that was slightly strange knowing we were sharing an apartment with someone we didn't know), had disturbed us quite early one morning while getting ready for work - playing music very loudly for over an hour, which sounds silly to say, but with jet lag and a long journey to recover from, it did tarnish one of the 3 days we were staying. However this is no reflection on Renee, and it didn't happen again - but just something to consider if another person is in the apartment as the walls are thin. A great apartment and lovely host, but we would have preferred it to be as advertised with just Renee staying in the apartment, even though it meant we had a nicer room, with ensuite. Renee had been up front about this with us, 2 weeks before we arrived, but we didn't feel it enough time to book something else and so just went with it - but on reflection, hadn't appreciated Renee's working hours and so the communal area being out of action. Plenty of positives, but with a few negatives that we are sure are not common occurrences.
Wendy
2016-04-12T00:00:00Z
This place was perfect! It was walking distance to everywhere. Renee was very easy to communicate with and her home was fully stocked with everything you could need to ne comfortable
Jennifer
2015-11-13T00:00:00Z
Renee's apartment was perfect for my one day stop in Santa Monica. I did not have the pleasure of meeting her but her bf, D'Ontra, was very welcoming and helpful. I would def stay at her apt again, the bed has a memory foam that helped me sleep like a baby. Also the location is fab, one block from the Promenade and very close to Santa Monica Pier.
Noemy
2015-05-01T00:00:00Z
Dirty & unsafe experience. Think again before stayin here . had a gas leak in the room I stayed . room smelled of gas min after walking in room . wasn't sure til I realized smell wasn't going away . old furnace in the room host didn't care to check it based on smell. She claimed it must have just happened , but she has 15 air fresheners in the small apartment.. Now I know why . Disgusting toilet seat , had a old crack that looked like mold in it , and a discoloration around the seat , there is another bad review about the seat previous to my stay which if she cares she would change . There was no room in the bathroom , nowhere to put dirty towels , dirty towels sat on floor building up .. Floors weren't swept or vacuumed once the whole time , host honestly doesn't care.. No air-conditioning in room ..and if you have a car be prepared to walk . no parking out front . she tells you she has a pass but that doesn't mean you'll actually find a spot ..I would have left the first night if I knew it would be this bad . it just kept getting worse and worse. When I told her the day I left everything that was wrong she fired back with excuses and lies ..she didn't smell any gas , couldn't afford a toilet seat but she was out partying at the nightclubs til 3am , which I had to wake up to when they got home. Her response to gas smell was thanks for letting me know ,,, not omg I'm so sorry I feel terrible , I'm glad your ok after sleeping in a room that had poison gas leak ... She felt she was off the hook cause she called the maintenance man but overall you were responsible for your place before I walked through the door. She never offered to refund me the 2 nights in gas room , I requested refund and she refused it.. I actually turned the gas line off myself not actually realizing there was a leak , because it had to be tested which they did after I told her.. I didn't pay to stay with someone and have to get into an awkward argument about how dirty their home is.. Bnb did nothing about this because I didn't tell them right away. I didn't know all of this was going to happen. Find another spot in Santa Monica ...trust me . She will say no one else has has any problems before putting the blame on you .
jason
2015-02-09T00:00:00Z
I had a great couple of days in Santa Monica staying in Renee's apartment. It's really close to the beach and in a nice area. Her friend D was a great host as well and showed me around the area. I'd definitely stay again if I went back.
Jonathan
2015-05-03T00:00:00Z
Good room, nice and clean and great facilities. Location is brilliant, few minutes walk from food and shopping and beach.
Justine
2017-01-21T00:00:00Z
My stay at Renee's place was great. Renee has been super helpful when it comes to checking in and out. And she had everything prepared in the room prior to my check in. It just seems like she had though of everything that you'll need during your stay. The room was quiet, clean and very comfortable. Exactly like in the pictures. Renee replied almost immediately when I messaged her any question, and she always offered to help. The location is amazing. 2 mins walk from 3rd street promenade, the beach or pretty much anywhere you want to go in Santa Monica. And at the same time, the neighborhood is very quite and residential. I'd definitely recommend this place to anyone visiting Santa Monica
Moataz
2017-02-17T00:00:00Z
Renee's apartment was ideal for my business conference at the Miramar Fairmont and 1/2 block for a walk on the bluffs with a view of the Pacific or 3 block walk on the promenade for entertainment, food and shopping. I drove from northern California and was delighted to have a parking space in the garage. I didn't need the car during my 3 day stay because everything I needed was an easy walk. The apartment was very comfortable. The bed was just right. The room was quiet. breakfast was what I would have at home. Overall exactly what I wanted.
Ernie
2016-05-31T00:00:00Z
Room Type
Private room
---
Property Type
Apartment
---
Accommodates
4
---
Bedrooms
Santa Monica, CA, United States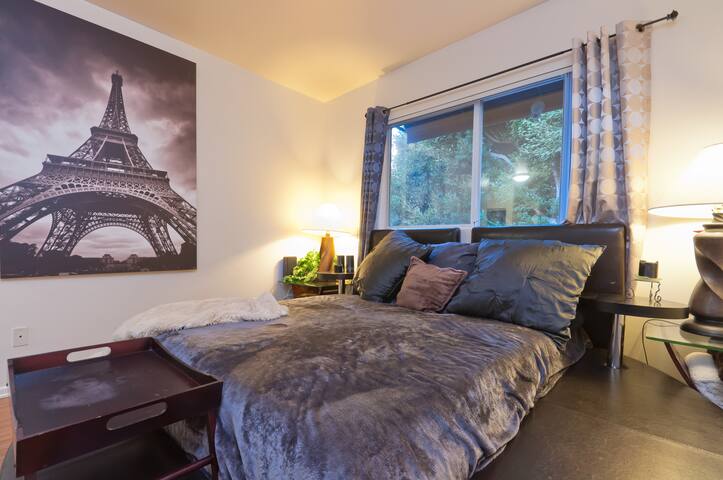 Shared room in a huge 2-story house in Santa Monica. You will have a single top bunk bed spot. There are two bunk beds in the room; every spot has power outlets/personal light/shelf/and bed's curtains adding more privacy to everyone in the room. We have enough common space: huge living room, office den, dining room, kitchen, so usually everyone hanging around and using room/beds just for sleeping. Also, you can use our Bikes and BBQ.
Vibrant shared house populated by artists and students. An inspiring atmosphere for everyone. Literally close to the major freeway, Santa Monica pier, UCLA, quick ride (cycling) to the best parts of the Santa Monica, bikes provided. Carpet floors, shared living room, kitchen. Shared Bathroom - next door. Luggage storage. Free: Laundry, WiFi, Towels, Shower amenities, bikes, atmosphere.
The nearest stores are - Bristol Farms, on two blocks up to Wilshire Blvd by Stanford Street, CVS Pharmacy, two blocks by Santa Monica (beach direction), Wine Expo across the street, and Lithuanian/liquor stores across Santa Monica Blvd. We have a Busby's Bar across the street - nothing fancy, but ok to chill out in the evening Mom's pub as well, McDonalds, Subway and Carls Junior by Pharmacy. Good place for breakfasts on Wilshire - Bruce's waffle Good Place for Dinner - B.A.D. Sushi on Santa Monica or Japanese conner 2123 Sawtelle Blvd. Or you can always go to touristic Promenade Street. It's 10-15 minutes cycling to the beach/30 minutes walking/20 minutes on the bus. Feel free to ask for the beach umbrella; I have one. Places to visit around: Santa Monica Beach, Promenade, Venice Beach, Venice Canal Historic District, Main Street (Venice), Self-Realization Fellowship Lake Shrine and all Los Angeles spots as well.
Eugene was very nice and honest. He did what he could to make sure I was happy. If I need acommodations in the future, I won't hesitate to seek out his listings.
Kevin
2016-10-12T00:00:00Z
Santa Monica is really relaxed and laid-back, and the same applies for Eugene and the other housemates. I spent almost two weeks there and it felt almost like home. Will definitely come back soon;)
Christoph
2017-01-06T00:00:00Z
Eugene made me feel very welcome and was so accommodating during my stay!! I really enjoyed the bikes that were for guest use.
Tina
2016-10-15T00:00:00Z
Eugene and Sasha's place is very nice, and they are very friendly and helpful. They have a lot of people staying at any one time, so it seems very much like a hostel. But the place is very open and everybody hangs out together, so it is a very friendly and enjoyable environment. A very nice experience.
Tom
2016-11-04T00:00:00Z
It was hot inside the room and the air condition was amazing
Yassir
2016-11-10T00:00:00Z
Great and affordable place to stay! Eugene was very welcoming as were the other guests and residents. Good vibe place. And I liked that the bunk beds had their own curtains to draw which gave a bit of privacy.
Nazly
2016-12-21T00:00:00Z
Spacious communal space, you could be up to 5/6 persons in the bedroom, great to have outdoor space, bike access and bus stop close by.
Monia
2017-03-18T00:00:00Z
The place is very clean and quite. They host a few people but the energy feels nice and everybody is very respectful
Vik
2017-02-25T00:00:00Z
Room Type
Shared room
---
Property Type
House
---
Accommodates
1
---
Bedrooms
Santa Monica, CA, United States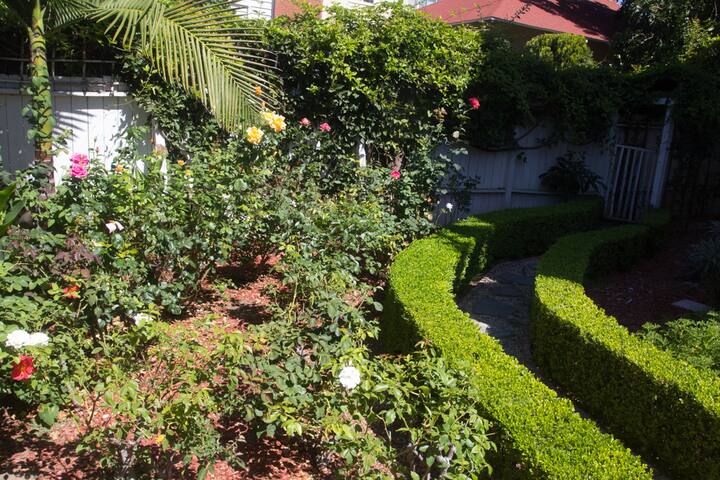 Enter dates to see full pricing. Additional fees apply. Taxes may be added.