Filters
Entire Home

Listings where you have the whole place to yourself.

Private Room

Listings where you have your own room but share some common spaces.

Shared Room

Listings where you'll share your room or your room may be a common space.
Flexible

Full refund 1 day prior to arrival, except fees

Moderate

Full refund 5 days prior to arrival, except fees

Strict

50% refund up until 1 week prior to arrival, except fees
Room Type
Price
Size
Employee host
Instant Book
Superhost
Neighborhoods
Amenities
Cancellation Policy
Property Type
Host Language
×

Close
Showing only places you can book immediately since your trip is coming soon.
2 Castles · San Francisco
We recommend booking a place soon.
We recommend booking a place soon.
Look for the lightning bolt for faster booking.
2 Castles · San Francisco
We recommend booking a place soon.
We recommend booking a place soon.
Look for the lightning bolt for faster booking.
Welcome home to your very own castle in Pacific Heights! Designed by Henry Gutterson and built in 1921 to replicate a French Fortress, this unique house exudes characteristics of the quintessential medieval castle. 2BR + Turret. All modern amenities.
From the moment you step onto the brick path and stroll through the lush garden to the magical courtyard complete with koi pond and bubbling fountain, you are spellbound. Upon arriving at the entrance to the home, you are greeted by an arched wooden door located at the base of a turret. One step through this door and you are cast back to the 13th century. As you ascend the circular staircase of this 2300 sq. ft. private home, a portal leads you to the great room, complete with stone fireplace, arched windows, beamed ceilings and exquisite chandelier. Details of the great room include the whimsical design of the chandelier stenciled in select wood beams and the guilded feudal crest above the fireplace. This room is the epitome of a castle great room and perfect for entertaining or relaxing. The next stop off the circular staircase is the kitchen and dining area in which the beamed-ceilings of the great room are mimicked and which also offers a spectacular view of the great room from the wrought-iron balcony. Sleek with granite countertops and backsplash, this is where the castle produces its bountiful feasts. State-of-the-art stainless steel appliances include Gaggenau oven, stove-top, microwave and dishwasher, as well as Subzero refrigerator. The kitchen is bright, overlooks the fountain and provides a built-in table which is perfect for arts and crafts. The breakfast nook is outfitted with a built-in buffet and mirror framed with the same whimsical stencils as the wood beams, and includes comfortable seating for 4 around a french bistro marble-topped table. Next on our tour via the turret is the master suite through an arched wooden door. This main bedroom takes full advantage of natural light through the use of amber and stained-glass windows, as well as skylights. The designer's thoughtfulness of light is abundantly clear. Additionally, there are remote-controlled shades for the skylight. This room also has a fireplace to keep cozy on foggy San Francisco nights and leads to a large, walk-in closet with built-in dresser and cubby holes. Through an arched doorway is a full bathroom with tub and shower, and through another door is the second bedroom suite. The master suite features a queen bed with new hybrid memory foam mattress. The second bedroom suite, which is accessible from the circular stairway as well, showcases the third fireplace, which is flanked on either side by built-in bookshelves. The same thoughtful attention to light is showcased in this room with skylights, and this room also offers its own full private bath. This bedroom features a queen bed. As an added bonus there is an office, laundry area and half bath on the first floor of this castle. The office has two work stations with built-in shelves above, as well as a window for natural light. The half bath has a window, also, and a pedestal sink with beveled oval-shaped mirror. The washer and dryer are located here, too. For casual relaxation, the outdoor area on the brick patio provides an enchanting backdrop with pond and fountain. Finishing touches on this castle include: * Gleaming hardwood floors * Double-pane windows * Stained-glass * Bell in turret * Thoughtful placement of small, rectangular, vertical windows throughout the turret and castle * Climbing vines on the exterior ashlar stone of the castle Unfortunately the Turret/Ladder access at the very top are off limits due to liability concerns. Host (Noah) is typically available via phone and text, but may not be in the physical vicinity while renting out his home. There will be a locally-based emergency contact though, should the need arise.
The Castle is ideally located in one of San Francisco's most coveted neighborhoods, on the borders of Pacific Heights / Cow Hollow / Russian Hill. It is within a short 2-3 block walk of the popular Union Street and Polk Street corridors, loaded with restaurants, cafes and boutiques. Ample street parking and close to multiple bus lines. On a case-by-case basis (if the garage is not already in use), a private garage space at the Castle may be available. Otherwise, street parking only. Guests are asked to please not use the Turret/Ladder to the loft at the top of the stairs. Guests are also asked not to use the medieval equipment + armor :) This home may not be suitable for guests that will have difficulty climbing a spiral staircase. The Castle also has an iron + ironing board, hair dryer, large flat-screen TV with HBO + Internet-connectivity via ChromeCast, wireless presets for all lighting, and Bluetooth + AUX support for audio in the Great Room.
Room Type
Entire home/apt
---
Property Type
Castle
---
Accommodates
4
---
Bedrooms
2
San Francisco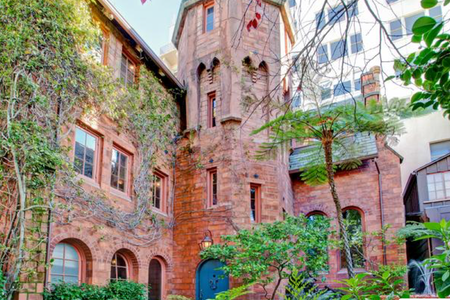 We are offering a separate, beautiful, bright, south-facing studio apartment on the lower level of the main home, which is located two short blocks to the main intersection of downtown Los Gatos: Parks, movie theater, restaurants, cafes, shopping.
New solid front door with bolt/key, new mattresses and mattress covers, new entry gate. We are offering a large, beautiful, bright, south-facing studio apartment on the lower level of the main home, where there is another apartment. The owner's family lives in the main home. The studio apartment has views of the garden, including 3/4 bathroom, large closet, kitchenette, and a queen size bed, full size bed, and queen size blow up bed. The next best thing to sleeping here is being so close to town that you can smell the coffee beans roasting at various coffeehouses. You will delight in walking out the door into an exciting town filled with shops, salons, eateries, drinking holes, and much to do. Special events include Cat's Hill Criterium Bike Race, Halloween, Holiday Parade & Carriage Rides, Music in the Park and Jazz in the Plazz. If you already know Los Gatos, you surely appreciate all the town has to offer. If you are new to Los Gatos, you will quickly learn to appreciate the fabulous environment and people Los Gatos offers. Patio and Grill Whenever possible!
Oldest neighborhood in downtown Los Gatos. Known for Cat's Hill Criterium Bike Race, Halloween, Holiday Parade, Holiday Carriage Rides, and regular CB Hannegan parties! Walking is best. Bicycles are great! Cars are not necessary unless it is your preference. Anything with small wheels: Skateboards, Scooters, Segways. Toddlers and children are counted in total guests. Babies are not included. There is a Pet Fee of $25/night. Children and pets are counted as paying guests.
Room Type
Private room
---
Property Type
Castle
---
Accommodates
6
---
Bedrooms
1
Los Gatos
Instant Book
Book without waiting for your reservation to be accepted