Come stay in our beautiful, quiet private room just 6 minutes away from JFK. Just 1 block away from lovely Springfield Park. Why pay $150+ a night at an airport hotel when you can rent a clean, bright bedroom for much less? This upstairs room is sunny, spacious, and clean. This newly renovated space has its own keyless entry. No need to worry about losing keys or fumbling with keys to get in! This peaceful space is perfect for an airport layover for JFK Airport.
The room is located up one flight of stairs. Access to the upstairs rooms are available through the side entrance. Both the side entrance and your bedroom have keyless entry. No need to worry about losing keys or fumbling with keys to get in! The upstairs apartment features a shared bathroom, and another Airbnb guest room across the hall. Your upstairs room is sunny, spacious, and clean. Your room includes an upholstered queen bed with linens, a television, a desk and chair, a slipper chair, two night stands with lamps, and a mini fridge and microwave.
This is a quiet, peaceful neighborhood located in Springfield Gardens, Queens, NY. 1 block from Springfield Park – a highly rated 23 acre park with a lake. This is a popular park that is lovely all year round. 10 minute walk to nearby restaurants and eateries including the Jamaican Jerk Truck, Butterflies II Chinese Restaurant, McDonalds, Popeye's, Dunkin Doughnuts, Subway, and Edible Arrangements. We also have restaurants nearby that will deliver. Springfield Gardens is also serviced by numerous buses, vans, commuter rail trains, and of course Uber.
If was a great place. Very calm and neat place. Would visit again.
Pallab
2017-04-06T00:00:00Z
The room was nice and clean, just like the pictures. Bathroom is shared and clean. Deloris was very kind and thorough at check in. Her daughter and co-host, Jacqueline, was great with communication. We would definitely stay here again!
Katelyn
2017-04-08T00:00:00Z
I will recommend this place for anybody any day, especially those who are passing through JFK airport. It is very close to the airport and the cost is very much affordable.
Greg
2017-03-29T00:00:00Z
This place was amazing. The space was just as advertised and beautiful. The host was great and attentive. I'll stay here every layover at JFK in the future.
Danuel
2017-04-03T00:00:00Z
Great place
Alexander
2017-03-31T00:00:00Z
Excelente opção para quem deseja hospedagem próximo ao aeroporto.. Muito confortável, organizado e limpo...
Ellison
2017-04-02T00:00:00Z
Room Type
Private room
---
Property Type
House
---
Accommodates
2
---
Bedrooms
Queens, NY, United States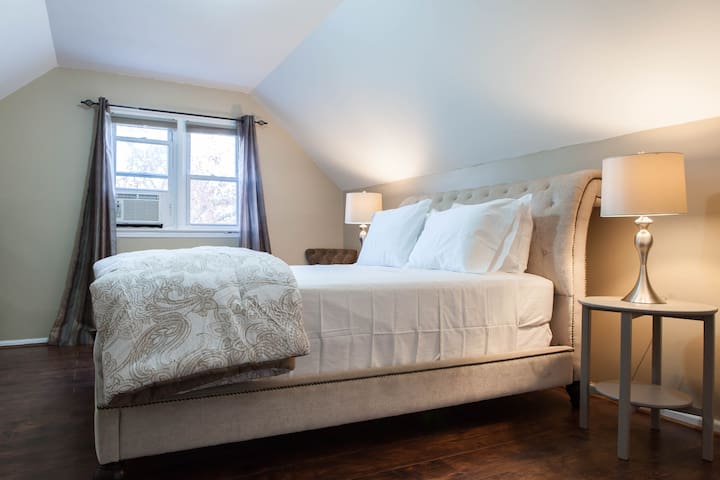 We're close to JFK airport,3 groceries (Walmart),2 Banks,1 Post Office. JFK airport is a 10-minute drive (cost $$16-22). Public transport to house takes 1 hour- Q111 Rosedale Bus (4min walk to house), LIRR Rosedale(20 min walk to house). To Manhattan- Q111 Bus to E Train or LIRR to Penn Station or x63 express Bus. Also, we are a 10-minute drive to Green Acres Mall,Walmart,Home Depot,Olive Garden,Apple Bees etc. There is a work desk available and yoga mat to destress.
We are across the street of a playground/ school. We are a 5 minute walk to Brookville Park. In a 10 minute walk - there is the Rosedale Queens Library, Post Office, Walgreens, Jamaica Food Take out, Laundromat, Cleaners, local bar pub, local restaurants and grocery store. In a 20 minute walk there is the Rosedale LiRR Station that can take you straight to Manhattan in 25 minutes. In a 30 minute walk there is Green Acres Mall Center with access to Walmart, Target, Home Depot, Best Buy, Macys, TGIF, Arbys, Olive Garden, Red Lobster etc. If you take a car/uber/cab all of these locations are a 5 minute drive. JFK is a 10 minute drive.
I had a great stay at this place. Everything worked out really well and it is a very good place to stay if you want to stay close to the airport. My hosts are so friendly people and they helped me with everything and made me feel like home. Thank you so much!
Emma
2017-03-04T00:00:00Z
Beautiful couple Christne is an amazing person she checked me in veey well and have me sweets,i was very happy stayinh at there place
daughtson
2016-12-31T00:00:00Z
It was a warm and comfortable stay just before taking an early morning flight from JFK. Einstein was very kind and helpful. Good value for money.
Didem
2017-03-13T00:00:00Z
Although I had to ha out so early, they waked up for me and they are really kind.
Keita
2017-03-18T00:00:00Z
Nice couple with a lovely little angel, I enjoyed my stay.
Peiyu
2017-03-28T00:00:00Z
The host is pretty nice! But the old house failed to block down external noices for me, such as people's voice and mysterious metal clash. It took me one hour or so to get sleep, but still I slept to morning because I was too tired to stay awake for those sounds.
Ci
2017-03-24T00:00:00Z
Warm place and warm hosts :O)
思嫻
2017-02-01T00:00:00Z
Christine was super nice and flexible w/ check in. The room was large with a twin bed and a desk. Bathroom and room were both very clean. Note that it is 55+ minutes from JFK by public transit (only 10 min drive). It's pretty far from the city, so expect a 90+ minute travel time w/ bus to get to Williamsburg or Manhattan. Solid place for a layover at JFK or if you want to explore eastern Queens, but prepare for a hike if you go into the city.
Billy
2017-03-14T00:00:00Z
Room Type
Private room
---
Property Type
House
---
Accommodates
1
---
Bedrooms
Queens, NY, United States
There is one bedroom with private bathroom & mini living room in the studio. The place is cozy, clean, safe and quiet. Street parking is free and convenience, kind and safe neighborhood.
This cozy, clean, no smoking space will be a comfortable fit for one or two people. You have your private bedroom & bathroom & mini living room. Comfy Full size bed with fresh bedding. Free WiFi. Easy street parking, free and convenience. How can you go to Manhattan? Take bus Q30 or Q31 after 5-8 minutes, you can get to subway F train station. or Take bus Q30 or Q31 after about 15 minutes, you can get to subway E,J,Z train station. Airport: About half an hour's drive to La Guardia Airport and J.F.Kennedy Airport.
Fresh Meadows is safe, quiet and convenient neighborhood. Walk 1-2 minutes to Grocery, Laundromat, Restaurant. Walk 10-15 minutes to supermarket, Starbucks, more restaurants & bars, AMC movie theater......
Very nice week with Cherry and her family. The room was clean, comfortable and spacious. I recommend this accommodation which is well located in Queens.
Lauriane
2016-04-25T00:00:00Z
They are awesome. Nice and loving family.
Yian Khai
2016-06-27T00:00:00Z
She is very sweet and kind. We felt comfortable and respected. She gave us a set of keys to go in and out from the house.
Marysol
2016-06-06T00:00:00Z
We weren't at Cherry's long but definitely recommend her to others. The place is a bit hidden but is located in a safe, quiet neighborhood. Cherry's husband stayed up to wait for us to arrive (at 1 AM) and made check in a breeze. The place itself is big enough for two people, super clean and has its own bathroom. Communication was easy, super nice people.
Rebecca
2016-10-21T00:00:00Z
This was my girlfriend and I's first time using Airbnb and it was also our host's first time using it and I must say it was a GREAT experience. We stayed here for 8 nights. Our hosts were some of the kindest people I have ever met. They were very welcoming when we got there and even helped carry our bags upstairs. Everything is as described, but the room is even nicer than the pictures. It was very spacious and clean. The room was pretty cold due to the automatic heating system that coincides with the weather outside, but Cherry gave us a thermal blanket which was very warm. Cherry offers to clean the room every two days if it is messy. Parking was very easy to find and free! We were able to park right infant of the house for 8/9 of the days we stayed with them. We really enjoyed being able to live with them for a week. They are easy to talk to and very approachable. Even their 1 year old daughter greeted us every morning with a smile and a wave! English is not their native language so I just ask that whoever stays with them be patient with them, because you will find that they are great to talk to. We spent a couple of nights talking until midnight just about their culture and life in their home country and how they like it here. It was great. If we ever have the opportunity to stay with them again, we definitely would. The bus stop is right around the corner which is convenient. Its about a one hour trip to Manhattan and about 10-15 minutes to flushing via transit. It is a beautiful home in a quiet neighborhood. Most of the time we didn't feel like we were in NYC at all because it was so quiet and the roads were bigger and less crowded which was a good thing for us. They are very hospitable and even treated us to some traditional Chinese kung fu tea. Definitely an experience we won't forget. Overall, we really enjoyed our stay here and we highly recommend for anyone who is planning a trip to NYC that doesn't mind the commute from Queens to stay here.
Tony
2016-03-20T00:00:00Z
Cherry's place is excellent, just as described. It is a separate unit from the main house, with its own entrance. Self contained one bedroom with everything we need. We especially love that it's warm and cozy and very clean. Location wise it takes 1 hour by bus and train to get to Manhattan. But the bus stop is just across the street. There is also an Asian grocery, Chinese restaurant and laundry place within 1 minute walk. Very convenient! We highly recommend Cherry's place.
Indrawaty
2016-11-30T00:00:00Z
Very nice, it was exactly as described and pictured. Comfy bed, clean bathroom, refrigerator and microwave in the room as well. They were very nice and accommodating, they even offered a ride to the airport. I would stay here again. There wasn't much to walk to like restaurants and shops, but it's close to the airport.
Jennifer
2016-09-01T00:00:00Z
We were there to pick up our friends and family arriving at JFK. It was a very comfortable stay. Both Cherry and Steven were very accommodating and flexible. The room was more like a studio apartment, (with Fridge and microwave). It was perfect for us.
Akhil
2016-09-23T00:00:00Z
Room Type
Entire home/apt
---
Property Type
House
---
Accommodates
3
---
Bedrooms
Queens, NY, United States
ONE BEDROOM FULLY FURNISHED TWIN BED ,WORKPLACE FRIENDLY SHARED KITCHEN & BATHROOM SPACIOUS AND WELL VENTILATED IN 3 BEDROOM APARTMENT , WIFI HI SPEED FIOS 50 MBS, CLEAN AND QUIEST 1 MIN AWAY FROM Q10 BUS STOP ,10 MIN FROM JFK IN CAB /20 MIN BUS Q10 , E,F SUBWAY LINE 10 MIN AWAY,A& J SUBWAY 5 MIN WALKING, LIRR JAMICA STATION 10 MINUTES AWAY ,MIDTOWN ,UPTOWN ,DOWNTOWN 45 MINUTES AWAY NO SMOKING / NO LOUD MUSIC NO DRINKING . POLITE CLEAN ORGANIZED PROFESSIONAL PEOPLE
PRIVATE ROOM PROFESSIONAL SERVICE CLEAN QUIET SPACIOUS PRIVATE ROOM WITH TWIN SIZE BED ,DESK ,CHAIR AND LAMP ,LAPTOP FRIENDLY ,SECURED ETHERNET CONNECTION IN CASE YOU NEED IT EXCEPTIONALLY CLEAN BATHROOM COMPLETELY CLEANED TWICE A DAY FIOS VERIZON WiFi INTERNET 50 MBPS , ,BLACK+DECKER F210 STEAM IRON,HANGERS IN CLOSET DOOR ON LOCK SO GUEST CAN LOCK THE ROOM ,MICROWAVE REFRIGERATOR AND FILTER WATER IN KITCHEN LARGE LIVING ROOM WITH COMFORTABLE GRAIN LEATHER COUCH AND DINING TABLE BALCONY BATHROOM - SHAMPOO ,BODY WASH , TOOTHPASTE ,FRESH TOWEL LAUNDRY AND DRY CLEANING SERVICE AVAILABLE AT EXTRA COST Please LOOK UP the zip code to your destination and FIND THE LOCATION ON MAP it will tell you everything before booking to see how far you have to go and nearest subway public transit don't get disappointed later blaming the location. if its closer to JFK airport means its not closer to city its a 45 TO 60 minutes commute to Manhattan give and take depending upon particular day and familiarity with subway system .if you dont know how to use ,public transportation OR maps or dont know how to navigate dont want to walk please book a Waldorf Astoria hotel you belong there you dont belong here please dont book my place . Please use maps to look up the area if your new to the town or don't know where to go it will give you approx timing and directions
This place is close to airport. Place is neat and clean. Host is very cordial, goes out of the way to take care you. He allowed me to drop my luggage in the morning on the day of arrival. He and the kid provided me all the information needed for me to go around the area. I had a nice, pleasant and homely stay.
Lakshmin
2016-02-28T00:00:00Z
I stayed for two nights and Gurpreet went above and beyond to make my stay as comfortable as possible. He messaged me directions, carried my suitcase up and down the stairs, gave me cold juice upon my arrival and a bottle of cold water and made sure everything was alright. The room is exactly as described, very clean and comfy. The location is great if you're flying to or from JFK and it is not difficult to go to Manhattan by public transportation, either. Overall a perfect experience. I highly recommend Gurpreet's place.
Anina
2016-06-19T00:00:00Z
Good location for an overnight layover at JFK. Not a bad area to walk around and grab some food. Host was wonderfully communicative and family members made me feel very welcome when I arrived. Room and bathroom were very clean and quiet. Nice!
Brad
2016-07-19T00:00:00Z
Welcoming hosts, clean and tidy room. Thank you for a good stay.
Lewis
2016-08-30T00:00:00Z
Very convenient, cheap, and clean.
Dan
2017-02-21T00:00:00Z
Very nice and helpful family! Picked me up at the airport, arranged for me to get food and a SIM card for my phone. Provided me with a very nice room which included wifi and everything else you needed for staying a couple of nights. Overall a very pleasant stay and I'll recommend it to anyone!
Joel
2016-01-14T00:00:00Z
This place has many reviews that put it as a great place to stay and they were not wrong. There was some flexibility to both the check in and out of the appartment. Also he wa very understanding about the time I would leave and come back to the appartment. Place is as described. The whole piece is very clean and organized. Room was more than enough for a single person. The bed was surprisingly comfortable and familiar. Bathroom is as clean as everyone has described. There are many rules to using it but this definitely help keep it clean. You have to respect the place where you are staying after all. Host is very nice, probably the nicest person I ran into during my whole trip. He gave a tour of the place, cared to explain anything I needed to know and even suggested some places to eat nearby. WIFI is great, more than I could expect. He was also kind enough to provide directions to public transportation. Bus line Q10 is half a block away which will take you to JFK. Subway line A is a few blocks away, maybe a 10 minute walk. Neighbourhood is very quiet and feels safe. If you are new to the whole public transportation in NY, please by all means get a Metrocard, it sure will make life easier. From Lefferts Station to Manhattan, it takes around 45 min and from then on you are free to explore the city. On your way back make sure to take Line A heading to lefferts. But please be aware (I made this terrible mistake). Startin midnight until around 6 am, no train will take you to lefferts station so you'll need to take the one heading to Rockaway Blvd and get down on this station and be prepared to either get a cab or walk around 30 blocks ( what I did ). I hope this piece of knowledge can help someone out there. I would definitely recomend this place and If I'm ever back in NY, this would definitely be my first choice to stay.
Kerwin
2016-11-18T00:00:00Z
The stay Gurpreet's space was perfect, it is extremely clean and tidy. This is my second stay at his house and I'm sure it definitely won't be my last. The pictures are very accurate, He is also ready and willing to assist with anything at anytime. I totally recommend this space for anyone visiting NYC. The pick up and drop off service is also a bonus
Sparkle
2015-10-26T00:00:00Z
Room Type
Private room
---
Property Type
Apartment
---
Accommodates
1
---
Bedrooms
Queens, NY, United States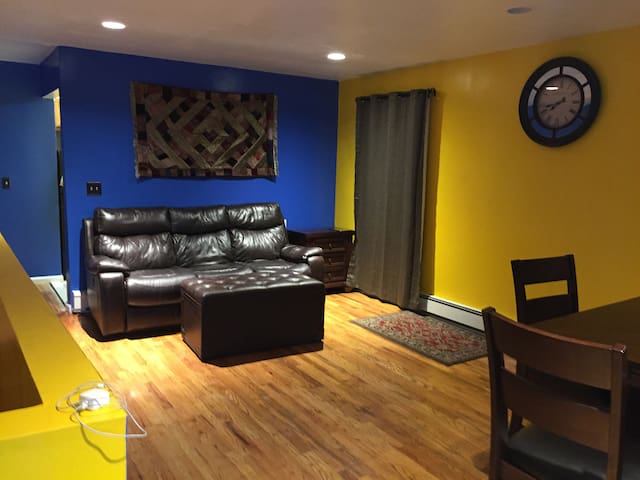 I live in a very quite neighborhood. It is 5 minutes from Kennedy Airport. Our rooms are located in the basement of our house . We now have cable TV in the room and offer complimentary water, coffee, tea and hot chocolate.
We have work very hard to make our place exceptionally comfortable. We have traveled around the world and know what make your stay comfortable. Our rooms are located in our finished basement and there are about 10 steps. If your luggage is heavy we have a back door access to assist you with your luggage
Our neighborhood is very close to JFK. Were is a no fly zone so you don't see or hear the planes. Our neighborhood is quite with plenty of local restaurants, convenience stores , and drug stores.
We came in early AM and were beautifully accommodated. Thanks so much Sandi and Dona!
Lauren
2016-11-30T00:00:00Z
Dona was so kind and helped us out of a situation. Let us arrive late at night after our flight was cancelled. Great beds! Great advice for the cans to airport. Highly recommend!
Susan & Fraser
2017-03-02T00:00:00Z
Perfect spot close to JFK and awesome hosts
Peter
2017-01-16T00:00:00Z
They were great hosts, very helpful!
Heidi
2017-01-12T00:00:00Z
Wonderful place!!!
Gina
2017-01-22T00:00:00Z
Very close to JFK, kind hosts, who were easy to work with.
Amy
2017-01-30T00:00:00Z
Very nice and quiet place to stay! Hosts are very pleasant and aware to help.
Mikhail
2016-12-31T00:00:00Z
Dona and Sandi's place was just perfect for us. Super quick to get to the airport (there was a lot of traffic on the surrounding highways, but the route to and from the airport missed it entirely) for our early flight, and exactly as described. We got to meet Sandi, who is simply lovely, and full of great tips about food spots in the surrounding area. The bed was so incredibly comfy as well.
Bianca
2016-12-09T00:00:00Z
Room Type
Private room
---
Property Type
House
---
Accommodates
2
---
Bedrooms
Queens, NY, United States
Close to public transport, one of two cozy little guest rooms for two. This room is a 10 x 12 converted front porch, located on the first floor of a two family home. Your host lives on the third floor. Come visit Flushing Queens!
This is a small space, big enough for two people sharing a bed. It is located right by the front door so it is perfect for guests that plan on arriving late at night and do not want to disturb anyone. Because it is located street side, you are sure to hear cars and buses as they pass by in the night. It has 5 windows and does not have black out curtains. In the mornings, you will receive a soft glow as the day gets brighter. I'll be on the second floor making coffee. I'll be happy to make you a cup if you let me know. The bathroom is a shared space with another guest room and is on the second floor. I have two cats so, not a good match for those of you with bad allergies or cat phobias. Yes I have had guests here with cat phobias. Ha ha.
Flushing is the biggest China town in all of New York!! We are a foodies paradise! In the morning, be sure to visit one of the many Asian pastry shops in the neighborhood to try a coconut creme bun or a red bean bun. For lunch or dinner, don't miss the opportunity to try some authentic Korean BBQ. There are Korean BBQ restaurants all over Flushing! We are just a 13 min walk from the 7 train and downtown Flushing, or, just catch the bus on the corner. I can help you find your way around NY!
Linda was gracious and her place was quiet, clean, warm and (URL HIDDEN) was all that we could have asked for and then some. We didn't get to see each other much as it was the holidays and we all had family stuff to do but everything we needed was provided for and she was quick to respond to any inquiries. We really enjoyed getting the opportunity to thoroughly explore Flushing for the first time as well and took advantage of some pretty amazing places in the neighborhood. For one, Ganesh temple, a block down Bowne, was quite the experience along with countless Korean and Chinese places. The walk to the 7 or LIRR is short, 10 minutes tops, but if your feeling less adventurous there are plenty of buses that service the neighborhood, including the Q65 bus which stops literally next door and goes straight to the Main St #7 stop so it really couldn't be any easier. (Tip: use westbound express trains in the morning and eastbound at night, to save time on your trips in and out on Manhattan. Another is LIRR 'city pass' which costs only $4 on the weekends and gets you to Penn in under 20 minutes and in relative comfort.) Thanks again Linda and family!
aaron
2013-12-31T00:00:00Z
I stayed 11 nights at Linda's with a friend. Linda was friendly, the room and bathroom were very clean and the room was equipped with air conditioning which was great because the summer in NYC can be quite hot ! We felt very welcome :) The few negative items are related to the neighboorhood : although it feels very safe, it can be a little noisy at night. Plus, it is far from Manhattan (about 1 hour to reach the Met for example). But for budget travelers as we were it is still quite convenient and easy to access with public transportation and definitely worth the price. Thank you Linda for this nice stay !!
Pauline
2015-07-01T00:00:00Z
Linda, the host, was extremely helpful and got in touch with me two days before my arrival to inform me about the directions and how to get into the house. She offered to hold my bags before and after the stay if needed and also provided me with ironing board and iron for my clothes. The location is not bad depending on what your travel plans are. Her directions to get to the house were tremendously helpful and the subway and buses to get to the house have a right frequency from the central city. On arrival, I was greeted by her pet cat which was very friendly. The room was clean just a bit smaller than I thought but nothing of a big issue. Had windows all around in the room. The bathroom is on the second floor and is shared with other House members it was clean and stocked with towels and toiletries for guests. Even though the room is next to the main entrance, it was not noisy during the day or night. The house has the bus stop just down the lane to go to the metro station and has a nearby cafe room which opens at 7 am and has a variety of good breakfast options. Linda was lovely to talk with and helpful. Would recommend this place to anyone looking for a pleasant stay in Flushing.
Priya
2016-11-08T00:00:00Z
Linda and her husband are such a nice hosts! We enjoyed our visit with them and can recommend to stay with them in New York. The House is in such a good area and totally easy to get to the subway in a short walk. The bedroom and bathroom are clean and comfortable.
Esra
2016-05-26T00:00:00Z
Linda's guestroom is clean,warm and comfortable .She gave me detailed advice on how to get to my next destination.She is a very good and kind host。
Helen
2014-02-10T00:00:00Z
An amazing stay, Linda was there to greet me and show me everything I needed to know. Quiet home and comfy bed..will book again!
Lou
2015-12-14T00:00:00Z
It's a nice and warm place for visitors. If you are cats lovers, you better to live here. Linda has two adorable cats and they will "Say hi" everyday. In this house you need to share bathroom with others and Linda will provide extra towels for you. You can use the kitchen to serve self on the second floor. It's just a such lovely small house for every life lovers to live.
Roy
2017-02-21T00:00:00Z
The stay with Linda and Robert was very nice! The room was small but cosy, the location quite perfect - you do not live in the center of NY, but the public transport is near and very convenient, and we felt safe in the neighborhood. I think the description of the place is very accurate, so if that sounds good to you, go for it :)
Matej
2016-12-18T00:00:00Z
Room Type
Private room
---
Property Type
House
---
Accommodates
2
---
Bedrooms
Queens, NY, United States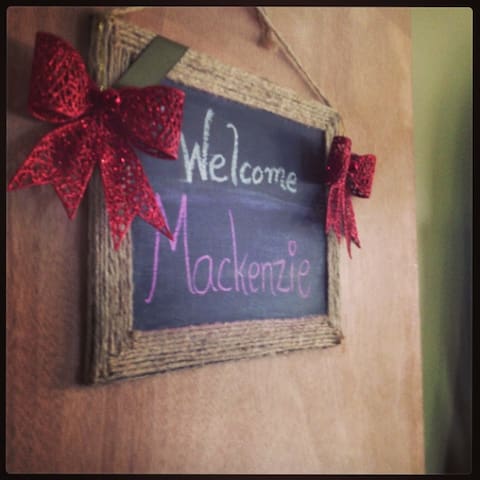 My place is close to the airport and public transport. You'll love my place because of the comfy bed. My place is good for couples, solo adventurers, and business travelers.
Good place
Raquel
2017-01-17T00:00:00Z
Very clean. Good communication. For us it was perfect because it is located just next to the airport.
Uwe
2017-03-25T00:00:00Z
Very nice couple. The place was very cozy and only about a half mile walk from the Rosedale station.
MacKenzie
2017-03-18T00:00:00Z
Friendly hosts, walking distance to cheap and good restaurants, close to JFK and LGA. All for an unbeatable price!
Kim
2017-03-21T00:00:00Z
Fidel's place was very convenient Cos we booked kinda late but we were still able to get the room on checking in it was even more comfortable than expected everything was neatly prepared and arranged we practically had a whole floor to ourselves very host was very accommodating would recommend here to anyone who wants a private room and floor to stay
emy
2017-03-16T00:00:00Z
Loved how quiet and secluded the space was everything was very clean and she had toiletries if needed the bed was extremely comfortable and the temperature on the floor was perfect
Natasha
2017-02-12T00:00:00Z
Good for the price
Anthony
2017-02-25T00:00:00Z
Close to JFK airport, perfect for an overnight stay before flying. Less than 10 min from the airport.
Heather
2017-02-05T00:00:00Z
Room Type
Private room
---
Property Type
House
---
Accommodates
2
---
Bedrooms
Queens, NY, United States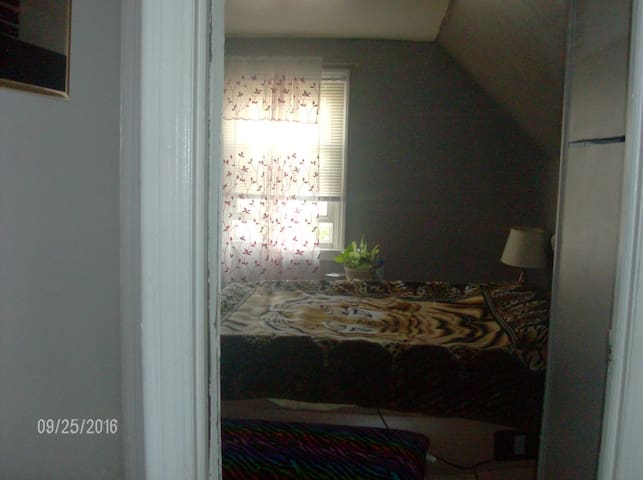 30 to 60 minutes to Manhattan depending on where you are going! Spacious 2 BEDS, always fresh and clean Full kitchen, Free Coffee and Tea Easy Combination locks to Enter! High Speed Internet 5 Star Rating No Fees You will Love your Stay!!
No Security Deposit No Cleaning Fees No Extra Charges Great Location: 30 to 60 minutes to Manhattan depending on where you're going! Blocks away from LGA Airport (walking distance), short bus or taxi ride to JFK Airport, short public transportation ride to NYC. Car rental and free parking near Excellent reviews! About the space: You will have your own private key to your room as well as to the front door. The room, kitchen, and restroom are always kept clean and organized. Guests have unlimited access to cook and use the facilities, as well as high speed internet :) Airports and City are conveniently accessed by a short car or public transportation ride.
The neighborhood is very convenient and safe even late at night. There is much to do with plenty of ethnic restaurants. The neighborhood is safe and friendly. It is extremely easy to get around, with public transportation very close by. The house is also very close to a shopping center with all major stores, Flushing Meadows Park, Queens Center Mall, Airports, post office, nice restaurants, fast-food, laundry mat, a 24/7 super market, and much more!
Angela's place was perfect for what I needed! Close to the airport, super clean, comfortable and inviting, and all the extras she's thought of are great. I'll definitely stay here again. Thanks!
Elizabeth
2016-11-21T00:00:00Z
As a returnee to Angela's place, we knew what we could expect from our stay. The communication and the arrival was smooth, the room is perfect! Staying here is highly recommended, Angela and Riccardo are professionals in AirBnB! If I go back to New York later, I will definitely stay at their place again!
Dóra
2016-09-04T00:00:00Z
Angela's establishment was professional and provided thoroughly for the typical needs of travelers. Angela welcomed all inquiries before and during stay no matter how trivial with almost immediate response to texts. Everything was very clean and in working order. The kitchen appeared recently remodeled while the premises was slightly threadbare (squeaky wood floors and doors, chipped tiles). Security was tight. Angela's living quarters are completely separate and sound-proofed from guest quarters. There are three private guest quarters sharing bathroom and kitchen so be aware that there is a communal experience in those areas. I couldn't hear other guests in their rooms, though I could hear them in the hall/kitchen. The kitchen could be easily used by a few people at once, and everyone was considerate about cleaning up after themselves. Each room had separate assigned refrigerators. People also cleaned up after themselves in the bathroom, but it was a bit tricky to coordinate turns. I would have liked to open the windows overnight, but the airplanes and neighbors' talking and loud music were disruptive. Closed windows shut out sound well and the A/C was sufficient for the heat with white noise that allowed sleep.
Lindsay
2016-09-08T00:00:00Z
Good location from lga airport. I used uber to get there and also good to walk.
seunghyun
2016-10-09T00:00:00Z
Angela was very accommodating and lovely (my daughter enjoyed getting two kisses from her when they met). Angela gave us tips on the neighborhood, instructions on how to walk to Laguardia (it's very close but you don't hear it in the room), and even let us stow our luggage for a few hours while we explored. Her place is one bus away from the bustle of Astoria and all the great restaurants. It's a very safe neighborhood even at night; super convenient, affordable, clean, and very comfortable (with quality bedding and ice cold AC). Just what we needed to escape the heat. And great coffee in the communal kitchen in the morning. Salut to Angela and her husband for a great last-minute stay.
Ross
2015-07-08T00:00:00Z
Angela and Ricardo were very welcoming and understanding. They were always ready to help and they were very friendly. The listing description was very accurate. The room was exactly like the pictures, and it was very well- maintained and clean. The neighbourhood was very quiet and safe and it is very close to La Guardia airport. However, the subway station was a bit far away, but it was not as bad if the bus was taken.
Rotluangpuii
2014-12-25T00:00:00Z
Angela was a great host! She explained everything so well and she was so nice! The room and bathroom were very clean and the accommodations were very comfortable. The neighborhood was nice and quiet and safe! Thank you and hopefully I will be staying there again!
Ashley
2015-04-27T00:00:00Z
Cozy, warm, beautiful bedroom. And clean, convenient kitchen. When I arrived at the room, Angela and Ric warmly showed me all the facilities in the room, and gave me advice on several options of transport. The room is not along the subway, but it's convenient to take Bus 33 or 72 to 7 Line or E Line. Angela kindly showed me a grocery round the corner. I bought food material there and made ourselves hot food in such coldest days in NYC. Excellent experience!
Xiang
2015-02-17T00:00:00Z
Room Type
Private room
---
Property Type
Apartment
---
Accommodates
4
---
Bedrooms
Queens, NY, United States
One furnished bedroom with a single bed and a single air mattress is perfect for two people who are coming to tour NYC. Our neighborhood is safe, quiet and two blocks away from public transportation. We are next to 2 main highways, La Guardia Airport is 5 minutes away and Manhattan is 25 minutes by car or public transportation. We offer wi-fi and cable tv; Although we love our furry friends, our room rental is not pet-friendly.
Neig
Room Type
Private room
---
Property Type
House
---
Accommodates
2
---
Bedrooms
Queens, NY, United States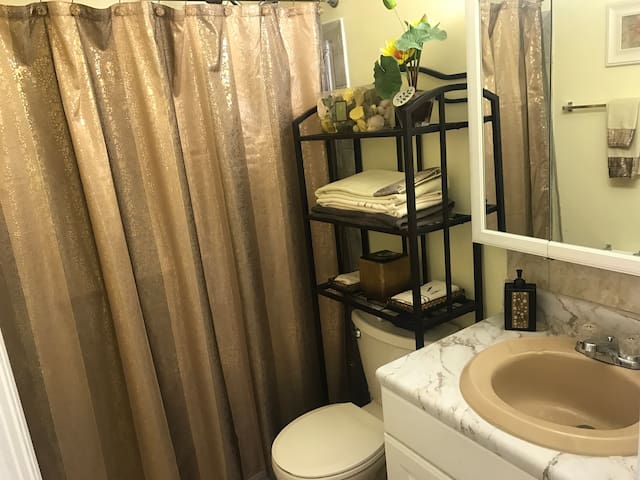 Greetings! Serenity. My cat and pomchi love company. We have a office/guest room that we decided to share with all travelers looking for a place to get around from the busyness of New York City. My place is close to Resorts World Casino New York City, Baisley Pond Park, JFK Airport. You'll love my place because of the location. My place is good for couples, solo adventurers, and furry friends (pets). I hope you enjoy your stay! :)
This spaces unique because I am a very spiritual person and believe my home is a reflection of what I have in my heart. I have intentionally color coded my home, add particular fragrances, plants and crystals along with other elements to elevate the peace and positivity of the space. I am sharing my space with you hoping to add a bit of gold into your trip and also your life. I also seek to receive the blessings and good energy you bring from your travels across the country and around the world. This is my home this NOT a 5 star hotel if you are looking for a hotel feel this is not the place. Welcome to Shapel's Serenity :)
South Ozone Park is a neighborhood in Ozone Park, but despite its name, South Ozone Park is mostly in the east of the neighborhood of Ozone Park.It extends from the Aqueduct Racetrack eastward to the Van Wyck Expressway. Its main thoroughfare is Rockaway Boulevard. The neighborhood is part of Queens Community Board 10. South Ozone Park is home to a more diverse population of about 45,498, with many Indians, Pakistani, Guyanese, Trinidadian, and Blacks living in the area, in addition to the area's longtime Italian-American population; Italian-Americans are most prevalent in the southern and western areas in the neighborhood near the Conduit. There has been a recent surge of development in South Ozone Park that rivals many of the surrounding communities in terms of home value. Rockaway Boulevard is South Ozone Park's main business strip. There is also a high concentration of small businesses along Liberty Avenue in nearby Richmond Hill. In 2000, the population was 7.8% white, 45.7% Asian Indian, 12.7% Hispanic, 12.8% non-Indian Asian, and 25.6% black. The Median income is $80,000, and the ZIP code is (PHONE NUMBER HIDDEN). South Ozone Park and South Jamaica are separated by the Van Wyck Expressway.
Shapel was very nice with us and the room was fine, it is easy to see it with the pictures. The appartment is far away from the city and you have to take a bus and then the subway, but it is really close to jfk airport.
Irene
2016-10-28T00:00:00Z
Shapel was a wonderful host, even if we were one of the first guests that she had, she put a lot of thought and effort, to make our stay as comfortable as it can get. She provided clear and correct directions to her house. And because it was in the middle of the week, we didnt have to much opurtunity to meet her, but every interaction was sweet! I would recomend, this place as its described, for solo adventurers and for couples.
Urh
2016-10-21T00:00:00Z
Shapel and their pets are lovely. Close to the airport, ideal for rest.
Francisco Jesús
2017-01-28T00:00:00Z
Peaceful and welcoming. Perfect location for an early (EMAIL HIDDEN)munication was also excellent.
stephany
2017-02-03T00:00:00Z
Shapel was very flexible as I arrived late to the Airbnb. It is in a nice location close to JFK, I slept like a baby, and she has an awesome cat. Shapel is very friendly and I highly recommend this airbnb.
Aaron
2016-12-23T00:00:00Z
It was a nice, eclectic place to spend the night. I loved that I could bring my dog with me. Dog Lovers, beware!!! This is where you will meet the most friendly and adorable dog in the world. She will stop from nothing to kiss you and snuggle with you!
Flavia
2017-02-07T00:00:00Z
Shapel was very friendly and accomodating!
muni
2017-01-05T00:00:00Z
Shapel is really great and is very hepful! She gave me lot's of good advice and direction, and even made tea for me, what I really needed after a long flight ☺ I came only for a night and left early in the morning, so cannot comment much on the place. For me it was convenient re location and pricewise it was good. Also clean and warm enough.
Alla
2017-03-27T00:00:00Z
Room Type
Private room
---
Property Type
House
---
Accommodates
1
---
Bedrooms
Queens, NY, United States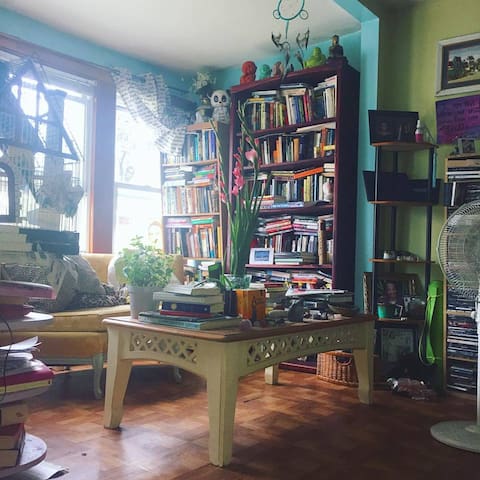 Small room with twin bed and shared bathroom. Must arrive after 1pm and leave early before 9am. Only for one night . Door locks from inside for privacy. Come relax, take shower, make a cup of coffee and have a restful night. Wifi & AC.
Only one person. WiFi provided but all conversations on the phone must be held outside or in the kitchen. Street level and airport is busy so noise level is high. AC when used, covers some noise. Bathroom& Kitchen upstairs. Coffee and bagels etc. This is only a crash pad.
The neighborhood does not have much to offer than its proximity to the airport and public transportation. A small deli is located up the road (walking away from airport on 94th less than a block away with homemade Dominican food) and the laundomat soon after. A 10 minute taxi ride to Astoria, New York. A lively, traditionally Greek and Italian neighborhood, Astoria, Queens, has over the past few decades seen an influx of Brazilians, Bangladeshis, Eastern Europeans, Colombians and Egyptians. Eat and drink your way through this diverse cultural legacy, from stuffed vine leaves and spinach pie in a Hellenic Taverna to a thick Turkish coffee and shisha pipe in "Little Egypt" (Steinway St between 28th Ave and Astoria Blvd), or a stein of Czech suds at the enduringly popular 1910 Bohemian Hall & Beer Garden. In the early days of cinema, Astoria was a major celluloid star, and Kaufman Astoria Studios—based in the old Paramount Pictures production HQ—carries on the movie making tradition, while the recently upgraded and expanded Museum of the Moving Image illuminates all facets of the art form.
Pretty much as described. Maya was very good in terms of communication and everything was handled smoothly. Cool place.
Jay
2016-11-13T00:00:00Z
No problems checking in, place was very clean and Maya was very professional and up front with everything. Would recommend if you need a place to crash near LaGuardia!
Blair
2017-04-08T00:00:00Z
Great price, great location. Was just blocks away from Terminal B - It took me only a 8 min walk. I arrived 00:15 - Maya coordinated all logistics - I did not met her - since I only slept for a few hours before continuing my trip. Chek out time is pretty early (8:00 am) but if you have an early flight it just works out. Clean bathroom, lots and lots of bagels in the fridge. Thanks Maya
Manuel
2016-06-11T00:00:00Z
Host quickly provided clear and accurate arrival instructions and answered all of my questions promptly. I had some delicious muffins and a baggle and coffee for breakfast. Happy with my stay at your home.
William
2016-09-20T00:00:00Z
This place is super convenient for overnight sleepers, I arrived after 12:00 p.m. and get in as Maya instructed. This is perfect for anyone taking early morning flight.
Shicheng
2016-09-25T00:00:00Z
All I need is - a night's rest between flights. And I slept and relaxed very well in a very clean and tidy Maya's house, from which it is very easy to walk to any of the La Guardia terminals . Maya is absolutely welcoming and helpful hostess, and I was very happy to meet her. Thank you so much, dear Maya and good luck))
Irina
2016-08-11T00:00:00Z
I haven't had a chance to see Maya, but she was very proactive and informative in communications with me. She reached out to make sure I found the house and there were detailed instructions posted all over the place. The crash pad itself was clean and comfortable. While there isn't a door, it's properly closed off with a privacy curtain. There was a little window unit air conditioner that made the space comfortable. Coffee and bagels and fly away. I do recommend the stay at Maya's house to all.
Rustem
2016-09-12T00:00:00Z
Maya's place was very clean and easy to access. She was clear in her instructions and accommodating for checkin times. Best of all it was only 10 min to walk to LGA!
Richard
2016-06-18T00:00:00Z
Room Type
Private room
---
Property Type
Apartment
---
Accommodates
1
---
Bedrooms
East Elmhurst, NY, United States
Close to restaurants and shops. Quiet neighborhood. Easy street parking!
Room Type
Private room
---
Property Type
House
---
Accommodates
2
---
Bedrooms
Fresh Meadows, NY, United States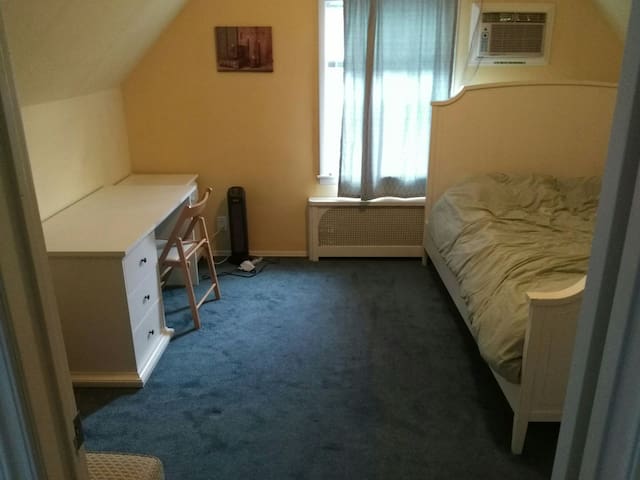 Cozy room in a friendly family home. Bathroom is outside the room - shared but no one hogs it. Room is best suited for solo adventurers & business travelers. Late check-ins are welcome! Walking distance to LGA(aprox. 20 mins) & public transportation takes you straight into the heart of NYC! Diner, Super Market, Takeout & Pharmacy are near by for your convenience. Our home is best for guests who are independent, down to earth, low maintenance & generally laid back. Not a hotel but I do my best!
Please note this room is for 1 guest only. An assortment of general toiletries are available in the bathtub's shower caddy for your convenience. If you need anything please ask. If we have it, you can use it :o) Our home is best suited for guests who are clean, considerate, independent, down to earth, low maintenance & generally laid back. Please be prepared to call your own cab (a cab # is provided for you in the room if you don't want to look one up online or don't have the Uber app), as we no longer provide this service. Also remember, this is not a hotel and we work full time but we do our best for you to be satisfied.
Near LGA airport and Manhattan - easy access to all tourist sites! 20 min Walk to/from LGA - 7 min Taxi ride (apporx. $10). We are just minutes away, a quick Bus/Cab/Taxi ride to Astoria, Queens, where you can find a booming night life and shops to visit during the day. Q49 bus goes to Subway station 74th/Roosevelt. There you will find the 7, E, F, M & R trains which take you into Manhattan. Q19 bus take you to Subway station 31st/Astoria Blvd. There you will find the N & W trains which take you into Manhattan. Q72 bus takes you from Terminal B in LGA airport to 94th street & Astoria Blvd. near my home. Please be prepared to call your own cab (a cab # is provided for you in the room if you don't want to look one up online or don't have the Uber app), as we no longer provide this service.
Great location. Walked from LGA, close to eateries and subway station. Bed was comfortable and bathroom clean. Would highly recommend. Danielle was a wonderful host.
Sharon
2017-01-26T00:00:00Z
Danielle and her wonderful warm gracious parents ( my generation) have two guest rooms in this immaculate home decorated with great love and care. The elegant serenity of the simple decor in the two guest rooms is perfect for the exhausted traveler and you have a desk and extremely comfortable bed, wonderful personal toiletries , water, etc The proximity to La Guardia is ideal for I had to return early the next day to pick up my Avis Rental. This family is a rare rare find. You will be most fortunate to have them as you host. I was so very lucky.
Tara Fujimoto
2016-12-20T00:00:00Z
What an amazing experience! Danielle was so welcoming and the place was amazing! It was definitely home away from home!
Candice
2017-02-28T00:00:00Z
I was grateful to be able to stay here at the last minute after some travel delays. Everything was lovely, and I loved the dark curtains on the windows.
Vivien
2017-03-02T00:00:00Z
I needed a place to stay for the night due to a flight cancellation and Danielle's place was the perfect spot. Incredibly close to LGA in a quiet, cozy home. Will stay again if in the area!
Chris
2017-03-15T00:00:00Z
Good stay quite place .All things were just perfect. Thanks for every thing.
Zaeem
2017-01-17T00:00:00Z
Comfortable room and close to the airport.
Yiran
2017-01-28T00:00:00Z
Clean, access to bus routes on Astoria, just 3 blocks away. Danielle communicated prefectly, and her dad was very hospitable. You won't be disappointed.
Jeffrey
2016-12-14T00:00:00Z
Room Type
Private room
---
Property Type
House
---
Accommodates
1
---
Bedrooms
East Elmhurst (Queens), NY, United States
Completely brand new townhome on a beautiful Ridgewood block just 5 streets from the Fresh Pond M Subway. High quality finishes. Exposed brick & high ceilings. Master bedroom with private bathroom available. Two other bedrooms have one male one female roommate full time. Pleasant quiet apartment share. Clean.
Space has super high ceilings lots of windows even a window in the bathroom skylights, quality finishes super prime super cheap just want happy people to share while I am away and to get along with the other two existing roommates who have their own rooms. This room has a private bathroom and locking door.
Ridgewood is a comfortable neighborhood with many bars & restaurants & shopping.
this apt very cozy landlord has the good taste 10mins walking distance to the Fresh Pond Subway Line M to me it's very convenient Also the kitchen is amazing I do the breakfast during this holiday Fantastic Roommate Neighbour all very nice Love this room so much!
JieYun
2017-01-09T00:00:00Z
Room Type
Private room
---
Property Type
Apartment
---
Accommodates
2
---
Bedrooms
Queens, NY, United States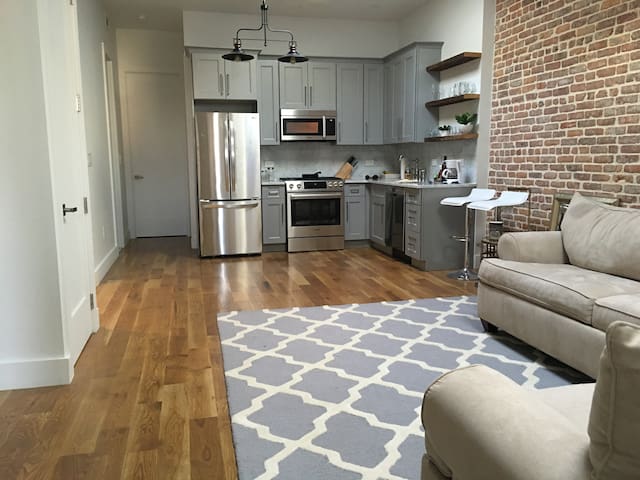 Private room in a quiet neighborhood. The bathroom is shared with guests on the 2nd floor of the home. 10 minute drive from LGA & JFK airports. Private parking available with express trains, LIRR, and bus terminals within walking distance. Big city exploring with all the comforts of home.
NYC isn't known for its spacious apartments and homes so it's nice to have the best of both worlds. Please make yourself at home, relax and follow the house guide that is linked on the listing to help you make your way around the house.
The neighborhood is a quiet gem in the NYC area. We are located off the F express train which runs 24/7. If you are on Hillside Avenue, there are many restaurants to choose from, delis, drug stores, and grocery markets where you can get all you need up and down the strip. Most things close around 10PM-12AM on most days so please keep that in mind that we are located in an older neighborhood.
Great, beautiful place!!
Sage
2016-08-04T00:00:00Z
The house is at a good location with parking. The room is nice and so is the bathroom. The house is not that clean. One thing that frustrated me was when the toilet was clogged one morning, it took them a while to fix it. They are nice people, but somehow it did not make us feel very welcomed.
Yi
2016-07-08T00:00:00Z
Courtney was very welcoming. The bedroom and bathroom were spotless and she was extremely flexible with checkout time. She left it to me to decide this myself in relation to my flight time. Good location with the 16th street subway station only 5-10 minute walk away
david
2016-04-12T00:00:00Z
Excellent neighbourhood, easy to park and very nice accommodations. Courtney was very helpful and hospitable. Thanks for a great trip!
Angela
2016-06-24T00:00:00Z
Courtney and their friends are a great person l felt like home, the description was as in the page say, very quiet neighbor , the subways is very near.
Cristian
2016-08-15T00:00:00Z
5 stars ! Great location to spend one night before or after your flight Thanks Courtney
Ivan
2016-10-16T00:00:00Z
A great bedroom and very nice bathroom which were part of the home and yet still felt private. Instant wifi access was very welcome, and everything felt very clean. The availability of Apple TV is a great idea, although I didn't actually have time to use it. One thing I love about Airbnb is that I get to explore areas of cities I love that I don't get to see when I am on a business trip and my central city hotels are paid for...and this time I got to explore a little bit of Queens. The home is virtually at the end of the "F" line, but that is still less than half an hour to the heart of Manhattan, and without having to change, so it's a reasonable journey. My pre-arrival communications were answered quickly and helpfully by Courtney and the checkin process was seamless. It met my need for a quiet spot on a Sunday afternoon and for a good night's sleep ahead of an early morning departure on the Monday. Thank you! :)
Tony
2016-08-23T00:00:00Z
Very comfy and nice place to stay
Robin
2017-01-14T00:00:00Z
Room Type
Private room
---
Property Type
House
---
Accommodates
2
---
Bedrooms
Queens, NY, United States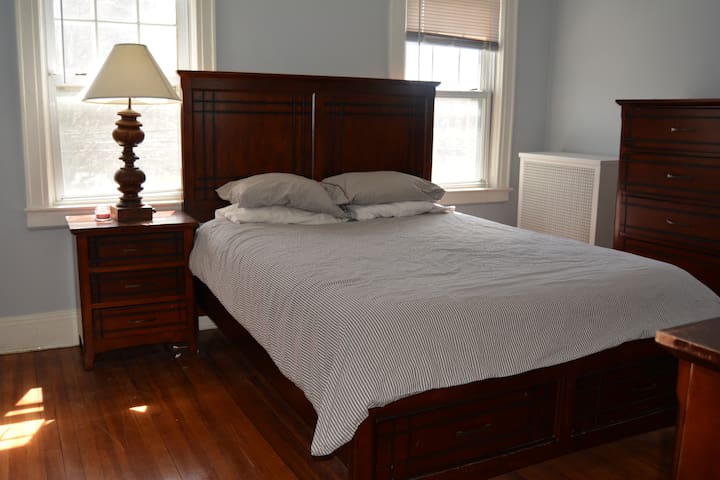 My place is 5 - 10 mins DRIVE to: JFK, Green Acres Mall, Roy Wilkins Park & many pharmacies, supermarkets, restaurants & clubs. It's 30 - 45 mins DRIVE to: LaGuardia Airport~The Nautical Mile~Coney Island (amusement park & beach)~125th St. Harlem~Jacob Javits center~Empire State Bldg. & Times Sq. Let us know of your travel plans and we'll do our best to assist you in making the most of your business trip or vacation.
We host only 1 booking at a time. Your booking includes: Use of driveway & private entrance at the rear of the house ~ Key provided A private bedroom ~ Queen-size memory foam mattress, fresh linens, clothing closet, hangers, central heating, and high-speed fan are provided. A private bathroom and shower stall ~ Bath towels, wash rags, toothpaste, shower gels, shampoo, conditioner, deodorant, and lotion are provided. A private dining area ~ small refrigerator, microwave, electric tea kettle, hot chocolate, tea, coffee, juice, water, fresh fruit, and pastries or cookies are provided. The space located in the basement of my home and has no kitchen.
Our neighborhood is safe and user-friendly. There are several choices of supermarkets, pharmacies, gas stations, restaurants (for dining in, take-out, and delivery). The local mall is 2 miles away it offers: Chase bank, Wal-Mart, Macy's, Kohl's, Toy R Us, Old Navy, JC Penney, Sears, Aldo, Dick's Sporting goods, Burlington coat factory, Foot locker, StarBucks, Red Lobster, TGI Fridays, Olive Garden, Bronx BBQ, Home Depot and tons of other shops
It was very nice felt like family
Virgil
2016-09-29T00:00:00Z
The place was well cared-for, with lots of thoughtful snacks. Everything was clean and neat. Super close to JFK airport, so a great place to have a layover or something like that. Communication was prompt and kind. Only one thing that could be improved is that the bed is not particularly comfortable as the mattress is wrapped in plastic -- understandable for cleanliness purposes but was hard to sleep on!
Ione
2016-12-21T00:00:00Z
Host was very friendly and welcoming. She even stayed up so we could check in after a late flight. Nice and close to the airport. Bed was nice and comfortable even for me at 6 months pregnant! Nice little breakfasts provided were a nice treat!
Amy
2016-11-21T00:00:00Z
Miss Dy's was close to the airport which after a very long international flight I was happy about that. Since we arrived really late she made the checkin process easy and quick. She even recommended places to eat that was still open. She also had little snacks and microwaveable food just in case we didn't want to order food. The place was very comfortable and clean. Thanks again Miss Dy!
Dominique
2017-03-28T00:00:00Z
Miss Dy her family are absolutely fantastic! They were so welcoming and even moved the car up in the driveway so we could park our car safely. Since there isn't quite a formal kitchen area yet, Miss Dy brought down breakfast both mornings of our stay and it was delicious! Highly recommend this place for a weekend away. If you want rob get into the gen city the bus and subway systems are very close to the house - which was another bonus for us foreign visitors!
Catherine
2016-11-13T00:00:00Z
Miss Dy's mother greeted us and she was very accommodating and easy going, friendly. Miss Dy was also prompt to communication, flexible, and accommodating. She had a continental breakfast ready for us each morning!
Chris
2016-11-06T00:00:00Z
Awesome hostess. Very caring. Clean place. We briefly met her mom and daughter. Respectful people. Private basement. Good stay.
Bob
2016-10-24T00:00:00Z
Miss Dy was great, she is a wonderful hostess, and made sure I was comfortable. She was nice enough to drop me at the airport as well. Her place is clean and cozy, and perfect for my quick stay in NY. She provided snacks and coffee, a hot shower and bed to sleep, everything you need! I definitely recommend instead of over priced hotels!
Steve
2016-11-08T00:00:00Z
Room Type
Entire home/apt
---
Property Type
House
---
Accommodates
2
---
Bedrooms
Queens, NY, United States
This apartment is located at our half ground basement. Everything is new. Super clean. Queen size bed, 40" Tv, free WiFi. Neighborhood is quiet and friendly. Walking 10Mins to St. John University. Easy for bus and train. Plus QM5 QM6 express bus 30mins to Manhattan.
Located at fresh meadows, Big space about 700 Sqft. Private exit. Private bath room. Free Fast Wi-Fi. New refrigerator, new microwave , new coffee machine. Super clean.
Friendly. Quietly.
A very clean, comfortable apartment. Qiqi added a bed for my son to sleep in. Location is great - 10 minutes to St. John's University. One suggestion - get a quieter clock. It was so loud, I took the battery out.
Bruce
2016-11-07T00:00:00Z
She was the best! Honestly, this was my first time choosing Airbnb and because of her not only will I continue to book with her when I visit NY but I will also use Airbnb for my future trips. Simply AMAZING!
Monique
2016-11-15T00:00:00Z
The host was very helpful. The place was very clean. The location is near the airport. Only thing was not many restaurants nearby.
Ken
2016-10-11T00:00:00Z
Cindys place was great. It was clean and cozy. We really like the sitting on the couch and watching tv to relax. The bed was very comfortable. It was firm and not too soft just the way we like it. We would come back once we are in queens again or near the airport.
michael
2016-12-22T00:00:00Z
Awesome place!
Luis
2016-11-26T00:00:00Z
Qiqi was one of the best hosts I have had the pleasure of meeting. By far the most luxurious AirBNBs I have stayed at, and the price is incredible. It includes a personal bathroom with a beautiful walk in shower equipped with a raindrop shower head! The mattress is very comfy, it's in a great area, and there's even a TV!! Highly recommend.
Alex
2016-05-16T00:00:00Z
The apartment was great, exactly how it looks in the pictures and kept in great condition. It was close to the bus that takes you to the train to get to the city. Close to convenience stores and places to eat.
Jordan
2016-10-28T00:00:00Z
What a great spot. It was like having a nice little apartment in Queens. Recommend 100%. Qiqi even allowed us to check out late to accommodate us.
Andrew
2016-08-25T00:00:00Z
Room Type
Entire home/apt
---
Property Type
House
---
Accommodates
2
---
Bedrooms
Fresh meadows, NY, United States
- Private house, top floor; two bedrooms , 3 beds; 1 bathroom, kitchen with eating area. Price is per bed per bed. - Fresh bed linens and towels; free tea an coffee included . - Homely atmosphere, quiet place to relax and rejuvenate - This is a quiet, and safe neighborhood, within steps of a 24 hour laundry service; 15- 20 minutes to JFK, only steps away from LIRR service, 30 minutes away from NYC, conveniently located next to some good restaurants, shopping malls and movie theatres. the house is also within walking distance to supermarkets and grocery stores. - Just steps away from LIRR station, Q3 Bus 15-20 minutes to JFK, 20-25 minutes to Jamaica Centre ; Q5, Q85 bus services to Green Acres Shopping Mall . - Location, Location, crashpad is properly maintained, you will feel at home, here. - Please feel free to contact me with any questions.
It was convenience place to stay. We missed our flight and we needed to stay one more night. We stay here and relaxed. Great experience and safe area. Thx Lloyd
Chiwoo
2014-11-10T00:00:00Z
The host was very responsive and made sure the check in was smooth (we checked in at around 11). The stay was short but sweet. There are directions and taxi information in the room.
Song
2016-07-17T00:00:00Z
Basic. But for people traveling from and to JFK airport good enough for a reasonable price. Close to airport Q3 bus and a railroad to NY center.
Alexander
2015-03-19T00:00:00Z
Lloyd is super nice, he even helped me with the tickets for the LIRR. The House is clean. Room exactly as described. And it's close to the LIRR Station. No complaints!! Would stay there again :)
Marina
2016-04-11T00:00:00Z
Nice place, not too far from NY (28min) and extremely convenient to go to JFK. The family is really nice and caring. I strongly recommend to go there.
Naomi
2015-08-09T00:00:00Z
it was a great experience. The host is really nice and my friend and I had a great time.
Ethan
2016-01-01T00:00:00Z
My stay with Lloyd was great. I arrived at JFK almost 24 hours early for my flight(my mess up). In a panic I searched for hotels in the area and was deterred by the price. I then searched airbnb and found Lloyd. I had never used this service before and was apprehensive at first but messaging Lloyd prior to my arrival put me at ease. The process was extremely effecient and from the first message to me being at Lloyds house was under an hour. It was extremely comforting knowing I had somewhere to sleep(other than the airport floor). I was welcomed by Lloyds son who was very polite and showed me directly to my room. I was the only person there that night so had the room to myself. I would recommend staying with Lloyd to anyone. If like me you are foreign and in need of somewhere to crash for the night for cheap then this is the place for you. Thank you so much to Lloyd and his family for giving me the peace of mind inbetween flights. Top hosts.
Matthew
2016-09-30T00:00:00Z
Lloyd is a good host. Every time I saw him he always ask if there was anything I needed. He also went out of his way to help me with another matter. Thanks Lloyd
walter
2012-06-11T00:00:00Z
Room Type
Shared room
---
Property Type
Apartment
---
Accommodates
3
---
Bedrooms
Jamaica, NY, United States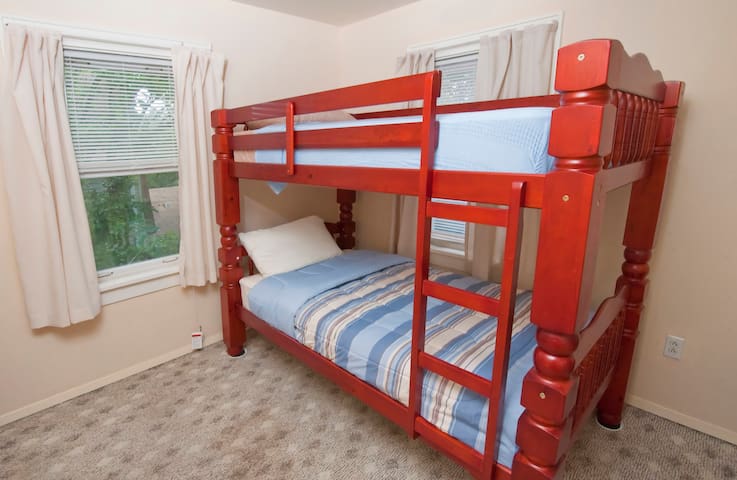 Enter dates to see full pricing. Additional fees apply. Taxes may be added.