NOTE: Be sure to see the calendars for 9 LISTINGS. There are 2 rooms very economical rooms for 1 person, 2 very large Master Suites with jacuzzi baths for rates well below market, and 5 mid-range rooms. All rooms have en suite bathrooms except the MTN VIEW which shares a bathroom with one woman. Stays for 2 days up to 4 months which could include moving from one room to another so be sure to ask about this host to determine what is possible. This is a NEW, BUDGET LISTING, never before available! Small room, measuring 6 feet X 10 feet, with a TWIN bed, great for the single traveler on a budget, yet in a luxurious home with several common spaces to hang out and use wi-fi. In one of the best neighborhoods in Escazu and the San Jose area. This room has a private bathroom with hot water. It has cable TV. Available for daily, weekly, monthly rates.
There is an amazing restaurant across the street that is also inexpensive. The "Rodeo Drive" of Costa Rica is not far away. Gym 400 meters, swimming pool 400 meters.
3 words: Stay at Liza's.
Axel
2017-02-05T00:00:00Z
Liza's place was as described. My stay was brief but everything was great.Good breakfast. Nice views. Easy to get around. Met some other nice guests there. Upscale shopping center nearby. Definitely recommend Liza's
Viv
2017-03-01T00:00:00Z
As a young woman traveling alone, I put a lot of time and energy into finding the safest and most convenient location possible. I know VERY little Spanish, and had never travelled internationally let alone been to Costa Rica, and none of this affected my stay. Liza was INCREDIBLY accommodating, and her recommendations are to be taken! A neighbor cooks the most amazing gourmet meals for ridiculously low prices, and the atmosphere is welcoming, warm, and genuine. Liza even went as far to introduce me to the other guests, so I was able to take a tour for the fraction of the price with them and gained the sweetest friendships that I will remember forever. If you're looking for a safe, beautiful, clean, and exciting place to stay, look no further. I'm planning my return trip as I type this, and I hope to see you the next time I stay. Enjoy beautiful Costa Rica, and send them all my love! I am writing a detailed review on my blog, unapologeticallyariana . (URL HIDDEN) Feel free to check it out there, and feliz viaje!
Devon
2016-09-08T00:00:00Z
Of all my Airbnb experiences around the world, this was by far the best! Having found Liza's place was a blessing. I didn't just found a beautiful place to stay, I found friends from the moment I stepped in. The atmosphere in Liza's house is like if her and the guests were part of a big family where everybody will be there for each other sharing beautiful moments together. Being a solo traveler for so long just made me really appreciate the quality time we (the other guests and Liza) experienced together. I will always treasure in my heart the days I spent there. I recommend this place to everybody. The room was nice and cozy. The house is always super clean, has many many many common areas for you to relax, read, work or just see the stunning sunset from the 3rd floor. Is near Escazu central, with very good areas to shop at walking distance, really good places to eat (try Johanna's place just around the corner). The place is also well connected to San Jose downtown (20' ride in the bus) and is in a super safe residential area. Thank you Liza, you are a wonderful and helpful host, a real beautiful person and I am super happy I have met you :)
Silvia
2017-02-17T00:00:00Z
This was my second time staying at Liza's place, and it most certainly will not be my last! If you come to San Jose for even a day I highly recommend this home. It's not only safe and beautiful, but Liza provides an experience like no other. She's knowledgeable and eager to help in anyway she can. In addition, the travelers that stay here can quickly become good friends. There's a special sense of community that manifests here, and I'm forever grateful to have stumbled upon this gem of a host and home.
Heather
2017-04-03T00:00:00Z
This is the second time i stay here, i have to say that the host is one of the best out there, she makes you feel welcome from the time you request to stay at her home. In few words it's like going to your relative's home! Anything you need during your stay, can be arranged by her, don't look further, this is the place to stay when you go to Costa Rica!
Luis
2016-09-22T00:00:00Z
Great place. Great location. Great host. Enjoy.
Carlos
2017-03-21T00:00:00Z
Liza is not classed as a super host for nothing, from the moment I arrived she was helpful and went and above and beyond to ensure my stay was a fabulous one. I was jet lagged after a long flight and spent a good few days just hanging out relaxing with a little bit of exploring - all the communal spaces are lovely and there is SUCH a homely and relaxing feel to the whole house. Loved staying here and will definitely return (if I can get in as it's fully booked with returning guests most of the time which tells u all u need to know)! The things I need to know - Had hot water and great wifi, breakfast and great facilities and also v clean. All the other guests were super friendly and I enjoyed dinner and coffee shops with some of them. Lovely experience which was a great start to my CR adventure!
Jo
2017-02-11T00:00:00Z
Room Type
Private room
---
Property Type
House
---
Accommodates
1
---
Bedrooms
San Rafael de Escazu, San José, Costa Rica
This Villa is a full one-bedroom, with a lovely living room with two walls of glass with views of our tropical garden, and a kitchenette with double hot plate, small refrigerator and microwave. The bedroom has a double bed and has a wall of glass.
We are a small property of nine apartments nestled in a tropical garden overlooking the Central Valley of Costa Rica. Our property is secure, peaceful and tranquil, with hiking trails and isolated areas to hang out and sunbathe. When you are ready for more action the center of Escazu with restaurants and shopping is 15 minutes away and if you want to go into San Jose it's only another 15 minutes or so. The best of both worlds! See (EMAIL HIDDEN)
Our property is located in the most exclusive area of Escazu, which is the most exclusive neighborhood in Costa Rica. Our neighbors are well-known politicians, artists and business-people. While it may be the "Beverly Hills" of Costa Rica we enjoy a very peaceful and tranquil lifestyle with the advantage of being 20 minutes from the city. There are amazing hiking trails, waterfalls and natural pools above our property on Pico Blanco (one of the mountains that towers over Escazu). If you desire a relaxed vacation there are plenty of areas to relax on the property, but if you're more adventurous there is a wide variety of activity just outside the gates of the property!
Raymond was a wonderful host! I stayed at two of his houses and they were both beautiful and very clean. Hopefully I get to return someday!
Jennifer
2016-04-06T00:00:00Z
Fantastic space high on the hill away from the hustle and bustle of San Jose. Great trails close by. 3 fantastic dogs willing to accompany you. Ray was very responsive to any needs.
rebecca
2016-03-05T00:00:00Z
This is a great place for a great price. The house was very well kept and the roof balcony with view of the city and neighboring mountains, and the well maintained landscaping was all picturesque. All with the added mental security of a gate and guard. Raymond was extremely accommodating, and after a rough time with our rental car not coming through, and the worst taxi driver I've ever experienced, Raymond went the extra mile and even came to pick us up when our cab driver couldn't even make it up the hill to the house, and we were several hours later than expected. He even helped to set up a cab ride after our first bad experience to ensure we'd get to where we're going. I'd highly recommend staying at any of his listed properties. Thanks again for everything.
Brett
2016-01-03T00:00:00Z
This is a beautiful home and perfect place to stay distance wise to the airport and the city. Raymond is very responsive to our needs and concerns. There's also a security guard 24/7 on the property. There are dogs that are super friendly and run free, however, if you're scared of dogs like I am, Raymond is kind enough to personally escort you to the home.
Elaine
2016-04-14T00:00:00Z
Ray was very welcoming and the Villa was even more beautiful than any pictures can do justice. I was in and out all day and night and the guards at the gate were super helpful. Ray had dogs around the property who were all very sweet! It made me feel even more at home. Make sure to bring provisions because there aren't any markets in walking distance and have CASH because there aren't any legitimate cabs that will accept cards.
joel
2015-06-18T00:00:00Z
Raymond was a wonderful host and we had beautiful view from our villa. He was very responsive to my questions prior to arrival and the guard was extremely helpful giving directions to our taxi driver despite spotty cellular service. Raymond stopped by for introductions and was able to arrange transportation for dinner and the airport. We even made new friends with the other guests. Overall a good experience during our trip to San Jose. Thank you again!
Nicole
2015-12-10T00:00:00Z
We had a wonderful time staying with Ray and Jorge on there beautiful property! Our house was very private and had a wonderful view of San Jose. It was the perfect place to relax and unwind during our last night in the country. Jackson, the concierge for the property, was very helpful when we arrived. We can't wait to take our next trip to Costa Rica!! Thanks again!!
Caitlin
2015-10-24T00:00:00Z
Very secluded Hard to find at night Have a Raymond get you a driver , I denied but I should of taken the offer Our bus broke down going up the the hill. It was Costa Rican adventure, lol
Justin
2016-10-12T00:00:00Z
Room Type
Entire home/apt
---
Property Type
Apartment
---
Accommodates
2
---
Bedrooms
Escazu, San Jose, Costa Rica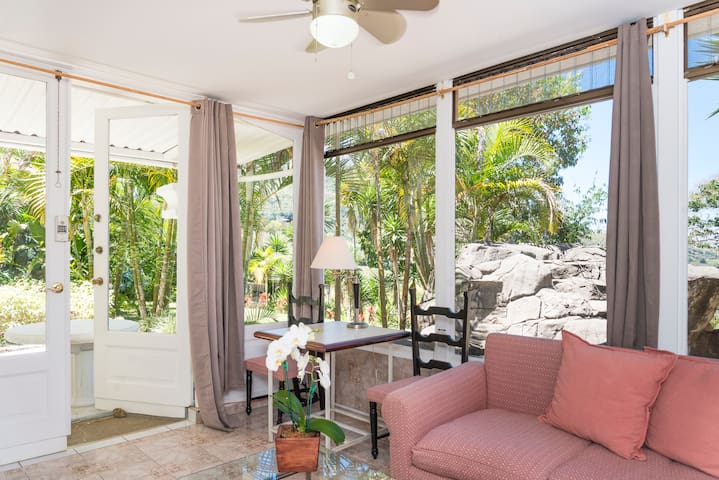 Beautiful two bedroom apartment located in the most exclusive area of Escazú, Jaboncillo, set  against the lush backdrop of the mountains. Just  five  minutes from  Multiplaza Shopping Center and all major stores and restaurants. Very quiet/trendy.
Jaboncillo, is one of the most exclusive and quiet neighborhoods in Escazú, perfect for people that want to be near all the facilities the area offers yet wish to have privacy.
Mary is an excellent host! The apartment is awesome we had everything we needed and more. The quality of everything in the house was exceptional. The area of Escazu is probably the nicest safest place I've seen. We were so comfortable there, I can't recommend this apartment enough! We stay in this area regularly and will be coming back for sure.
Daniel
2016-03-26T00:00:00Z
Our stay in the Escazu apartment was wonderful. The apartment was as described, clean and a great location. My only complaint was that the platform bed in one of the rooms was uncomfortable and was like sleeping on a board. Overall, a good place to stay.
Katherine
2016-09-08T00:00:00Z
This is a wonderful location to stay near San Jose. We used Uber our entire trip to get around with very good service. We enjoyed the local market in the park in Escuza Saturday morning where we bought all our fruits and veggies. We enjoyed a local festival in Santa Ana and well as other tours to volcanoes and white water rafting. It was very easy to connect to tours from this location. The place was just as it was shown and described in the pictures. Everything we could have wanted or needed was provided or there for us. It was just simply amazing to wake up to the beautiful birds right outside our open patio doors.
Juli
2017-04-04T00:00:00Z
Beautiful, nice and comfortable apartment located in a quit zone, you feel it like home.
Moises
2016-05-07T00:00:00Z
Mary Carmen's apartment is really nice and the grounds are beautiful. The furnishings are beautiful and we truly felt safe and cozy there. We didn't meet Mary Carmen, but she had everything completely taken care of by the doormen and a housekeeper who came twice a week. I will be returning to Costa Rica in a few months and wouldn't hesitate to stay in this great apartment again.
Andrew
2016-10-14T00:00:00Z
This is a wonderful place and definitely as good as promoted. I would stay again at the next chance I get.
Ewen
2017-01-21T00:00:00Z
While I did not meet with MariCarmen she was extremely communicative both before the visit and during. Any question I had she responded quickly. The apt is furnished very nicely with a full kitchen. It looks just like the pictures. There is a second bathroom and bedroom, and again, everything is done very nicely.
Lynn & Jake
2016-06-11T00:00:00Z
Great place to stay, can't wait to come back!
Matt
2016-12-31T00:00:00Z
Room Type
Entire home/apt
---
Property Type
Apartment
---
Accommodates
4
---
Bedrooms
Escazu, San Jose, Costa Rica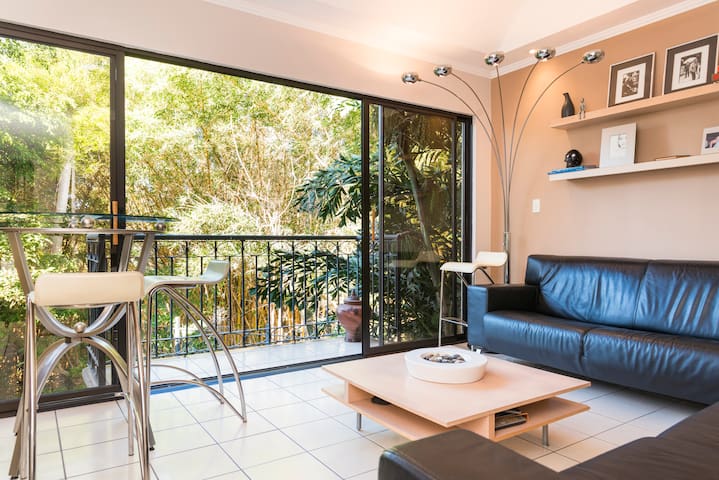 Private room in family home. Escazu is one of the most exclusive areas of Costa Rica. The house is in a quiet, friendly and safe neighborhood. Near Malls, public transport, super markets, gyms, etc. The room is private, has a wall closet with space available for the guest. The bathroom is shared only with some of the family members. Guests can make use of the kitchen and other areas of the house.
Veronica's place was great! She was very communicative both before and during my stay. Always quick to respond to questions and helped whenever needed. Veronica and her family were excellent hosts. She provided accurate instructions on how to get around on bus and explained everything about the place. Uber is also very accessible or you can just enjoy a 7 to 10 minute walk to either the center of Escazu or the new more polished area. I was there for a Business trip and the location is spectacular. P.S. Nala their dog is Lovely!!
Ruth Maria
2017-03-30T00:00:00Z
Muy simpaticos y hospitalarios
david
2017-03-12T00:00:00Z
Room Type
Private room
---
Property Type
House
---
Accommodates
1
---
Bedrooms
Escazú, San José, Costa Rica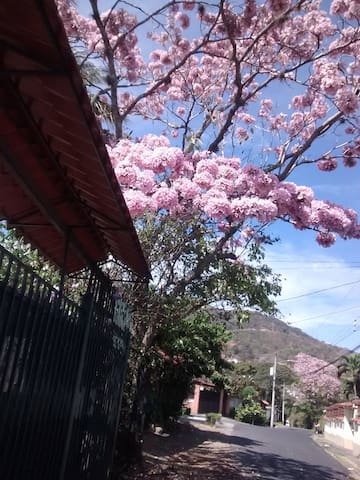 Located on a large property with plenty of garden space makes this cozy apartment a very peaceful spot yet still only a few minutes away from the center of Escazú. There is a fully equipped kitchen area, smart TV home theater, fast internet, and a desk with a computer and telephone. There is one bedroom with a full bed and sofa bed in the living room that can accommodate up to 3 guests. Cleaning service twice a week is included.
The apartment is located in a large property with gardens and two other homes, all owned by the same family. There are many trees and plants and a small river runs along the property line which makes a pleasant background sound as well as many birds that show up.
Located 5 minutes from the center of Escazú, in between the agricultural area surrounding the Escazú mountains and the city.
Had a great stay! Highly recommend Xavier as a host to others! Beautiful location and had hospitable host!
Sarah
2016-07-30T00:00:00Z
The host accurately described the property and everything was delivered as advertised.
mike
2017-03-31T00:00:00Z
A lovely comfortable appartement in a beautiful property, with a lot of security. Xavier and Rodrigo his father were veryyy nice and welcoming !!! It would be a pleasure to come back next time that we go around San Jose. We highly recommend !
Gwenola
2016-12-01T00:00:00Z
If you are looking for a nice place to relax after running around the city or exploring the country, this is a nice place to do that. The walkout basement apartment overlooks a HUGE garden full of big trees (banana, bamboo, etc), it's full of orchids, there are butterflies and hummingbirds to distract you if you are outside reading. Inside is nice and cool, good escape on a warm day. The apartment is located up the hill from the town of San Antonio (where there are some really good restaurants), which is a suburb of Escazu. There are lots of things to do there, and Escazu has a large shopping mall and multiplex theatre. If you are not driving, and relying on public transport, you will have to walk a few blocks downhill to catch the busses, but here is a good tip for you. UBER is super cheap in Costa Rica, and we always took an Uber back to the apartment for just a couple of dollars. It was so easy.
James
2017-01-18T00:00:00Z
Xavier and his family are warm and gracious hosts. I really enjoyed my stay in their lovely place. It's in a tranquil part of Escazu, and is very comfortable.
Justin
2017-01-10T00:00:00Z
The apartment is very safe, at the back of the property and the property is enclosed. The yard itself was packed with all kinds of trees and flowers. Everyone was very friendly and made themselves accessible. When we arrived there were 2 cold beers and the best fresh bread. The kitchen is fully equipped, the wifi worked great, and had cable TV. Short transit to major shopping and entertainment. We felt very comfortable during our stay, would definitely recommend.
Valeria
2016-08-14T00:00:00Z
It was a pleasure staying at Xavier's beautiful property for a month. The apartment was very clean and pleasant, exactly as pictured and described, with all the amenities and comforts of home. The grounds contain many plants and orchids and it is a special treat to wake up every morning to a variety of bird songs. Xavier's family and staff were all friendly and speak English as well as Spanish. The property is very convenient to the stores and restaurants in the town centre of Escazu, where you can catch a taxi or bus to downtown San Jose and from there to the rest of this amazing country. If you're looking for a central place to stay while you visit Costa Rica you will not find a better location.
Randy
2017-02-28T00:00:00Z
Very nice fully equipped apartment located in a quiet neighborhood. The apartment is located on a beautiful property only minutes from shopping, restaurants, clinics and attractions. The hosts are welcoming, friendy and helpful.
Phil
2016-09-25T00:00:00Z
Room Type
Entire home/apt
---
Property Type
Apartment
---
Accommodates
3
---
Bedrooms
Escazu, San Jose, Costa Rica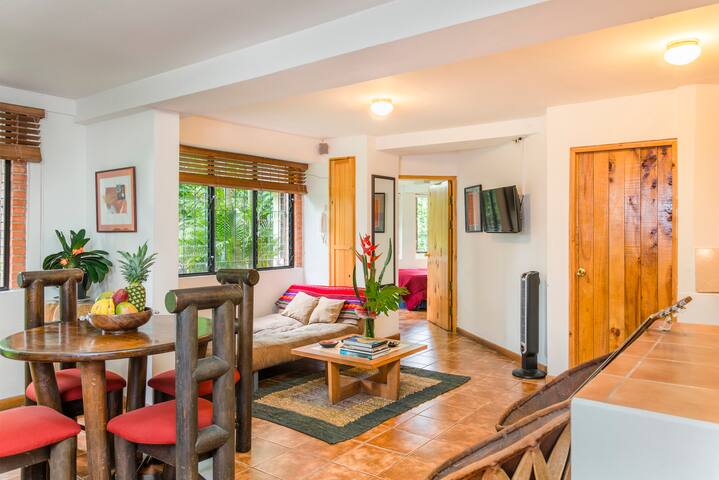 The room is for one or two people and has a private bathroom with shower. The house is an old style bungalow surrounded by a luscious garden full of citrus, banana and papaya trees. We have lots of birds in the garden and if the morning is nice you can have your breakfast outside Our home is in the peaceful suburb of Escazu, a few minutes drive from shopping malls, restaurants, cinemas and cafes. The airport is about 20 minutes away.
Our house is an old style Costa Rican home with a lovely open plan kitchen, a cozy living room and a large garden surrounded by trees which you can enjoy year round. The patio is a relaxing place to sit outside and enjoy the greenery and tranquility of the garden. The bathroom is exclusively for the use of guests, across the shared hall from the guest bedroom.
Escazú is one of the wealthiest places in Costa Rica, with many expensive restaurants and shops, and has some of the most exclusive shopping and dining venues in the country. It has new developments, like Avenida Escazu, which holds the country's first IMAX theater. Avenida Escazu is a modern outdoor mall/center. This mall has many international brands like Max Mara, Women's Secret, Cortefiel, and Adolfo Dominguez, and the country's first Starbucks. Another unique feature of Escazu is it holds the most luxurious mall in Costa Rica, Multiplaza Escazu, which is home to many big international brand names like Zara, Armani Exchange, Lacoste, Tiffany and Co., Carolina Herrera, Salvatore Ferragamo, among others. Many locations in Escazú are prized for their scenic outlooks. This zone is one of the most developed parts in the metropolitan area, populated by families with high incomes. Escazú contains many apartment blocks and residential areas. Over the past couple of decades Escazú has become an expatriate enclave: several embassies have their residences located here, including the residence of the US Ambassador, Dutch and the British Ambassadors. The past few years have seen a significant influx of newly arrived foreigners from North America, South America and Europe. It is home to many bars and restaurants, especially those of the more chic (and expensive) variety. The city offers many venues that are English speaking oriented like movie theaters, health clinic, business centers and a luxurious country club. There are also many fine restaurants and dining areas in this part of town.
Great hosts, perfect place for a stopover in San Jose. We hope to be back soon!
Tobes
2017-03-09T00:00:00Z
Stewart & Roxana's house is wonderful--comfortable room & private bathroom, in a quiet & safe area, and comes with a great breakfast in their beautiful garden. They are also fun to chat with and a great resource for Costa Rica travel tips / goodies to see in the neighborhood.
Camron
2017-03-11T00:00:00Z
Roxana and Stewart are excellent hosts and I thoroughly enjoyed getting to know them. The private room and bathroom are cozy. Any questions I had on transportation or local restaurants, etc, were graciously answered. They truly went above and beyond. I look forward to staying in their home again.
Shari
2017-01-24T00:00:00Z
Stewart and Roxana made us feel completely at home. They provided everything above and beyond our expectations. We had last minute transportation that we needed to book for our trip and they were extremely helpful by finding transportation and then helping us book it. It was delightful to talk to them and hear about all of their experiences and adventures. Also, afternoon tea and then breakfast in the morning was delicious and helped energize us for our travels.
Bonnie
2016-12-19T00:00:00Z
What a great AirBnB experience! I can highly recommend staying in Stewarts and Roxanas house. Their hospitality is just awesome and wonderful! I loved our talks, our excursion through Escazu, the indeed tasty breakfast, the garden, the room - just everything! Muchas gracias, it was great!
Jana
2016-11-17T00:00:00Z
Stewart & Roxana are sweet people and excellent hosts, we stayed with them twice while getting dental work done in San José (they are close to the main hospital CIMA and many amenities in Escazu). They took the time to show us around their neighborhood and make sure we had everything we needed. The house is secure (gated parking and night watchman for the street) and has a gorgeous garden full of birds and others have already mentioned the breakfast (homemade jam and croissants)! We had a great time chatting with them and look forward to staying again when we return to Costa Rica.
Camron
2016-04-09T00:00:00Z
Wow, We loved staying with Stewart and Roxana! They are such a sweet couple, we really had a great time talking and their house and garden is lovely!! our room was cute, clean and cozy, and we had our own private bathroom. The breakfast was absolutely AMAZING, with homemade croissants, jams and many other delicious things!! The best breakfast we had in all our 2 month trip around Costa Rica:) Also the location is great in Escazu. We felt very welcome and wished we could stay longer. Thank you Stewart and Roxana for the lovely and warm hospitality:)
Morin
2016-07-18T00:00:00Z
I Highly recommend to visit Roxana and Stewart, they make you feel at home, their house is beautiful, great bed and very clean, their garden is breathtaking with lots of bird to watch, don't want to miss mencioning about the breakfast they offer, its was all natural and delicious, stewart croissant are handmade, very talented man, they both are sweetheart, i would not hesitate to return to visit without any doubt.
Mario
2015-11-21T00:00:00Z
Room Type
Private room
---
Property Type
House
---
Accommodates
2
---
Bedrooms
Escazu, San Jose, Costa Rica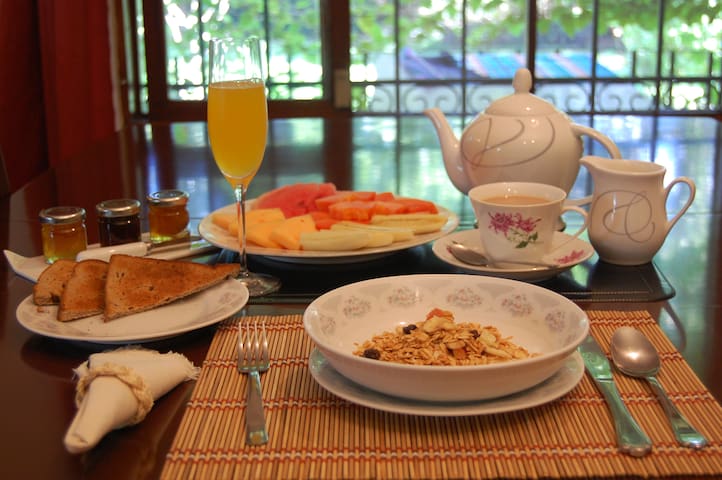 A stunning, brand new, and fully equipped apartment in the heart of one of the most breathtaking neighborhoods in Escazu! 24x7 security and cleaning service included. Just 5 min. from everywhere and a beautiful butterfly farm just around the corner. Perfect for business travelers and medical tourists.
Private and quiet, easy parking on site
Carlos
2016-12-15T00:00:00Z
I was very happy with the unit very clean specially the view of the city and neighborhood also caretaker Elvis was especially helpful I will book this unit my next trip to Costa Rica
Kevin
2017-04-06T00:00:00Z
The apartment was in a great location and it was exactly as in the pictures. Very easy to get to and were we well attended. Highly recommended
Juan
2017-01-14T00:00:00Z
Amazing place! Love how it's decorated with a modern decor but extremely comfortable. Great safe neighborhood with breezy views. Love that there is a washer and dryer. Super comfortable bed and very nice shower. Lots of space!! I can't wait to come back & stay here when I'm in San Jose!
Jai
2017-03-29T00:00:00Z
This was our first stay during our Costa Rica trip and it sure set high expectations for the rest of the trip. This place is well secured and accessible to super market and an amazing indian restaurant. The place it self was clean and well equipped. Senor Elvis who I believe is care taker during day hours is friendly and helpful.
Pawan
2016-12-04T00:00:00Z
The place was very clean and looked like the pictures. The taxi driver had a very hard time finding it. Try to get directions in addition to the waze link.
Kristofer
2017-03-20T00:00:00Z
Amazing host and amazing location secluded away from city but only a short very inexpensive uber ride!
Emma
2017-03-10T00:00:00Z
the place felt brand new. i was able to walk a short distance to restaurants and a grocery store.
Andrew
2016-12-28T00:00:00Z
Room Type
Entire home/apt
---
Property Type
Apartment
---
Accommodates
5
---
Bedrooms
Escazú, San José, Costa Rica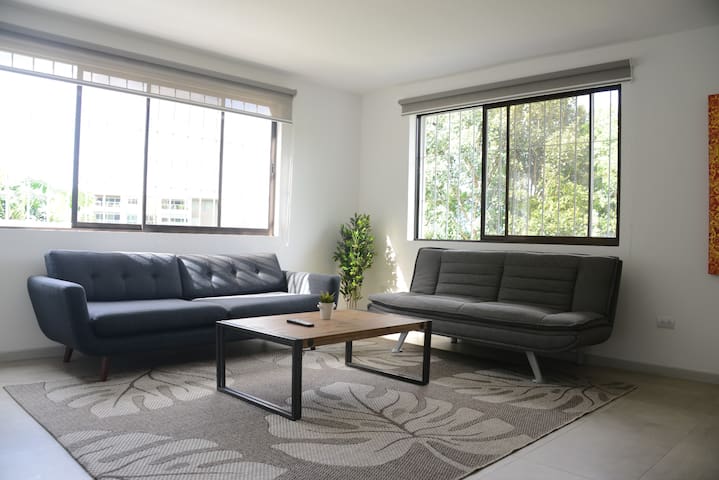 We have nice private room with its own closet and bathroom (next to the room). Our house has a big yard an terrace were you can enjoy your breakfast or read a book surrounded with a nice garden and flying birds. It is 100 meters from the bus station, 20 minutes ride to San Jose downtown. Pacific Coast is about and hour by car. Supermarket, pharmacy and restaurants are 2-3 blocks away.
I had month-long stay at the home of Bernardo and Rebeca. The house was beautiful and in a quiet and very nice area. Bernardo and Rebeca were great hosts and made me feel welcome from the very start of my visit and we became friends as well as a hosts/guest relationship. Everything in the house was as described and the pictures are accurate. One nice benefit is the presence of friendly Labrador retrievers, Zeus and Juno, who are a part of the family. Highly recommended!
Gary
2016-02-13T00:00:00Z
Stay in this house! Great hosts, beautiful house , prime location (close to everything!), and both Bernardo and Rebecca are bilingual, if you need that. You will not regret reserving this room.
Gary
2016-08-31T00:00:00Z
This stay was my second with Bernardo and Rebeca and it was as good as my first stay. The room was excellent and all amenities were as described. Bernardo and Rebeca are wonderful hosts and have two fun, energetic Labradors. The location of this B & B is perfect: it is near bus, stops, taxis, stores and restaurants but isolated from street noise. Highly recommended!
Gary
2016-08-01T00:00:00Z
El lugar es hermoso para quienes les guste la calidez humana y la naturaleza!
Jorge
2016-11-01T00:00:00Z
Lindo lugar... Excelentes Anfitriones.
Marvin
2017-03-20T00:00:00Z
Increíble, continuaré mi alojamiento.
Marvin
2017-02-28T00:00:00Z
Me siento cómo en casa,Gracias.
Marvin
2017-03-10T00:00:00Z
Excelente
Marvin
2017-01-31T00:00:00Z
Room Type
Private room
---
Property Type
House
---
Accommodates
1
---
Bedrooms
Escazu, San Jose, Costa Rica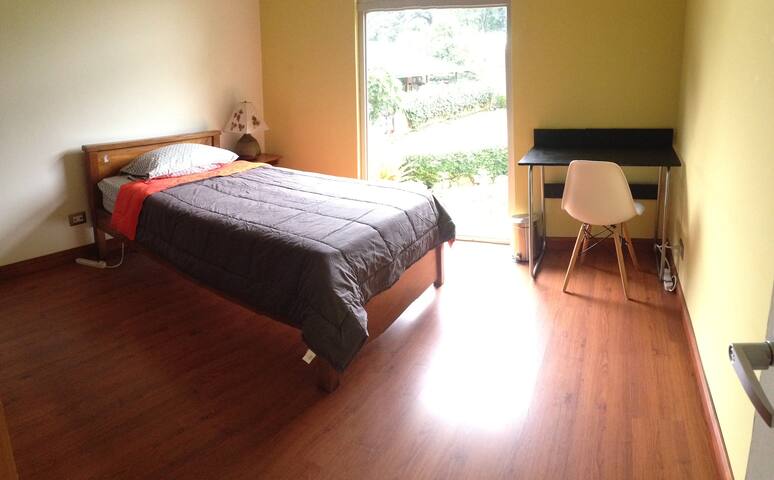 NOTE: Be sure to see the calendars for 9 LISTINGS. There are 2 rooms very economical rooms for 1 person, 2 very large Master Suites with jacuzzi baths for rates well below market, and 5 mid-range rooms. All rooms have en suite bathrooms except the MTN VIEW which shares a bathroom with one woman. Stays for 2 days up to 4 months which could include moving from one room to another so be sure to ask about this host to determine what is possible. This calendar is for the MTN VIEW room. This room has a QUEEN BED and a TWIN BED and could sleep 3 comfortably. (The pictures show a twin bed but that has been changed). Description of other rooms are below. See individual listings for the updated calendar for each. See Calendars and Rates also for the DELIGHT, GRAND, GARDEN, POAS, ARENAL, BOYERO rooms and ask about the availability of the COURTYARD room. Rates from $29.-$75./night with weekly and monthly rates available. The Residence and Neighborhood: Bed and Breakfast for short term guests or longer term with kitchen privileges. This beautiful home is in an upscale, safe neighborhood of Trejos Montealegre, Escazu (about 8 km, 15 minute bus ride from downtown San Jose) has 8 rooms to meet different budgets and needs regarding time. Stay for 2 days, or 2 months, perhaps longer. There are restaurants in the immediate neighborhood, movies, shopping center, medical/dental offices, hospital, Spanish lessons, grocery stores all within a short taxi ride or not much longer if you are a walker. The GARDEN Room is small, but cute, with a private bath, our most economical, all the amenities on a cozy scale. Door opens into the garden. There is Internet in the room and at a covered table just outside for gathering or working with Internet. Guests have been offered larger rooms but have chosen this one! This room is appropriate for only one person, TWIN BED. The DELIGHT room is a comfortable 13 ft X 13 ft room with a private bath and a QUEEN BED. Sleeps two comfortably. The MTN VIEW room is an even larger room than the DELIGHT with a SHARED BATH with one woman with a QUEEN BED and TWIN BED. It is a "favorite" of many guests because it has a view of the lovely Escazu hills and is sunny and pleasant all year 'round. The one other person who shares the bathroom is usually out and on her way by 6:30 AM, 7:30 on week-ends, so it is almost like having your own bathroom. NOTE: All the other 8 listings have private bathrooms. The GRAND room is a huge room with jacuzzi It has a QUEEN BED and a SOFA or TWIN BED. Sleeps 3 comfortably with space to put more mattresses on the floor for friendly folks. Weekly and monthly rates available. Guests are welcome for medical/dental tourism, internships, transition times, relocation exploration, international telecommuting or ??? International telecommuters wanted! Be in Costa Rica while on the job, then go off to explore after work! House enabled with Internet infrastructure to meet the stringent business/work needs. Multiple Broadband high speed Modems and Routers enabling Wi-fi and wired connections in the rooms and throughout the house. We do our best to keep you connected 24/7 and we are (usually) successful! All rooms nicely furnished with new high end mattresses. Movies galore! Books galore! Sunny garden. Wi-fi for free throughout the home, laundry service, maid service available. Near Multiplaza, hospitals, ...most everything you need! Taxi service from the airport can be arranged in advance ($30). Tours available. Great connections/referrals for your medical and dental needs at a fraction of the cost of the U.S. or Canada but with equal, perhaps superior quality. Ask us for details. 4 adorable cats are outside only. Separate listings with calendars have been created for the other rooms mentioned above. The calendars are updated usually on a daily basis. Please write if you have questions and/or specific needs. Roam The World For Free ARTICLE CELL PHONES Thursday, 17 October 2013 Have you ever had an amazing vacation in a foreign country only to come home to a US$500 cell phone bill? You only checked a few emails, used (SENSITIVE CONTENTS HIDDEN) Maps, and uploaded pictures to (SENSITIVE CONTENTS HIDDEN) to make your friends jealous, so how could it cost that much? I've been a victim to these outrageous roaming fees which has lead me to either leave my phone in airplane mode or buy a local prepaid SIM card in the country I am visiting, neither of which is ideal. Beginning on Oct. 20th, the U.S. cellular company T-Mobile is changing the game in international travel by getting rid of international roaming fees. That's right, U.S. T-Mobile users will now be able to roam the world with their current cell phone and number at no extra cost. The service will be available in countries including Panama, Colombia, Ecuador, Argentina, Brazil, France, Italy, China, and 200 other countries. It allows unlimited data usage and texting, with phone calls at a rate of 20 cents per minute. The service automatically connects to the local service in the new country and requires nothing for the user to do. T-Mobile's new plan is perfect for the frequent and infrequent traveler that wants to always be connected while they are away. Picture being able to hop from country to country in Europe, use all of your data, apps, maps, and email, and not be penalized for it. The savings and convenience are extraordinary. T-Mobile is currently the only cell phone provider in the United States offering an international cell phone service like this. It's great they are the first to recognize that we live in a global world where people want to be connected no matter where they are. It will also be interesting to see whether the larger carriers like Verizon and AT&T eventually jump on board. For more information on T-Mobile's new plan visit: (URL HIDDEN)
Liza is incredibly warm and welcoming; a superb hostess. Always willing to answer questions and provide recommendations about local attractions and tours. She even went completely out of her way to accompany me downtown, explaining the bus system and provided a hand drawn map. We felt completely safe in the neighborhood, and after using a taxi the first day, we rode the bus everywhere. We even had an adventure of taking the wrong bus, ending up in an outlying town and being guided to the correct bus by a local! It is a decent walk to the bus stop, Wal-Mart, and local shops. After 10 days, I actually lost a couple of extra pounds :) We stayed in both the Arenal and the Mountain View rooms. Clean, nicely appointed and spacious. Liza's breakfast was both gorgeous and delicious, something to look forward to each morning. The highlight for me was meeting the other guests, getting to know them, the opportunity to share private tours. My teen daughter said her highlight was relaxing in the courtyard with the cats (seconded by me!) The best of both worlds; if you're a private person or couple, no pressure to socialize, but the opportunity is there. I do recommend ear plugs for light sleepers, city noises and early morning birds are both noticeable.
Jennifer
2015-07-31T00:00:00Z
We were welcomed and given a thorough visit through the home of Liza. She was a very good source of local knowledge, and left us to our own pace regardless of breakfast times, which was good for us as we had arrived from a long flight and took a couple of days to recover
Cushla
2016-07-04T00:00:00Z
I was very happy with Liza facility. As I had to go to the hospital Cima I found this location excellent. The neighborhood quiet which is not so common in the capital. The communication with Liza was always easy, information accurate and Liza gave me all the necessary information about the rules, keys etc.
Serge
2016-06-08T00:00:00Z
Loved Liza's neighborhood in Escazu! It's walking distance or a short bus ride away from everything - even Wal-Mart! Avenida Escazu, which is about a 10 min walk west of the property on calle Malinche, is very chique and offers high-end retail stores and restaurants - including the newly opened P.F. Changs! As far as the property goes, you have everything you need - fast wifi, closet space, privacy, great views, charming and professional service by your host, and delicious Costa Rican fruits for breakfast - just to name a few. If you're going to check out downtown San Jose, it's much easier to just take the Rte 9 (blue bus) into the city. Leave the rental car at the house! Most people choose not to drive in CR, but if you're a freebird like me, then at least avoid driving to downtown. And finally - fellow foodies should definitely stop by Joanna's (neighborhood restauranteur) for an international tapas-style dining experience and La Casona de Laly. Joanna's is right down the street from the house - she converted her place into a restaurant! La Casona is about a 5-7 minute drive up the hill (105) to where the road forks to the right on Avenida 26. Here, you'll experience true tico dining - delicioso!
Roger
2014-12-12T00:00:00Z
What you see is what you get and more! LeRoy came to San Jose a week earlier than I did. Liza took wonderful care of him, and when I arrived she greeted me with open arms. Our rooms were comfortable, clean and just what we needed after a long day exploring. LeRoy will be back to stay here in January 2013. Escazu is a fun city for your base and within easy walking distance for your needs. Pura vida Tirza
Tirza
2012-12-19T00:00:00Z
Thanks to Liza for a great stay at her lovely homes in Escazu. The neighborhood was lovely and safe. She was very present for me as a host, always willing to draw me a map so I could get to my destination with no problem. She was great at introducing and connecting her guests to create a shared micro-community in her home. We had a lovely impromptu hummus and guacamole social hour on one of the patios, and it was really fun. I stayed at her home for only two days but would have stayed longer if I had more time. She is a great host and really does go out of her way to help you have the Costa Rican experience YOU want to have. If I find myself in CR again, I would most certainly stay with Liza.
Lisa
2016-04-20T00:00:00Z
My experience with Liza was phenomenal. She is a wonderful person as well as host. Unfortunately due to a volcanic eruption, flights canceled and we were unable to make it to CR. We plan on rescheduling in the near future. Although we couldn't make it...Liza was helpful through the entire ordeal and so sweet. Thank you.
Jesse
2015-03-16T00:00:00Z
Our experience with Liza was very positive and we would highly recommend her and her lovely home in Escazu, CR. This was our 1st use of Airbnb and would definitely use it again. Liza, herself was generous with her time, knowledge,and anything else we asked about or needed.
Ronald
2013-12-30T00:00:00Z
Room Type
Private room
---
Property Type
House
---
Accommodates
3
---
Bedrooms
Escazu, Costa Rica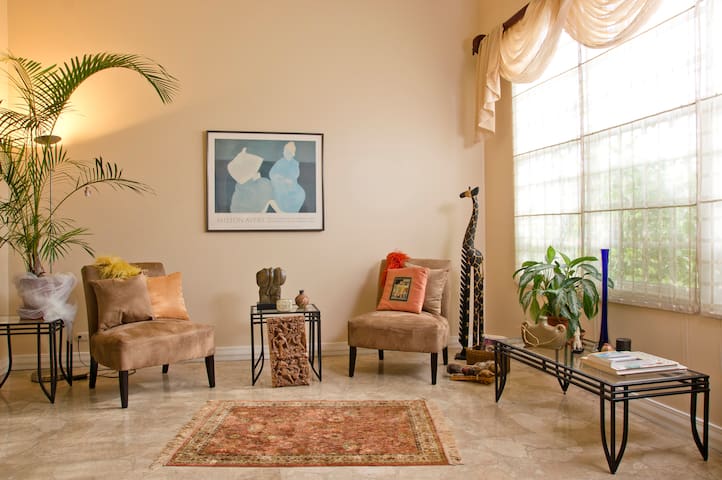 Beautiful house in the mountains of fashionable Escazu neighborhood overlooking all of San Jose. You will have your own private room with amazing natural light and surrounding nature. Deck & garden,big equipped kitchen and laundry also available.
This house is located in a very fashionable and safe neighborhood of San Jose, with lots of nature and stunning views. The house itself is large, airy, and has plenty of natural light; with beautiful decor and a large kitchen with everything you might need. It has a gorgeous garden with a deck surrounded by bamboo and nature. There is also laundry (washer and dryer) available should you need it. The large open-air patio with table for eating is extra special. The room available is the master bedroom which has a large private bathroom and stunning views. You will be sharing the house with 2-3 other women who are all very kind and helpful with any questions you may have about San Jose or Costa Rica. One is a yoga instructor and can even do a private yoga session for you if you're interested.
The Escazu neighborhood is one of the nicest and most fashionable areas of San Jose. This particular house is part of a closed community with a guard and very good security. Because Escazu is mountainous, it has some of the best views in the city. It's also just outside of central San Jose. It's a short taxi ride or drive to some wonderful shops and restaurants. It's also accessible by occasional public bus to downtown San Jose.
Christine's house is in a wonderful location just above Escazu with a breathtaking view of San Jose' and the Central Valley. Inside the house you feel a very healthy and positive energy due to the people who live there. Christine is wonderful, full of interests and very sweet person that will put you at ease in a heatbeat. The room itself is somehow separated from the rest of the house and is simply gorgeous. I spent 4 days and will surely book again when I will be back in the capital
Stefano
2015-12-02T00:00:00Z
First, let me say that the view from this room is indeed, a million dollar view! Beautiful forest on two sides and on the third, an exceptional, unparalleled view of San Jose. At night in the far distance, you can see the planes lined up and watch, as they come in, one at a time, to land. Christine was a wonderful host and I had the privilege of being her very first guest. She was welcoming and accommodating and did everything to make my stay a warm and pleasant one. As a lone female traveler without a car, I was also grateful for being able to hire her taxi driver, Enrique, so I could get around the city and do a bit of sightseeing. Enrique was a joy (and also responsible and on time) so I could get my early morning departure flight without worry. Do not forget to see the butterfly farm which is a local attraction! I loved my time in Escazu, and I feel like I have a few new friends for life...which, after all, is what Airbnb is all about!
Deanna
2015-03-11T00:00:00Z
Room Type
Private room
---
Property Type
House
---
Accommodates
2
---
Bedrooms
Escazu, San Jose, San Jose, Costa Rica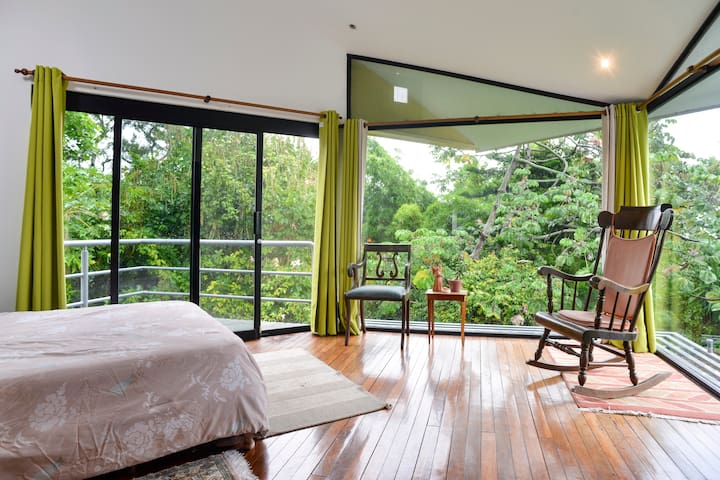 Esta casa de cristal fue hecha por un jugador de Tennis de fama mundial, en un momento este espacio se utilizó como milibar, o un gimnasio, ahora nos complace ofrecer este hermoso espacio en Airbnb. La casa de cristal, se encuentra por encima de un garaje abierto y tiene espectaculares vistas anal piscina, jardines, y además tiene una hermosa vista panorámica del valle central, un punto importante es que el baño se encuentra en el primer pidió de la casa y el resto de la casa está en el segundo piso por favor vea las fotos en la descripción
The views and proximity to everything.Private estate in the mountains of Escazu. Great views. Private. Only minutes from town. The art mansión is in a prívate gated community. It is extremely safe. There are large walls all around the large football field size lot. The properties alarm system was just recently updated with new state of the art monitors for movement in and around perimeters. There is a long term guard who has been living on site for several years. He lives in a separate home along with his wife and two other family members. The area is very exclusive. Many people consider it the Beverly Hills of Costa Rica. San Jose and Escazu center are a short drive away.
Location. Beverly Hills of Costa Rica
Alex's place was great, beautiful view of city in the valley as it is located on top of the hill looking down across San Jose. Alex and Guillermo were awesome very friendly and helpful. Wifi was great the property is very unique I cannot recommend this place enough. All the amenities of a top resort at the price of a hostel. The place is quiet just outside of the hustle and bustle yet close to everything. If you need a place near San Jose this is the one for you.
Elita
2017-04-07T00:00:00Z
Beautiful views & property.
Harris
2017-03-29T00:00:00Z
Room Type
Entire home/apt
---
Property Type
House
---
Accommodates
6
---
Bedrooms
Escazú, Provincia de San José, Costa Rica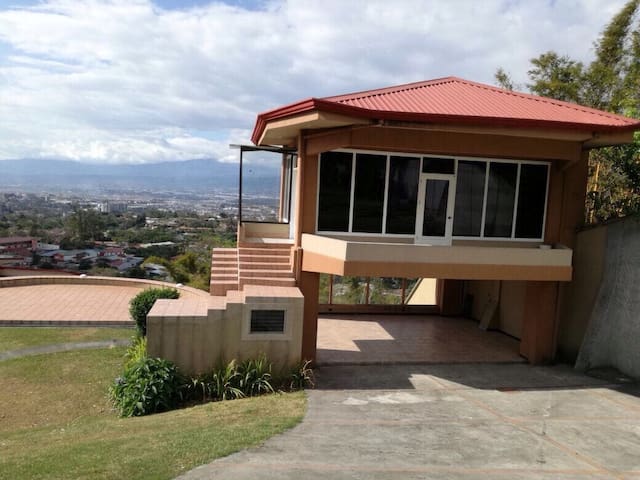 Beautiful and cozy private room in a big home in a great location, 6 minutes away from downtown San Jose and 15 minutes from the airport close to public transport. The room has it's private bathroom and it's full of natural light.
Costa Rica is full of things to do, places to see and people to meet but when it comes down to it, you need to sleep to recharge your body and your soul. One of the most important things about where you sleep, away from home, is that you feel right at home. We welcome you to join us at our safe, clean, and peaceful home to relax and unwind and to let your worries drift away.
Escazú is situated along the slopes of Cerro Escazú and is divided into three neighborhoods. The lowest in elevation and closest to San José is San Rafael de Escazú. This is definitely the most trendy, developed section of the city. High rising condos and fancy restaurants line sections of town, especially close to the country club. Upon arrival to San Rafael don't be fooled by the international restaurants, and upscale accommodations; you are still in Costa Rica. To add to the mix, there are aspects that celebrate the local culture as well, such as the central plaza, where you'll see the elegant all-white colonial style church. Across the street, visitors will find Plaza Colonial, a nice multi-level shopping plaza with a small movie theater inside. One of the attractive features of Escazú is the assortment of flowers and delightful shrubbery that accentuate homes and businesses. Walking through town it's hard to miss the large English-speaking ex-pat community; even the US Ambassador has a home here!
We loved staying with Andrés while we were in San José! The home, room, view, everything were beautiful. They gave us a wonderful recommendation for dinner and cooked us an amazing breakfast the following morning! We also loved how relaxing our room was and slept so well with the windows open and everything! We will most definitely be back.
Evan
2017-03-08T00:00:00Z
We enjoyed our stay at Andress place, very nice place, great location and beautiful views. Very hospitable and friendly, a great breakfast included!
Dominic
2017-03-06T00:00:00Z
El mejor lugar de Costa Rica esta en la casa de Andres y Peter! Súper lugar, muy muy amables! Si llegas a CR donde Andres es el mejor lugar!
Carlos
2017-03-13T00:00:00Z
Room Type
Private room
---
Property Type
House
---
Accommodates
2
---
Bedrooms
Escazú, San José, Costa Rica
Its perfect if you love the nature, the view and the forest, you could see all around butterfly, hummingbird, tropical flower and a great city view. Its located at Vista de Oro Private Residential at Escazú, 10 minute drive to Multiplaza-Escazú y 20 min to San Jose Downtown. Furnished, 2 single beds and one sofa bed, tv, wifi,tv cable with 100 channels, closet, kitchen full furnished, laundry room.
Our home is located at Escazú the best residential area of our capital San Jose. The suite of 35m2 is confortable for party 2, maybe 3, two twin bed and one sofa-bed. New and modern design with balcony. You will enjoy the sunset view and you will the Irazú and Poás Volcano from the suite. The home is perched high on a hill with amazing 360 degree views surrounded by mountains, yet you are just minutes drive from every where. Do yoga, paint, read, or cook in the gourmet kitchen while bird watching and most of all relax! You will see the costarican famous morfo butterfly (blue color), hummingbird, parrots, rabbits, squirrel, cows and horses around. List of One Day Tours, you can visit them and come back home at evening: Day 1, Poás Volcano Day 2, Aerial tram Day 3, Water Fall La Paz Park and lunch at the best french restaurant Colbert Day 5, Visit San José Downtown, Museo Nacional, Museo del Oro, dinner at El Monasterio Day 6,Visit Isla Tortuga by Calipso Cruises Day 7, Arenal Volcano and Hot Springs Day 8, Rafting and Aventure tours Day 9: Irazu Volcano, Laguna de Cachi, Ruinas de Ujaras Day 10: Cannopy, bongie, rafting....and much more to do.... Visit this links for one day tours: (URL HIDDEN) (URL HIDDEN) (URL HIDDEN) (URL HIDDEN) (URL HIDDEN) (URL HIDDEN) Enjoy your travel to Costa Rica!
You will choose between a fantastic list of thing to do close home. This is our recommendation list for One Day Tours (you can visit them and come back home at evening): Day 1, Poás Volcano Day 2, Aerial tram Day 3, Water Fall La Paz Park and lunch at the best french restaurant Colbert Day 5, Visit San José Downtown, Museo Nacional, Museo del Oro, dinner at El Monasterio Day 6,Visit Isla Tortuga by Calipso Cruises Day 7, Arenal Volcano and Hot Springs Day 8, Rafting and Aventure tours Day 9: Irazu Volcano, Laguna de Cachi, Ruinas de Ujaras Day 10: Cannopy, bongie, rafting....and much more to do.... Enjoy your travel to Costa Rica!
Marlene was a great host who was welcoming and very kind. She was extremely helpful, especially placing me in contact with a taxi driver who I could call whenever to take me wherever.
Wilglory
2016-01-30T00:00:00Z
GB/FR Nice flat for 2 persons. High (CostaRican) standards. Quiet and safe proprety. Bel appartement pour 2 personnes. Grand standing (costaricain). Propriété calme et sûre
francois
2016-08-05T00:00:00Z
Nice small home. It was a little hard to find at first. I would suggest meeting future customers at the main gate. I also would suggest having more extra towels for bathing. I had could experience once I found the place.
Kelley
2015-09-23T00:00:00Z
We had a nice time. Marlene was very helpful. Great apartment. It had all we needed. Surrounded by trees. Loved her dog (Sancho). Access is easier if you have a car, which we did. Amazing! views of San Jose. Overall a great choice.
Carlos
2015-02-04T00:00:00Z
As we've used Airbnb often and always successfully, we thought we would find the same warm atmosphere as previously. We arrived at 4:00pm to find a very remote place with no welcoming landlord. Our first surprise was to find out we couldn't lock our flat. We were later told that there were no key to the front door and that the last tenants were using a piece of wood to block the door from the inside and leave the flat from the bedroom window. First thing we've tried upon arriving was the Internet, but unfortunately there was no connection. The second thing we've tried was the bathroom as we wanted to take a shower, but there was no hot water and the shower walls were covered with ants. After mentioning it to the teenager, the only answer we got was "Did you turn the tap the right way?", as if we were stupid... In the end, we never got water for the whole duration of our stay. Then when we sat on the sofa, we found old dried tomato sauce rice grains stuck on the cushions. Instead of having a large TV in the living room, like indicated on the website, there were 2 holes in the wall, same thing in the bedroom. It looked like the TVs had been recently stolen which is not surprising when you can't lock the front door. In the kitchen there were no induction electric plates as displayed on the nice pictures of the website, but a rusty and dangerous camping style heater. The kitchen was so badly equipped that there was not even a possibility to cook a simple plate of pasta. There was no "golden view" from the flat. There was no "suite terrace" for dinner outside There was no "garden behind the suite" to use to relax. The place is a complete ripoff, filthy dirty full of plastic garbage bags all around the place and even on our doorstep !!! If you open the bedroom window you'll find yourself facing a wall of spider webs with a dozen of huge spiders meaning the cleaning hadn't been done recently. THEIR WHOLE WEBSITE IS A LIE. Before renting the place we were told by the landlord that if we had "a problem" we could contact her son living next door. It was a lie as he was not living next dot but a house bellow. By the time we managed to reach her son on the phone, three hours had passed, but as the signal was weak, he thought it was a bad joke or a wrong number and hung up on us. But he knew we would be coming at 4:00pm, and didn't even bother to check if this miss call was coming from the people supposed to rent his place !!! He did reset the connection box in order for us to access the Internet. The box was in an another house so it was impossible for us to have done...
Cathleen
2016-10-15T00:00:00Z
Marlene was an excellent host and the place was just as described. It´s a great place to stay and I´ll definitely consider it again the next time I travel to Costa Rica.
Carlos
2014-12-07T00:00:00Z
This is a good place if you want to have a full, private apartment in San Jose. It's clean and provides good amenities. The wifi could be a little better, it comes in and out, but it's not that big of a problem. The only issue is getting to the place, you have to listen to the instructions carefully since street names seem to be missing.
Ernesto
2016-01-03T00:00:00Z
Marlene had excellent communication every time I had a question or I let her know when I was coming. Place was quiet (save the rooster's crowing, lol), clean, and had all the necessities needed, including TVs. Escazu is outside downtown San Jose, but it's away from the crowd, if that's what you prefer. Pros: Location, quiet, communicative host Cons: Some taxi drivers were not familiar with the residential area (not Marlene's fault)
Nestor
2015-04-30T00:00:00Z
Room Type
Entire home/apt
---
Property Type
Apartment
---
Accommodates
3
---
Bedrooms
San Jose, San Jose, Costa Rica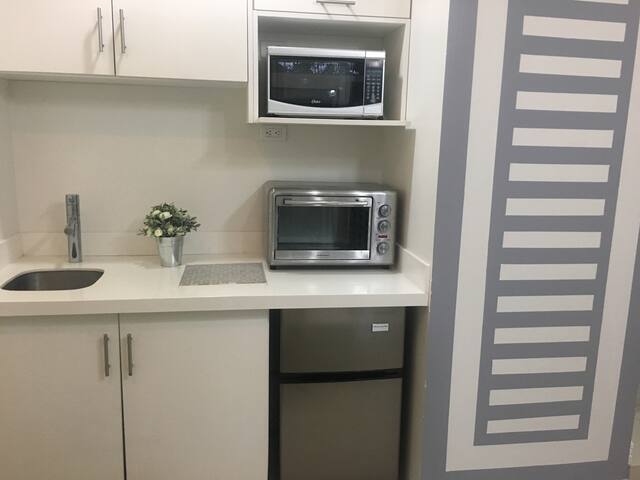 A beautiful high-end apartment with two bedrooms, living and dining room, kitchen and two bathrooms. Imagine living in the exclusive Riverside condominium for this price with access to fine restaurants, fine shops and the famous CIMA medical center.
Everything you need right at hand. Excellent for business travel, medical tourism, and vacation travel
In center of Escazu with many restaurants, stores, shops, transportation.
We were greeted by the property manager, Diego, who graciously waited for us to return from the beach at an odd time. The neighborhood and security are fantastic. The apartment was beautiful and cozy with an amazing view of the city. I am so thankful we choose this apartment to finish our stay.
Michelle
2016-07-23T00:00:00Z
The place is very nice and clean!
Crystal
2016-07-29T00:00:00Z
All as described, excellent location and great apartment.
Eduardo
2016-09-01T00:00:00Z
Room Type
Entire home/apt
---
Property Type
Apartment
---
Accommodates
4
---
Bedrooms
San José, San Jose, Costa Rica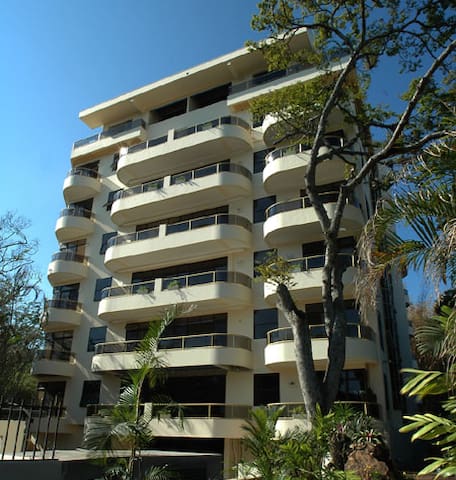 Feel the freedom and peace in our beautiful Apartment on a second floor with a changing view every day. The sound of the birds adds a relaxing place with a great energy. Are you coming on vacation, medical control, business trip or visiting friends? Welcome !!!
The closenes to nature and the view of the city and volcanos.
Our neighborhood is safe and great to walk and watch different types of birds , plants and butterflies.
My stay here has been extraordinary. From the million dollar view to the outstanding hospitality from Mauricio, words can't thank you enough... This place feels like home :)
Cameron
2017-03-03T00:00:00Z
Nice clean place. Beautiful views!!!
Dario
2017-03-14T00:00:00Z
A stunning place and a remarkable host! This is my first time to Costa Rica and my time at Mauricio's place has felt like home. Thank you so much.
Cameron
2017-02-03T00:00:00Z
Room Type
Entire home/apt
---
Property Type
Apartment
---
Accommodates
4
---
Bedrooms
San Rafael de Escazu, San José, Costa Rica
Beautiful apartment in San Rafael de Escazu with large green areas, beautiful pool, play ground, ranch for events, 1 parking. In an exclusive area of the country where you have shopping malls, supermarkets, hospitals, upscale restaurants, nightclubs, cinemas and much more to make your stay your best memory.
The proximity of all
Security and tranquility of the area
Excelentes condiciones y una ubicación perfecta en Escazú.
Julian
2017-03-27T00:00:00Z
Excelente lugar. Y Kimmy excelente host. Sin duda alguna este será mi Airbnb favorito!
Nancy
2017-04-03T00:00:00Z
Room Type
Entire home/apt
---
Property Type
Apartment
---
Accommodates
3
---
Bedrooms
San Rafael, Provincia de San José, Costa Rica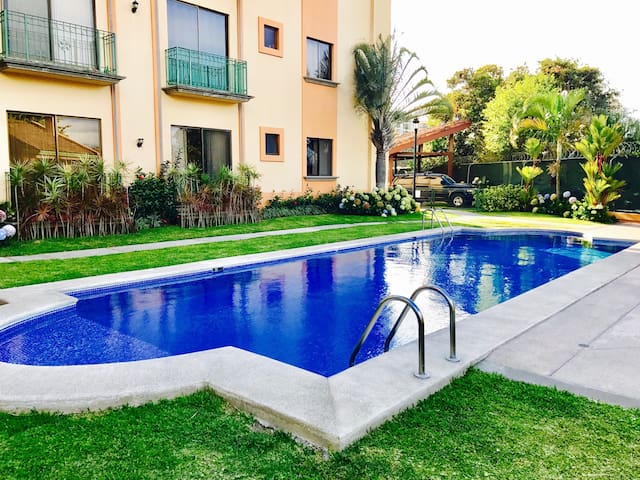 Downtown a hundred meters from the main road, near supermarkets, shops and restaurants, comfortable and safe, very nice and private
Room Type
Entire home/apt
---
Property Type
Apartment
---
Accommodates
4
---
Bedrooms
San José, Provincia de San José, Costa Rica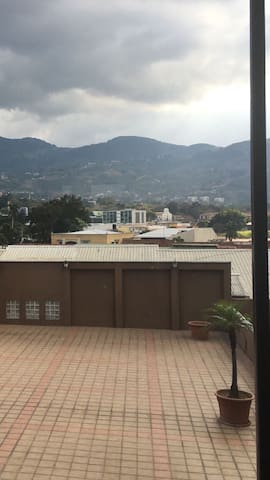 Attractions: incredible views, restaurants and food, art and culture and family activities. You'll love my space cozy space, high ceilings and views. My accommodation is good for adventurers and business travelers.
Nice quiet centrally located room with a private entrance and bathroom. The host Fernando and patrica are great and make your stay comfortable.
Austin
2017-01-27T00:00:00Z
Patricia's house was the best place I could find in airbnb. For a nature person is for sure better than any building in San Jose. Escazu is at 15-20 by bus from the center but there is anything you want! What can I say ...... Patricia, Fer and the neighbor maggi turned like very good friend. I felt comfortable like my home since I first step in! Pat looking forward to see you again!
Gabriella
2017-02-17T00:00:00Z
Very friendly host and pleasant room in a peaceful compound. I was there for dental work, there are many dentists nearby but I would recommend Colina. Very friendly atmosphere with great kids around. Clean comfortable room. Thanks Patricia
Pieter
2017-02-15T00:00:00Z
Room Type
Private room
---
Property Type
House
---
Accommodates
1
---
Bedrooms
Escazú, San José, Costa Rica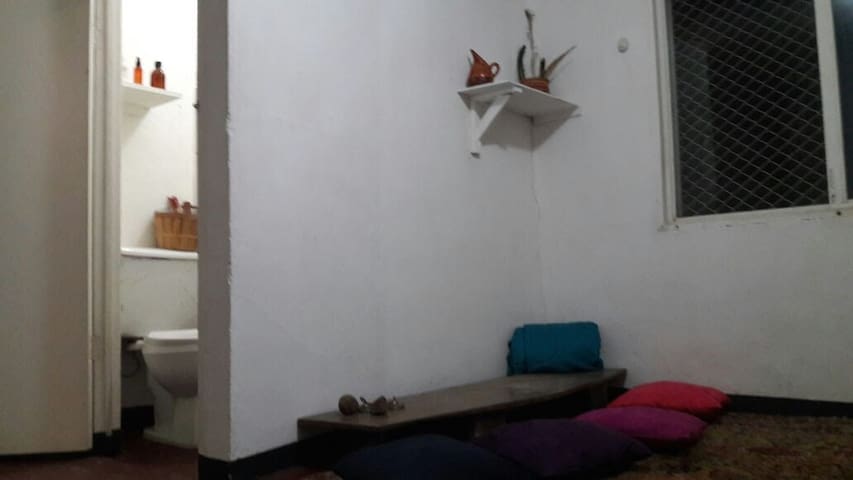 Enter dates to see full pricing. Additional fees apply. Taxes may be added.