Filters
Entire Place

Listings where you have the whole place to yourself.

Private Room

Listings where you have your own room but share some common spaces.

Shared Room

Listings where you'll share your room or your room may be a common space.
Room Type
Price
Size
Social Connections
Employee Host
Instant Book
Superhost
Neighborhoods
Amenities
Property Type
Host Language
Keywords
3 Rentals · Chililabombwe
We recommend booking a place soon.
Ayana guest house is a charming and private guest house that is located in Mufulira. Ayana guest house reflects a welcoming and comfortable feeling that gives that 'home away from home' experience. Learn More
The Guest House contains three (3) private bedrooms that are self contained. Each room is charged separately per night.We have a spacious garden where one can sit and relax, as well as a Cafe & Bar where our guests can enjoy a light meal and a drink Guests are able to access all our facilities available to them except for the kitchen which is for the use of the Guest house & Cafe. However special meal requests can be made and we will do our best to meet your needs. Staff is present from ...
Mufulira
Room type: Entire home/apt
Property type: Bed & Breakfast
Accommodates: 6
Our two bedrooms, one double and one twin, are comfortable and lead out to the verandah and swimming pool with a beautiful garden. We are centrally located in Parklands on a quiet avenue. Convenience shops and restaurants are all nearby. Learn More
Kitwe
Room type: Private room
Property type: House
Accommodates: 4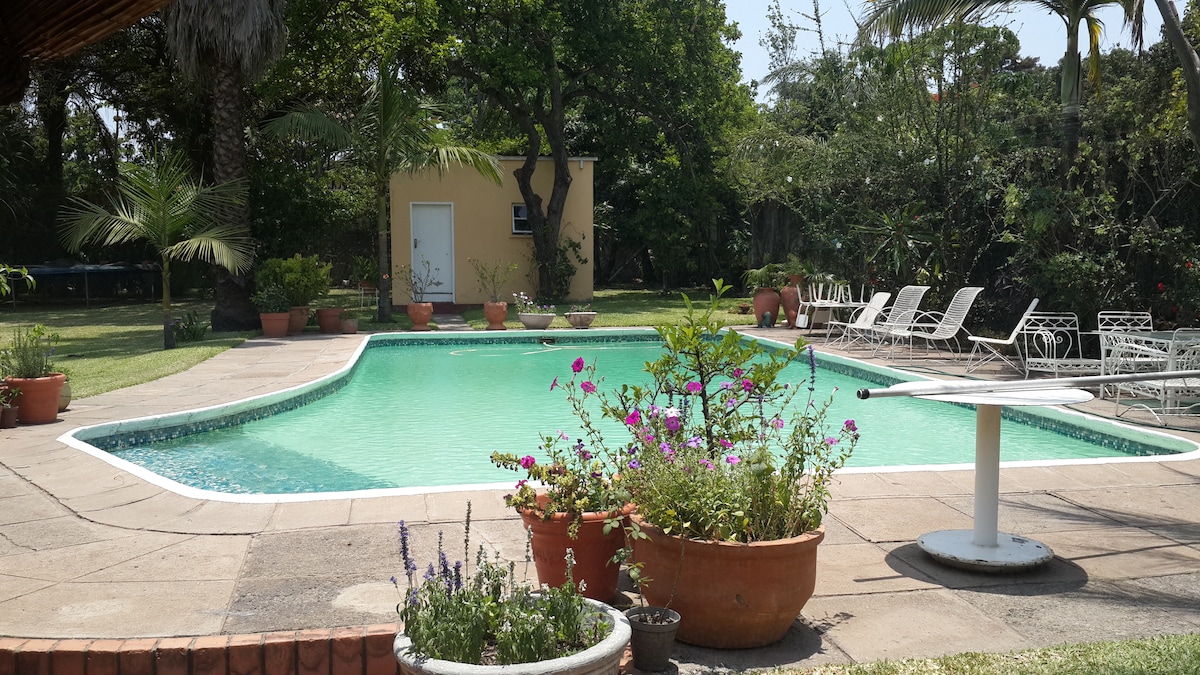 This smart 3BD house comfortably sleeps 4 in 2 bedrooms available to let. The self-catering house has a swanky modern kitchen with everything you need for gourmet meals. Enjoy lush green gardens in a serene location. Learn More
The neighborhood is serene but a mere 10 minute drive to the centre of town Buses regularly service the area. Nearest bus stop is 2 minutes' walk from the house
Kitwe
Room type: Entire home/apt
Property type: House
Accommodates: 4