Enter your check in date in the format mm/dd/yyyy
Enter your check out date in the format mm/dd/yyyy
Listings you can book without waiting for host approval.
4 Treehouses
· Captain Cook
4 Treehouses
· Captain Cook
Enter dates to see full pricing. Additional fees apply. Taxes may be added.
This July and August, you can try one of these 100 highly-rated homes, at all price points, and experience a local's view of Sonoma. 24-hour check-in, Instant Book, and local wine and snacks let you just sit back and enjoy your trip.
This hidden jewel at Kealakekua Bay is the perfect honeymoon cottage. Very private setting. Short walking distance to nearby Manini Beach. Great snorkeling in the bay! We have a full kitchen, with gas range/oven, pots, pans, coffee grinder, coffee maker, rice cooker, blender, undercounter refrig with icemaker. Fall asleep listening to the nearby waves crash, and awaken to the sound of birds. Surrounded by tropical landscape and pond. Magical Hideaway!!
This Hidden Jewel located at Kealakekua Bay on the Big Island of Hawaii is nestled under large ficus tree. It is an exotic Bali Cottage perfect for a couple. Located in peaceful Historic Napoopoo VIillage. Steps from Neighborhood Beach Park where you can access Kealakekua Bay to swim and snorkel. Grassy park with picnic tables. You can rent kayak just down the street on Kahauloa Rd. Come stay at Kealakekua Bay, where the dolphins play! Built with old bali teak panels and decorated with lots of unique surfboards on the ceilings.. Off the street. Very private and peaceful setting. Under a large Ficus tree, with large limb going right thru living room ceiling! One bed, one bath,fully equipped kitchen . Open and airy. Hear the waves at night! Private, tropical yard with pond, gazebo and bbq. tiki torches. Lots of birds. No need to drive to beach. You can walk One and a half minutes to Neighborhood Beach Park -a beautiful beach park on Kealakekua Bay, where you can picnic, or swim - see turtles, many reef fish, manta rays, dolphins. Captain Cook Monument one mile across the bay. Enjoy your morning coffee or afternoon libations at the picnic tables. Walk to nearby Napoopoo Beach, Keii Beach. Painted Church 2 miles away. 4 miles from City of Refuge - great snorkeling. Close to Paleakula Peace Gardens where you can take a yoga class, or Mamalohoa Hot Tubs and Massage. Swim, Bicycle, Kayak, Hike, Nearby Kayak rentals available. Entire yard. BBQ, Gazebo Outdoor dining table. As much or little as they want. Always available for questions.
Quiet, peaceful village, very little traffic. All you will hear is the ocean and birds. There is a bus that goes to Hilo up the hill 4 miles. Costs $1! Please Note: Airbnb does not collect the State of Hawaii Transient Accommodation Tax (9.25 % ) and GE Tax (4%) so they are built into our flat rate listing fee. TAT ID TA-063-942-0416-01 GE ID GE-063-942-0416-01
This was the cutest most unique cottage I have ever seen with my own eyes! I wish we got to enjoy the space a bit more as we only stayed one night. Definitely would recommend this to anyone else looking for a unique Hawaiian hideaway :)
Alana
October 2015
Karen and Ron are lovely hosts - good recommendations on food and local things, with an amazing place to stay! Full of history, beauty and sunsets, the local beach is great at any time of day and the cottage lived up to expectations. There are quite a few mosquitos so bring long sleeves for dusk, but the nets keep them out of the bed!
Tom
June 2012
Great outdoor living experience.
Steve
June 2012
The Cottage is exactly as described. We loved it! If you like camping in paradise you will be delighted with the luxury of a comfortable bed, hot shower, fully equipped outdoor kitchen and comfortable chairs. The teak panels are fantastic. Great snorkeling is just steps away. It's a nature retreat unlike any other!
Wayne
April 2014
Very cozy place with a lot of love put into it. There are 70 surfboards between the decorative ones and the collection in back. Awesome snorkeling right down the street!
Dillon
October 2014
me and my husabnd fell in loved with the place right away! wish we could stay there longer~~ the place is beautiful and even better than the pictures~ we loved staying there so much~
Rosaria
August 2015
The photos on the listing say it all – it really is that beautiful, like a Balinese hideaway … but with more surfboards. We loved the eclectic décor, the indoor/outdoor living and the feeling of protective privacy. There are houses nearby but the environment that Ron and Karen have created made us feel like we were in our own garden oasis. Some of our favorite times were just preparing meals in the outdoor kitchen, or having our morning coffee on the wide front porch watching the birds and geckoes and listening to the sound of the waves. The bay is just a couple of minutes walk away and entry to the snorkeling area was protected and easy. The cottage has every amenity including snorkeling gear. Ron and Karen were delightful hosts – thoughtful, warm, helpful and accessible, yet never intrusive. Highly recommended!
Marilyn
March 2016
We loved our time at the Bali Cottage. Karen and Don were amazing hosts. We ended up with a rainy few days, but were still able to enjoy the space, the beach access, and their sweet cat Purry.
Kate
December 2016
Room type
Entire home/apt
---
Property type
---
Accommodates
2
---
Bedrooms
1
Kailua/Kona, Captain Cook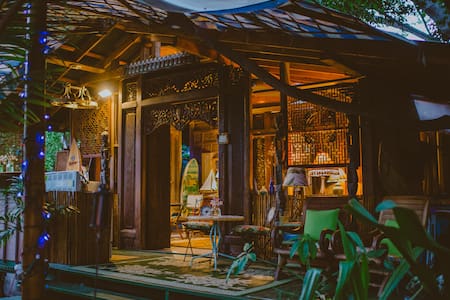 Your private Ohana will be your home while visiting the Big Island. To help your day get going breakfast will be served outside on the lanai where you can enjoy the serenity and a cup of James Bean coffee. We are located a 10 minutes drive from downtown Kona. The approximate 1000ft elevation offer a comfortable 5-10 degrees cooler retreat after a day at the beach. Enjoy the sounds of nature and the stunning view, relax in the hot tub and, most importantly, have fun!
- The house has been called a piece of art by some of our guests :-) - Full size bed plus sofabed as well as two single beds in a separate sleeping area. - You have your own small refrigerator and microwave - One bathroom with shower and toilet - Free parking - Kitchen shared with the hosts - There is NO clothes washer available for guests. Please make sure you read our "Other things to note" further down this page. Thank you! - You have your own private entrance - Kitchen shared with the hosts - Breakfast gives you the opportunity to pick our brains for your days' adventure if you so desire. You can cook your own meals if you like, the kitchen is shared with the hosts. - Coffee farm tours can be arranged at your/James' convenience. - We love to interact with our guests, giving them tipps about the best spots on the island but naturally also respect their privacy.
- Very friendly and reliable neighbors - Safe and quiet neighborhood - We have some big trees on our property. Rainbow Eucalyptus, Mango and Monkey pod, just to name a few. You'll be able to watch birds, look at coffee trees, pick up mangoes from the driveway and gaze at the stars at night. - WE RECOMMEND RENTING A CAR as public transport is almost non-existent on the Big Island. Please have a look at the "Guidebook" for our recommendations (parks, snorkel, beaches, food etc.) - Mom's tree house is quirky yet special. You might be serenaded by different animals during the night (one of our guests called it: "complete with the grandest symphony of frogs"). This can be a paradisical experience for travelers who are open to the "jungle feeling"! - If you do need your quiet during the night or are terribly scared of geckos, you might want to look for a different accommodation ;-) Please also note that we have 2 cats (they stay outdoors at all times). The kitchen is shared with the hosts.
We got there the day before James and Keiko's wedding, and soon found out they are the most amazing persons we could ever meet on the big island. The tree house is really cozy with sweet location, and you do have a unforgettable view of the sea behind the huge trees. We started everyday with Jame's hand picked coffee from his farm, and ended the day with hot tub under the starring sky. James shared everything with us, the books, snorkel gears, surfing boards, and his amazing pineapple pancakes (do ask James to cook in the morning, it's a magic) !!! I highly recommend you to stay at tree house at the beginning of your big island trip. In that way you will know a lot of secret spots/way to get there from James and it will leave you the greatest experience ever.
Jade
June 2016
One of the coolest places my wife and I have stayed! Unfortunately we didn't meet James and Keiko as they were back on the mainland. However, their friend Dawn stepped in and took total care of us. The treehouse is awesome! It was quiet and peaceful. The treehouse doesn't have a ton, but it has just enough! We loved Kona and the treeshouse! Be sure to read and look through James and Keiko's guidebook as it helped us greatly! Thanks again to James and Keiko!
Sam
October 2016
James and Flora are the perfect hosts! We felt extremely welcome, they gave a lot of good advise about the island and we had some great conversations. Falling asleep with just the sounds of the tropical forest outside, and waking up with the view of an gigantic tree just outside the window is something we will remember for the longest time. The house is situated in a pristine rainforest, even if Kailua-Kona is just 10 minutes away. James makes great breakfasts every day, our children especially enjoyed the pancakes. He serves great coffee, all produced on his very own coffee-farm. The last day he gave us a tour of the farm - it was exiting to understand all the steps involved in the process from berries on a coffee-bush to ready roasted coffe-beans. We would love to come back one day!
Idunn
July 2015
We loved our stay at the Treehouse! It is simple, but cozy and spacious and its everything available you need. This place is a good choice, if you love the sound of nature and the peaceful life. James is very helpful and friendly and he conjures up every morning a delicious breakfast:-) Hope to see you again, Irene&Harry
Harry
May 2016
2.28.13 to 3.2.13 - James and Flora are the best host ever!! James greeted us when we arrived, gave a tour and then all the information you need about the Island. The house is fabulous!! Peaceful and quiet it was wonderful. Breakfast each morning on the deck looking out to the ocean is just breath taking. If you are ever in Kona you have to stay with them it's the ultimate experience.
Michael
March 2013
If you enjoy open air living you'll really enjoy James and Flora's place. There were 5 of us and the accommodations worked out fine once the hot water and blanket situation were figured out. It had rained the night before and the temps. were a little chilly the first couple nights with the many screened walls. Every morning breakfast on the patio was fresh and delicious. It included cereal, the option of croissants or muffins, fresh local fruit and James' home grown coffee. In addition, James' cheerful attitude helped to jump start the day almost as much as his coffee. The location worked well for us being in the hills of Kailua-Kona which was only a few minutes from the main thoroughfare Ali'i Drive offering us access to the shopping centers, resturants and beaches in town. Waking to the view of the ocean,the tropical landscape and the sounds of birds and frogs was idyllically Big island. We recommend the Ohana Treehouse to those looking for a natural, local feel. James and Flora are delightful hosts. Thank you for sharing with us. Aloha,Diane,Ry, Aiko, Maylani and Ramona
Diana
March 2013
This was an amazing AirBNB experience! James made us feel immediately welcome, and the space itself is both gorgeous and conveniently located. He even made us breakfast every day, and was full of excellent recommendations for things to see and places to eat. Highly recommended for anybody coming to the big island.
Bjorn
April 2015
James was very welcoming and accommodating. He is a friendly host and becomes like family!
Tonya
February 2016
Room type
Entire home/apt
---
Property type
---
Accommodates
6
---
Bedrooms
2
Kailua/Kona, Kailua-Kona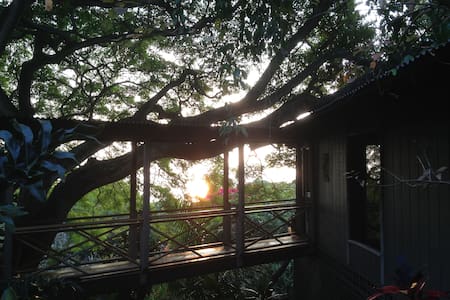 The treehouse is tucked away in the rainforest, less than five minutes from the entrance to Hawaii Volcanoes National Park. It has two levels, two lanais, even a hot tub up in the trees. The bed has just undergone a rejuvenation and is back to being super comfortable. You can spend hours in the upper canopy, amidst the honeycreepers flitting through lehua flowers, and soak under the stars winking through the leaves or in the volcano mist.
This is a custom designed treehouse, built by the same crew you see in Treehouse Masters on TV. The Jurassic attitude of the rainforest is preserved on the grounds. We also have a wedding venue nearby you may view in the photos. Our volcanoes are in a spectacular phase just now. Views of the summit eruption are a five minute drive away. To see the rivers of lava, you drive into the park and down the mountain. Mahinui Na Lani hangs in ohia trees growing over a lava tube in the rainforest that extends into Hawaii Volcanoes National Park. The treehouse was conceived as a companion to our rainforest pavilion, a Bali style structure a couple of blocks away, intended as an intimate wedding venue. Both may be reserved, and there are a couple of photos of the pavilion included in this series. The treehouse is accessed via a path that is about 100 meandering feet in the forest, lava boulders set into the side of the lava tube, and ladders. The ascent is somewhat steep once you reach the lava rocks. For your safety and comfort, we provide day packs to transfer whatever clothing is needed for your stay from your luggage into the abode. There is a special recessed corner dedicated to your stuff, with hooks for clothes, and a couple of night stands with drawers that can hold less bulky items. It's Hawaii, and the climate is mild, the atmosphere everywhere very casual. We also provide bathrobes. The treehouse itself is built on two levels, connected via a ship's ladder. The main level includes the living room, with two chairs and an ottoman, flat screen for viewing films & playing CDs, built in indoor window table & stools, small kitchen, outdoor shower, and composting toilet & vanity. The indoor fireplace is a Jotul propane stove vented to the outside. Outdoors on the lanai there is a cedar hot tub, and a teak table and chairs for al fresco dining in the trees. The upper level is also upper canopy, with birds actually flying around beneath you sometimes. There is a queen sized bed with a memory foam mattress, the tiny "closet corner" and another lanai. The windows other than the french doors onto the lanai are stained glass, made by a local artist. The house was built primarily of recycled materials. The fir floors and redwood and cedar siding were once a church. This particular area is adjacent to Hawaii Volcanoes National Park, where Kilauea has been active for decades. There are hiking trails in and around the park through rainforest, desert, volcanic devastation, even a path with footprints preserved from an eruption over a hundred years ago. There are petroglyphs. Less than a mile from the treehouse there is Volcano Village, with restaurants and art galleries, a couple of places to buy gas. The entrance park itself is about two miles away. The neighborhood is rainforest, with many unbuilt upon lots. The reason there is no view of the treehouse through the forest is because the rainforest is very dense. There is the floor, very jungly with ginger, native ferns, and trees. Mid canopy are the tree ferns, some twenty feet tall, and over a hundred years old. The upper canopy is a mixture of ohia trees with red lehua flowers, Hawaiian holly, and others. We are asked from time to time if more than two people can stay in the treehouse. We can especially understand that families would like to bring their children to share this experience. the treehouse is a two person space. Everything is designed to be a honeymoon experience. While it is possible for more than two people to sit together and chat, only two can sleep over. There is no rollaway bed, nor is there room for one or for any other furniture beyond what is there already. Hall of Fame: The treehouse has been featured in Extreme Cribs, on episode 13. The Ellen Show: Kim Douglas's Tropical Vacation Ke Ola Magazine Volcano Tree House story in July - August 2011 edition Trip Advisor: One of the Ten Most Romantic Places to Stay (global selections) PureWow feature Treehouses of the World, Travel Channel European segment, by Treehouse Masters series blogs and news articles published globally You will have access to the entire property, including the small structure below the treehouse near where you park your car. You may safely lock your luggage inside that room and use the day packs inside during your stay. If you use a CPAP machine, please contact us prior to making a reservation. There is only one treehouse on the property. We live nearby and come by regularly to maintain the treehouse. It is likely we will meet you on arrival. Otherwise, we are available by cell phone, text, email. When we are away, someone else who lives locally will be available to greet you and take care of your needs. The treehouse requires daily attention because it is off grid. This is generally done between 11 am and 4 pm, and most guests are away for that portion of the day. We do ask that if you are staying all day at the treehouse, that...
The neighborhood is part undeveloped rainforest and part lots with houses. There are no tract homes - every house is individually designed and built. There are no street lights so at night it is very dark. The forest tends to obscure moonlight. There is a hula halau that practices nearby some afternoons, and you can hear their Hawaiian music and chants late in the day. There is on site parking. There is a bus but it does not operate daily and does not adhere to a regular schedule so you will need a rental car. There is limited taxi service, and it is very expensive. There are no airport shuttles. A four wheel drive is not needed, but is nice for visiting other parts of the island that are off the beaten track. Tax IDs: TA-020-255-1296-01 & GE-020-255-1296-01 Airbnb at this time does not have any line item charge for taxes and we are obligated to pay them. Our tax rate is 13.42%
We had a great time in this fantastic treehouse during our adventures around Hawaii! The place is exactly as described and as shown in the photos. The location was easy to get to but still had a secluded feel. It was only a couple of miles from the volcano, which made it really easy to stick around late and watch the glow. Gail was super helpful and advised us to book on a lava boat tour a few weeks before our arrival which was an incredible experience! We really enjoyed the papaya boats provided for breakfast and are definitely taking this recipe back to England with us! Unfortunately the hot tub was out of use but I guess this is one of the risks staying in an off grid property. Our only regret is that we didn't get to spend more time there!
Zara
September 2016
This was a great place to stay on our honeymoon.
Christopher
August 2016
Just the most magical place I've stayed. Communication was great. And you can tell how much love and detail and thought went into every aspect of this space. And that pumpkin bread and papaya boat breakfast was to die for!
Liza
December 2016
Highlight of our 10 day trip to Big Island!!!! Frankly, EXTREMELY worth the money. The hot tub worked perfectly and was 100 degrees – even in the evening when it was raining and around 55F outside; it was heavenly. Gail met us when we arrived to give us in-person instructions on the specifics on how to use the furnace, hot tube, bathroom and the free internet. The shower is amazing – hot water within 10 seconds and the wall surrounding the shower kept all of the heat in; additionally, the view was amazing. First experience with a compost toilet and we approached it with extreme trepidation, but in the end, we were totally okay with it! Stay here and enjoy a place like none other!!!
Juanita
November 2016
Very nice area, really close to Volcano Park and close to nice restaurants and other shops. Winery just up the road. Hot tub was not working but that wasn't their fault, as they are waiting on repair parts to come which we understood. They did throw in some nice wine and other little gifts to apologise for the inconveniece of it not working, which was very nice of them! Very nice building, very unique. I would definitely stay here again. One of the nicest rentals we've had the pleasure of staying at. Thanks!
Ian
September 2016
We stayed at 3 places on the big island during our honeymoon and this was definitely our favorite! Here's why: close proximity to the national park, super quiet and tranquil neighborhood (only sounds we heard were birds and rain), very romantic setting that made us feel like we were isolated in the rainforest, showering outside IN the rain (so cool!), the hot tub in the deck, all the interesting architectural details of the house itself, and the wonderful hospitality of the host and Rose and Noe, who made sure we were taken care of. There were fresh fruit and other goodies in the kitchen when we arrived, and we were so happy to see that they provided tea, coffee, and hot chocolate too! This is the perfect place to truly get away from it all and experience the volcanoes and the east side of the island. If you are visiting the big island you should definitely stay here for at least two nights!
Kayleigh
April 2014
What can you really say about a Treehouse in the rainforest a couple mile away from an active volcano...how about amazing!? The Kilauea Volcano Treehouse is no to be missed! Its only a short drive from Hilo and has a market close by in the town of Volcano to purchase essentials. The Treehouse is uniquely well designed and has all the amenities of a 5 star hotel. There was various fruit, banana bread and eggs waiting for us when we arrived plus a perfectly warm hot-tub for two....very nice. Our Host, Mahinui, was gracious and informative and gave us great tips on the island. If you are planning a visit to the volcano and want a unique experience I would highly recommend the Treehouse. You won't be disappointed.
Matthew
February 2015
What a fabulous, magical place to stay. The treehouse is obviously a labor of love, well crafted and taken care of so beautifully. It was a joy to stay here, and we only wish we could have stayed longer. We had everything we needed to tuck in and enjoy the rain on day and the twinkling stars the next. Gail was kind and welcoming and showed us everything we needed to make our stay perfect.
Marja
April 2015
Room type
Entire home/apt
---
Property type
---
Accommodates
2
---
Bedrooms
1
Volcano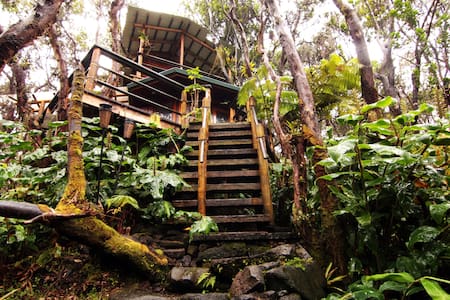 Hale Hapu'u is part of a Tropical Rainforest Retreat 400' sq Sleeps 5 Queen and Three Twin Beds with attached Sunroom 260' sq Private Bath/Shower Kitchenette Large Flat Screen TV with Movie Channels Washer/Dryer and Maurice the Resident Yellow Tabby
Hale Hapu'u Rainforest Suite is located in Volcano HI at 4000' elev. in a tropical alpine rainforest setting within Guest Cottages at Volcano Tree House Retreat. It will accommodate (5) adults or Family comfortably and has a Pac-n-Play available for infant. We are located approx. 2 miles from Hawaii Volcanoes National Park entrance (providing numerous hiking and photo opportunities) and 30 minutes to the south is Black Sand Beach or about the same distance north to Hilo. Volcano has a variety of good restaurants minutes away, an 18 hole Golf Course and the southern most Vinery in the United States (Wine Tasting available). Akatsuka Orchid Farms, World Class Art Glass @ 2400 Fahrenheit and unique Arts Galleries all within a three mile radius Your large private sunroom is part of the Hale Hapu'u experience and for out of doors relaxing our second story 30'x 16' Sky Deck is great for relaxing ....night or day weather permitting. Innkeeper is available via Cell Phone or Text Message 808.430.0160 for questions or help during your visit and only minutes away
Volcano Village and Mauna Loa Estates is amidst an alpine tropical rainforest 4000' above sea level formed by Lava 400-500 years ago on the edge of the Kau Desert where most of Hawaii Volcanoes National Park is located. We have a wide variety of rainforest birds flying through the canopy of native Ohia Trees, Giant Hapu'u Ferns and colorful tropical plants and flowers on the forest floor. In our Hawaiian Paradise no snakes ....we do have a native Hawaiian hawk, bat, crow (soon to be released by San Diego Bird Sanctuary.. almost extinct) and the state bird Nene Goose. This is the Big Island and the wide open spaces...a vehicle is a must for getting around. A wide Variety of Tours from Bicycling the Park, Helicopter Tours, Hiking, Snorkeling/Diving (individually or tour) Fishing, Lava Boat Tours, Stars, Lava, wine and cheese tours, Tea, Mac Nut and Coffee Tours ....not to forget Volcano Village Farmers Market Sundays 6am-10am and Hilo Farmers Market Saturdays and Wednesdays W96487291-01
Room type
Private room
---
Property type
---
Accommodates
5
---
Bedrooms
1
Volcano