Entire Place

Listings where you have the whole place to yourself.

Private Room

Listings where you have your own room but share some common spaces.

Shared Room

Listings where you'll share your room or your room may be a common space.
Room Type
Price
Size
Social Connections
Employee Host
Instant Book
Superhost
Neighborhoods
Amenities
Property Type
Host Language
Keywords
2 Huts · Captain Cook
We recommend booking a place soon.
Wake up to the best farm fresh 100% Kona Coffee, delicious home made pumpkin bread and farm fresh fruit for breakfast. Talk story with farm famiy. Hike through hillside of coffee trees & other fruit trees, take in gorgeous ocean & mountain views. The perfect base camp for your Hawaiian adventures. Learn More
Stay at our budget friendly coffee shack on a historic and award winning kona coffee farm with beautiful and amazing ocean and mountain views. Nothing fancy... a comfy full size bed and offers privacy with your own entrance and a short walk to bathroom, covered outdoor shower and outdoor kitchen. As night enjoy the relaxing sounds of nature as you rest. In the morning, arise to our farm fresh award winning 100% Kona Coffee, our homemade fresh pumpkin bread, and help yourself to our far...
Kailua/Kona, Captain Cook
Room type: Private room
Bed type: Real Bed
Property type: Hut
Accommodates: 2
Bedrooms: 1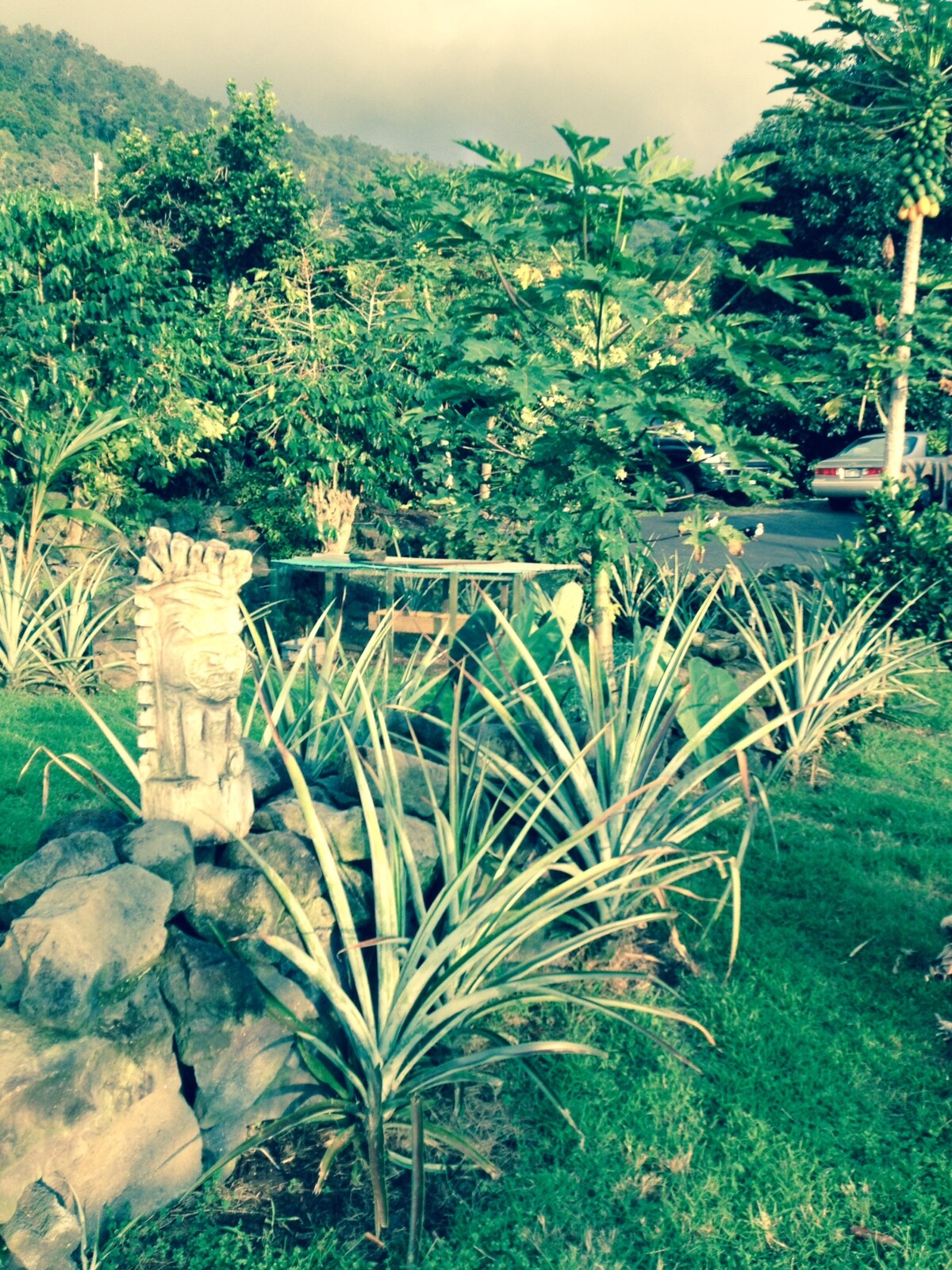 Enjoy the country life in Kau on the Big Island. We have 19 acres. The lovely red Lehua flowers are blooming . We live on Road to the Sea, which has a remote black - green sand beach. We call our slice of paradise, Honua Laa (a sacred place) Learn More
The front 5 acres is a 12 step recovery camp (under construction) with a community kitchen and shared bathroom. The land is flattened lava rock with Ohia Trees. The back 12 acres is an old Ohia forest with 500 year old trees and lots of birds. You might even see a wild goat or a wild pig. There are small caves and gorgeous rock formations. It backs up to Manuka Forest Reserve. If you are a rugged hiker with a compass you will enjoy hiking in the forest. At the end of our road is a beautiful...
Island of Hawaiʻi, Captain Cook
Room type: Entire home/apt
Bed type: Real Bed
Property type: Hut
Accommodates: 2
Bedrooms: 1
Bathrooms: 1