Find homes in Bournemouth on Airbnb
Discover entire homes and private rooms perfect for any trip.
Bournemouth, United Kingdom
Vacation rentals in Bournemouth
Favorite Bournemouth vacation rentals
More vacation rentals in Bournemouth
$74
Beautiful En-suite Room Beach Area
---
Vacation Rental

· Bournemouth
BCC hotel is located in West Cliff area of Bournemouth which is an easy walk from beaches, award-winning gardens and the town centre. We offer various sizes rooms with a bar and lot of activities nearby, Our guests will benefit from their own private suite with very comfortable double bed, spotlessly clean private shower and Toilet. Also, you have your own tv and mini fridge. BCC Hotel has a bar, a conservatory and a lounge with music from local bands in the evenings. A 3-course dinner can be booked at the adjoining restaurant and laundry area. We will greet you on your arrival and make you feel welcome Only 7 minutes walking to the Beach and 8 minutes walking to the Town Centre, Around the area are Restaurants, Take aways, Subway, KFC, Night Clubs, Shops and more. Buses stops are close (Airport-Bournemouth-Poole)

read more
Rob
Basher kept in good contact from the time of booking until the day of arrival & was happy to take phone calls if needed (which we did) throughout our stay. Parking is limited so arrive early if you're driving as street parking seemed very busy (but we did visit on a bank holiday!) We stayed in room 10 on the third floor and were over happy with the enormous bed (king size I think) some cosmetic work required in the room but nothing that affected our stay. There was a fridge in the bedroom and a kettle with a couple of mugs with some peppermint tea bags. The room had a huge window of which 3 compartments opened & the breeze was very much appreciated on what was a very hot day! The beach & the Bournemouth International Centre are only a few minutes walk away and I felt the price of this room was very good value for the location. It is a busy street so maybe not recommended for anyone who appreciates more quiet than bustle, but we found it all died down before getting too late & we had no problem sleeping. We would recommend & rebook with Basher if visiting the area again.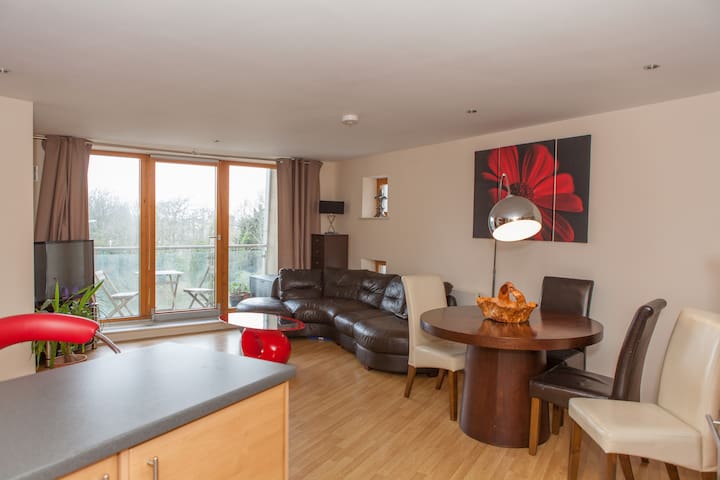 $37
Double room near beach and BIC
---
Vacation Rental

· Bournemouth
Modern flat in luxury block 5 minutes from Bournemouth town centre and all buses. A 5 minute taxi ride from the coach and train station. The room has its own bathroom and full access to a fully equipped kitchen. Balcony overlooking local church. Full 24 hour access. Car parking available. Its close proximity to beach, town centre, the BIC and all local amenities. On a daily basis. 3 minutes walk from all local buses. 5 minutes drive from train station. Parking available.

read more
Rosie
The room was lovely and spacious and in an ideal location for visiting the BIC, the town and beach. The room and ensuite were nice and clean. Alyson was very welcoming and a great host. We had a lovely stay.
Lorenzo
Must say Alyson was our angel when I arrived with my son and my ex-wife, who had left her Airbnb lodging that same day due to bad experience. Alyson offered to lodge her as new guest at no cost and comforted her dearly, and helped her to claim a refund for her bad experience. Her place is exactly as depicted in photos, and very clean, very near the railroad station and downtown. She also gave us an abundant and tasty breakfast in her sunny living room. Thanks Alyson! You really saved us. Won't forget about the bottle of white wine!
Stephanie
Excellent location and lovely flat. Really pleased we picked Alysons place to stay for a concert at BIC. Alyson was a great host - very friendly and so helpful. Would definitely go back if in Bournemouth again. Thank you so much Alyson! :) x
John
Beautiful apartment in the city close to everything we needed during our stay. Most importantly Alyson was very friendly and helpful. We will surely do this again if needed.
Maciej
It was an absolutely lovely stay and Alyson is a gracious host. The flat is lovely, really close to the beach and main square, making it a perfect spot for a weekend city break. Fully recommended!
Antoinette
We had a lovely stay at Alysons home. The description was accurate and the property was nicer than expected with beautiful views. We were so full after the plentiful breakfast provided. Alyson is a great host who made us feel very welcome. I very much recommend her accommodation when staying in Bournemouth as it is a very central location. We will definitely book again when we next take a trip to Bournemouth
Jo
Lovely flat, really near town, parking space made available and Alyson very friendly.
Jeremy
Alyson is very friendly and welcoming, with drinks offered before I even got my second foot through the door, and she makes a lovely cup of tea!! The apartment is very easy to find and extremely well located, just a couple of minutes away from town, and the beech is only a couple of minutes further on past town. Both my room and own bathroom are well maintained, with light fresh decor, and are kept very clean. I would highly recommend this property, and host. Its no suprise that Alyson is very busy, so book in advance. Simply fantastic all round.
Explore other destinations