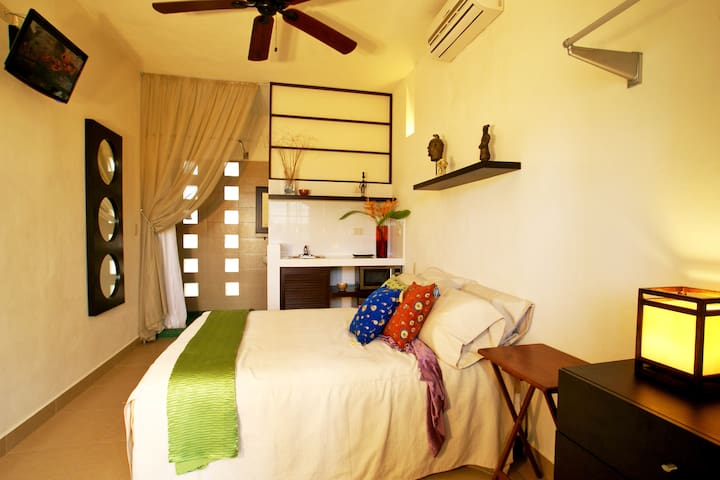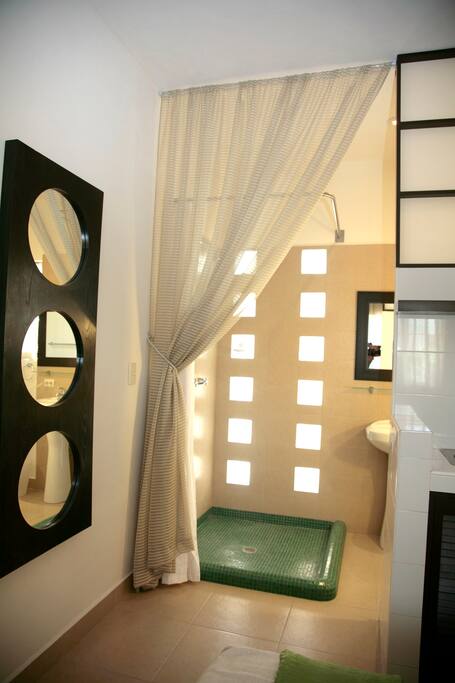 Art Deco Suites offers the ardent Traveler affordable short to long term apartments in the vibrant heart of Historic Downtown Cancún, Mexico. We are a locally owned, family run establishment and provide a safe, peaceful, and clean environment.
The space
The Suites are fully equipped modern studio apartments with single, full, queen or king size beds, kitchenette area and bathroom. Junior Suites have a shared full bathroom with wall to wall tile and hand laid Venetian glass tiled shower pan. All the studios have been recently built and offer modern, tasteful décor designed to the highest standards.
Each studio apartment comes with a chest of drawers, hanging closet, an orthopedic mattress, mattress cover, quality Egyptian cotton sheets, blankets, pillows, and a High Definition flat panel TV. High Speed Wi-fi Internet, and unlimited long distance calling to the U.S. and Canada are included at no aditional charge.
The Kitchenette is equipped with a mini bar refrigerator, microwave, and coffee maker.
The bathroom is provided with a full set of towels.
All windows have double glass and are sound insulated in Standard Suites.
Air Conditioning and ceiling fan.
Recessed lighting and lofty 10 foot ceilings in all Standard Suites.
Black out window treatments are also available at no charge, just ask.
The front of the building has gated parking for 4 cars and is for the exclusive use of residents.
The swimming pool and Gym at the hotel next door is available for the use of residents of Art Deco Suites for a cost of about $8 Dollars in food & beverage consumption poolside.
Guest access
All common areas, kitchen, BBQ, Laundry room
Interaction with guests
I stay out of the way but am available if needed
Other things to note
Just 3 minute walk from ADO station - the city bus terminal
Check-in is anytime after 1PM
HOUSE RULES:
These rules are designed to ensure the Art Deco Suites experience is an enjoyable and safe one for all of our Residents. Rules are important as without them there is anarchy. They boil down to common sense, and basic courtesy and respect for your fellow Residents and Landlord. If you don't agree with them, we won't take it personally, and nor should you when we suggest Art Deco Suites might not be for you.
__One visitor per guest unless previously authorized by Landlord. You are responsible for your guest.
__Tenant shall maintain Suite in a clean and sanitary condition.
__Cleaning up after using the communal kitchen or BBQ grill is mandatory, so that the next person has a clean area and does not have to clean your mess. You MUST clean up after using the kitchen/BBQ facilities. Failure to clean up will result in your kitchen/BBQ privileges being revoked.
__Only microwave cooking allowed in Suites. No hot plates. (there is no venting system to remove cooking smoke). Violation of this rule will result in forfeiting Security Deposit.
__No overnight Guests without prior approval of Landlord.
__No smoking inside Suite or in courtyard (smoke can enter open windows). Please smoke only in driveway area within 6 feet of the gate and dispose of butts in receptacle provided, not on floor or sidewalk. Violation of this rule will result in forfeiting Security Deposit. Dispose of your butt's in the can next to mailbox, not on the sidewalk or floor.
¬__No illegal drug use. This contract will terminate immediately if you are found to be using illegal drugs. You will be asked to vacate immediately and you will forfeit your security deposit.
__No loud, drunk and disorderly conduct. No party's. No domestic disturbances. If a complaint is received regarding violation of this rule by Tenant, $100 USD will be deducted from Security Deposit for each of the first 3 violations. Three strikes you're out. This means this contract will terminate if there is a 3rd violation, and you will be asked to vacate immediately.
__Quiet shall be maintained in common areas from 8 P.M. to 8 A.M. so that other tenants are not disturbed. If a complaint is received regarding violation of this rule by Tenant, $100 USD will be deducted from Security Deposit for each of the first 3 violations. Three strikes you're out. This means this contract will terminate if there is a 3rd violation, and you will be asked to vacate immediately.
__Hanging clothes or towels on balconies or anywhere in common areas is prohibited. Any towels or clothing found hanging in common areas will be collected and stored for 24 hours subject to a storage fee of $10 USD. If items are not redeemed in 24 hours, they will be disposed of as trash. Kitchen towels in the kitchen are the exception.
__Music/TV shall be at a volume that cannot be heard outside of Suite so as not to disturb other tenants.
__No behavior allowed that disturbs other tenants.

SECURITY DEPOSIT.
Upon execution of this Agreement, Tenant deposits with Landlord $465 USD as security for the performance by Tenant of the terms of this Agreement. SECURITY DEPOSIT IS 100% REFUNDABLE AND WILL BE RETURNED TO TENANT AFTER THE FULL AND FAITHFUL PERFORMANCE BY TENANT OF THIS AGREEMENT. In the event of damage to the Suite or furnishings and contents caused by Tenant or Tenant's family, agents or visitors, Landlord may use funds from the deposit to repair or replace any damaged items, but is not limited to this fund and Tenant remains liable. Deposit may also be used to offset any unpaid electricity bill relating to the Suite. Tenant agrees to deliver Suite in same condition as it was received, including clean linens and towels, dry cleaned bed spread (not laundered), bed skirt, and pillow shams, clean refrigerator, coffee maker and microwave as well as all surfaces clean. If Suite is not clean, there will be an additional $30 USD cleaning charge and a $30 USD laundry charge if linens and towels are not cleaned. If the linens or towels are stained or damaged they are yours to keep, so unless you wish to buy them, please take care not to damage them. Eating, drinking, or applying fingernail polish or cosmetics in bed is not a good idea, as this is how they usually become stained: towels of any size are $15 USD, bed linens are $70 USD, comforter and mattress protector are $80 USD each, and pillows each are $50 USD. Remote controls are $50 USD each (take care not to drop them). Electronic Candle, and ceramic decorative accents each cost $50 USD, and bed footer the same. If Tenant breaks the term, or terms, of the lease, then Deposit shall be forfeit. Security deposit shall be returned after deducting damages, if any, and after electricity bill for Suite is paid in full by Tenant in cash to Landlord (this is done on checkout day). If Tenant checks out before 7:30 a.m., which is before business hours, Deposit will be refunded via (SENSITIVE CONTENTS HIDDEN) within 72 hours.
UTILITIES.
Rent does not include electric utilities. Tenant is responsible for electric bill of their Suite. A reading of Suites electric meter will be made upon move in and usage calculated therefrom. Usage will be calculated at a rate of $3.00 MXN per KW/h and paid in cash to Landlord at the same time as rent. In addition to a KW/h charge, there is a base charge of $15 USD per month or rental period, in addition to the KW/h consumption. Wireless Internet and US /Canada long distance calling are available at no charge should Tenant wish to avail themselves of them, however, the availability or constancy of phone and Internet connection, and their speed, has neither an expressed nor implied warranty and does not form any part of this agreement and Tenant may only make use of these at Tenant's sole risk and expense. Use of on-premise laundry, BBQ, and kitchen facilities is at Tenants sole risk and expense.
-Use common sense.
- enjoy your stay in Cancun!:-)
I live here in paradise because I enjoy freediving, sailing, scuba diving, and just being anywhere near the ocean. Mexico is a wonderful country with so much to explore. A good starting place is definitely Cancun!
Languages:
English, Español, Français, Italiano, Português
Response rate:
100%
Response time:
within an hour
Explore other options in and around Cancún
More places to stay in Cancún: