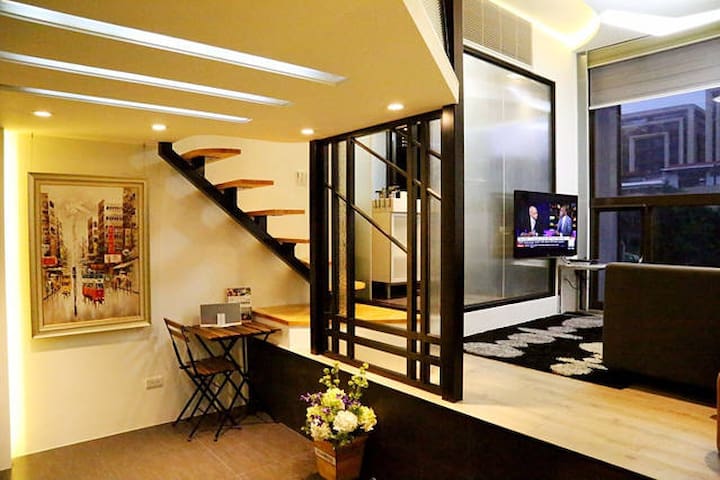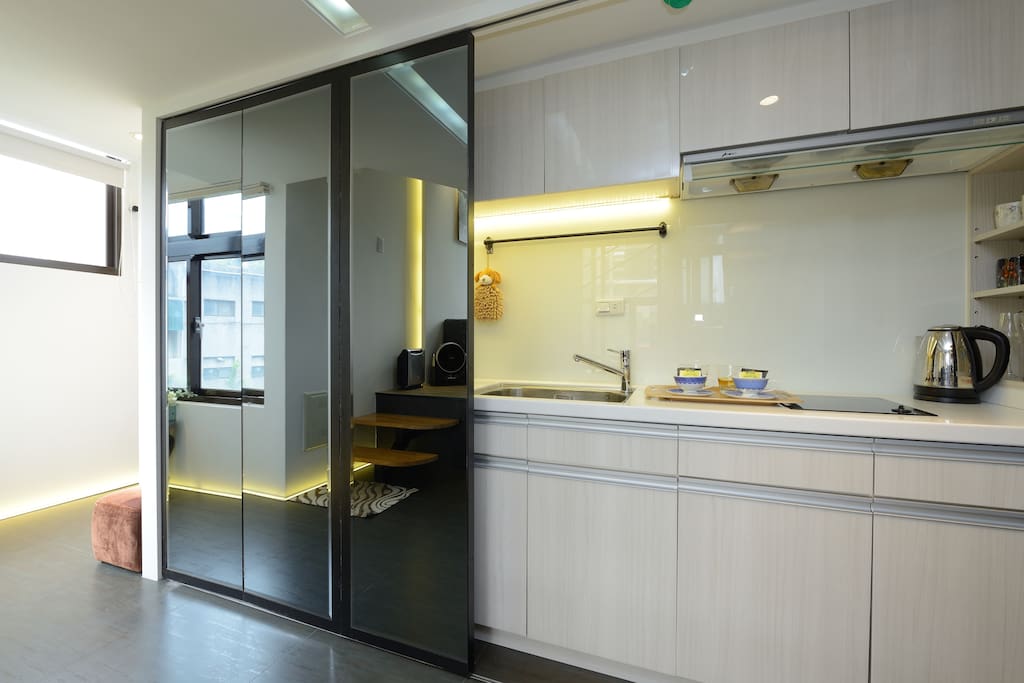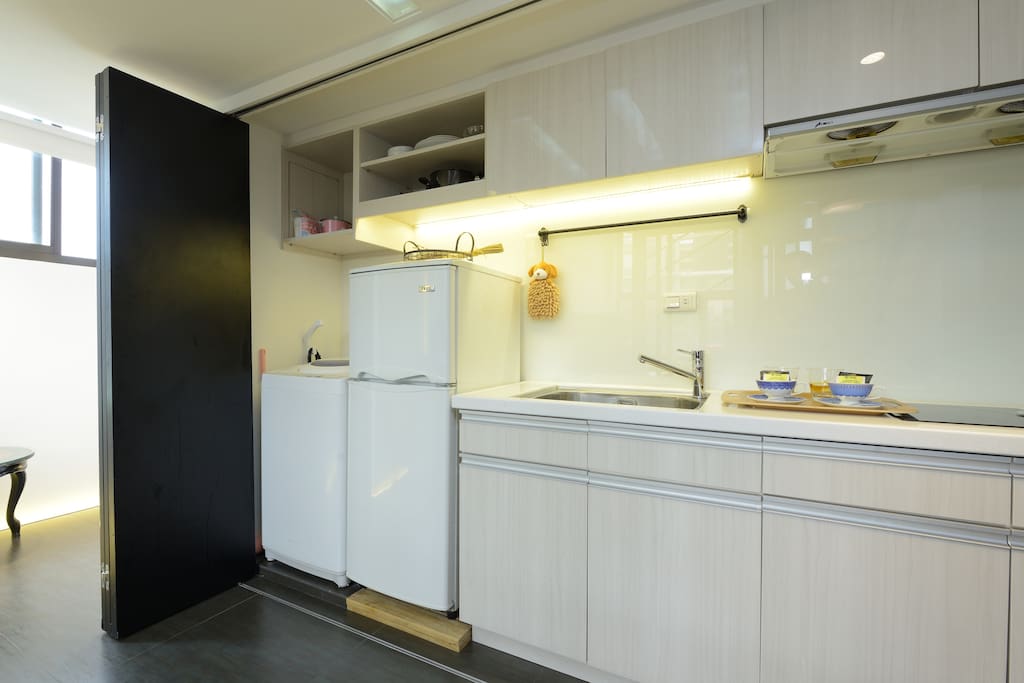 HOME HIGHLIGHTS
B V is a Superhost
Superhosts are experienced, highly rated hosts who are committed to providing great stays for guests.
Sparkling clean
10 recent guests have said that this home was sparkling clean.
Great location
90% of recent guests gave this home's location a 5-star rating.
★台北市政府捷运站4号出口步行3分钟即到家
★4米2挑高明亮通风宅 清新风格 大片落地窗邻公园绿地
★位于信义计画区商圈旁
★邻近台北101/国父纪念馆/松山文创/饶河夜市
☆It takes only 3 minutes to walk from Taipei City Hall MRT station( Exit No. 4) to this cozy high ceiling(4.2meter) loft
☆Ideal for 2-3 people, high privacy, characteristic loft interior
☆located XinYi Shopping District
☆close to Taipei 101/ Sun Yat-sen Memorial Hall/ Songshan Cultural and Creative / Raohe Night Market
--Please find English Version below —
全新装潢,4米2挑高明亮通风宅,我们坐落于台北市最繁华中心一条安静的街道上,安静与采光良好是我们这栋房子最大的特色,室内挑高4米2客厅让您身处于室内仍感到无拘无束,客厅通过大片落地窗直达公园树梢,我们的房子位于二座茂密树林公园之间,一家人时而优閒地散步这城市公园里,让您的心灵得到充足的休憩,数家大型百货商圈也仅仅一条街口之外 欢迎您随时进入这繁华的商圈之中,我们的交通十分便利,让您轻松到达台北市各个角落,桃园机场大有巴士直达市政府捷运站,信义商圈、国父纪念馆、松山文创园区近在数步之远。

Modern, cozy, private, and quiet bedroom with an en suite bathroom in the central of Taipei city. Our loft is located by Taipei 101 and Xinyi shopping district.
On the way to the apartment, you will walk by characteristic cafes,well known dessert stores such as Ice Monster, famous Taiwanese restaurant such as Din Tai Fung(Mitshikoshi Dept. Store & Taipei 101). If you are foodies or just enjoy food in general, you will be very satisfied with all kinds of Taiwanese food around this neighborhood.
The view from the apartment is a park with lots of trees and just downstairs of the apartment, so it is the best spot where you can totally enjoy the quiet moment in this busy city and spend the good time with your companion or children.

【信义A】客厅通过大面落地窗面公园
★我们可以招待2-4位贵宾入住
★不与他人共用空间 开户式Loft空间 房内使用空间约18坪(60平方米)
★共用电梯 行李不用扛上楼
★标准双人床(155cm*188cm),可加床(记忆床垫155cm*188cm)+100%纯棉寝具
★开放式客厅
★一字型简单厨房
★独立卫浴设备
— !!亮点!! --
我们这栋大楼设计成1层2户,各层楼有属于自己的电梯磁卡 上樓需要电梯感应磁卡,住户安全100%无虑
★我们在同层楼有2个家,共用电梯。有各自独立的大门,完全私人空间,互不影响,您可以挑选喜欢的风格入住
★若您是团体旅游,我们最多可以接待7位旅客,隔壁【信义B】可以接待3人并提供2张床(双人床155cm*188cm+记忆床垫155cm*188cm)+100% cotton bedding

【XinYi A】The view of the living room is the greenary park
★Perfect for: a single person or couple, even up to 4 people(family travel/ group)
★1 living room ,1 kitchen,1 bathroom with 1 standard double bed (155cm*188cm), 1 Japanese Mattress(155cm*188cm) for additional guest
— !!Highligt!! --
★The building is designed only 2 unit on each floor. For your security, different elevator key card can only activate to reach their floor, so it is 100% safe for our guests.
★We have 2 apartments on the same floor and these apartments have their own individual entries, so you have totally privacy staying in either of them. For our guests, you can choose favorite one to stay.
★ If you are group travel, we can offer 2 apartments and host 7 guests maximum at the same time. The other apartment【XinYi B】can host 3-4 guests and we offer 1 standard double bed(155cm*188cm), and 1 Japanese Mattress(155cm*188cm) for additional guest.
【交通】
步行:台北市政府捷运站4号出口3分钟即到家
捷运:台北市政府捷运站步行约3分钟即到家
公交车:台北市政府捷运站步行约3分钟即到家
U-Bike微笑单车:台北市政府单车租借站步行约3分钟 可供租借。可骑着U-BIKE轻鬆至信义计画区,体验台北人在地生活
【Traffic】
-3 minutes walking toTaipei City Hall Station exit no.4
-U-bike Station:2 minutes walking to Taipei City Hall station exit no.3
-Bus Terminal: 3 minutes walking to Taipei City Hall Station exit no.2

Gay friendly; homey feel; very comfortable stay.
우리의 한국 친구는 우리의 가정에 매우 환영 합니다

★注意事项
屋内物品皆可免费使用,请勿任意带走! 清洁费为退房后清洁,并不是每天清洁,Airbnb不是旅馆,而是提供居家住所,请自行维护整洁,
入房前屋内皆已打扫整理完毕,毛巾床单皆有洗涤消毒烘乾杀菌,请安心使用!
Please keep our apartment's condition as per you check in, do not take away anything without our permission, thank you!
The apartment will only be cleaned and tidy up once before you check in, all the beddings and towels are being washed and dried before provide to our guest.
访客拜访请事先通知我们,如果访客留夜,将从Airbnb申请加床房客费用
Visitor are not allowed without permission, and if visitor stay overnight in the apartment without approval, we'll debit your deposit from Airbnb
★请勿在室内抽烟
★室内若有损坏物品,需造价赔偿
★晚上10点后请务必降低音量 避免打扰邻居
★请外出时,务必关闭冷气机电源、和其它室内所有电源设备
★ 请保管好您的钥匙,若有遗失,得酌收台币500元
★台湾夏季电费昂贵,所以7-9月住宿的房客,酌收电费台币100元/天;住宿超过10天,补助电费最高以台币1,000元/月为上限
★垃圾请务必丢弃于垃圾桶内,做垃圾分类和资源回收。如圾垃已满请将垃圾完整密封后送到垃圾集中处丢弃,以防蟑螂及果蝇孳生。若垃圾没有确实打包好、室内环境过度髒乱,我们会加收清洁费台币1,600元
★2人入住,如果需要加床,請於入住前告知我們,並於入住時加收台幣300元的寢具清潔費
☆NO smoking in the entire property unless you are told can smoke in particular area of the property
☆we'll charge the original price if our belongings in the apartment being damaged
☆Please keep your voice down after 22:00
☆Remember to love the earth and turn off the power & air conditioner when not in use and out of the apartment
☆Please keep the room key safe.If it is lost, you will be charged $TWD500
☆The electricity bill is much more expensive in summer(July to September), so we'll charge TWD100/night to subsidize part of the increase, and the ceiling of uncharge will be TWD1,000 per stay
☆Since Taiwan has policy to separate the trash either recycle or non-recycle, we'll provide you plastic bag for such purpose and if the trash can is full, please take the trash bag to dumpster. If too much trash leave inside the apartment, we will charge extra TWD$1,600 for cleaning cost.
☆We will provide only one double bed for 2 guests, extra mattress will charge extra TWD$300 for the cleaning cost, please request before booking and we'll adjust the cleaning charge at the bill.
请您爱惜我们的家,如同您们自己的家。公共空间请降低你的音量、爱护环境。如大楼、大厅、走廊…。尽量不和大楼的其他住户接触,如果不得已邻居问,请说你们是我们的朋友,而非旅客。因为根据大楼规定,只有住户的家人或朋友可入住。所以,千万不要说自己是旅客,也请不要按照您,印象中的住房流程入住,你是我的朋友~
也请勿做违法或是越矩的行为,收到申诉的话,会请你搬出去不会退费。
Please love our home as you home.Please stay quiet in the public places such as the elevators, the entrance, and the hallway. If neighbors ask you about who you are, please remember to refer yourselves as Mr. Chen's friends, NOT GUESTS.
Because of building regulations, only family members or friends of the households can stay in this building. So please do not put yourself as a guest. It is not your impression of the process of the hotel check-in. YOU ARE MY FRIENDS.

我们提供:
★住家设备:
★免费WI-FI高速无限网络☆免费提供书籍台北旅游指南攻略☆完整家具/厨具☆冷气☆电风扇★32"LED电视☆冰箱☆煮水壶☆洗衣机☆烘衣机☆衣架☆吹风机
★生活备品:
★迎宾瓶装水☆沐浴乳☆洗发水☆毛巾 (Phone number hidden by Airbnb) %棉☆牙刷☆牙膏☆挖耳棒☆知名台湾茶
★厨房备品 :
★锅碗瓢盘☆杯筷匙刀叉☆油盐糖调味料
We Provide:
☆Free unlimited Wi-FiWelcome☆guest bottle water☆Whole house fully equipped☆100% cotton bedding☆Air conditioning☆Fan☆32"LED TV with Cable☆Refrigerator☆Washing Machine☆Dryer machine☆hangers☆Hair dryer☆Body wash☆Shampoo☆Hand wash☆cotton swabs☆Towel (Phone number hidden by Airbnb) % cotton☆Toothbrush☆Toothpaste☆Instant coffee & famous Taiwan tea☆Kitchen appliances

★我们会在您入住时亲自带您进房,并介绍房间设备
★居住期间我们不会打扰客人
★我们会随时与客人保持联繫并提供需要的所有旅游资讯
★我们提供以下客人专属服务,并提供最优惠价格,"欢迎提早预定":
-接送机服务:桃园机场往台北、台北往桃园机场
-北台湾包车一日游:我们可以替想到郊外享受大自然的您,规划一日游的行程服务。游淡水、金山、九份、黄金瀑布、野柳一日游。或是宜兰、罗东一日游
-建议旅游路线图:
(1)台北民宿→九份老街→黄金瀑布→阴阳海→南雅奇岩→十分老街天灯→十分爆布→饶河夜市 →台北民宿
(2)台北民宿→北投泉源温泉公园泡脚→硫磺谷→阳明山(花钟)→竹子湖苗榜(野菜,放山鸡、海芋)→小油坑(火山口)→金山老街(鸭肉)→野柳地质园区→基隆庙口夜市→台北民宿
(3)台北民宿→北投泉源温泉公园泡脚→硫磺谷→阳明山(花钟)→竹子湖苗榜(野菜,放山鸡、海芋)→小油坑(火山口)→渔人码头(夕阳)→淡水老街→士林夜市→台北民宿
☆We will personally assist you to check in to the apartment and show you all the facilities inside and how to use them.
☆We will not disturb guests during their stay.
☆We will keep in touch with our guest and provide any information during their stay.
☆We provide extra service and special price for our guest. Welcome book:
-Airport pick up service: Taoyuan airport to Taipei , or Taipei to Taoyuan airport
-One day tourist to New Taipei City(such as:Jiufen, Shifen,Tamsui, Jinshan,Yehliu,Yilan, Mt .Yangming, and possible to arrange tailor made day tour for guest

周边旅游景点:
★台北101☆台北市政府☆国父纪念馆☆松山文化创意园区☆好丘☆象山
★购物商圈:☆信义购物商圈☆微风松高百货☆台北101百货公司☆信义诚品百货公司☆新光三越百货公司☆坂急百货公司☆东区购物商圈☆信义威秀电影院
★观光夜市:☆饶河街观光夜市☆通化街观光夜市☆五分埔成衣商圈
You can easily arrival some of the hot spots from here:
☆Important building, Taipei City Hall, Sun Yat-sen Memorial Hall, Xiangshan (Mt. Elephant) Jimmy Liao Moon Bus, Four Four South Village & Good Cho's Bagle.
☆Xinyi Shopping District, Taipei 101 Tower, SongShan Cultural and Creative Park, Shin Kong Mitsukoshi Xinyi department store, Eslite Book Store Xinyi Store and Cinemas...
【亲爱的朋友】谢谢您的入住,欢迎您帮我们转介绍新朋友,我们会提供您与您的朋友优惠价格。欢迎旧雨新知,共襄盛举~
Thank you for staying with us! We would like to offer you & your friends special price. It is our pleasure to invite all of you to join our referral program.
★有需要服务也可用LINE或微.信与我联系If you have any questions, please feel free to contact me through LINE, (Hidden by Airbnb) or (Hidden by Airbnb) .
Common spaces
1 floor mattress
Check-in is anytime after 4PM
B V is a Superhost
Superhosts are experienced, highly rated hosts who are committed to providing great stays for guests.
大家好~ 我是Vincent.熱愛旅行跟認識新朋友, 待人熱情喜歡大自然,紐西蘭的鬼斧神工是我的最愛, 歡迎大家來體驗台灣的美! IF YOU NEVER TRY,YOU NEVER KNOW~
Response time:
within an hour
Always communicate through Airbnb
To protect your payment, never transfer money or communicate outside of the Airbnb website or app.
Xinyi District, Taipei City, Taiwan
★桃园机场到市政府转运站交通★
桃园机场 → 大有巴士1960 → 市政府转运站(最后一站) → 转市政府捷运4号出口(不进站)
Exact location information is provided after a booking is confirmed.
Explore other options in and around Xinyi District
More places to stay in Xinyi District: