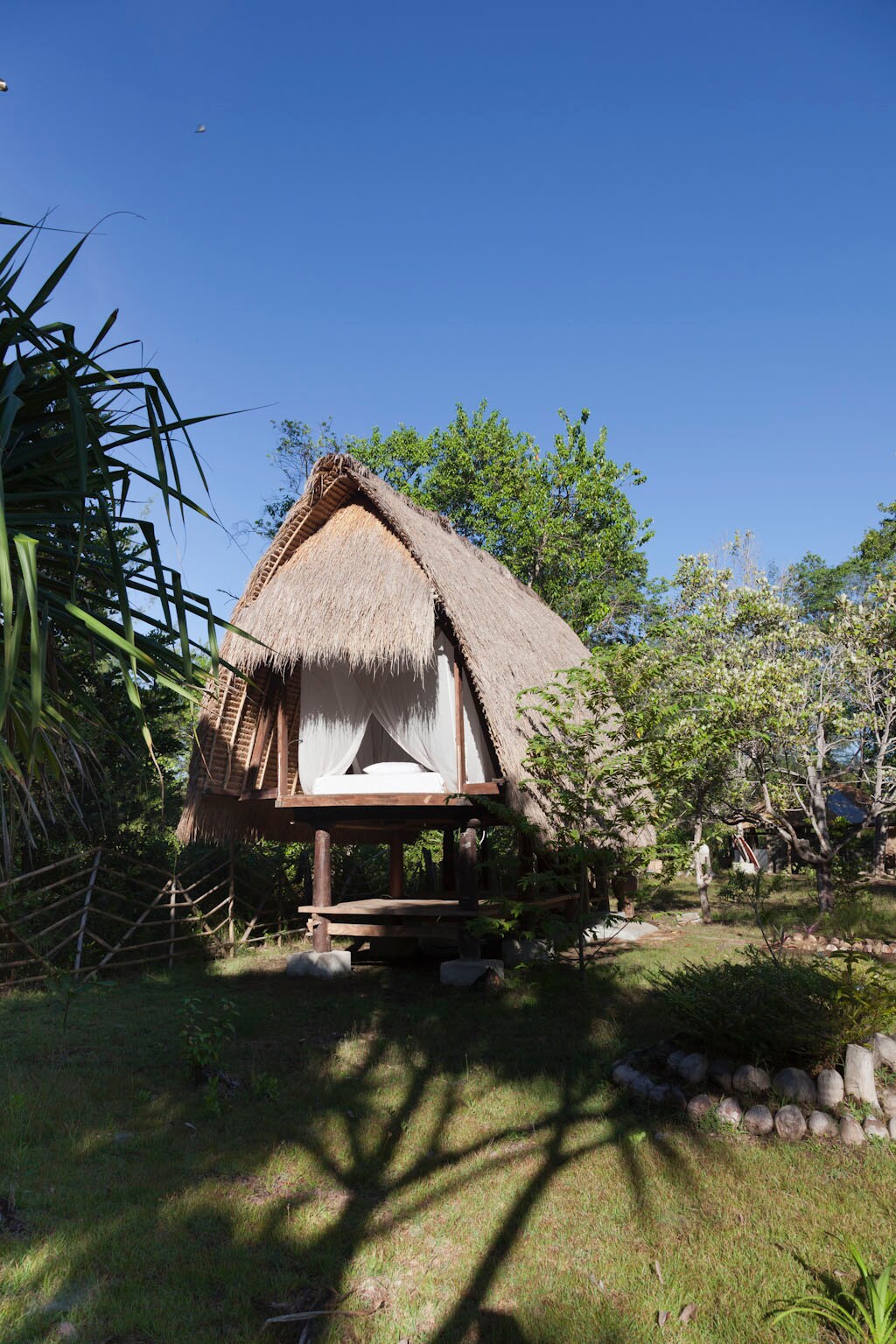 About this listing
Staying in our Garden Bungalow is a unique island experience. A flight of stairs takes you to a double bed protected by a mosquito net. We have a downstairs lounge area that can also sleep children and a tropical indoor/outdoor bathroom!
---
Room type: Private room
Accommodates: 2
Bedrooms: 1
Beds:
Check Out: 1:00 PM
---
---
---
Description
The Space
Located in the paradise island of Gili Meno, maoMeno is a place for relaxation, Yoga, art and any Life affirming activities. Whether you want to rent a family house with kitchen, just a simple island hut, organize an event or join us for daily yoga classes, maoMeno provides all this.
The GARDEN BUNGALOW is located inside the garden surrounded by trees, enhancing our guests` privacy. It has two floors; on the top a double bed (with the option of having two single latex mattresses). Underneath there is a cosy chillout platform and a bathroom attached. Additionally, the platform downstairs can sleep 2 more people. Enjoy the pleasure of waking up to the sound of the birds, the waves and the breeze.
As we have to ship our fresh water from the neighboring Island of Lombok during the dry season, it is a luxury that we ask you to be mindful about. Otherwise, guests can enjoy the therapeutic properties of our semi-salted water. Breakfast is available at an additional cost of 3 euros per person/night. Otherwise we can provide an "a la carte" menu in our juice bar.
Our guest services include a juice bar (raw food options and traditional Indonesian dishes), daily yoga classes, internet access, snorkeling equipment, local fishing boat for rent and more...
Guest Access
Guests can feel free to hang out at our juice bar or pond area, and if no classes are in progress, use the Yoga Shala for meditation or practice.
Getting Around
Walking or horse-cart is the way to get around Gili Meno! Some bicycles have been popping up recently but so far there is no bicycle rental place.
+ More
---
We want to preserve an atmosphere or peace and quiet at Mao Meno so we'd love it if you'd kept it quiet in the evenings!
+ More
---
None
Smoke Detector
Carbon Monoxide Detector
First Aid Kit
Safety Card
Fire Extinguisher
---
Comment dire..... cet "endroit" est le pire plan de AIRBNB.
Si vous voulez vous pourrir vos vacances, tres facile:
Allez chez Kike!
Kike repond aux messages jusqu a ce que vous payez la resa, apres il n y a plus personne... son boulot est termine....
Pour trouver l endroit, une enquete minutieuse aupres de la population local s impose car Kike n a pas trouve neccessaire de mettre le moindre panneau indicateur. Personne pour vous guider, pas meme par telephone.
Ensuite il vous faut trouver votre bungalow (plutot votre taudis) car sur place il n y a PERSONNE non plus pour vous acceuillir. J ai du reveiller un macon qui dormait tres fondement sur le chantier pour avoir un debut d information, le pauvre gars etait presque fossilise telement il dormait depuis longtemps. Ah oui parce que cet endroit est en fait un chantier, avec des jolis travaux, des ruines partout, un decors de misere.....
j ai finalement trouve ma ruine de bungalow, tout ouvert, bien sur n ayant aucun personnel Kike laisse tout ouvert, c est plus facile pour les vacanciers :)
Du coup, mon taudi etait transforme en une espece de zoo ou toute la faune local c est deja approprie les lieux. On y trouve des chats dormant dans les lits, des bataillons de moustiques au garde a vous pret a faire feu sur le moindre bout de peau visible et toute sorte d insectes.
Il m a semble qu il y avait plus de vie sur le matelas que sur le sol....
Alors en effet, il n y a pas un bruit, "cette endroit est hors du temps" pour reprendre une des fausses positives review... Tu m etonnes!! y personne a 500 metres a la ronde, tout est ruine, desolation et misere...
Meme pas une bouteille d eau potable sur tout le chantier!
Nous sommes repartis en courant de ce village de mort vivant...
En discutant avec la population local il apparait tres clair que toutes les reviews positives afficher sur le taudis de Kike sont fausses, ce sont des amis a lui qui les ont ecrites, meme les taxis le savent!
Taxi pousse pousse d ailleurs qui connaissent toutes les histoires de cet endroit maudit, apparement, nous ne sommes pas les premiers a fuir ce chantier deja en ruine.
J ai bien sur demander a Kike s il pouvait nous rembourser, mais la encore, silence radio....
Cet endroit est une honte pour AIRBNB, une arnaque minable avec un agent sans scrupule, Kike....
Par contre je vous recommande vivement d aller vous refugier chez Kepun kupu, a cote du lac. Ce sont des francais tres chaleureux, nous avons ete accueilli comme des rois, le restau est ecxelent, l endroit magnifique, bref le jour et la nuit pour seulement 10 euros d ecart.
allez, bonnes vacances!
+ More
I had booked to stay at mauMeno resort & was looking forward to it but unfortunately due to bad weather, all the fast boats to Lombok were cancelled for several days, a day before I was due to leave for Gili Islands. I informed Kike & he offered me a small refund despite the strict booking policy, which I appreciated.
Communication throughout the booking & organising the refund was good, despite a little chasing in getting the refund through.
mauMeno resort will still be on top of the list to stay at Gili Air when the next opportunity arise
+ More
kike's place is amazing and special, not the usual bubgalows by the island!
+ More
I would consider Mao Meno as one of the more beautiful spots to stay on Gili Meno. However our overall experience of our stay was not the best. The island seems to be a bit deserted, a lot of rubbish, not very welcoming. Some beach parts are however very beautiful if that is the only thing you are looking for since there is not much else to do. Coming back to Mao Meno, our room got never cleaned and breakfast is not included. Coming from other places in Bali, where good and friendly service in tbe same price category or even cheaper stood very high on the agenda, this was a bit disappointing. Also charging 100000IDR for a yoga class, which where included at some resorts on Bali or you could get a proper class from 30000IDR onwards was a bumper and we had therefore chosen to use the beautiful Yoga facility on our own without a class. All in all the property looks nice and our garden bungalow was beautiful but parts of the property are unfinished.
Concerning the communication, we tried to call Kike shortly before our stay because we had some issues but no internet but the number was not available... Probably because he is currently not there himself but this was not communicated prior.
+ More
I have to say that we were a bit disappointed with our stay at the garden bungalow. On the face of it the place looked perfect for us, but unfortunately the romance just wasn't there. The location is inconvenient and the walk through through the island and across the cowfield isn't a good one. Although the resort is immaculate, the island clearly has an issue with rubbish disposal...and be prepared to get lost once or twice, and for dodging cow dung on your way through the field.
In terms of the resort itself, the main issues we had were with the toilet - which smelled pretty rank when flushed. We also got caught in a bit of a downpour which left the bed damp and left us surrounded by water on all sides - this contributed to a general feeling of uncleanliness
However, without doubt the worst element of our stay was the throbbing bass we could hear from gili trawangan which lasted through the night until 7am on one occasion. With no walls, doors or windows there really is no escape!
If we could go back and do it all again we would definitely book a place on the beach.
+ More
Хозяина мы так и не увидели. Сбежали на день раньше. Жалеем о зря потраченном времени, когда могли бы отдыхать на Бали. Так долго и сложно добираться до Гили, чтобы очутиться в совершенно заброшенном месте среди коров, коз и местных банд. Дом не закрывается, было страшно не то, что вещи оставлять, но даже спать. Людей не было видно вообще, кроме работяг и помощницы на кухне. завтрак был подгоревшим, вода плохо пахла и мы никому не были нужны, хоть и были единственными постояльцами. Абсолютное безучастие со стороны хозяина и персонала, а место просто страшное и внешне и то, что до него страшно добираться через запустелые заброшенные места, поля.
+ More
L'île de meno est en dehors du temps on passe vraiment des moments très agréables et le bungalow de kike renforce cette impression de séreinité
+ More
About the Host, Kike
Hi, my name is Kike, I was born in Spain. Lived part of my childhood in Morrocco, which certainly inspired me to look further on through the different paths in Life.
My girlfriend and me are currently living in Gili Meno, a paradise island, just one and a half hours from Bali (Indonesia). We have built a spacious village resort, specialized in yoga retreats and other life-celebrating activities,.
Before starting to build this place (2 years ago) I had the opportunity to travel around this beautiful world. To name some, Santa Teresa (Brasil), Byron Bay (Australia), Essaouria (Morrocco), Raja Empat (Indonesia)....Gili Meno...great places!
Breathe in Joy and Strenght, Breathe out Wisdom and Peace...Breathe...
+ More
Pemenang, Indonesia
Member since May 2012
Response rate:
100%
(past 30 days)
Response time: within a few hours
---
Explore other options in and around Gili Meno