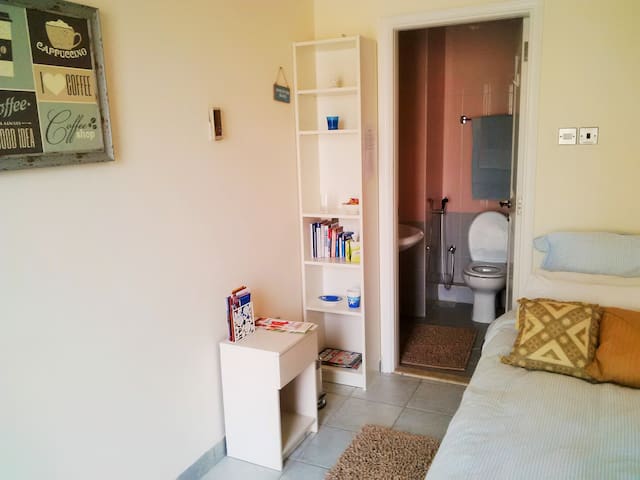 About this listing
Travelling to Dubai on a budget? This cosy room for 1 has private entry, use of pool, AC, wifi, ensuite shower/wet room + breakfast. Bus 2 min walk. Mirdif is a safe suburb, 10 mins by taxi to DXB airport. Ideal for Dubai stopovers.






---
Check In:
12:00 PM (noon)
---
Essentials
Towels, bed sheets, soap, and toilet paper
Heating
Central heating or a heater in the listing
+ More
---
---
The Space
Just 10-15 minutes cheap taxi ride from DXB airport, this clean and comfortable self-contained space for 1 gives guests convenience, privacy and flexibility. Guests have their own front door and key as it is separate from our family home.
It is a small yet bright and cheerful room, and it's well equipped with everything you need to be safe and comfortable. There is a compact ensuite wet room (a fully-tiled room which acts as the shower enclosure), adjustable air conditioning, tea/coffee making facilities and plenty of tourist information and guide books. You'll enjoy resting here after your long flight, making us a convenient transit stop.
**At the moment, there are some new villas being built across the road. Sometimes there is some construction noise during the daytime .This is not likely to impact on your stay but, if you have any questions, please do ask . **
Location & Getting Around
Due to our suburban location, guests need to be happy to use public transport or taxis to explore Dubai. Guests easily find their way around Dubai's simple metro system, which is modern, reliable and user-friendly. Reach the nearest metro station (Rashidiya) via a fast and pleasant bus journey from our house. I loan guests a travel card for use during their stay, for convenience. The Uber app is popular in Dubai and offers good value convenience. These cars use GPS technology to find their way (unlike standard taxis) and journeys are billed to your credit card.
Our villa is located in a residential area in the suburb of Mirdif, typical of the region. You won't find it buzzing with nightclubs and 5 star hotels. We have convenient essentials on our doorstep including a selection of local takeaways, groceries, bakery, pharmacy, dry cleaners, numerous salons, a park with walking track and outdoor gym, and a bank/ATM. It's a straight 10-15 minute walk to reach Mirdif City Centre, an upmarket shopping mall containing over 430 stores, salons, restaurants, cafes, currency exchange bureau, Carrefour hypermarket and a cinema with 3D and 4D screens. Buses link the mall with the metro, too. This location suits guests seeking 'typical' everyday life rather than high-rise glamour.
We have a small parking space outside the house on the street. Hiring a car is good value and cars can be picked up on arrival at the airport, from all the well-known international rental companies. The low cost of fuel here makes this a good option for really getting around the city in air conditioned comfort, and parking is rarely a problem and usually free. Our location is close to the main highways that connect the seven Emirates.
Our family
Our busy family consists of myself (English housewife) and my husband (British Zimbabwean) and one 8-yr old at school. We have a vocal cat called Kassie. See my profile for more information on our family.
This is a strictly non-smoking house, both inside and in communal areas.
Check-In Time
Between 11am - 9pm. Late arrivals can be accommodated on request.
Check-Out Time
Strictly 12 noon (midday).
Meals
Breakfast is served in the main house at an agreed time between 7.30am - 10.30am.
Internet
NOTE: We don't have a fast connection.
Pool Access
Directly through patio doors from the main house lounge. Access via arrangement with hosts. Enjoy a refreshing swim in our pool (shared with 5 neighbours) in the shade of palm trees. The best weather in Dubai for swimming is from April to November.
Help from hosts
Most of the interaction with guests will be at breakfast time, when I am available to give help for planning your day and answer any questions.
After a booking is confirmed, I email guests with ideas for activities, cultural sites and attractions, to assist with planning and making the most of a short stay in this vibrant and fascinating city. There is something for everyone - art, ancient history, shopping, beaches, entertainment, music and the chance to experience the desert on an organised 4x4 safari.
I have a special arrangement with a tour company for desert safaris or city tours. Guests are collected and dropped off at our villa, and the price includes BBQ dinner, unlimited soft drinks, activities and transportation.
IT IS THE GUEST'S RESPONSIBILITY TO ENSURE THEY ARE FAMILIAR WITH LOCAL LAWS BEFORE ARRIVAL. THIS INCLUDES LAWS ON BANNED MEDICATIONS, ALCOHOL, PUBLIC DECENCY. ANY QUESTIONS, PLEASE ASK OR CHECK WITH YOUR GOVERNMENT'S OVERSEAS TRAVEL ADVICE ONLINE.
+ More
---
We encourage guests to read ALL of the listing description before making a booking, to ensure that this listing's location and amenities will be right for you.
As stated in my listing, there are 4 new villas being built on a site opposite our house at the moment, and some construction noise is inevitable during daytime hours. This shouldn't impact on your stay but if you have any questions, please ask before booking.
Access to the main house (our family home) is by invitation only, and for breakfast each morning, or to access the pool. Either myself or my husband are happy to help if we can. We generally communicate with our guests about when we are available and are more than happy to offer suggestions, local knowledge, ideas for things to see and do, or help with transport routes etc.
Guests might like to use the Uber car app while in Dubai - they work well here, with a lower-cost 'Uber select' option that offers competitively priced reliable rides. Smart phone users can also download the Roads & Transport Authority (RTA) app called 'wojhati' for free, which is a useful bus and metro route planning tool, which also provides real-time bus times. I provide a timetable and maps but the app could be useful if you are out in the city exploring.
Bottled water is provided on arrival for convenience. We all buy our own drinking water in UAE and there is a shop a few short steps from our front door which sells water direct from the fridge for 1dhs. Tap water is safe to drink (and for filling the kettle for hot drinks) but may not be to your taste, or especially cold.
Please ask any questions before making a booking and I will do my best to help.
We request guests consider the check in and check out time and plan accordingly. Special requests can sometimes be accommodated so it is best to check.
Late arrivals can be accommodated. Guests arriving after 9pm can find their room waiting for them with a key in the door. They will meet the hosts at breakfast the next morning.
Breakfast is served between 7.30am and 10.30am. I'm unable to accommodate early or late requests. Please advise hosts of allergies or intolerances before the stay.
The compound is a non-smoking compound, even outside (outside air comes in through air conditioning). We do have asthma in our family. Smoking also presents a fire risk in this hot climate.
We have one cat, Kassie. Guests who are allergic to cats may still be able to stay here as the guest room is separate from the family home and the cat does not enter it. However, she will be in the main house and outside - you're bound to meet her.
Alcohol is not permitted. Our household is legally licensed for our own private use but this does not cover our visitors.
The size of this room prevents guests from being able to invite friends etc inside. Therefore, this guest room is off limits to anyone except the checked-in guest, even for a short time.
The following is a list of local guidelines. I have copied these from the UK's Foreign & Commonwealth Office website to draw attention to some of the UAE's laws and traditions which you should familiarise yourself with before you travel. Some laws will be different to those in your home country but need to be taken very seriously. While Dubai is a relaxed and friendly environment for tourists and foreigners, the country's laws reflect its Muslim tradition, and tourists who do not take steps to familiarise themselves with restrictions may quite easily find themselves unknowingly breaking laws and/or offending people. This can have consequences which could seriously derail your vacation.
Entering the country
:: The UAE has a zero-tolerance drugs policy and anyone caught carrying illegal substances can expect a stiff penalty, even if it is just a trace amount.
:: Some prescription drugs, such as commonly-used anti-depressants, cold remedies and pain killers are included on the UAE's controlled list and visitors are advised to check the status of ALL medicines before bringing them into the country. Bring your doctor's prescription (or a letter) with you, and only carry enough to last you for your trip. Check your medication against the UAE banned substance list on the internet. Codeine is illegal - do not bring it (4 year jail term).
:: Pork products and pornographic books and material are also banned.
In the country:
:: Swearing or making rude gestures is considered to be an obscene act and offenders can be arrested by police.
:: Public displays of affection, including kissing and holding hands, could lead to arrest if deemed to be offensive.
:: Sex outside marriage is banned and unmarried couples who live together or even share a hotel room are (technically)committing an offence. Adultery is illegal.
:: Homosexual behaviour and cross-dressing is forbidden.
:: In situations other than on the beach or by the swimming pool, a woman's clothing may be considered indecent if it is tight, transparent, above the knee or shows her stomach, shoulders or back. A man should not wear shorts above the knee or show his chest. Underwear should not be visible. Most public areas enforce a modest dress code (shopping malls, hotel foyers, etc). Visiting official buildings or heritage sites will mean you should take extra steps to cover up - take a shawl or cardigan with you, and long trousers etc are advised. EVEN IN HOT WEATHER.
:: Visitors can only drink alcohol in licensed hotels or clubs, and drinking alcohol or being drunk in public is an offence. In the emirate of Sharjah, any alcohol consumption is illegal. In the emirate of Sharjah, any alcohol consumption is illegal. Alcohol can be purchased at the huge duty free shop when arriving at DXB airport, subject to the duty free limit. Alcohol can't be bought locally in supermarkets, and is served in licensed hotel restaurants and bars only. Our nearest licensed premises will be the airport hotels, such as Bustan Rotana, Le Meridien and Millennium Airport, or the Irish Village, all a short taxi ride away.
:: Driving after consuming any amount of alcohol is against the law. Zero tolerance applies.
:: Photography of certain government and military buildings is banned, and visitors should always ask before taking pictures of people, especially ladies in national dress.
:: Failing to pay a bill or bouncing a cheque can lead to a fine and even imprisonment.
:: During the fasting month of Ramadan, visitors should not eat, drink or smoke in public places. Live and loud music is also banned. Check with hosts for updated Ramadan dates and timings.
Source: FCO travel advice for UAE
For more information: (website hidden)
+ More
---
---
Explore other options in and around Dubai