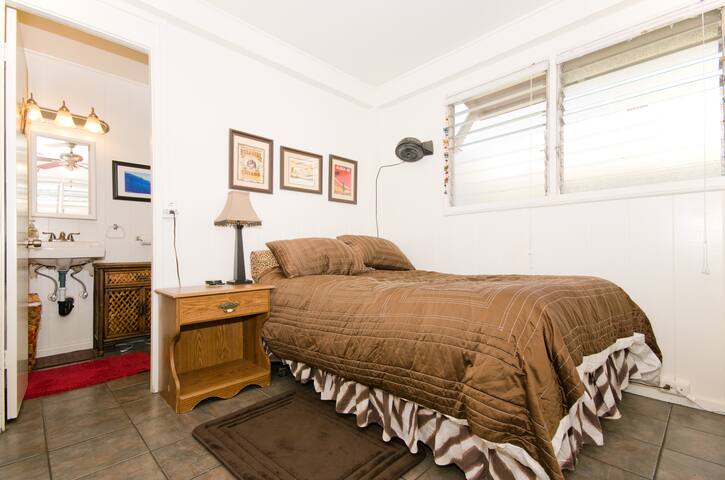 Entire home/apt
2 Guests
1 Bedroom
1 Bed
About this listing
Aloha Abode is a welcoming friendly building to settle into paradise. We offer comfortable private studios, bikes, snorkels, fins, body boards, beach gear& more to get your vacation started. Located in a convenient neighborhood easy to explore!

---
Room type:
Entire home/apt
---
Kitchen
Space where guests can cook their own meals
Essentials
Towels, bed sheets, soap, and toilet paper
+ More
---
---
The Space
Meet local people, experience the local hip scene, popular spots, beaches, hikes and culture. Beach bikes, kayaks, snorkel gear, body boards, and more provided. Many fun friendly locals living in the building to assist with activity planning and vacation suggestions. ABOUT OUR BUILDING: We are a group of educated students, grad students and young professionals (with the majority of us in our late 20's to early 30's, although there are a few outside that range) that are clean, fun, friendly, calm, relaxed, considerate of others, easy to get along with, enjoy each other's company (when we have time), communicate easily, and like to socialize when we have the time. We often have spontaneous dinners together, watch some tv shows or movies together, occasionally get carried away playing Cards Against Humanity, go hiking, take Zumba/Yoga/Bootcamp classes, head to the beach, spend time talking and hanging out in the common area. All the people that live in the building are cool, friendly, and seek no drama. The building has a common area set up as a living room/kitchen and backporch area perfect for hanging out and bbq. We are a pretty mellow household, social but definitely not big partiers or a party house. We keep things pretty chill, clean and organized. ABOUT THE AREA: We are located in the Kaimuki area on 2nd Ave. The building is walking distance to many grocery stores, a variety of restaurants, food, bars, etc. We are centrally located near UH Manoa and less than a block from Chaminade University. The house is close to Waikiki, Diamond Head and Kahala and ½ block from the local area bus line. We're centrally located, with super easy access to H1. Less than a 10 minute bike ride to the beach, Ala Moana or Kahala. ABOUT THE STUDIO UNIT: You would have your own fully furnished room and bath/studio. You have your own full private bathroom with a shower and tub. Your room also includes a refrigerator, microwave, oven, stovetop burner, coffee maker and other kitchen items. There is also a full kitchen in the main part of the building with an extensive selection of all kitchen appliances (juicers, blenders, fryers, rice cooker, steamer, crock pot, etc). The room is fully furnished with a full size bed, table/desk & chair, couch, shelves, speakers and more. It has two nice size windows for plenty of light and there is a large deep mirror closet in the room. SOME OTHER PERKS: There is cable in the unit and in the common area and 3 secure WIFI networks to use anywhere on the property. Your unit has a samsung smart tv which is connected to cable, wirelessly to the internet and can be used to almost as a computer, easily connects to a wireless keyboard and mouse. You would have access to an on-site coin-operated washer and dryer. I also have 2 kayaks, boogie boards and snorkel sets for you to use while you are visiting. We do have space available for bikes and different bikes you can use during your stay (beach cruisers, fixie road bikes, and mountain bikes). Check out the bike you prefer and we will issue you a lock so you can use it during your stay for free :). We are located off a residential street with no parking restrictions or we have a parking spot available down the driveway for a scooter. All our private driveway parking spaces are currently reserved so if you rent a car, please plan to find street parking. If you are interested or have any questions please contact us and let us know more about what you could share at our Aloha Abode. We look forward to meeting you!
Guest Access
You have access to your own private studio unit and our Aloha Abode common area. The private studios have private full bathrooms (with tubs too) and kitchenettes. The community areas include a full kitchen, dining areas inside and out, hot tub, BBQ, hammocks, outside couches, tables, seating, garden, laundry, laundry drying lines, a secure bike room, and more.
Interaction with Guests
It's really up to you. You can stay in your private unit and keep to yourself or if you desire to be more social, come hang out in the common area. We also post social happenings on the whiteboard of the common area. There are BBQs, hikes, bike rides, yoga, movies nights, shared dinners and more that you could be a part of.
The Neighborhood
Our neighborhood is super convenient. It's near the H1 but not close enough to hear it. It's located right where Kapahulu meets Kapiolani, King, Beretania, Harding and Waialae. Kaimuki is known for its restaurants and many have been voted as the best on island for 2015. I love the proximity to Waikiki, Kapiolani Park, Diamond Head, beaches and so many great restaurants close to home.
Getting Around
Easy neighborhood to explore by foot with many popular island restaurants and beaches nearby. We provide a selection of bikes to use during your stay including mountain bikes, beach cruisers and fixie hybrid road bikes. Easy central location to bike to the Waikiki and diamond head beaches, nearby hikes, Kahala, Ala Moana, downtown and more quicker than by car. Bus line is just a 1/2 block away. Free shuttle to UH Manoa is 1/2 block away. Freeway access is super close if you rent a car and decide to explore more of the island. Private reserved driveway parking is available for $5/day and $25/week and $65/month.
Other Things to Note
Laid back, take yo slippas off at the door, Hawaiian style, take it easy type of place. Roger dat and mahalo!
It can be a social place if you make it that way. Authentic local Hawaiian travel and convenient neighborhood.
Meet your hosts and live like a local. Join us at our Aloha Abode!
With that being said, there are some things as locals that comes with out lifestyle that you may not be familiar with from where you live. Below are some things to consider before booking at our Aloha Abode.
This building is a typical older Hawaiian style plantation home. It is built to be open with only security screen doors to enter the building and window screens. Nothing is airtight because they relied on the Tradewinds to cool the house when it was built. There is no AC in the studio. There are ceiling fans and an additional rotating fan in the unit if necessary.
Shoes off: In Hawaii it is a custom to take your shoes off and it's a practice we all follow at Aloha Abode. As said on Hawaii Aloha Travel, "Neat rows of slippers and shoes outside of the front door or a rack lined with them can be telling signs for any newcomer unfamiliar with the custom. And if that's not enough, a pretty ceramic sign hanging eye-level (which have become popular items sold at local craft fairs) spell it out: "Please remove your shoes. Mahalo!"
For locals, it's become as natural as pointing and laughing at those who forget to take off their footwear. It shows respect to the host by keeping their home clean and not tracking germs inside. We often consider our floor a comfy place to sit or lie down, and if there's a baby crawling around, this rule gets heavily enforced. Funny and probably only in Hawaii, but even the repair man knows to take off his shoes!"
House Geckos: At Aloha Abode you will find a variety of geckos running inside and outside on our property. Some blend in well to the walls while others are bright colors of bright green and orange. If you are lucky, you may see one living in your unit. As said on Wikipedia "Geckos are well-known to people who live in warm regions of the world, where several species of geckos make their home inside human habitations. These (for example the house gecko) become part of the indoor menagerie and are often welcomed, as they feed on insects, including moths and mosquitoes. Unlike most lizards, geckos are usually nocturnal."
Pests: Hawaii is a tropical climate and there may be more creatures than you are used to. Please consider that this is an open air building and tropical climate when booking. We have a pest service contract and do our best to keep the building pest free (although we like the lizards to live onsite and help with this). We are able to schedule them to come at any time if you see pests but we can guarantee you won't see an occasional bug or lizard roaming on the property. You can help by not leaving food out and keeping food items sealed up in tupperware or in the refrigerator and doing your dishes immediately. Unfortunately, we can't offer a discount, refund or cancelation of your booking if you happen to see any creatures on the property because we are in Hawaii and there's no telling what you could find.
Also, since we are located in a typical Honolulu city neighborhood, we are relatively close to our neighbors and not the same level of quietness you would find in the country. The walls are thin and we keep the windows open. The building has shared common areas as well and sometimes randomly people may gather and have fun together. There can be noise from the fans running constantly, the hot tub running, people talking, people watching tv, etc. If you are super sensitive to noise or always hot (especially for bookings in the summer months) this is not the place for you.
+ More
---
Airbnb Aloha Abode Rules
First off, communication is key, you can contact me via phone call, text, email, and Airbnb messaging. There are easily 4 ways to reach me at anytime, so there is never a reason why you cannot be in contact.
Check in time is 3pm
Check out time is 11am
These times need to be adhered by unless we have given you written consent to check in or out at a different time. The reason for this is because we are not a hotel, we are personal residences. Our cleaners have to keep a tight schedule to be able to have units ready by 3pm for the next guest. It normally takes 4-6 hours to clean a property and that is why we request check outs at 11am and check ins at 3pm. If no one is checking out the day you are checking in and no one is checking in the day you are checking out, we can of course try and accommodate your requests, but we will not know until less than 24 hours before that time do to bookings coming in last minute. If you are going to request a late check out you must do so no later than 5pm the night before checkout. We cannot reschedule anyone late in the evening for the following day. Please note that we do our best to accommodate your request but cannot guarantee an early check-in or late checkout due to cleaning and inspection scheduling. As a guest, you must abide by your agreed check out date and be fully moved out of the building with your keys turned in. You may not move your belongings into anyone else's unit or stay in the common areas after your checkout. Any changes to your check out must be made and approved in advance by officially signing a lease or extending your agreement on Airbnb.
KEYS
Make sure that you turn in all keys before you leave. There are usually 2 sets. 1 should be left in the keybox and the other in your unit next to the binder. If you lose the "Do Not Duplicate" key to the exterior doors, the cost to rekey all the locks is over $200.
LOCKOUTS Should Tenants lock themselves out of their dwelling and be unable to gain access through their own resources, they may call a professional locksmith or the Manager to let them in, and will be responsible for damages if any. Tenant shall be responsible for the cost of the locksmith and also to provide the Owner with new keys if the locks are changed. If Manager is called upon to let Tenants in, there will be a minimum of $25.00 charge depending on the circumstance and time of lockout. Business hours are considered 9-5pm for minimum rates.
TRASH/CLEANING
This is not a hotel and you are staying as a guest in our personal residence. Your rental payment covers a normal cleaning, and not so you can leave it a giant mess. If you have trash it is your responsibility to remove it from all bedrooms, bathrooms, kitchen, etc. and dispose of it yourself. The floor is not an appropriate place to throw your trash. If you leave the house filthy with trash on the floors or garbage overflowing you will be charged an additional fee. We expect you to treat our home as if you are a guest in our home. We expect cleaning to consist of washing all linens, sweeping, mopping and dusting. Not cleaning up after food fights or finding things thrown about. The unit should be returned looking as it was when you moved in with your dirty linens in a neat pile, your trash bagged and taken out, your dishes washed and everything put back where it was when you entered the unit. Any units found different than this will be photographed and charged an additional cleaning fee (EMAIL HIDDEN)MON AREAS
Common areas are added amenities for your to use during your stay. If you can't respect the rules of our common areas, the privilege to use our common areas will immediately be revoked. We expect you to clean up after yourselves immediately in the common areas. Common areas should be kept spotless at all times and free of personal belongings (unless you are currently using the space). Guests and abodemates should be able to walk into our building at any time and see a clean space without personal clutter left in the common areas. Specifically:
•NO dishes at any time should be left in the sink. Use of kitchen requires you to: Wash, dry and put away your dishes back in the proper place. You will also need to empty the sink strainer. Wipe the countertops and any other areas you used including the stove top, microwave, oven, etc. Basically, clean up after yourself or don't use the common area kitchen. If you don't have time to wash dishes, put them in your private space.
•For safety, do not leave cooking, fires, or flames unattended.
•Do not remove common area items, furniture, or other household items without permission.
•No sleeping on the common area furnishings.
•Turn off lights when you are not in the room/area. All lights should be out at night.
•Put house and kitchen items back, where they belong, in the labeled location.
•Clean up after yourself and your guests immediately.
•If you break anything around the house, please fix or replace. EX: If you break glasses or dishes, please replace or contribute $ towards new dishes.
•None of your personal items should be stored outside, or in any interior closets or common areas without prior permission.
•Do not go into other units or closets without permission.
•Never allow ANYONE (even if you know them, they're past roommates, friends, family, etc.) into the building at anytime if you are not the person that invited them or if they are not your guest and without prior management permission to have the guest at the building.
Specifically, not only could you lose your common area privileges, your stay could also be terminated at the management's discretion, you will be fined $25.oo or more depending on the severity of the offense.
SMOKING/EXTERIOR/OUTSIDE YARD
You are responsible for ensuring the exterior doors are closed and locked at all times for security purposes and to prevent pests from entering the building.
When you check out, please make sure your unit is locked and keys returned back to their original location (usually in a keybox and/or in a specific place in the unit).
Please make sure all garbage is picked up on the outside of the property. There will be an additional charge for garbage and debris left out around the property. If cigarettes, cigarette butts are found you are in danger of losing your security damage deposit as all the rentals are non smoking. We have also been finding left over drug residue and paraphernalia. This will cause an immediate forfeiture of your deposit.
Our neighbors have also requested that you do not smoke in front of their homes and that you aren't littering cigarette butts in our neighborhood.
AC/UTILITIES
While utilities are included in the cost of your booking, we expect you to be responsible and not abusive. Any heating system can be set on a schedule. We expect if you are using heat, electric, water, that all systems be off when you leave. Close refrigerator & Freezer doors all the way. AC is not included in your rental. If you want to add your own AC unit for your stay, you need to get that preapproved and pay for the additional cost of utilities. For details on the additional utility cost, please visit:
(URL HIDDEN)
All Building Drains & Plumbing:
•No hair or other items down the drain except water. Please use strainers in all drains.
•Empty kitchen strainer immediately after use. Food attracts insects.
•No food, oil or grease down the sink. Use waste bin.
•No Tampons or other wipes in the toilet. ("there is no such thing as flushable") Toilet paper only.
•Turn the sink faucet, shower, outdoor hoses, etc, all the way off.
•Report running toilets, loose toilets, leaking faucets and any other plumbing issues immediately.
BIKES/KAYAKS/SURFBOARDS/BOOGIE BOARDS/SNORKELS/OTHER FURNISHINGS & ACCESSORIES PROVIDED
We love to provide additional items to make your stay more fun and enjoyable! If you use any items in the furnished unit, we expect them to be returned to the same place as where you found them and in the same condition. If you want to borrow any items during your stay, we ask that you text for permission prior to taking anything off the premise and that you return them in the same condition. Please notify Amelia in advance to use a bike. You will need to notify us at the time you check out a bike and the time you bring it back. You will also complete a checkout We understand that accidents happen and ask that you report any damages or missing items (including bike lights, helmets) immediately. Any missing items not returned will be considered stolen with police reports filed (if applicable) and forfeiture of your security deposit. Recently we have had bikes come up missing, tons of bike lights not returned, locks and helmets missing, pieces from the snorkel sets not returned, boogie boards disappear, beach towels missing, etc. We expect these things to be reported to us immediately otherwise, you are considered a thief.
HOT TUB
There has been a growing trend to leave the hot tubs dirty, murky, and with a bad smell to the point where no one consciously would want to step a foot in them. Please make sure there is nothing poured into them, we are finding beer cans floating in them. We have built a shower in the palm tree next to the hot tub so that you can rinse before you enter and also have a foot basin to wash your feet before stepping in. Please wash your bodies off, making sure you are free of sand and lotions before entering the water. Please make sure to put hot tub covers back on when done. There is a $150 dollar fee for having to drain a hot tub, refill, and add chemicals last minute to have it ready for the next renter.
It is VERY important that you are aware of your noise level when using the hot tub. Due to the proximity to Morning Glory unit, hot tub use is not permitted if there is someone sleeping in the unit. Please check with the Abodemate in Morning Glory before hot tub use.
NOISE
This has been a growing concern. Basic common sense. No loud outdoor noise of any kind or loud noise coming from inside the house that will disturb neighbors. We expect you to be aware of your noise at all times especially when you are near windows. First offense is a warning and second offense is termination of the rental and you will have to leave. If we or the authorities are called to the property there is a $150 charge. Generally, noise ordinances tend to be 10pm to 7am. You may notice that the properties remain quiet even when there is no noise ordinance. We often have people that may be studying, working or sleeping during the day that appreciate the building to be quiet and peaceful.
DAMAGE TO THE PROPERTY
Accidents happen. We know that. If anything happens during your stay please contact us immediately. We take before and after pictures before check in and after check out. We also have security cameras covering most areas of the property. We have been hit hard lately with missing items, broken items, stained carpets and linens, along with torn sheets, scuffed up hard surface floors and walls. (We ask that you have your shoes off in the building.) All of our rentals are "No shoes in the house" There has been a lot of red wine spills so please be careful with liquids that can stain. There is a minimum $150 charge to call a carpet cleaner to come out and clean stains. We also charge if you stain the linens we provide and they need to be replaced after your stay.
MAXIMUM OCCUPANCY
When you booked your reservation, you specified the number of guests that would be staying and specifically the guest information. Our units typically are only intended for 1-2 guests and often don't allow for an increase. If the number of guests in your party change, you are responsible to update your reservation prior to your arrival or book a larger or additional unit. We ask that you notify us in advance of the names of the guests that will be staying in advance. If you are planning on meeting up with friends and are planning on inviting people over to your vacation rental you must have included these guests in your initial reservation request. Exceeding the amount of people allowed in the unit can make you lose partial or your full deposit. The number of guests you booked for your reservation is for the entire time you are staying in the building, and at any time you may NOT have over that amount. If you have booked on Airbnb, you are not allowed to move to another unit with another guest or resident once your booking has ended.
PARKING
Reserved driveway parking (for cars, bikes, scooters, etc) must be prearranged. It is only available with an assigned spot for $5/night, $25/week, $65/month or $50/month with a 1 year lease. There is no free scooter parking. If you rent a parking spot and can fit a scooter in your spot, that works. Never under any circumstance are you or your guest to use a driveway parking spot or area unassigned to your unit. Any violators will be fined a parking fee and/or possibly risk removal. Bike parking is located in the backyard with an entrance from 2nd Ave leading through the carport. Scooters are not allowed in the bike room. Failure to follow the parking rules could result in towing and an automatic parking fine of $50 if not pre-reserved.
PETS/ANIMALS
No animals are allowed anywhere on the property. This includes your own animals and animals that are "just visiting". We do not allow visiting animals to the property. If you are interested in bringing an animal, please inquire in advance. Even if the property seems to be a pet friendly building, animals are approved on a case to case basis and must be approved prior to arrival. There is an additional fee of $50/stay or $50/month if it's a long term stay. If any animals are brought without prior written approval and payment, the fine starts at $250.
By following these simple and basic procedures you allow us to keep our rental rates, cleaning fees, security/damage deposits as low as possible while also guaranteeing an enjoyable time for you during your present stay and for all future guests.
From me to you, I thank you for booking, enjoy your vacation, and safe travels.
+ More
---
---
About the Host, Aloha Abode
---
Explore other options in and around Honolulu