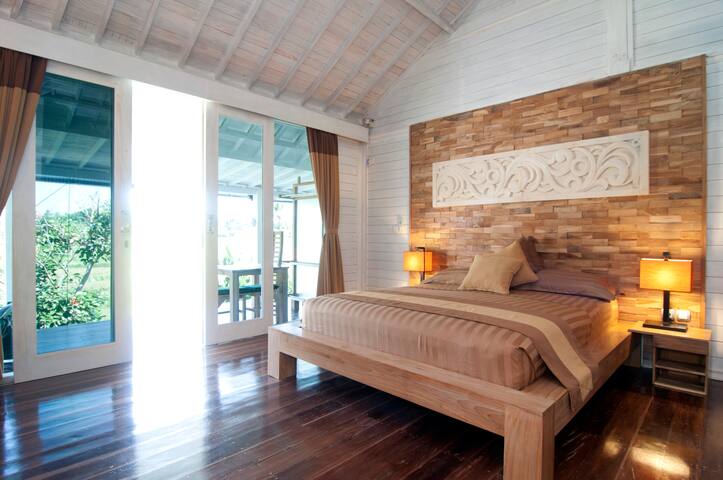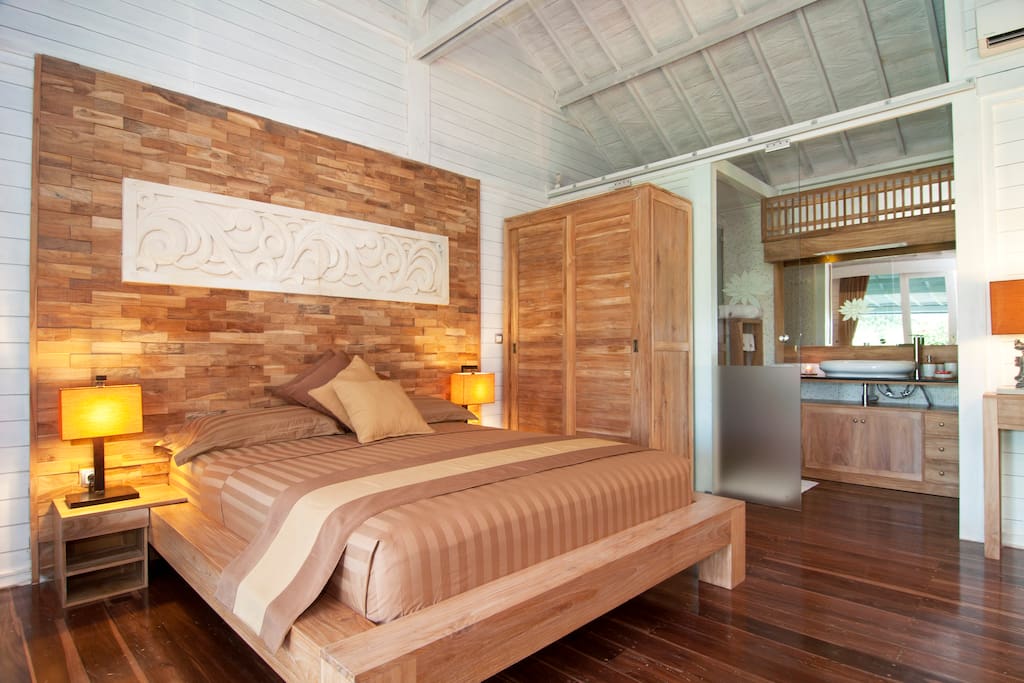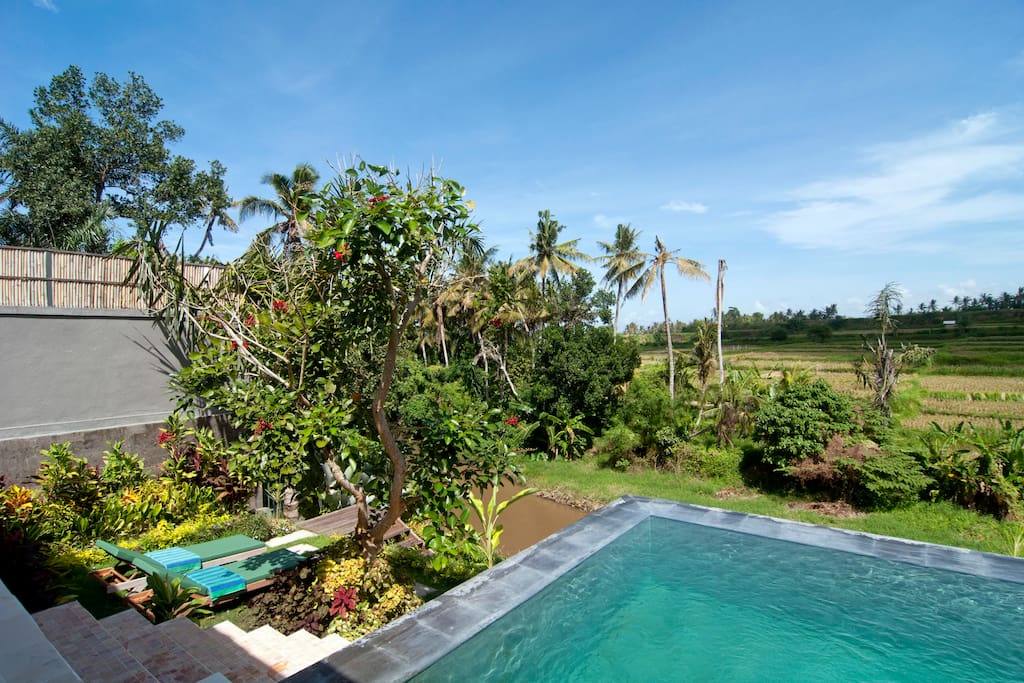 The space
Magnificent villa in "Iron Wood"... Two buildings - A with two rooms of hosts with view on the swimming pool ,on the river and in the face of the rice field in floors(beautiful). The other with two rooms on the floor (even view).. All rooms are decorated with taste and a VIP comfort ( superb furniture in teak of very high quality)...Mattresses 30 cm ..tv channels + Internet as well as a refrigerator with water offered..... The breakfast is included and plentiful..and is served by our fairy of Logis "Ayu"who will of the maintenance of your house daily....with always the same smile... We can welcome you at the airport (15 euros) we have the possibility of organizing the" visits to the card" (from 45 euros per day)..or better yet, join a program to the extent of your wishes....On request, we send you suggestions and quote for each of the opportunities.... We can lead you in the evening to allow you to restore in tourist locations close (Ubud-Sanur) .a restore is also possible at the villa... Situation of the villa: Very well placed for all the excursions of a day without the hassle of movement and very close to the nature and the calm for the people who want a little rest ...between visits. For the surf...the range of "keramas" is renamed.. For the diving...five sites are located nearby... The construction" in the bleachers" allows to those who wish to isolate easily for read or sunbathe at their ease in taking full advantage of the infinity swimming pool (15 meters)..and the magnificent landscape.... Our ranking Super Host Among Airbnb ...judgment 5 stars 85% of clients during a year reviewed every three months.....See Comments..... The vacation between friends (up to 8 people) will be the subject of a particular offer. The whole villa is to rent according to possibility.... With the full staff and the same services - also in particular offer. Everything will be done to ensure that your stay is a success and that the Remember that you'll be engraved in the best "corner" of your memory. This stay is in no way comparable to the one proposed by the hotels.. You are our "hosts" with a lot of time to spend with you and help you to realize your wishes. The comments of our guests are the best references that we can claim...very often the "hosts" return to spend the last few nights at the villa to enjoy a last time on the quality of the housing...... Thank you to have discovered our "Villa" ...and soon ...
About Machine Translation Technology
---
---
Check in is anytime after 1PM
---
---
---
Wonderful! We loved our stay at Andre's villa. It was a great base for exploring East Bali, and the perfect piece of quiet we were hoping for. Andre is probably the nicest, most accommodating host you can imagine -- he even picked us up at the airport. Ayu (the housekeeper) bought traditional Balinese food at a local warung, which she and I shared, after I inquired into the local cuisine. The place, including the pool with the view of the rice fields, is very soothing. We had a scooter to get around, which worked great. There are several warungs around, but you can also order delivery from a tasty warung further away (the BBQ fish is great!). Probably one of the best, if not the best, Airbnb experience my husband and I have had in the past few years.
---
We felt very welcome at the Jardin de Bali. Ada picked us up from the airport in Denpasar, and made us feel very comfortable. Ada looked out for us throughout the trip and ensured we had everything we needed. The only thing I would mention is that the villa is pretty far from, well, everything. It is nearly an hour to either Ubud or the beaches/clubs in Kuta.
---
We haven't met Andre sincehe's on vacation but the communication with him has been great. His staff,Nyoman and Ayu made us feel welcomed and took good care of us.The place is beautiful and has an amazing view! The breeze was also wonderful. No mosquito when we were there which was great since the last place we've been in had a horrible mosquito issue. We only stayed here for 2 nights but I wish we stayed a lot longer. Very relaxing place and the photos don't do enough justice. THis place is prettier in person. The staff were helpful but they give you enough privacy. Ayu is a wonderful woman. She prepared breakfast for us and even tried to feed my picky children. She's the sweetest! You can also order from the nearby warung some great tasting and affordable foods. We also requested for a massage and Ayu called someone for us. The massage by the pool was awesome! I would love to stay at this place again and will recommend this to our friends.
---
My husband and I stayed with Andre and Joceyln for six nights. It was certainly a highlight of our 6-week trip across Southeast Asia! They are wonderful hosts and took great strides to make sure we enjoyed our time on the island, from providing transport to the local market to helping us find a local English-speaking guide to providing a plate of fresh fruit almost every day. On my birthday Jocelyn even made crepes for me, my favorite! If you stay here I am sure you will find them to be delightful. The villa itself is very nice. We spent more time there than planned because the scenery is beautiful and the pool is very relaxing. It is quite and accessible to Sanu, among other areas of the island. Our neighbors decided to rent a motor scooter while staying at the villa so they could get around. Personally the highway nearby seemed daunting (if you are unaccustomed to driving in Asia), but it worked for them.
---
We had Great time. Initially planned to stay for two nights. The house is really nice. It is like hotel (you have all services available) but there is culture added by the owners that gives extra warmth and makes you feel in home. Breakfast is fantastic. Owners are super chill, helpful and made our stay very pleasant. Even showed us place for massage that was cheap and pretty good. House location is strategic if you want to explore Bali for first time(most of the temples, volcanoes, water sports) . Owner knows good people that can drive you and show you the Island. Not close to the beach but has warm water infiniti pool with great view to rice fields. If you want to go to beach close by is the Amed beach. We ended staying three nights and if we had more time would definitely stay more but we wanted to explore South Kuta beaches that are far, expensive, crowded and not meant for exploring the Island North of Kuta. Would definitely recommend to my friends visiting Bali in future.
---
Communication was good throughout and Andre and Bu Ayu was helpful during our stay. Everything about the place was heavenly, except on how to get there. 5 mins walk away from the main road (able to Grab/Uber), but quite isolated from every where else. There are very few shops and places to eat but André's place makes it up by having a home delivery service and you can also cook your own food (fridge is fully stocked). Breakfast included was on point! If you're just going to be passing by and staying for a night (40min walk to a black sand beach), this may not be the place for you. André's place is more for the people who wants to get away from their busy lifestyle and relax. Honestly, wish my friends and I were able to stay longer!
---
Mon prénom est andré...j' occupe une villa à la Pantai Saba (saba (URL HIDDEN) suis en Indonésie depuis plus de 16 ans....mais je n'y séjournais que 3 mois par an...maintenant nous restons ...9 mois à Bali et 3 mois en Belgique......
André
Response rate:
100%
Response time:
within a few hours
Explore other options in and around Denpasar
More places to stay in Denpasar: