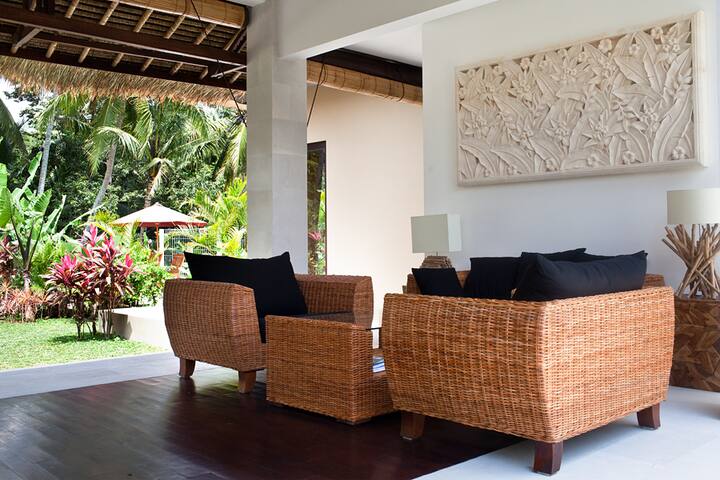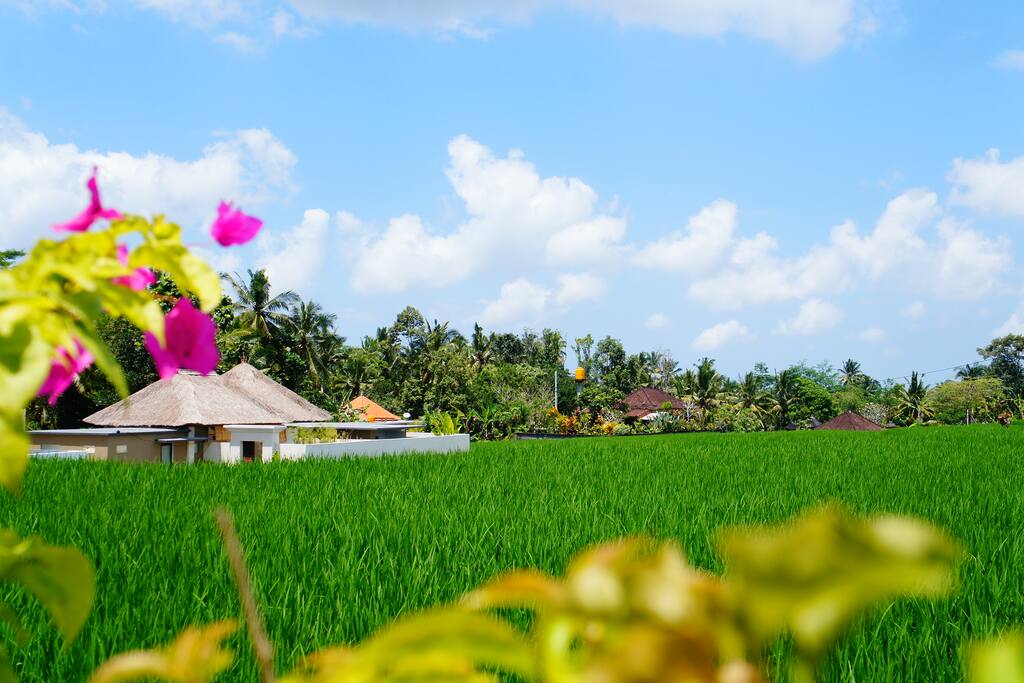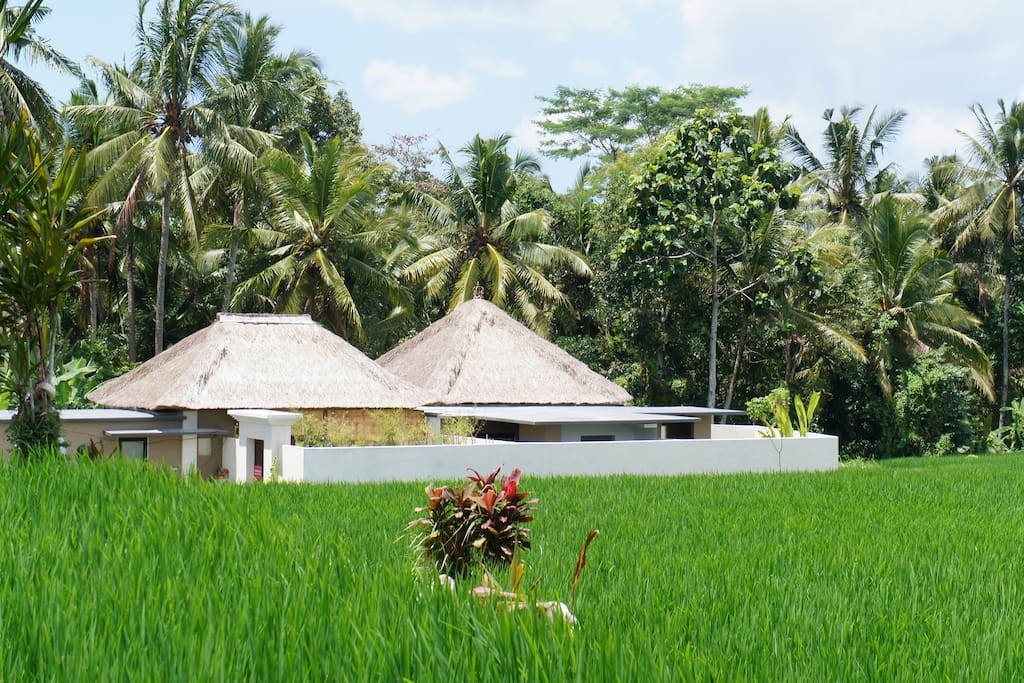 Pondok (Cottage) Lakshmi is a private designer villa equipped with modern amenities and its own swimming pool.
While providing a great deal of privacy and seclusion it is only 3 km away from the finest restaurants and shops on Ubud main street.
The space
LOCATION AND ENVIRONMENT :
Pondok (Cottage) Lakshmi is a private designer-built villa located merely a 5 minute drive from central Ubud in the very sought-after village of Kutuh Kaja. It is one of the villas within the VILLA VINAYAGA complex. While providing utmost privacy and seclusion it also blends with it an optimal degree of accessibility and convenience. Surrounded by luscious green rice fields and gorgeous tropical jungle terrain views it provides am ambience of utmost peace and tranquility. It is just 3 minute drive to the house where Julia Roberts lived during the filming of "Eat Pray Love".
CONSTRUCTION AND LAYOUT
Built on 540㎡ of land, the 150㎡ single-storey living area has 2 large and well appointed double bedrooms and is equipped with its own private swimming pool. Each room has an en-suite water-closet and outdoor shower room. A large and airy outdoor living room provides ample space for rest and relaxation. The kitchen is well equipped with all your needs for basic cooking.
As a villa built by a Japanese, he clearly wanted to infuse a little bit of Japanese taste, and as such a ZEN garden was built by a famous gardener from Kyoto, Japan at the main entrance to the villa.
MANAGEMENT
The villa complex is now professionally managed and marketed by PT People Power International - an international management consulting and marketing management consultancy with offices in Jakarta, Kuala Lumpur and Colombo.
WINING AND DINING
With effect from the 1st December 2014, a BASIC (toast, eggs, fruits and tea or coffee) set menu hot breakfast would be served to all guests on a complimentary basis. However please indicate your preference (e,g: how you like you eggs cooked and time for service) to our staff the day before to avoid wastage. Any special requirements such as whole grain bread, sausages, bacon etc., would have to be bought at your expense, but our staff could assist you to cook it. There are at least 5 international restaurants within 10 min walking distance (Balinese, Japanese, Indonesian, Organic, Pork Rib BBQ) and numerous local Warungs (Cafes), some of which (such as Warung Bintang) have been rated very highly (10) on Trip Advisor. Made (pronounced Maa_day) Becik Warung is another warung in the vicinity which serves excellent local food at a reasonable price. For those looking for a fine dining experience, restaurants such as Mosaic, Bridges, Cafe des Artistes, Indus, Le Arancia, Nomad and many others will not disappoint. For the vegans amongst you please don't miss ALCHEMY at Penestanan. All the food is organic and it is good value for money.
MY TOP DINING RECOMMENDATION
Although only a few days old, WHITE YELLOW on Jl. Sukma (opposite Jazz Cafe) is second to none. If you are looking for authentic Balinese cuisine with original flavours this is a cafe that you must visit. It is open for lunch and dinner. One of their local specialities is Babi Nyatnyat, which is an authentic Balinese dish of pork cooked in a variety of fine spices and served with jak fruit and banana trunk. It is available however only on selected days.
SECURITY
Villa Vinayaga is a villa complex comprising 4 stand-alone 2 BR villas (Lakshmi, Vidyaa, Dharaa and Paraa), and stands on a 1,500㎡ site. While security is not a great concern in Ubud we would rather be safe than sorry and hence the premises is manned at night (10 pm to 6 am) by an appropriately equipped professional security guard who has also hot-line access to the local Police Station. In addition we have recently invested in a state of the art HIK VISION iVMS-4500 closed-circuit (CCTV) security monitoring and recording system for your added protection. Be that as it may we would still encourage you to store all your jewelery and valuables in the safe deposit box provided as we cannot be held responsible for the loss of any unattended items. The safety and security of our guests is our utmost priority.
STAFF
Our staff is our greatest asset. Every single person has been hand-picked based on a combination of honesty, integrity and ability. The overall management is the responsibility of the owner (Shireen) herself who could be contacted on + (PHONE NUMBER HIDDEN) or + (PHONE NUMBER HIDDEN) days X 7 days X 24 hours). Shireen is ably assisted (when she is away overseas) by ARI (PUTU), (+ (PHONE NUMBER HIDDEN)) in case of any emergency. A friendly Balinese caretaker, DARSANA, who lives nearby the villa will take care of anything you need such as rental of car, motor bike, laundry services or indeed any other unique requirement that you may have. He speaks good English. To protect your privacy, he does not stay at the villa 24 hours, but is available 24 X 7 on his mobile ph(PHONE NUMBER HIDDEN)). Please send him a ((SENSITIVE CONTENTS HIDDEN)) message if you are unable to reach her via a voice call,.
HOUSE-KEEPING AND GARDENING
The villa is cleaned from 10 am-noon everyday, except for the days of Balinese ceremony or upon your request. In the daytime a gardener does the gardening and maintenance. Linen is changed daily but do let us know if you would like to assist us in conserving the planet and want your linen changed only every other day. It is entirely your choice.
AIRPORT TRANSFERS
We are happy to arrange meeting and transfer services from the Ngurah Rai international airport airport (or any other location in the Kuta, Denpasar, Seminyak area) at a cost of USD 32 EACH way. Adequate notice (preferably 2 days in advance) is required for this service. The vehicles is a 4 seater SUV and hence only has space for a reasonable amount of baggage.
LOCAL TRANSPORT WITHIN UBUD AREA OR TOURS WITHIN BALI
We could assist you to rent a scooter or a motor cycle if that suits your local travel needs. However if you require a car please contact ARI or DARSANA who would be able to assist you in renting one through our approved transport partner company.
Guest access
EQUIPMENT AND SERVICES
In this digital day and age it is not always possible to live without internet and international news media.
The villa is thus equipped with modern conveniences like fastest possible Wi-Fi (2Mbps) in Bali, 42 inch TV and international cable TV (58 channels), DVD with many selected movies, and enough power outlets to charge your devices. Fibre optic cabling is not yet available in this area.
Toilets are TOTO shower-toilet type. We can also help you to rent motorbikes, cars, drivers, adventure tours, massage... at reasonable rates so that you don't have to deal with bargaining and struggling to get the best rates. We do not take any profit from such arrangements. Let us take all the stress away for reasonable price so you can just relax and enjoy everything that Bali has to offer.
- 42 inch LG flat TV (cable TV 58ch)
- DVD (movies 30 titles)
- Air conditioner x 2 (in each bed room)
- Automatic washing machine (8kg)
- iron and ironing board
- TOTO shower toilet x 2
- juice mixer
- microwave and toaster
- USB stereo

NB: Please note that while every effort is made to ensure stability and consistency of wi-fi and TV connectivity, we cannot be held responsible for 'force-majeure' situations resulting from lack of service by the local service provider.
Interaction with guests
365 days X 7 days X 24 hours communication access (by phone and email) is guaranteed to all our guests. The Owner (Shireen - (SENSITIVE CONTENTS HIDDEN) number (PHONE NUMBER HIDDEN)) spends two weeks of every month on site in Ubud and manages the property in a hands-on manner. During the weeks that Shireen is overseas she is ably assisted by our Caretaker Pak APEL, a Balinese, who handles all guest relations matters. APEL (PHONE NUMBER HIDDEN) lives only 3 mts away from the villas.
Other things to note
TROPICAL CLIMATE
UBUD has a tropical climate and all guests have to be conscious of the conditions in such conditions. While every effort is made by us to eliminate the harmless black ants and mosquitoes by weekly spraying schedules please take every additional precaution (such as anti-insect sprays, eucalyptus oil etc) you may deem necessary based on your individual tolerance threshold.
DRY SEASON - CONSERVATION INITIATIVES
Fresh water is supplied by the local government authorities through the main supply pipeline. In the dry season however (June to October) water level drop and hence supply is restricted. Please assist us by conserving water and avoid the unnecessary use of the washing machine. It is advisable to send your soiled clothes to the local laundry which is both efficient and inexpensive. Our staff could assist you with this. We have now completed the construction of a bore-well to alleviate this problem.
ENERGY CONSERVATION
Please help towards 'SAVING THE PLANET' by conserving electricity (please switch off air-conditioners and lights when not in use) and conserve fresh water as and when possible.
While linen could be changed every day for long-staying guests, please also let us know if you prefer us to change the linen every other day. The choice however is entirely yours. Every single action helps towards achieving the greater goal.
UPGRADING AND RENOVATION
We have embarked on a very ambitious upgrading and renovation initiative in order to provide our guests with an even better experience and also to exceed your expectations even more. While every effort would be made to carry out this work when the villa is unoccupied we humbly request your kind indulgence and tolerance should there be any minor inconveniences during this process.
CAVEAT EMPTOR - FORCE MAJEURE
While every reasonable care is exercised to protect the safety and security of our guests, please beware that we cannot be held responsible for any perils, damages or injuries to you or to the property due to 'acts of God' or 'force majeure' circumstances. Please exercise reasonable personal care in all circumstances.
Weekend Price $225 / night
Always communicate through Airbnb
To protect your payment, never transfer money or communicate outside of the Airbnb website or app.
Check-in time is 2PM - 5PM
It is not our intention to 'police' your actions and/or impose restrictions that stifle your style and spoil your holiday. Be that as it may, please respect the facilities and our other guests by abiding with the following guidelines.
DRUG & ALCOHOL POLICY
The use or possession of banned drugs and narcotics is a punishable offense in Bali which could result in the DEATH PENALTY. The observance of our ZERO TOLERANCE standards is therefore critical.
NO smoking inside the rooms. It is for your own safety.
NO pets allowed. It could disturb guests in the other villas.
NO loud music and party after 9 PM. Ubud is a very quiet farming village and everybody here enjoys peace and tranquility.
NO glass at the pool and pool area. It for for your own safety
Switch off the air conditioners & lights when leaving the room or not in use.
PLEASE CARRY A PRINTED COPY OF THE PASSPORT FOR EACH OF THE GUESTS AND HANDED IT OVER TO OUR STAFF, AS WE ARE REQUIRED TO SUBMIT THIS FOR COMPULSORY POLICE REGISTRATION OF ALL OCCUPANTS.
It is very important to enjoy yourself!!!
A great place to stay! The Villa Laxmi is beautiful, clean and comfortable with a lovely pool overlooking the rice paddies and a jungle. Our kids enjoyed the pool and meeting friendly local people of the village around the villa. Dr. Suresh happened to be in Ubud while we were visiting. He helped us tremendously during our stay. He personally took us to many different places, and gave us tips as to where to eat, what to see etc. In House Massage therapist was a bonus when we were not able to go out. We would highly recommend the villa. Please make sure that you have transportation booked in advance (a car with a driver is recommended, unless you are want to rent a scooter ) as getting a taxi can be a little difficult sometimes.
Hosting a family such as Tibor, Radhika and the cute little girls Malaika and Paloma is every hosts dream. We are delighted that they chose LAKSHMI for their stay in Ubud and would gladly welcome them back at any time in the future when they visit Ubud next. We have no reservations whatsoever in recommending them to all future hosts.
---
Close to nature location, we see many live animals in the area. Most staffs are nice and responding. We also appreciate the local mobile and good driver (reasonable price) recommended by staffs. Areas to be improved: service is not comparable to hotel, the owner is no longer the Japanese designer as advertised... Sometimes it takes repeated communication to get things done slowly,maybe that is bali style☺ you could also try to find punctual staffs , or to train the staffs to be in time, esp. If requested by customer. The curtain is a bit transparent for lazy people. Overall we enjoyed the 11 days stay in Ubud this time. Thank you
---
We had a great time during our stay at the villa and really enjoyed our Ubud experience. The staff was extremely helpful, courteous, and went out of their way to accommodate us as much as possible. The villa is very well maintained and decorated. We highly recommend this villa for those looking for a secluded Ubud experience. A couple of things to keep in mind: - It was a bit of a surprise/adjustment for us to deal with bugs/lizards that frequently make their way into the bedrooms, but that is part of indoor/outdoor tropical lifestyle. - The location is a long (45-60 minute) walk along a narrow road from Ubud city center where most of the stores/restaurants are, so you will almost always need a driver. Villa Vinayaga is very helpful in helping arrange transportation as well as a local cell phone for your convenience.
---
Our stay at Villa Vinayaga was such a treat. We stayed for a week and thoroughly enjoyed ourselves. The villa is incredibly beautiful and clean with a very contemporary indoor/outdoor floor plan with a gorgeous private pool. Everything you need is provided, including a local cell phone which was really helpful when booking activities in Ubud or getting in touch with any of the friendly staff. The entire staff was absolutely amazing, so helpful, accommodating, polite and warm. The location is very peaceful, a short drive from the main streets of Ubud. Plenty of eating options nearby, our favorite breakfast spot was Made Becik just a five minute walk from the villa. We were lucky enough to meet Suresh, the owner's husband, who took us out for a lovely dinner. Shireen and Suresh provided us with 5-star hospitality that made our time in Bali so memorable and we can't wait to come back!
Hi Casey, Thanks very much for your kind words. Suresh was so thrilled to have had the opportunity to meet all of you and was so full of praise for you and your friends. We would warmly welcome all of you back at any time. Despite the minor set-back by Danielle being unwell, we are so glad that all of you enjoyed your stay in Ubud. Do keep in touch. It would be a very great pleasure to see you all again and more so that you would be able to enjoy all the renovations and improvements that are being carried out right now. I am so glad that all our staff looked after you well too. I have already conveyed your regards and thanks to Maria as well. Do take care. Warm regards, Shireen
---
Overall, I would say the villa was average. The staff was excellent. There was a crib in the master bath area that when we asked the owners to remove it was put by the pool. Ants are a problem and were a nuisance when in bed. Old towels should be replaced. There are three different keys to keep up with and locking and unlocking gets tedious.The grounds were well kept. Beds were comfortable. Air conditioning in rooms worked well.
---
Yoshi's villa was fantastic! After a very long day of traveling it was so comforting to be greeted by his amazing team and beautiful villa. We will definitely be back and strongly recommend the villa to anyone looking for a private, luxurious and well located home away from home. PROS - The villa is very well decorated and clean - Everything is private and you don't have to worry about anyone bothering you or seeing the other guests staying in the other villas. - All of the local restaurants and warungs deliver to the villa. Just take a look at the numerous menus that are left for you and dial. Warung Bintang is right up the street and even had live music! - The outdoor showers are fantastic! Showering outside and under the stars was so relaxing. - Ketut the caretaker is very kind and willing to help you with anything. - The kitchen is well stocked and great for cooking. We even had a cooking class! - The location is about a mile from the main road, so you're away from the crazy tourists and feel like you are somewhere exclusive and very private. - We were so happy we booked the villa with the pool. It was so refreshing to lounge by and relax in. - Anything you want can be taken care of. We had our laundry picked up and dropped off (very inexpensive), we rented a scooter for the week, we were able to hire a driver to take us around. - If you need a driver to pick you up from the airport or take you around on a tour, Made is very friendly and affordable - The location felt very safe CONS - The wifi is pretty slow but does work. Just don't expect to stream anything or make calls from your computer. - There are a ton of bugs. Honestly after the first hour, we got used to them and it was no big deal…your in the jungle so it's to be expected Thank you so much to Yoshi, Ketut and Made. You made our stay wonderful and we can't wait to come back!
---
We came here for our honeymoon and needed a quiet place to relax. Yoshi was quick in responses. He organized our airport pickup and his caretaker (Ketuh) was waiting for us even our flight was delayed. After we arrived, Ketuh gave us a cellphone to use during our stay, which was helpful with taxi driver and reservation. Ketuh even helped us with our cooking class reservation and arrange massages inside the villa (about $20 an hour!). He offered to help us to book our transportation to Gili Island/Lombok. I wish I met Ketuh ahead of time, because Ketuh told me he could have helped me with a much cheaper price on the transportation! Ketuh always welcome us with a smile. The villa is only 5 mins taxi ride away from Ubud center, or 35-40 mins walk. While we were staying in the villa, it felt like home away from home, and everyday we can fresh clean towels from Ketuh. The swimming pool is super clean. The villa has a washer and a water dispenser, which was helpful and saved us trips to the supermarket. The design of the house welcomes you to just sit and relax. Food options around the villa: There is a Sugar Villa and Secret Cafe that is only 5-10 mins walk away from the Villa. Sugar Villa was perfect for breakfast (only $4.5 for a set breakfast)! Secret Cafe is a Japanese restaurant that overlook at the rice fields. We will be back!!
---
Hi, I am Shireen - your SUPERHOST at Villa VINAYAGA, a complex of four 'pondoks' (cottages), namely LAKSHMI, VIDYAA, DHARAA and PARAA. Welcome to Ubud. I promise you that I will do everything within my means to make your stay with us a memorable one.

Born in Malaysia, I spent the first few years of my professional life as a Flight Attendant with Malaysia Airlines before venturing into my family business and spending the next 15 years as the Director of Marketing for a diversified group of companies engaged in businesses ranging from food and beverage to printing and packaging, trading etc.

I now divide my time between Ubud and Kuala Lumpur. Why should you travel to Italy to EAT, India to PRAY and Bali to FIND LOVE when you can do all three right here in the "Island of the Gods" - BALI. It was love at first sight for me when I first visited Ubud. I am unable to think of many other places in the world where one could enjoy as much peace and tranquility. To be lulled to sleep by the rustling of leaves and the flowing of water in the stream below to being woken up in the morning by the chirping of birds, the croaking of frogs, the quacking of wild ducks and the crowing of the village rooster is a lifestyle that big city living just cannot offer.

A Mother of 4 teenagers, I manage to maintain a healthy balance between my work and family lives. I enjoy travelling and cooking. My Husband (an Australian management consultant) assists me with my business ventures and I value his support immensely. Our pet - a 2 year old poodle called LILO is very special to us and keeps us all very amused throughout the day.

My passion is to serve the needy and the less fortunate. As an active charter member of the Rotary Club of Seputeh, I am very committed to the alleviation of poverty and the provision of basic needs and life skills to impoverished communities in Indonesia and Malaysia. This business venture is another step towards enhancing my community service work in Bali. My motto echoes that of Rotary International - "Service Above Self".

Welcome to Ubud and do enjoy your stay with us at your "Home away from home". We are at your service at all times.


Languages:
Bahasa Indonesia, Bahasa Malaysia, English
Response rate:
100%
Response time:
within an hour
Explore other options in and around Ubud
More places to stay in Ubud: