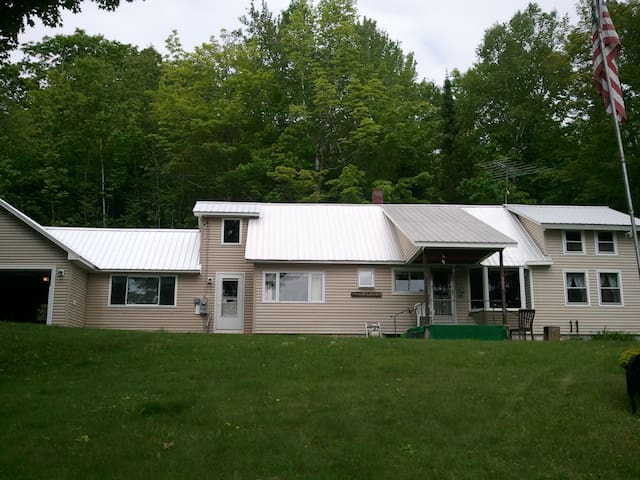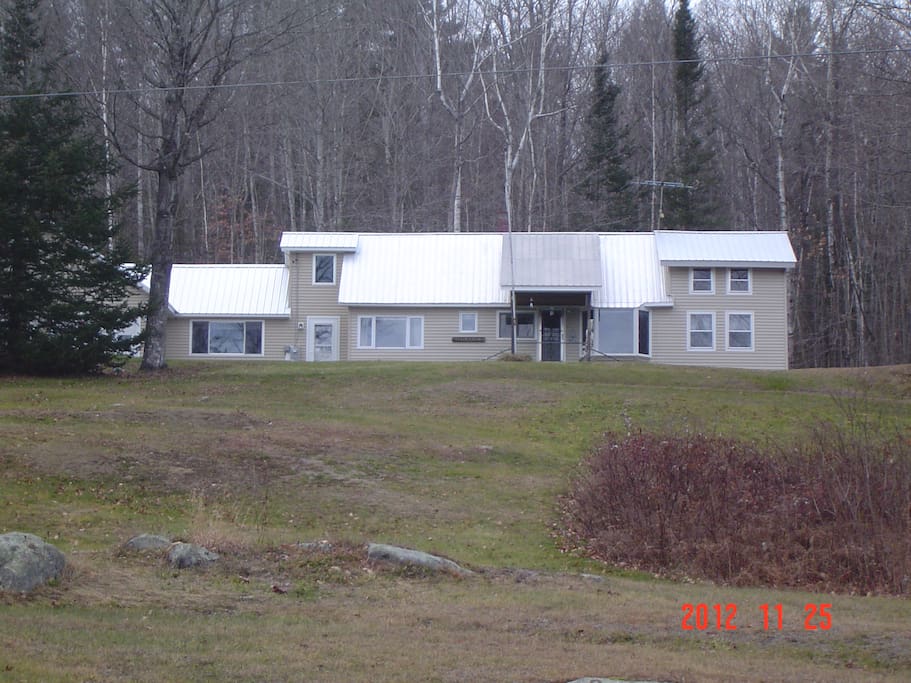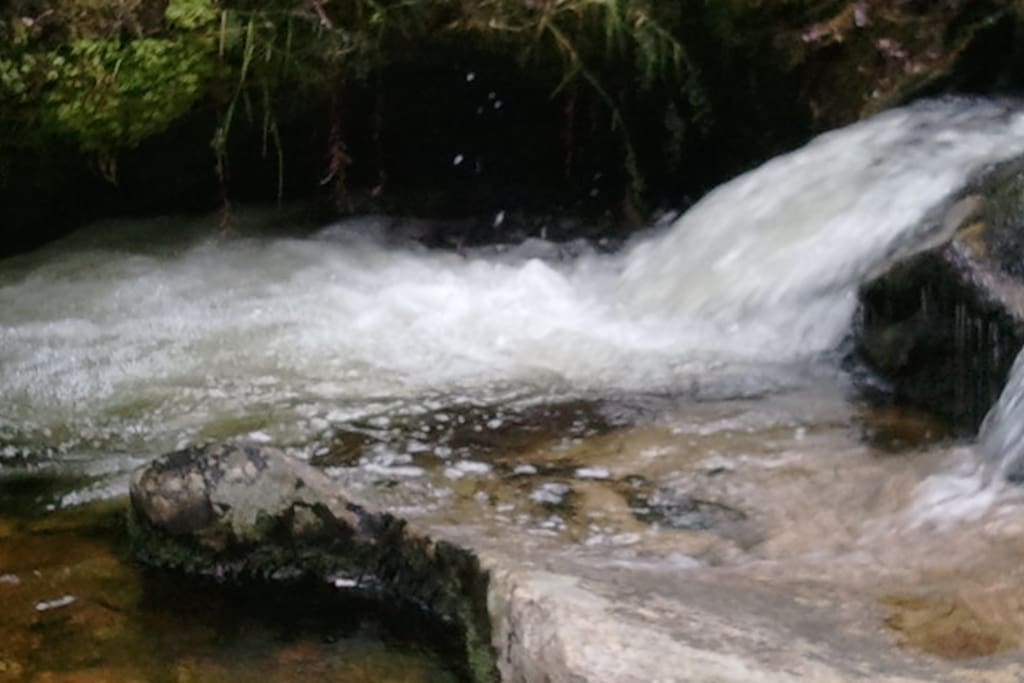 Country Home - Lakeside Picnic Area
Our place offers the ability to take part in the best that Western Maine has to offer including skiing, snowshoeing, hiking, biking, running, swimming, boating, kayaking, whitewater rafting, fishing, and tax-free North Conway outlet shopping.

The space
The Knoll - Hillside Summer Retreat and Swimming Too

Offering wonderful country views, our place on the knoll is perfect for families looking to explore the White Mountain region in an authentic Maine setting. Our place is comfy and neat in a homey kind of way while being located on the doorstep of the White Mountain National Forest. Our house has two bedrooms (one on the first floor and another above it on the second floor), and each bedroom has a double bed. In addition to the bedrooms, there is a loft upstairs with two single beds. Almost all of the rooms, including the living room, dining room, sitting room, and kitchen, offer views of the mountaintops surrounding Keewaydin Lake. Please check out the pictures to get a better feel for our place.

Guest access
Maine has four wonderful seasons, and you can't go wrong no matter which season you pick for your visit. As described further below, our place offers the ability to take part in the best that Western Maine has to offer including skiing, snowshoeing, hiking, biking, running, swimming, boating, kayaking, whitewater rafting, fishing, tax-free North Conway outlet shopping, and fine music.
Interaction with guests
We usually meet our guests in person upon arrival and make ourselves available at anytime during their stay.
Other things to note
Planning a summer visit? Then you're in luck. Our place is surrounded by water; no, we're not on a lake with all the associated noise and traffic found on most lakes, but as mentioned above we do offer exclusive access to nearby Keewaydin Lake for swimming, lakeside cookouts and other recreational water activities. In addition, we are only a few minutes from secluded Virginia Lake and famous Kezar Lake in Lovell (one of the top 5 most beautiful lakes in world according to National Geographic, or so the rumor goes) and Sebago Lake (home to some of Maine's finest landlocked salmon) is only 50 minutes to our southeast. In fact, we're close enough to Keewaydin Lake that you can hear loons making their calls on quiet summer evenings, and the sandy beach of Virginia Lake, which is located entirely within the White Mountain National Forest, is only a 20-minute walk through the woods. So bring your swim trunks, your fishing poles and your boat, kayak or canoe, as there is plenty of water to explore for boating, swimming and fishing - you'll be happy to know that unlike vacationing down on the coast of Maine, there is no need to wait until your body is sufficiently numb before you can enjoy the refreshing water on a hot and humid summer day. If you're looking for an alternative to the water, consider a classic Maine country picnic - a hike through the hemlocks and pines to the top of nearby Ayres ledges for picnic lunch, and a descent to Virginia Lake to cool off in the clear, crisp mountain water.
The National Forest maintains nearby hiking trails, including Albany Notch trail and Miles Notch trail, as well as others, and there are many natural wonders located nearby that the whole family will enjoy, including Emerald Pool off Route 113 and Screw Auger Falls in Grafton Notch. While hiking, running or otherwise traveling through the woods, when you come across an old cellar hole, think of what it must have been like to survive off the land as most true rugged, independent Mainers did for centuries. If you're here in August, picking blackberries is always a treat for the whole family so long as you know where to find them - no worries - we'll give you some hints. Of course, if you're a runner, be sure to run a (website hidden) search for nearby running events such as the Four on the Fourth in Bridgton and the Old Homes Day 5K in Lovell. Care for golf - more good news - Kezar Lake Country Club is nearby in Lovell and there's a fabulous course at Sunday River in Bethel.
If you're planning to visit during the fall season - there's really no better time - in addition to hiking in the White Mountains and enjoying some of the best leaf peeping in Maine on nearby Route 113 which runs into and out of Maine and New Hampshire as it winds through the mountains - you should make plans to visit the Granddaddy of all Maine country fairs - the Fryeburg Fair - which takes place in late September/early October each year. There you can enjoy activities such as harness racing, agricultural shows, fairground rides, live musical performances, tractor pulls, educational programming and of course fine fair food - don't miss the maple whoopie pies- mmm, mmm, mmm good. Also, note that peak foliage usually occurs in our region around the end of September and early October, and the views from our place are gorgeous as the maple leaves turn red on the knoll and colors pop across the surrounding mountains. In addition, use our kayak to paddle around Keewaydin Lake to enjoy the views from the water. If you're here in late October or November, however, please note that, as they have done for centuries, local hunters take to the woods to be pursue the elusive whitetail deer during that time.
If planning to visit during the winter months and you haven't thought of it already, bring your skis (or rent some) and sample a variety of nearby downhill ski terrain. Family friendly and affordable Shawnee Peak in Bridgton is only 20 minutes away and Sunday River in Bethel and Mt. Abrams in Greenwood are both only 30 minutes away. In addition, the ski slopes of North Conway, New Hampshire (Wildcat, Cranmore, Attitash, Bretton Woods) are only 45-55 minutes away. If you're looking instead for an athletic, aerobic workout and enjoy wooded serenity, bring your cross-country skis and simply step out the back door for an exhilarating trip through the National Forest (back country and via nearby snowmobile trails). Cross-country ski trails are not regularly broken out so be prepared to cut your own path. If shushing down slopes or skiing amongst the trees is not your thing and you prefer snowmobiling instead, then haul your family's sleds (registered in Maine of course, and preferably in New Hampshire as well) right up here as access to Maine's Interconnected Snowmobile Trail is close by and a ride to New Hampshire is in the offing during January and February most years. Feel like less moving and more relaxing, try some ice fishing on any of the nearby lakes and ponds, but be sure to check the fishing regulations beforehand. In addition to nearby skiing, snowmobiling and ice fishing, one great thing about our place is the front hill which can't be beat for sliding. As children we must have hiked that hill a thousand times for a thousand wild rides on our slides, and we're sure your children will love it too. No matter your plans, if snow is a necessity for your utmost vacation enjoyment and our place is still available, please feel free to call and ask for a good faith report on the backyard snow conditions (no weather or snow guarantees of course, but we're happy to help).

Anyway, if instead you're planning to visit during the spring and happen to be here in late March - an unusual choice for sure but understandable if you enjoy as most Mainers do the earthy aromas as the ground breaks free from its winter chains and mud moves like mercury underfoot - then you're in luck as Maine Maple Sunday happens on the fourth Sunday in March, and maple syrup and its offshoots, including maple whoopie pies, are some of the finest sweet-tooth satisfiers on this side of the planet. Make plans to visit nearby farms to sample some of these treats. A list of participating farms will be provided on arrival, and we may even have tapped some of the many maple trees on the knoll. In addition to maple syrup in late March, fishing is usually at its best during the cool months of April and May when the salmon and lake trout are still swimming close to the water's surface before diving deep for cooler waters during the hotter summer months. Kezar Lake and Keewaydin are both nearby - head to Kezar for Lake Trout while both Kezar and Keewaydin harbor Salmon, Brook Trout, and Bass in their waters. Nearby brooks such as Great Brook in West Stoneham also offer the traditional brook fishing experience that many of us remember as kids.
In addition to the typical Maine outdoorsy stuff described above, our region offers other entertainment. For example, if you're looking for a little Vegas without the associated secret vagaries, take a 40-minute ride to Oxford Casinos and perhaps pay for your trip with one night's winnings or more likely simply enjoy the thrill of trying. During the summer months, if you're looking to tick "attend stock car race" off your bucket list of experiences, Oxford Plains Speedway is also located only 40 minutes away - actually right down the road from the casino. Have an urge to climb the tallest mountain in the East? Mt. Washington is also located in North Conway a little over an hour away, and can be climbed on foot or via car or the Cog Railway. Like to enjoy a fine beverage now and then? Ebenezer's Restaurant & Pub has been voted the World's Best Brewpub for its unrivaled selection of beers - rare Belgians become run of the mill as soon as you walk in. Enjoy music? Stone Mountain Arts Center is located in Brownfield only 50 minutes away and during the winter there's always some good live music in nearby Bethel. For the kids, Storyland in Glen, New Hampshire and Santa's Village in Jefferson, New Hampshire are just a little over an hour away. Truth be told, our family finds Santa's Village more enjoyable than Disney as the lines tend to be short and the rides just as fun. While our place is "away from it all," a day trip to North Conway, New Hampshire for some tax-free shopping at the outlet stores is always a treat, and while there enjoy a meal at any of the fine local establishments.

If you're concerned about something going wrong with the home, and not being able to fix it, please note that one of us is a master carpenter and resides nearby, another has a camp down the road and many other family members also live close by so someone will be around in the unlikely event some outside help is required. In addition, no need to worry about losing power - we have a generator to keep the power going through any storm.
As for amenities, although we have just about all that you would need to enjoy your time here in Maine, please note that we do not offer cable tv - what a shame it would be to be in the great state of Maine for outdoor fun and yet stuck in front of the television. We don't want the kids to be glued to their favorite tv programs and then leave having failed to get the most out of their stay (no matter the weather, we advise getting outside into the elements). We do, however, have a DVD player so feel free to bring along your favorite DVDs for nighttime entertainment if books and games are not cutting it. Also, high speed internet is not yet available for similar reasons, but smartphones should receive a signal if you need to keep track of emails or otherwise keep up on current events. With that said, we have a fully-equipped kitchen with a stove, full-size fridge, microwave, toaster, blender, and coffee maker, together with a washer and dryer. In addition, linens, towels, cups, knives, forks, spoons and dishes are provided.

My family shared many wonderful experiences on this knoll growing up, and we hope your family will enjoy it just as much during your visit.
---
---
Check in is anytime after 3PM
We expect our guests to keep in mind and abide by the Golden Rule during their stay - in short, be respectful. Dogs (but not other pets) are more than welcome so long as they're cleaned up after, and get along with other dogs (like our neighbor's friendly dog). In the summer, please respect the gardens - some of us grow things on the sun-drenched hillside. Of course, we're happy to share fresh vegetables upon request.
Guests are expected to bring their own consumables such as laundry soap, shampoos, dish detergent and soap.
---
Married father of two awesome boys.
Explore other options in and around East Stoneham
More places to stay in East Stoneham: