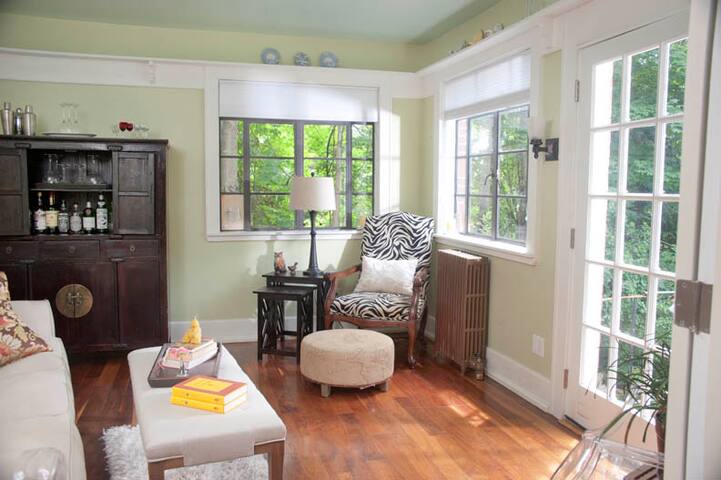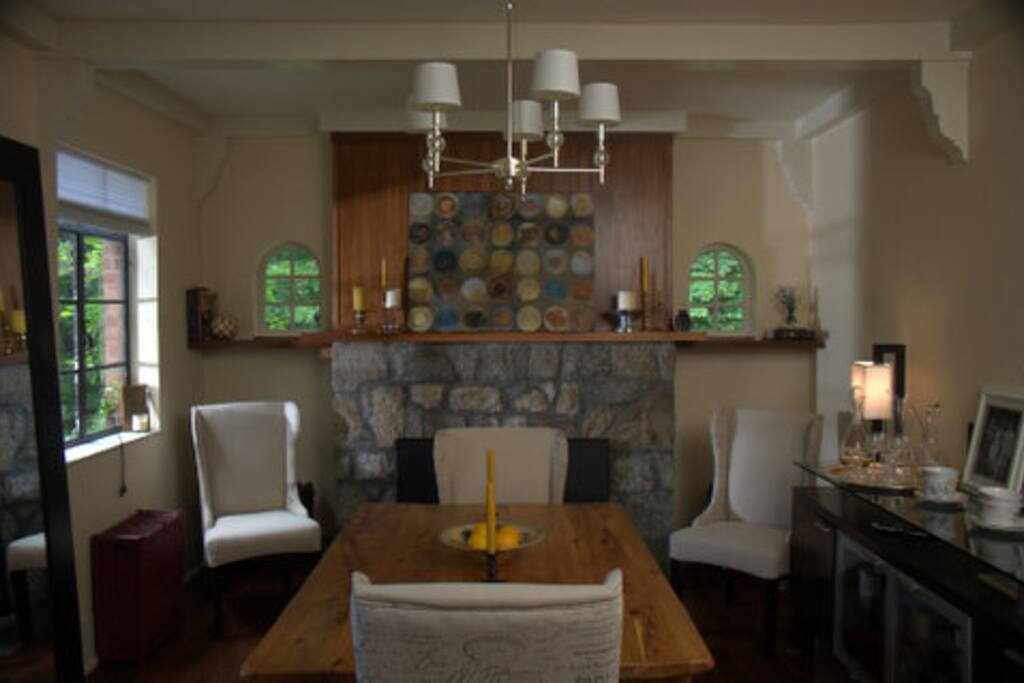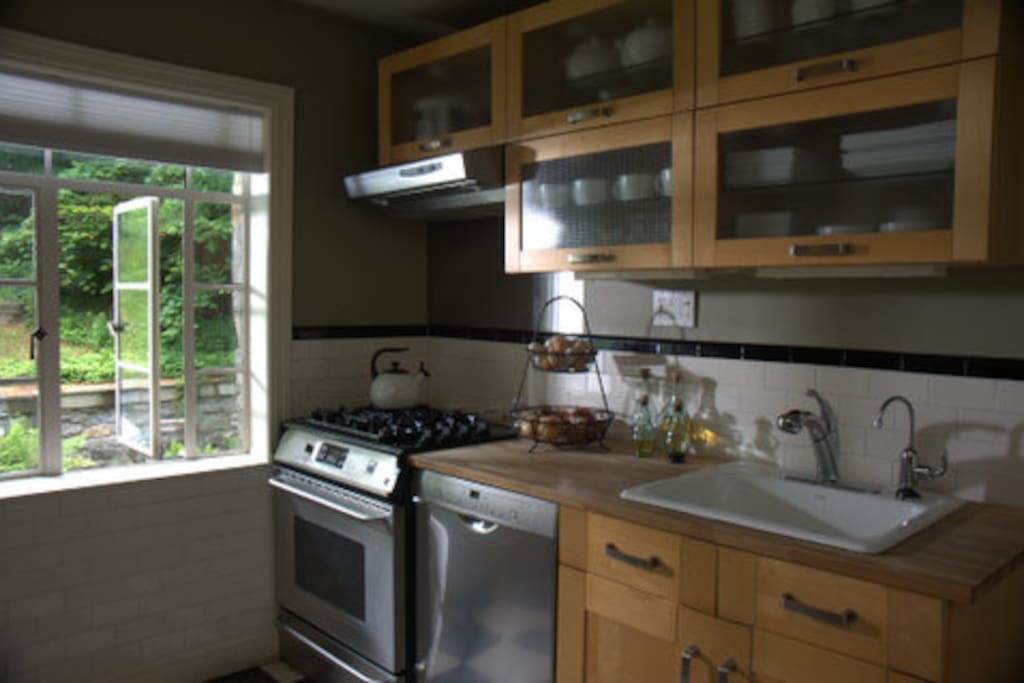 Charming Cottage 1 Hr from NYC!
Peaceful. Restorative. Healing.
Quiet, comfortable, and full of light and love, our stone cottage is the perfect place to escape NYC and renew your body, mind and soul.
Nestled in the woods just 1 hour from Manhattan in the Hudson Valley.
The space
Peaceful. Restorative. Healing.
Quiet, comfortable, and full of light and love, our stone cottage is the perfect place to escape NYC and renew your body, mind and soul.
Nestled in the woods just 1 hour from Manhattan in the hidden gem of Kent Lakes, NY, the cottage is the perfect country escape for a single, couple, or small family. The cottage is a great option for people who want a convenient country getaway without the hassle of owning a second home. Easy access to all major highways, parkways, and Metro-North make trips down to NYC a breeze.
Well-behaved pets are welcome, and the shaded, fenced-in run gives you peace of mind that your entire family – including the four-leggers – will be happy.
All around you, the grandeur and charm of the Hudson Valley awaits. Mountains, lakes, rivers…hiking, biking, swimming…antiques, farms, world-class gardens…snowmen, sledding, cross-country skiing – season after season, it's all just minutes away. Cold Spring, Beacon, Hudson, and a host of other charming Hudson Valley towns are all just a short, scenic drive away. You're close to everything while still being quiet and secluded.
The house is thoughtfully decorated without ever feeling fussy. It's all designed to help you relax, let go, and breathe easy…like being in an old friend's home. All of the amenities are included, there's an office space where you can get work done, and there are numerous spots to curl up with a good book or just take in the views of the surrounding forest.
Unwind. Let go. Sleep in. Breathe easy. Take in the charm of the area, or enjoy the peace and quiet of doing nothing at all. Either way, you'll feel relaxed and renewed.
Please contact us for the most up-to-date availability and pricing!
---
Pet Owner: Dog(s) and cat(s)
Room type: Entire home/apt
---
---
Always communicate through Airbnb
To protect your payment, never transfer money or communicate outside of the Airbnb website or app.
Learn more
---
We allow pets (dogs and cats) and have a fenced-in outdoor dog run. We ask that our guests and their pets be mindful and respectful with our house so the house may be suitable for other future guests. Pets are not allowed on furniture.
---
---
---
The minimum night stay for this listing varies.
---
We had a great stay at Liz's place. The photos do a very good job of showing the place-- there were no surprises when we got there. It's well stocked with all the kitchen gadgets needed and has very comfortable furnishings. We were really delighted with our stay. We have a small child and I was a little nervous because the driveway does lead out to a busy road but there is enough great space around the house and backyard that it wasn't a problem for us.
---
If you are looking for a quiet comfortable cottage convienent to NYC and in the beauty of the HUDSON River Valley this is the place. Master Bedroom is spacious and comfortable. The twin guest room is adorable, and both bathrooms are very nice. The downstairs bathroom even has a heated tile floor!!! We grilled steaks out one evening and had breakfast with coffee and pastry's every morning in the fully equipped kitchen. Would stay here again and would recommend it to anyone. My parents who went with me are 79 and 85 yrs old respectively and the house was perfect for them. Bedroom and bath being on the first floor was key.
---
Liz's place was a perfect spot for our family getaway. It was cozy, warm, and well-stocked (particularly the kitchen). The house itself is charming, well-maintained, and exactly as described. It's tucked up on a hill in a quiet valley. Our dogs were comfortable in the basement when we had to go out, and the rooms were comfortable and spacious. Liz herself was fantastic to communicate with before the trip, answering my questions and providing ample information about the cottage. The only real drawbacks for us were that the road is fairly narrow and busy which made taking our dogs on walks a little tricky, and the lack of microwave meant reheating leftovers was not very easy. Overall, fantastic stay, and we would love to come back!
Glad you enjoyed it, Holly! We are considering a microwave after a few comments on wanting reheat leftovers. We just worry that microwaving is not good for us! But, understand the comment and the ease... Thanks for everything and come back soon. If you come in the Spring or Summer, there are nice dog walks up our backyard! My Best. Liz
---
This place was a dream for our family. Upon arriving it was exactly as described in pictures, only more beautiful. We fell in love right away. We were central to many different stores, coffee, restaurants, etc. We discovered a place in Kent (2 miles away) that was a deli, small convenience store and they even made special coffees! They open at 6 am so if you get in late the night before you can pick up your essentials as soon as you wake up! Only a few minutes drive in either direction took us to a new adventure. We were in NY to visit family and they were about a 30 minute drive, easy to get to. We drove into the city twice during our week stay, only took a little over an hour to get there and the drive was beautiful. The house itself was easy to get around and felt very much like we were at home. The beds were VERY comfortable, the kitchen was easy to get around (we cooked every day) and the shower was great. We explored the property around us and my 7 yr old daughter played in the yard quite a bit. If we are fortunate enough to come back soon, we will definitely be staying here again.
---
I am conflicted writing this review. Overall the house was good and we got a month of pet friendly non-hotel cutely decorated lodging that we needed. So in that regard the house performed. However, there were some big negatives for us that were not revealed in the host's description that I think others should know before booking. We discovered these issues right away upon check-in, and contacted our host to ask if she'd let us cancel the reservation either entirely, or at least let us out early. She said NO, so please note there is zero flexibility in this listing if that is an issue for you. #1 This house is not the peaceful quiet getaway it is advertised to be. It is on a very busy road where people are driving by fast (40+ MPH), and it sits super close to a neighbor with kids. Kids are not quiet, nor should they have to be. But this detail should have been in the description. The road only quieted late at night, and even then when a loud truck would go by it would wake me up. #2 Aside from the master bedroom, there are NO screens for the windows or doors. We expected to be able to enjoy this country house and open the windows and doors for fresh air. We have a cat, so without screens we had to keep the house closed up the entire stay. That was a real bummer. A few other negatives to note - the AC units are only in the living room and master bedroom. They are not at all sufficient on a hot day, which there were many hot days in the month of August. The house sits in 100% full sun and it just bakes! There are no fans to help circulate the cool air that is coming out of the units. We struggled to stay cool enough during the days. We could have lowered all of the shades to help but again, what is the point of staying in the country if you can't access fresh air, unobstructed views out the window, and quiet! Other thing is the treacherous walk down to the laundry in the basement. It was OK for me as I am skinny & short, but even I whacked my head a couple of times. The stairs are steep and run underneath the upper staircase so you have to crouch down to half your height just to make it down. Try doing that while carrying laundry! If this were my airbnb, I'd be worried someone would hurt themselves going down to do laundry and sue me. Not my business, but I'm surprised this doesn't concern the host. Yes would recommend to stay here not in the heat of summer, and not if you want quiet and fresh air.
Hi Mahesh, Thank you for taking the time to write your review. Although your review contrasts to our other reviews, we believe that every review has helpful insight to improve the home and our guests' stay even further! I know you were arriving to the home under stressful circumstances with renovation of a home and recently broken foot. With that said, I think one of the major issues was the non-disclosure that you'd be bringing a cat to the home. With advanced notification we could have attempted to arrange things to make your cat safe, or we could have advised you that the home wouldn't be a good fit for you. Although we are very pet friendly, not letting us know about a pet in the home is also a violation of our rental policy. It's true, for a long-term rental, it's hard for us to cancel the reservation once you've already arrived. We have more flexibility before someone actually starts their stay. That's why we keep our refund policy so it's transparent to anyone who reserves. The house is advertised as a "cottage" so people understand it's a getaway from homes we live in year- round. We've retained much of the original work of the 1920s home to keep a "getting away" energy, including not renovating the old Hansel & Gretel style windows which aren't designed for screens. We do ask not to run the AC and have the windows open for fresh air at the same, so it's best to choose one or the other, otherwise it is hard to keep things cool. Since the house is on the smaller side, closing the blinds and running the Mitsubishi units works exceptionally well at cooling things down, and the stone home is great at holding this coolness (or heat in the winter months). I was in the home prior to your arrival doing a deep clean, waxing the wood floors and some re-decorating, along with my cleaner coming in and do a final once over prior to your arrival, so I'm surprised to hear your comments. However, we would have gladly come in and cleaned again to get it to your satisfaction if we had know, but you didn't alert us of this issue. The rugs you mentioned were all newly purchased by me just a week prior so I'm not sure how they could have gotten so dirty, but we realize some people prefer no rugs or don't like the organic feel of jute. Thank you for letting us know about the vacuum. We'll be sure to empty it more regularly. That's good to know. Our house is situated in a country setting, up on a hill away from the road, but it's not entirely rural so you do have cars going by and families with kids playing and laughing outside at times. Most people enjoy the location because it's a relaxing setting while being close to all the Hudson Valley or NYC has to offer. Everything you mentioned is explained in our house document that overviews all these details so it's transparent for people before they arrive. We sorry your stay wasn't what you wanted. Although it rarely happens, we are saddened when someone doesn't have an exceptional stay. We hope your move to your newly renovated home in Wilton was lovely. Thanks again, Liz Carey
---
Place was nice! Spacious and well equipped. We had a lovely time and enjoyed playing games at the large kitchen table and hanging out in the living room, and traveled to nearby Stone Barns and Dia Beacon. A couple things we didn't expect - although the listing states that amenities (including toilet paper) are included, the instructions at the house said to "purchase your own supply" - so pack some or pick some up on the way. Also, though there is a cleaning fee, the cleaning required at the end of the trip was a bit more than we were accustomed to based on prior airbnb experiences (e.g., "sweep and swiffer the entire house" and "dust/wipe all surfaces, especially the kitchen and the refrigerator").
Hi Craig, Glad you enjoyed your stay and the great location! The home is situated well for the places you visited. We do have "starter" supplies for TP and things like that, but ask people who are staying for longer stays (like week+), of which we have a lot, that they purchase their own. We like to keep our home super clean, especially because we allow pets, so everyone has a spotless place to rest and relax. We appreciate when our tenants can do a little cleaning upon departure, but understand when it's not possible. Please come again! Liz Carey
---
Devoted to being a dignified human being in this human experience and all it has to offer! Also, love to be playful, goofy, serious student of dharma, and hopeful to offer kindness to my family and people I interact with in small but significant ways.

I love opening our peaceful home to others to enjoy and all its little luxuries and charm. Good pillows, nice sheets, things you need in a kitchen, fluffy towels and good books to flip through.

I really can't live out a good pizza, real books (no kindle for me), my dogs (3), my cat who would like to be a dog, and my amazing husband who loves me dearly but secretly I love him more.

My motto in life comes from the Saturday Night Fever movie, Stayin' Alive!


Languages:
English
Response rate:
100%
Response time:
within a day
Explore other options in and around Carmel
More places to stay in Carmel: