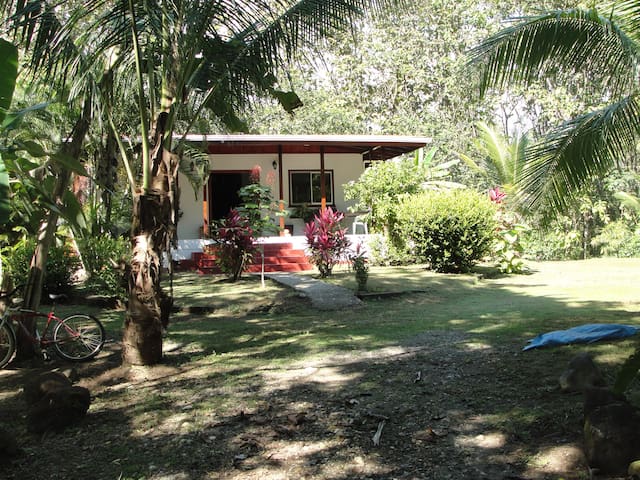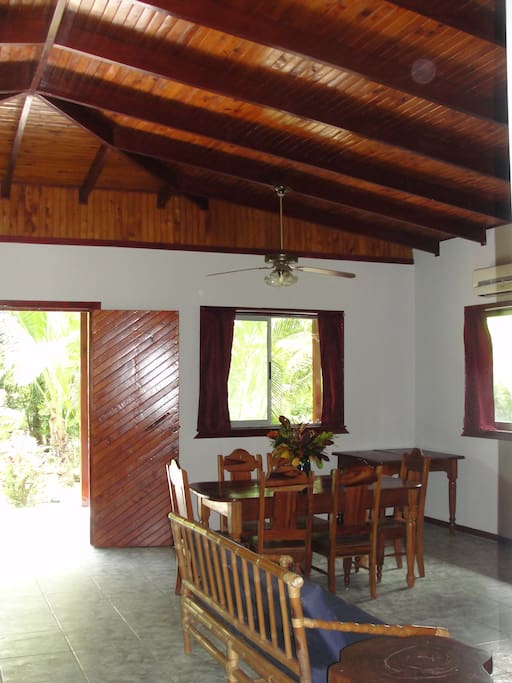 The space
This unique area is for Nature Lovers! Monkeys galore and one of the best beaches in Costa Rica!
This much loved home is located across the street from Zancudo Beach, a 5 kilometer long sandy beach peninsula. Good for surfing, swimming, fishing and beach combing.
This 2 bedroom home is tucked away off the main road but still only a 3 minute walk to the beach. Great waves, beach-combing, monkey and sloth (email hidden)us many types of butterflies and birds. Restaurants and market are within a 5 minute walk.
The house comes with high speed Internet and ceiling fans and AC throughout. There is also Satellite TV. A private, mango tree lined driveway takes you to this magical abode.
Zancudo Beach is a small town and off the beaten path. No high rises here. Lots of restaurants and bars and grocery stores. Wildlife abounds with monkeys and birds and more.
The population is a mix of Ticos, Gringos and Europeans.
Nearby is the famous Osa Peninsula and Pavones surf break.
Zancudo is well known as a world class fishing port.
Guest access
WIFI
Stove with Oven
Long private driveway
---
---
Always communicate through Airbnb
To protect your payment, never transfer money or communicate outside of the Airbnb website or app.
---
---
Stayed here with my six year old son for 14 days. Perfectly secluded in the jungle while hearing the ocean (3 min walk). Saw monkeys everyday (plus iguanas, butterfly's, hummingbirds, etc). Truly lives like a local! Best to have a car but we didn't so we walked. Host was great on communication and needs!
---
This is truly a jungle house. Iguanas, monkeys, turtles, ant colonies. We were there for a month. Margaret did everything possible to make us comfortable. Air con worked great. New king mattress. Internet. We cooked most of the time in. The kitchen had what we needed. My husband got into making smoothies every day. The fruit truck cam twice a week. We loved that. Zancudo is laid back, friendly town. Takes forever to get there, but once you are there relax and enjoy what it offers. A very special place. We went to the beach in the morning. Came back and read books in the hammock on the porch in the afternoon. Took a bottle of wine to watch the sunset at night. We did a few excursions. The restaurants, were great. Bars are plentiful. Very welcoming community. Definitely do the boat tour through the mangroves. Went to Osa for a couple of days. Bus trip to Pavarones is a must.
---
Margaret was friendly and welcoming on our arrival, giving us all the information we needed on buying groceries, organizing a fishing trip and buying bread from Ellie. She also took us to meet the extremely colorful local community and on a grocery shopping trip to Paso Canoas, both of which we really appreciated. On a positive note, this corner of Costa Rica is very special and very wild. We felt really thrilled to see three species of monkey in the garden, a sloth on the road to the shop, and also see dolphins, leaping rays, green turtles and flying fish on a boat trip. While the area itself is stunning, the wet season brings its own challenges. The community´s name, Playa Zancudo - Mosquito Beach - is apt. It was difficult to enjoy the porch and the lush garden around the house as the mosquitoes were ferocious. There were also some issues with the rental. As noted in a previous review, Margaret cautioned that we could only use the A/C sparingly or expect to pay an additional charge - a point that was not mentioned in the agreement and came as an unwelcome surprise. The house itself is very dark, to the point that we had the lights on in the day in the living room and kitchen. In general, it felt gloomy and somewhat run down. The coffee maker was broken, the TV had three remotes - none of which we could get to work - while the couch is small and uncomfortable. The linens, the sheets and the towels were almost all old and some were worn out or stained. We booked for a month, but left after three weeks. While we did not expect a refund for the last week, we were surprised that Margaret had immediately re-let the house. She then placed some pressure on us to leave early in the morning so that she could get the house cleaned for the next occupants. It was an awkward end to the trip.
---
Margaret is a nice lady and she and her son are willing to help you with anything you need- you just need to ask. The house was as expected, except that, after accepting and paying, we were told we only had a $50 electricity credit for our one-month stay, and that using the air conditioning would run the bill up higher than that. Any overage was to be our responsibility. Also, if your stove runs out of gas, it is up to the tenant to pay for the new tank (9000 colones). These were just unexpected costs for us, and we would have liked to know about them up front. The neighborhood was quiet and remote, with daily monkey visitors to the house. It's a short walk to the beach and a small 7-11 style store. There were twice-weekly deliveries (Thursday and Sunday) by a fruit and vegetable truck, and a Saturday morning delivery of fresh eggs, milk, cheese, etc. Our neighbor, Ellie, makes and delivers baked goods and pizza...delicious!
---
We just wrapped up one fabulous, unforgettable experience staying in Zancudo at Margaret's Jungle Beach House and cannot say enough kind words! House The house is clean and fresh with beach and butterfly décor. Kitchen is a wonderful place to fix your fresh fruit and vegetables that you might pick up from the Thursday produce truck. All the dishes, kitchen utensils, and cooking appliances (coffee maker, toaster, blender) one could want for a night in or a morning breakfast (as one reviewer said: they have incredibly fresh eggs here). The big bed was super comfy, although my husband and I only occupied the one bedroom so I can't confirm the "comfy factor" of the second bedroom, but I'm sure it's great as well. I won't lie, we basically lived on the porch. It is so private, so peaceful, it was hard to actually ever want to "start" our day and leave the house! A great way to read, relax in the hammock, have a beer, listen to the birds, watch the butterflies, enjoy the salamanders and iguanas...and nap, of course! You can hear the waves when you sit outside... There is a TV if you should so choose to stay in, we sometimes did when the mosquitos started their night shift, and Jungle Beach House has quite a few cable channels (we felt guilty every time we turned it on, the sound of nature outside and knowing we were inside...:-(. LOL! Margaret was always available when we dialed her number and through the many emails I sent, she knows quite a few folks in town and was always able to point us in the right direction. She has lived in Zancudo for several years and has some great connections. Very friendly and knowledgeable lady...thank you so much Margaret for everything! Zancudo Tres Amigos (small carryout) is RIGHT AROUND THE CORNER. I cannot stress this enough. Things are a bit spread out in Zancudo and this was such a blessing to have a place where you can pick up snacks and food for the week. There is a lovely lady who bakes just down the road as well. Her name is Ellie at Olas Bravas, look her up and you won't be disappointed (to die for cinnamon rolls!) And she delivers! Also, two restaurant we frequented: Sol y Mar (bit of a trek, worth the beach view) and Coloso del Mar (very close and screened in, out of the path of the nighttime mosquitoes). Both excellent food and excellent atmosphere! Anyways, hands down, we would pick Jungle Beach House for any future visit to Zancudo. The house= beautiful. People of Zancudo= so friendly. The beach= gorgeous and as other reviewers have said, always empty (there is a public beach access right across the street). You will not be disappointed!
---
Margaret and her jungle beach house are awesome! The house was everything we needed and in a fantastic location. It is so thoroughly surrounded by jungle that we felt as if it had grown up out of the ground with the trees around it. We were looking forward to seeing a few monkeys, but were surprised at how many swung through the yard and how often we saw them (almost daily!). The windows are well screened so there were very few bugs inside and the fans kept the temperature perfect while sleeping at night. We didn't expect to find a place so remote in Costa Rica, and then once there, we felt like we were in such a peaceful, off the beaten path type place that we were surprised at how well everything operated (the internet was great!). As wonderful as the jungle surroundings are, the beach is just a very short walk away. We rarely saw others while we were out and enjoyed walking up and down the coast. We really can't say enough about what a fabulous hostess Margaret is; she alone is worth staying at her place in Zancudo.
---
I have been living here on this beach for 20 years...ask me anything you want about what it is like to live here!
Languages:
English, Español
Response rate:
100%
Response time:
within a few hours
Explore other options in and around Zancudo
More places to stay in Zancudo: