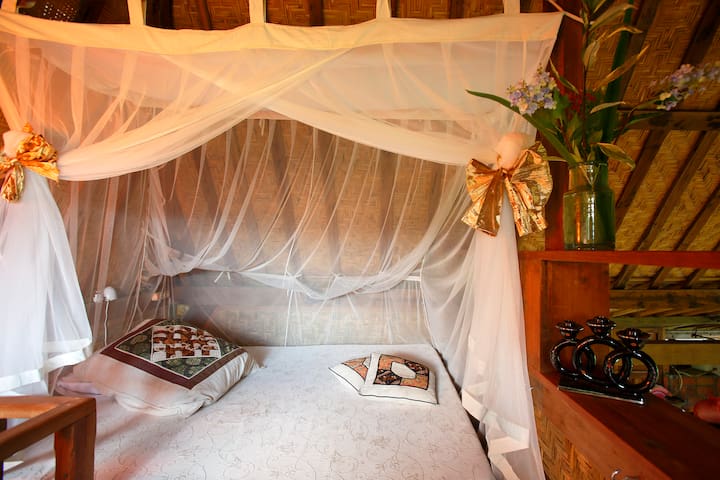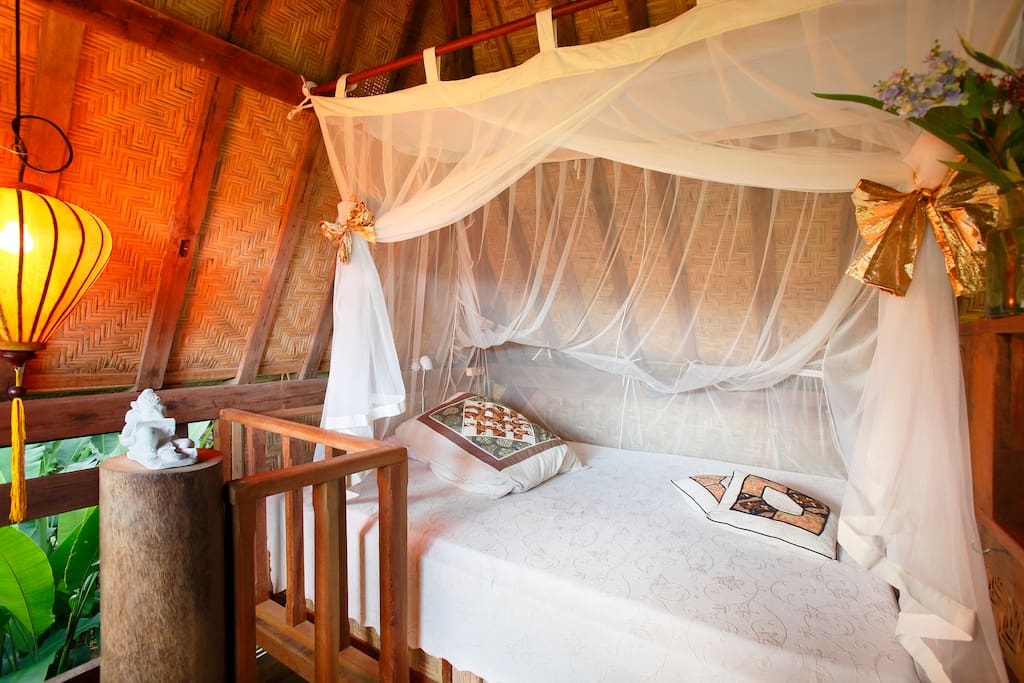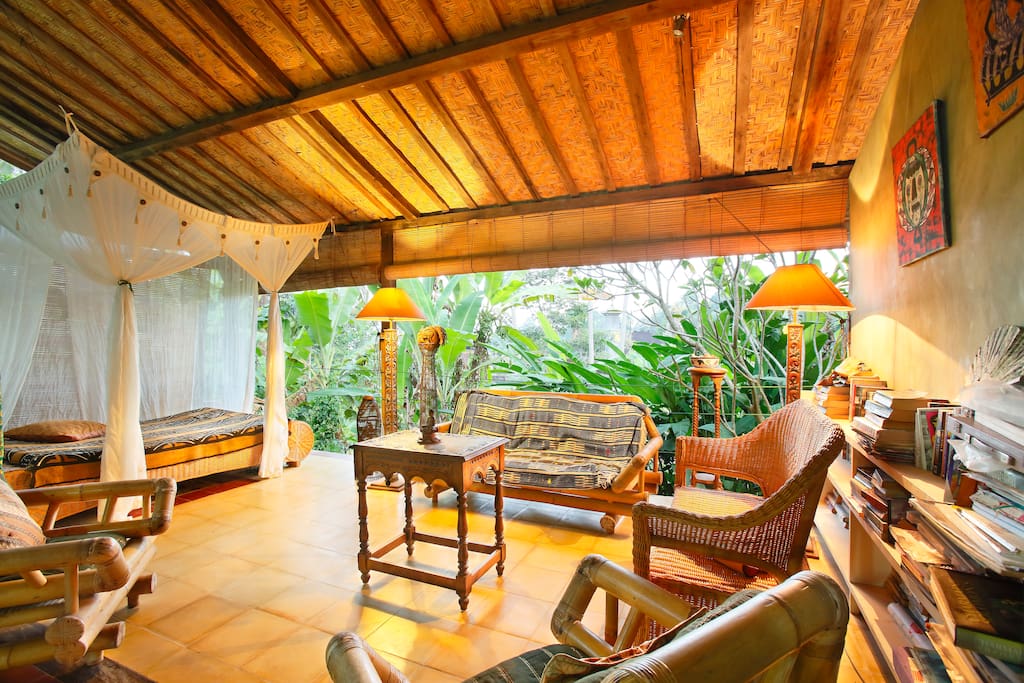 You have your own private loft bedroom, up a spiral staircase and out of sight of the other guests, but you are part of the household. It is a peaceful "open plan" home, with a tropical atmosphere and company when you feel like it.
(Gay friendly)
The space
Think of this as staying over at your friend's place. House helper Ketut appears six mornings a week to cook delicious breakfasts for everyone, and makes sure the place is spotless all the time.
You will share sunset-view bathroom, kitchen, living and dining spaces - all part of a spacious open plan home, just ten minutes from central Ubud. (Our semi-permanent host, Kiwi/Aussie Auntie Jen, is sometimes away working, but she's always just a quick email away to make everything run smoothly and help with great ideas for how to spend your days).
You sleep in a separate loft, containing only a "wide single" or cosy-for-two sized double bed, with a draped mosquito netting around it for privacy and a lovely view overlooking the palm trees towards the nearby temple.
Your Private Loft is available for one person or a couple, short term, usually 3 days minimum/ one week maximum but talk to us because we've had a few people stay for more than a month. (Hey also Kiwis and Aussies, ask us about "family" discounts - we know that the exchange rate sucks at the moment.)
Next door on one side is a virgin bamboo field with animals grazing and a dirt path to the temple, behind is a Balinese village, with all the sounds of local living.
The house is recycled - a traditionally shaped Indonesian "joglo" home, transported from Java and adapted to western use. It is a comfortable one bedroom home, with all of the owner's individual style and nick-nacks. Western-style living, tucked away in a traditional Balinese village and surrounded by lush tropical gardens.
The real treat is that you often hear the sound of traditional Balinese music/ instruments, from master musicians practising for performances in the nearby Balinese temple.
NEIGHBOURS: There's more garden and field around you than people.
Downstairs is a self-contained rental apartment (see Space to Breathe on airbnb.com). People often stay for a month or more, especially when on retreat or a yoga teacher training.
You are a bamboo plantation away from the local Balinese village on one side and a Javanese family on the other.
"CONCIERGE SERVICE": Ibu Jen has lived in Bali for eight years (and been visiting for over 20) so she is happy to share her experiences and suggestions with you. If you'd like our/her professional help to arrange your schedule and make bookings, we'll charge a reasonable concierge fee for that service. :-)
RENT INCLUDES: Breakfast, cleaner 2 mornings/ week, gardener).
WIFI: Reasonable Bali-speed wifi connection available.
Home-cooked dinner - both Balinese and western cuisine - can be pre-ordered in the morning when Jen is home to cook for you.
Guest access
The home includes a well equipped, open plan kitchen that you can share; bathroom with hot bath, shower and garden/ sunset view; spacious entertaining/ dance/ yoga/ space, completely open to the view of palm trees and tropical garden on two sides; and a work desk that you can't work at, because the view is too lovely.
Don't be surprised ... because this is OPEN plan living, you will hear the sounds from the village - roosters, dogs, motorbikes, crickets, geckos, children at play. Ibu Jen is completely used to the late night dog discussion and the early morning rooster challenge; you can use ear plugs if you like, lol.
There is an inexpensive laundry 100 meters south.
Interaction with guests
Jen has lived in and around this village for eight years and been visiting Bali for more than 20, so she is also happy to share her experiences and suggestions with you.
You'll find everything a lot easier after a simple chat over cofffee, after you arrive. Often when Jen is at home and there are several guests (full house is 7 including an apartment downstairs) Jen will cook waffles or French crepes and invite everyone for breakfast. But it's all really flexible and no-one is obliged to be social over breakfast - some simply want to do their own thing.
Sometimes, we'll get together for dinner. A home-cooked three course dinner - a delicious mix of Asian and international cuisine - can be pre-ordered in the morning, if Jen is in town ($20/ head). Our great breakfast cook Putu also whips up a wonderful Balinese Welcome Dinner (Traditional Yellow Rice or Nasi Campur); many guests arrange this for their first or last night in town.
Either way, it's a delicous, relaxing, fun evening.
Jen is a night owl and is often out dancing or listening to music or theatre. Even when she's away, she'll let you know what's happening and where to go to catch traditional music, reggae, blues, jazz or a salsa dance.
Whether Jen's in residence or not, chances are that other guests will be staying. Often there'll be an opportunity to share a day tour or venture out to see a band together in the evening.
In fact, just ask us if you are a single traveler and you'd like to find out who will be there at the same time as you; we can connect you if both are happy about that.
Other things to note
Please be aware that power blackouts happen occasionally in Bali (we are still in the developing world :-). If power goes out, it is usually on again in a few hours, but in rare instances, may be off overnight. The wifi will be unavailable if the power goes out.
---
---
Extra people $12 / night after the first guest
Always communicate through Airbnb
To protect your payment, never transfer money or communicate outside of the Airbnb website or app.
Learn more
---
Common spaces
1 double bed
---
THE BASICS: Sorry but you must speak some English or Indonesian. It is too difficult to share an open plan home, without a language in common. We love to help you here in Bali but it can't be done properly with only an online translator to help - we've tried :-(
No smoking inside the house (nor horrible butts left in the garden) and no pets. Definitely no drugs; you risk the death penalty for yourself and us!
WELCOME: Ibu Jen often invites friends for a meal at the weekend if she is home, and are you are very welcome to join her. Most nights, you can join her for a delicious dinner for a small fee. She is a great cook and happy to discuss the menu/ make sure you will enjoy it, but hers is "family" space - everyone eats the same.
ID PLEASE: We are required to give a photocopy of your ID to our local Indonesian police, so please provide one on arrival, or get your driver to take you to a photocopy shop on the way.
SECURITY DEPOSIT/ DAMAGE: You have been asked for a basic security deposit of $250; this will be returned to you by airbnb if nothing is damaged. The house will be inspected before you leave, so please be warned that an accurate fee for ALL DAMAGES will be charged, exceeding the security deposit if appropriate.
DOs and DON'Ts (Temples): If you plan on going to a temple, make sure you bring or borrow a sarong and sash, and - if you are a woman - a blouse that at least covers your arms to the elbow. In some temples this is not compulsory, but in all cases, it will show your respect for our local Hindu people's values and beliefs.
---
---
Jen was amazing. Cheerful and helpful, happy, full of suggestions and invitations. Kung the driver was prompt, funny, and also very helpful. Ketut was nice to see every morning and made many delicious meals! Loved how open the house was. Not a private place at all as the walls are open but that's what makes it so beautiful! Sunny, breezy, and open. Very noisy at night with The roosters, dogs, chirping Geckos and motor bikes but that didn't bother me much. Bring ear plugs if you're a light sleeper! Having a motor bike is pretty essential because it's about an hours walk into the center of town (or ten-ish minutes on a motor bike) but beautiful walk or drive nontheless. Jen set It up so the bike was delivered when I did! $5 USD /day. How convienent. Lovely place! I would recommend to a friend. Thanks for the great stay!
---
It is my first experience with Airbnb and with all things considered, everything went very well. Also the host Jen was very responsive! I really love the house where I stayed. It is very cosy and rustic. I felt very much at home and I enjoyed waking up to the sound of the roosters each morning:) I wish I could have stayed there longer! I am sure that I would stay there there again!
---
We were lucky; had the place completely to ourselves, which made it a great deal. Can't comment on what it would have been like as a share...Jen was away. Took a couple days to get used to animal noises / 4 AM Rooster sing-along (it's an early-rising, vocal bunch here) but it became part of the house's many charms in short notice.
---
Very authentic Balinese experience! The sounds of the neighborhood are accurately described. I can sleep through almost anything, but wished I had brought ear plugs for the 4 am rooster and friends. Would definitely recommend for those planning to rent a motorbike. I could not have enjoyed the company more but was sad that I did not get the chance to meet Jen. I was very interested in chatting about her life as it sounds like she has seen and done many wonderful things.
---
This cosy loft was a perfect oasis! The open air house design is beautiful and the neighborhood was quaint and welcoming. Jen was incredibly responsive (replied to messages within hours) and very helpful with everything. She was away while I stayed, but has an assistant, Kung, who is wonderful and a fabulous tour guide. I had a smooth airport pick up, answers to all my questions, and a scooter at my doorstep within 10 minutes of the request! The house is 3km from downtown Ubud, which is a perfect distance to get away from the bustle of the town and truly enjoy beautiful Bali. I would highly recommend this place and plan to stay here again when I go back to Bali!
---
Jen singlehandedly made Ubud feel like my second home. Traveling alone, with Bali as my first stop, I was apprehensive about how I'd meet new people and find my groove. Within moments of meeting Jen, I felt like I had both friend and guardian. She looked after key intros to great drivers, tips on insider things to do in/near Ubud (like nude figure drawing classes, salsa dance lessons, and even connecting me with a badass priest who gave a very authentic tour of the water temple). Her home was just that: a home. Cozy and full of life and fun jungle sounds. Living alone in San Francisco on a noisy city street, this was incredibly refreshing. Jen included me in her exciting, rich life while at the same time respecting my space and privacy. I met so many brilliant people also staying here - I think she's a magnet for interesting and lovely souls. Her welcome meal was delicious and felt like a dinner party back home. And thanks to Jen's flexibility and insight, I extended my stay a week here and have loved every moment of it. Beyond "Super Host" levels - I rate Jen and her house in a tier all their own. Double thumbs up!
---
Jen's place was amazing. I stayed here for 2 weeks on a mini self-made artist's retreat, and can't wait to come back. I arrived to Bali late at night, but Jen had a village driver waiting to pick me up, and she was even up to greet me when I arrived. Jen knows all of the best places to go for your stay here. We went out dancing, she connected me with healers, numerologists, yoga classes, she invited me to dinner parties and even took me to some of her musical practices! The loft room is small but private, and there is plenty of communal space to spread out. The house is open-style, and surrounded by all sorts of amazing plants, sounds, and creatures. It was so amazing to nap around or paint while the thunderstorms rolled in and listening to the roosters crow. Her friendly housecleaner Ibu Kitut made breakfast every morning and tidied up the house every day. Jen is an amazing cook, often catering meals for large groups of people, and made sure I was well fed every day. I had a great balance of having my own personal space, and participating in the very social Ubud life. The center of town is about 15m away via motorbike, or 30-45m via bicycle (a lot of hills!). Jen was happy to give me rides into town, connect me with the village driver, or make sure you have a bike/motorbike to rent during your stay. I already miss Bali and Ibu Jen's amazing house!
---
Your host Wayan Jen has lived in Ubud for almost ten years - she's our semi-permanent guest! She welcomes you and makes sure you are comfortable and content.

Jen is a traveling Aussie who lives mostly in Bali, which has part of her heart; another part in New Zealand, where she was born, and all of it wherever her two sons and her sisters are. It's great that she's often around to help with ideas for great travel around Indonesia. (Even when she's away, you can chat with her here, via airbnb).

Jen works in "Disaster". She's just finished a year in the Solomon Islands as a Communication Adviser for the National Disaster Management Office. In December 2013-January 2014 she volunteered in the Philippines, helping there after the horrific super-typhoon. And before that she did a 15 month stint to help an Indonesian non-profit expand their youth centre here in Bali, and set up another one in post-tsunami Aceh, at the western end of the country.

Here in Bali, if you want to try some Ubud nightlife, ask Jen. When she's in Bali, she loves dancing, especially partner dancing - Swing, Modern Jive, Salsa - and occasionally getting up with a local band to sing a song or two. There are many places to find good nightlife in Ubud.

For Jen, "a stranger is a friend you haven't met yet".
Languages:
Bahasa Indonesia, English, Français
Response rate:
100%
Response time:
within an hour
Explore other options in and around Ubud
More places to stay in Ubud: