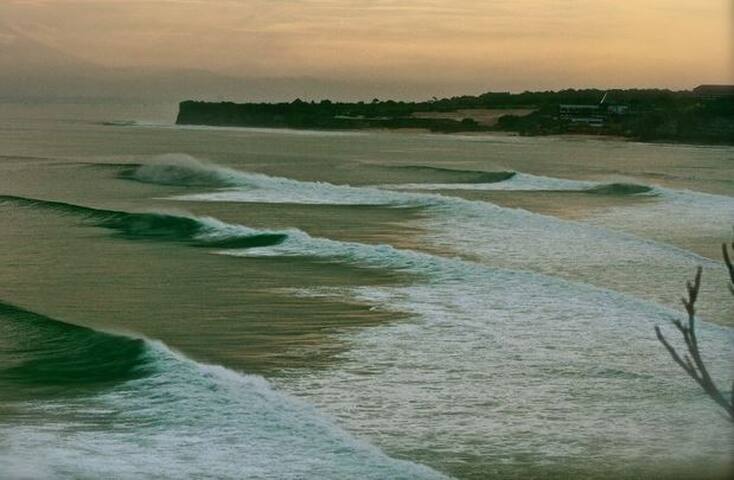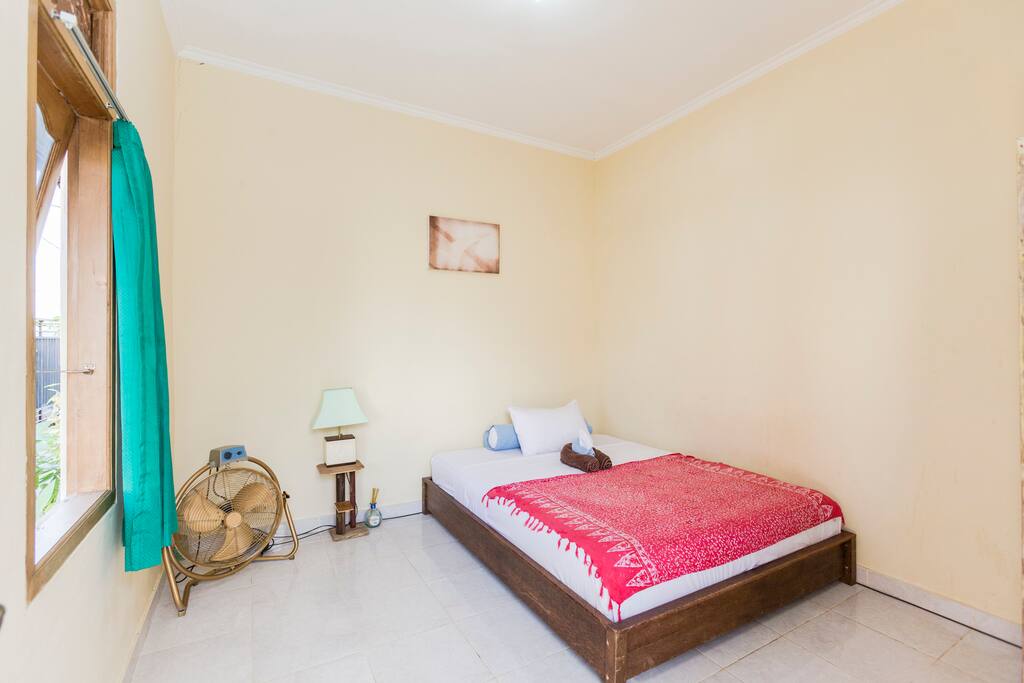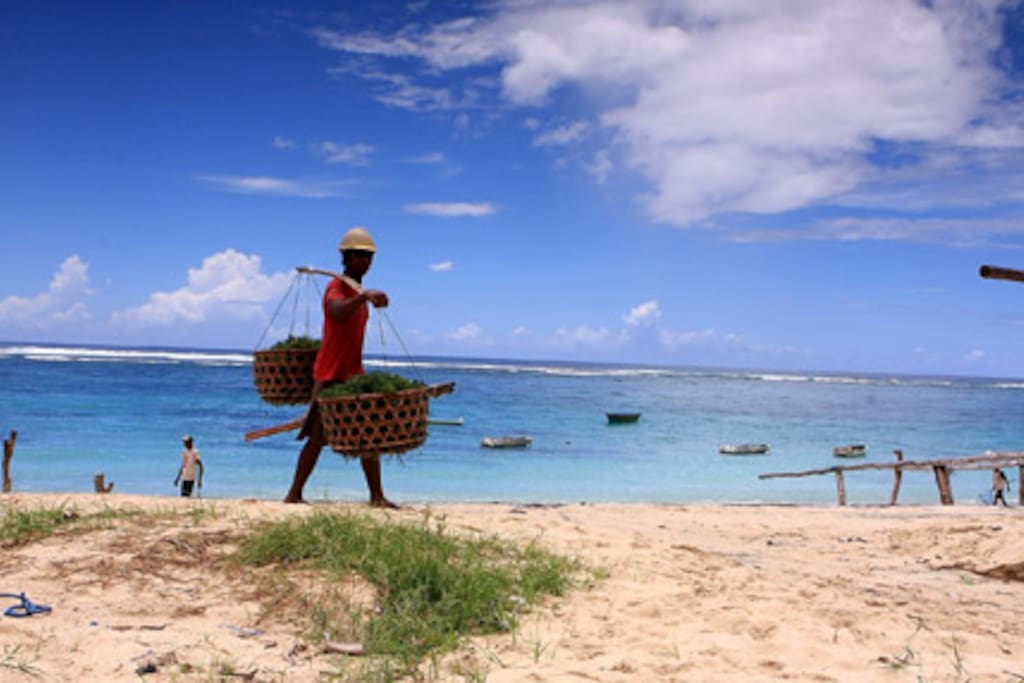 Bali's Best Beaches - Fact!
The space
A peaceful permaculture acreage located within minutes of arguably 'the most' breathtaking surf breaks in Bali; this Eco-conscious living property would be best enjoyed by travellers with the environment, nature and the culture of Bali at the forefront of their interests.
30 minutes south of the Kuta & Seminyak tourist traps is the real Bali; 'The Bukit' Peninsula's secret wonderland Pandawa beach and bushlands. Secret surf breaks, empty golden sandy beaches, and laid back villagers of yesteryear still exist here. You'll unlikely see another westerner in this entire neighbourhood; yet it's not far to all of their haunts should you wish to get amongst that too.
Pandawa beach is on Bali's most magical southern tip, 'The Bukit Peninsula', and it contains hands down, Bali's best swimming, snorkeling and surfing beaches. The crystal azure waters that wet the sand here are Pandawa Beach, Green Bowl, Bali Cliff, Uluwatu, Nusa Dua, Padang Padang, Bingin, Dreamland & Balangan.
Green Tara permaculture acreage is tickled by the cool sea breezes. It is located at the end of one of Pandawa Beach's long hilly roads leading into farmlands. When night falls, the only noises you can hear surrounding the property will be geckos laughing and cicadas singing. It is a completely private eco permaculture acreage in the making. Everyday we're setting up new composting, edible gardens, and a vista of tropical flowering plants.
When we began this Eco project in March 2013, we did it with the vision of providing an inspiring environment in order to offer our gratitude to all Bali has given and continues to give us, and everyone who comes here. Many guests have come here and begun truly transformational experience.
The Entire Bukit Peninsula is only 10 x 15 klms in radius and encased in a coral reef. So depending on the tides, winds and swell it will produce completely different surfing conditions all over The Bukit at different times of the year. We are in the prime location to access all of these places. If yoga is your thing, there are plenty of places to practise in the yoga bales at my local beach, at my property or in a daily class down the road in Pecatu, Bingin or Jimbaran.
This property is newly built, clean and in immaculate condition. It has edible gardens to enjoy, an outdoor communal kitchen and lounge / library area equipped with DVD, TV, HDMI cables and loads of awesome books.
This is nature reserve; a permaculture farm set alongside eco-friendly accommodation. It's for those of you who like getting as close as it gets to nature and Bali's culture without forsaking the majority of your western comforts. It's a relaxed space particularly suited to single travellers. You'll also get to know other chill expats and travellers as we have many wonderful friends and long term guests.
Our focus on all guest rooms is quality and eco sustainability. The fan-cooled rooms are furnished with new high quality mattresses, custom made coconut wood slat bases, and hypo-allergenic pillows and bedding. Rooms are serviced for cleanliness Monday – Saturday.
Eco House Room Rates:
1 week: USD 150 + cleaning & airbnb fees
1 month: USD 350 per month + cleaning & airbnb fees
3 month: USD 280 per month + cleaning & airbnb fees
It is very important to us that Green Tara remains a relaxed, caring, safe and peaceful environment for all who live here. What you do or who you do it with outside of the property is entirely up to you. However, should you wish to bring anyone outside of our original agreement onsite, you will need to ask permission first. The rates for the rooms are for one person only. Additional persons are charged USD 5 per night per room and should be applied for at the time of booking.
Cleaning & admin fees are USD 25 per week. All rooms, common areas and bathrooms are serviced every day except Sunday.
There is no public transport in Bali. You will need to hire a scooter or hire a car if you stay here. I organise transfers to the property and can have scooters delivered from a trusted local outlet.
A course of lessons in riding a scooter are available for USD 40 (3 lessons). If you've never ridden before, you'll need at least three days for lessons and to practise before you hit the busier roads.
Internet data for your device (Ipad, tablet or smart phone) is available for USD 10 per 5 gig. Please note: as this is a conscious living community property - we request that your usage of internet in the common areas of the property is limited. It's not a strict rule, it's a reminder to be mindful that this is a community set up to facilitate down time with yourself, connections with other humans and nature rather than constant contact with technology.
There is plenty of opportunity to be social and meet wonderful new friends while staying at Green Tara. Sometimes there's chilled music with a beer in the garden at sunset - but please bear in mind it is not a party space.
Noble silence is observed on the Green Tara nature reserve between the hours of midnight and 9 am every day of the week without exception. Absolutely no talking, laptop, phone noise, or music between the hours of midnight and nine am. This allows everyone to go about their personal business (rest, meditation, morning cuppa, yoga etc) without the obligation of mindless chatter. It gives us all the opportunity to start each day in a calm and mindful way.
If you would like to stay with us, when you apply, ensure you have a complete profile (photo, and uploaded offline Passport ID). Because this is a home – not a hotel we are looking for the right fit of people to stay here, and unfortunately we can't say yes to everyone.
Before we can offer you a space, please help us figure out if you'd be a good match for Green Tara by sending us a message letting us know a little about yourself, your plans and your interest is staying with our unique community set up. If you are a couple or two friends wanting to share, please write to us individually.
Warm wishes,
Raquel, Tommy, & Made
---
---
Extra people $5 / night after the first guest
Always communicate through Airbnb
To protect your payment, never transfer money or communicate outside of the Airbnb website or app.
Learn more
---
*Green Tara is an eco acreage. We're mindful of mother nature here. In practical terms, your responsibility as a guest is below.
*This is Bali, and it still has its share of developing community issues: there are regular electricity, water and internet outages. We have set up water catchment devices to ensure there is always access to bathing but please be mindful of the amount you use.
*We recycle and compost everything possible. So please be mindful of the quantity toilet paper you use and refrain from throwing it down the toilet - the bathrooms throughout the property have a 'delicates' hose (a miniature shower for personal hygiene), and biodegradable soap.
*You are welcome to you the kitchen as long as you are prepared to clean up after yourself including separating your rubbish between the compost, recycling and general waste. All this will be explained in person - it's quite straight forward.
*This is a non smoking property. There is a small smoking area by the entrance gate.
*By early evening Green Tara is an extremely quiet nature reserve. Guests are asked to respect the peace and tranquillity by being a part of it. Between the hours of Midnight and 9am all guests on the property are asked to observe noble silence. No talking, music, or TV. This allows everyone to sleep, have their own private space, without the obligation of mindless chatter, or noise pollution in order to sleep and go about their personal morning activities with a quieter mind.
*Internet. If you wish to purchase internet data for your phone, ipad, tablet or internet usb from a local provider, we're happy to help you set that up. Internet is available for USD 10 for 5 gig of data.
With all due respect to the wonder that is the world wide web - Tommy and I feel that social networking has become an exaggerated priority across the world creating a breakdown in human connections. One of the great things about this place is the possibility to meet, hang out, and live with many awesome humans. So to continue to enjoy natural tranquil, mindful and social environment that has been created here to its full potential, and to facilitate an easy connection with other guests and nature, we ask that guests avoid using smartphones or laptops for internet usage in the common areas of the property (gardens, kitchen, bathrooms, lounge and relaxation areas, the permaculture farm).
Alternatively, you can access a speedy internet cafe only minutes down the road from the property between 6am - 11pm. They have power points in an outdoor sheltered garden set up. It only costs 4 cents an hour and it's a great place to go surfing ; ).
*Partying. I've been lucky that I only seem to attract friendly and interesting guests. So the opportunity to be social comes naturally here. Just understand, that while sunset beers and an acoustic guitar jam session in the garden are often the norm at dusk, it's 'not' a party place. Uluwatu bars are only 15 minutes away & Krazy Kuta is a mere 30 minutes by taxi (around $20) if you need that fix while you're here.
*All guests are expected to respect the local culture of this property and the village. This allows everyone who stays the opportunity to learn from and enjoy the utter beauty this gem location has on offer, while respecting the culture of the local community.
*The Balinese cafe across the road is super friendly and serves great, low cost local food all day, most days of the week. They will often deliver your food to the house. If they do this, show the respect they deserve and clean up the utensils and return them as soon as possible.
You must also acknowledge
Dog(s), cat(s), and other pet(s) live in the house
---
---
---
Green Tara is located in a village up a hill and away from the busy streets. It's simple and no-frills but is great if you're looking for more of a home (rather than something more like a hotel). You have a communal kitchen and tables for hanging out, bathrooms are outside the bedrooms, open air at the top. Raquel, the host, is great - she organized a driver to pick me up at the airport, helped me settle in right when I arrived, gave me motorbike lessons over three days (they were extremely helpful), helped me get to internet cafes (which is not available at Green Tara), and in general was always checking in on me as both a host and a friend. She lives on site too, so she's always easy to reach and very responsive. This place has a social vibe - it's a bit like an international family, which I really loved. Many of the people staying on are there for months, or eventually return and stay for months. Also one of my favorite little things was that there's a warung (little local restaurant) across the street and they hand deliver dishes to you at Green Tara on real plates. The dishes cost equivalent to $1 US and they're delicious. It was just another helpful little thing about Green Tara. My only issue with Green Tara, which isn't their fault, is the lack of internet. Most people get hotspots on their cell phones but I can't do that, so I was a bit stranded at a few points. I did actually end up enjoying the lack of internet though - I was able to really be present when I was there. I would come back here again. Thanks Raquel and Made (and Darwin the dog)!
Loved having you stay and teaching you to ride a scooter. You were a fabulous student and a very fun guest. If internet is important to travelers, be sure to have an unlocked andriod or iphone in your possession so you can purchase data. Bali does not have stable connections where wifi is advertised as free. To avoid the stress caused by unrealistic wifi expectations - we opted to not provide wifi at all. It's also available for free just 5 minutes walk from the house.
---
It required a bit of mental rearranging to shift from frenetic Hong Kong on a Friday night to sleepy South Kuta on a Saturday morning, but Raquel, Tommy and Made did what they could to make the transition smooth for me. For everyone who's turned off Bali as a destination because of the party bucket yobbo element infesting Denpasar, rest easy; Green Tara couldn't be further away from that scene. Here, the people are still open, friendly and curious. You'll need to learn to ride a scooter, but the roads are mostly quiet and the pace is mostly gentle, and Raquel is a great teacher (she had me up and going in less than 90 minutes). Everywhere you need to go is only a short journey away - 20 minutes for the surf beaches on the east and west coasts and less than 10 minutes for the south coast beaches. Raquel will help you connect with the local shopkeepers and warung cooks, and point you in the direction of the best beaches and restaurants. Mexican-Balinese sounds dodgy as hell, until you taste the freshest mahi-mahi enchiladas you'll eat in your life. Each person comes away from Green Tara with a different experience, but it most reminded me of the best bits of my sharehouse days. The facilities are basic but comfortable, as befits a Balinese village experience, and the common areas encourage a type of sharing that I'd almost forgotten about: of food, drink, information, stories and friendship. There's ample privacy, but also the chance to round up a posse and enjoy a lazy beer under the moonlight at an empty beach, or help Raquel score grammar games with her local ESL classes, or to share cultural insights with Tommy and Made.
---
Green Tara is a home away from home. What I found within the walls was a tranquil oasis amongst what can sometimes be described as a hectic Bali. Raquel is somewhat of a mother providing a not only a clean place to stay but also an open ear for all manner of conversations. She is also a great source of wealth if you want to get the low down on all the best local places to visit - massages, beaches, food and day trips. Tara is a beautiful work in progress of what can be achieved when someone wants to try and make a meaningful existence to the future of this planet and the impact we all have on the environment. The gardens might not be finished but you can see the potential in what Raquel and her team are trying to achieve. I highly recommend taking the time to chat to Raquel and Tommy and hear about their plans for the place. If your fortunate enough you'll be there on a day that Raquel teachers the local kids English classes. The closest beach was a short scooter ride through the local area and what lay at the end of that ride was a jaw dropping beach that can only be envisioned in screen savers that make you dribble over your keypad.
---
Wether you need to wonder at the stars, watch the sunrise at the beach, go party with the friends you'll make here, learn surfing or find the light within yourself, you will most certainly find the structure and support for this at Green Tara. This place is clean. The bed are comfortable for sleep and cuddling. You have fast access to quiet or crowded beach. The food accross the street is cheaper than a "baguette" in Paris and definitely good and tasty. I have spend 2 month of emotionnal and spiritual awakening at Green Tara. Green Tara provided me the space to find back and experience my true self, with love and wonder. My experience here changed me forever. I invite each of those who reach this page and this post to follow their heart... And may it leads you here. "Close your eyes. Fall in love. Stay here." - Rumi
---
This is my second time staying at Green Tara, but not my last time! This permaculture farm is peaceful and quiet, lovely and makes me feel like home. Everything about the property is beautiful, the rooms, the garden, the chilling area, the local restaurant across the street and the whole location itself.The location is good, quiet and local. The cleanliness is taken care by Ketut who cleans your room and the property everyday, except on sundays. Tom and Raquel are always willing to help if there is something you have to ask about and longterm guests are also very helpful. Manta the private driver will drive you wherever you want to go or you could rent a scooter if you are only exploring the nearby area, well you must rent a scooter anyway if you ask me :) If you are looking for a peaceful and nice place to stay near the beautiful beaches of Uluwatu, Green Eco Tara is the place to be.
---
My stay at Green Tara began by attending an event run by Raquel at the farm for some local artists to get there work up on a wall at the property. It was an amazing event and the night was the perfect introduction to see the passion behind the project and to get to know the community. I was planning on staying for just one night…but after being immersed in it all for only 24 hours, I completely fell in love with everything this whole concept was about. And so I ended up there for 2 months! I don't have enough words in the English language to describe the value of having stayed in this incredible place. It is difficult to express something to be read, which can only really be felt to be understood. I had the most richly engaging interactions every single day, with guests, friends of Green Tara, village locals and tourists alike. What I learnt there I will carry with me for the rest of my life, from the environment, permaculture, Bahasa Indonesia, motorbike riding, eco-tourism, surfing, the culture of Bali… and most of all about myself. I truly feel that Raquel, Tommy, Ketut, Ika, Made and Kadek are some of the most genuine and kind hearted human beings I have ever met. And that is the thing you get when you stay here. It is human, it is connection, it is joy, it is family and above all else it is fun. All of the guests I met will be in my heart forever and I feel that I have formed some valuable and lifelong friendships. If you are looking to escape on a journey of truth; to see the island of Bali in all of its many facets and to delve into the culture in an authentic and mindful way. I couldn't recommend a stay at Green Tara more highly. Not to mention that the local beaches are the absolute best on the island, the beauty of The Bukit is unparalleled for somewhere so liveable and with such an awesome vibe throughout the whole area. The things you will come away with from this magical pocket of peace, away from the hustle and bustle of the outside world, will not only stay with you forever in the memories created but in the practical application in your daily life upon coming home. I truly look forward to going back to Bali, to see my beautiful friend Raquel, and to the home away from home that I have found in this amazing place. With all the love and thank you's in the whole universe!! xxx
---
Excellent Place. I loved the more authentic atmosphere of the village, the beaches and the town around. Some facilities are a bit basic, but it is all with heart. Beds were new and great. The Host Raquel is excellent and will help create an awesome experience for you. Our motorbikes where ready when we arrived, we could get into action immediately. Also, the Warung Nur Jaya across the street is honestly the best value I found in Bali. The owners, Made and Kadek are the sweetest ever. And if you want to know a bit more about the real Bali, they are excellent in telling you about it, while you enjoy a great soup, noodles, fried chicken with a TehBotol. We stayed here a month, Jeroen PS: If you want a more Western Breakfast sometimes, I recommened Cafe Moka. Just ask Raquel how to get there.
***Dear readers, this review relates to the beachside property I live at in Pandawa Beach village - The Bukit - Bali. You can find it through this link. https://www.airbnb.com/rooms/859333*** Dear Jeroen, I've appreciated the company of all my long stay guests, but sometimes you just meet a person, and you know somehow that you're already spirit siblings. That's how it was for me when I got to know you, brother. Thanks for being you.
---
Writer, nature loving, people ponderer. I live on an amazing eco property in Bali's far south with my Balinese family. We're creating a tropical permaculture farm here. These days I spend most of my spare time planting seeds - both literally and metaphorically - with my Balinese partner Tommy, who grew up in nearby Uluwatu. I bought a motorcycle and named her Phylis. She gets a lot of attention around The Bukit. And rightly so - she's pretty hot.

I have listed three properties on Air BnB.

1. The place where I live - Beachside Permaculture farm & villa

2. My friend Pakir's family compound of 5 self contained studios in Ubud.

3. My Balinese family's beach shack - a guest house directly on the beach.
Languages:
Bahasa Indonesia, English, Italiano
Response rate:
60%
Response time:
within a day
Explore other options in and around Bukit Peninsula
More places to stay in Bukit Peninsula: