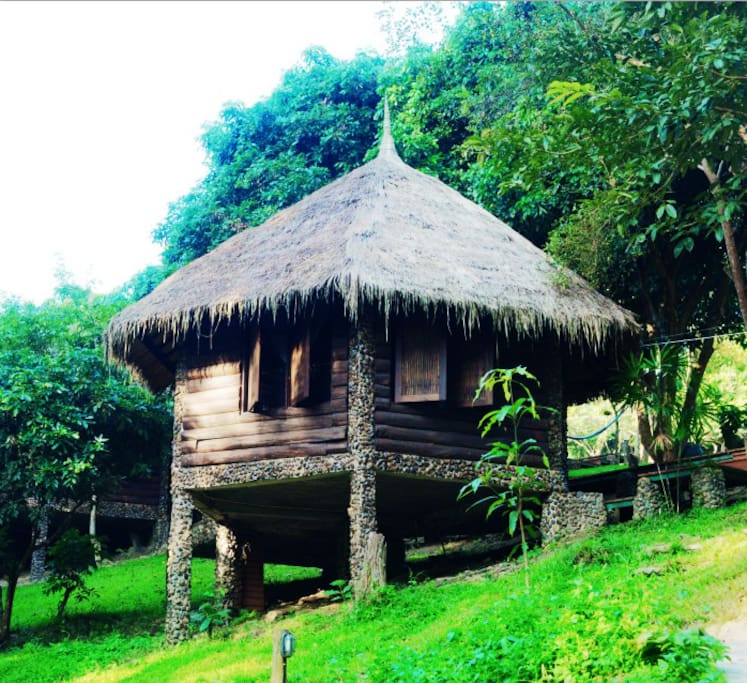 About this listing
By choosing The Chai Lai Orchid eco-lodge, you are helping us to rescue 11 elephants, including 4 babies. We offer a humane elephant experience including baths, bare backing riding and lots of bananas! You can book day trips or stay overnight.
---
Room type: Entire home/apt
---
---
---
By choosing The Chai Lai Orchid eco-lodge, you are helping us to rescue 11 elephants, including 4 babies. We offer a humane elephant experience including baths, bare backing riding and lots of bananas! You can book day trips or stay overnight.
Beautiful and cozy Thai style bungalows offer the ultimate private mountain experience. The hut features traditional grass roof, high quality mattress and linens, mini-bar, mosquito net, fan, and a small private patio.
Here you can spend your days interacting with elephants — playing, feeding, and bathing them. Cool off with an afternoon swim in a fresh mountain water pool. Ride down the river in a bamboo raft, or simply float away in a tube without a care in the world. Go trekking on endless trails that lead to secret waterfalls, beautiful vistas, Hill Tribe villages and hidden spots unreachable by car. And at the end of the day, come gather around the fire pit (in the winter) and experience local Hilltribe music and dance performances that date back generations, while gazing at a sky full of stars.
Price includes 1 per person American or Thai style breakfast in our cafe which is open everyday form 730 am to 9pm.

Check out all the listings for Chai Lai Orchid here:
Kinnari room / air con / 3 beds https://www.airbnb.com/rooms/12769214
River view / air con / 1 bed + extra cots https://www.airbnb.com/rooms/860460
Cozy jungle room 1 bed + 1 extra cot https://www.airbnb.com/rooms/870287
Cozy river room / air con / 1 bed https://www.airbnb.com/rooms/859569
Large riverside room / aircon/ 1 bed + extra cots/ https://www.airbnb.com.sg/rooms/855537
Elephant View Room 1 bed + extra cots https://www.airbnb.com/rooms/3534025
Lanna river room 1 bed + extra cots https://www.airbnb.com/rooms/857166
Chai Lai Nature Bungalow 1 bed https://www.airbnb.com/rooms/856019
Serene Bungalow 1 bed https://www.airbnb.com/rooms/853538
Bamboo Bungalow 1 bed https://www.airbnb.com/rooms/950257
Balcony Room / aircon / https://www.airbnb.com/rooms/12771139
Sunshine Room at Cafe and Elephant Camp https://www.airbnb.com/rooms/15224676
Family bungalow for groups with 10 beds/ air con/ https://www.airbnb.com/rooms/13285954
Free WiFi in cafe.
Guests are an important part of Daughters Rising job training program because they are helping the girls hone their English and hospitality skills through real world experience. The front desk is open 7:30 am to 9pm to help you with any questions and to book tours and activities. Thank you for supporting our program.
Our little corner of Thailand is unique. We are surrounded by hill tribes, elephants, a river and little outdoor shops. You can grab a beer with locals at a Thai BBQ stand or spend the day hiking to beautiful waterfalls. However you decide to spend your time here, this beautiful place has so much to offer!
We are located in Mae Win, Mae Wang, 1 hours drive from the Chiang Mai. Airport pickup can be arranged in advance. Nearby attractions include several waterfalls, the Hilltribe villages, Buddhist temples, bamboo rafting, trekking, mountain biking, and of course the Doi Inthanon National Park with the highest peak of Thailand.
Promoting the Humane Treatment of Elephants
The Chai Lai Orchid is also social business working to promote sustainable tourism and kindness to elephants.
Currently, the elephants next to our eco-lodge are owned by a local man who partners with tour operators from Chiang Mai. During your stay you may witness these tours in action and see first hand the elephants being ridden with chairs. The Chai Lai Orchid does not endorse or support this practice - rather we create an opportunity for our guests to love, feed, bathe and ride these elephants bare back.
We recently launched a campaign, Dollars for DeeDee (and friends!) to rescue these elephants. Your stay at the Chai Lai Orchid helps us move closer to our goal of purchasing these elephants, renting or purchasing a grass and corn plantation to feed them, as well as providing fair wages for the mahouts. If you would like to learn more and get involved, visit our website!
The Chai Lai Orchid - A Partner of Daughters Rising
The Chai Lai Orchid is a nature retreat nestled in the mountains of Chiang Mai, Thailand. A partner of Daughters Rising, The Chai Lai Orchid is a safe haven for women at risk of trafficking to live and work. The profits from your fund Daughters Rising's education and anti trafficking programs.
Many of our trainees are refugees from Burma in Thailand, human rights are never explained, let alone experienced. An apprenticeship at the Chai Lai Orchid provides a work permit, hospitality training, language classes and guaranteed payment. Most importantly, girls are given lessons on women's and worker's rights.
With the ability to earn a living, confidence in their new-found skills, knowledge about their rights, women at the Chai Lai Orchid are empowered to escape poverty, live a life of dignity and see a future filled with hope and opportunity.
We appreciate your patience with the women during your stay as they are all learning English as a third or fourth language! To learn more about Daughters Rising and the women you are helping support, visit the Daughters Rising website.
---
Elephants are powerful wild animals. In the interest of safety please only approach an elephant when accompanied by a mahout.
Smoking: is allowed in outdoor spaces but not inside the rooms. We ask that you help take care of our little slice of paradise by placing trash in the proper receptacles and cigarettes in designated ashtrays.
---
Flexible
Cancel up to 24 hours before your trip and get a full refund, including service fees.
---
---
---
Exact location information is provided after a booking is confirmed.
Alexa and all the female staff were so friendly. We got a free room upgrade upon arrival since most of the rooms were empty that night. This is situated in nature so expect to hear loud creatures at night (nothing disturbing but might be distracting if you're a light sleeper). We did the two-day trek/elephant experience offered by Chai Lai, so we spent one night at a Hill Tribe village and second night at Chai Lai. This was definitely the highlight of our trip to Mae Wang!
---
Taking a tour through the jungle with all the interesting plants from nature where overwelming. A very nice place where it's quiet. Riding on elefants without a chair was fun and the rafting made out of bamboo was very fun and all the people were sooo nice. Two or three days staying there was fine. The drive to the next City is approx. 1 hour.
---
Playing with the elephants was the best part of our stay. When we first arrived we did feel that it was a bit disorganized. No one really explained much to us and we kind of just had to figure out the plans ourselves. They say it's an "elephant sanctuary" but it's hard to believe when you see all of them chained up with ropes around their necks. That was such a terrible part of the trip because I feel it was a bit of false advertisement on their part. My boyfriend and I decided to do the overnight stay in the village where we would live like the Thai villagers. We ended up sleeping in a pretty big house with a Thai family that had a flat screen? We felt like it was again.. false advertising. I mean the house wasn't all that great but in the ad it said to expect no running water or we really were upset that we didnt get the full experience in which we paid for. I found the food to be pretty delicious & the bungalows to be very relaxing. I enjoyed the seclusion of the place it was very peaceful. Apart from some frustrations, we were able to create several unforgettable memories with some of the Thai villagers we trekked with and others who stayed in Chai Lai.
---
We arrived there after LonelyPlanet indication, TripAdv and AirBNB reviews, and also all texts from their website. At first I did not want any tourism involving animals in captivity, but all reviews and the self-definition on the website itself made me change my mind after all we would be helping an Nonprofit that benefits refugees especially vulnerable women and, according to Alexa, boycotting tourism with Elephants would not be the best way. But I will relate my experience: 1 – The hotel: everything very simple, almost no comfort, but we expected something like that, so that was not a problem, although the pictures all look a little better than reality. 2 – Staff: this was the only positive point that we can see, because the girls who work there are very caring and friendly, and according to the site they are instructed by Alexa's Nonprofit. The mahouts do not seem very friendly, with very commercial appeal (justified by the need to sell their services). Alexa is not friendly, gave us the impression she wants minimal interaction with guests, which can be justified by the fact that the girls are in training and so it is important that they have the maximum interaction with the guests, but we view it in a negative way because we find everything very disorganized, no one can explain the programs properly, nor do they present the supposed work of the Nonprofit, we felt displaced all the time, and my initial intention to make a donation to her Nonprofit disappeared, because nobody was available to explain anything to us unless we paid one of the expensive programs with elephants. 3 – Elephants: from what we could understand the elephants all belong to a neighboring camp that can share the space with the Alexa's hotel, so whenever someone reports on the internet they have seen some bad treatment Alexa always argues that she does not have elephants. What we could see was that the animals work at least from 8:00 AM to 5:00 PM uninterrupted, and here are the differences: the same animals can work for programs sold by Alexa or sold by others. Vimos os mesmos elefantes com cadeiras transportando 3 pessoas (mahout + 02), a única diferença é que ao trabalhar para programas de Alexa eles só levam até 2 pessoas sem cadeira. This goes against the immense texts sold by Alexa in their media, and we think this totally dishonest! We feel cheated. We were very upset! I know she'll probably respond with something about "western imperialist thought," "horses in the west," etc ... but what she does is just treat her slaves a little better. That is not enough and it is not ethical! Alexa is also accomplice of those who sell tours in chair by your area and mistreat the animals. We had no interest in riding elephants, nor did we think it's necessary, we just wanted to be in a place in the jungle contemplating the presence of the animals. Watching...
---
What an awesome experience! I have never experienced being awaken by elephants before, but so cool! The girls who work here are awesome, the food is delicious and the elephant handlers friendly! If I return to Chiang Mai, I will definitely come back here! Our hut was a lot like Glamping, a tad rustic, but, with a good bed and bathroom! Our nights and mornings were cool, so keep that in mind with the huts. It was fun having extra time with the elephants when they weren't working. If you don't mind the mountains, rustic environment, this is a great retreat away from the hustle and bustle of the city!
---
Wow! What a highlight of our adventures around Thailand. Beautiful bungalows and a unique and wonderful environment. We booked the full day tour, which included a trek, swim in waterfall, bamboo rafting, washing elephants and riding them- definitely recommend this, it was amazing! Food and drink prices are a little more than in the cities, but well worth the extra pennies for the memories you'll make!
---
Mae Win, Thailand

·

Joined in May 2012
We are the Chai Lai Orchid team and we are happy to welcome you to our home 3
We live at an elephant camp and is also a safe home for refugee and ethnic minority women. It serves as a vocational training program where staff are paid to learn hospitality and also taught to be mentors and leaders in their own communities. Proceeds from the eco lodge fund Daughters Rising.

Our style of hosting is to treat guests like family so they can explore the real amazing and beautiful Thailand, beyond the typical tourist experience.

Response rate:
100%
Response time:
within a few hours
Explore other options in and around Mae Wang
More places to stay in Mae Wang: