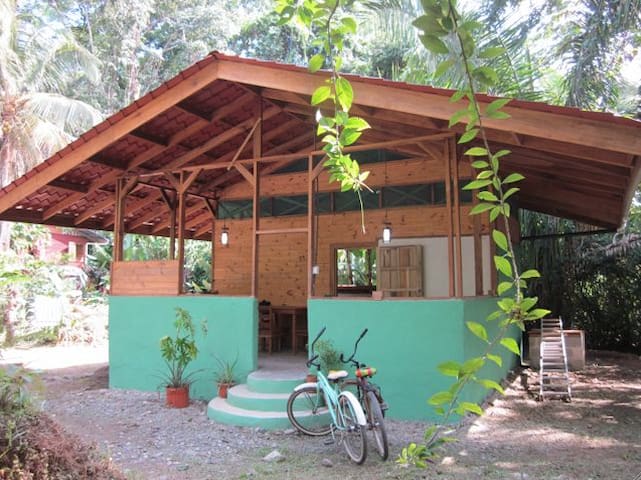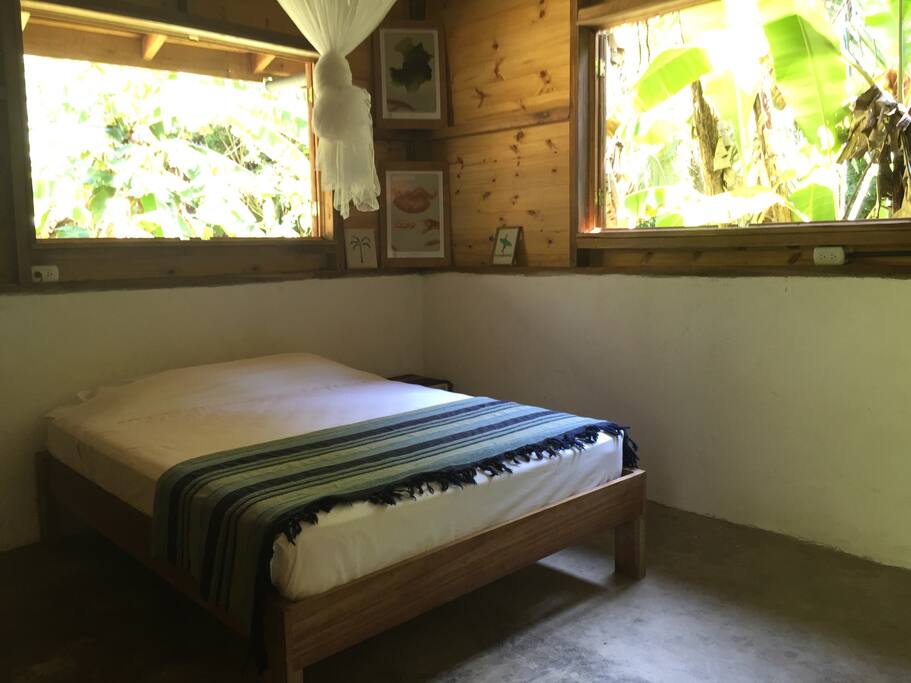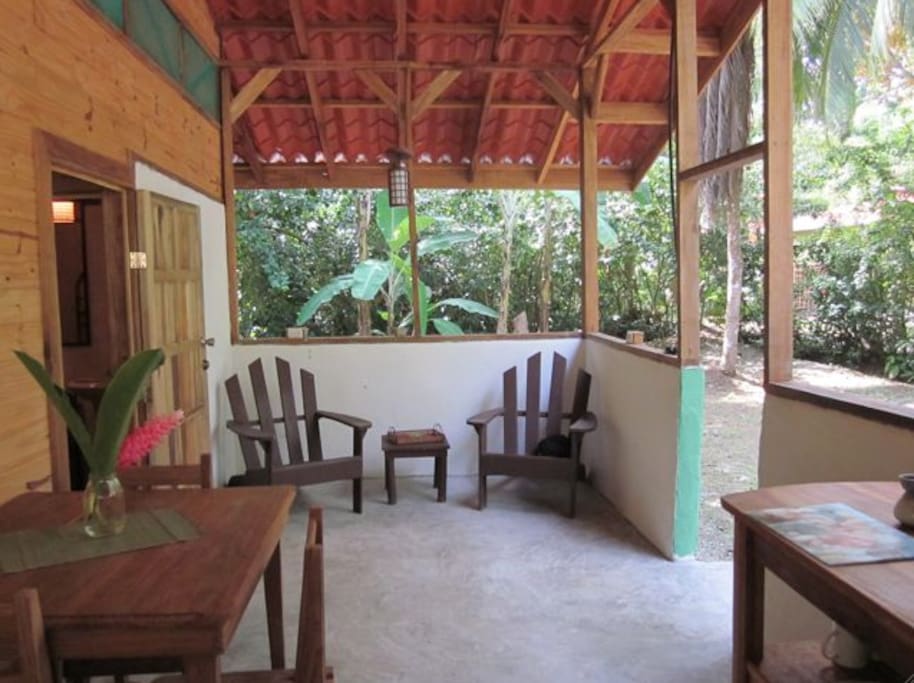 Relaxing Jungle Cabin by the Beach!
Cabina Caribe is the perfect cabin for two. It is part of a beautiful and private neighborhood nestled at the foot of the majestic Talamanca Mountains. You are in the jungle, yet only a 3 minute walk to the most beautiful beach on the Caribbean.
---
Check In: Anytime after 2PM
Room type: Entire home/apt
---
---
Always communicate through Airbnb
To protect your payment, never transfer money or communicate outside of the Airbnb website or app.
Learn more
---
Please don't bring the towels to the beach. Respect the neighbor's privacy. Always lock doors and windows at night and when you leave the premises. If you leave food out, you may get visitors.
---
Strict
Cancel up to 7 days before your trip and get a 50% refund. Cancel within 7 days of your trip and the reservation is non-refundable.
---
---
We stayed at Mat's place for about a month an a half. The location is great, but I would not recommend this for long term stays. The host takes about 3 days to respond anytime you reach out to him, there was no wifi for 2 weeks, and it took almost a week to get more propane for the stove because Mat and is employees do not communicate at all. The description stated it had warm water, yet the water was freezing cold every time we took a shower. We got used to it so that wasn't that bad, but if freezing cold showers are a problem for you, you may want to reconsider. The description also claimed to have multiple fruit trees but the only thing there were 2 plantain trees. No bananas or passion fruit. The house had mold everywhere and the screen along the roof of the house had so many holes in it that bugs and rain would get in. We obviously knew there would be bugs, but the place was nearly infested with roaches and other bugs. Which we figured would be fine since there was a mosquito net around the bed, but even that had holes all over it too. The biggest issue for us was the construction. About a week into our stay they started cutting down all the trees surrounding and providing privacy for Mat's place. We no longer had any privacy between us and our neighbors and the loud machinery was heard all morning long. Mat seemed very nice, but he does not know how to act as a host. He seemed to have completely forgotten that he even had that responsibility. Overall I would not recommend this for anything more than a few days.
---
My husband and I travel and use AirBnB all the time. We have probably stayed in close to 50 or 60 AirBnB's over the past several years while working and traveling, and love using AirBnB bc you get the local feel, which we understand sometimes means you deal with some issues. However our experience at this place was not the best. Mat was great to work with and communication was good....but unfortunately the cabina was not what we thought it would be. We've never really left a negative review, but it's important to be honest for prospective guests, and hopefully Mat will make some improvements. The Cabina itself is located in Cocles which is a great location. It's a short bike ride into town, right by the best surfing beach, and centrally located so you can quickly bike to all that this area has to offer (Punta Uva, Puerto Viejo, even Manzanillo). We stayed here for 1 month and we really loved the location. However you're not as secluded as you might think, since the closest restaurant/bar, Tasty Waves, is only about really close, and REALLY loud on certain (URL HIDDEN) is fun.....but loud when you want to sleep. There was a fan so that helped block the noises, but still you'd like to fall asleep to jungle sounds.....not bad karaoke. -The check in time is not accurate. On AirBnB it says 2pm, but when you arrive Mat asks you to call Amilee, the person who helps with any issues and help you check in, and she told us it would be ready around 5:00pm. She ended up getting us in around 3:30pm. So you'll need to find a way to make phone calls immediately and then you'll find out when you can check in. - The kitchen is not very well stocked. We asked about this ahead of time bc we like to cook, so we thought we would have everything we needed, but we didn't have some basic essentials. We had to buy a few things ourselves and Amilee bought a few other things we needed. These were basic items like a cutting knife and a spatula.....nothing (URL HIDDEN) they should've already been there. And Amilee found a few additional items for us as well. - We had a constant water leak from the toilet and the kitchen sink. So we had to turn the water breaker on and off constantly to avoid the leak. We had to use towels to clean the leak and doing laundry in CR is very expensive so that was frustrating. - The bed is SO uncomfortable! You can feel the springs every time you move and you can always feel the other person move. We slept horribly the entire time. Thankfully I brought my own pillow because the pillows were so tiny. They were slightly bigger than the pillows you get on an airplane. My husband ended up using the small pillow and a folded blanket under it to try to make it...
---
I absolutely loved Mats place! It was a 2 min walk from my yoga school (Passion Yoga school). It is a 20 min walk into town, or a 7 min bike ride. I advise you to get a bike. They were for rent $80 for a month, however I did see cheaper later on. The beach is a 3 min walk from the cabina. There was wifi!- the wife throughout the city is a bit iffy, so sometimes connection can get lost.. but don't worry, you are in the beautiful jungle- so enjoy it. The stove was gas, you need to manually light it. The cabina runs on rain water. I was there for nearly a month and never ran out of water, but I've heard it can happen. Make sure to check out Tasty Waves. it is approximately 2 min walk from the cabina, they have wifi there as well. If you are being dropped of by shuttle, I recommend you to give them Tasty Waves or Carabeans (chocolate shop) as a land mark. A few of my favorite restaurants: Art cafe (vegan/ vegetarian), Chili Rojo -get the coconut curry, Bread and Chocolate. All of these restaurants are just in town (7 min bike ride from cabina). All in all, my 1 month stay in this rustic cabina was all I hoped for. We had all the dishes we could need, extra sheets, extra towels, privacy. The hosts and property manager were very helpful in complying with all my requests. They even had a fresh jug of water waiting for my when i arrived. There are bananas and coconuts on property- delicious! Also there was a stray cat, who is pregnant. Bring a flash light!! if you are lost when you get there, if you see the signs for Casa de Perla, you are in the right place. Hope i could help you make your final decisions on booking!!
---
Okay for a short term stay, would not recommend for long term. We had no toilet paper until we were able to go to the store the next morning and purchase ourselves. No hot water until the maintenance guy was able to come the next day and replace the device. We had to clean the entire kitchen and all pots/pans since they clearly had not been touched/cleaned in months and had layers of cobwebs. A family of squirrels/rats live in the ceiling, so each morning wake up to critter poop in sink, on luggage, on table, etc. No sort of welcome packet with info like wifi password, location amenities, etc. No bikes (listing has since been altered to say they are not included). The safe is not functioning, the key is broken off in it. We went 3 non-consecutive and 2 consecutive days without any water whatsoever. Only 4 towels provided for 2 people for a month-long stay, no laundry/clean towel swap offered. We contacted Mateo about these issues and he offered a partial refund, which we have yet to receive. PROS: Amelie, the house manager, was very kind and accommodating, always available when we reached out with issues. A very loving calico cat adopted us and stayed the whole month with us. We named her Sunshine, if you stay here please give her love from us :)
Leslie, I want to thank you for your stay and for your honesty. I whole heartedly apologize for every inconvenience and, in spite of them, I hope you enjoyed Puerto Viejo. I appreciate your candor and will heed your constructive criticism to make sure that these problems don't happen again. I sent you a private message to give you the partial refund and I am still awaiting your reply. Much gratitude, Mat
---
What a great place to be. The simple living. The unhurried pace. The fresh fruit every day is fantastic. The people are fun, friendly, helpful. The beach is beautiful and hearing the waves crashing at night can't be beat. The cabina is rustic but very much, all I needed. Having the bike was a great feature. Very good experience for certain!!
---
I am an artist, designer and entrepreneur from California. I love to surf, read, learn new things, cook and eat fresh, healthy food from sustainable local farms. I have a new tech company called Local Food Lab, an online portfolio site for food and farm professionals.
Response rate:
100%
Response time:
within a day
Explore other options in and around Cocles
More places to stay in Cocles: