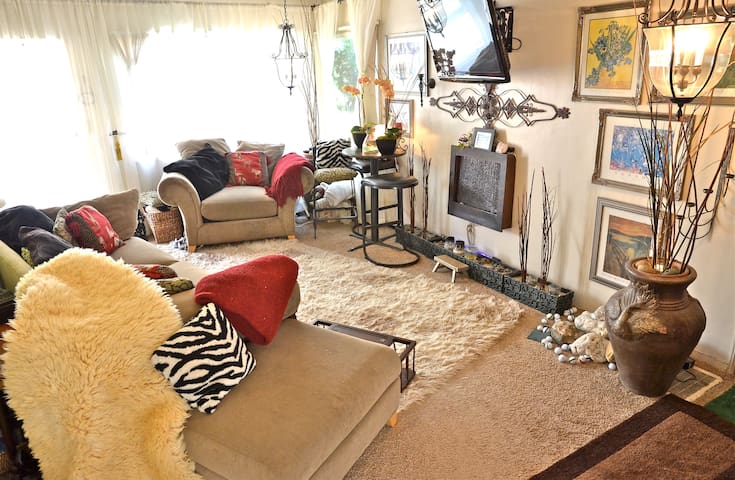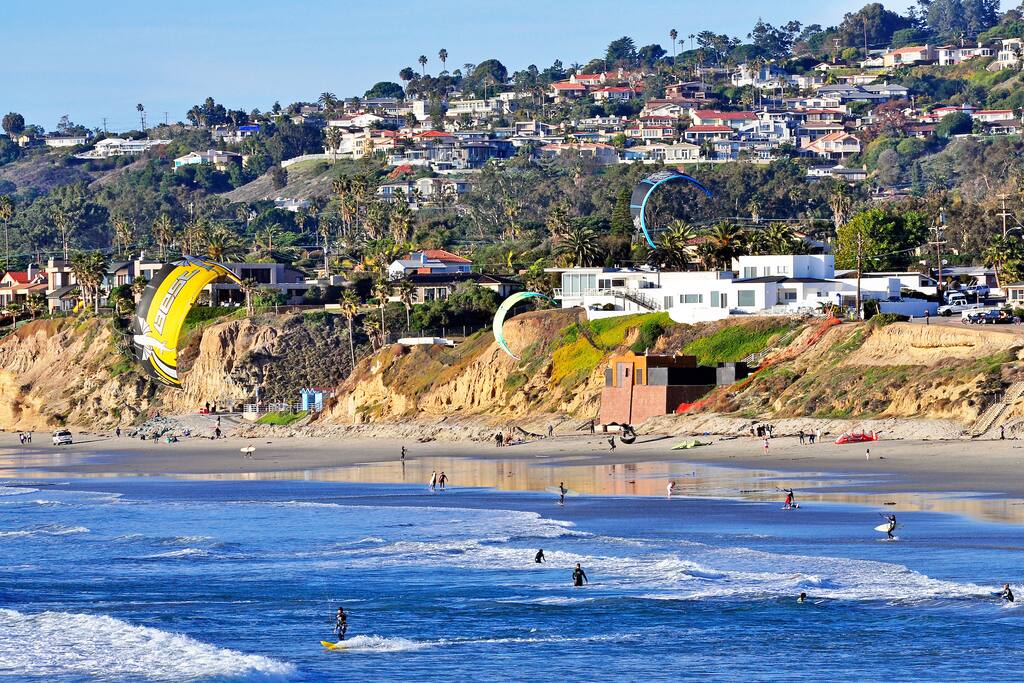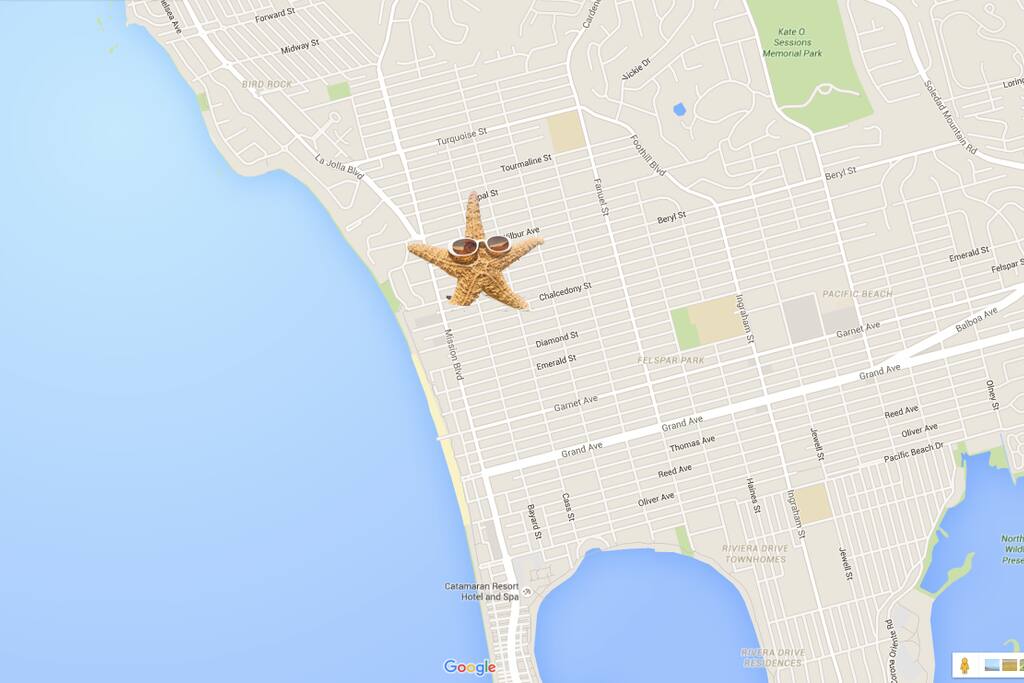 Private room
2 Guests
2 Beds
About this listing
DISCOUNTED deposit only $100
ONLY houz by beach sleeps 5 guests
BEACH VACATION: 4 blks from sand
Ocean Breeze *extra rooms avail.
Breakfast/bike (ask)
Free Parking
Int'l 50 reviews
*Online 24hrs
Extra guests? Read below b4 $booking
---
Check In:
Anytime after 4PM
---
Kitchen
Space where guests can cook their own meals
Essentials
Towels, bed sheets, soap, and toilet paper
+ More
---
---
The Space
$30 Cleaning fee charges apply, as explained below (2-step process)
EXTRA GUESTS? **ATTENTION: IF YOU'RE BOOKING FOR MORE THAN ONE GUEST:
Starting today, I'll be able to provide you extra savings by accepting payments for "extra guests only" through the Airbnb resolution system, prior to your arrival. This way, price for each additional guest after the first (you) is only $20/per day. Total price to reflect these changes will be sent to you after your confirmation (ATTENTION the initial quota does not reflect the total for the extra guests.)
For example, if you're booking 1 night for 3 people total (including yourself): The initial quota will only reflect price for one adult (even if you request for 3 guests). Immediately after your reservation email, Airbnb Resolution Center will email you the total price for the additional guests, so you can pay it separately (yes!! two separate transactions with one benefit: payment through resolution center does not incur any fees, etc).
Different, right? Absolutely! But if you want to save money ... this is the only way you'll get NO fees (ZERO) on this second portion of your reservation.
Explanation in details:
Final total payment for your reservation includes: steps 1 & 2 (below)
1) First process: pay for yourself only (test/confirm it: even if you select 5 guests or 1, the quota/price for 1 adult or 5 will look the same because extra guests are only charged in the second process);
2) Second process, pay Airbnb resolution for extra guests (different system): charge for the 2 extra guests will only occur now. In this hypothetical example of 1 night for 2 extra guests (3 people total), the second total (total for extra guests only) would look like this:
$40 ($20x2 guests)
$30 cleaning fee
Total $70 ***free of fees and additional charges
If the reservation was for 2 nights:
$40 x 2 (nights) = $80
$30 cleaning fee
Total $110 ***zero fees and additional charges
Additional Remarks:
-Always looking for thoughtful guests (discounts apply)
-End of Summer last minute GROUP/COUPLE SPECIAL.
-Contact me for details. I'm online almost 24 hrs.
-Traveling to San Diego? Don't worry if Airbnb says "DATE NOT AVAILABLE." I have several other rooms and properties to accommodate your needs.
-Additional guests (each) will be charged $19/day at arrival. Cash only, please.
CONTACT ME to get your $$$SPECIALS now:
*Each BEDROOM = 1 cozy room with:
-1 Ikea Queen bed (sleeps 2)
-Available: 1 Additional Ikea futon mattress (as needed, parties of 3-4)
(at no additional cost, bigger groups will be split into the living room for more comfort and space)
*LIVING ROOM = 1 cozy common area available with:
- 1 Sleeping bag, couch, and/or air mattress *as you prefer
____________________________________________
IMPORTANT. DreamHome has:
-Two different listings/ CALENDARS
-Two beds (one for each bedroom)
*each bedroom must be booked separately
-Laundromat right on the corner
-Map/convenient location: www.airbnb.com/rooms/268556/guidebook
Travelers & International Friends ...
Welcome into a unique space ... The Ultimate Coastal-Cottage-Like BnB!
Step into Nature itself ... and let candles, rocks, sand, wood, water and natural elements in the surroundings elevate your soul into a world of earthy creation. Tropical, bohemian, and downright cozy ... the decor is a bonus, inviting your mind to wander ... as you discover little treasures and keepsakes from my adventures around world.
Long-term guests ...
Hello there!
Are you excited about coming to San Diego, California, in the pursuit of your dreams? Are you going to UCSD, SDSU or any other university? Looking for easy approval and a safe place to call home? Are you between 20-35 yrs old? Polite, clean, with high EQ and good values?
Let me guess, your ideal place is near to the beach but relatively close to the campus ... and you don't know where to find a great place to stay?
Would you like to live by the beach in a place that is perfectly peaceful, amicable, and joyous?
-Hi! I'm a young MBA student and professional female, who is seeking to share my "Zen Dream -home by the beach", with a friendly guest. I moved to San Diego about 15 yrs ago and I've been enjoying meeting people from all over the world -I've traveled to Europe, Latin America, Asia and Africa (some places more than a few times). Besides, I've lived with roommates from all over the world: Swiss, Norwegian, Swedish, German, Danish, Ukrainian, Greek, French, Italian, Dutch, Japanese, Indian, Saudi-Arabian, Colombian, Brazilian; and the list keeps growing ...
I am very peaceful ... I am studying for my MBA ... I love sharing the house with well-traveled individuals sharing similar interests ... I love culture (I have a Bachelors in Tourism) ... I love being healthy and sharing good values ... on my free time, I help several organizations with fundraising and community activities.
This is the ideal home to chill out, perfect for students, chill cool people, and young and adventurous travelers. Students ... study while enjoying the rewards from living by the beach, in a very calm and convenient neighborhood such as North Pacific Beach -walking distance from coffee shops, the beach, restaurants, etc. ...
You are this close to be:
LIVING BLOCKS FROM THE BEACH, around friendly and nice people; studying in a very quiet and lovely home; walking and/or biking to the beach to exercise; going out for coffee or food in one of the several nearby coffee shops and restaurants anytime you need a break or sunshine!
BEST SUNSET VIEW of PB: while driving towards the "Zen Dream -home by the beach", you can see the Ocean and the S.D. Bay all together! Have you seen the "Green Flash"? Beautiful view from the Cliff at the end of the street! (Kite-surfing spot)
BEST NIGH LIFE of San Diego: just a few blocks from the main street, you can save lots of money on taxis.
Lifestyle is really important for most of us ... and a friendly environment can certainly make a difference
If you like most of things you've seen here ... and are open to tell me more about yourself ... This might be your chance to experience this like-SPA charming DREAM HOME!
ADDITIONAL DETAILS:
***KEY LOCATION: north PB/Baja La Jolla ... just a few steps from the beach, coffee shops, post-office, restaurants, grocery stores ...
Ranking between #5 and #7 on (URL HIDDEN) this area is very walkable, which means most errands can be accomplished by bike or foot. That being said, you can bike or walk to:
*several nearby coffee shops and buy groceries at Magic Market or Albertsons.
*countless nearby restaurants: Tacos Mi Rancho, Turquoise Europe Bistro, The Fishery and Blazin Grill (allowed to bring your own wine).
*quite a few nearby parks: Palisades Park, Tourmaline Beach Park, Kate Sessions Park, Belmont Park, Mission Beach Park, Mission Bay Park.
*Tourmaline and Turquoise for shops and great surfing spots
*four nearby bus routes. The closets transit routes are the Mission Blv. and Wilbur Av 30, The Felspar st. & Mission Bl. 27 and the Mission Blv. & Felspar st. 8.
*the 7-Eleven convenience store and laundromat -they are right on the corner, just a few seconds/steps away.

ON THE MAP: restaurants, stores, attractions, etc
https://www.airbnb.com/rooms/268556/guidebook
Less than 10 min. away from golf course/tennis courts, SeaWorld
***EXPLORE YOUR DREAM HOME: Furnished, Comfortable, and Affordable Home Students Free of Back-ground check, credit history and renters fees!
FEATURES:
Fully-Furnished & Newly Remodeled
2 BR/11.5' X 12.5'/Large PB closet
Balcony/Two entrances/2 Off-Street Parking/lots of street parking
AMENITIES: Bar, Dart Board, Putting Green, Pull-up Bar, Back-Yard
Brand-NEW carpet and Beautifully designed furniture
Brand-NEW Kitchen
Brand-NEW Bathroom
FUN! FUN! FUN!
Bar settings/DartBoard/Pull-up Bar/indoor, outdoor Putting Green
Backyard, outside table/chairs for meals/breakfast
Wireless Net (WIFI)/ 50" Flat Screen / Apple TV. Are you a movie lover? Me too! Netflix included!
***MEET ME:
Organized, Easy Going, Young Female
No Drugs/No Pets
Student/Professional ~I carry both a double degree in Civil Engineering & Architecture and a BA in Tourism. And I'm now working on my Masters and a professional Strategic Management certification at Harvard. I'm constantly fundraising for charities. I believe in diversity as well as giving back to the community!
*Some of my PERSONAL VIEWS:
DRUGS AND ALCOHOL: I do not use drugs or smoke and I'm looking for a roommate with similar views. I'm a very responsible light drinker (mostly weekend nights), who doesn't bring the party home.
VISITORS: I am not very fond of living in crowded places, besides I work a lot, so please let's both use our common senses as far as having people over. On these occasional situations, when visitors are over, I ask that they respect my space, peacefulness and food.
PETS: I am severely allergic to cats.
NOISE: I praise peacefulness and enjoy having a place of refuge when I come back home. I'm pretty quiet around the house and use my headphones. As you can imagine all the sacrifices one must make when going to school and working, I'm on the computer as late as 10 pm-midnight ... When it comes time to sleep all must be quite.
HOBBIES: I love to travel and learn about different cultures. I am friendly, positive, high energy, and would love a roommate to laugh and bond with. I have lived with people from all over the world!
Long term/short term welcome
If you are International, that's a plus ... I love learning from different cultures!
Questions?
Leti
Multilingual Communication Expert
Languages -Portuguese (native), Spanish (proficient), English (fluent) *Developing proficiency in French and Italian
Watch my videos (website hidden)
Pacific Beach Photos: (website hidden)
Cass & Loring, Pacific Beach, CA 92109
NEARBY ACTIVITIES: antiquing, cycling, fishing, golf, horseback riding mountain biking, mountaineering paragliding, roller blading, sailing, scuba diving, snorkeling, surfing, swimming, tennis, walking, water skiing, wind-surfing, Boating, Shopping, Kayaking, Rock Climbing, Racquetball, Miniature Golf, Hot Air Ballooning, Parasailing, Basketball Court, Shuffleboard, ATM/bank, babysitting, caves, churches, cinemas, eco tourism equestrian events, fitness center, forests, groceries, hospital, laundromat, library, marina, museums, nude beach, playground, pond, recreation center, theme parks, water parks, beachcombing, bird watching, deepsea fishing, fly fishing, freshwater fishing, gambling casinos, hiking, ice skating, jet skiing, live theater luaus, mountain climbing, outlet shopping, paddle boating, pier fishing, sight seeing, snorkeling, sound/bay fishing, surf fishing, water tubing, whale watching
Keywords- female male north "PB" "Pacific Beach" Beach Claremont la Jolla mission beach beaches ocean surf ocean beach ob pier cozy girly room massage yoga tennis sunny San Diego UCSD college family friends Italian French student Italy France Brazil Spain Sweden Switzerland London Germany Australia New Zealand Japan International student Chinese dutch Denmark Norway "San Diego live off campus" "San Diego off campus apartments" "San Diego off-campus apartments" "extension" "summer" "host Family" "san diego student home""San Diego Homestay" "Ph.D" "PhD"
Guest Access
*Bedroom = 1 room with:
-1 Queen bed
-1 Additional mattress (optional/extra guests)
Plus (if 5 people):
-1 couch in the living room
**Common areas:
*Bathroom
*Full kitchen
*Living room
*Game/meditating area
*Backyard + outdoor space
*Private/VIP Parking
Interaction with Guests
I'm always happy to interact with my dear guests, share special moments, cook together, and show them around. I've become friends with several guests and visited them around the world.
However, I also understand the beauty of diversity, and that perhaps ... you, my guest, might have reasons to do your own thing ...
As always I'll interact with you as little or as much as you would like. That is totally up to you!
The Neighborhood
Amazingly quiet for the area.
Getting Around
Walking recommended. 10 min. away from most attractions. If needed, bus stop is within two blocks.
+ More
---
OUR LIFESTYLE IS …
… HEALTHY!!
ACTIVE: I'm certainly appreciative of people who have their life together. Working/studying hard, being active outdoors and bringing a positive attitude home are the root to a much healthier relationship on a shared home. (for some reason couch potatoes do not match with ZEN)
DRUGS & ALCOHOL: I do not use drugs or drink much (occasionally on weekend nights I might have a glass of wine or a beer.)
SMOKE: Like most places in California, we do not smoke inside. I'm allergic and I cannot stand the smell. If you smoke, perhaps, you should find a place that's more suitable to you.
GREEN 1: Environment is a major concern for anyone close to the beach. If you keep the air flowing naturally (open doors/windows,) heavy cleaning products (mildew and pest control) will not be needed. I'm allergic!
GREEN 2: Turn switches off before leaving any room (lights, fans, Tv's, etc).
SHOES: Smile!! We have never worn shoes inside. Our carpet is new and you can roll over and/or literally eat on the floor (oriental style.)
AFTER BEACH: please embrace our clean lifestyle: do not enter, sit on the couch or lay in bed while wet. Hosing down your feet before entering will be extremely appreciated as we do not want to bring any creatures or sand to the house.
MAID SERVICES: Although I love a clean home, I'm extremely busy to spend my day cleaning after others. If we are smart we can each pick-up after ourselves and save additional $100 in weekly cleaning fees.
… ZEN!!
VISITORS: I am not very fond of living in crowded places so please don't bring people home. I work hard on weekdays and need to relax on the weekends.
PETS: We all love pets … feed and be greeted by our Star Nemo (my fish is our only pet -I'm severely allergic to cats and some dogs and cannot share accommodations with them.)
NOISE: Zen is a place of refuge. The best guests are pretty quiet, use headphones and know how to kindly turn a door knob. Ahhh … I have a soft spot in my heart for Zzzzen people!
COMMUNICATION: "A loving atmosphere in your home is the foundation for your life." — Dalai Lama. Let's be honest with ourselves and communicate with each other to improve on the quality of our relationship (if we're communicating with the intention of love and caring, we can pretty much say anything, right?)
KARMA: I carry both a double degree in Civil Engineering & Architecture and a BA in Tourism. But it's in being kind to others that I find greater personal fulfillment and success. "Be kind whenever possible. It is always possible." — Dalai Lama
… FUN!!
I love to travel and learn about different cultures. I am friendly, considerate, positive and would love a roommate to laugh and bond with.
+ More
---
---
---
Your Host
---
San Diego, California, United States
·
Member since November 2011
Dear Friend,
Visualize yourself on a first class flight to Hawaii. The plane is the state of the art in aerospace engineering, and the pilot is precise, disciplined and accomplished. This is every airline's dream: the best equipment with the best pilot in the cockpit. Anything less … well, no one wants anything less!!

So you might be asking yourself: "how does this story relates to my experience as a guest?" And the answer is: I'm a well-rounded pilot who will get up every morning with one thought in mind: how can make my guests feel like they are in fact in a "first class flight to Hawaii"!!

Let's make your experience memorable!

Ramona Your 5-Star Host
Harvard, Strategic Management
PLNU, MBA
PUC, Hospitality/Tourism
UTF, Architect/Interior Designer
CC, Community Effectiveness Consultant

Include the "BeachZENCottage" to your "favorite's list" and encourage first-class traveling to your friends!


________________________________________________________________________
BIO
Ramona has over ten years of experience in international public relations and communications. Fluent in two languages (Portuguese and English) and conversational in 15 languages, Ramona has built a world-wide network of clients, associates, and sponsors in four continents, including countries such as Brazil, Colombia, United States, Norway, Sweden, England, Germany, Austria, Netherlands, Denmark, Switzerland, Greece, France, Italy, Ukraine, India, Saudi Arabia, China and Japan. Her multi-cultural experience includes personal recruitment and placement, public speaking, multi-media branding, network generation, and developing and implementing strategies for change, training, and strategic planning.

Ramona's passion for social responsibility has led her to found BezKey Consulting. She has been a communication liaison between businesses, communities, and such non-profit groups as the American Red Cross, Rotary International, and Big Brothers Big Sisters. She has worked on projects in the San Diego area, and also in Mexico (YWAM,) Brazil (PUC,) and South Africa (Red Cross.) Her collective fundraising efforts have accumulated over $6.5 million dollars to charity.

Ramona holds an International B.A. in Tourism, a degree in Architecture and Civil Engineering from UTFPR, the "MIT of Brazil, and is expected to complete her EMBA in 2015. She has also been awarded the Toastmasters C.C.

As an avid pilot, Ramona worked on the business of selling private aircrafts for four years while exploring her passion for aviation. She has been to South America, Africa, Asia, India, Europe (including Scandinavia and Eastern Europe) and plan to leave an impact in several countries around the world. Her biggest journey in this life is to help others. Her prime purpose in her career is to conduct business in ways that touch people's lives on a personal level. She dreams of working with industry visionaries and committed citizens/employees to develop and strengthen our global communities: "Today, more than ever, we must all carry this sense of universal responsibility, from human to human, without boarders, without reservations."

Amazing Things I've Seen or Done?
Scuba Diving, Shark Diving, Marathon, Triathlon, Skydiving, Flying airplanes, Climbed Fuji mountain, Jumped into a moving train, Swam across Itaipu Dam, Survived, Started a campaign to raise $10,000 to Breast Cancer, and growing

+ More
Response rate:
64%
(
past 30 days
)
Response time:
within a day
Explore other options in and around San Diego