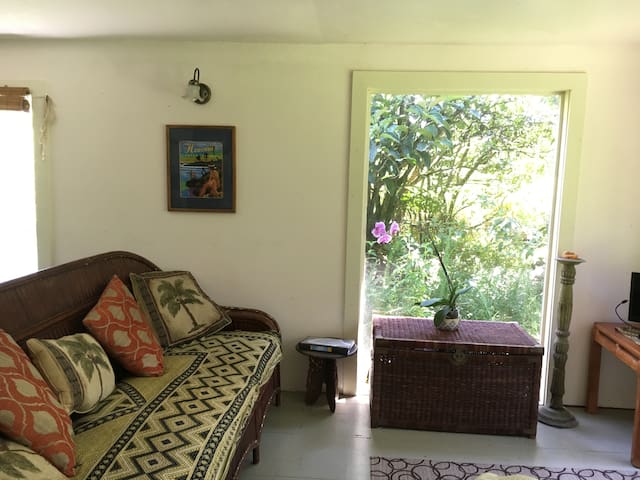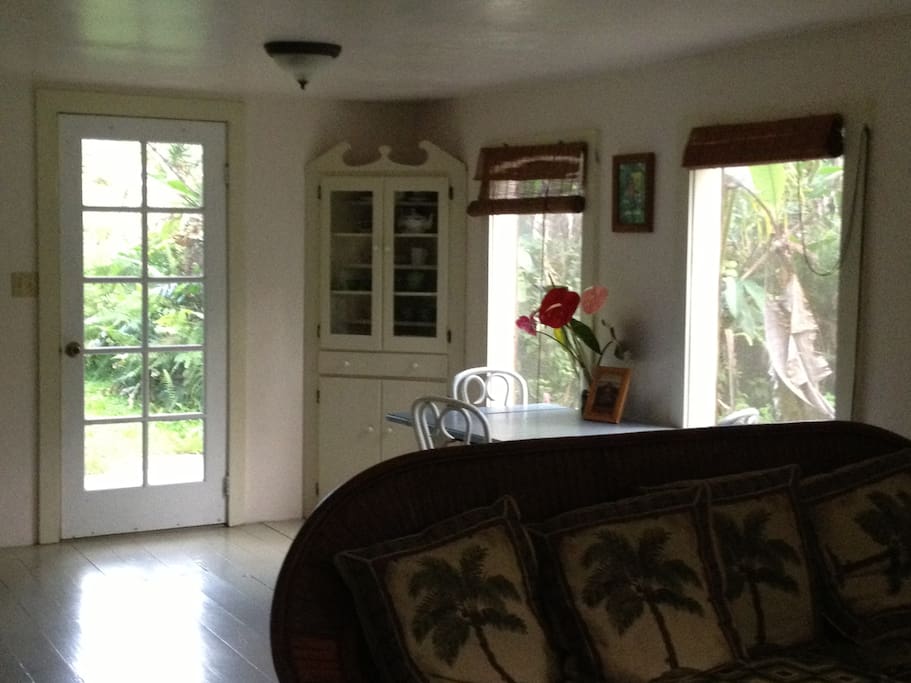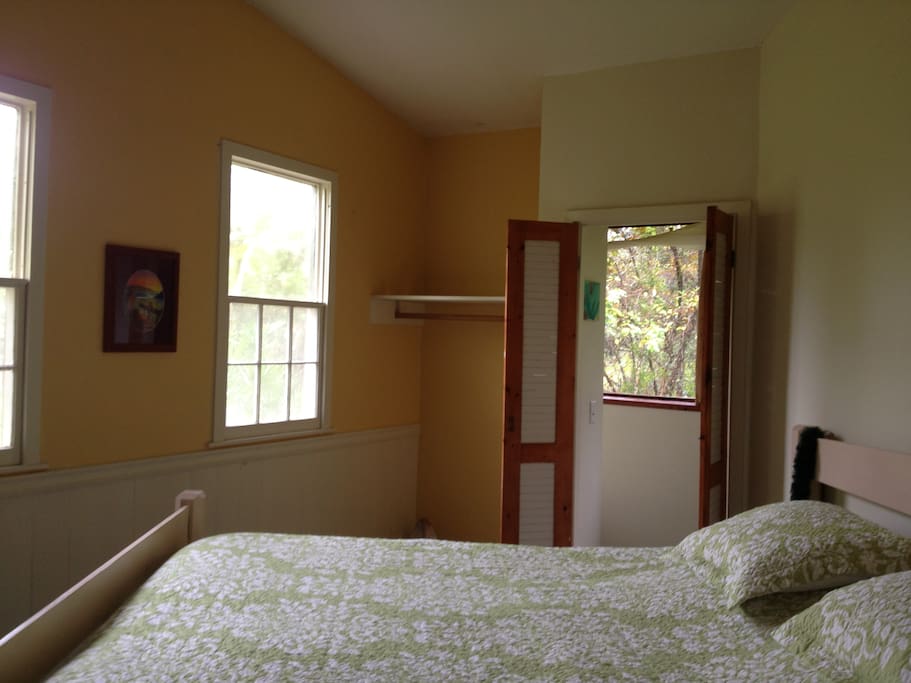 Spacious Home-Hawaii Volcano Area in Native Forest
Hale 'Ohana is a spacious three bedroom home that guests have all to themselves. We live close by. This home is often described as a 'treehouse' because it is nestled in the forest. It is spacious, sprawling, artistically designed and features three bedrooms, with four beds, a stainless-steel stove, concrete countertops, and a beautiful upstairs dining lanai. Wifi, washer and dryer included. We are central to many East Hawaii destinations, including Volcanoes National Park, Hilo and Pahoa.
The space
Tucked away in 9 acres of native Hawaiian forest, this unique and beautiful vacation retreat is perfectly located for exploring all that the East side of Hawaii island has to offer. Our spacious vacation retreat is secluded, private, and perfect for nature loving adventure seekers.
Location:
We are centrally located between three popular East Hawaii tourist destinations--Volcanoes National Park, Historic Hilo Town and Pahoa with it's tide pools, warm ponds and lava flow. We are 20 minutes to Volcanoes National Park, 15 minutes from Pahoa, and 20 minutes from Hilo. An entire spacious home.
Upstairs you will find three bedrooms with four beds (can sleep eight). Also upstairs is a romantic screened in lanai dining area off of the master bedroom, one and a half bathrooms and a washer and dryer.
Downstairs is the kitchen, living room and dining room. The kitchen features a custom concrete counter-top, and a restaurant grade stainless steel wolf range--to the delight of our guests who love to cook.
The house is supplied with everything you need to relax and enjoy your stay, including snorkel gear, beach towels, a cooler, candles, extra blankets, soaps, kitchen condiments...
Wifi is available (limited)
Activities:
Relax and enjoy the sights and sounds of the forest, explore our lava tube, or head out for a day trip. From our vacation retreat many guests enjoy touring the National and State Parks, snorkelling at the amazing Kapoho tidepools, exploring the steam vents, and volcanic warm ponds, shopping in the quaint village of Pahoa, or heading to beautiful historic Hilo town. With everything to do and see, this stay at our beautiful cozy Hawaiian home will be a vacation to remember.
Sustainability:
Our vacation home is spacious, secluded, charming,and sustainably built. Surrounded by lush jungle foliage, the home was constructed from reclaimed, recycled and salvaged materials, including native ohia logs from nearby cleared land, and many of the building materials were left over from other construction projects.
Children Welcome : The home is ideal for families. Children love the layout of the house! Lots of board games and dvd's for kids (of all ages)
Details:
-3 Bedrooms, 4 beds, sleeps up to 8
-Covered carport, just a few steps from the main entrance
-Front walkway draped in beautiful mini lights--be sure to use them at night!
-Stainless Steel Restaurant Stove
-Stainless Steel Fridge
-Eco-washing machine, and a dryer located in the lower bathroom for your convenience
-Linens Provided; bedding, bath and hand towels, beach towels also supplied.
-On site Lava tube (cave) to explore.
-Secluded, nestled in 9 acres of native forest
-DVD Player and Large DVD library--something to please everyone
-Snorkel Gear
LOCAL ACTIVITIES INCLUDE:
Fishing
Hiking
Snorkeling/Diving
Spelunking
Surfing
Restaurants
Zoo
Swimming
Sight Seeing
Explore Hawaii Volcanoes National Park, snorkel at Kapoho Tidepools, and Richardsons Beach Park, explore the on-site underground lava tube caverns, hike out to view the lava flow at Kalapana, take a day trip to Kailua Kona, view Hilo's beautiful waterfalls, shop at nearby natural foods store and farmers market
Additional Guest Reviews:
"HAWAIIAN ACRES"
Guest: Tucson traveller (Tucson)
Date of Stay: 05/31/12 Review Submitted: 06/06/12
Very spacious and clean and nicely decorated. You are in the midst of a rainforest with birds and frogs and beautiful flowers. The hosts were very helpful - great tips for Volcano and Puna. Awesome snorkeling in tide pools about 30 mins away.
Recommended for:Sightseeing, romantic getaway, adventure seekers.

A GREAT PLACE!
Guest: Paul (Detroit)
Date of Stay: 04/07/12 Review Submitted: 04/15/12
My wife and I had a great stay! The description of the home is very accurate - tons of space, private setting, artistically constructed and decorated. We really had everything we needed. The location is perfect home base for sightseeing on this side. David is very friendly and had a lot of good tips for us as newcomers to the Big Island. Highly Recommended!
Recommended for:Families with teenagers, sightseeing, romantic getaway, age 55+, families with young children, adventure seekers.

A RELAXING STAY
Guest: Steverino (Honolulu)
Date of Stay: 03/17/12 Review Submitted: 04/15/12
My girlfriend and I stayed for a week at this rental. We had a marvelous time. We were far away from the usual day-to-day life in Honolulu and enjoyably so. Our hosts were always there when we needed them but were very circumspect about leaving us our privacy. One of the highlights, though, of the trip was a trip to a series of lava tubes there on the property, led by the owner and his two young sons. Yes, it's a rainy location, but one needs the rain at times for cuddling, watching movies, sleeping deeply, and growing the great green rainforest all around. Highly recommended for those of you, like us, want to escape into a different world for a while.
Recommended for:Sightseeing, romantic getaway, age 55+, girls getaway.

QUIET, BEAUTIFUL & LUSH
Guest: Cindy (Keaau, HI)
Date of Stay: 09/01/11 Review Submitted: 02/12/12
I am so blessed that my family and I had the opportunity to stay here. It was exactly what we needed. My favorite room was the master bedroom, waking up to pink hibiscus seen through the huge picture window, and the gentle cooling breeze. The location was perfect for getting around Puna too. It was right in the middle, so we could go up to Volcano National Park, and zip down to Pohoiki, the Hot Pond, Kehena Beach, the cliffs in HPP, and then go into Hilo for whatever we needed. Thank you Dave and Sharon for your hospitality, for showing us around, and for helping us adjust to life in Hawaii!
Recommended for:Adventure seekers.

KURTISTOWN RENTAL
Guest: Old J. C. (San Diego, CA )
Date of Stay: 11/04/11 Review Submitted: 01/23/12
I had the pleasure of staying at this rental for ten days this last November. The unit has a great location almost between Hilo and Volcano in addition to being very near the quaint village of Pahoa. It is also in close proximity to the following magnificent parks: Lava Tree, Isaac Hale and MacKenzie. For the really adventurous, the property actually has on premises access to a vast network of underground lava tubes that seem to go on forever. If you are looking for a cozy, comfortable place in a beautiful rustic and tranquil Hawaiian setting, this is the place for you. I plan to stay there whenever I am on the Hilo Side of the Big Island.
Recommended for:Sightseeing, families with young children, adventure seekers.
-Wifi available
-Onsite Lava Tube
-Snorkel gear, boogie boards, beach towels provided
-Washer and dryer
-Many beautiful beaches nearby
-Waterfalls
-Hiking opportunities
-Volcano National Park nearby
-Farmers Markets
-Breathtaking scenic drives
We live next door
We are available when needed
(Text is best)

Our rental is a short drive to Hilo,
Pahoa, and Volcano National Park.
No matter what direction you want to go, fun adventures await 15-20 minutes away.
Our location has moderate temperatures- not as hot as Hilo or Kona, with cool nights.
We are in a forested area; everything is lush and green, with tropical flowers everywhere.

We have an on-site lava tube to explore. Our lava tube is often the highlight of our guests' Hawaii vacation.
Please let us know if you wish to venture in. We can take you to the entrance if you give us a few days' notice. Bring flashlights, pants and long sleeves.
Guest access
-Spacious private three bedroom home
-Nature lovers welcome here
-Wifi (limited data plan)
-Onsite Lava Tube to explore
-Snorkel gear, boogie boards, beach towels provided
-Washer and dryer
-Many beautiful beaches nearby
-Waterfalls
-Hiking opportunities
-Volcano National Park nearby
-Farmers Markets
-Breathtaking scenic drives
Interaction with guests
We live right next door
We are available when needed but give guests their privacy
Contact us if anything is needed
(text is best)
Guests most often contact us if directions are needed, for trash and recycling pick up and if more drinking water is needed.
We are also available to give suggestions and answer questions.
Other things to note
We have an on-site lava tube. Exploring our lava tube is often the highlight of our guests' Hawaii vacation.
Please let us know if you wish to see it and please give us a few days' notice so we can make time to take you to the entrance. Plan on setting aside a little over an hour.
---
---
Check in is anytime after 2PM
Self Check-In so guests may check in any time after 2pm.
Please let us know when you need more drinking water, household supplies, or trash/recycling pick up.
Wifi is limited data plan so no streaming movies.
No Smoking or Pets
Respect for natural surroundings
No damage to house should be caused beyond normal wear
-Thank You
---
This is the right house for you if: * you want to live in a rainforest. * you want a personal tour of the lava tubes on their property -- amazing and way better than the Thurston lava tubes at Hawaii Volcano's National Park. * you want to live 5 miles from the main road and 15 minutes to the nearest grocery store. * you want to sleep with sounds of frogs all night and who knows what critter crawling on top of the roof. * you are OK that many of the windows have no glass, only screens, so the outside humidity becomes the inside house humidity. * you are OK with recycled rainwater coming out of the faucets is a bit discolored. It's fine to wash dishes and shower but not to drink. They provide drinking water. * you can find this not very well-marked house. FYI, the driveway is at the 5 mile marker sign. * you want to live in a cool artist-built home with lots of great nooks and crannies . * you want to test the rental-car warranty agreement and drive on the undulating road to the house. You can get some air on the large bump close to the Mile 3 marker. My kids loved that. * you are a very self-reliant traveler.
---
We loved this place. I slept so well with the cool night air coming in and the sound of the coqui frogs at night. My kids loved the place, and the lava tube tour was the highlight of my son's trip to the Big Island. If you are coming for the volcanoes, this is a great spot. David was helpful and responded quickly to everything, including when we accidentally locked ourselves out. (Whoops! I was embarrassed, but he got us back in quickly, and was quite nice about it.) The setting is rustic, and you will see lizards and bugs, but we expected that, since it is in the middle of rainforest. The house was clean and well equipped.
---
We are Sharon and David and we live on the same 9 acres as our vacation rental, so we will be your distant neighbors! We have three children (ages 8-12), three dogs, and a guinea pig. David is a builder and artist, Sharon works for a non-profit community health center and the chi…
Response rate:
100%
Response time:
within an hour
Explore other options in and around Mountain View
More places to stay in Mountain View: