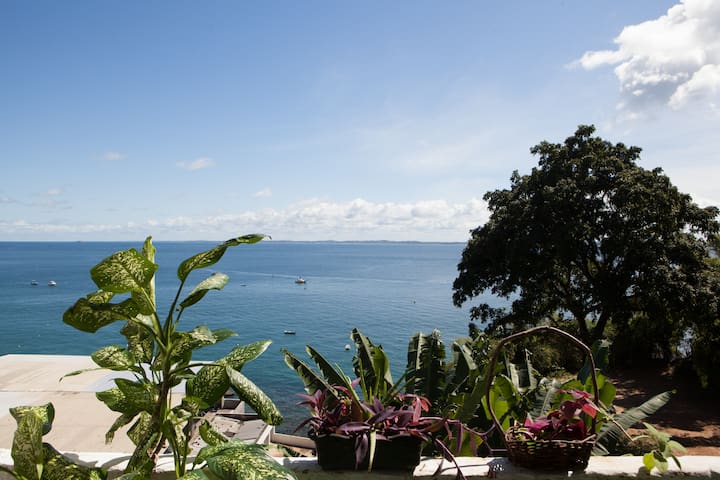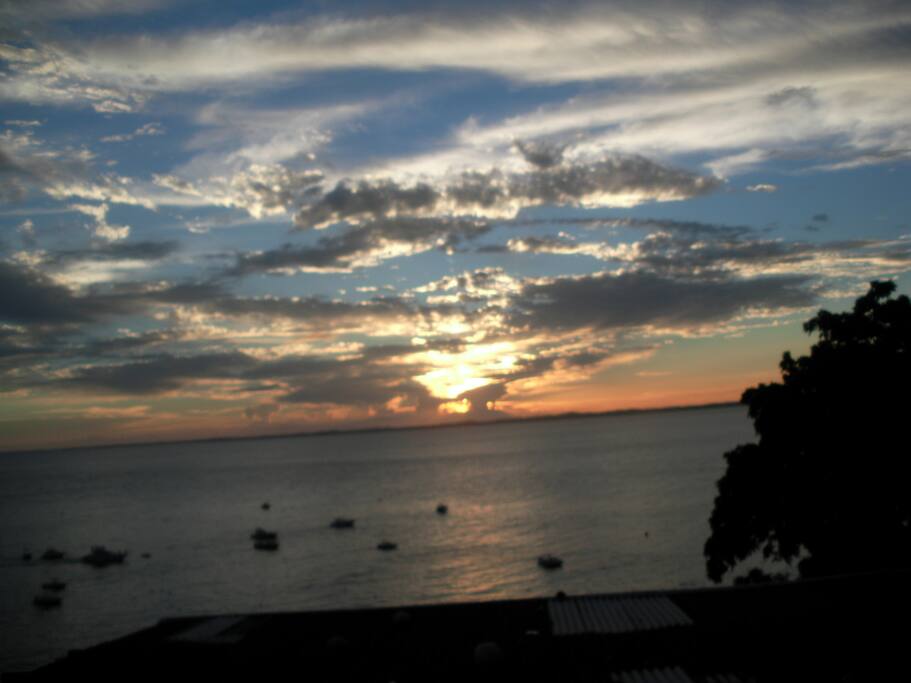 sunset inclusive: living in a special community
Simple, open and fresh with amazing view, very near to nature, many verandas and sea access. Our big house is a center for good living - incubadora do Buen Vivir. Meet & live with interesting people in a temporary, international community, in your own room. We are quiet, respectful, love good food and the exchange of ideas. Central location in the city center in a very simple & peaceful neighborhood. Welcome to real Brazil!
The space
This one is special! Stay within a small working-class community in the best district of Salvador - without the problems you believe to know about "favela" based living. You are invited to join our house-community, a very special get together of world-travellers, artists, scientists and activists. Share your thoughts and your knowledge, have an amazing view and big open spaces, verandas and livings - and if you want:
be involved in being part of the "incubadora do Buen Vivir! You can also share the Yoga/Video/Art Space downstairs too! You will help us with your contribution to build up our socio-cultural project.
Our house is a very special place to be.
That sounds good for you? We have even more to offer: Living in the city-center, absolutely quiet, in a green area, with direct sea access. We have a million dollar view and the privilege of nature. We are located in a very simple neighborhood, right in between the most expensive districts of Salvador!
The neighborhood is a bohemian place, not bourgeois or posh at all. It is a black low income community, where people of all kinds come together. You can come home late, as everybody knows each other - it's like in a village on the country side.
We rent for temporary use parts of our house. You are responsible for it, we don't provide any service. We have an amazing training/seminary room to use for yoga, dance, video-screenings, workshops ecc… (Use on request).
We are a "cultural center in development" - and are elaborating our artistic residencies program right now. So - stay in touch, if you have great projects in mind!
Single rooms
We gathered a few rooms on one floor, with shared bathroom and kitchen and a big veranda. Great view, absolutely quiet, directly in front of the sea. A space for artists, seekers & researchers… to brainstorm, dream, discover together.
All our rooms are simple, but have what you need.
The luxury is the gorgeous view with the sunset in front of you, green spaces around the house, you hear the click clack of the sea and the chant of the birds…
But be aware: there's no TV, no Air Condition or Stereo-Sound, no standard furniture - and no service like in a hostel - we are community improvised…!
We expect our guests to act socially. Participate and volunteer in some of our projects - sharing knowledge is the principle!
Everybody is (co)-responsible for cleaning the house, feeding the cats, watering the plants etc… The coordination is good and organized by the long term residents.
Wider neighborhood
Just around the corner (up on the hill!), you'll find supermarkets, cultural institutes, theaters, language schools. . . Barra Beach or Campo Grande are just 10 minutes walk away. . .
There is a direct bus from the aiport, a lot of other busses in all directions. . . taxi to pelourinho is just 10- 15 reais, direct bus to rio vermelho. . .
WIFI is available in all rooms…
Please note: we have NO TOLERANCE FOR DRUG- or SEXTOURISM, we don't accept it when people is unrespectful with the neighbours or with us; guests from outside are not allowed.
absolutely NO DOGS - we have cats!
we are an absolutely LGBT friendly house and are activists for a better world!
To share our living situation, we prefere artists, scientists and open minded worldtravellers and can offer special deals therefore.
Contributions are depending on length of stay. Ps send some informations about you and your projects as well. . .
PS: we speak portuguese, english, spanish, french, italian, german… and communicate in any langage! Depending on when you are staying, you will find people speaking different languages, our email communication is in the above languages.
ATTENTION: Check-In only possible between 10:00 a.m and 6:00 pm.
If you stay longer, we can talk about any contributions…
Guest access
It's a shared house - everything is open, except the private rooms
Interaction with guests
Depending on the guests and their interests - and who is actually in the house.
Other things to note
We are living in a poor neighborhood (favela). It is not dangerous, we know all our neighbors personally. For our community, the interaction with you, our guests, is very important. It is an opportunity to talk normally to strangers and middle class people, to have a beer together at the local bar, to get informations about other ways of living.
For you, it is an unique opportunity to break prejudices.
Living in a community means: being respectful, sharing knowledge, giving an economic incentive to the place where you are and being a good example!
So: we encourage you to eat & drink in the amazing local bar "cantinho de Joe", to buy your beer at Do Carmo or in Gildas small drugstore (where you find fresh bred, onions, sugar and what you might need in everyday life), to order pizza or traditional food with our neighbor Dona Neite, to play football with the kids or take yoga classes in the community-room …
We help to arrange small along-the-cost-boat-trips with the boys from the community… Everything is best practice! Let's learn from each other!
If you stay longer with us, we organize projects together.
---
---
Extra people $8 / night after the first guest
Always communicate through Airbnb
To protect your payment, never transfer money or communicate outside of the Airbnb website or app.
Learn more
---
Check in time is 10AM - 6PM
Respect. Respect. Respect.
And pleasure!
No guests from outside, if not accorded with the house mates.
No tolerance for sex-tourism or drug-tourism at all.
We are open minded, social activists, anti-racist and pro-GLBT.
If you are a smoker, ps smoke on the verandas and ask the others if they are bothered by it.
No loud sound!
house rules:
If something breaks, please replace it.
Please don't take the books away, our library is part of our work.
You can also leave something personal so that you are part of our story.
Everybody is responsible to keep the kitchen, bathrooms and living-rooms clean!
ATTENTION: PS DON'T THROW TOILETPAPER IN THE TOILETS!!!!
Please take care of our plants and animals - you will enjoy your stay even more!
Don't feed the cats while you are eating, but only after you've finished.
Miou Miou (the black one) and Madame Docie (the white one) share normal food, like beans, rice, vegetables and love meat and fish…
If you have some vegetable or fruit-rests (also gone bad), give it to Dona Elvira, our turtle living in the garden.
The plants in front of your room will enjoy daily fresh water!
We have special deals for monthly rent. Ask for it.
You must also acknowledge
Cat(s) and other pet(s) live in the house
---
---
---
We had a great stay with Silvia and Cecil. They are wonderful people with great vision for the place. The vibe was positive and it is in a great location. The room was very hot, but they gave us a fan to help with the heat :) Love & light x
---
My boyfriend and i were greeted by Sonja and Alex ( residents of Casa Matria) upon our arrival. First off, let me just say what a sweet weclome it was. The residents and people of this airbnb are kind and thoughtful, and will engage in conversation with you about your life and your travels; it is a very welcoming place. We unfortunately arrived during the holidays, so we did not get to spend too much time with everyone but just enough to know that Sonja and Alex are incredibly genuine and welcoming. The community was great, we felt safe and took the regular precautions any traveller would. The house and room themselves were very clean, and we had everything at our disposal. One comment, and this has nothing to do with the amenities, is that during our time in Salvador, it was incredibly hot, and so our room was quite hot, but we had our own fan to help with that. The view that we had was incredible. All in all a very enjoyable visit!
---
Silvia and Celia were wonderful hosts and delightful to spend time with! Our 5 days with them were truly a heartfelt meeting of minds. We reveled in leisurely breakfasts of typical Salvadoran fare and discussions of Brasil, the world at large and the work of their non-profit organization (Casa Matria) within the community. Our hosts also gave us wonderful tips and suggestions regarding places to visit and local places to eat. We greatly appreciated the very central location. It made it easier to access everything Salvador has to offer. It's quite peaceful at night, safe and the views are amazing. We were the first guests to use their garden room. It was a very comfortable size, cheerfully painted, and we greatly appreciated the convenience of the en suite bathroom. We also became fast friends with their two cats. Madame Josie, the younger of the two, would scramble down the tree outside our door and meow nightly until we let her in for a short cuddle. Very sweet! We highly recommend Silvia and Celia's listing for anyone interested in feeling like you're part of a community during your stay and curious about social justice and alternative development models. These amazing ladies will truly inspire you!
---
Our stay started off rocky because our arriving flight got in later than we expected (at night), but we messaged Silvia beforehand to let her know, and she was very inflexible with a later check-in, so we had ended up sleeping in the airport. She did give us a hotel to check out, but as 2 young women, we didn't think arriving at another hotel would've been a good idea later at night in an unfamiliar city. Otherwise, the room was as described, but VERY hot since the window doesn't allow for any airflow. Thankfully we found a fan that was in the living room that no one was using for the last 2 nights so it made it slightly better. Other than that, the view was beautiful, the other visitors were really nice, and the location itself is well-located, walking distance 15-20 min from the lighthouse/Barra beach and a short bus ride from the Pelourinho old district. The community was also very nice and safe.
Hi Wendy, I'm sorry, but late check in is not possible - we stated it on the website, because it is very difficult to find our place in the night - there is nobody to ask and I don't want to take the responsibility for 2 young women getting lost in the night in Salvador. People who knows our place can arrive late… I'm sorry that you experienced it that way… and also for the fan, it's just asking for it… and you would have got it right away. But I hope that the good experience dominated!
---
My stay in Salvador was excellent and Silvia's home was perfect. My room faced the sea and it was great to wake up to every morning. My roommates were great and the home felt very welcoming. Don't shy away from the "favela" aspect. The locals are friendly and go about their business. There is an easy access to the sea if you are a good swimmer, just below the house. Silvia & Cecilia were really positive with good energy. My only complaints: we ran out of gas for the stove and drinking water. But I was able to cook in Silvia's kitchen upstairs. Also the mosquito situation can be a bit bad, making it difficult to sleep at night. Best to voice any concerns with Silvia as she is very receptive to suggestions. Thanks again you two!
thank you Lola, I know, the gas is always not predictable. But the good thing is that we have the 2 kitchens, so we can resolve it. and for the mosquitos… I know it is hot to sleep under the mosquito-net… but I help myself with natural incense, you should have told me that there were so many…
---
Its been a great stay. warm, comfy and generous. Thank you all for the nice and intimate welcome to Salvador. Left you some chocolate from home on the table :)
---
I'm silvia, worldtraveler, anthropologist and artist. Celia - she is an artist, a singer-songwriter, and I share our house in Salvador de Bahia / Brazil.
Languages:
Deutsch, English, Español, Français, Italiano, Português
Response rate:
67%
Response time:
within a day
Explore other options in and around Salvador
More places to stay in Salvador: