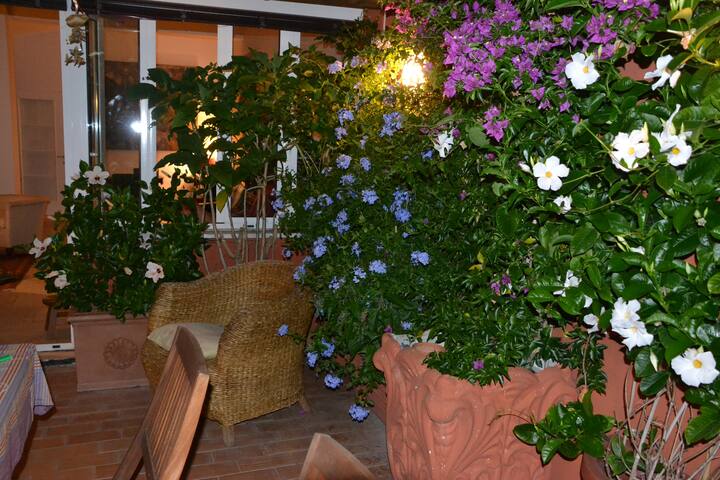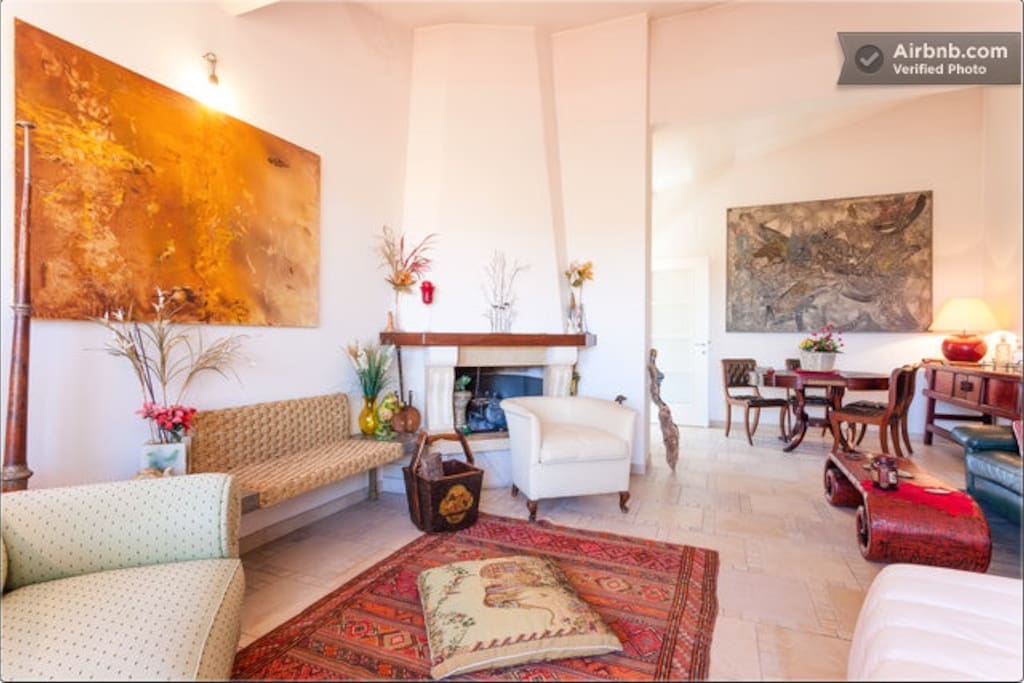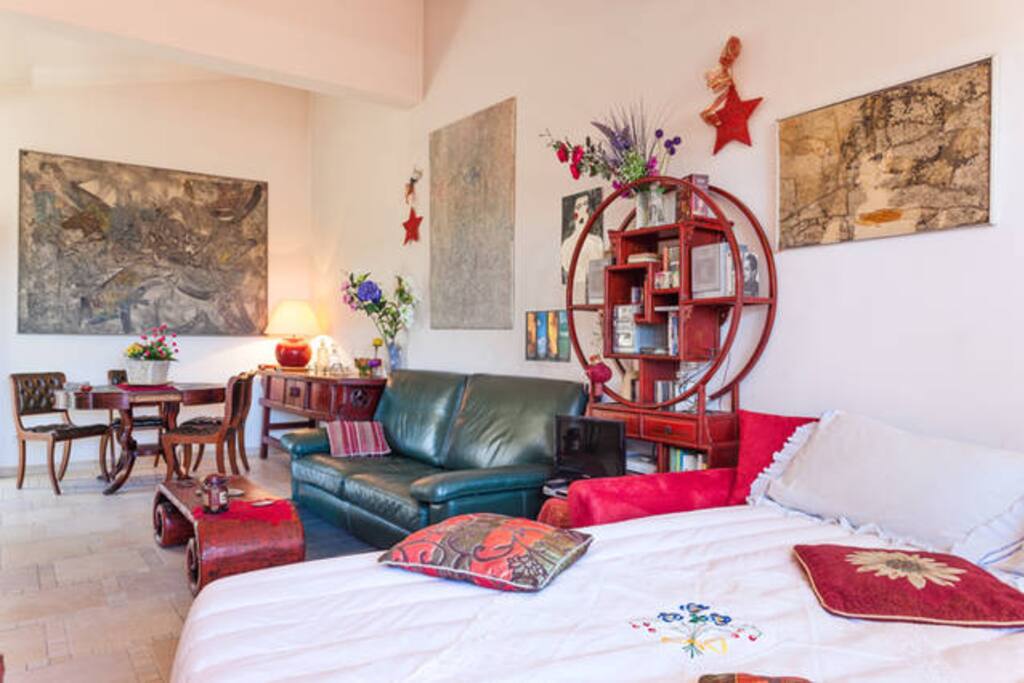 The space
Overlooking the Dome of St. Peter is a house which returns with its bright and spacious terraces, that surround it and from which you can enjoy the view of the nearby St. Peter's Dome, the magic of Rome. The house offers a private and quiet on the sixth floor of a building, is located in a strategic position to reach every corner of the city on foot or by metro. The decor is modern but warm, there is a double bedroom, a studio with a library creates a secluded space in which is placed a sofa bed for two people and a large living room with fireplace and two sofas, one of which can be transformed into a single bed. The kitchen is cozy and modern, but there is one large bathroom with shower and whirlpool tub.
Guests can find plenty of space in which to spend comfortably the breaks between visits and the other, the house offers peace and tranquility, a well-stocked library and can benefit from the support of a person who provides three days a week to keep clean the environment.
The house is located in Prati / San Pietro easy to reach from Termini Station with a few stops on the subway (Metro) and two steps are underground stations, restaurants and pizzerias, supermarkets, a covered market, cinemas and shops of all kinds.
The Vatican City is easily accessible on foot.
The main street of the quarter is Via Cola di Rienzo, one of the main shopping streets of Rome.
The first part of the district comes from piazza Risorgimento and the Tiber, its continuation leads to Piazza del Popolo, it focuses upon himself the commercial life of the neighborhood.
The line of the underground city through the Prati district for a long stretch, stopping at stations Lepanto and Ottaviano San Pietro and the Vatican Museums. Two steps are easy to reach Castel Sant'Angelo, Piazza del Popolo, the Belvedere Pincio and much of the historic city center.
Everything you described can not make one that gives my apartment.
Rome INFO
(URL HIDDEN)
---
---
Not safe or suitable for infants (Under 2 years)
Check in time is flexible
---
This was our first time visiting Rome and were very nervous about our selection. This was a fantastic place because of the room. There was one spacious bedroom with a very spacious bathroom. It also includes two large patios- one which overlooks St. Peter's Basilica. The location was great because it is near several restaurants, gelato and just blocks from the metro station. It was approximately a 10 minute walk to the Vatican and about a 20 minute metro ride to the colesseum and other Rome attractions. I would definitely stay at Naja's place again.
---
Naja's place was perfect for our stay in Rome! We love the Prati neighborhood--it's quiet and beautiful but has everything you need. You're minutes from the Vatican and from the Ottaviano tube stop, and it's only about 20-minute walk to the centro storico. Naja was wonderful to work with—responsive and generous, she got in touch with us well ahead of time to give specific suggestions about how to get to the apartment, and when our train from Naples was inevitably late, she reassured us that she would be there to greet us. She greeted us most warmly and made sure we had everything we needed. The apartment itself has access to three (!!!) roof decks, two of them private. It's the penthouse, basically. The kitchen is roomy and beautifully equipped for cooks; we cooked every night, because there's a terrific market right across the street. There are two places to sleep; we chose the one next to the front balcony because it got a good breeze. The building is lovely, safe and quiet. We truly felt at home — it's a warm and welcoming space in which to be. There's also a washer, which we were grateful to have after a few weeks of travel! Grazie mille, Naja—highly recommended!
---
Naja was a wonderful host! Her apartment is lovely and a lot bigger than we had thought it would be. It is beautifully decorated and in walking distance to everything. Naja was very helpful and also very easy to communicate with. Overall I give the apartment a 10 out of 10. It surpassed our expectations and we would definitely stay there again! I recommend for all travelers!
---
Naja was a wonderful host! She waited so patiently as we wound up getting a later train and answered all of our questions when we had them. The neighborhood was great. Walking distance of Vatican City. Amazing restaurants on the block and a grocery store just down the street. There is a gelato shop (Old Bridge, you will probably see the lines) not far from here and it is the best gelato we have had in all of Italy. The apartment is just amazing. To quote my daughter "I want to live here when I grow up. Not just Rome but here in this very apartment!" We had a family of 5 staying there and it is so big that you could be on opposite sides of the place and never hear each other. It is a penthouse and the patios are just outstanding. We would have coffee and dinner on one of the patios and the view of St. Peter's stunning. This apartment has a lot of personality and character which made it an even better experience. You really feel like you are living the life of a Roman and not just staying in a functional flat. The elevator is typical European, small and classic. It is a visual treat to ride it to the top to Naja's unit. There is no air conditioning but since it is an opened unit with so many patios the place gets lots of air and a nice breeze. The room with the fireplace and St. Peter's patio especially. The kitchen is very stylish and there are plenty of pots, pans, dishes, etc. In fact, we made dinner at home one evening and coffee every day. The bathroom is, again, huge and has a whirlpool tub as well as a shower. I have honestly seen apartments in US cities the size of this bathroom. There is a washing machine and Naja provides detergent and fabric softner. It is so great to use it, especially when traveling with a family. The sun on the patios will dry you clothes in a short amount of time. If we head back to Rome, I will stay here again for sure and I will recommend this place to all my friends and family.
---
"Vivere per sopravvivere è una vera bestialità" potrebbe essere il mio motto che ha accompagnato il mio viaggiare nel mondo, un mondo in cui ho cercato bellezza ,armonia,sorrisi e gratitudine da scambiare con gioa ed allegria. Avendo da sempre lavorato con le Immagini ( prima nel…
Languages:
English, Français, Italiano
Response rate:
100%
Response time:
within an hour
Explore other options in and around Rome
More places to stay in Rome: