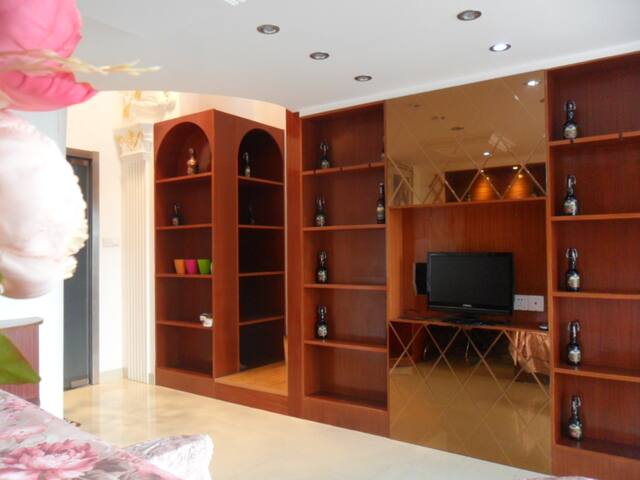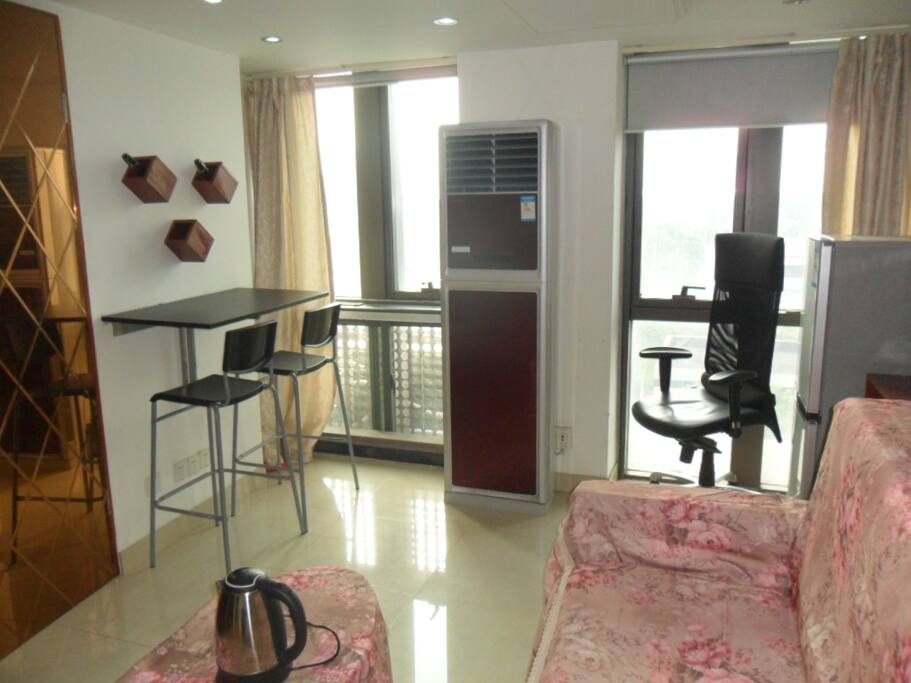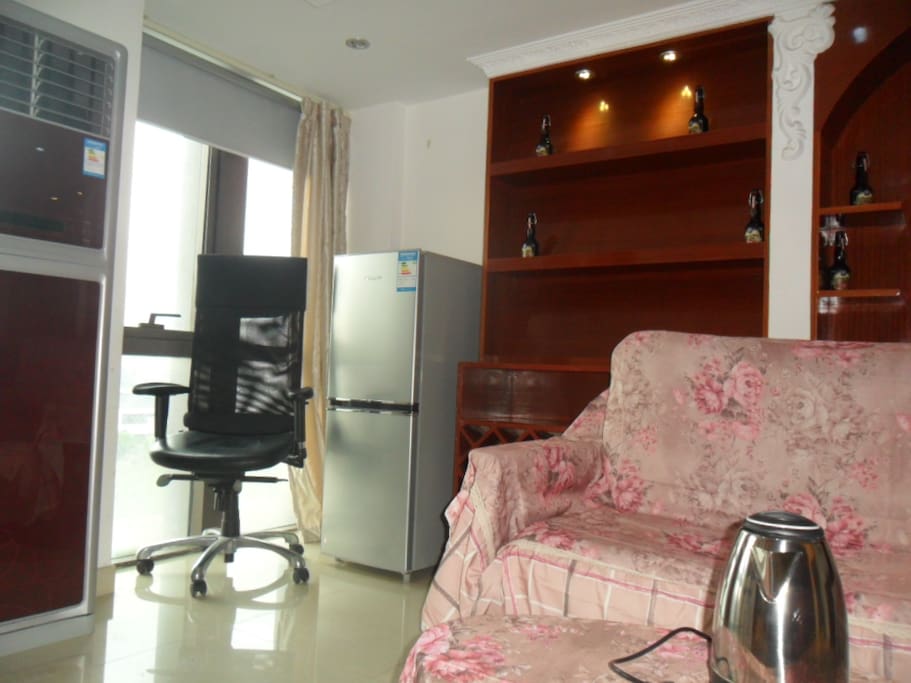 Just on the line of new homes. Now the price experience, my house is located in Yuzhou Blue Jazz, in the Jinhu Road and Golden Port Road, is the core area of Piyun 200,000 square meters headquarters-level business residential community, near Jinqiao Export Processing Zone. The house is a duplex room, a total area of 80 flat (including the room, bathroom, living room). The room is equipped with a 1.5-meter bed, and a 1.2-meter sofa bed (if you need to live in a sofa bed to inform us in advance), bathroom shower (24 hours hot water), a wireless network, Air conditioning, TV, wardrobe, sofa, small bar, chair, refrigerator, hair dryer, bed linen, slippers, etc. (bath towel, shampoo, shower gel and other personal items please bring me in advance can also provide one-time hotel supplies , Towels themselves.) Clean and tidy room, the house is refined decoration, the overall visual design for the classic wine cabinet style, so you feel elegant style, taste of the home atmosphere. Note: Wine on the wine cabinet is used as an ornament, can not drink or damage. Room bag can stay, we have a small supermarket next to the next, the hotel, the district surrounding life configuration is very complete: banks, supermarkets, coffee shops, bus stations and so on. Do not understand can be station letter to contact me.
刚刚上线的新房.现优惠价体验中,我的房子位于禹洲蓝爵,在金沪路和金港路,是碧云核心区20万平米总部级商务居住社区,临近金桥出口加工区。房子是复式一居室,面积一共80平(包括房间,卫生间,客厅)。房间内配一张1.5米的大床,还有一张1.2米的沙发床备用(如果需要住沙发床需提前通知我们布置,),卫生间淋浴(24小时热水),有无线网,房间内有空调,电视,衣柜,沙发,小吧台,椅子,冰箱,吹风机,提供床上用品,拖鞋等,(浴巾、洗发水、沐浴露等私人生活用品请自备,提前通知我也可以提供一次性酒店用品,毛巾自备。)室内整洁干净,房子是精装修,整体视觉设计为古典酒柜风格,让您感觉格调高雅,有品位的居家氛围。注:酒柜上摆设的酒是作为装饰品使用,不能饮用或损坏。房间拎包即可入住,我们楼下旁边有小超市,饭店,小区周边的生活配置非常齐全:银行,大超市,咖啡店,公交车站等。有不明白的可以站内信联系我。
The space
There is no need to understand the letter can be linked to me, no problem can be booked on the website to pay, in the site booking on both sides are guaranteed, and online booking is also more flexible and convenient, credit cards, foreign cards can pay, what to pay The problem can contact customer service can help you solve, and will not charge you any fees, you can rest assured. Special reminder: because we are an apartment, different from the hotel 24 hours someone on duty, because I only have a good rest to have a better physical service you, hee hee! So we stay at the reception time is 10 am to 9 pm, if you stay in advance or late, be sure to contact me in advance instructions, so I arranged a good time. Because my room price itself is very affordable, so the room rate does not include electricity, the room electricity by 20 yuan per day calculation.
有不明白的可以站内信联系我,没什么问题即可在网站预订支付,在网站预订对我们双方都有保障,而且在网上预订也比较灵活方便,信用卡,国外卡片都可以支付的,支付有什么问题可联系客服都可以帮你解决的,而且不会收取您任何的费用,你尽可放心。特别提醒的事:由于我们是公寓,不同于酒店24小时有人值班,因为我只有休息好了才能有更好的体力服务您,嘻嘻!所以我们的入住接待时间是上午10点到晚上9点止,如您提前入住或晚来,一定要提前和我电话联系说明,好让我安排好时间。因为我的房间价格本身就很实惠,所以房费都不包括电费的,房间电费按20元每天计算。
Guest access
Room facilities are available.
Check-in is anytime after 1PM
提前三天通知可以开发票,税点自理,房间内禁止一切法律规定的违法活动。房内设施自然损坏由我承担,人为损坏由客人赔偿,谢谢理解。入住时带好押金和有效证件。欢迎入住体验。
The apartment is in a very good location and the building is nice and guarded. The shower is a bit small, but the rest of the apartment is comfortable. The upper level has enough space for studying and working. Around the apartment there are many local and western restaurants, a supermarket is located downstairs and a Starbucks at a 5 min walking distance.
---
Explore other options in and around Shanghai
More places to stay in Shanghai: