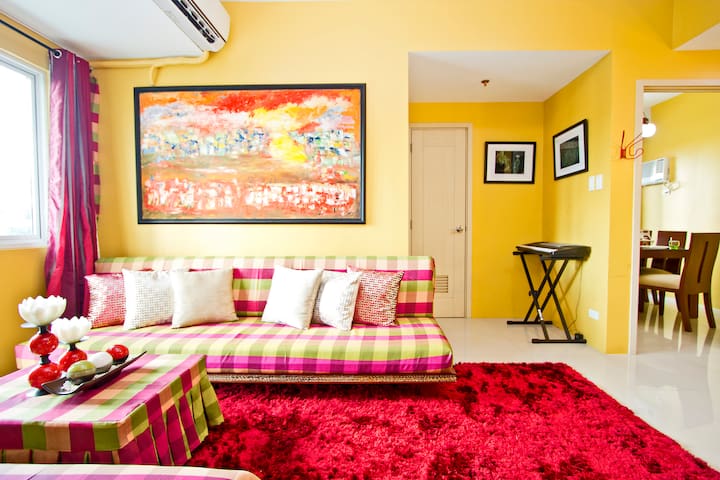 Entire home/apt
8 Guests
3 Bedrooms
4 Beds
About this listing
A place where you are home away from home. It has all the amenities and yet at the same time your view is surrounded by lush garden and trees right in the middle of the city.
Be prepared to be treated with the best courtesy by the entire staff!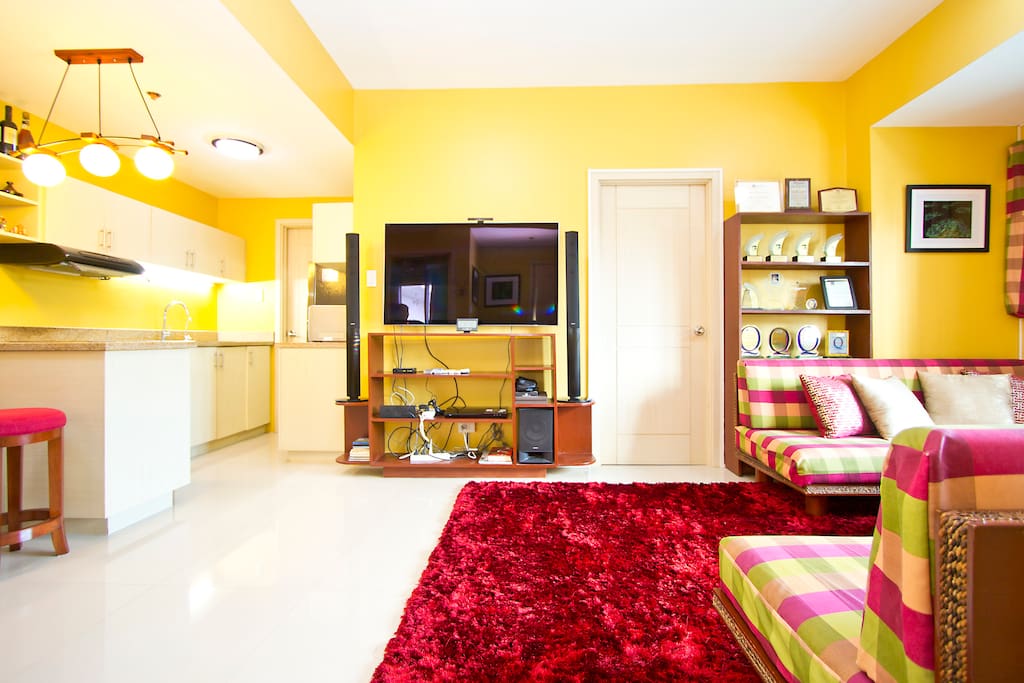 Still in living room, 55 inches Sony TV with surround system and it has 2d/3d blu ray. The lush carpet is good for morning yoga/exercise.
---
Check In:
12:00 PM (noon)
Room type:
Entire home/apt
---
Kitchen
Space where guests can cook their own meals
Essentials
Towels, bed sheets, soap, and toilet paper
+ More
---
Extra people:
$35 / night after 2 guests
---
The Space
PS: Hello! I know you will be reading a lot of these notes below. I bet you still want to connect with me because I do too.
Please activate your phone by letting AirBNB know. Once verified, we could now use the phone via this site.
Our time difference might not be the same but just tell me your country time and I will adjust mine. Please add also if what is the possible day/time to contact you. Thank you! Marami pong salamat! Muchos gracias!
Here goes ...
This brand new non smoking Apartment (September 2012) is on the 3rd floor of Tower 1 building overlooking the amenities. It is about 700 square feet. It has 3 bedrooms and 3 bathrooms, with top of the line features such as
1. Kitchen area - microwave, rice cooker, oven, easy maintenance range, hood, dryer for the plates, corelle plates, 2 door refrigerator, separate fixture for safe drinking water purifier and kitchen tools. There are 3 customized mahogany bar stools with bar lamps and sink light.
2. Helper/Laundry area - washer and dryer, also helper's bunk bed, toilet/shower room. Towels and soap are provided.
3. Master's bedroom - bath tub with water heater, queen size customized mahogany bed, all mattresses and pillows are brand new and ortho-euratex so you will have a comfortable sleep. The Master's bed has also reading lights. Blankets, towels and soap are provided. It has A/C and the window is over looking the amenities. The window curtains are customized. The paintings were painted by Bea (9 years old) under the Supervision of Master/Artist Rolly Rosal.
4. Family bedroom - mahogany king size bunk bed, all mattresses and pillows are brand new and ortho-euratex. It has A/C and the window is over looking the olympic size and family pool. The window curtains are customized.
5. Living Room - The bathroom in the living area has a shower with water heater.
A 55 inches HD blu-ray Sony TV with cable, 3d and 2d capabilities with 4 tower and 2 bases surrounding Sony Sound system, organ/piano and internet wifi ready. The window curtains are customized.
It has 2 customized mahogany couches with ortho-euratex mattresses, a mahogany center table and A/C. The Habagat (Typhoon) Painting were created by 3 Marias (May, Joy and Bea) under the Supervision of Master/Artist Rolly Rosal. The other paintings in the living room were done by Bea Kohner through her whimsical ideas.
We have managed to clear the front of the TV so that you can do your meditation, yoga, stretching, dancing or little exercise. You can use the luxurious red carpet to do your morning routine. Please excuse the falling red hair of the carpet, it's just the way it is.
6. Veranda - it is on the 3rd floor so you could really see the amenities outside such as the club house, kid's massive pool and the olympic size pool on the ground. The luxurious manicured grasses are inviting, feeling like you are in the province yet you are actually in the city, Metro Manila.
7. Dining room - the 6 seater mahogany table is customized as well as the curtains. It has also A/C in the room and beautiful chandelier/lamp.
The Grass Residence offers 5-star country club facilities such as elegant cabanas, clubhouse and swimming pools. Refresh and frolic with the kids in the playground or in one of the swimming pools. Keep fit in the gym, or enjoy a game of basketball or badminton. Our round-the-clock security puts your security concerns in mind.
•Main Pavilion with Function Rooms
•1 Olympic-Size Swimming Pool
•1 Family Pool
•Taraflex Badminton Courts
•Covered Basketball Court
•Fitness Gym
•Jogging Paths
•Children's Play Area
•Landscaped Gardens
•Pavilions and Cabanas
•Water Cascades
Tower Facilities:
•Six (6) High-Speed MITSUBISHI Elevators (for Tower 1)
•24-Hour Security
•Back-Up Power System
•Fire Alarm and Sprinkler System
•Centralized Garbage Collection and Disposal System
•CCTV System
PS: Please read all the descriptions to have an idea about the premise. Also, you could use the AirBNB line so we could connect. You just need to verify your phone and tell me your country time as well as the best time to contact you. Another is if you search me LIfe Coach Bing, you will probably find me.
Marami pong salamat, thank you y gracias!
BING
Guest Access
Airbnb, phone, email, Facebook or Skype.
Interaction with Guests
Pacific Standard Time (USA) day time is from
9:00 am to 2:00 pm from Pasadena, California.

The Neighborhood
First of all it is next to the SM North Edsa Mall. This area is surrounded by famous institutions such as University of the Philippines, AMA Computer University, FEU, Ateneo De Manila University and others.
Getting Around
The Transportation is nearby. You can ask for a taxi or tricycle (pedicab) by letting the staff know that you need one and just wait in the lobby. Also, jeepney, buses and train are available in walking distance.
Other Things to Note
Please know that I am not in the Philippines, my sister Kcenia is there and she is very close to the Grass. If you need some items that we have missed. Please text her or call her. And know that you are always welcome to call/text or email me. I am saying this because in spite of our list, we sometimes forget those little things. We want your stay as comfortable as possible! Thank you!
+ More
---
Welcome, Mabuhay y Bienvenidos!
PS: Hello! I know you will be reading a lot of these notes below. I bet you still want to connect with me because I do too.
Please activate your phone by letting AirBNB know. Once verified, we could now use that phone via this site.
Our time difference might not be the same but just tell me your country time and I will adjust mine. Please add also if what is the possible day/time to contact you. Thank you! Marami pong salamat! Muchos gracias!
Thanks for your inquiry! Please read the things that you might want to know about our place. In case I forgot something, kindly send me a note so I could give you the information.
First of all, I am actually on the road so my sister upon your arrival will take care of you. Her name is Kcenia (pronounce as Xenia). She is very friendly, hospitable and Professional! She will guide you and tour you in your own home/apartment!
The place is very comfortable and the staff are very cordial. It is truly a home away from home.
About fees, for 2 guests - $95 per night.
Extra Guest: add $35 per night per person.
Extra Kids: $15 per child per night. Kids should love it because there is a stair to climb going to the big bunk bed. Parents, it is safe!

Nanny or Helper: If you have the Nanny for the kids or Helper, there is an extra room for your employee and a bunk bed for him/her as well.
Duration of Stay: Minimum of 5 days and maximum of 6 months.
Wifi- there should be a good wifi in your apartment but not in the entire premise of the Grass Residence.
About the pool, all guests should wear cap and bathing suit to use the pool. The Friendly Staff are always in the Lobby and the Friendly Doormen will guide you.
Once the Staff gave you a Registration Form for using the pools, please ask them to add also the other things that you want to use in the area like the gym. The Gym and other facilities are on the other side of the building right when you enter the back Entrance at the end of SM North Edsa. Since these buildings are new, there is no elevator on that particular building at this time. My apology for that. This is what I could say, it's a start of your exercise right when you step on to the stairs of that premise.
Events: If you want to celebrate birthday party or other occasions, you can use the Club house and just inquire if what are the requirements. It's basically at the Main Entrance of the Residence. Or you can tell my Sister so she could assist you. Please know that this is only available for long term guest, 3 months stay minimum due to reservation time.
About Transportation, if you have a private car, there is no private parking on the ground but you can park during day time at the guests area until 10:00 pm. You have to find a parking spot outside the premise after that. I am sure that there is plenty at some of the residential areas.
The transportation is very accessible. If you want to ride a taxi for short and long distance or pedicab/trycicle for short distance, ask the Doorman and just wait in the Lobby.
VIPs: All employees will greet you with a smile and with a courtesy as well as address you as Ma'am and Sir when they see you. They will also open the door and help you if you have plenty of stuff to carry. Perhaps you can pretend that you are used to this kind of treatment. ('Just kidding!)
It's a luxurious environment with out spending so much because you are surrounded by beauty and amenities at the Grass!
Shopping/Groceries: if you need to shop or dine, SM North mall is 5 minutes walking distance. It is so huge. Wear flat shoes when you dare to come. You can also cross from SM Mall and walk to the other Mall which is the Ayala's Trinoma Mall. Both SM and Trinoma malls have the finest resturants, cinemas, shopping outlets, and other things.
At SM Annex basement area, they have nice spas saloon such as manicure, pedicure, facial, massage, etc. Don't forget to pamper yourself there. Sometimes they have promos. Also, try Inasal (Grill) restaurant there, the grill chicken and rice on banana leaf for they are yummy. Rice is free so take it easy. It is fun to go there.
Traveling Guests: Other Parts of Manila, if you are new to Manila, you can ask my sister. If you need an emergency, you can always call the Staff/Guards in the day/night time or text/call my sister at her phone. Her pharmacy/office store is 5 minutes from the area but she goes home in the night time to Marikina which is about 45 minutes from Quezon City. Please feel free to say your concern or queries to her. She will absolutely address your needs and treat you like a family!
If you are Balikbayan (Filipinos that live abroad) then you are at home because what ever is your life style in your adopted country, it might be the same or more in residing at the Grass Residence.
Again, I am actually not on site but I am available through Airbnb message center or email if you need my assistance. We have the time difference so expect my answer with in a day.
This is our simple home in the Philippines and we (Bea and I ) had fun decorating it with the intention that each guest is special with the top of the line furnitures and appliances for easy and practical use.
The touch of warmth and love of our young artists will always remind us on how creative we are if we allow ourselves. I always drawn to the children's notion that imagination is not only important but also infinite.
Equally impressive is your surrounding for once you get out of your apartment, you will be greeted by high caliber amenities and Filipino staff hospitality at the Grass residence.
Some additional points that you want to know ...
1. Our place could hold - maximum of 7 people.
two - The Master's bed could have a couple or 2 people.
four - The Family room could hold 4 (2 adults and 2 kids on the bunk bed).
one - The Helper could be in her room or in the couch.
2. Your visitors could visit you from probably 8:30 am to 10:00 pm. Again, there is no parking in the area. Having said that, they could drop off and pick you up for few minutes.
3. Your visitors could not use the amenities at the Grass; it's only you and the guests that are living with you.
4. Pets are not allowed in the apartment and in the premises.
5. Smoking is not allowed in our apartment and in some areas at the Grass. There is a smoke alarm in the apartment and in the entire building.
6. All linens, towels, blankets, euratex comfortable pillows, toilet paper, soap, shampoo, and conditioner are provided.
7. The apartment has the washer and dryer for clothing. (No picture yet.) There is a small room that you could do your laundry. You could also iron your clothing not in the laundry area but probably in the living area for it is spacious there.
8. Veranda - you can bring a chair and sit down there to see the amenities but not hang your clothing.
9. Security deposit - Here is the note of AirBNB. How does Airbnb handle security deposits?
A security deposit helps protect hosts and guests from any mishaps that might occur during a reservation. For example: spilled wine on the rug, a broken window, or an unreturned key. As a host or a guest, protecting yourself with a security deposit works best when it's handled on Airbnb.*
Or simply put your $300 deposit in the envelope and when you arrived at the premise, give this to my sister. Basically this is if you exceed the amount of the water/power alloted in your unit and if stuff is broken, etc.
For your monthly stay, you can consume free $150 of water and power.
For your 15 days stay, half of that amount - free $75 of water and power.
For your weekly stay, you can consume - free $37 of water and power.
For your daily stay, you can consume - free $5 of water and power.
Also when you pay, AirBNB will actually get their Service fee.
Please take note. Thank you!
10. There will be a cleaning fee of $50.
We will turn over to you the place spick-and-span.
11. Sample of computation...
one week stay discounted for 2 people: $600 (7 days)
one time cleaning fee of $50
Total of $650 plus AirBNB Minimal Service Fee.
If there is an additional guest, just add $35 per adult per night and $15 per child per night.
And know that the $300 deposit will be returned to you afterwards.
12. If you are new to AirBNB, I guess all I could say is have trust. Also, you could pay it first and before you come to the Grass, let some of your relatives in Manila visit the place. That way if you are not happy, you could cancel the reservation. I only say that because we are not allowed to give any personal information before the transaction. AirBNB will only give you all of these contact info once you have reserved the dates.
13. AirBNB is like the Administration/Reservation Center that connects between you/the guests and us/the hosts. I have used AirBNB before when we went to New York and they are very reliable.
14. AirBNB does not allow you to see the place unless you have reserved/paid your stay. However, AirBNB offers... Voice Connect where in we could chat. Send me a note if you want to connect with me, your location and time so we could set up our schedule. Here goes...
The Voice Connect feature enables hosts and guests to chat by creating a private phone connection directly inside of Airbnb. Did we mention it is also totally free and international? You just pay your normal rate for an incoming call (as if it is a local call), never any international fees. There's no need for applause. We do it all for you!
Voice Connect is available to the entire community, though if you haven't yet verified your phone number in your profile, you will be asked to do so via text message or phone call. You only have to verify your phone number once, and it will be saved to your Airbnb account.
For a host to be able to call a guest with Voice Connect, the guest must choose this feature when submitting a message inquiry via the contact button. Both host and guest should also set their local time zone in their Airbnb account since calls can only be placed between 9 AM and 9 PM in the local time of both the host and guest.
When a host receives an inquiry from a guest who has agreed to be called, there will be a link in the message thread for the host to call the guest. Airbnb will place a phone call to the host's phone, then to the guest's phone, and finally connect the lines.
Sounds pretty awesome, but what about privacy? No need to worry, all phone numbers will still remain private until after an accepted reservation. Airbnb will also record all calls to maintain a record of communication, allowing our customer support team to provide help to both parties in case of need.
15. Please know that our apartment has a different rate/transaction than others. We could only say for our end.
16. Why our place/AirBNB and not hotel? I have used Shangrila hotel and Oakwood Hotel when we were in Manila. I had a great time with Shangrila's buffet and Oakwood's spa. Having said that, the daily rate was a killer. You only have that small amount of space. We ended up getting two bedrooms when we were there. It was very costly.
With this apartment, you have the big place, your own place. A lot of amenities inside your apartment like gym, pools, etc. which you can't find in the other hotels. Your neighbors are great and decent. The rate is way down compared to the hotel's rate.
17. Makati and Quezon City - if you are Filipino or Balikbayan, you probably know the difference. If you are a Tourist, Makati is the financial district of Manila and Quezon City is known for the Media area and schools. That's why a lot of the people in the Showbiz Industry resides in Quezon City.
At the Grass, early in the morning during school days, there are many mini- buses/shuttles that service students to their universities/schools.
How safe is the Grass Residence? First of all, it has a 24 hour security. Nearby is SM mall. These malls, Trinoma and SM closes at 10:00 pm. In the evening. The locals sell their balot (duck egg) and barbecues on the street. I came home in the wee of hour at the Grass when I was there and I was fascinated by how kind were the locals. I even get to know the person selling balot and sprite/soda. He knew my order and gave me a big discount after few nights. Well, you have to be a brave tourist if you want to eat balot. We/Filipinos love to eat this egg. Some folks said that If you want your wife to be pregnant, she has to eat balot. I am not sure if I did that! Perhaps I did!
Early in the morning, when you walk to the nearby church or mall, these kids are walking to the school and they are all wearing their uniforms. They were very cute and very friendly.
To me, you will never experience this in Makati. It has a different air.
I drawn to countries like Morocco and Turkey. I guess there is this element of surprise. The idea of learning few local language and be able to communicate to the locals, I think is an interaction of the real human beings. Quezon City does really remind me of those few places that I visited.
17. Filipino Culture - I am married to American. Once we went home to Visayas. I was actually born and raised in Sapian, Capiz. So, I brought my caucasian husband. Of course, he sticked out because of his skin color. So Locals stared at him. He was actually fine about it and he realized that he got the attention that he did not get when we were either in the US or Europe. I am saying this because some Expats/Tourists did not want to be stared at. All I could say is that, being curious is embedded in our culture and we can't help it. We/Filipinos are very loving and hospitable so I am sure our people won't harm you. On the contrary, they are probably looking at you because to them, you are beautiful or handsome! Or financially rich?
Philippines is a country that is currently on the rise. It is the world's number 1 call center. The momentum of the transparency government has slowly felt. The mood is moving forward. I have noticed that the Chiropractors in Manila are from the US. This is fascinating to me. Above all, the people speaks english and some speaks Spanish too so tourists should be able to communicate to the locals.
On that note, I hope you will find our place, the Grass Residence extraordinary in many ways! Thank you for reading, Maraming Salamat po, Gracias!

Warmly,
Bing
+ More
---
---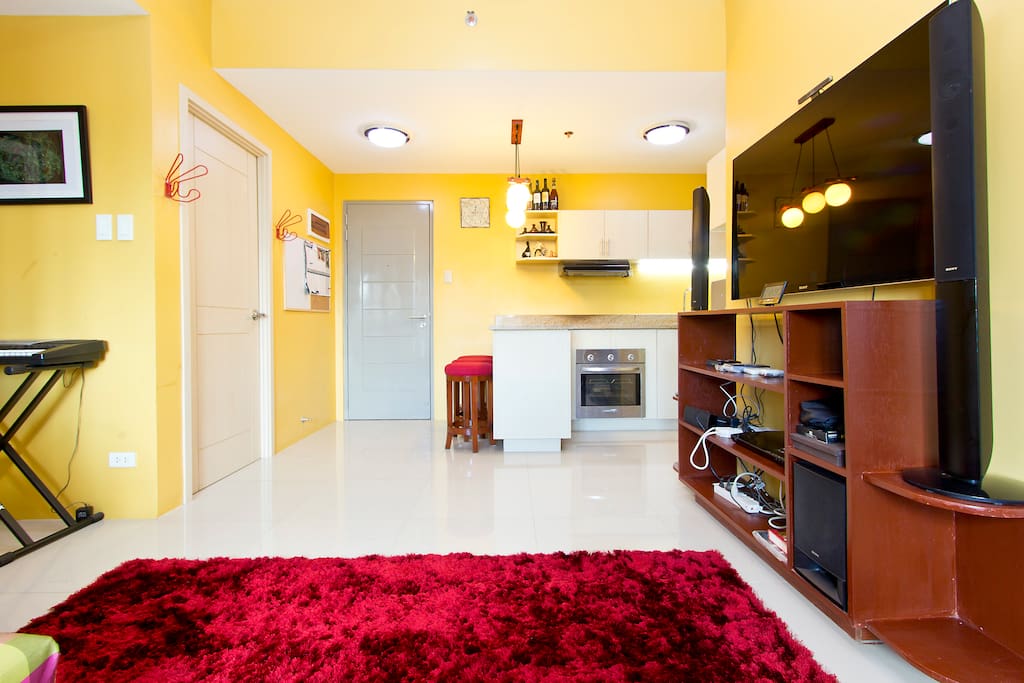 Entrance of the apartment. A clock to remind the guest with white board and cork board for daily agenda.
Explore other options in and around Quezon City