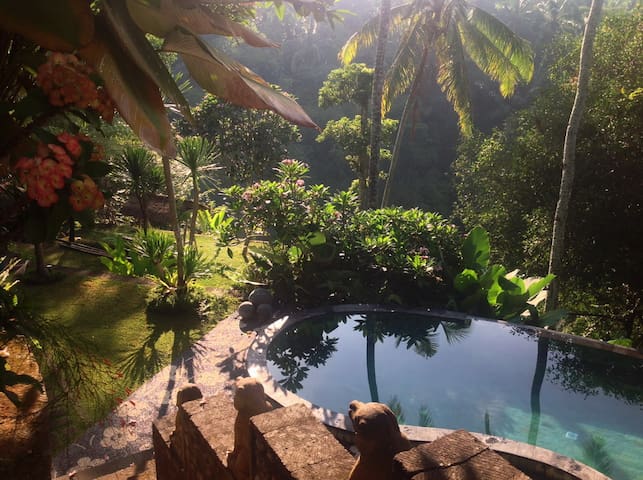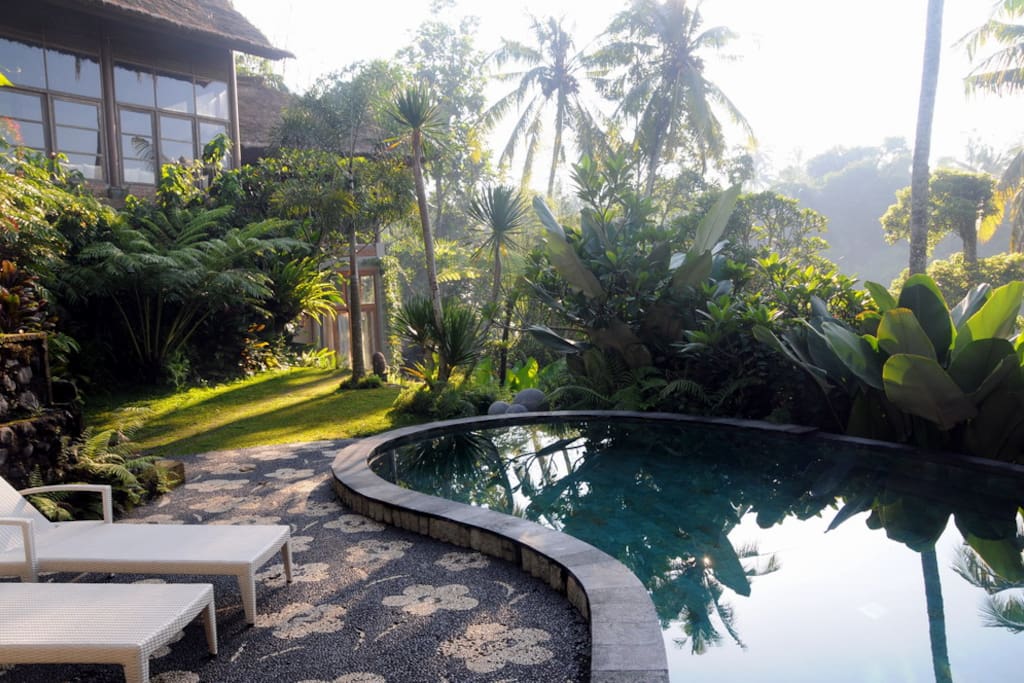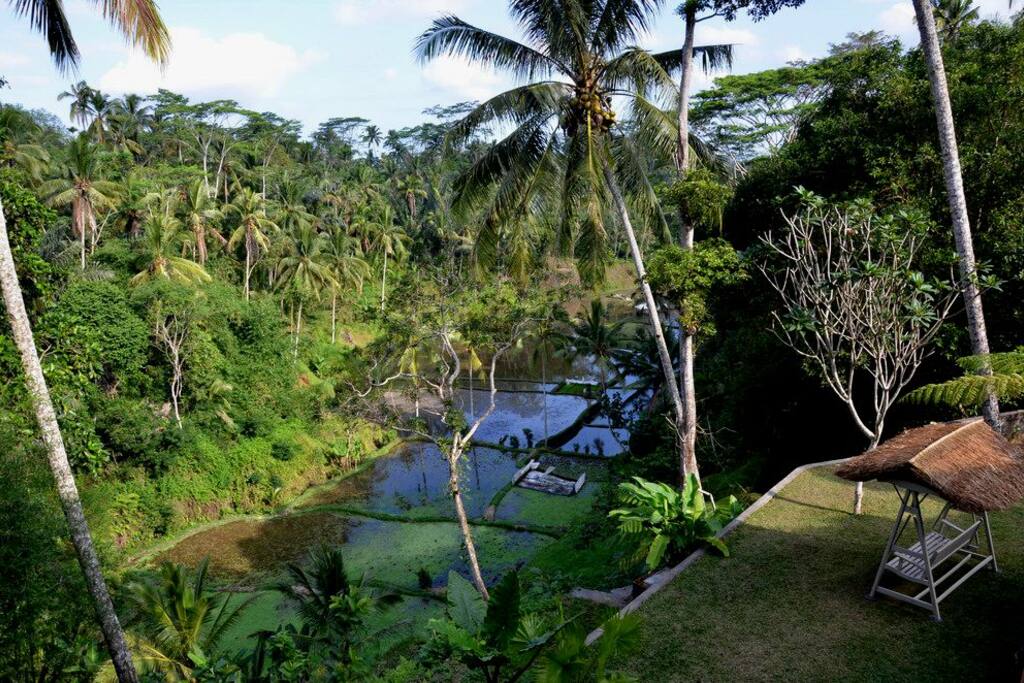 About this listing
Villa is placed on the edge of the tropical forest/ rice field-valley. It is in upper part of Ubud, in Tegallalang, at Banjar Kebon. It is a huge and beautifully designed "maison d'architect" with 4 bedrooms viewing a magnificent rice-field valley.
---
Check In: Anytime after 3PM
Room type: Entire home/apt
---
---
---
Villa is placed on the edge of the tropical forest/ rice field-valley. It is in upper part of Ubud, in Tegallalang, at Banjar Kebon. It is a huge and beautifully designed "maison d'architect" with 4 bedrooms viewing a magnificent rice-field valley.
Villa is placed on the edge of the tropical forest/ rice field-valley. It is in upper part of Ubud, in Tegallalang, at Banjar Kebon. It is a huge and beautifully designed "maison d'architect" with 4 bedrooms. The house's view open to the tropical forest valley with its magnificent rice fields. The quality of the air over there is simply divine.
Villa Constance was all built with the local materials: noble wood, stones, marble, alan-alan roof. It is a "maison d'architect" with a huge space for living, vast terraces and a big garden. A perfect place for different Bali retreats: yoga, meditation, life coaching. The great room and its terrace offers a lot of space for different activities.
The house is situated in the original Balinese village, in the most beautiful part of Bali. The village, Kebon, is located in the higher part of Ubud that is why the climate is very pleasant with the average temperature of about 26-27°. Staying in that part of Bali is like a natural spa treatment - one doesn't need any body cream to hydrate the skin. Villa Constance's big advantage is a wonderful view - the rice-field valley and a tropical forest open to your eyes with all their beauty. The garden spread to four levels one above another. The swimming pool and the swing make time pass by very quickly ;)
Villa Constance is a very spacious and bright house. It was designed in a way so that the splendid view could be seen from almost each corner. That is why we decided to glaze the major part of the house with vast windows that open onto the valley giving you this feeling of being in some kind of a paradise. All the floors in the whole villa, apart from the master bedroom, are made of marble. The master bedroom has beautiful teak floors that spread to the lovely balcony. It is situated on the 1st floor while the other 2 twin bedrooms are on the ground level, straight below the master bedroom. The new bedroom 4 is on the other side of the property, sort of detached from the villa. This bedroom is the second biggest after the master bedroom and it is placed below the swimming pool level viewing the magnificent rice-field valley. The american kitchen is fully equipped with glasses, plates, coffee machine, microwave, etc. You have a small kitchenette for your own use while there is also an exterior staff's kitchen for them to cook. We prepared a nice menu for you to enjoy and dine in the villa as often as you wish! There are fabulous, traditional Balinese dishes for you to taste as well as some spaghetti for the kids to survive ;) Our staff can do the shopping for you, too. They can buy delicious vegetables, fruit, meat or fresh shrimps on the nearby market. Feel free to let them know what you need.
We also created a kind of a relaxation/meditation/yoga podium in one corner of the great room. You can also just sit there in between those colorful cushions, read a book and relax. Well, you are on holidays!!
CONSTANCE held alrady a couple of weddings and a yoga retreat. Everything was perfectly organised by me and my Team. Feel free to try us for your own idea of an event!
In general the house has a very vivid French touch if it comes to its design.
The breakfast and a daily housekeeping are included in the rental costs. Our manager, Nyoman, can serve you both as a driver and a tour guide. He can pick you up from your destination and drop you off to your next address. His prices are very reasonable. We also offer two great masseuses we tried: Made and Komang. Just let Nyoman know when and for how many persons he should order the massage.
We became also a part of BALI ECO VILLAS so please respect the garbage segregation and use the special garbage bins.
Our staff can cook for you or order a take away from the nearest restaurant in Tegallalang. Heaven's menu will be sent to you after a completed booking.
Nearby attractions - carving village, Elephant Tracking Park, Bird Park, Ubud with its Holly Monkey Forrest, famous temples, rice-field walks, bike riding in the nearby villages, fashion boutiques and unique restaurants.
We hope your stay in Villa Constance will be very satisfying and that you will come back!
The whole villa is to your service!
My manager, Nyoman, can serve you as a driver - his prices are very reasonable - or he can also help you with a vehicle rental.
I always regret not being able to meet my guests personally. I am most of the time in Europe with my lovely family. I come to Bali something like once/twice a year - then I always meet up with my guests!
I love the traditional village of Kebon. It makes me feel as if I happen to be on some other planet ;)
We offer Nyoman's services - he is my manager and driver. His prices are very reasonable.
Please respect the nature you are surrounded with. You might see some insects, lizards, sometimes the harvest rodents can be seen, too. Do not fear them as they appear and disappear with peace. You find yourself on the edge of a tropical forest/ rice-field valley and the whole universe above your heads. Be respectful of other living creatures and love your stay in Villa Constance!
---
Payments & Deposit
Payment Methods
Credit card payments are not accepted IN THE VILLA.
Direct Bank Deposit, Cash
Booking Deposit
The booking is confirmed with a deposit of 2 nights rent.
Long Term Stay booking is confirmed with a deposit of a weekly rent.
Payment Balance
Balance of payment is due 14 days prior to arrival.
For a "Long Term Stay", the above payment balance policy is different and should be discussed with the owner.
Booking Cancellation Conditions
Cancellation VERY STRICT:30 days or more prior to arrival, all payments (less 2 nights rent) will be refunded.
Notice of cancellation must be in writing.
Security or Damage Deposit
A credit card is required for a security/damage deposit.
Groups of young adults may be subject to a larger deposit.
A credit card imprint & signature is taken at check-in & destroyed when no damage.
Policies
Check In/Out Times Policies - Property Access
Check IN: 03:00 PM Check OUT: 10:30 AM
When you arrive, someone will meet you at the property with a key.
Guest to notify owner if they expect to arrive after 9 pm.
Flexible Check In/Out times are possible, dependant on outgoing/incoming guests.
Quiet Time Policy
There is no specific quiet time policy, though guests are asked to be respectful of all neighbours.
Guests are asked to respect the neighbours.
Smoking Policy
Smoking is not allowed, but outside only.
Children Policies
Children of all ages are welcome.
Children under the age of 12 must be supervised at the pool/hot tub.
Babysitting can be arranged.
The pool can be accessed directly from the house without a door alarm.
There is no fence/gate around the pool.
There is no life guard on duty.
Group & Min. Age Policies
Allow groups 25 years or older., Allow groups of families or couples., Maximum of 4 adults and 2 children., Maximum of 6 Adults., Maximum of 4 Children.
Parents/guardians may not book for underaged guests.
Extra or unauthorized occupants could result in eviction without refund.
Services & Fees
Pet Policy, Deposit & Fees
Pets are allowed.
A guest must request this optional service.
NOTE: Disabled persons traveling with a Service Animal have special rights.
Cleaning During Stay - Optional
Cleaning/Maid service is included in the rent and occurs every 1 days during a stay.
Daily maid service is not available on some days of the week.
Linens changed for an additional 20.00 per maid service.
Linen
100% cotton sheets, towels & bedding.
Towels are not allowed outside of the property.
Parking
Parking is free.
No parking permit is required.
Airport Transfer Services & Fees
A guest must request this optional service.
Owner offers airport transfers.
Amenities & Fees
Internet Service & Fee
There is no fee for internet use.
Password is in the check-in package..
Telephone Fee
The property does not have a landline phone.
Guest's mobile phone with a certain credit is provided by the owner upon a simple request. Further phone card recharges on the guest.
Property Heat/Elec/Energy Fee
The heat and electricity is included in the rent. There is no fee charged.
Guest pays for utilities when a long term stay.
Guest pays utilities when the stay is 21 or more nights.
Air Conditioning & Fees
Air conditioning is not required because of the natural breeze.
Vehicle (provided by owner) Rental
Fee of 70,00 USD is charged for every 1 days). (based on a minimum of 1 days)
A guest must request this optional service.
The vehicle is a van.
Owner's vehicle & driver are available for a fee. Discuss the details with the owner.
---
Hi my name is Jacob. I am a huge traveller - everywhere with my family.
Feel free to contact me for more information about the property
Response rate:
100%
Response time:
within an hour