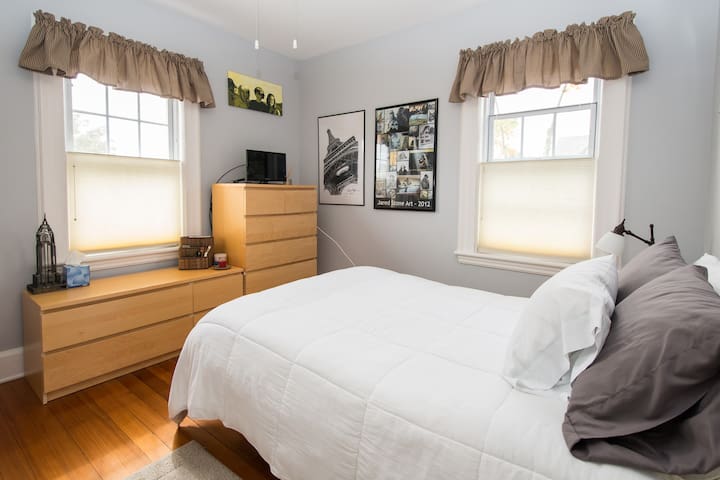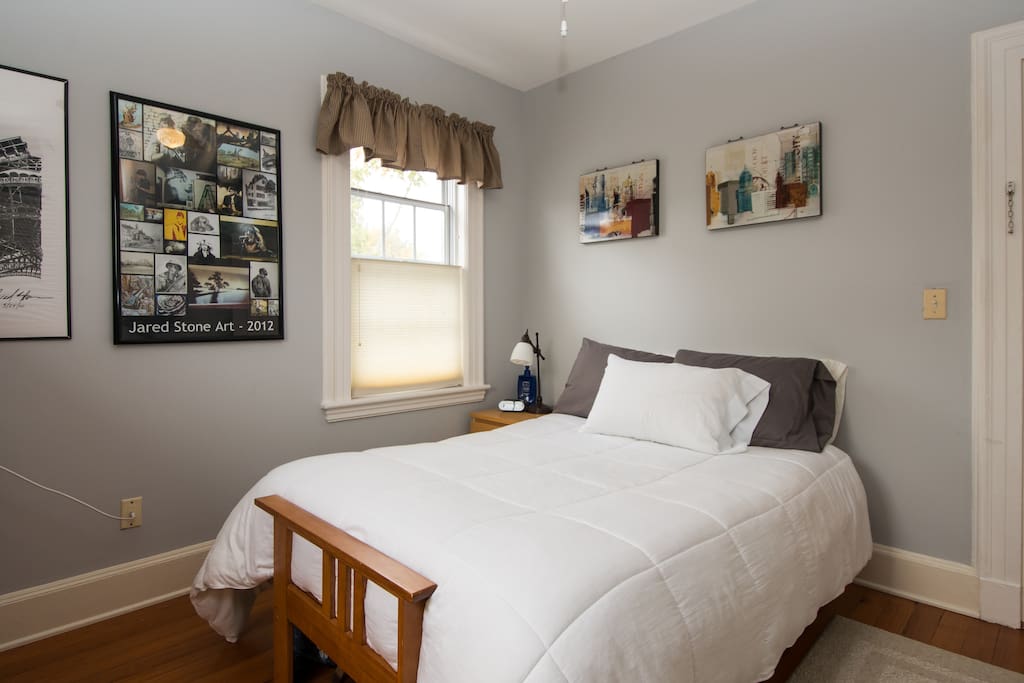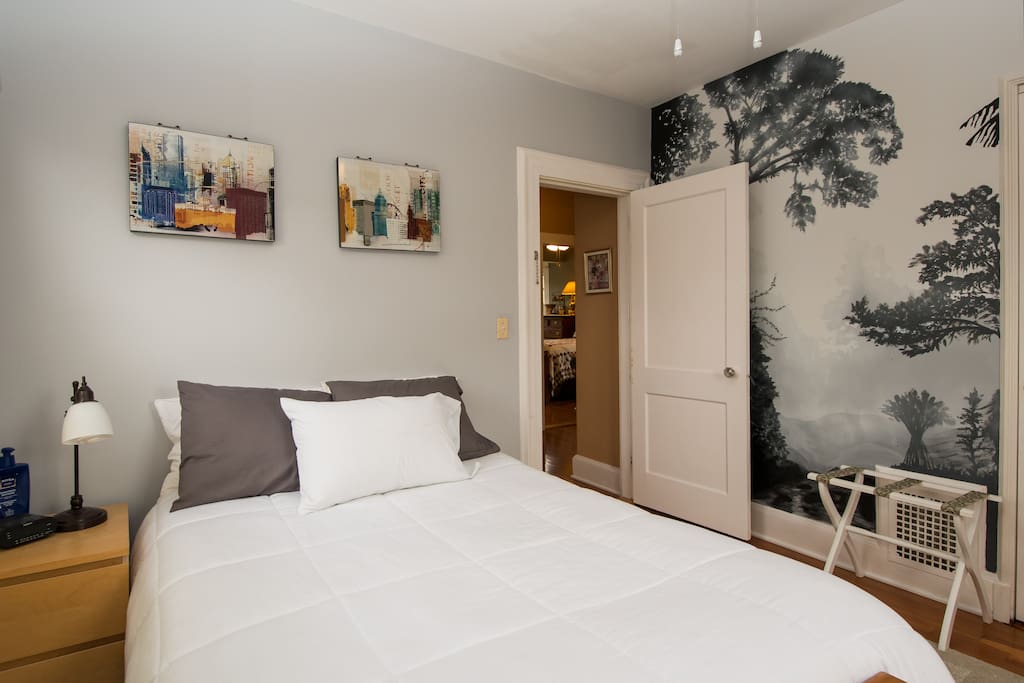 Private room
2 Guests
1 Bedroom
1 Bed
About this listing
Welcome to historic New Bedford! Conveniently tucked in between major destinations including Boston, Cape Cod, Martha's Vineyard, Providence, and Newport RI. Stay right here if you are a longer term single traveler or a couple who want to relax in a double bed guest room. Other rental options available. Prices vary throughout the year. 7-night cycle minimum booking required.
---
Accommodates: 2
Bathrooms: 1
Bedrooms: 1
Beds: 1
Check In: 3PM - 9PM
Check Out: 11AM
Room type: Private room
---
---
Cleaning Fee: $60
Security Deposit: $100
Weekly Discount: 10%
---
The space
FLEXIBILITY:
Now that I'm retired and fitting in more travel time, I enjoy sharing my 1914 4-Square home with guests on 3 rental options: PRIVATE single bed guest room + 1st and 2nd floor bath; PRIVATE double bed guest room + bath; or ENTIRE house with up to 4 bedrooms + 2 bathrooms when I'm away.
IMPORTANT! For a private double room, stay right here and read on. For either of the other options, please visit the other links that I posted.
WHAT CAN YOU EXPECT:
I'm an empty nester with extra bedroom space to share. In 2004, my husband and I began restoration and retrofitting our home. Sadly, when he died in 2008, I slowly began my search for my new self. Sharing my home through Airbnb fell into place.
THE HOUSE:
All regular bedrooms are on 2nd floor. 1 full bed; 1 twin bed; 1 queen bed in master bedroom (for use when I'm away.) All beds have memory foam on mattress. 2 newly renovated full bathrooms with walk-in showers; 1 is on the 1st floor and 1 is on the 2nd floor. Bed linens and towels are provided. A 3rd bedroom with double bed and portable heat is on the 3rd floor. It's more like a little studio.
The Comfortable living room has a working fireplace best used during the milder temperatures of fall and spring. Kitchen has all the updated appliances for casual cooking. Laundry is in the basement. A retractable laundry line extends from the back porch corner to the storage shed.
WIFI is available. The primary TV is in the living room that you are welcome to use. You can also connect your own portable devices for streaming. 2 smaller TVs with basic cable in 2nd floor guest bedrooms.
My home is heated on one zone with forced hot air by gas. Window A/Cs are in place during the summer and available as needed. I ask your cooperation with energy conservation while you are sharing my home. That is lights, heat, AC, windows, doors.
Free curbside parking around this corner lot with minimal traffic. Small back yard with front and back entrances and open porches. Assortment of board and card games. Outside gas grill is available for cooking. Backyard fire bowl for a relaxing evening with S'mores from spring to fall. If I'm home, I often play guitar as a hobby and enjoy having music on around the house. You're my guest, but I also want you to feel like a friend so it's important that your stay works for both/all of us.

NEIGHBORHOOD & LOCAL COMMUNITY:
Quiet neighborhood and within 30 minute walking distance to downtown New Bedford. Discover New Bedford Whaling National Historic Park with walking and harbor tours. Natural environmental beauty is a couple blocks away at Buttonwood Park with zoo and playground that appeals especially to young children. Plenty of nearby restaurants and shopping.
Lovely Victorian neighborhoods surround your stay with newly established biking lanes. Phoenix/Mattapoisett Bike Trail provides a delightful 7 mile roundtrip riding experience from Fairhaven to Mattapoisett. Fairhaven Village, including Fort Phoenix and the Hurricane Barrier extending out to the harbor, is a must-see on bike, walk, or slow car ride. You're in the heart of an active fishing, scallop, and lobster community that you won't want to miss. Lots of art galleries throughout New Bedford, Fairhaven, Dartmouth, and Westport.
NEARBY TRANSPORTATION:
-Centrally located on the south coast with easy driving via highway or scenic backroads to Providence, Fall River, Newport, Boston, and Cape Cod.
-Access from downtown New Bedford to Boston is provided on DATTCO commuter bus.
-Nearby commuter train can be taken from Lakeville to Boston.
-Daily ferries have a more frequent schedule from New Bedford to Martha's Vineyard, Nantucket, and Cuttyhunk Island.
-New Bedford offers taxi service and daytime public bus transportation, SRTA, that has stops in and out of the city and other neighboring towns.
A UNIQUE PLACE:
If you are a visiting student/scholar at UMASS/ Dartmouth; visiting family; attending a local conference, or looking to explore the South Coast regional area, my home may be the right space and location for you to get out and get around.
Let's talk about your needs to provide a comfortable stay based on private room or entire house rent.
NEW BEDFORD is a small city of rich diversity. Please don't hesitate to ask me about anything that can enhance your stay. My life-style these days is based on flexibility, comfort, and easy-going. I hope you'll arrive and depart with a sense of belonging.
I look forward to welcoming you to NEW BEDFORD.
Guest access
I may or may not be home when a house guest arrives. If I am not at the house when you arrive, the house key/s will be left in a coded key box next to the back porch door. A 4-digit number code will be provided before you arrive. One key has access to the back door and basement side door. If there are two keys, the other key has access to the front door. Whether you are a private guest or renting the entire house, you are welcome to make use of the entire 1st floor for cooking, dining, or relaxation. Courtesy between you and the host and/or other guests and cleaning up after yourself is expected.
Interaction with guests
During the months that I am home, I like to interact with my guests as much or as little as you require. I will respect your desire for privacy, but am available for information as needed. When I am away from the house, don't hesitate to contact me with any questions or concerns. I'll do my best to reply ASAP.
The neighborhood
My neighborhood is a combination of easy walking and driving distance to many things that you will need but also offers an urban quietness both day and night. In milder weather, I hope you'll relax in the back yard however, please be mindful of our close proximity to abutting neighbors. My desire is to let my guests relax in their own personal space with a shared appreciation of closely abutting neighbors. Your comfort is my success.
Getting around
New Bedford offers public bus and cab service. Bus service stops in the evening. A local bus stop is just behind the house. Shopping for necessities is minutes away by car.
Other things to note
Although my home has had numerous improvements over the years, there are still those little quirks that only a homeowner would know exactly how to deal with them. That's while I've tried to spell out everything I can think of to make this house-sharing experience positive for both of us. I'm glad you're taking the time to get familiar with your home away from home. Keep reading ;))
---
Check-in time is 3PM - 9PM.
Lengthy but important reading for a successful rental. It might even help you sleep better tonight ;)
As an Airbnb guest and host, it is expected that a mutually respectful relationship between guest/s and host will occur. I am sharing my home; a private residence. I encourage my guests to get familiar with my house rules provided on the website and at my home in a 3-ring binder.
Although I am a pet-lover, I prefer not having pets in order to meet the comfort needs of ALL my guests.
No smoking, excessive alcohol, or illegal drugs on the property. Smoking is allowed near my house on the curb. Please use a container to disgard cigarettes.
My home is a place to relax and have a little more space at any time during the day or night; it is not for the purpose of group parties. Please do not invite large gatherings of guests to my home. It's important for you and me to remain respectful of my surrounding neighbors.

It is expected that guests will take care of their own daily needs from the time you arrive until the time you depart.
CONTACT THE OWNER AT ANY TIME WITH QUESTIONS OR CONCERNS!
HEAT & AIR CONDITIONING: In the winter, please conserve on gas heat by dressing in warmer house clothes before increasing heat. (One t-stat heats 1st and 2nd floors.) Please do not open windows when heat is on. The opposite applies with the window ACs during the summer season. The thermostat, is located on the kitchen wall next to the basement door. Oct to April, weekdays it is automatically set at 68 degrees 6am to 9am; 65 degrees 9am to 4pm; 68 degrees 4pm to 11pm; 66 degrees 11pm to 6:00am. Weekends are the same except the heat stays at 68 degrees throughout the daytime hours. It can also be run manually when necessary. Press COOL or WARM to lower or raise the heat. Then press HOLD. Please do not raise the heat more than 70 degrees. Press RUN to return to the automatic schedule.
In the summer, typically May to September, window ACs are in the bedrooms. Please close windows & exterior doors when AC is in use. Depending on the daily warmth, please turn AC down or OFF when you leave the house. Use your best judgment for energy savings. Contact owner/host with any questions.
If you are renting the entire house in the Summertime, feel free to open exterior doors and windows at your discretion. But please, please, please, do not operate AC's with windows &/or doors open.
IMPORTANT! NEVER OPEN THE WINDOWS HOLDING THE AC UNITS.
STORM DOORS. Always be sure the exterior front and back storm doors are securely closed behind you. It is easy for gusts of wind on a windy day to pull the door open which could cause damage to the door.
BATH AND BEACH TOWELS are available in the 2nd floor hall closet and additional bath towels may be on the 1st floor bathroom shelf above the window. DO NOT HANG DAMP TOWELS OVER WOODEN FURNITURE inside the house, or on front porch railing. A small wooden folding clothes rack should be on the 3rd floor.
LOCAL BEACHES: During the spring season you can enjoy the New Bedford beaches for free without a resident pass. In the summer, there is a nominal fee. I recommend it on a nice warm weekday. You'll most likely have the beach to yourself. A few extra beach chairs are in the basement. HORSENECK BEACH is a public beach in Wesport off Rt. 88. Great family outing at a nominal cost to park the car.

CLOTHES LINE: In good weather, feel free to use a pull-out clothes line from the back deck to the storage shed. You may also hang wet items over the back deck railing.
Do not allow children to walk, sit, or jump from porch railings.
IRON AND IRONING BOARD are in the basement near the laundry appliances. Simply plug the iron into the orange cord outlet on top of the dehumidifier. Press and hold the button just below the window display on the top front of the iron showing the heat setting options. #4 (Blend) is a good setting for most ironing. Do NOT use water in the steam setting.
To turn the iron off, press and hold the same button until the display turns off. Remove the iron cord from the orange cord outlet on top of the dehumidifier, and leave it over the ironing board so nobody trips over it.
HUMIDIFIER: IMPORTANT! Be sure the dehumidifier is always turned on. The setting should be set at 50, and humidity will automatically be drained into a hose out of the basement. It must be turned on after a power outage.
POWER OUTAGES: Outages are very rare in this part of New Bedford, but if one occurs, you will notice bedside alarm clocks and digital clocks on stove and microwave are blinking or showing wrong times. Simply reset the clocks and make sure the humidifier in the basement is on by pressing the small vertical line in the middle of the top panel. When you see "50" it is ON.
KITCHEN. There is one kitchen light switch on the wall as you head to the back door. It has a small dimmer knob attached for the ceiling fan and light over the sink. If you want to keep the ceiling fan on, set the wall switch/dimmer to the fully ON position. Then use the hanging cord to set the fan at whatever speed you desire. The other hanging cord will turn off some or all of the ceiling fan lights. (Sorry, a lot of the circuitry was in place before I got here.)
Do NOT operate the toaster oven and microwave oven at the same time. This could cause the circuit to trip. My apologies for the inconvenience. Another "this old house" quirk.
Do NOT heat anything with metal in the microwave.
Be careful with your cooking time in the oven, stove, and microwave as liquid foods can boil over easily. DO not leave the kitchen while foods are boiling.
KITCHEN STORAGE. If you end up sharing the house with another guest, please be courteous about refrigerator and freezer storage space. An empty cabinet or shelf will be available for yoour use depending on how many guests are renting at the time of your stay. Please store your own can and boxed food on one or more of the empty shelves in an available kitchen cabinet. Other shelf food / items marked "HOUSE" are left by the owner. Please help yourself. The same is true for refrigerator door items.
GARBAGE DISPOSAL: The wall switch on the right of the kitchen sink operates the garbage disposal. Do NOT place meaty or fatty or greasy foods in the disposal. Those food items should be bagged or sealed carefully and disgarded in the trash bucket next to the frig. When operating the disposal, run the sink water and place the solid drain cover partially over the drain so the water can run throuh. Turn ON the disposal switch until it sounds like all garbage has been broken down and is safely running throught the water pipes. If you don't do this carefully, the disposal could clog and back up on you. You will be charged for plumber fees, and they aren't cheap.
Dish Washer: Typically guests prefer to hand wash and drain or dry their own dishes and then put them away. However, if a lot of dishes are being used at one time, it makes sense to use the dishwasher. Keep the top rack clear of the spinning central water device, and make sure nothing on the bottom rack is so tall that it interferes with the spinning device above it. Use one dishwasher packet stored under the right side of the kitchen sink. Place it in the detergent holder and close the cover securely. Almost close the door. Turn the dial to normal wash. Then push the door all the way in until it grabs. The cycle will begin.
Sponges: New sponges are stored under the kitchen sink. An old sponge should typically be replaced with a new sponge at the beginning of each month. The old sponge can be stored by itself on the bottom shelf under the sink and used for small spot floor cleanups. Then it can be thrown away when the sponges are replaced again. (Just a system that works for me. Try it or use your own system.)
CLEANING TOWELS are stored in the bottom drawer next to the refrigerator. These can easily be cleaned periodically with your laundry.
The bread drawer above the towel drawer can also be used for food storage.
Please keep all areas of the kitchen clean after use. This includes both sinks, stove, oven, microwave, toaster oven, dish washer, refrigerator, freezer, and floor.
CONTACT THE OWNER AT ANY TIME WITH QUESTIONS OR CONCERNS!
1ST FLOOR SHOWER: Heat for this bathroom comes from the kitchen so please leave the bathroom door open when nobody is using it, or it will get very cold in the winter season.
Follow these instructions carefully, in order to make your entry and exit from the shower as easy as possible due to the placement of the door opening and aim of the shower. Be sure the lever below the shower faucet is positioned to the far right side minimizing water pressure. Reach in and turn the water faucet counterclockwise all the way to the hot position. Before you step into the shower, check the water temperature. When it feels warm to hot, adjust the faucet clockwise back to the lower RED area to a slightly warm position. You can then step into the shower closing the door behind you and increase the water pressure by moving the lever to the left side. (If you don't take these precautionary steps, the water will aim at the opened door making it difficult to enter. You can also release the shower head from the wall grasp and hand-hold it while adjusting the temperature.) Please make sure the lever is pushed all the way to the right before you exit the shower minimizing the water pressure again and the shower head is aiming toward the left shower wall. Please turn the faucet far enough to stop the water from pouring through. You do NOT need to turn the faucet all the way to a tight OFF position. Seems like a nuisance, but something we didn't foresee when the shower was installed.
LIVING ROOM FIREPLACE: Not for use in the summer or winter. Please only use Duralogs in the fall or spring seasons and replace as needed so there is always a supply ready. Only use the FP in mild seasonal weather. Do not use in cold winter weather as all the conventional heat will be wasted up the chimney. The chimney flu lever is inside and above the FP opening. Pull forward to open the flu. Push back to close the flu. Always burn the Duralog at the back of the FP grate. FP lighters are in one of the small kitchen drawers.
OUTDOOR FIRE BOWL: For use only on mild, non-windy evenings. Place a few crunched up papers in the bottom of the bowl. Lightly criss-cross some kindling which is stored in the basement under the work bench. Criss cross 2 or 3 lighter logs (outside by the storage shed) and light the fire (starter lighters are kept in one of the small kitchen drawers.) The fire pit stoker/cover pole is on the basement stair landing wall with other cleaning accessories. Please return the cover pole to where it belongs when finished. At the end of the night, simply place the metal mesh cover over the fire bowl. The fire will safely go out by itself by morning. Do NOT use water to put the fire out!
Cover the entire fire bowl with the black plastic rain cover the next day when the bowl is completely cool. Please have a container of water nearby while burning. Always burn safely.
OUTSIDE COOKING GRILL: The grill should have a pretty full tank of propane gas. My property manager will try to keep an eye on this. You should be able to turn the propane knob one or 2 full turns to allow the gas to flow. Ignite using the middle burner knob turning very slowly. It may require a few attempts, but it has always worked. Then you can ignite either of the other burners afterward. Please remember to turn EVERYTHING off and scrape the grilling surface when finished. NOTE: There are a few grilling bowls/racks stored in the lower kitchen cabinets with other pans. There is also a grill spray cleaner in the lower cabinet to the left of the sink.
TRASH AND RECYCLING. Weekly trash/recycling pick-up occurs on Thursday morning unless it is a holiday week. During a holiday week, trash pick up is on Friday morning. Large blue bins should be placed by the Palmer Street curb about 1 foot apart.
All non-recycling throw-away trash should be placed in the kitchen trash bucket & together with the trash bag liner, it should be placed in the large blue city trash bucket next to the rear porch if it is full or almost full. This should also be done on the last day of your rental. Trash bag liners are below the kitchen sink along with other kitchen cleaning items.
Smaller bedroom and bathroom trash liners are under the kitchen sink and in one of the 2nd floor bathroom vanity drawers.
All small clean recyclables, including glass, aluminum, plastic, and paper can be placed in the woven floor basket next to the tall kitchen cabinet facing the bathroom. When filled, they should be placed in the blue RECYCLING bin with orange cover. On your last day, this should all go into the large city recycling bin with the orange cover. Instructions for Trash and Recycling are posted on the side of the Refigerator over the kitchen trash bucket. Please do your part to help with recycling.
SUMMER SEASON GRASS CLIPPINGS AND LEAVE: If the lawn is mowed during your stay, there will be a grass clipping bag outside near the back porch. A full grass-clipping bag should be placed on the curb the day AFTER the trash/recycling gets picked up. This will be on Friday, or Saturday if it's a holiday week. Watch for other bags put out by neighbors.
LAUNDRY, The washer and dryer are in the basement to the right of the stairs. There are several pull chain ceiling lights around the basement. Please follow laundry detergent instructions. A little goes a long way. Always clean the lint out of the dryer lint tray before the next drying cycle. A build-up of lint will cause the dryer to overheat and not work. You will be responsible for an appliance repair or replacement.
CHECKOUT & DEPARTURE:
Checkout list is also in the 3-ring binder typically found on the dining room side table with the guest book.
Reminder that you have just shared a person's home, not rented a hotel room. Additional payment from your security deposit may have been arranged to be used for thorough cleaning after you leave.
Please bring all bed sheets, pillow covers and soiled towels (including kitchen towels if you are rneting the house alone) in the washing machine and set the washing cycle before your departure. My cleaning lady will switch it over for drying. This simple step gives her more time to get all the other house cleaning done in the time she is there.
Kitchen utensils, dishes, glassware, pots and pans should be cleaned and put away. Entire kitchen area and general common room areas, floors should be left reasonably clean.
Disgard ALL personal opened food containers in cabinets and refrigerator/freezer in trash, recycling, or through garbage disposal.
Any bedroom, bathroom, and kitchen trash buckets that you used should be left clean with trash bucket liners in them. (See instructions for outside trash & recycling bins above. This may vary depending on if you rent alone or shared the home with another renter.)
If you depart on Wednesday of a non-holiday week, please place both outside trash/recycling bins on curb with 2 feet between them for Thursday morning pick-up. If it is a holiday week, bins go out on Thursday night for pick-up Friday morning.
1st floor windows should be closed and locked. 2nd floor windows can remain slightly open only in warmer weather. If it's unusually hot, all windows should remain closed with ACs set at 78 degrees. During winter season, make sure TStat is set at 64 degrees on HOLD if you are leaving the house vacant. If another tenant is there, there is no need to do anything to the TStat.
Check under furniture, all closets, dresser and bathroom drawers, coat racks, etc. for personal items that need to travel with you. It's amazing how many important items get left behind. The host will be reimbursed from the security fee for anything that needs to be shipped/mailed within 48 hours after your departure.
Make sure all items on the front and back porch or in the yard are put away in their proper places. If you leave on trash/recycling day, place both blue bins on the sidewalk curb. If you leave on grass clippings/leaf pick-up day, please bring any appropriate paper clippings bags to the sidewalk curb.
Make sure all lights are turned off except living room timer light on table close to dining room door, and back porch light switch should remain on.
I hope you'll take a moment to sign the Guest Book and leave on the side table in the dining room.
Lock front door from inside. Lock the back door knob and dead bolt from outside. Make sure storm doors are securely closed. Leave key/s inside the coded keyless lock box beside the back porch door.
Airbnb requests honest reviews from host and guests so we can continue to foster a shared home experience of trust and respect. Please take a moment to write your review.
Thank you for staying. I hope you had a wonderful visit. Keep on Airbnb-ing!!
---
---
New Bedford, Massachusetts, United States
·
Joined in September 2012
Welcome! I've been an active Airbnb guest and host for 3 years. Based in New Bedford, MA, in 2014, I purchased a lovely lakeside "camp" on Tripp Lake in Poland, ME, and soon after, a mid-century co-op unit in Rancho Mirage, CA. Time flies when you're having fun!
CA allows me to spend the winter months closer to my daughter and son-in-law. ME allows me to relive the many relaxing summers I had on another lake growing up with my own parents and brother. New Bedford now fills the in-between gap and puts me closer to my son who lives in Boston.
As an appreciative guest of other AirBnB hosts, I welcome the opportunity to share my own homes with you as you visit these desirable areas. Options include private room rentals while I'm there, or the entire house can be rented to responsible, caring guests when I'm away. I'm happy to help in any way that will make your stay more comfortable and stress-free.
Motto: Keep it going, keep it going, keep it going.
Response rate:

100%(last 10 contacts)
Response time:
within an hour
Explore other options in and around New Bedford
More places to stay in New Bedford: