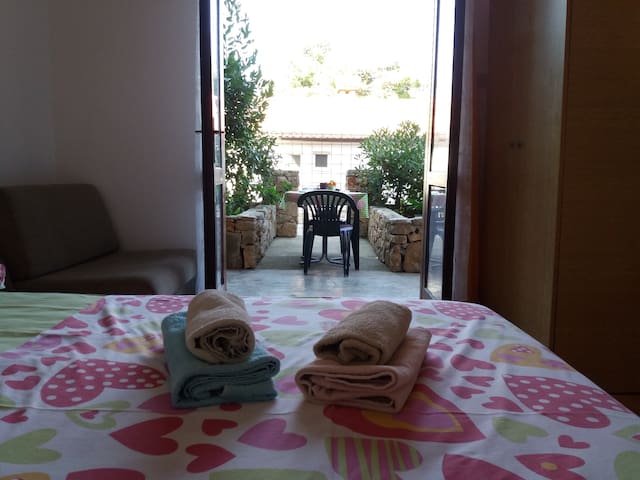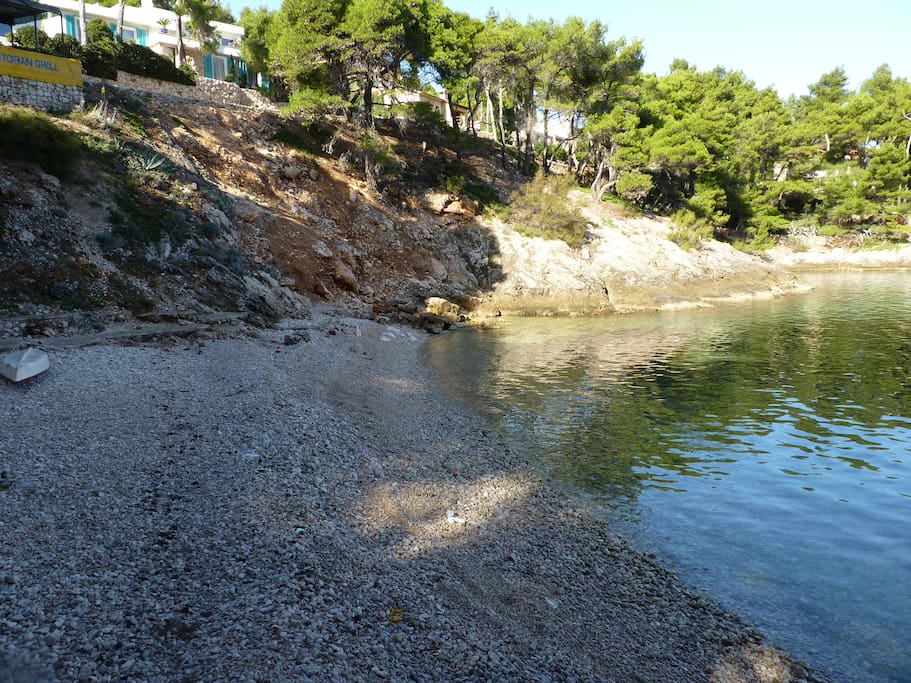 The studio apartment "B" is situated in a quiet part of Jelsa, 80 meters from the sea and the rocky beach. Not far from the house there are several small sand and pebble beaches. Area abounds with pine trees. Ideal for swimming, running, jogging, cycling, ....
The space
Studio Apartment B (2+1) is located on the ground floor. Studio Apartment B has beds for two persons, bathroom and kitchenette. A kitchenette is equipped with dishes and cutlery. For the 3rd persons we can put an armchair bed in the studio apartment. In the shade, in front of the Studio Apartment B and next to the garden is a table with chairs. Our house is near sea and it takes less then a minute to get on foot from bed to the beach. All our guests can use grill (barbecue) area and free WiFi internet. Also, there are linens and bathroom towels. Public car parking is not far from the house and it is free of charge. Not far from the house, only few minutes of walking, there are several small pebble beaches.
Guest access
Guests can use barbecue, free public car parking and WiFi internet. There are linens, hand and shower towels. Heating is not included in price.
Extra people $10 / night after 2 guests
Always communicate through Airbnb
To protect your payment, never transfer money or communicate outside of the Airbnb website or app.
Common spaces
1 queen bed, 1 sofa bed
Check-in time is 2PM - 11PM
OK! Here is a just copy of regular house rules. Basically you should treat our home like your own...
"•On the day of arrival the guests have to give to the owners their identification documents (passport or ID card) for the purpose of registration at the Tourist Board and the police. The documents will be returned to them within 1 hour.
•The guests are responsible for the cleanness of the apartment. The owners are not required to clean and tidy up, or to take out the garbage during the whole stay of the clients.
•The owners will change the bed linen every 7th day, and bathroom towels each 4th day, and for every new guest. Guests are not allowed to take towels, linens, or any other things outside of the apartment. We do not provide beach towels.
•There is no washing machine in the apartment, but it is possible to wash clothes with additional payment.
•The guests are obliged to take care of their personal things and valuables left in the accommodation. The owners will not be responsible in case of any disappearance, we advise the guests to always close windows and lock the doors when they go out.
•The owners will enter in the accommodation in order to check situation if they have any reason to believe that house rules are violated.
•The guests are kindly asked to take care of the accommodation and its furniture situated inside and outside of it. The guests are not allowed to move the furniture or to transport it to another location.
•When the guests go out of the accommodation they have the obligation to switch off the lights and electrical appliances, close the gas and water. It is not allowed to cool down food and drinks by leaving them under running water. It is forbidden to throw waste in the toilets or in any other place not predicted for this purpose like outside the house or in its vicinity.
•It is strictly forbidden that any person other that the guests stay inside or outside the accommodation. If any other person that the one declare at the moment of the reservation are present in the accommodation, the owners have the right to cancel the reservation.
•Guests who intentionally or accidentally damage the property, will have to reimburse the owners the full amount of the occurred damage.
•On the day of the arrival guest can come to the accommodation no earlier than 2 p.m.
On the day of departure the guests have to leave the accommodation the latest at 10:00. If they leave accommodation after 10:00 owners will charge guests will be charged like they have stayed one more day. Charging for extra day, caused by guest's later check out, doesn't mean that guests are allowed to stay one more day. The guests have the obligation to leave the accommodation in the same condition as they found it, tidy and undamaged.
•The guests are requested not to disturb the peace of the owners and other guests from 2pm to 5pm and from 10pm to 8am.
•If you cancel your booking cancellation policy will apply. If you decide to leave apartment before agreed date we will not return you money difference.
Violation of house rules can result in the cancellation of the reservation, and charging the full amount of the price of the accommodation regardless of the shorter stay."
Listing is accurate. We enjoyed our stay however it wasn't our favorite place we stayed in Croatia. Robert was very helpful, professional, and quick in communication prior to arrival (on ferry options especially). We really appreciated that. Despite detailed directions we still had difficulty finding the place (mainly we got off on the wrong exit to Jelsa from the main road - I guess there are 3 or 4 and the most convenient one to get off on is the most west one(I think)). The location is nice, just an easy walk outside of Jelsa so you can see Jelsa but also have a private swim and enjoy the quietness - the sea is so gourgeous. The island is beautiful and we recommend renting bikes, and/or driving around Hvar! Jelsa is very family friendly and quiet compared to Hvar town. However, Hvar might be overrated compared to other parts of Croatia. Croatia is full of beautiful places and Hvar tends to be pretty popular and expensive compared to other places - the restaurants in jelsa were not as tasty and the servers not as nice as in most other parts along the coast or on other islands we went to. There wasn't really anything bad about the place (so we didn't complain) just a couple of things that weren't as nice as other places: 1. no hand soap, we used dish soap 2. kitchen adequately but not super well stocked - small plug in burners (2 and one usually wouldn't work) for very small pots and pans so I cooked each person's separately, no spatula, tiny cutting board, no cooking oil or pepper (there was salt, we ended up buying a huge oil) 3. little communication upon arrival, no recommendations or anything like that 4. floor was a little dirty and space was pretty small 5. tight space that just doesn't feel very private- your room is right next to another as well as a patio used constantly while we were there (by some elderly people - maybe Robert's parents) 5. no view as there are houses between this and the sea 6. using the washing machine cost 5 euros per load, did not include hanging up our clothes just use of machine. On the other hand, the room smelled nice - of lavendar, and sitting at the little table outside we felt cool and fresh in the shade. Robert's wife offered us some crepes on our last morning so that was nice. Overall, this is a good value for Hvar.
Thank you for nice and constructive review. Also thank you for sharing your diary with us. I always love reading travelogues and someone's experiences on travels, to which I have no influence. :) I believe that your comment is written in good faith even if I don't agree with some of them. I agree that there was not hand soap in apartment. That is something what you should tell us and we will bring you soap. We have forgot it and you should tell us that. First I don't agree with you statement that "there was not anything bad about place (so we didn't complain)" and then you write a lot of things which you are complaining about. I'm sorry that you haven't complained right away because most of those things could be fixed in few seconds. We just want that all our guests tell us if something is missing or if they need anything and then we can help them. Now is too late to fix it since you are already left apartment. If you have told us everything what you have wrote here then your stay could be much better for you. I don't agree that floor is dirty. I do agree that place is small. Next time you should pay more to get bigger apartment instead of paying less for small apartment and then complaining about size. Place is as it is described and you can see how big it is in description and photos. Also you haven't rented apartment with view and also it was not described that apartment has view. We have also apartments with sea view. Your apartment was next to small gardens with palm trees in the shade, exactly like described. Those old guys walking around are not my parents, those are other guests. Next is washing machine... We have decided to give our guests chance to wash their clothes because we are aware that most of the guests which stay for less then a week are traveling a lot and they change apartments very often. Most of those apartments doesn't have washing machine, and we are aware that traveling with bag full of dirty clothes could be annoying. Because we have low prices we can not afford to spend half of earning on washing powder, water and electricity. Using of washing machine was free before, but when we started to have a lot of guest which have stayed for 1 or 2 nights and which have washed their clothes 3-4 times during their short stay we have decided that we have to charge something. The guest can choose himself whether to take the offer or not. Yes we don't hang up your clothes because we do not have laundry service, we just have washing machine. There is also laundry service in town which charges 15€ for using washing machine, and drying is also charged.. So you could wash your clothes there and then you can write in review for my apartment something about them, same like you have wrote about your experience with waiters and restaurants. Now I'm not sure should I leave washing machine to guests or not, since more complains I have with w.machine then without. By the way, what is the point of writing and complaining about something that I don't have in apartment and neither in a description of apartment. We also don't have massage service or heated pool in apartment included in price and I don't know why you haven't mentioned that :)
---
We had a lovely time at Robert's apartment. It was about a twenty minute walk from the main port of Jelsa, which was a lot of walking, but there was really beautiful scenery everywhere so it wasn't so bad. Robert was away working in Split so we had his wonderful family as our hosts, they were very helpful and accommodating. The apartment had a cabin feel to it, it was nice and clean and in a peaceful forest environment. Thank you again Robert and family!
---
While I did not meet my host directly, I met his parents, who live at the property. They don't speak English, but they checked me in and showed me the grill and there were not problems at all. The apartment was nice! Nothing fancy, but excellent for the price, with a very comfortable bed, surprisingly fast wifi, and a functioning gas stove and refrigerator. The neighborhood is great, located about halfway between Jelsa and (SENSITIVE CONTENTS HIDDEN)ska (about 20 minutes walk to each) - quiet, near the beach, and with the small towns at your fingertips. I really enjoyed my stay and wish I could have stayed longer.
---
Two of us had a great time (10 days) staying here. Robert was very easy to get a hold of and his parents were so kind as well- his father picked us up & dropped us off at the ferry, took us to grab food at the grocery on our way in, set up bike rentals for us, his mother insisted on doing some laundry when we asked for a bucket for washing and even surprised us with yummy treats one day! This is a simple, very clean, and cozy place but had everything we needed to cook, hike (his parents shared a guide) and relax here during the chilly but quietly charming off season of early January. The walks & bike rides to both towns were beautiful and while almost everything was closed for the season, we had the trails to ourselves and the smell of fresh pine hung heavy in the air. I highly recommend this place for anyone wanting to visit the island on a budget!
---
Hello to all, my adventure in Jesla Croatia was a most excellent one, Robert and his wife met us in Split made sure we got on the ferry to Jesla, we shared a nice tour he provided both historically and the history of how what and when along with his Father meeting us at the ferry and showing us the way to the studio apartment, the facilities were perfect for us, we had a space to cook every day as we prepared for our travels around the island, Roberts Parents were excellent host, they brought us treats down in the mornign they had prepared showed us their beautiful landsaped area, even went to the grocery store and bought items we requested for our first arrival. Excellent views of the most beautiful sea and a safe haven to relax and enjoy your holiday, HIGHLY RECOMMEND BOTH JESLA CROATIA and Roberts home Laura & Krystina Washington DC USA
---
We are almost all the time at apartment on top floor. If you need anything you can also write here or call us on phones at any time.
My family and I have several apartments for lease in Jelsa, a small town on most beautiful island, Hvar. We are renting apartments for almost 30 years. We started renting our apartments through Airbnb recently, and so far we have great reviews! We love traveling and meeting new people but even more hosting people and we will do whatever we can to make your stay at our apartments the best possible. Hope you will enjoy your time in Jelsa and our apartments.
Languages:
Dansk, Deutsch, English, Español, Français, Italiano, Magyar, Nederlands, Norsk, Polski, Português, Svenska, Čeština, Русский, українська
Response rate:
100%
Response time:
within an hour
Explore other options in and around Jelsa
More places to stay in Jelsa: