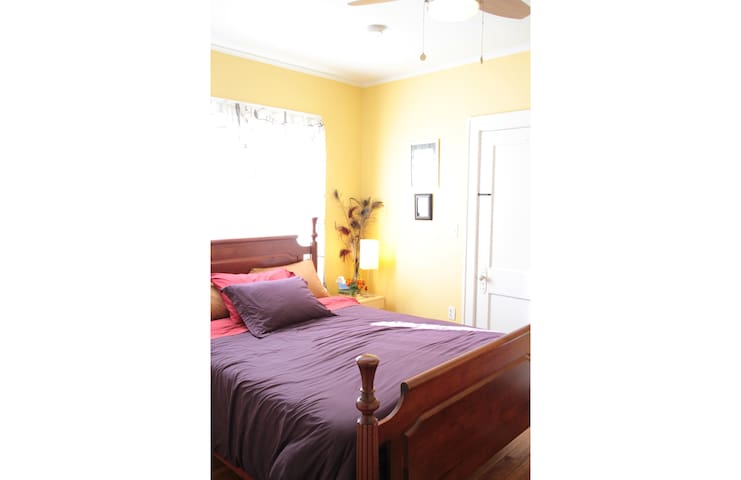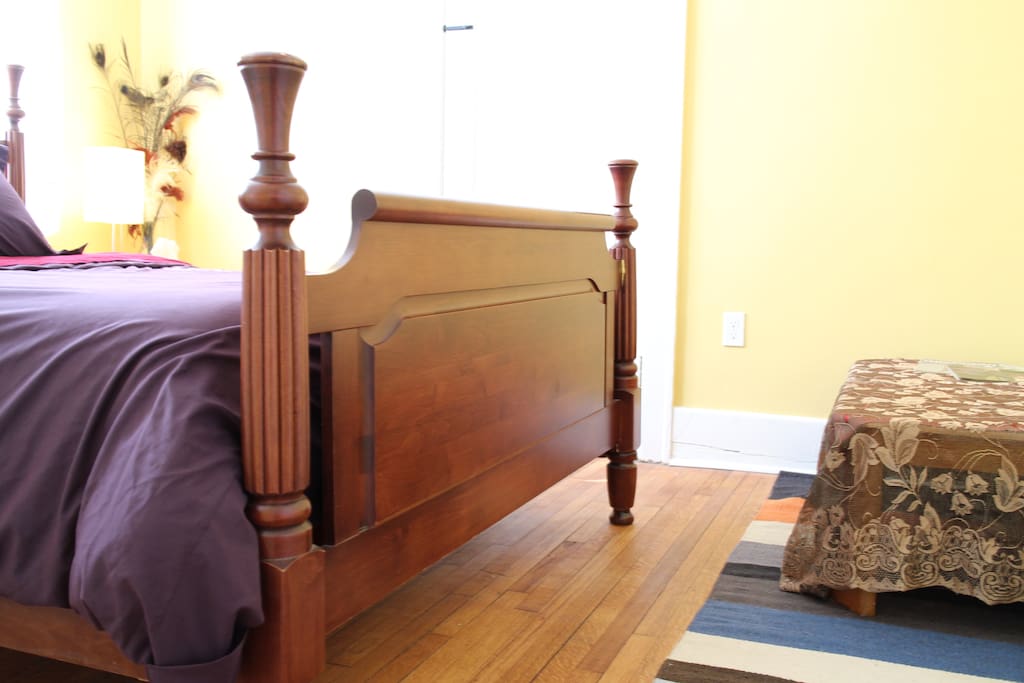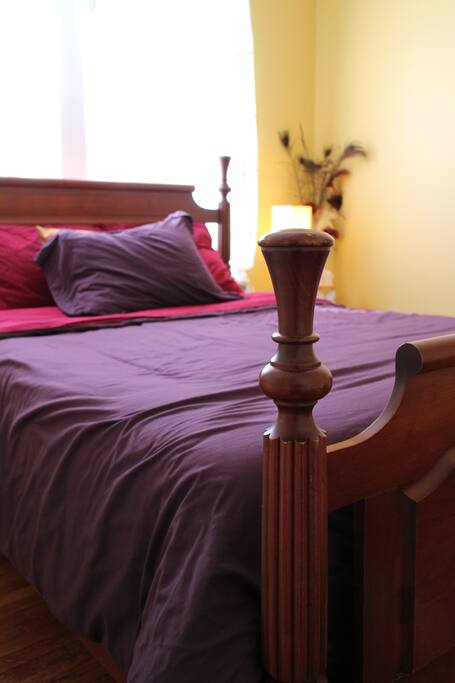 Private room
2 Guests
1 Bedroom
1 Bed
About this listing
Private room with queen-sized bed in our spacious first floor guest flat at The Detroit Homestead, a working urban farmstead and bicycle shop near Detroit's New Center.
---
Accommodates: 2
Bathrooms: 1 (Shared bathroom)
Bedrooms: 1
Beds: 1
Check In: 8AM - 2AM (next day)
Room type: Private room
---
---
Extra people: $10 / night after the first guest
Weekly Discount: 12%
---
The space
Welcome to The Detroit Homestead, a working urban farm and guest home located in the heart of Detroit! In September of 2012, we purchased and began renovating this circa-1916 brick duplex because of its convenient location in a friendly neighborhood and historic features. Now, we are happy to be a home away from home to travelers from around the world!
THE BIRD ROOM at The Detroit Homestead is a newly renovated and colorfully appointed private QUEEN-sized bedroom with a ceiling fan, closet, and southwest-facing window overlooking our urban farm.
In addition to your private room, when you stay at The Homestead, you also have access to the ENTIRE first-floor guest flat, which includes a dedicated KITCHEN and pantry for guests, BATHROOM with enclosed clawfoot tub/shower and bidet, (free!) LAUNDRY, and spacious DINING AND LIVING ROOMS with hand built and restored furniture! We have a spacious yard for pets to run around, a brick-lined FIRE PIT, and a ROPE SWING if you're feeling playful! We even have BICYCLES available for you to rent during your visit to Detroit (maintained and repaired by us, in our basement bike shop)! And if you need to print a boarding pass, we've got you covered there, too!
Additional booking options available at The Detroit Homestead through AirBnB include:
~THE SEA ROOM: KING-sized PRIVATE bedroom with closet, ceiling fan, dresser and double window overlooking our urban farm;
~THE BUNK ROOM: a purpose-built room with FOUR TWIN-sized BUNK BEDS, each with individual light, work space, and privacy curtain AND a single-person HAMMOCK!
~ENTIRE first-floor guest flat
In addition to the indoor portions of The Homestead, our urban farm is a critical part of our efforts here in Detroit. Although still small (though expanding!), the farm already gives us more fresh organically grown produce than we can use! We don't believe in wasting what we have, so anything we can't use or preserve goes to neighbors, friends, and GUESTS! If you stay with us during the spring, summer, and fall months, feel free to take a stroll through the garden with us and grab some fresh produce! We may even invite you to help us do some canning!
The cost of your rental directly funds operation of and further improvements to The Homestead…by us! And since we occupy the upstairs flat at The Homestead, keeping the house clean, safe, well organized, and well maintained is our highest priority, while still respecting the privacy and plans of guests!
Future projects towards which your rental will be contributed are: continued development of adjacent lots into farmland to provide vegetables, fruits, eggs, honey, and cheese for house and local residents, continued improvement to our bicycle repair and rental shop in the basement by your hosts (also trained bicycle mechanics), and collaboration with other groups and individuals making a positive impact on our city…one quiet, unassuming residential block at a time.
Be an active part of the transformation of Detroit by helping us to improve our property, our neighborhood, and our city!
Can't wait to see you here at The Homestead!
Alyssa & Matt
Guest access
INCLUDED IN EVERY BOOKING
-Shared (only if there are other guests) bathroom with vanity mirror, bidet, clawfoot tub, and 7'-tall shower
-Shared (only if there are other guests) kitchen with pantry, gas stove, full fridge/freezer, microwave, coffee grinder and maker, rice maker, mixer, and a multitude of spices and other cooking supplies (just ask if you don't see something that you need!)
-Keys upon arrival
-Clean linens and towels
-Wireless internet
-Washer and dryer in basement (free!)
-Fire pit with seating and rope swing outside
-Additional information, advice, and tips regarding your stay at any time!
Interaction with guests
YOUR HOSTS (Alyssa and Matt):
The Detroit Homestead is our home, business, and life, which means that we're almost always here. Conveniently, though, the building is a duplex, which means that while we're always on hand for guests' arrivals, departures, and to address any questions or concerns that may arise, we are uniquely able to create with a home-away-from-home atmosphere, with as much privacy and personal space as guests like. Guest space occupies the entire first floor flat, while your hosts reside in the second floor flat. You may also see us in the garden, traversing the stairs down to the basement/workshop/bike shop, or to clean/maintain guest space, but we do our best to make sure guests can enjoy as much time alone as they desire.
The neighborhood
OUR NEIGHBORHOOD:
The Virginia Park neighborhood is located smack in the center of Detroit within about a 10-15 minute drive (or 30 minute bike ride) of most of the city. We're a friendly, family neighborhood with deep historic roots and a rapidly changing landscape that includes many long-time residents and new faces both, a good view of both Detroit's history as well as its future.
Our neighborhood has a spacious residential character, and though still just a short car/bike ride away, you won't find the kind of dense city nightlife where there are bars or venues within walking distance here. What you will find is a quiet place to rest and catch your breath from the busier parts of the city, a community of friendly kids and neighbors, and some unparalleled porch sitting with the fireflies on display over the garden the tune of crickets in the air (at least in the summer).
Practically speaking, The Detroit Homestead is located just a block away from a community center, several stores (including grocery and pharmacy), and small branch police station, but not within walking distance of many other businesses currently. Detroit is a little too large for walking to be a practical method of transportation between neighborhoods, so we recommend wheels of some sort or another to get around efficiently.
Approximate travel time for several neighborhoods is given for driving/biking below.
~New Center (Fisher Building, shops, restaurants, hospital, professional offices): 5/5 minutes
~Midtown (Wayne State University, DIA and other museums, shopping, library, bars and restaurants): 10/20 minutes
~Hamtramck (Polish/Mediterannean food, shopping, loads of dive bars and local music): 10/20 minutes
~Eastern Market (food, bars, farmer's market, art galleries, print shops, distilleries): 15/20 minutes
~Corktown (currently the densest, hippest part of town with a lot of old and new bars, restaurants, venues, and shopping): 15/25 minutes
~Southwest/Mexicantown (food, street/public art, small shops): 15/25 minutes
~Downtown (Sports stadiums, COBO center, tons of amazing architecture, food, bars, venues, shopping): 15/20 minutes
~Belle Isle (State park on an island between Detroit and Canada, beach, conservatory, aquarium, nature): 20/40 minutes
~Dearborn (Middle Eastern food, businesses, shopping, Henry Ford Museum): 25/45 minutes
Getting around
GETTING AROUND:
-Bus: several city bus lines are within just a few blocks on Cass Ave, Woodward Ave, Rosa Parks Bvd, Grand River Ave, and 14th St.
-Car: located just two blocks away from M-10, it's easy to get to and from The Detroit Homestead via Detroit's freeways, by surface roads, we are located ~5 min from New Center and Henry Ford Hospital, ~10 min from Wayne State University/Midtown, and ~15 min from Mexicantown/Southwest Detroit, Corktown, Hamtramck, and Downtown Detroit.
-Bike: Detroit is a perfect city for bikes - flat, straight, and lots of room! If you would like to see the city on two wheels, just ask and we can set you up with one of our rental bikes for a nominal, $15/day (includes lock and lights)! With a range of styles and sizes, we're pretty sure you'll be able to pick out a trusty steed for your time in Detroit!
Other things to note
SAFETY:
We understand that Detroit may have a gritty reputation and that its exterior may seem off putting to some. However, living in Detroit is not markedly more dangerous than other cities and safety can be assured by employing common sense, basic street smarts, and situational awareness. In order to minimize risks, we encourage guests to remove valuable items from vehicles, curb their tires when parking in the city, store bicycles indoors, and lock up when departing The Homestead.
---
Check-in time is 8AM - 2AM (next day).
CHECKING IN:
~PLEASE arrange a check in time prior to arrival. We do our best to be as flexible as possible, but we need a heads up so that we have something to plan around and are able to leave The Homestead to run errands or hop in the shower without worrying about folks arriving when we're out or otherwise indisposed. If your travel plans change significantly, please update us ASAP.
~IF YOU REPRESENT A GROUP, please try to arrange to do only one check-in for your group, where we can meet and get everyone oriented into the space at once. If this is not possible, please make sure that the first arrival is prepared to relay information to the rest of the group, meet them at The Homestead, and familiarize them with the space.
GROUPS:
~YOU are responsible for all members of your party. Please ensure that everyone who will be staying at The Homestead as part of your group has read the house rules prior to arrival and respects them while here to ensure that together we all have a positive, memorable experience!
SMOKING:
~No smoking indoors. Smoking outside is fine! Vaporizing inside is also fine as long as your fellow guests don't mind!
~Please put cigarette butts in the can on the front porch, not in the inside garbage or in the street/lawn.
DOORS/WINDOWS/LOCKS:
~Please keep doors closed and locked (unless hanging out in direct proximity to them), and lock up when departing The Homestead.
~Please keep bedroom windows closed when not at The Homestead (in case of inclement weather, we don't want to have to intrude on your room to prevent rain from getting in!)
~RETURN YOUR KEYS before departing. A $50/set fee will be assessed for lost/un-returned keys
~Please smoke outside and close the front door if smoking on the porch to prevent smoke in the flat.
LIGHTS/UTILITIES/INTERNET:
~To conserve energy, please turn off most of the lights when not home (leaving one or two lights on at night so you can see is fine, and so is leaving the fans on to keep it comfortable!)
~Please unplug hairdryers, curlers, irons, and other hot things when not in use.
~NO DOWNLOADING UNAUTHORIZED MATERIAL (i.e. pirate Game of Thrones on your own internet, if you gotta!)
GARBAGE/RECYCLING/COMPOST:
~Please sort recycling into the white tubs in the kitchen. Don't crush your cans (otherwise we can't return them).
~Compost fruit/vegetable scraps, eggshells, tea bags, coffee grounds, etc. NO meat or dairy in the compost, please!
CLEANLINESS:
~Ants and flies and mice are gross to have inside. Please don't leave garbage/food/dirty dishes out.
~Please be considerate of other guests and keep common areas mess-free (includes hairballs in the shower and dirty dishes in the sink).
~Please take off your shoes inside (feel free to leave them in the entry area/front coat closet)
~Hang towels on the hooks in the bathroom and on the doors. DON'T drape them over the furniture!
BATHROOM:
~Please watch out for splashing in the shower/bathroom. One idiosyncrasy of the century-old Homestead is an annoying tendency to leak water into the basement when lots of splashy showers are being taken. We've tried to remediate this as much as possible, but being cognizant of splashing will go a long way towards help us prevent water leaks.
~DO NOT FLUSH ANYTHING OTHER THAN TOILET PAPER. Please don't make us snake out the sewer line (again). It's a SUPER gross job.
NOISE/GUESTS/PARTIES:
~Please let us know and get the OK if you're planning a gathering or party. YOU are liable for your guests; please make sure that everyone treats The Homestead kindly and abides by house rules.
~Please get our OK before using the bonfire pit so that we can ensure everyone's safety. NO bonfires without hosts on the property.
~Please respect The Homestead's guests, residents, and community and keep the ruckus down between 11PM and 8AM. You can still hang, but please keep it low key.
GARDEN:
~Let us know if you would like produce from the garden! Please don't harvest unless we've discussed with you to prevent early harvest or over-harvesting.
~We'd LOVE to have you help out, if you want! Let us know before you start pulling weeds, though, so we can give you a brief tutorial!
~DON'T HESITATE to walk through/photograph/commune with the garden! And just ask if you've got questions for us about it!
~BEE mindful of the hive at the back of the garden. The colony is working diligently and won't bother you, but please don't disturb the hive unless we're there working on it together!
PETS:
~Well behaved, spayed/neutered pets are welcome! Please check with us in advance of bringing them, though, so we can check with other guests about allergies if necessary.
~Maintaining a clean, allergen-free space is a priority for us, for everyone's comfort. If you're bringing a pet or pets, a flat $50 pet fee will be added to your booking to cover the extra time and energy of thoroughly cleaning the room and flat after your departure so that we can ensure that future guests won't be sneezing after you leave.
~While it's best if you can stay with your furry friend, if you'll be leaving them at The Homestead alone please contain them with what they need in your room while you're gone (unless more involved pet-sitting by hosts is discussed in advance).
---
---
The minimum night stay for this listing varies.
Detroit, Michigan, United States
·
Joined in October 2012
A few years ago, my partner, Matt, and I discovered Detroit on a somewhat aimless weekend trip. Although curiosity about the city's ruins and reputation inspired the initial visit, over two years of repeated trips, we began to understand that Detroit is much more than these two things. The people impressed us at every turn with their hospitality, warmth, creativity, and perseverance, while the place inspired us with its open spaces and opportunity for reclamation and restoration, not to mention the affordability of beautiful historic homes.

Realizing that my years of living a professional, office-bound existence had been stable but deeply unfulfilling, that we had exhausted our options in our then-home of Pittsburgh, and that there seemed to be something that kept drawing us back here, we made the decision to relocate on a particularly beautiful evening in July around a bonfire with friends in Southwest Detroit. Two weeks later, we arrived with all of our worldly goods in a truck as new Detroit residents.

Shortly after moving, we were fortunate enough to find and purchase The Detroit Homestead. Rough at first, we saw the potential in this unassuming brick duplex. Six weeks of frantic cleaning, repairing, and renovating later, we welcomed our first guests and entered into our new life as self employed innkeepers.

Since opening in November of 2012, we have had the privilege of hosting guests from around the world, sharing stories and experiences, learning more about what brings people here and their own perspectives on Detroit. We are honored to be ambassadors for the city that has captured our hearts and to help visitors explore the city and appreciate it for the unparalleled positives that are too often overlooked - the vibrant art and music communities, the wonderful food, the explosion of urban gardening, and the overwhelming kindness and spirit of Detroiters.

We are constantly at work making improvements to The Homestead and the land surrounding it, envisioning it as an integrated and self-sustaining community garden/farm, inn, bike shop, creative space, and a hub for visitors and residents alike in our neighborhood and rentals from Airbnb go directly towards that goal. Even after four years, we continue to look forward to expanding and refining of our small urban neighborhood farm here at The Homestead, growing as artists and homesteaders personally, and collaborating with other individuals and groups also at work re-imagining Detroit's future.

Living and creating a small business here has challenged us, inspired us, and gone beyond our expectations. Detroit is changing inevitably, and we feel lucky to be a part of the process, to help renew our block with the help of our community and support of visitors. We look forward to showing you why we love it here!

Alyssa & Matt
The Detroit Homestead
Response rate:

100%(past 30 days)
Response time:
within an hour
Explore other options in and around Detroit
More places to stay in Detroit: