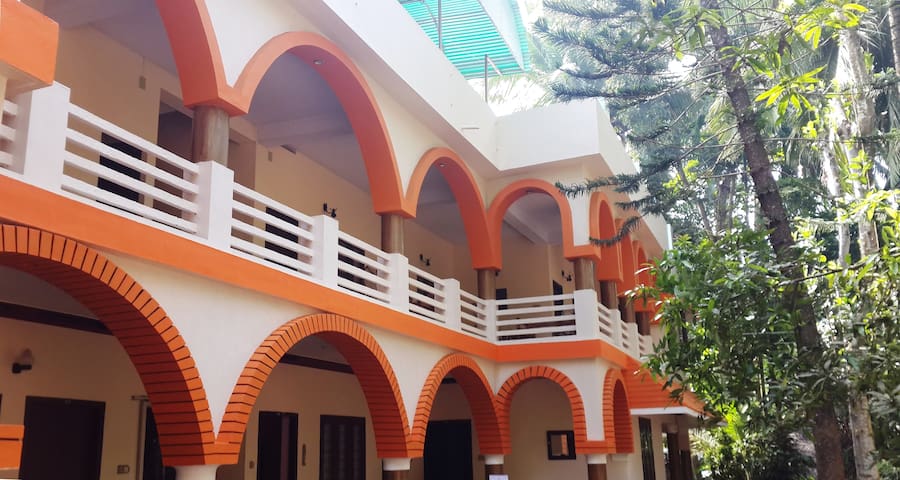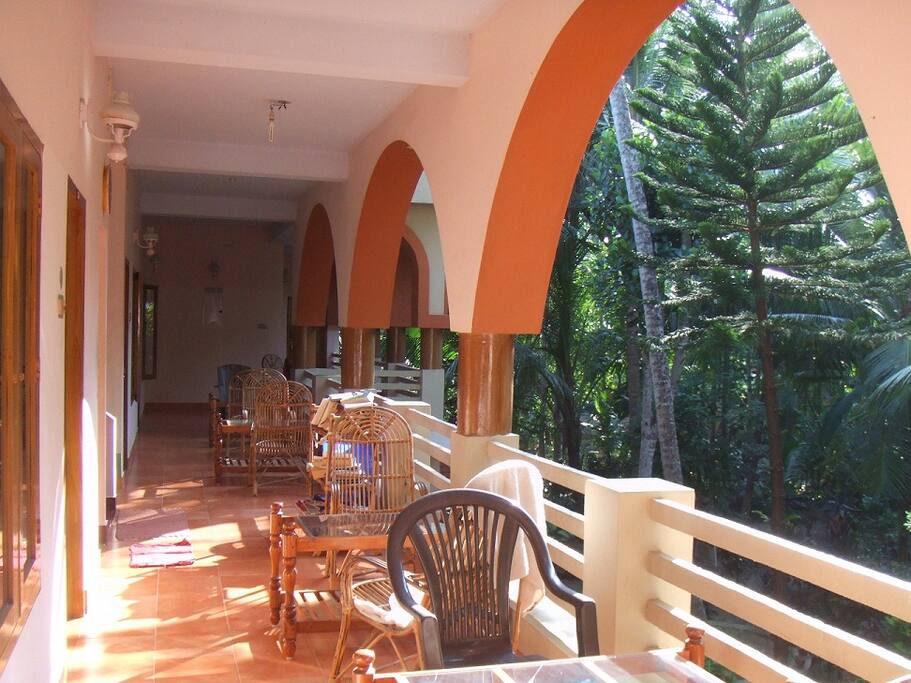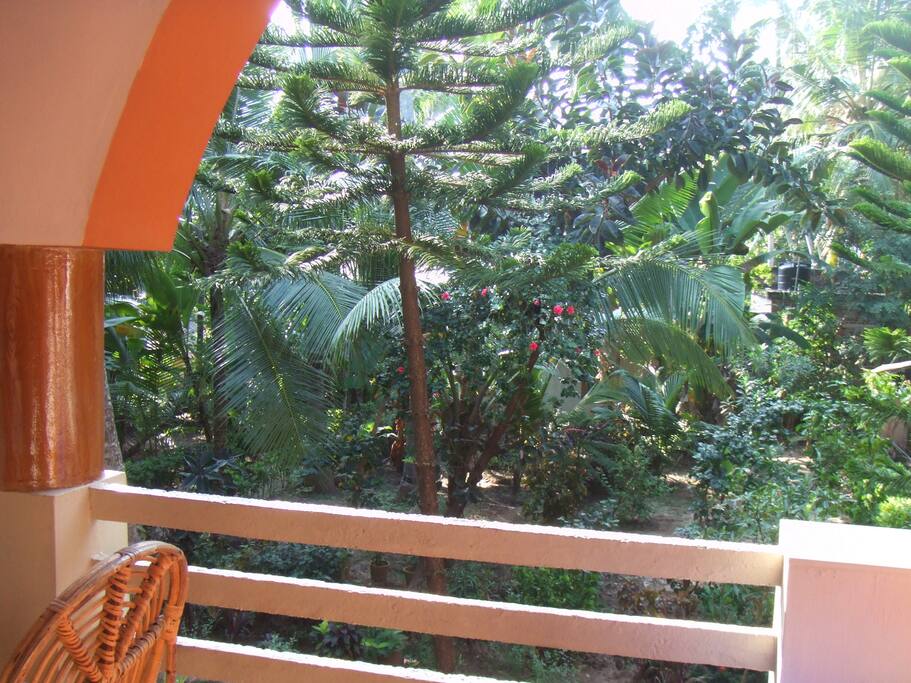 SeaBreeze ROOM 201 - Kovalam Kerala India
Hotel Sea Breeze is a very popular mid-range hotel in Kovalam. Our guest accommodation is set in a mature garden, tucked away from the beach vendors. The famous busy Lighthouse Beach is a short stroll from Sea Breeze. (2 to 3 minutes)
Airport and Railway Station are in Thiruvananthapuram (Trivandrum) 30 mins from Sea Breeze.
Rooms at Sea Breeze are set on three floors and include Sea Breeze Chalet.
Ideally situated for Yoga, Ayurveda, Kalaripayattu (martial arts) and exploring South Kerala.
The space
Guest Rooms in Hotel Sea Breeze are set on three floors. Each en-suite room is fitted with a ceiling fan.
Rooms sleep two in singe beds or can be arranged as a double bed if preferred. Tariff is for the room not per person.
DISCOUNTS FOR LONG TERM STAY
Wi-Fi available
The calendar here records vacancies for only ROOM 201. Some other rooms are also listed on this website.
All rooms are similar to this listing except Room 101 (The Chalet) which is slightly separate to the rest of the hotel and has its own private sit-out and entrance.
Hotel Sea Breeze is in the popular beach resort of Kovalam. This region of Kerala is very like Goa and has been growing in size and popularity since the flower power days of the 1960s.
Kovalam is located in the district of Thiruvananthapuram – yes quite a mouthful! Even the locals generally call it Trivandrum. The Airport is in Trivandrum and so is the main Railway Station.
Lighthouse Beach is a short walk from Hotel Sea Breeze – 2 or 3 minutes.
TELLING IT LIKE IT IS ...
Kovalam was initially a fishing village with beautiful beaches lined with coconut trees. Now, you could be forgiven for thinking you had landed in Benidorm. High rise accommodation has sprouted up everywhere as landowners try to attract the tourists. Some of these structures are illegal construction so the powers that be could, in theory, have them removed. However, India thrives on bribery and Kovalam is no exception. While bribes are paid, illegal buildings will stand.
The likeness to Benidorm ends with the high rise buildings as a quick scout around the area will confirm. The Indian people are not good at maintenance. 'Build it and leave it', seems to be the motto. This is partly due to the caste system which still pervades. There is an attitude of 'its not my job' – especially when it comes to cleaning toilets. They have yet to get a grip on that one! It is also partly due to the monsoon season which has to be experienced to appreciate how difficult it is to keep a respectable veneer on the buildings. It always surprises me how children wearing bright clean crisp school uniforms pop out from such dingy buildings on their way to equally dingy schools. At the end of the day, still without a messy blob on them, the kids return home.
India might have a space programme but it is backward in coming forward when it comes to creating and maintaining an infrastructure. Consequently, if you step off the mock Victorian promenade of Lighthouse Beach, you will quickly discover where the rubbish goes! Bottles are heaped up behind walls awaiting the bottle collector. This is a bi-product of tourism. Plastics and other 'throw aways' magically disappear in developed countries while India must burn or bury rubbish – or find another use for it. Generally nothing is wasted in India, hence the bottle collector.
So do please try to leave as little rubbish as possible.
Electricity supply all over India is somewhat erratic. They even have set times when the current will go off. This can be fun but not if you are in the shower and wondering where the towel might be! There are some very good solar power and wind up torches available now. Suggest you take one with you.
Most of the water in Kovalam comes from wells. It is generally safe. These guys have been digging wells for hundreds of years. (The well digging caste of course!) They know what they are doing. However, taking care of tummies is always a good idea, otherwise the holiday could be spent on the toilet – or hovering over one if you dare to use the Indian version.
Acidophilus tablets help keep the digestion in order.
A bit like eating yogurt, acidophilus boosts the good bacteria which helps prevent 'Delhi Belly'. Purchase acidophilus in health stores in country of origin.
Lighthouse Beach is lined with small restaurants and gifts shops. The restaurants serve a wide variety of meals and snacks – Indian, Continental and Chinese. Also there are tailors who will stitch you an outfit to order.
It is common practice to wander up and down the sea front promenade in the evenings. Strangely enough (and I still don't know how the locals do this), they soon know who you are and where you are staying!
Some restaurants have extraordinary long menus. They can be fun to read with such offers as 'scream bled eggs' and 'shew heded roundels lossed in soya'! The first is no doubt scrambled eggs. The latter? Your guess is as good as mine!
The days fishing catch (and sometimes yesterdays) is often displayed outside the restaurants to lure in customers.

BEER – Most of us enjoy a beer on a hot summers day. In Kovalam beer is available but it could arrive at your table in a tea pot – or the bottle might be wrapped in newspaper and placed under the table. Alcohol licences are very expensive in Kerala, no doubt controlled by gangsters and police. The restaurant owners resort to the good old bribe system and we must be thankful for that!
NOTE: Latest news is that the Kerala Government are trying to make an alcohol free state. If this happens, tourism in Kerala will decline. Please make your feelings about this known on (SENSITIVE CONTENTS HIDDEN) etc.
The proposal is to turn Kerala into an Alcohol-free state within 10 years' time. Over 400 bars in the state have already closed. The Kerala authorities want to issue alcohol licenses only to five star hotels in the state.
Big mistake!
The sand on the South Kerala beaches is black in parts – rather like the volcanic beaches of Lanzarote. The beaches are well used. Some people are adventurous enough to try body surfing on the waves. However, please be aware that there are very strong currents in the Kovalam sea which have resulted in a number of deaths.
Unlike the rest of Kerala it is quite normal to sunbathe and swim wearing skimpy cossies. There was a time when Kerala men would bus in to see the half naked foreigners and their strange activities. Now they are used to such sights and will probably just try to sell you something.
The popularity of Kovalam has partly grown around the availability of the ancient healing practice of Ayurveda and traditional medicines. There are many Ayurvedic practices within the resort. Certain standards have recently been stipulated for the running of such an establishment – but there are always those bribes – so do make sure you are not being massaged with old cooking oil.
Yoga is also very popular and many studios can be found in and around Kovalam.
Tuition in Kalaripayattu (Kerala Martial Arts) can also be found, though only a basic grounding can be expected during a short holiday. It takes years of dedication to become expert.
Hotel Sea Breeze can arrange Ayurveda, Yoga and Kalaripayattu. Guru Suresh is an expert in Kalaripayattu and Ayurveda.
If you tire of the beach, Trivandrum is a good place for a day out. Thirteen kilometres from Kovalam - buses, taxis, auto-rickshaws will get you there. Shopping is good and lots to see and do.
Ten kilometres from Kovalam is the Valiyathura Pier. Here the fishermen cast their boats into the water and then dive in after them. The 214 metre long pier offers magnificent views of the coast.
Visitors to South Kerala must try to see Kanyakumari (Cape Comorin). This is the southern-most tip of mainland India. It is suggested that there once existed a continent called Kumari Kandam to the south of Kanyakumari, often compared with Lemuria.
This journey can include a visit to the Padmanabhapuram Palace. The palace was constructed around 1601. It is one of the best examples of traditional Kerala architecture. Very nice – recommend it.
A stay at Sea Breeze gives you a comfortable bed in a convenient location - budget style. You will hear the jungle noises from nearby trees - unforgettable sounds of India.
Guest access
Guests staying at Hotel Sea Breeze have access to common patio areas and the garden.
Guests can also relax on the roof space with a cup of chai.
Interaction with guests
Guests can ask Lynne Haywood (in UK) questions about Kerala, India, Flights etc. I shall try to answer.
It is unlikely that I shall be in Kovalam taking up a room in this busy hotel!
Co-Owner Mr Suresh Nair will probably be there.
Guru Suresh is available on site to assist guests.
Other things to note
After experiencing the wonderful hospitality of Hotel Sea Breeze, you might choose to extend your stay. Nothing we would like more!
BUT - kindly note: Hotel Sea Breeze must consider other guest bookings which follow your stay and therefore, it might be necessary to ask you to move to another room - sometimes moving twice - depending on length of extended stay.
We will do our very best to make you comfortable and happy with as little disruption as possible!
"Everything will be all right in the end.
So if it's not all right, it is not yet the end"
... Marigold Hotel ... Kovalam
---
---
Check in is anytime after 1PM
Smoking is allowed on patio areas and outside in the garden.
---
---
---
SeaBreeze is a budget hotel not 10 minutes' walk from an amazing beach, with 4-star employees. Lynne responded immediately to all my inquiries in the weeks before I arrived. Once there, both Sireshes were knowledgeable and attentive. Manu was a wonderful guide. The SeaBreeze is amazingly quiet - only peacocks to "disturb" the peace. I hope there is a room available. next year!
---
Seabreeze is nicely tucked away from the beach bustle, which was what I loved. Very quiet and serene. Lynne was wonderful with correspondence and made me feel welcome even before I got there. Soni who was minding the place was very helpful. The rooms were simple and clean, which I really appreciated. The whole place had a very welcoming feel, specially when I saw the other guests relaxing or chatting on the porch. Overall I really enjoyed the stay, this is perfect for a getaway from the city. Thank you Lynne and the SeaBreeze team.
---
This Kerala accommodation is owned by Ms Lynne Haywood in UK and Mr Suresh Nair in Kerala.
This description is of Lynne Haywood.
Lynne will be your main link via airbnb.

LYNNE HAYWOOD:
I enjoy meeting people and fighting causes.

Working with Suresh in Kerala, South India - for 15 years.
We offer accommodation at Malabar Cove in Kannur, North Kerala, South India.
Malabar Cove Beach House (sleeps 10)
Malabar Cove River House (sleeps 6)
The accommodation is near the famous Drive-in Beach of Muzhappilangad.

Also offering twin en-suite rooms near the popular Lighthouse Beach resort of Kovalam in South Kerala - India.

I like to visit India. It can be very tiring and frustrating - but it always calls me back!

The accommodation offered in Kerala is maintained by Mr Suresh Nair, a family man with school teacher wife and two children.

The main tourist season in Kerala runs from September to April. Then very hot dry days can mean a severe shortage of water and cancellations can occur in Kannur - but not in Kovalam.
The dry spell is followed by monsoon rains. When the rains come, it can be very exciting and tremendous fun. It can also be somewhat depressing when the humidity dampens clothes, towels and bedding. Guests should be aware of these things.

Guests must also be aware that Kerala is renowned for its strikes (hartals) which occur at least once a month. During a hartal, not even traffic is allowed on the roads.

Please don't let the above difficulties put you off planning a holiday in Kerala. I am here to help. Kerala is an amazing place and highly recommended!
Response rate:
91%
Response time:
within an hour
Explore other options in and around Thiruvananthapuram
More places to stay in Thiruvananthapuram: