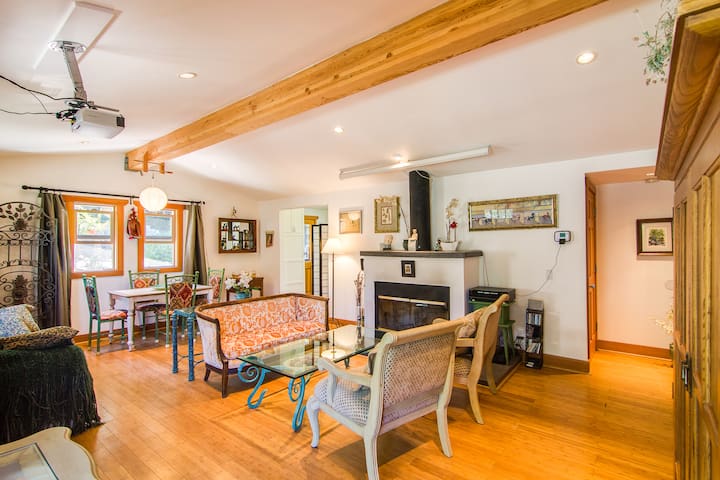 Entire home/apt
4 Guests
2 Bedrooms
4 Beds
About this listing
Malibu adjacent unique 2 bedroom gem set in the natural beauty of sprawling canyons, a short drive to the beach. Loads of vintage charm with tasteful modern upgrades, offering various environments where nature and comfort congregate harmoniously.
---
Accommodates: 4
Bathrooms: 1
Bedrooms: 2
Beds: 4
Check In: Anytime after 4PM
Check Out: 11AM
Room type: Entire home/apt
---
---
Extra people: $15 / night after 2 guests
Cleaning Fee: $175
Weekly Discount: 10%
Weekend Price: $235 / night
---
The space
Once the home of Mickey Rooney, this Topanga gem is wonderfully situated for gentle ocean breezes in a "climate-perfect" area. Enveloped in natural beauty, with its own poetry at any time of day or year, it invites one to retreat in tranquil simplicity and comfort, while remaining within minutes to civilization.
It is located minutes from the beach and surfing hot spots, nestled in between Malibu (15 minutes,) Pacific Palisades (10 minutes,) Santa Monica (15 minutes,) and the Valley (20 minutes.)
The property is surrounded by a lovely fenced yard, a growing orchard, an herb garden, and a vegetable garden, crowned by a gazebo with a swinging couch and garden chairs. The main entrance gate opens to a world of its own with a rock garden a fountain. Overlooking the canyon, the front porch is an inviting space with comfortable cushioned wicker chairs and an artsy coffee table providing relaxation at any time of day or night. A majestic chime hangs there, capturing the soul of the wind with beautiful tones and resonance that you will hear throughout the bedrooms and living room.
The living room and dining area feature a high ceiling with exposed beams, bamboo floors, and sage color carpet in the bedroom harmonizing Nature and hOMe. The space is well designed and enlightened by a warm glow recessed lighting system on a dimmer that creates even more special moments. It has an eclectic feel with flavors of Asia, India, Africa and France, inviting simplicity and serenity.
The house is proudly erected on a rugged canyon terrain, yet comfortable with all the amenities of modern life. High tech kitchen with country accents (see detail below,) central heating system, shower/bath, fireplace, home theater with DVD player, surround sound, wireless ultra high speed FIOS Internet. I am kids friendly and happy to accommodate infants and toddlers, with a portable crib, high chair, rocking horse, oversize plush animals, foldable play tent and tunnel, books and other toys. The guest bedroom beds are also suitable for young children.
The front entrance door opens to warm open space featuring various environments that blend harmoniously into each other: Living room facing the fireplace and a pull down home theater screen. On the left is the dining area overlooking the herb and vegetable garden, growing orchard and gazebo. On the rights are beautiful doors to the bedrooms.
From the dining area, you walk into the kitchen on the right. You should find everything you need there, and more: blender, food processor, fondue set, crepe maker, toaster, French press coffee maker, tea pot, electric kettle. Cookery is included. If you need anything else, just ask, I probably have it. The kitchen features two windows into the world of nature, making you feel like you are perched in the tree ; and a glass door that opens onto a red brick terrace, with two patio chairs and a small round table. There is a planter (with seasonal vine-type vegetables for your enjoyment) dividing the main house from the guest house.
There are four dining areas: the front porch is facing east, good for breakfast, while the red brick terrace is perfect for lunch time; the gazebo is pleasant in mid afternoon for a tea or coffee break; if you prefer to stay inside, the dining area overlooks the herb and vegetable garden, the gazebo and beyond, up the hill.
The Master and Guest Bedrooms are on the right of the living room; across, is a full bathroom in beautiful earth tones with a view from the shower and bathtub.
The master bedroom has a comfortable queen size bed, and gorgeous cabinetry, on each side of a large mirror. The walls are the color of the sun which will greet you in the morning. Each window is dressed with high quality drapery and veil curtains. The guest bedroom has 2 twin size beds configured in an L bracket.
Both bedrooms are bright and temperate. Two large windows with a stunning view of nature provide ample ventilation.
The maximum occupancy of 4. High quality linen, towels, and toiletries are all included.
You can expect cleanliness, quietness, and beauty within and without - nature and civilization working together.
While the days weave a visual tapestry of trees and vegetation, including California Oaks, Olive trees, fern, massive boulders and wild flowers, the nights will host an entrancing symphony orchestrating frogs and crickets, conducted by owls. At night, a wide variety of wild life reclaims its territory beyond the wooden fence.
And sheltering it all, the pristine sky will often dazzle the stargazer.
This is a good place to take a break from the city and the busy-ness of life, where you can be quiet, secluded, and creative, and/or social, active and busy as you wish.
It is a well cared home and property, which I continue to enjoy sharing through AIRBNB with guests from all over the world, and I love to exceed their expectations.

Guest access
Guests will have access to the yard within the upper wooden fence, including gazebo, side patio and front porch. The yard is in a canyon setting, with native plants and rock landscaping - ever changing with the season and climatic conditions.
The property features a guest studio with its own entrance gate and patio. It is separated from the main house by a planter with seasonal vine type vegetables. Although relatively close to each other, the two buildings offer complete privacy set in a world of their own.
Beyond the wooden fence is off limit.
There is a Coin Laundry up Topanga Canyon, on the corner of Ventura Blvd, Woodland Hills. No laundry facility is available on the premises.
Interaction with guests
You can be as private or social with me as you wish. I am happy to help in any way that you may need.
Beyond the wooden fence is my private space where I have my office. It is undeveloped, I am often working on reconfiguring the shape of the earth there. Generally, you will not see or hear me unless you want to. I can guarantee complete privacy, yet availability if you need anything.
The neighborhood
There are about 7 restaurants in towns including grill, fish, ethnic, spiritual, warm lively cafes and quaint boutiques, Farmer's Market. Also within short distance is Lake Shrine, a breathtaking meditation garden and lake with swans - one of Los Angeles hidden treasures. You can drive, ride, or walk through the Santa Monica mountain to get there! The Canyon is strewn with stunning trails to hike or mountain bike. Should you long for beautiful beaches and surfing hot spots, the ocean will be calling... 6 minutes away. There is a coin laundry up Topanga Canyon on the corner of Ventura Blvd, a dry cleaner in Topanga Center, 5 minutes away.
Getting around
Besides local hiking and biking, you will need a car that you can easily park next to the lower gate. From the airport, you will drive north along the ocean, on route 1 (Pacific Coast Highway or PCH,) then take Topanga Canyon for about 8 minutes. This is a unique location nestled in the canyon yet with no "long and winding road to get to my door."
Other things to note
Topanga is a small town within a large city: offering the best of both worlds, it shelters a spirited community in spectacular surroundings, to be explored by foot, bicycle, mountain bike, horse. Its privileged location by the ocean also provides a rich display of wild life (dolphins, seals, whales...) and opportunities for sea exploration, boating, surfing (one of the best surf spots,) kayaking, paragliding, swimming, or just walking. Even the simplest walk will reveal treasures from the sea, particularly at low tide, sunrise and sunset.
This is a place where time and space blend, where you can navigate at will between nature and civilization, mountain and ocean, social life and seclusion, arts and technology. You will enjoy both modernity and vintage charm, comfort and ruggedness, domestication and wilderness.
---
I look forward to making your stay at my Topanga House a truly enjoyable experience. Please read this Agreement including House Rules in full. You must understand and fully accept this Vacation Occupancy Agreement and the House Rules set forth for this accommodation.
SHORT TERM VACATION OCCUPANCY AGREEMENT
In consideration of the agreements of the Occupant ("Occupants"), The Owner hereby rents through AIRBNB.com her house ("Dwelling,") located at the address divulged after booking.
ACCOMMODATION: Two (2) bedrooms (queen size bed, twin size bed,) kitchen , living room including dining area, one (1) bathroom.
NUMBER OF GUESTS: As indicated at the time of booking through AIRBNB. NO PETS.
MAXIMUM OCCUPANCY: The property will not be occupied by more than 4 guests. No parties or events are allowed on the premises without prior approval.
OCCUPANCY PERIOD: As indicated at the time of booking through AIRBNB.
CHECK-IN: On the day of your arrival, you may check in at 16H00 (4:00pm)
CHECK-OUT: On the day of your departure, check out is at 11H00 (11:00am)
at which time this agreement is terminated. Occupants, in consideration of Owner's permitting them to occupy the above premises, hereby agree to the following terms:
This is a SHORT TERM VACATION OCCUPANCY Agreement. The Owner has the right to change the locks and evict Occupants without court order once the checkout day and time are reached, or if the rent is past due. The Owner has the right to evict Occupants' personal belonging upon and after the checkout day and time, or when the rent is not received. Once the reservation has been made from airbnb.com, Occupants agree to this Agreement and to the House Rules.
PAYMENT is to be remitted through AIRBNB.COM. Your reservation is not confirmed until payment is received and confirmed by AIRBNB.COM.
MAINTENANCE, REPAIRS OR ALTERATIONS: Occupants acknowledge that the premises are in good order and repair, unless otherwise indicated herein or within 24 hour of checking-in. Upon vacating, Occupants shall deliver premises vacant and reasonably clean. In the event the premises are returned in condition poor enough to prevent Owner from re-renting to a qualified new Occupant, Occupants shall be responsible for rent lost as well as the cost of restoration of the Dwelling to the condition it was at the commencement of this Occupancy Agreement. Occupants shall be responsible for damages caused by their negligence and that of his family, invitees or guests.
KEYS:
Owner will make every effort to welcome Occupants in person and hand them the keys on the arrival day. Should Owner be unavailable or should Occupants arrive late, the Dwelling will be unlocked and one (1) set of two (2) keys will be left on the dining room table. Similarly, upon leaving at the end of their stay, Occupants shall hand the keys back to Owner or leave them on the dining room table, should Owner be unavailable.
LOCKOUTS
Should Occupants lock themselves out of the Dwelling and be unable to gain access through their own resources, they may call a professional locksmith or the Owner to let them in, and will be responsible for damages if any. Occupants shall be responsible for the cost of the locksmith and also to provide the Owner with new keys if the locks are changed. If Owner is called upon to let Occupants in, there may be, at Owner's discretion, a $50.00 charge. To avoid such situations, it is suggested that Occupants hide the key in a place of their choosing.
CLEANING FEE is included in the Occupancy Fees for final cleaning, after Occupants vacate. Occupants shall keep and leave the Dwelling reasonably clean and in good order. Dirt and other mess requiring excessive cleaning and/or more than the four ( 5) hours between your check-out time and new Occupants' and check-in time, will be charged at the rate of $35 per hour.
UTILITIES: Utilities are included for reasonable standard use. Occupant s shall note that Los Angeles is in a state of "serious drought," and are requested to be mindful of water consumption. Occupants shall use the dishwasher only when fully loaded.
LINEN AND KITCHEN SUPPLIES: Owner will provide linens and towels, as well as starter paper products and some basic cooking supplies. Once used, Occupants are responsible to purchase what they need. Occupants shall use only BIO-COMPATIBLE products.
LAUNDRY There is a Coin Laundry at 5360 Topanga Canyon Blvd (corner of Ventura Blvd) Woodland Hills, CA ((PHONE NUMBER HIDDEN). No laundry facility is available on the premises. Should Occupants hand wash their clothes, Occupants agree to use only BIO-COMPATIBLE products.
CANCELLATION POLICY: The cancellation policy is strict as defined by AIRBNB.
RELATIONSHIPS: This Vacation Occupancy Agreement does not establish a landlord-tenant relationship, disregarding the length of the occupancy that Owner has agreed to.
ATTORNEY'S FEES: In any legal action to enforce the terms hereof or relating to the premises, regardless of the outcome, the Owner shall be entitled to all costs incurred in connection with such action, including a reasonable attorney's fee. Occupants acknowledge all attorneys' fees shall be classified and billed to Occupants as "added rent."
ACKNOWLEDGMENT: Occupants hereby acknowledge that they have read, understand and agree to all parts of this document, and all parts of the House Rules as a sine qua non condition for booking as stipulated by AIRBNB.

HOUSE RULES
The House (this Dwelling) is on a property featuring a Guest House. Occupant and their guests agree to abide by any and all house rules, whether promulgated before or after the execution hereof, including but not limited to rules with respect to noise, odors, disposal of refuse, no pets, parking, and use of garden, and gazebo.
Occupant shall further mutually agree to the following:
You shall REMAIN WITHIN THE WOODEN FENCE immediately surrounding the property.
HOME THEATER/NOISE: Please respect the quietness offered on this property and Dwelling. The house is well insulated, but an excessively high sound carries through open windows, potentially disrupting Cottage visitors, if present.
Home theater instructions/cheat sheet and remote controls are located in the drawer directly underneath the system. Please enter the commands on the Blu-Ray DVD unit only once, and wait for it to respond.
WIFI ACCESS CODE: The Wifi access code will be unlocked by AIRBNB once booked, and also included in the drawer underneath the Home Theater system.
NO SMOKING: You acknowledge that smoking is prohibited within this Dwelling and on the property. (A fee of $100.00 for odor removal will be charged for no compliance.)
Smoking is also prohibited in the street. Topanga is an extreme fire hazard area.
NO OUTDOOR FIRES of any kind, NO OPEN FLAME are allowed. Topanga is an extreme fire hazard area.
Neither you nor your guest will use ILLEGAL DRUGS on the property.
PET POLICY: Pets are not allowed inside the Dwelling or on the property. If pets are inside units, or on the property, it shall be cause for immediate termination of the Rental Agreement without refund.
TRASH REMOVAL:
Please keep your trash clean and neatly tied. A blue can for recyclables, and a black can for trash are located by the large double lower gate of the property. Trash collection is on Wednesdays.
UTILITIES:
Please turn off lights, heater, A/C unit when not in use.
Please be mindful of water consumption. California is generally in a state of severe drought. Use the dishwasher only when full.
SEPTIC SYSTEM: You shall not flush any non organic products, including but not limited to wipes or towelettes of any kind, cotton balls, etc. in toilet. ONLY natural waste and light toilet paper.
PARKING: You can park your car by the large double lower gate or across the street.
ACKNOWLEDGMENT: By renting this Dwelling, You acknowledge that you have read, understand and agree to all parts of this document.
I look forward to your visit, and hope that you have a wonderful vacation here in Topanga.
---
---
Los Angeles, California, United States
·
Joined in August 2012
Born and raised in the south of France, I am a linguist, love all languages and cultures. I practice yoga, hike, dance, write. I love the homes I have created for myself, enjoy maintaining them and am constantly beautifying them for myself and all who visit. In the process I have developed a network of professionals with personality, integrity and competence that I am happy to hire when needed. Although I can guarantee you complete privacy, I am usually around if you need anything and am quick to respond. As my guests, you might enjoy special details within my homes and property. It is a joy to share the beautiful surrounding I live in and lifestyle they afford. I Recently spent two months traveling through Nepal, India and Sri Lanka with my youngest daughter (booked a few nights in Jaipur through airbnb, met a really cool host!!) Since I started hosting , I have enjoyed guests from various States and countries; the world coming to me in this way, and being part of Los Angeles where all cultures are represented, I feel I don't need to travel that much anymore. Hosting is a creative expression for me and I love to exceed my guests expectations.
Response rate:

100%(past 90 days)
Response time:
within an hour
Explore other options in and around Topanga Canyon
More places to stay in Topanga Canyon: