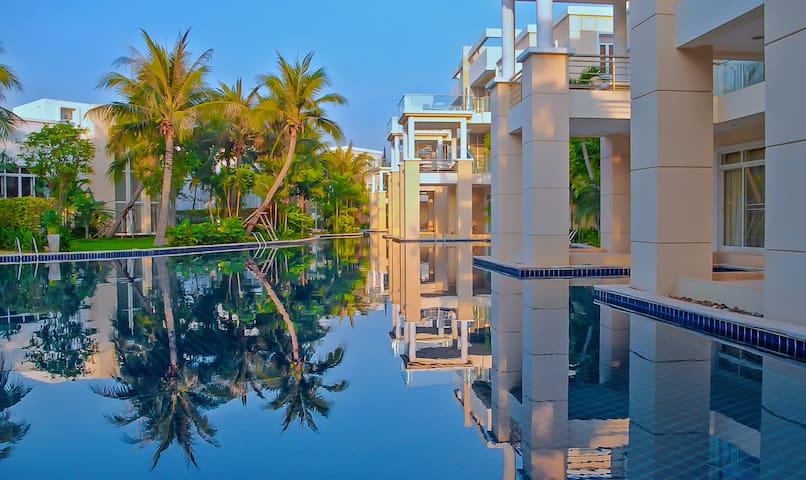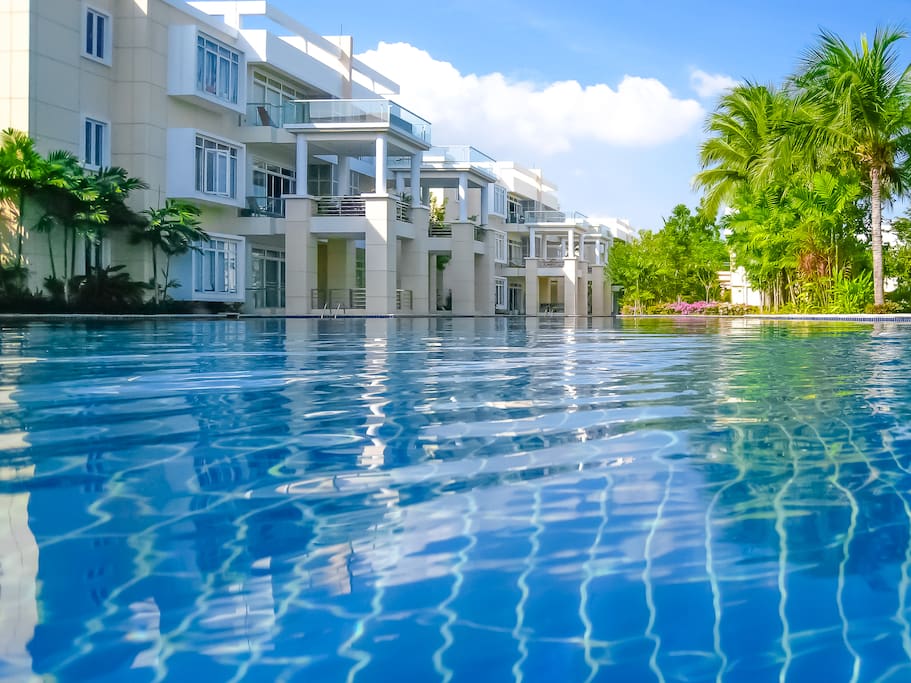 Peaceful Holiday Haven @ Hua Hin
Our 145 sqm apartment with two bed rooms is big enough to make you feel easy, comfortable, cosy and peacefully embraced. Our place is located in the same development as the renown Sheraton Hotel Resort so you get the sense of a five star staying.
The space
The apartment is located between Cha-Am Beach and Hua Hin Beach and is called Hua Hin Blue Lagoon Resort, a condominium clustered inside the Sheraton Hotel Resort development. The distance between Blue Lagoon Resort and Hua Hin or Cha-Am is the same to both sides, roughly 10km distance.
This apartment is ideal for couples and families looking for a comfortable yet intimate vacationing spot. The apartment is suitable for 4 people; two couples, or a couple with two kids or a small family.
The resort lies in total seclusion and is set amidst nice landscaped gardens, amongst swaying palm trees and distant rolling hills. A 900 meter long, lagoon style pool, provides the center-piece for this resort.
The apartment is equipped with a full furbished kitchen, a large living room that opens up onto a large patio deck and 2 bedrooms (master bedroom and guest bedroom) both with private ensuite bathrooms.
The apartment is located on the top floor (corresponding to a 2nd floor in european standards) and access to the pool is a mere footstep away, roughly 2 minutes walking.
The space is fully furnished, free wi-fi, flat-screen Satellite TV and DVD player.
The living room, dinning room and kitchen are open plan. The apartment includes a built-in AC in all rooms with independent remote controls.
Our apartment provides a collection of paper books and movies for your enjoyment while there.
In case you have babies we provide a baby cot and feeding chair. Please check the photos gallery.
Notes
1. There is no washing machine in the apartment or in the condo, but there are several laundromats in town. We can also arrange a 24 hours deliverey laundry service for a fair price upon request.
2. The kitchen has an electrical stove without oven but has a microwave with grill. NOTE! If you have never operated a micro-wave please make sure you don't put anything which is metal based inside as it can seriously damage the equipment. Believe it or not it had happen once and that is the reason needed to highlight this note.
Guest access
Situated in a private community located inside Sheraton's 5-star hotel complex, Blue Lagoon derives its name from the almost 1 kilometre long pool surrounding the resort. The view, the vegetation, the quiet surroundings and private atmosphere are sure to provide you with a truly unique Thai experience. The beach is located at walking distance (400m) from the apartment.
The Sheraton Hotel Fitness Centre (with gym, sauna and steam room), can be used at Discounted FEES for Blue Lagoon stayers; the membership (daily, weekly or monthly) includes the use of theirs swimming pool, sun beds, towels and of course their Fitness Center from 7:00am to 7:00pm. PLEASE PAY ATTENTION that the Sheraton Hotel can, at any time and without notice, change their policy for this benefit, specially during the high season from December to March.
The Blue Lagoon Resort is a 15-minute drive from Hua Hin's town centre. The Security Guards of the Condominium or the Juristic Office can call a tuk-tuk or a taxi for you to go in to town.
You can also ride on a public bus which stop is located just outside the main gate.
Free private parking is also possible on site if you have your own car or motorbike.
It is also 2 to 3 hours by car from Bangkok Suvarnabhumi airport. Buses and trains are also available from Bangkok City centre.
If you wish to book a taxi online to take you from Bangkok to Hua Hin and vice-versa we leave here some suggestions for you to (SENSITIVE CONTENTS HIDDEN). For families with babies or/and big luggage we suggest you to rent a minivan for your own comfort.
Please note; these are suggestion based in requests for help from past guests. We have no links of whatsoever with these companies and drivers or accept any fee shares from them! You are absolutely on your own to deal with them and your entitled to (SENSITIVE CONTENTS HIDDEN) for any company you may find best for you in the internet.
(URL HIDDEN)
(URL HIDDEN)
(URL HIDDEN)
(URL HIDDEN)
Interaction with guests
We will be available by Airbnb email system, private phone or phone free wifi applications and private email for any help you might need.
The Guest book provides information about taxis and tuk-tuk phone numbers you can call or the Juristic Office can do it for you.
The Guest book also provides a range of touristic information. But as every guests have different interests we strongly advice you to (SENSITIVE CONTENTS HIDDEN) what Hua Hin can offer you before you travel.
Other things to note
PLEASE NOTE: you have noticed that our lowest score is the location. We have mentioned twice in our listing description that we are located 10km away from Hua Hin town and Cha-Am town (opposite directions). And we are proud with the accuracy and honesty of "what you see is what you get". Our location is mainly an area for rest and for families. Its quietness make it special for someone looking for relaxation and peace. Most of guests that stayed in our place acknowledged the tranquility and the sleep they felt specially deep. It is indeed a RESORT on its own right. If you are looking for hustle & bustle during your vacations please think twice before you book our place. On the contraire if you are looking for peace, calm and quietness this is your place so please be very welcome as we are sure you will like it!
---
---
Always communicate through Airbnb
To protect your payment, never transfer money or communicate outside of the Airbnb website or app.
Learn more
---
Check in is anytime after 1PM
* Please use air conditioning wisely. Every time you use the air conditioning please make sure the doors and windows are all closed to avoid condensation that can damage the ceilings. This note is not about electricity costs but about damages to the property.
* Consider the environment as a priority so every time you leave for a few hours or for the day please switch off the air conditioning. Once you arrive it only takes approximately 10 minutes to cool the place to a comfortable level.
* During night time please use only the air conditioning in the bedrooms. Each room has its own remote control.
* The house provides a Wii game station. If you are a fan of Wii game station and have your own games, please bring them with you.
* The house has an extensive book collection for your relaxation. Please make sure you leave them in the respective place.
* The same goes for the selection of movies available for you during your stay.
* If you bring kids along please make sure you don't let them slam the doors to avoid damages, to respect the neighbours and the peace of the place
* Please don't sit in the sofa or dinning table chairs with wet swimming cloths
* Please DO NOT EAT on the sofa or beds. Any damage or need of wash will be deducted from the deposit.
* It is strictly forbidden to wear shoes inside house. Only sleepers not used outside are allowed.
* If on your check-out we are not available and you are asked to leave the key, please make sure you close both balconies door to avoid potential raining inside the house.
* Please do not hang cloths on the rails of the balconies. Use the hangers or lay the cloths on the bench and chairs if you like have direct sun on your cloths.
* We are no-smokers and we would like our home to be smoke free. Please refrain from smoking inside the house. Any damage related to cigarets will be deducted from the Airbnb deposit.
* Any lost of keys will have costs deducted from the Airbnb deposit.
* If you break a component that requires a change of the whole (because no spare parts are sold) the guest will be responsible for the total costs inclusive of the installation when required.
According to the Condominium Regulations the following is strictly forbidden;
- Bring pets into the compound
- Disturb the neighbours by means of noise after 10PM
- Play loud music or make noisy parties
- Use the swimming pool after 10PM
- Swimming with inappropriate cloths or display of indecency
- Hang cloths in the rails of the balconies
- Garbage should be proper closed in plastic bags before be put into the bins
- Bring in external people that have not been registered
- If you have babies that need to use the baby cot you are responsible for the baby's linen to be used during your stay.
---
---
---
My family of 4 had an absolutely spectacular time at Wasana's condo. The space was so much larger than i expected and the accommodations were both comfortable and practical as well as quite stylish. The kitchen was expansive and quite functional. The large patio overlooking the 1/2 mile long crystal clear pool below was an extra bonus that was a great private space to enjoy the beautiful surroundings. Wasana was an absolutely fabulous host and was always available to us when we needed her. This was our first trip to Thailand and Wasana helped make it a trip we will remember as being one of the very best we have had as a family. Thanks Wasana!!! we welcome you to come to Boston any time.
---
This was our first airbnb experience and I suspect it will be a hard act to follow. The property was gorgeous, larger than anticipated, and completely fit our needs. Wasana was the best host imaginable. Her communication was spot-on both before and during our stay. She met us at the condo with a lovely fruit platter. She checked in during our stay (via email) and had her maid do our laundry (for a fee). The property is gorgeous. The pictures only begin to describe Blue Lagoon. The pool is remarkable. One kilometer in length is incredibly long and the foliage around the property is beautiful. We ate most of our meals at the nearby Chef Cha restaurant out on the main road. We felt very safe with the polite security guards on property. The pool and grounds were impeccably maintained by several friendly staff. We enjoyed happy hour at the nearby Sheraton and found groceries both at the large Makro store and at the closer Tesco/Lotus, 7-11, and local produce market. I enjoyed runs on the beach (despite the heat), a massage down the main road past 7-11, collecting shells on the beach, and outlet shopping just across the street. We used a taxi to visit Hua Hin city where we enjoyed the Cicada Market, Hua Hin beach, and Black Mountain Water Park. Our girls (9 & 11) loved having their own spacious bedroom and bathroom. The condo had everything we needed and we didn't feel the need to leave very often. Hua Hin was our last stop in our 4 week trip around Thailand. I can't think of a more relaxing way to end our Thailand adventure. Wasana was there at check-out with a parting gift and more advice for our last night in Bangkok. If you are hoping to see more of the region, a car would be helpful. We were quite happy staying close and relaxing. You won't regret staying in this lovely, well-decorated apartment.
---
Our host Wasana was wonderful. She made us feel very welcome and everything in the apartment was exactly as described on Airbnb. Wasana was also very helpful before we arrived and gave us suggestions regarding transfer options as well as restaurant-suggestions once we arrvied. The apartment itself worked out great for us as it gave us enough space. We are a family with 02 small kids who loved to have their own (URL HIDDEN) did we. :) Everything was very clean, modern und the kitchen was stocked with everything you could possibly need. All food items/ drinks etc you can get at 7Eleven - a 10 minute walk from the complex. For the most part we ended up using the facilities at "Sheraton Resort" due to the pool, beach and restaurant choices which for our family worked out best. To use the hotel facilities you'll have to pay a small additional fee to the hotel of approx. $50 for 1 week. The swimming pool at Blue Lagoon, however, is also great - just very quiet and there are no chairs. However, Wasana does offer two beach chairs as well as matts and beach towels. We did not really like the surroundings of Blue Lagoon/Sheraton Resort. There is a very busy street, some abandoned buildings and lots of new construction. But to be fair, unless to want to go to a store or possibly a restaurant, you won't even really notice/deal with it. Downtown Hua Hin is maybe a 10 minute taxi ride away. We had all in all a wonderful stay and would definitely return to Wasana's "peaceful haven" again.
---
This place was fabulous. The kitchen is well stocked with quality appliances and gadgets (we suspect Wasana is a foodie). The kitchen/dining room/livinng area is one spacious rooom that leads out to their balcony which provides excellent views of the Blue Lagoon and the sunset. We enjoyed a few dinners on the balcony. My husband who is constantly critical about design and layout, had very little complaint about this beautiful condo. Our 1-year old and 3-year old absolutely enjoyed the place and our 3-year old is still playing pretend at home "traveling to the Blue Lagoon". It was a short walk to the Blue Lagoon kiddie pool (which we also traveled to via walking through the Blue Lagoon adult pool) and a wee bit longer to the beach and the kid center at the Sheraton. There is a great restaurant called Chef Cha located on the main road, just 5-8 minutes walking from the condo. We ordered delivery from this place several times (the chef used to work for some of the higher end hotels in Thailand and the region and cooks based on his experience). Delicious food at great prices. Wasana and her brother have the menu in their Welcome Book. We are seasoned travelers and needed very little guidance from Wasana and her brother Gee, but both were very communicative if any issues arose (I didn't know where to put out the trash the first night). Although Wasana was in Sweden at the time, she was still emailing/SMS-ing me to check in on our stay. Fabulous fabulous customer service. They really do treat it as a boutique hotel and take their service seriously. We look forward to staying here again.
---
Wasana has been the best host and supporting us a lot on our trip to Hua Hin. She has been quite open about what to expect when coming there as well really helpful with our arrival and departure (very early in the morning) and helping us with direction on what we could do. The apartment simply is really nice and fantastic to have your own private place, as we travelled with two little kids, it was really nice to put them to bed, but still be able to stay in the living room. The only "but" we have is the location, as it is quite far outside of Hua Hin town and take app. 20-30 min with a tuk tuk (if you can get one) and there are only one dining place outside the resort (even though you get 15% discount is REALLY expensive). Wasana has been fantastic and is a great hostess - she will also help you with any questions you have prior to your reservation
---
Before renting from Wasana I had read the other reviews, so I was already at ease with our stay. Wasana was waiting for us when we arrived and was as pleasant and professional as can be. Everything was just as promised, only nicer! Her and her husband have taken such care in furnishing the place, we didn't want to leave the apartment. From the dishes to the coffee mugs, to the art on the walls, the antique furniture, even the custom made pillows in the bedroom, our stay was truly luxurious. So much so that our return to our 5 star hotel in BKK felt like a let down. The other thing that was unexpected was the beauty of the Sheraton hotel which you'll have access to when staying at Wasana's. The entire resort is laid out in horizontal lines to complement the sea view. The buildings are all two stories tall and every space is open air, surrounded by pools in which to swim and bathe. Our trip to Hua Hin was a pure delight!
---
My name is Wasana, my husband and I own an apartment in Hua Hin that we seldom stay in but we love very much, and we would like to rent it to visitors and tourists who like to vacation in a quiet peaceful atmosphere. I currently spend my time between Thailand and Sweden. I am an accredited Hatha Yoga and Pilates instructor.

Languages:
English, ภาษาไทย
Response rate:
100%
Response time:
within an hour
Explore other options in and around Hua Hin
More places to stay in Hua Hin: