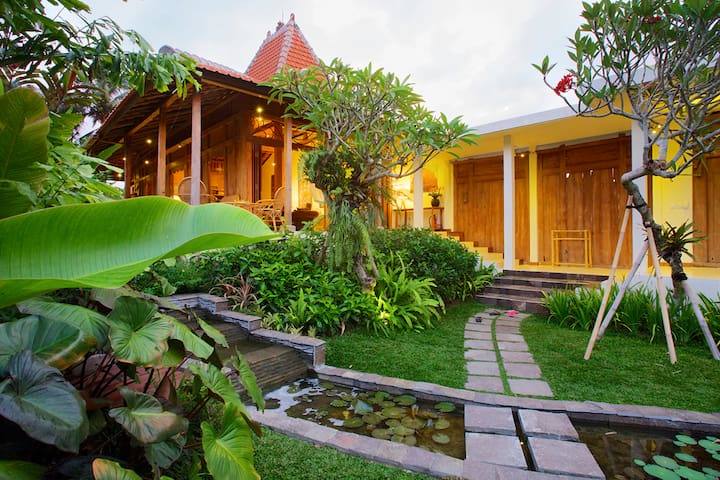 Umajati was designed to blend a sense of the old with the elegance and comfort of the new. These heritage houses are airy and light surrounded by glorious gardens. A perfect place to bring family or your loved one to feel the generous spirit of Bali

The space
The Wates Bangbau house at Umajati Retreat is surrounded by tranquil rice fields and set in a lush garden. It is one of two elegantly converted hundred-year-old Javanese teak wooden homes, made throughout with recycled timber, that provide 21st century living in 19th century houses.
• Wates Bangbau house accommodates 5 people.
• An elegant 15-meter swimming pool in a lush garden offers poolside lounging.
• A master bedroom with queen-size bed has an en suite bathroom with a shower.
• A second bedroom with a king-size bed that splits into twin beds also has an en suite bathroom with a shower.
• A single bed in the main living room has direct access to the master bathroom and shower.
• All beds are draped with mosquito nets and cooled with ceiling fans.
• The bedrooms have lots of windows that can be opened to catch the cool evening breeze off the rice fields, and the windows have elegant ironwork to maintain security.
• The living room has comfortable couches and chairs, with a large dining table indoors.
• The house has wrap around porches with several private garden spaces and your own sitting pavilion overlooking the garden. Great space to do yoga or meditate.
• The house has free Wifi
• There is a fully equipped kitchen with wine, beer and soft drinks available for purchase in the refrigerator.
• Full breakfast is included in the rental price – with our own homemade muffins or scones, yoghurt and homemade granola, choice of eggs and the best tea and coffees offered in Indonesia!
• Healthy, home cooked meals are offered for lunch and dinner.
• Afternoon complimentary traditional Balinese cakes from our village are served with our own special blend of tea.
• This antique house has been refurbished throughout with recycled wood.
• LED lighting minimizes the carbon footprint.
• Wastewater gardens safely handle all gray and black water.
• We recycle and compost and do a weekly river clean in the sacred Tirta Tawar springs, 5 minute walk from the house
• Umajati staff is happy to guide you on a rice field walk to see the herons roost in Petelu Gunung, a 20 minute walk away.
The house is hosted by English-speaking Balinese housekeepers and cooks who specialize in healthy cooking. Most of our food is grown in our own gardens! We offer daily home cooked meals for lunch and dinner. If you would like to join us you just let the staff know the night before or enjoy the many restaurants in Ubud.

Interaction with guests
Our house staff always have time to sit and talk, and will take you to the local ceremonies; and the houses are quiet and spacious, giving you the space to take in all that Bali has to offer.

Other things to note
Traditional passive solar design creates naturally cool and breezy living spaces. Wastewater gardens safely filter all grey and black water. LED lighting offers a low carbon-footprint by significantly reducing energy usage. All organic waste is composted on site and reused in the garden. Material that is not compostable is recycled. Wifi is available in each house, connecting all this local thinking to the global context. Each house at Umajati is decorated with select art from the Threads of Life gallery in Ubud. The 4.5 meter (15 foot) wall in each house's living room showcases masterworks from traditional weavers across Indonesia. Cushion and pillow coverings display how these heritage arts can make beautiful homewares. Basketry made for traditional functions finds new roles around the house. Combined with the hundred-year-old timbers of the house structure, the effect is intimate, accessible, redolent of the past and yet expressive of the present.
Extra people $15 / night after 4 guests
Always communicate through Airbnb
To protect your payment, never transfer money or communicate outside of the Airbnb website or app.
Check-in is anytime after 2PM
We don't have many house rules. We have a peaceful place where people come for rest, relaxation and recuperation, so we ask that there be no noise after 10 pm that could disturb guests in the other house. We have wooden buildings, so we ask that there be no candles and no smoking indoors. Small children should be supervised at all times: the architecture of the house's wrap-around porch is very open, and the lack of railings and a 1 meter drop into the garden can be a hazard; at the swimming pool there is only a small shallow corner beside a deep lap pool for confident swimmers. And finally, we invite you to be respectful of the Balinese culture and sensitive to the different ways things may be done in a different culture.
The UmaJati Retreat was perfect! We were able to meet our hosts Jean and William and they were very kind and hospitable. Jean was very responsive in helping us arrange our stay. The meals prepared in-house by the staff were fresh, delicious and comparable with any of the higher quality restaurants we ate at in town. The staff manager was very attentive and helped us plan day trips. My wife and one year old son stayed at UmaJati with our friends who also had a one year old and we were all very happy that they had baby cots and high chairs available for us. Overall I would highly recommend staying here. Beyond everything mentioned above, you can feel good that your money is being well spent by contributing to Jean and William's mission to preserve the textile arts in Southeast Asian island communities. Read more about that in Jean's bio.
---
This villa is an Ubud oasis in itself! We loved the story of the 200 year old wooden houses providing a cultural experience, integrated with modern day amenities (wifi, hair dryer, toiletries, mini bar, book shelf with good selection, yoga mat to name a few) and wonderful service. Making arrangements from the moment we booked online up to the day we left was a breeze. It's the vacation home you want to keep coming back to.
---
Wow, what an amazing experience, truly incredible. This bungalow is without doubt one of the most beautiful and unique that I have ever stayed in. The attention to detail in every aspect of the business is without fault. From the way we were greeted by the staff, to the magnificent grounds and stunning pool, to the bungalows themselves. When travelling in a holiday it really is the small things that make all the difference, having that powerpoint just where you need it, that cushion that matches the tone of the building, that comfy chair just in the right place for the view. It's these things that are hard to achieve but that make your stay at a place like William and Jeans bungalows truly memorable. Fortunately we were also blessed to meet William as well, who joined us for an incredibly yummy and unique vegetarian dinner. Jean and William are legends in their own right in Ubud, having setup the amazing NGO, Threads of Life that does incredible work preserving ancient traditions of cloth manufacturing throughout eastern Indonesia. Jean and Williams connection to traditional cloth making in Indonesia adds a truly special touch to the experience of staying at Umajati. Impeccably chosen pieces of unique cloth, hand woven and dyed with natural dyes hang like the artworks that they are on walls through out the bungalow. Perfectly chosen cloths for pillows and cushion covers accentuate the natural exquisite and luxurious feel. On top of all of that there is an amazing natural dye garden to be explored and a natural dye workshop with batik classes that you can also join in. In fact Jean and William and their incredible staff have prepared an amazing array of activities that guests can join in, cooking classes, massages, and tours of nearby features. The guest book is well worth the read, one of the best I have seen and makes me feel lazy with what we offer to guests. If you get a chance though do take the opportunity to explore the unique connection to cloth that the place offers. I feel so sad and silly that we only booked one night at Umajati :( I can only imagine the beauty of living somewhere like this full time. Thanks Jean, William, Made and all the staff for such an amazing experience. Hope to see you again soon. For anyone else... if you don't stay here your mad... it's as close to paradise as it gets for me, natural organic seemless tropical beauty in a cool lush setting minutes from Ubud and yet as private as you could ever want.
---
We had a really nice stay at I Made's villa in Ubud. The villa is beautiful, just like the pictures, if not better because when you're there you can appreciate the gorgeous plants, flowers and trees they have planted all around. The staff were all very kind, friendly and helpful with anything we needed. We were made to feel very welcome - they arranged for 2 baby cots to be set up for us (with mosquito netting which was so important in the rainy season), and also lent us a high chair. The food was excellent - couldn't fault it and just wanted more! They were wonderful in arranging our pick-up from Seminyak and drop off at the airport. The only issues we encountered during our stay were a few delays in our transport to and from Ubud, either because the car was being used for something else at the time, or because with the rainy season, the roads were a bit more difficult to navigate (for example, a tree fell over and blocked the only road out). However, all in all we really enjoyed our time at the villa.
---
Wow such a stunning house in such beautiful ,peaceful surroundings .The staff were all so friendly and helpful, nothing was too much trouble even dressing us up and taking us to a local ceremony by the holy springs . The retreat is about two miles from Ubud in a friendly village and there is a complimentary shuttle into town but it is walkable with lots of shops to browse in on the way . We throughly enjoyed our time at Umajati and would definitely recommend it . Thank you to all the Umajati team for making our stay memorable .
---
I come from a small farming village in Tabanan in west Bali, but have lived in Ubud since I was in junior high school. For most of the 90s, I worked as a guide of cultural tours in Bali and to the remote islands of eastern Indonesia.

While leading these groups I saw the value of the traditional textile arts. Due to the many uses of traditional cloth -- as everyday clothing, ceremonial dress, rituals gifts, religious offerings, and shrouds for the dead -- explaining the textile arts to the groups we led became a powerful way of accessing the culture of any community we were visiting. The more I learned, the more I saw that the textile arts, and by extension the cultures we were visiting, were in crisis. People were struggling to maintain their cultures and identity in the face of modernization and globalization.

In 1997 I co-founded Threads of Life in Ubud as a fairtrade gallery to work directly with weavers and support cultural continuity. By 2002 it was clear the business could not support all we wished to do in the field, and the Bebali Foundation was established to support sustainable resource use and cooperative development in the communities where Threads of Life worked. Both organizations now work with over 1,000 women weavers in 40 cooperatives on 11 islands across the archipelago.

One of the Bebali Foundation's central activities is the research, documentation and teaching of traditional natural dye recipes. This is to both save traditions and safe-guard incomes for the weavers. And one of the main functions of Umajati Retreat is to support this dye work. Fifteen percent (700 square meters) of the property has been made into the foundation's research garden as both a living archive of dye plants and a source of materials for our dye experiments. Even if you don't stay at Umajati Retreat, please come and see our botanical dye plant garden.
Languages:
Bahasa Indonesia, English
Response rate:
100%
Response time:
within a day
Explore other options in and around Ubud
More places to stay in Ubud: