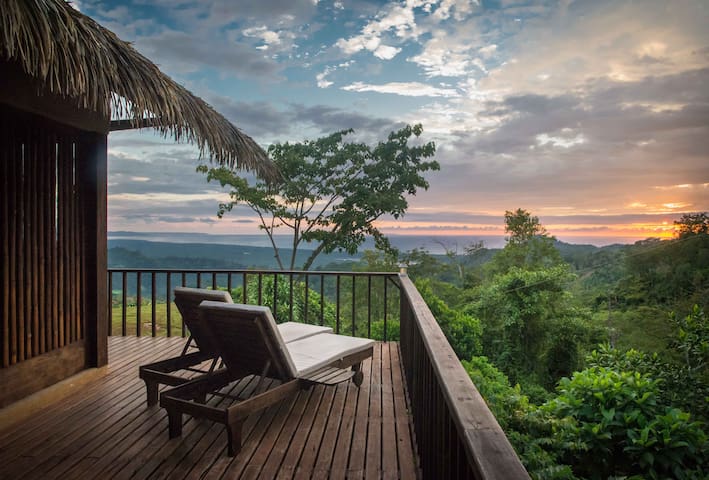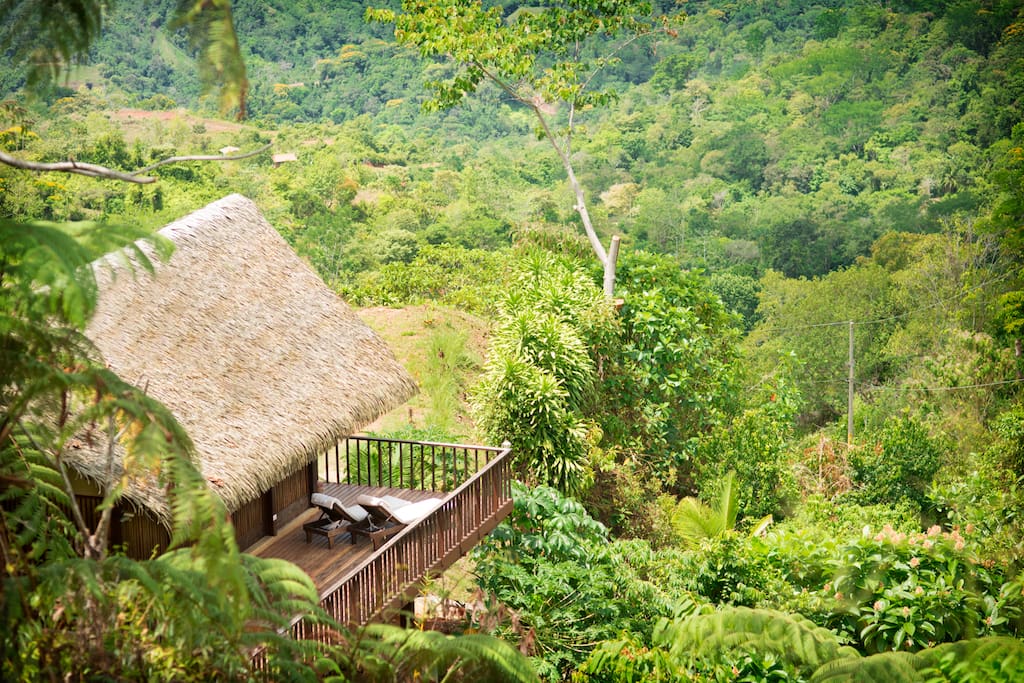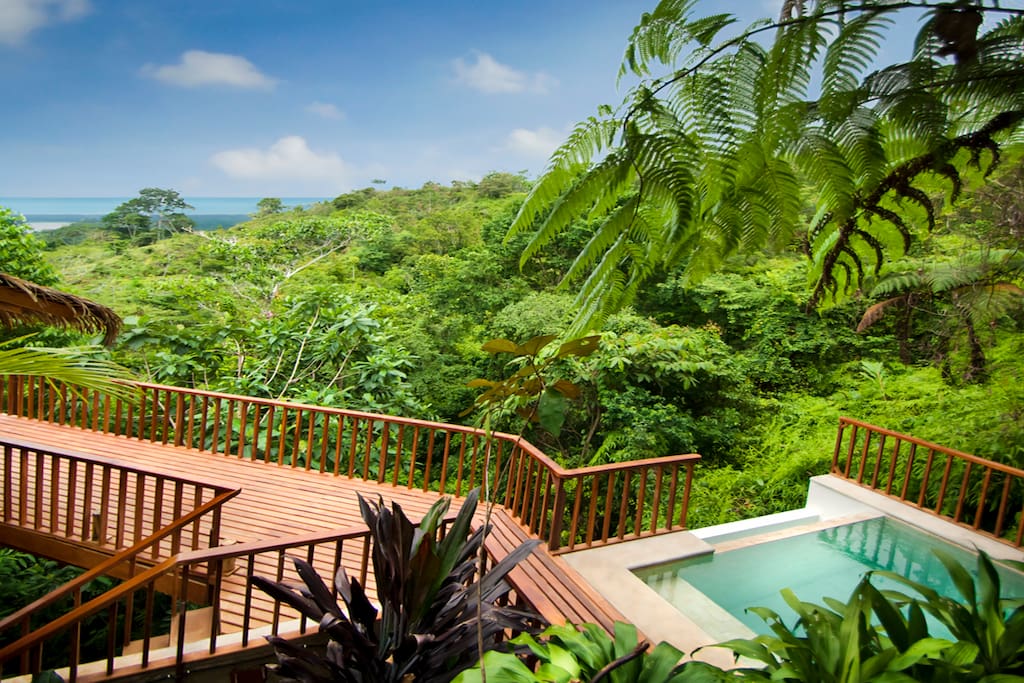 Beautiful & very private 'eco-luxury' retreat near South Pacific Coast. Our unique & stunning location offers guests panoramic sea views & hangs dramatically over the jungle canopy. Romantic getaway, nature lovers and adrenalin junkies paradise!
The space
WELCOME to Pura Vida Ecolodge, a unique 'eco-luxury' award-winning retreat nestled amongst virgin rain forest just 5 km from the volcanic sands of the Pacific Ocean in Central America's Costa Rica. The ecolodge been awarded with a 'Certificate of Excellence' every year since opening by TripAdvisor, was designed by award winning Architect Franco Casalvolone (FCB Arquitectura) and has been awarded with the Airbnb 'Super Host' badge for the last three consecutive seasons as well!
This is, as they say, the 'real' Costa Rica as our beautiful and breezy location, at an altitude of just over 300 meters and with over 3 acres of private land, boasts stunning panoramic sea views over the lush valleys towards the meandering 'Rio Terraba' and directly faces the Pacific Ocean, Costa Rica's spectacular sunsets and the world famous National Parks - Isla del Caño & Osa Peninsula. The most magical times are the early mornings and late afternoons where you can sit back with a freshly made juice or a glass of wine and be a spectator of nature with monkeys, pizotes, parrots and toucans all frequently visiting the lodge and it's surrounding reserve.
Pura Vida Ecolodge is a peaceful sanctuary to experience and embrace the 'Pura Vida' (Pure Life). A destination where guests can enjoy not only a memorable holiday, but tranquility, adventure and equilibrium in a utopia second to none. Our private 'Eco-Chic' retreat is your chance to relax and truly let go, to welcome an organic, integral experience for contemplation, rejuvenation and nurturing among friends, family and loved ones. A place where it's entirely possible to travel in style without feeling guilty - Experiencing a sustainable lifestyle as our ecolodge is set up with rain water catchment, solar panels and a 100% natural water source right from the mountains.
PURA VIDA ECOLODGE FEATURES/HIGHLIGHTS:
- Private rental regardless of group size
- Infinity-edge plunge pool (with cool fresh spring water) with surrounding deck and outdoor rain shower
- Expansive forest & ocean views
- Cozy lounging areas inside and out with numerous wrap-around teak decks, balconies and yoga platforms.
- Plethora of comfy cushions, sun-loungers, rugs and sofas.
- Perfect for honeymooners, small groups, friends or families.
- Ocean View Suite with King size 'Sleep on Nature' bed (by Coco-Mat), pull-out single bed, private terrace and large windows overlooking the valley, coastline and Isla de Caño. Complete with en-suite bathroom and walk-in rain shower.
- Jungle View Suite with Queen 'sleep on nature' Queen bed (by Coco-Mat). Views of jungle canopy, private deck and yoga platform, Complete with en-suite bathroom and walk-in rain shower
- Contemporary living space with L-Shaped sofa (converts into double sofa bed) again offering spectacular Pacific Ocean views with connecting hanging terrace.
- Stylish 'open-plan' fully equipped kitchen with polished stone counter tops, contemporary appliances., nutri-bullet etc
- Dining Room seats up to 6 guests in a comfortable open-plan living space looking out onto the Pacific Ocean (to the west) and the Jungle Canopy (to the north)
- A/C (in bedrooms only) with independently controlled thermostats in each suite.
- Laundry service with use of washer and dryer.
- Secure indoor parking (1x 4WD) plus extra outdoor parking
- Yoga deck and outdoor 'body weights' gym complete with outdoor shower and great panoramic views.
- Pura Vida Ecolodge Nature Reserve - jungle paths leading to yoga decks, streams, waterfalls & natural plunge pools perfect for bathing and relaxing or even adventure & adrenalin! Please note that the waterfalls right by the property often dry up during the dry season
BEDROOM SUITES - Both suites boast elegant polished concrete floors, stucco finished walls, teak and bamboo doors and fittings, bamboo ceilings, perlato natural stone wash basins and walk-in (indoor) rain showers with beautiful 'pizarra' finishes (with solar powered hot water and backup boiler system). They also both have private balconies/decks. Upstairs is the Ocean View Suite (with King or twin setup plus pull-out single bed available - depending on your group dynamic) while the Jungle Suite (Queen setup) hangs over the jungle canopy itself on the ground floor.
LIVING SPACES - The lodge's contemporary communal living space is located upstairs and offers guests a fully equipped 'American-style' open-plan kitchen, dining table (space for 6) as well as a comfortable and stylish lounge area. The whole of the upper level of our Ecolodge is surrounded by a 'wrap-around' teak deck, hanging dramatically over the jungle canopy - perfect for yoga, sunbathing or enjoying the fantastic panoramic views on offer. There is of course, also the infinity plunge pool, the perfect escape when the sun gets too much as it's filled to the brim with fresh cool water straight from a natural spring in the mountain.
YOGA & GYM - We have recently extended the deck around the plunge pool with a new outdoor rain shower as well. You'll also love our large yoga deck, exercise and body weights area (with pull up & dip bars etc) again complete with another outdoor rain shower and a 'chill out area', all hanging dramatically on the edge of our nature reserve - so you can enjoy the lodge's valley, ocean and sunset views whether working out or just relaxing.
LOCATION & ACTIVITIES - At the same time as being near local beaches, restaurants and other tourist attractions, Pura Vida Ecolodge's location is both remote and private and the retreat itself will provide you with all sorts of adventures and experiences. We have our own nature trails, waterfalls & natural plunge pools both near the ecolodge & on the edge of the Pura Vida Ecolodge Reserve - the easiest trail starts right by the ecolodge, with more challenging treks on the edge of the reserve just a short up-hill walk (300m) from the lodge. Your adventure can be as extreme or relaxing as you choose with a plethora of natural swimming pools, waterfalls and rock faces to explore! Whether you are honeymooners, a group of friends or a large family of 7, you will have the entire ecolodge just to yourselves. We have also planted lots of trees, so please be our guests and pick any of the fruits they are all obviously 100% organic! If you venture off any of the paths, take your boots and maybe a hiking pole.
We are just a 10-15 minute drive (depending on season & road conditions) from the Costa Nera Highway allowing guests to easily explore the area with day trips to two of Costa Rica's most popular national parks (Manuel Antonio & Corcovado), stunning beaches (Playa Arco, Tortuga y Ventanas are our three favourites) and our concierge service can help with tours and boat trips, trekking options, scuba diving & snorkelling trips, kayaking, stand up paddling, surfing, hiking, mountain biking, canyoning, canopy lines and horse riding etc. The nearby village of Ojochal (just 5 minutes up the Costa Nera) is one of a few local villages hosting a whole load of fine dining and fusion restaurants or if you'd prefer to relax 'at home' we can happily arrange home-cooked 'tico' meals, food parcels (according to the season, fresh fish, ceviche and seafood all available) and fruit baskets to be delivered direct to the Jungle Villa.
ECO-TRAVEL - Eco-travel in Costa Rica is your ticket to explore a plethora of amazing places that care just as much about the environment as they do about their guests. It's a country where 'organic' is as important as 'stylish', and the government plans to make it the world's first carbon-neutral country by 2021.
'Pura vida' is Costa Rica's national motto, and for good reason. It's a real paradise: Our guests can enjoy the 'pure life' in some of the world's most bio-diverse jungles, rain forests and coastlines. The country's book-ended by beaches on its Pacific and Caribbean sides (hence the laid-back surfer ethos that characterizes coastal life) and inland, nature holds way: a full quarter of Costa Rica is protected land, from the smouldering volcanoes to dense jungles. In the highlands, farms and plantations produce delicious tropical fruit – as well as some of the finest coffee ever to grace your espresso
PURA VIDA ECOLODGE FAQs:
- WILL I NEED A 4x4 CAR? Yes, our retreat is situated 5km from the coast and the village of Coronado on a well maintained gravel road into the coastal mountains. A 4WD car is necessary. There is a convenience store or "soda" as they are called in Costa Rica, at the Coronado junction, where you can get the majority of your groceries and supplies. For supermarkets, restaurants/bars, beaches, bigger stores, etc. you would require transportation to the local towns of Ojochal (5 mins), Uvita (15 mins) up the Costa Nera Highway. Several taxi services are available but you cannot beat the independence of having your own 4WD. Driving time from San Jose is around 3.5 hours. Full details & directions in welcome pack TIP: Bring coins and change from the US or change colones for the highway tolls!
- WHO SHOULD I RENT OUR 4WD WITH? We have been working with Vamos Rent-a-Car since we opened. They speak English and they have various offices around the country (Near San Jose Airport and Dominical amongst others). They will meet you off your flight or even at your hotel if you're setting off early in the morning. Be sure to mention us and Pura Vida Ecolodge to get the best prices & treatment. You should allow around an hour for vehicle collection and paperwork.
- IS THERE SOMEONE IN COSTA RICA WHO CAN ASSIST ME WHILE I AM THERE?
Yes, once you book Pura Vida Ecolodge, you will be sent the welcome pack which includes all the details of our housekeeper and his wife, who together with myself and Kika, will double up as your 'concierge service' leading up to and throughout your stay. Though our housekeepers are Spanish speaking only, they are very knowledgeable on the area and will be there at checkin & checkout and can help you throughout your stay with anything you might need. I'm sorry we cannot be there but you'll be in very good hands, Gersan & Ili are practically family!
- IS THERE A BEACH NEARBY THAT IS EASY TO GET TO? Yes, in fact you are really quite spoilt for choice. Playa Tortuga is the nearest and possibly one of our favourites. Once down at the Costa Nera, it is just a 5 minute drive up the coast. A short drive further up the coast takes you to Playa Piñuelas, Playa Ventanas and then the stunning national park of Marina Ballena and Uvita. Full directions (including which beaches are best for swimming and surfing etc is included in your welcome pack).
-HOW EASY IS IT TO FIND PURA VIDA ECOLODGE? Upon confirming your reservation, we send all our guests a welcome pack with very clear directions including photos of landmarks along the way. This is updated monthly as we aim to give all our guests as up-to-date info and recommendations as possible
-ARE THERE RESTAURANTS AND SHOPPING NEARBY?
Ojochal is the nearest town with a really good selection of fine & casual dining. You can find Fusion, Italian, Asian, "Typical Costa Rican," even a deli/bakery and a handful of great fruit smoothie and ceviche places. Further up the coast there is Uvita, again with a good balance of International and 'local' options. We include a full list of recommendations (both restaurants & bars) in the welcome pack. For shopping, you may wish to visit the bustling tourist town of Manuel Antonio (50-60 minutes drive north) which has souvenir, jewellery, and art/craft shops and many lively restaurants (we recommend a trip to Manuel Antonio, anyway, for the national park, which a lot of our guests do either on the way down or on the way back up to San Jose.
-ARE THERE EXCURSIONS & ACTIVITIES CLOSE BY? Yes, yes, yes! Again, you can find more details on the Pura Vida Ecolodge web site, but there are spectacular waterfalls, nature trails and plunge pools right in the reserve itself. The surrounding area offers world class scuba diving, snorkelling, zip-lining, boat tours, mangrove tours, hiking, stand-up paddling, horseback tours, canyoning, as well as being located between the country's best national parks (Corcovado & Manuel Antonio) and a 20 minute drive from Marina Ballena National Park. There are dozens of picturesque, quiet beaches all the way up and down the Southern Pacific coast, with enough activities and adventures on offer to do something completely different every day! We can also recommend great day trips to the Osa Peninsula, Sierpe and Nuayaca Falls amongst others and an overnight option to Mt Chirripo is incredible if you have the time. For surfers, Playa Dominical has a famous left and right beach surf break, and waves 95% of the year. Closer to the lodge, Playa Tortuga and Ventanas often have good waves more for beginners or if you're after an almost private beach and wildlife experience, you can have breakfast or lunch at La Cusinga and then explore the different monkey colonies. if you're lucky you might spot some Red Scarlet Macaws and guests also regularly see lots of toucans and different types of parrots. The 10-min walk through the jungle down to Playa Arco is well worth the trek!
-IS IT A QUIET NEIGHBOURHOOD? Yes, Pura Vida Ecolodge is the best of both worlds. While being a completely private retreat and reserve (both the house, pool and the surrounding nature trails) with it's orientation meaning that the property literally hangs over the jungle canopy on one side and directly faces the Pacific coast on the other, you will have a handful of neighbours nearby in the slowly growing community if you wanted a friendly chat or even some more tips on the area.
-IS THERE A GROCERY STORE NEARBY? There is a good little 'pulperia' (small local store) on the crossroads at Coronado (around 5km away) that will most likely have most things you would need. There is also a great fish/seafood place just 1 km from the Coronado junction. For larger shopping, there are two big supermarkets ( as well as a really good Pharmacy) in Uvita, about 15 minutes up the coast
-DOES THE ECOLODGE HAVE INTERNET AND CAN I PURCHASE A LOCAL CELL NUMBER? Yes, the house is equipped with WiFi for internet connection and you can even purchase a sim card for around $4 (around 2000 colones) by the luggage claim in the airport, you just need a passport. Sim card is technically free as you can use all of the funds with calls. While cellphone signals have greatly improved in the country, there are some spots around Coronado that don't have reception but there is consistently good signal in and around Pura Vida Ecolodge. Please note that while the WIFI/hotspot is fine for emails and checking the news etc, please don't expect to be able to stream movies as it's only 3G speed.
-WHAT IS THE WEATHER LIKE? A more detailed description of Costa Rica's seasons can be found on the Pura Vida Ecolodge web site, but in general you can expect about 85+ degrees at the beach year round. The only difference in climate year round is that May-November is the "green," or rainy season, and December through March/April is the dry season. The temperature up at the Ecolodge is always a few degrees cooler because it is around 1000ft. elevation, and you get great mountain breezes. Likewise, because of its proximity to the equator, the sunrise is around 5-5.30am with the sunsetting at 5.30-6pm. The 'Green season's' rains are quite welcoming, it's always hot and the partial clouds and afternoon rains are soothing. Typically the rains start on the mountains between 2-4pm, maybe a little later by beach. For us, the best times of the day are between 5-7am. The congo monkeys will wake you up, and it's the most glorious part of the day and besides you'll most likely be asleep by 8/9pm! It's amazing how quickly you'll adjustment!

-WHICH ROOMS HAVE AIR CONDITIONING?
Both bedrooms/suites have A/C: the Ocean View Suite on the first floor, and the Jungle View Suite on the ground floor. Please note there is not A/C throughout the rest of the home, but there are ceiling fans in each room and the Ecolodge has been designed with your comfort in mind, with large-open plan living spaces, surrounded by sliding doors leading out onto the wrap around decks which mean there are lovely fresh sea-breezes throughout.
-WILL I NEED TO BRING ANYTHING WITH ME? You need not bring any household items as all bedding, tableware, towels, cookware etc are all provided. We also provide a wonderful fruit basket and some other local delicacies on arrival. Bring only your personal items, and of course a sense of 'Pura Vida' adventure!
-IS PURA VIDA ECOLODGE A PRIVATE LOCATION? Yes, not only is the location incredibly private but regardless of your group size, you will have the entire retreat (house and surrounding reserve) just to yourselves. A lot of our guests are honeymooners and couples, as well as groups of friends and entire families. Either way, whether you are 2 people or a group of 6 with kids, you will have the entire property to yourself.
- IS COSTA RICA SAFE? In general Costa Rica is very safe, however petty crimes do happen especially by the beaches or touristy areas. Do not bring any valuables to Costa Rica with you and especially do not bring them with you to the beach. TIP: Leave the glove department open to indicate it's empty.
Guest access
You will have access to the entire property, whether you are just a couple or a whole family. In other words, you can stay in the Ocean View Suite or Jungle Suite (or both) as well as enjoying all the other spaces around the property. All for you - Just for you...
Interaction with guests
We realize that most guests come to our area to really switch off and get away from it all. We therefore meet you up at Pura Vida Ecolodge on your checkin day and collect the keys on the day of checkout, thus giving you all the privacy you want. That said, we are of course available for anything throughout your stay if you should need us and our local Costa Rican housekeeper Gersan lives nearby and also offers a brilliant mangrove boat tour - which is a really fantastic day out and adventure, offering a great insight into the locals way of living and the area as a whole. Guests can also arrange authentic tasty tico meals to be delivered up to the lodge with his wife Iliana (who runs Pura Vida Café). More details included in welcome pack parts 1 & 2.
Other things to note
Hopefully you'll have a chance to read through all our notes and flick through all our photos, but the best way to really find out what Pura Vida Ecolodge is all about is to read our reviews and see what our last few guests really thought of our retreat, the lifestyle and experience it provides. We hope to welcome you one day soon at Pura Vida Ecolodge.
---
Room type: Entire home/apt
---
---
Extra people: 30 / night after 5 guests
Always communicate through Airbnb
To protect your payment, never transfer money or communicate outside of the Airbnb website or app.
Learn more
---
Bedroom 1
1 king bed, 1 single bed
---
Check in time is 3PM - 6PM
The main 'House Rules' are to really adopt the 'Pura Vida' philosophy & concept we have worked so hard to create. That means respecting nature, the animals and the magical surroundings of the Jungle Villa and it's reserve. Our main goal is that you are able to leave the 'urban madness' behind and fully enjoy & embrace a unique life at Pura Vida Ecolodge throughout your stay, whether it be just two days or two weeks, always conscious that our Jungle Villa really is 'A Retreat - A Lifestyle & An Experience.'
- No smoking inside of the house
- Don't feed the pizotes, monkeys or other visiting animals
- Enjoy wildlife, don't be afraid of insects, it's a Jungle Villa!
- Use the Safe for your valuables and electronics
- Don't throw paper or other products in the toilets but use the bins provided
- Lock the windows & doors and turn off AC, lights & fans when you leave the ecolodge.
EN-SUITE BEDROOMS
Both double bedrooms can be set up as either Kings or indeed separate twins, according to your particular needs and group size. In the Ocean view Suite (upstairs) there is also a pull-out single bed. Both suites offer guests maximum comfort as all our COCO-MAT mattresses are made of 100% organic materials and are of very high quality. We also offer guests the COCO-MAT pillow menu. There is also a sofa bed that can sleep a further two people comfortably - with a maximum for the entire Jungle Villa being limited to 7 adults.
CHECKINS/CHECKOUTS
We appreciate that life on the Pacific coast can start early so ask guests to try and checkout by 10am. Check-in starts from 2pm and guests are strongly advised to arrive by daylight on the first day so as to familarize themselves with the route up to the lodge.
CONCIERGE SERVICE
Our lifetime friend and housekeeper Gersan (and his wife Iliana) offer guests the Pura Vida Boat Adventure tour themselves and where possible, we are happy to help and advise other tours & excursions in the area. Gersan & Iliana also offer a laundry service and can pick up (and drop off) various food parcels as well as even preparing home-cooked local dishes for your arrival day if arranged plenty in advance.
---
Strict
Cancel up to 7 days before your trip and get a 50% refund. Cancel within 7 days of your trip and the reservation is non-refundable.
---
---
---
Award Winning… NO WAY!! Don't let this place fool you. My wife and I did a five Airbnb destination honeymoon in Costa Rica, and this was by far the worst (and most expensive).Yes, the view is nice, but in no way worth what we experienced here. We ended up leaving the very next morning; as soon as possible. Here's why: The road leading up to this place is a nightmare. You will feel like you are stranded once you get to the lodge. Our car rental barely made it up the hill to the lodge and stalled the first couple times attempting to climb it. I had to get a head start flooring the throttle from 50 yards away, nearly scaring my wife to death. And we actually got a flat tire thereafter. We were greeted by a young man and his wife who do not speak English. They were very nice but unless you speak Spanish, don't count on communicating very well. His wife made us dinner for $20 each and it tasted like it was bought at the local grocer at the end of the road. The food was dry, tasteless and old. My wife could not eat it. The dessert was served in a plastic container with water at the bottom, the cake was sopping wet. It was a joke. The aesthetics of this house are cold and drab. They locked all the cabinets and they leave it up to you their guests to find the right key from two large sets of key rings. We couldn't even find a paper towel or napkin to use. The place just felt dirty as if you were to come in right after the last guests and the place had never been cleaned. The linens were grungy and felt musty. There were only two small deflated pillows on the bed (hardly award winning comfort). There were ants all over the place which covered our belongings and I got bit several times by spiders while trying to sleep. The wifi did not work. There was no hot water in the shower. The host said it takes a while to heat up because it's solar powered but we let the water run for 20 minutes until we turned it off because we didn't want to waste water. So if you like freezing cold showers you may like this lodge experience unless you don't want to stub your toe. The shower knob fell off when I touched it to turn on the water and would have landed on my foot had I not acted fast and moved out of the way. I couldn't even take a refreshing dip in the (URL HIDDEN) was dirty! The whole experience was a nightmare. I told my wife at one point that I felt like were were on candid camera because it surely seemed like a joke from one incident to the next. The pictures do not reflect the actual conditions of this Airbnb. Eco..SURE, luxury… HECK NO!!
---
We brought our family (kids 9 and 6) to the Ecolodge for our first international vacation. We fell in love with it. In the morning as the sun rose we opened up the four large sliding doors to let the rainforest in and watched the mist rise from the hills below. We made coffee in the bamboo chorreador and sat on the deck where we listened to the rainforest wake up. The first day we could see howler monkeys, hummingbirds, and a couple of toucans that stayed with us on our last days. When it is raining you can sit in the front and stay completely dry in anything but the strongest storms. The family enjoyed the infinity pool and really enjoyed swimming below the waterfalls a short walk away. Our first night I woke up at midnight and walked outside to experience the Milky Way for the first time. Gersan is the caretaker if there are any problems during the stay and he offers a great boat tour of the mangrove wildlife and a visit to Playa Garza. Iliana, his wife, is an outstanding cook and prepared a delicious birthday meal during our stay. They have a daughter and seeing the three kids playing together on the beach was a sweet moment. The owners checked in with us throughout the week to ensure everything was running smoothly and that we were enjoying ourselves. The care they had for our happiness was appreciated. The Ecolodge was the perfect home base as we ate at the local soda (more amazing local food), shopped at the pulperia (grocery store), flew over the canopies on ziplines, and visited the amazing local beaches. Thank you for sharing paradise with us.
---
Everything was laid out just as expected. Gersan is the saving grace to Pura Vida. The meals provided by Illiana were absolutely amazing. The Lodge itself was beautiful and definitely off the beaten path. We loved waking up to the breath-taking views every morning. Only problem we had was not being able to take a hot shower during our stay. The hot water heater is on a solar panel, but it was very over cast during our stay and thus no hot water. The locals were all very nice and helpful. The highlight of our trip were the ATV rides in Uvita. Overall, I would recommend this place if you want a secluded get-a-way.
Response from Pura Vida Ecolodge:
As always it's SO lovely to hear about our guests adventures and that everyone enjoyed themselves and all the little touches are appreciated. One thing to note however, is that while Pura Vida Ecolodge for the most part relies on a solar panel to heat the lodges water, as always, we have a plan B up our sleeves when things don't go to plan (in this case if there was no sun for a few days in a row). As soon as Amy flagged that there was limited hot water coming from the solar panel, we arranged for Gersan (our housekeeper) to switch on the (over-ride) boiler, which once left running (the first time) for 3-4 minutes, will give guests plenty of hot water throughout the lodge no problem. I'm only sorry that this little detail (about leaving it running the first time round) seems to have been 'lost in translation' and as we never heard back from Amy after she first let us know, we assumed all was OK. Such a shame, easily avoided if only I'd known :( Hope it wasn't too much of an inconvenience and glad you had a great time and once again, thanks for taking such good care of our little nest, pura vida!
---
My wife and I went to Costa Rica on our honeymoon and stayed part of the time in a resort in Quepos and the other part in the ecolodge. We started in the resort, aiming for a more pampered experience before heading to the ecolodge, which we knew would be a little further off the beaten path. Overall, we really enjoyed our stay there! Here's a few things we enjoyed and tips to keep in mind. A couple things we really enjoyed about the lodge, the area, and our stay in general: 1) The ecolodge has an amazing view and definitely felt very private. 2) The meals prepared by the housekeepers Gersan and Iliana were great! Iliana's beans are the best we had during our stay in Costa Rica! And the other food was excellent, too. 3) We enjoyed the private trails within walking distance from the ecolodge and wished we would have done a little more exploring. We did some swimming and exploring in the stream accessible by the trail up the road from the ecolodge and saw several of the poison dart frogs, both on the trail and on the grounds of the ecolodge. 4) One of our favorite days was at Playa Tortuga just a few minutes down the highway. There was no one else on the beach for most of the day. It also has mangroves right on the beach that we enjoyed climbing around on. We saw a few pairs of Scarlet Macaws flying around and squawking in the trees. A couple things to keep in mind: 1) Four wheel drive is essential to make it up the hill to the ecolodge! 2) If you're relying on the ecolodge's hotspot for the internet, just know that it's not super powerful (e.g. you more than likely won't be able to stream anything). But it worked just fine for sending the occasional email and general internet browsing. 3) The kitchen/living room area is like a screened in deck so it is somewhat open to the elements, e.g. humidy, geckos, etc. We only saw a gecko once but we heard chirping at night that we assumed were geckos. That was not big deal, but on a few occasions we had to clean up their droppings. 5) The plunge pool comes from a spring and seemed a little chilly at night. However, I imagine this might be excellent in the dry season. Overall, we thought the ecolodge was beautiful and really enjoyed it. I would say that if you're looking for an escape from the more touristy type of experience and looking for an experience a little off the beaten path, then this is a great place!
---
Pura Vida is definitely somewhere you visit when your goal is to get away and be absolutely disconnected. The entire Pura Vida team is professional and as helpful as can be. Only suggestion would be to ensure you make it before sundown to avoid getting lost on your first night as well as stopping by the shops in uvita to pick up snacks and drinks that you will need as it's a minimum 30 minute drive to the nearest shop from the Ecolodge. Absolutely try the nature trails and embrace the Pura Vida lifestyle. Thank you again for a wonderful experience.
---
Our stay here at Pura Vida Ecolodge was the greatest trip to date. We had an amazing time, and loved being within the jungle, so close to nature. The house is well designed, filled with nature's essence inside and out, and the area is so peaceful. If you choose to cook, there are grocery stores along the main road, and the kitchen is large and stocked. Please choose to have Gersan's wife (Iliana) cook you a dinner, you won't regret it. Also, please make sure to follow directions *very* carefully - we got lost and took a right past the old bridge, instead of a left, and got ourselves into a really bad situation with our 4x4. However, Gersan (the housekeeper) was able to get us out of the situation. He was so helpful and hospitable. Although there are many things to do in the area, we loved staying at the house the majority of the time. Our 5 days there were truly amazing, and we cannot wait to go back next year. Thank you, Joe & Kika!!
---
Tres Rios, Costa Rica
Joined in October 2012
After many years dreaming and many months conceptualizing this little retreat, my wife and I moved from Europe to Costa Rica for the best part of a year to make this dream a reality. During this time we met some very special people and made a lot of wonderful memories as we embarked on what soon became an experience of a lifetime. The end result is that we opened the doors of our little 'piece of paradise' back in November 2012 and we welcome you to experience a really special vacation and adventure up at Pura Vida Ecolodge. We have created a unique 'eco-luxury' retreat nestled amongst virgin rain forest just 5 km from the volcanic sands of the Pacific Ocean in Central America's Costa Rica. Our beautiful and breezy location, at an altitude of just over 300 meters, boasts stunning panoramic views over the lush valleys towards the meandering 'Rio Terraba' and directly faces the Pacific Ocean and Costa Rica's spectacular sunsets. Pura Vida Ecolodge is a peaceful sanctuary to experience and embrace 'Pura Vida' (Pure Life), a destination where guests can enjoy not only a memorable holiday, but tranquility, adventure and equilibrium in a utopia second to none. Our 'Eco-Chic' retreat is your chance to relax and truly let go, to welcome an organic, integral experience for contemplation, rejuvenation and nurturing among friends, family and loved ones.
Languages:
English, Español, Italiano
Response rate:
100%
Response time:
within an hour
Exact location information is provided after a booking is confirmed.
Explore other options in and around Tres Rios
More places to stay in Tres Rios: