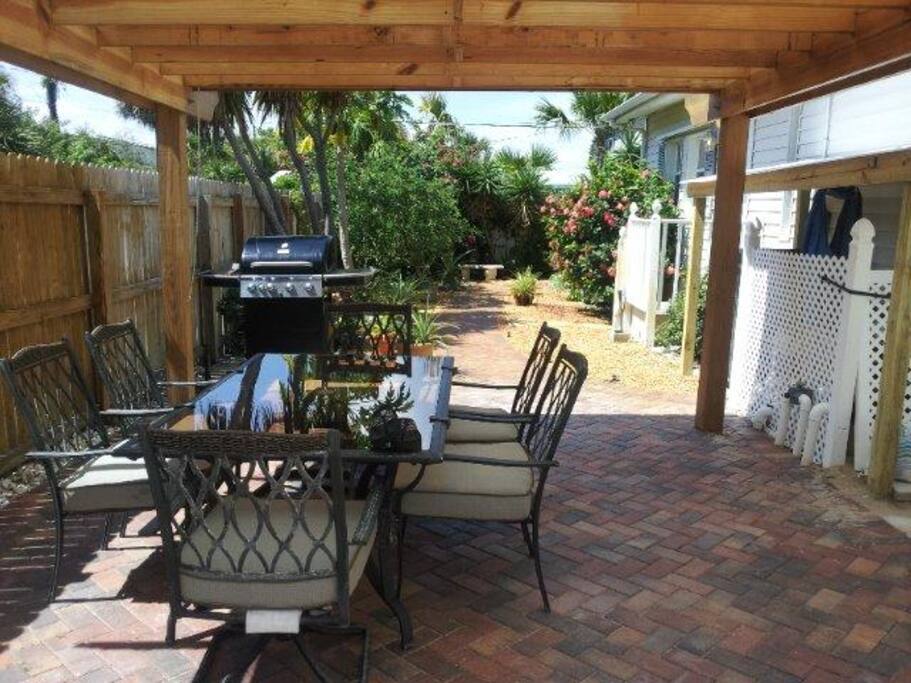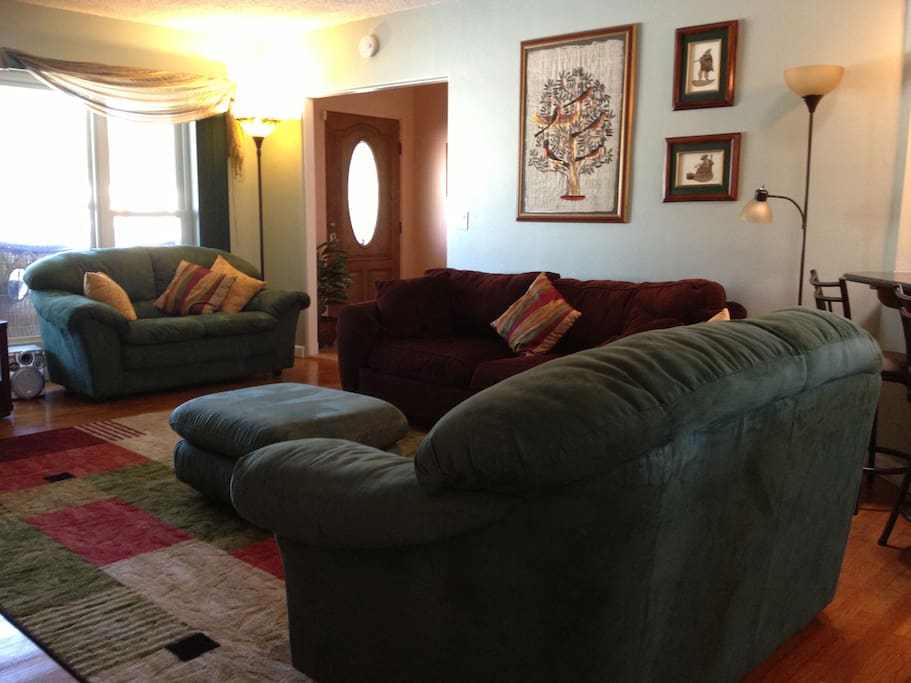 Entire home/apt
8 Guests
4 Bedrooms
4 Beds
About this listing
This Beach House has valuable benefits not always found in comparable homes – a fabulous gourmet kitchen in a friendly home, with 4 bedrooms and 2 bathroom. This Beach House has a shaded private garden and a private heated pool is for your own use exclusively. The house is east of A1A – crucial if low-traffic beach life matters to you. Loved by the families who stay here. 75+ Five-Star Guest Reviews on major vacation rental listings.
---
Bathrooms: 2
Bedrooms: 4
Beds: 4
Check In: Anytime after 4PM
Check Out: 10AM
Room type: Entire home/apt
---
---
Extra people: $35 / night after 6 guests
Cleaning Fee: $225
---
The space
Just steps from the beach, relax in this superb 4 bed/2 bath luxury beach home with your huge patio and your fully fenced private heated pool. This is not a condo, so your privacy is assured. The Luxury Beach House has received over 75 Five-Star Guest Reviews on major vacation rental listings in the last 4 years.
This single-level beach vacation home is perfect for family get-togethers, couples and friends. Less than one minute walk to a quiet stretch of world-famous Cocoa Beach and close to the Pier. A short walk to several great restaurants, fun bars and main supermarket.
Enjoy this clean family home in a quiet beach neighborhood, with comfortable sofas, huge flat-screen cable HDTV, CD, wireless Internet, a dream kitchen with high-quality equipment, three bedrooms (2 queen beds with HDTV & DVD, 1 double with en suite), two bathrooms, ceiling fans, washing machine and dryer. Also included: beach towels for all, toys for pool and beach, surfboard, fishing rods, umbrellas, cooler, beach volleyball kit, badminton rackets. For babies, a cot, high chair, baby chair, and shaded beach playpen are provided.
Your private garden gives you a beautiful private heated pool, succulent tropical landscaping, huge pergola with SPF80 sun protection, tables and chairs in shaded areas, parasols and BBQ grill. Because it's a salt water pool, use of chemicals is minimized. Your front porch offers its own table and chairs, a perfect vantage point to view spectacular Cape Canaveral rocket launches in comfort. Immediately next to your porch is parking for up to three cars.
Reviews from recent Guests:
JA, Texas, party of nine, Decemb(PHONE NUMBER HIDDEN):
"This house seems to have just about all we need. Love the extra thoughtful touches you provide."
JA, Ontario, party of four, Decemb(PHONE NUMBER HIDDEN):
"Four of us (senior males) went on a golf trip, and this house was perfect in every way. Jon was extremely helpful and efficient in arranging our stay and making sure everything was acceptable to us. Having four bedrooms, each with a larger bed and TV, was a terrific feature for us. The bedrooms were all very well furnished and comfortable, and the living room was great, with a large TV for evenings. The kitchen was modern and well equipped. We have rented many houses, and this was by far the best in terms of the supplies provided, and amenities. Beach chairs and towels, umbrellas, etc. The pool was a very nice spot to relax after golf, and the outside eating area and bbq were great. And the quiet beach area is a short walk away. Likewise, there are several good restaurants very close by. Overall, this house is at the top in comparison to any others we have rented, and we would be most pleased to return at some future time."
CB, New Jersey, party of nine, Novemb(PHONE NUMBER HIDDEN):
"We had a very nice stay at the Beach House! We enjoyed sitting in the back yard under the pergola and relaxing around the pool. It was nice to have the grill available. The backyard gardens are beautiful! It is a very attractive and comfortable home. Again, we enjoyed the beach house very much and look forward to visiting again!"
LO, Sweden, party of three, November 2, 2016:
"We really enjoy staying in your beautiful house. It is fantastic and has all you need, also a very good equiped kitchen. Really everything you need for cooking, and we tried, you know. Also outside everything is wonderful, with the shelter around the nice pool area and, the closeness to the Beach. Perfect! We enjoyed it all very much. Thank you!"
CS, England, party of four, September 2, 2016:
"Thank you to Liz and yourself for all your help during our holiday. We had a wonderful time:) Should we decide to return to Cocoa, we will be in contact! Thanks again."
DE, Nevada, party of seven, August 22, 2016:
"Cocoa Beach is an unforgettable place. We will definitely be coming back. I will contact you directly when we are ready, possibly for spring break! In the next couple of years, we are considering purchasing a home there. We just fell in love with the community. We will be in touch. It was an enormous pleasure to work with you and Liz."
AP, England, party of four, August 22, 2016:
"We really enjoyed our stay."
SS, Indiana, party of eight, August 13, 2016:
"We had a wonderful week there! Thank you for ensuring our family's stay here was wonderful! Your thoughtfulness and caring made us smile (like you do!)!"
CS, Ohio, party of four, July 31, 2016:
"Thank you for the use of the wonderful house again this (URL HIDDEN) was so relaxing and sooooo needed "
SK, Finland, party of five, July 11, 2016:
"We spent the week at Jon's and Liz's House, which is located just a few minutes ' walk from the beach. The House is close to amenities, yet there is little traffic. The porch is a great place to sit outside. In the House there is also wireless Internet access. The swimming pool was good to spend time with family always in sight. Jon replied to emails very promptly and Liz helped us on the spot whenever we had any questions."
KD, England, party of seven, July 6, 2016:
"Lovely beach house in an excellent location 5 mins walk to the beach. Pool and garden beautiful. House well equipped with all you could possibly need. Watched 2 rocket launches from Cape (URL HIDDEN) from our front veranda and one from the beach. Loved fishing from Cocoa beach pier. Would recommend Sunset Cafe to eat and watch the sunset. Pay a visit to Ron Jons surf shop....family had great fun surfing. Would recommend."
RH, England, party of four, June 1, 2016:
"Stayed here with our 2 children (ages 2 and 4) for a week and had a great time. Jon and Liz were really helpful and quick to respond to any query we had. The house is homely. Amazingly equipped kitchen. Well stocked larder. Loads of beach and pool equipment. The pool is heated so we were able to comfortably swim mornings and early evenings. The location is perfect - a few minutes walk from the beach if you want a lazy day and just off the main Cocoa Beach strip for any excursions. We were also lucky enough to see a space launch from the front porch which was an awesome end to our stay."
BS, Tennessee, party of four, May 29, 2016:
"This has been our third year in Cocoa Beach. Jon and Liz are great. We've stayed in the Luxury Beach house twice and the Oceanview once. Both houses are extremely clean.i would most definitely recommend using Jon and Liz for your rentals. You will grow to love them. They are some of the nicest people you will ever meet. They are so egar to make sure your visit is perfect. Thanks for another great stay."
EB, Colorado, party of five, April 27, 2016:
"My parents, best friend, boyfriend and myself all stayed in the beach house for 4 days and it was AMAZING! I loved everything about the house, the location, and the vacation. Jon and Liz are super sweet! I can't wait to come back here again someday. I would recommend this for anyone needing a great relaxing vacation. From the BBQ to the pool to the beds, the house was perfect."
SS, New Jersey, party of five, April 17, 2016:
"Thanks for your amazing house and wonderful hospitality."
SC, Indiana, party of six, April 4, 2016:
"The house is very comfortable and perfect for our family."
RC, Pennsylvania, party of five, March 28, 2016:
"My family, hubby & 3 children, stayed here for Easter break! House is great. Everything you can possibly need is here EVERYTHING!!! It is clean, well stocked, convenient to everything and comfortable. Linens, towels, beach towels, beach toys, umbrella's, even a carry-all cart to get all of the "stuff" to the beach is provided and in great condition. The kitchen is extremely well stocked. John and Liz were on top of any issues that we encountered. Internet was running slowly, John responded within minutes (seconds even) Recommendations for restaurants, texts/emails were responded to almost if not immediately. The back yard of the home is so well laid out. The small garden path is beautiful and we didn't even see it at it's best. The pool is outstanding!!! Great sun shades too. Though we didn't use the grill... it's perfectly positioned with ample outdoor seating. So close to the beach.... about a 6 minute walk... across one intersection and past 3-4 homes and you are there. The beach is beautiful... not too crowded but even if it was, there is plenty of beach to accomodate. Restaurants, the Kennedy Space Center, Orlando, Disney.... all very close. The Cocoa Beach Pier is within walking distance (10 minutes down the beach) and it's one of the best pier's I've ever been to. This home is fantastic in every aspect!"
AT, New York, party of six, March 23, 2016:
"Thank you for everything, we had a great stay!"
PA, Quebec, party of six, March 3, 2016:
"We had a wonderful time and the location is perfect."
BG, Minnesota, party of four, March 2, 2016:
"This was the perfect getaway for a girls week in sunny Florida. Jon and Liz were extremely accommodating during our stay and the house was filled with everything we needed and beyond. The location is a few blocks from the beach and in a prime location for anything you are looking to do in town. The pool was a huge asset as we spent most of our time in the backyard if we weren't at the beach. Overall this house WAY exceeded our expectations and I will look to stay at Jon and Liz's places again in the future."
SM, New York, party of seven, February 22, 2016:
"My daughter, her husband & children...along with my husband and I rented this beautiful home in Cocoa Beach for winter break. The house is everything the description portrays and more. The luxury beach house provides many amenities and is well furnished. In addition to the well-maintained pool, you are just a block away from the beach. We also visited Disney and Sea World, which is an easy hour drive from this location. The property managers, Jon and Liz Sayers, go above and beyond to ensure your stay is memorable. Liz stopped by shortly after we arrived to welcome us and answer any questions that we had. I would highly recommend this beach house if you plan on staying in this area!!! Would definitely stay here again as we "Loved it"!!!"
CN, Massachusetts, party of two, February 11, 2016:
"My husband and I stayed at the luxury beach house in February and it was everything we hoped for. It would be a wonderful place to bring the whole family. The two bathrooms are separated by the kitchen and living space, which makes it ideal for two families to have privacy. The house was cleanest that I've every rented on VRBO/(SENSITIVE CONTENTS HIDDEN). Every inch was spotless. The kitchen has an amazing stock of pans, spices and anything you would need. It is located a very short walk to the beach and the house has all the beach accessories you need. They are nice and on the newer side as well. My one, tiny, complaint was the blinds in the living space, they need to be updated. Highly recommend spending time in this Cocoa beach house!"
GS, Iowa, party of four, February 9, 2016:
"Thank you so much for a great place to stay!"
SK, Ohio, party of four, January 31, 2016:
"This house truly has everything you might need for a beach vacation. The location is great. Not only are you a block from the beach, but you're a short drive from Cape Canaveral. There are grocery stores and restaurants nearby; we walked to one of the Italian/pizza places. It was great to walk to the beach and read or just relax in the beach chairs provided at the house. If you have kids or kids at heart, there are toys, kites, and equipment for building sand castles. The pool was great; it was warm and clean and also stocked with chairs, inflatables, and pool toys. There were plenty of towels and linens. The bathrooms were well stocked in case we forgot any toiletries. One of the best surprises was how well stocked the kitchen was. We didn't need to purchase spices, butter, sugar, etc. The house itself honestly exceeded our expectations. It was extremely clean and well cared for. It has obviously been updated and has a fantastic setup with plenty of seating around a large TV (and tons of channels) so you have options for when it rains or there's an important game on. The outdoor space and grill are great; we ate at least one meal outside every day. Jon and Liz were gracious and easy to work with. It would have cost hundreds more to have three rooms at a hotel plus to have to go out for every meal. This house made a wonderful vacation into an affordable vacation as well. I would not hesitate to stay here again."
FF, Scotland, party of six, January 16, 2016:
"Myself and my family spent three nights at this very comfortable beach house last December. The house is an excellent choice for a family vacation. Everything you can possibly require from beach gear to board games is provided. The accommodation comfortably sleeps six guests with a large living area and a well designed kitchen. There is a good sized garden with bbq facility and an outdoor pool.The owners are very efficient when corresponding to emails regarding the property. We travelled from Scotland to spend some time in Florida for a family birthday and we really appreciated all the extra information that was provided about the local area. There is a folder listing everything you need to know and many leaflets about local attractions. The owners were also keeping us updated on upcoming events such as rocket launches and the best place to view them (very exciting).On a final note I would like to recommend that any ladies visiting the area should head to the old Cocoa Village for some retail therapy, the shops there are great. For the rest of the family Cocoa Village has some really nice restaurants. Anyone considering a florida vacation should seriously think about renting a property in this area as it is close enough to be able to spend some time at the theme parks while still enjoying quality family time with excellent accommodation in a desirable area."
JF, Ohio, party of six, Novemb(PHONE NUMBER HIDDEN):
"This home was exactly what we were looking for. My wife, our two small children and my parents decided to take a lazy week off and retreat to the warm weather in florida. We were looking for a home close to the beach with a pool that was updated inside and clean. This home met and exceeded our expectations. The house was immaculate when we arrived. The kitchen and bathrooms were updated which was very nice. The pool was heated and had a convenient baby gate to unlock to prevent kids from wandering in(this made my wifes trip). It is located one block from the beach and a short walk to the cocoa beach pier. Each morning Id walk over and take a jog along the shore, and in the afternoon the family would hit the beach(they have beach chairs, fishing poles, sand buckets for kids all waiting for you). I dont think we could have asked for anything more. Next time we visit we will be calling Jon and Liz for this home. Jon and Liz were a pleasure to work with, very professional and responsive in case anything is needed during your trip. Thank you for letting us enjoy the home!"
GS, Maryland, party of seven, Octob(PHONE NUMBER HIDDEN):
"This 3 bedroom, 2 full bath Beachhouse was perfect for our family. Very clean and nicely decorated. The kitchen was amazingly well stocked with everything you would possibly need. The patio and the pool were lovely. The short walk to the beach was not a long walk at all. The beach chairs, umbrella & beach towels provided were awesome. House had it all. I highly recommend this house."
JH, Indiana, party of two, Octob(PHONE NUMBER HIDDEN):
"Everything was great. The house was perfect and well equipped. Thank you for a great Fall Break."
GS, Maryland, party of seven, Octob(PHONE NUMBER HIDDEN):
"We are pleased with this wonderful house. Stocked kitchen is phenomenal. Plenty of nice towels and blankets. Wonderful."
LS, Florida, party of five, Octob(PHONE NUMBER HIDDEN):
"Thank you very much; you are both a pleasure and the house is lovely, Cheers!"
AH, Missouri, party of four, Septemb(PHONE NUMBER HIDDEN):
"We enjoyed our stay. Thank you ."
AV, Florida, party of five, September 3, 2015:
"Thank you so much, we had a wonderful time. Thoroughly enjoyed the pool. The kitchen was well stocked, although we ate dinners out we used it for breakfast and lunch. Very comfortable home."
CT, Illinois, party of four, August 20, 2015:
"A slice of Heaven! I cannot rave enough about this property or the managers! Everything was as described and the personal touches were amazing! The pool fence was the perfect type to keep my curious 5 year old out of, yet easy enough my husband and I could operate it. The home was beautifully decorated and everything was very easy to find. The welcome packet included nearby grocery stores and things to do. The quick walk to the beach was very easy and everything we needed was already here! The beach was amazing and wasn't very crowded for July. We were able to watch a shuttle launch too! I would highly recommend this property for anyone wanting a relaxing home away from home with quick beach access. We loved our stay so much, we may move here in the near future!"
JA, California, party of seven, August 18, 2015:
"Had a great time."
BD, England, party of seven, August 17, 2015:
"We may well be back soon, if we are I will make sure i contact you guys first."
TP, Tennessee, party of five, July 25, 2015:
"My family and I rented this property for 6 days. I can not say enough about how perfect this property was for us. I will start with the house itself. Simply beautiful. The decor is very comfortable and modern. The kitchen is updated and fully stocked with whatever you will need to prepare meals just like you are at home. Just go to the grocery and buy food! The 3 bedrooms are adequate size with one being on the other side of the house with an attached bathroom. This was perfect for my mother who joined us on the trip. There is a cabinet full of movies and one full of games. Towels are supplied as well as all different kinds of beach stuff. Of course the heated pool is awesome and was the highlight for my kids. There is a chest filled with pool toys as well. The outside patio is very nice with a sitting area surrounded by flowers. Even though the house is located in a residential area, you feel very private and peaceful there. The beach is 1 block away! We walked there several times each day. The pier is within walking distance as well. I see no other way to visit cocoa beach. I will never stay in a hotel or condo again! Thanks for such a wonderful time. We will be back!."
MW, Illinois, party of three, July 11, 2015:
"Everything was great, perfect, fabulous and all other positive adjectives. I will definitely do a review. Thanks again for everything!"
RD, South Carolina, party of five, June 27, 2015:
"I just wanted to thank you and Liz for a wonderful stay. The pool was so much fun this week. The home was perfect for all our needs. I look forward to renting from you in the future."
CS, Ohio, party of three, June 14, 2015:
"Had a fabulous time "
LW, California, party of one, June 4, 2015:
"This was my second stay at the McKinley Beach House in Cocoa Beach. I adore it. The house is so nicely decorated and located only steps from a fabulous sandy beach. It has a heated swimming pool in the enclosed yard which is great for an afternoon or evening swim. The house is well-appointed with all the amenities one needs from well-stocked kitchenware to pool and beach accessories. You will be in walking distance of stores and local restaurants as well and if you rent a car, it is easy to get to Orlando and surrounding areas. I stayed here solo - totally for a relaxing beach holiday, but it would a great place for families as it has three lovely bedrooms and an awesome gourmet kitchen. Jon Sayers is delightful, accommodating and pain-free to work with while making your reservations and beyond. It is a very relaxing place to vacation and I would highly recommend considering this beach house for your stay in Cocoa Beach."
CV, Iowa, party of seven, May 20, 2015:
"We enjoyed every minute of our stay in and outside the home and made it very hard for us to return to 50 degree weather. Thank you for providing all the helpful information from the moment we had landed and till the moment we had to depart. Thank you for providing us and our family with a nice, clean, and safe home. Not enough thank you' s could be said for such a short but wonderful trip. I hope in the future when we come back to the area this McKinley Beach Home will once again be available for our stay. THANK YOU AGAIN for Everything!!"
"My stay was great! It was my pleasure staying in the lovely beach house and you are a wonderful host. Thank you!"
JR, Massachusetts, party of five, April 26, 2015:
"I wanted to thank you again for allowing my family and I to rent your beautiful vacation home. It was beautiful, well kept and very nicely decorated. We have absolutely no complaints. : )"
JM, Prince Edward Island, party of six, April 23, 2015:
"We had a great time in Cocoa Beach and really enjoyed our stay at your Beach House."
JL, England, party of five, April 14, 2015:
"My family have just completed a weeks stay at the villa and had a great time. Jon and Liz make this place, starting with a fantastic welcome pack full of great advice and recommendations you knew you would be in for an easy stay. The villa represents great value for money and is only 3 mins walk from the beach and 10 mins walk from the pier so is ideally located. Shops and restaurants are only a stones throw away too. Would I return, definitely! thanks guys for making our vacation stress free."
GB, Ontario, party of six, March 22, 2015:
"My wife and I and four children had a very enjoyable stay at this Cocoa Beach home. Super convenient to the beach and lots of stores and restaurants. The home has been updated with new appliances, flat-screen TVs, etc. Lots of room for our family with teens to hang out and relax. We all loved the pool. Jon & Liz were very accommodating with well-organized information and great attention to details. They went the extra mile to make our stay very relaxing. After the long drive from Ontario, the cold beverages waiting in the fridge hit the spot. High recommended!!!"
CH, Illinois, party of four, March 16, 2015:
"What a great vacation home to enjoy a week away with family - loved that 2 bedrooms were at one end of the house for my son and dau-in -law to be close to my 2 year old grandson. The 3rd bedroom with its own bathroom at the other end of the house gave Grandma a separate space too! The house was cozy and warm, beautiful kitchen with everything you would need to cook! Jon and Liz answered all our questions before we got there, had plenty of information provided once there on things to see and made sure we knew about the shuttle launch which we could see from the back patio against a beautiful sky full of stars. Totally enjoyed the pool and grilling/eating on the patio in the evening. The beach equipment provided made for easy convenience to walk the short distance to the beach to enjoy the ocean. Thanks Jon and Liz for making this easy - we hope to be back!"
AG, Alberta, party of three, March 1, 2015:
"We absolutely love the accommodations! You could have squatters on your hands, if we didn't have careers and a mortgage! Lol!"
ER, party of six, February 19, 2015:
"The house exceeded all of our expectations. the house was clean and very comfortable came equipped with everything needed to have a relaxing vacation. the outdoor area was especially nice we spent all of our time out there. the kitchen was also well equipped and clean. the easy access to the beach was great"
SC, New York, party of six, January 31, 2015:
"We loved the house and had a great time. Nicely decorated, fully equipped, plenty of room, good location … just really really nice."
JE, Pennsylvania, party of five, January 21, 2015:
"Thanks very much for a great place and a great stay! We had a good slow boat ride yesterday. No manatees but lots of dolphins."
SL, Minnesota, party of seven, December 2, 2014:
"Would go back in a heartbeat! Jon's customer service was wonderful from the first time I contacted him about the vacation rental. To say that he and Liz were accommodating to my large family would be an understatement. They had everything from shampoo and clean towels to toilet paper and every kitchen utensil known to man. I was thrilled to see that there was a pack and play and high chair which made being at the beach house even easier. We were so close to the beach that we walked there many times each day. The house was extremely clean and comfortable. The pool was immaculate. I would not hesitate to stay at any of Jon and Liz's rentals in the future if we are ever in the area."
SM, party of seven, Maryland, December 1, 2014:
"My family had a blast and it was a really nice home."
PC, Colorado, party of six, Novemb(PHONE NUMBER HIDDEN):
"This place is wonderfully stocked! We are fellow vacation rental owners and appreciate how much work goes into this. Well done!"
DS, Wisconsin, party of five, Novemb(PHONE NUMBER HIDDEN):
"Our family stayed in this house for a week and it was PERFECT!!! We could've stayed longer and DEFINITELY plan on coming back to stay again! The house is MORE than what the pictures show and the Sayers were very welcoming!!! We were greeted with a stocked fridge and cabinets (in the kitchen and bathroom), just in case we had forgotten anything. There was all the information we could POSSIBLY need for our stay on the counter waiting for us when we arrived, including a chart listing High/Low Tide Times for the month. Over the course of a week we ran into a couple questions about where some items were in the house and not only did the Sayers respond immediately, they also were sure to mention they were within 15 minutes of the house and could be there anytime if there was any issues. Everyone in our family HIGHLY recommends this house as it was everything we could have hoped for and more!"
SK, Ohio, party of five, Novemb(PHONE NUMBER HIDDEN):
"The house and pool were remarkable we had our best vacation there. The house was great it had everything we needed and wanted. We only had one concern and it was the pool temperature and Liz came and fixed our issue right away. Would recommend this house to anyone. Just a few minutes to the beach. All in all one of the best houses we've stayed."
DS, Wisconsin, party of five, November 4, 2014:
"Thanks for everything, the house was awesome, we all had a great time."
PS, Germany, party of five, Octob(PHONE NUMBER HIDDEN):
"It was a beautiful house. Everything exactly as in the photos. We were greeted with cold drinks. It could not have been better. We loved the incredibly beautiful furnished home and comfort."
SK, Switzerland, party of five, Octob(PHONE NUMBER HIDDEN):
"We spent a wonderful nine days in the Beach House. No matter what we wanted, it was available (kitchen, washing machine, surfboard, beach equipment ...). Highlight is the pool, our children used it usually before breakfast. Very clean."
AO, England, party of six, September 1, 2014:
"Met and exceeded our expectation. From the start of the booking process, through the stay and even the follow up return of the deposit Jon and Liz Sayer were a delight to deal with. The property was as we expected but with the added charm that it felt like a home not a rental when you walked in. Even down to the small details like beer and soft drinks in the fridge, coffee, sugar and other consumables in the cupboards and everything you needed for a stress free stay. We stayed with my daughter son in law and two grandchildren, the house was ideal for our extended family with ample room for everyone."
GT, Texas, party of four, August 22, 2014:
"I would absolutely recommend this property to any one. The accommodations, location, private pool, owners where all 10 Star. Our family of four had a great 6 day vacation! Thank you again Jon and Liz for making our stay so comfortable!!"
CP, South Carolina, party of four, August 6, 2014:
"We stayed in this home and had a wonderful time. It was centrally located, great restaurants and activities for all. The owners were very helpful & informative with events going on in the area. The house was clean, surprisingly we'll stocked with items if you have the desire to cook, pools toys, etc. it was great spending the day at the beach and coming back to relax by the pool that was awesome. My grandson from IL wants to spend more time there & wants to go back for his birthday!"
CS, Ohio, party of four, August 1, 2014:
"Extraordinary!!! Hoping to do again next year in same house!!! Liz was always available to us! The house was clean and maintained while we were there. I was so wonderful having everything close by and the freedom of using the pool whenever we wanted, instead of condominium rules:)."
JF, Florida, party of four, July 16, 2014:
"Wonderful accommodations. Fully outfitted with everything you could possibly want and more for living, cooking along with accessories for a beach getaway. Updated kitchen, bath and furnishings that would put many top tier hotels to shame. My only hesitation on giving this review is that it might put the house in too much demand for when I want to return."
MK, Missouri, party of five, July 14, 2014:
"We couldn't have asked for a better place to stay! Perfect location and a perfect place to unwind and relax. Close to everything! Our family of 5 was very comfortable and everyone had a truly enjoyable experience. We hope to come back and stay here again! I can't say enough great things about this property. If you're going to be in Cocoa Beach and you want a place to truly relax, recharge, and still be close to the activity around the community, this is the place to stay!"
JL, Tennessee, party of seven, July 10, 2014:
"We had a fantastic time at this house, it is beautiful as well as a great area. The pictures do not do this house justice. It has really been an amazing experience. Jon and Liz were great to deal with as well. You won't regret booking!"
MG, West Virginia, party of four, July 3, 2014:
"This house is wonderful. It was exceptionally clean. The kitchen was well-equipped. We loved the salt water pool. Our granddaughters were the first ones in the pool and the last ones out of it in the evening. Having all the items for the beach was also a definite plus. It was an easy walk to and from the beach, not a problem at all for our granddaughters, aged 5 and 6. I kept all my information so when we return to Cocoa Beach, we can rent this house again."
LR, Ohio, party of five, June 29, 2014:
"We enjoyed the house very much. Thank you!"
BS, Tennessee, party of six, May 30, 2014:
"Thank you so much. We had a great time and house and pool was awesome."
AA, Illinois, party of eight, May 29, 2014:
"House was beautiful, clean, and family friendly. Pool even had a mesh fence so no worries about our toddlers falling in if we just wanted to relax on the patio. It had everything that we needed. Nicely updated and decorated with a beautiful kitchen and bathrooms. Enough room to sleep 8 of us, including three toddlers. We had a blast and loved that we were so close to the ocean and had the pool too! Jon and Liz were super nice and helpful also. Stay here!"
JD, Georgia, party of seven, May 19, 2014:
"My three adult children and I had an excellent experience with this listing. Our hosts Jon and Liz were very attentive to our needs and easy to communicate with through the whole process. For us, the best thing about this property was that it is a house rather than an apartment or condo, and we enjoyed both the privacy and the togetherness that this provided. The house was just as described in the listing. It was completely stocked with furnishings and supplies for vacationers. The kitchen was fully equipped and well designed. The living room and bed rooms were very comfortable. The pool and patio were great to have after the beach. The neighborhood was quiet, yet still very close to the beach as well as to restaurants and shopping. We would stay here again."
DH, New York, party of six, May 18, 2014:
"The place was absolutely perfect, and we will hopefully be back next year."
PM, Alberta, party of eight, May 7, 2014:
"The place is beautiful."
BF, South Carolina, party of seven, May 6, 2014:
"Kim and I, as well as Briana, Justin, Noah, Arianne and Jason, were very pleased with the Beach House, and its convenient location to all that Florida has to offer. This was a family reunion of sorts, and I am pleased to say that the accommodations added greatly to the reunions success. Kim is already talking about the next gathering."
AG, Florida, party of seven, May 1, 2014:
"I cannot express how much we loved our visit to Cocoa Beach this year. Staying in this beach home was the highlight of our trip. We could not have imagined a more perfect stay. People were friendly, house is immaculate, not one single thing I could change or make better!"
We quote exact rates when you inquire – no surprises, no hidden charges. Renters' information pack includes entry code, directions and ideas for lots of places and activities to get the most from your stay. Up to two additional Guests at additional rate.
Guest access
The entire property, including the heated private pool.
Interaction with guests
We answer immediately any questions - we provide access codes to guests check themselves in. We live and work in the same neighborhood as all of the Beach Houses we manage, so we're always available if needed. In the last 4 years, the Beach Houses we manage have received over 285 Five-Star Guest Reviews on major vacation rental listings.
The neighborhood
It's a real quiet beachside neighborhood with a peaceful, friendly atmosphere, where the main road has a 25 speed limit. Mostly used by joggers, walkers, skaters and skateboarders.
Getting around
Restaurants, bars and supermarket all within easy walking distance. Car rental and bus stops nearby.
---
The person renting the house must be at least 30 years old. Guests sign a rental agreement before the rental is finally confirmed. This agreement sets out house rules that protect the owner's home and ensure consideration for neighbors.
---
---
US
·
Joined in September 2012
Jon & Liz Sayers now manage three vacation rentals which are proving highly popular. These Beach Houses are all located in the same beach neighborhood on a barrier island, nine miles from the mainland so the air is clean and breezy all year round. The beach stretches for miles.

If there's something you want to know, contact us immediately. We answer fast. We want every one of our Guests to have an outstanding beach vacation. In the last 4 years, our Vacation Rental properties earned over 280 Five-Star Guest Reviews on major vacation rental listings.

Cocoa Beach is a really friendly beach town for families and friends to relax and enjoy. We want every one of our Guests to have a fabulous beach vacation, so our service standards are high.
Response rate:

100%(past 90 days)
Response time:
within a few hours
Explore other options in and around Cocoa Beach
More places to stay in Cocoa Beach: