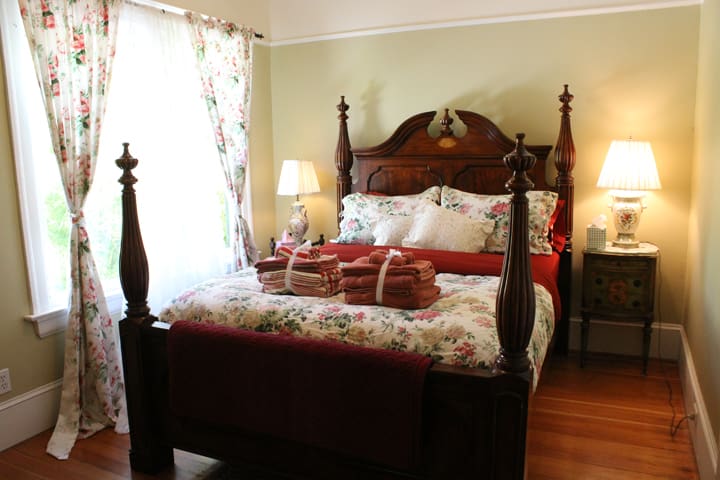 Private room
2 Guests
1 Bed
About this listing
The ROSE GARDEN ROOM is a lovely, floral themed room in our immaculately clean and beautifully decorated Craftsman home. Please confirm that you have read the entire listing, and that the setup and house rules work for you, when you request to book.
---
---
Kitchen
Space where guests can cook their own meals
Essentials
Towels, bed sheets, soap, and toilet paper
+ More
---
Extra people:
$15 / night after the first guest
---
The Space
The Rose Garden Room is 13 ft x 10 ft (130 square feet). It is furnished with a gorgeous and comfortable queen-sized bed (sleeps 2), an antique Victorian reading chair, a Queen Anne desk, an antique wooden dresser, end tables and lamps, a closet with hangers and hamper, your own iron and ironing board, and extra blankets for cool nights.
Named and decorated for the Berkeley Rose Gardens, its floral decor and antique furnishings are soothingly reminiscent of Grandma's house.
Guest Access
- Your private room (with a locking door & key).
- Common areas of the house: kitchen, living areas, bathrooms, porch, and outdoor patio.
- Self-serve breakfast provisions: left side shelves of fridge, left side shelves of wooden kitchen hutch, center shelf of dining room hutch.
- Food storage space for your groceries/snacks: right side shelves of fridge, right side shelves of kitchen hutch.
- Land line phone with free long distance calling.
- Shared TV (in the living room) with premium cable, HBO, and DVD player.
- There is no laundry access, but we supply a wheeled cart and laundry bag, which you can take to the coin operated laundromat just one block away.
Interaction with Guests
For the comfort and security of all of our guests, we meet all of our guests for check-in, by appointment, on their first visit. You should schedule your check-in appointment at least a week in advance to best allow me to schedule my activities around it. Your appointment will be between 4 pm and 9:30 pm (earlier is sometimes possible, but later is not). We don't accept check-ins past 9:30 pm (so your flight should land at SFO by 7:30 pm). After your first stay, we are happy to arrange a self-check-in (no need for an appointment).
At check-in, we will check your ID, get a liability waiver signed, orient you to the home (where to find the things you'll need and how to tidy up after yourself in common areas), review the house rules, parking/transit details, and the City of Berkeley's noise ordinance, and give you keys to the house and your room.
We use the kitchen and living areas, alongside our guests. When we all have time, we enjoy getting to know travelers who are sociable and enjoy getting to know the locals. But to respect your time and privacy, we will go about our own business unless you reach out.
The Neighborhood
The house is located approximately 1/2 mile south of University of California, Berkeley in the Elmwood neighborhood.
This neighborhood is a quaint, walkable, safe, and mostly quiet residential area, just a few hundred feet from the popular Telegraph Ave, College Ave, Claremont Ave shops and restaurants. Public transportation, shops and restaurants, and Zipcars are abundant nearby. San Francisco is just 10 miles away and easily accessible by BART train or by car.
Since student housing is also located in the neighborhood, and we're within walking distance of campus, we do get some noise on game weekends and around graduation, and occasionally in between, and we supply earplugs for this eventuality. If student noise up the street is keeping you awake, let me know; I do intervene.
We respect our neighbors, many of whom have school-aged children and work "bankers hours," and we're committed to making sure we don't disrupt their sleep. Our quiet hours are 10 pm - 7 am. Please find another place to stay if you want the freedom to come and go noisily after 10 pm.
Getting Around
BUS STOP: An AC Transit bus stop is just a short, 2-3 minute walk away, at Derby & Benvenue, with Bus 51 B getting you to campus in 5 minutes and to the Downtown Berkeley BART station in 10 mins.
BART: Two BART stations are exactly one mile away - Ashby BART and Downtown Berkeley BART. A third BART station (with plentiful parking) is 2.5 miles away: Rockridge BART.
CAR: You'll find an Enterprise Rent-a-Car just a few blocks away. You can also easily get rides from Uber or Lyft most anywhere in the Bay Area.
FREEWAYS: It's an easy jaunt from here to I-80/I-580, via California 13 (Ashby Ave). Ashby Ave intersects with our street just 4 blocks south.
PARKING is limited and regulated, so avoid bringing a car if you can. If you must bring a car, you can park on the street in my neighborhood overnight and for up to two hours during the day (8 am - 7 pm) without a permit. If you wish to park your car all day, you have three options: 1) park it at the nearest BART station for around $2/day; 2) park it in a nearby public parking garage for around $15-20/day; or purchase a street parking permit from me for $10/'day (as available, by advance request, supplies are limited). But if you plan to park your car all day, you will be much better off without one in Berkeley, since public transit is convenient, taxis are easy to find, Zipcars, Lyft cars, and Ubers are plentiful, and parking is expensive and hard to find. We're not responsible for securing or managing your parking or for guest's parking tickets.
Other Things to Note
USE THE BOOKING CONFIRMATION/ITINERARY: After you book, Airbnb will email you a booking confirmation/itinerary. It contains the address, directions, house rules, wi-fi passcode, and other important info. YOU NEED THIS DURING YOUR TRAVEL, SO PLEASE PRINT IT OUT AND TAKE IT WITH YOU. I created this detailed document to make your life easier. Please reciprocate by reading it and using it, instead of urgently asking for information that's already provided in the document. We do expect our guests to know and observe the house rules outlined in that document (for the comfort and safety of all guests). If you have lost the email, use your email's search function with "Airbnb" or log into your Airbnb account, where you can easily find it under "Your Trips." Once you find it, print, download, bookmark, or save it (or all of the above).
ODD HOURS ARRIVALS AND DEPARTURES: Due to the unavoidable noise of arrivals and departures, I no longer accommodate travelers whose flights land after 8 pm or depart before 8 am. I will ask you for your flight info before booking your stay. If you haven't arranged your flights at the time of booking, please be considerate of this when you do. A $50 odd hours check-in fee applies to check-ins past 10 pm, and check-outs before 6 am. A late check-in fee applies if you check in more than 1/2 hour late (unless it's due to a flight delay). So plan into your travel time any stops you might want to make for meals, groceries, errands, photos, etc.
CLEAN AND GREEN: We provide green living supports (recycling, composting, chemical-free bath products, etc.). Each person cleans up after themselves immediately after meals. Before you check-in, we have the entire house professionally cleaned, including laundering all of the linens, towels, pillow covers, and blankets. We also clean the common areas of the house at least twice weekly during your stay. For stays of more than a week, we will replace your linens and towels, and dust and vacuum your room weekly (by request). Cleaning products are chemical-free and unscented (Seventh Generation and Dr. Bronner's), so you'll smell only the fresh air. We ask you to preserve our indoor air quality and other guests' health & comfort by not bringing bleach or other toxic products into the home and by storing perfumes only inside the bathroom drawers (not inside guest rooms).
PETS. The main house is pet-free (for the sake of allergy-sufferers). But two cats live with me in my separate suite and do not enter the house. There's an electric HEPA air filter on each side of the door to my suite to trap any kitty hair that might enter the threshold from my comings and goings between the house & suite. My suite is on the first floor; all of the guest rooms are on the second floor.
LAUNDRY: We don't have on site laundry facilities for guests, but there's a coin operated laundry just 200 feet from the house (a 1 minute walk), and we provide laundry bags, eco-friendly laundry soap, and a wheeled basket to get you there easily.
TWO NIGHT MINIMUM: My listings are set to a 2-night minimum. However, in the case of an "orphan night" (a single night in between two longer bookings), I can accommodate a one-night booking for an extra fee (the normal room rate + 50%). You won't be able to book it directly, so just send me a message, and I can send you a "special offer" which will allow you to book it.
VACATION RENTAL: When the individual rooms are not already booked, the whole house is sometimes available for family reunions or other group getaways. House listing number: 662523.
NOT A PARTY HOUSE: If you're looking for a house where you can hold parties or stay up through the night, this is not the place for you. Night owls should stay elsewhere, since normal household sounds (doors closing, footsteps, shuffling around) travel easily in houses with wooden floors. I consider a good nights' sleep a sacred commitment to my guests and if you're disruptive at night, you'll be asked to quiet down or leave.
AVAILABILITY: The calendar is always up-to-date, so the step of asking if it's available and waiting for a reply isn't necessary. If the calendar shows dates as available, they are, and you can go ahead and request a booking. When you do, please confirm that you read and accept the entire listing and house rules.
APPROVING YOUR RESERVATION: Understand that Airbnb hosts are allowing total strangers into their homes and this merits a certain level of care and caution. Airbnb is a community of trust, and your profile and verifications make that trust possible. If your profile is not complete, please include in your inquiry your name and address, place of employment, and the reason for your stay in the Bay Area. If your booking is for a family member, friend, or employee, include their info when you reach out. I won't accept anonymous bookings. Best approach: take a moment to complete your profile.
QUESTIONS?: Ask away!
TO SEE ALL OF THE ROOMS AVAILABLE IN MY HOME: Click on my profile picture, select FULL PROFILE, scroll down to the bottom left, click ALL LISTINGS.
+ More
---
A group living space requires more rules and organization to preserve everyone's comfort, peaceful sleep, and security. Trust me, without them, you would wish I had them! -|- CHECK-IN and 10-minute house orientation required on the first visit; request check-in appointment at least a week in advance; no check-ins after 9:30 pm (except in the case of unavoidable flight delays) and no check-outs before 6 am (unless you pack and move luggage downstairs the night before); $50 odd hours and late check-in fee -|- COMMON SENSE CARE. Care for the furniture, bedding, floors, appliances, etc., as if they were your own, through common sense, respectful usage. -|- QUIET HOURS 10 pm - 7 am: voices and media low, close doors and cabinets gently (don't slam), walk softly on stairs & wood floors, close sliding doors between the common areas if using living areas after 10 pm, set alarm clocks to the lowest volume that will wake you, and turn alarm off when you wake, and shower downstairs during these hours. -|- NO FOOD IN ROOMS. Store food in kitchen to prevent pests. Tea/beverages okay, but wash cups/glasses daily. -|- REMOVE SHOES INDOORS. Barefoot, socks, or slippers (provided) are okay. Ask your visitors to do the same. -|- WIPE BATHROOM COUNTERTOP, and toilet seat, if needed, (paper towels provided) after your use so that it's clean and dry for the next guest. -|- HANG TOWELS ON PROVIDED METAL BARS/HOOKS and NOT on wood furniture or upholstered furniture as this can damage wood finishes and fabrics. -|- HACKER FEES APPLY. Do not hack into the wi-fi settings or physically handle the modem or router (or you will be charged a fee for servicing). -|- USE COASTERS or placemats underneath drinking glasses on wood surfaces. -|- PREPARE properly at BEDTIME to avoid damage to sheets (feminine, bedwetting, and first aid supplies in bathroom cabinet and upstairs hallway drawer). -|- DISALLOWED. No smoking, illegal drugs, pets, chemical toxins, or incense-burning. Store perfumes/colognes in bathroom, not in guest room where they accumulate in fabrics and trigger allergies. -|- TIDY UP AFTER YOURSELF immediately in the common areas. -|- GUESTS WASH THEIR OWN DISHES thoroughly, put away food, and wipe countertops, stove, and other surfaces immediately after meals. -|- USE SOFA COVERS if you're eating/drinking in the living room (provided in basket next to sofa). -|- LOCK DOORS when you enter and when you depart for the day, even if someone else is present in the house. Do not loan out, copy, or hide keys. -|- VISITORS/GATHERINGS. No on-site events, parties, dinners, or visitors without advance arrangement & permission of your host. Your booking is for lodging only, not event space. -|- end
+ More
---
---
Explore other options in and around Berkeley