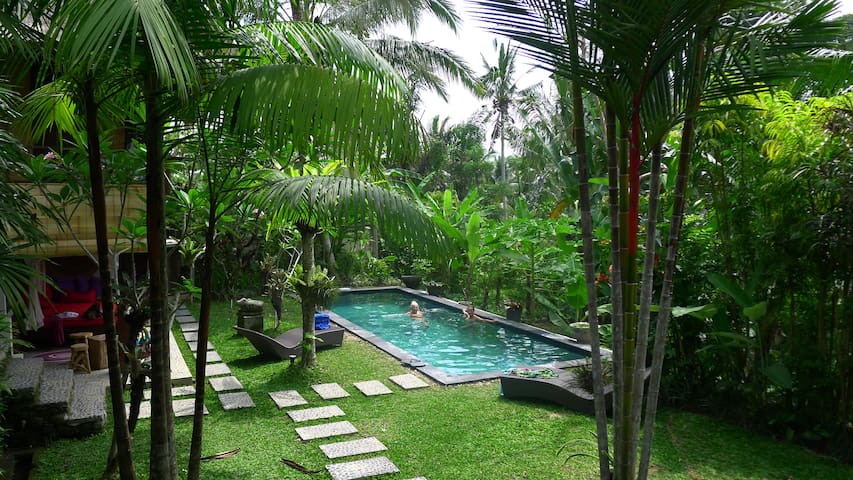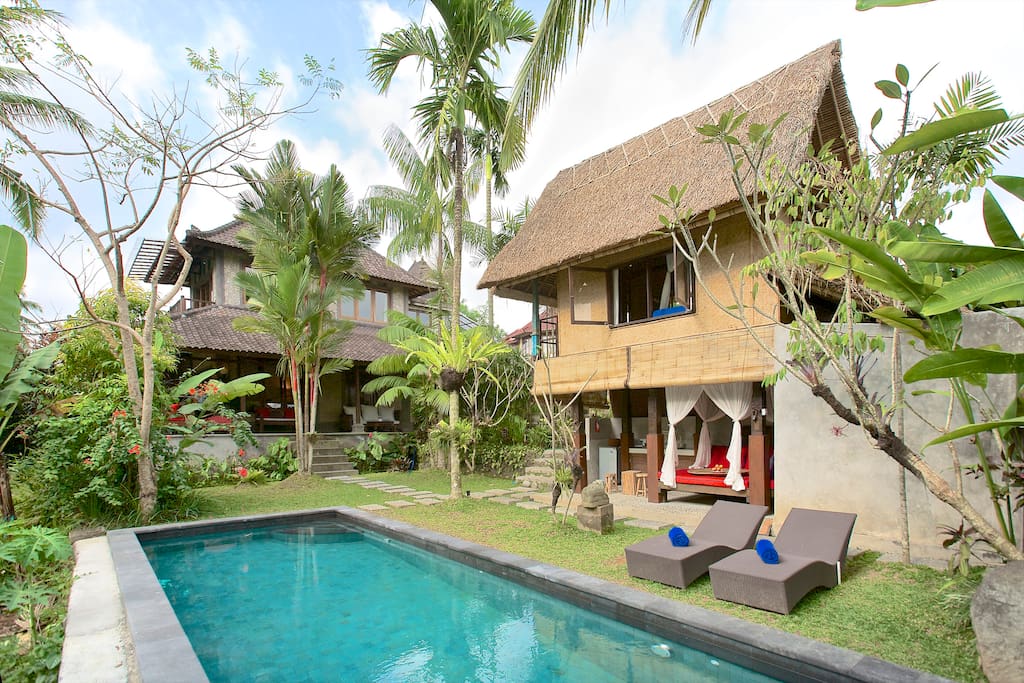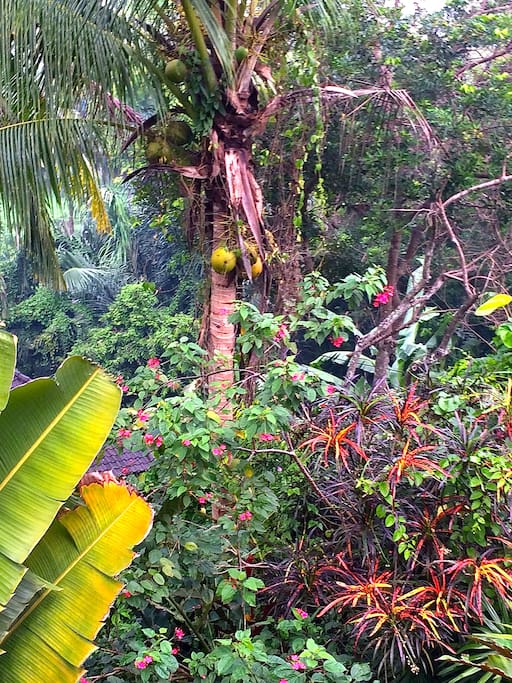 Entire home/apt
8 Guests
3 Bedrooms
4 Beds
About this listing
Beautiful, 3 bdrm 3 ba villa w/ views + lush garden w salt water pool 5 min frm Ubud. Breakfast, housekeeper, Wifi, taxes inc. Sweet private energy, jungle & rice paddy vus. A.C. in 2 bdrms. Beds:1 king,3 queens, + single mattresses for extras.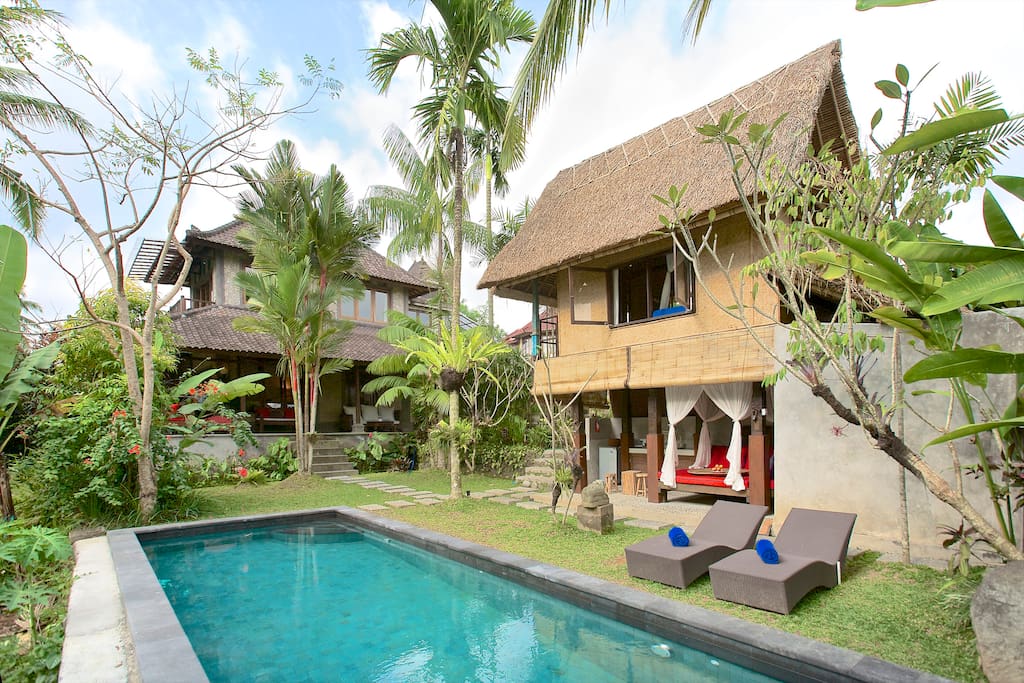 Large main villa in center background has 2 large bedrooms 2 A.C., guest house on the right is like a treehouse w ceiling fan, mosquito net on queen bed upstairs, garden bathroom. Main villa also has 2 baths, kitchen, dining area, wrap around verandah, koi pond, and bromeliad-lined courtyard. Lush garden, look out over rice paddys and jungle.
---
Room type:
Entire home/apt
---
Kitchen
Space where guests can cook their own meals
Essentials
Towels, bed sheets, soap, and toilet paper
+ More
---
Extra people:
$10 / night after 4 guests
---
The Space
Gorgeous villa and and property 5 min drive to downtown Ubud, (2 km), includes all linens, towels and everything you need. The villa has a lush, large garden which includes a salt water pool and guesthouse in a renovated Balinese rice barn. The guest house's bedroom (with queen bed) is up in the trees with gorgeous rice paddy and jungle views. It has a living space with kitchenette, lounge area, and garden bathroom underneath next to the pool.
The main villa has 2 large bedroom/living spaces with their own bathrooms and separate entrances. Each has AC. There are ceiling fans throughout the villa, and we have found the need for AC to be infrequent.
The common living area is on the wraparound veranda overlooking the jungle, lush garden & pool.
The kitchen has just been remodeled and has a walk-in pantry. It is partially open to an inner courtyard and the jungle beyond the dining area.
There is a laundry room with washing machine and dryer.
The lounge areas are on the large verandah with lots of ceiling fans.
The house comes with a kitty named Cleopatra and a staff of 2 Balinese angels. "Made" comes for 4-5 hours per day, 6 days per week, to keep the villa sparkling clean and to prepare your breakfast. She is available to work additional hours, and can prepare additional meals and do laundry for a reasonable fee that I let her negotiate with you.
There is also a gardener included and a driver who is paid on a per use basis. His rates are very reasonable. He can be on call to take you into town or take you around the island. Airport pickup is $35, drop off is $30.
Wifi and telephone are included as are utilities and taxes.
The best part of this villa is the lush garden and flowers and sparkling salt water pool (3x9 meters). And its feeling of seclusion while being only 2km from town. It faces the jungle on one side and has rice paddies on the other 3 sides.
The villa has a lovely covered wraparound veranda with ceiling fans.
The kitchen is adjacent to a small open courtyard and the dining room is open on one side to the jungle.
Downstairs is a large room with an antique javanese 4-poster bed, lounging/movie watching area, and desk. There is a large beautiful bathroom done in lava rock.
Upstairs (with separate entrance) is also large with high wood ceilings and beautiful rice paddy and jungle views and a covered balcony. Many windows, bright and breezy. King size hand carved Balinese bed, reading area, wood desk, ensuite bathroom with tub/shower combo.
The traditional Balinese Lumbong/guesthouse in the garden is a delightful bedroom up in the trees overlooking the pool and rice paddies. Underneath there is a small kitchen and a lounging/sleeping area with mosquito net. There is a lovely open garden bathroom with a waterfall shower. Airbnb did not include photos of the bathroom or lounging area in the bale, so if you email me I can send photos separately. Shower under the stars!
I recently installed air conditioning downstairs in this villa although it is rarely needed.
The villa is built in an open air style and the breezes blow through, and especially with the porch it stays comfortably cool. Ceiling fans in each room, even the kitchen.
There are 2 small restaurants a 5-minute stroll away. And Ubud, a 5 min drive away, is full of cafes and restaurants. Many restaurants deliver to the villa with just a phone call.
Cleopatra, the house kitty is very affectionate and keeps the critter population down and the affection factor up.
We recommend you rent bicycles or scooters to make your stay really special. Only $5 per day and by far the most fun way to see the town.
You can arrange a driver to pick you up for a reasonable rate.
There is a safe for your valuables in each bedroom.
You will LOVE this villa!
Note:
Rates are for up to 4 guests, with each additional guest $20 more per night.
Guest Access
The entire villa, guesthouse, garden and pool are for your exclusive use.
Here is contact information you will need while in Ubud. If using a local telephone, delete +62 and add '0'.
Wayan, driv(PHONE NUMBER HIDDEN), (EMAIL HIDDEN)
Made, housekeep(PHONE NUMBER HIDDEN)
Red Lotus Property Management Company - +(PHONE NUMBER HIDDEN), (EMAIL HIDDEN) (EMAIL HIDDEN)
Bali Buddha Villa - +(PHONE NUMBER HIDDEN). (This is a landline. If calling from
another landline in Bali, you need only dial 972033. From local cell phone, dial (PHONE NUMBER HIDDEN).)
Wayan, excellent Indonesian chef who works at a friend's villa. She can prepare food and bring to the villa - +(PHONE NUMBER HIDDEN)
The housekeeper Made can also prepare additional meals for a reasonable rate that I let you negotiate with her.
It is recommended to use our driver for your arrival at the villa as he knows where it is and will notify the housekeeper to be there when you arrive. Wayan (yes, he is also Wayan☺) will also help with your luggage. Wayan is a great resource for things to see and do around the island or just trips in town.
Both the driver and the housekeeper speak English.

Made, the housekeeper can also be hired to prepare extra meals. You can negotiate with her, and usually it's around $5 (lunch) or $10 (dinner) plus the cost of the food for her to prepare you a meal and clean up. She works approximately 5 hours per day preparing your breakfast and cleaning. If you would like her to work additional hours, please negotiate that with her and pay her directly.
Made, the housekeeper, can arrange rental scooters if you wish, for around $5 per day.
Wifi network is: robin1. Password is 'ubudbali'.
There are business cards with the directions to the villa in the shelf below the telephone on the verandah. Although we love for you use Wayan for your driving needs, if you ever need another taxi driver, it's useful to have this card with you so they can find the villa.
Please bring copies of your passports with you as we are required by law to report all guests staying for over 24 hours. The housekeeper will take care of this for you.

Made can provide you with names of massage people who will come to the villa for a approximately $15 usd (1 hour). She also has the names of tailors who can come and copy any clothes you may want to have made while in Ubud.
It is customary to leave a tip for the housekeeper when you leave. Something along the lines of $5usd per day per guest. This is entirely optional of course, and Made so appreciates it!
Interaction with Guests
Interaction with guests: I have a management company that does onsite management when guests are there. And "Made" loves to practice her English with guests and to take care of them as if they were family. "Wayan" is available to take you into town or to tour all of the island. Both speak very good English.
The Neighborhood
Very peaceful and serene, while just 7 minutes from busy downtown Ubud. There other villas nearby but they are at least a rice paddy away.
See my current favorite restaurants in 2014 under "The Neighborhood"
Sari Organik for the view and ambience, walk or get motor scooter ride through the rice paddies. All food grown on property, dine surrouned by rice paddies.
Mosaic for special occasion, french restaurant. On Campuan.
Yellow Flower Cafe, Located top of Penestanen steps, go right on path at top, walk a little ways until you come to it on the left. Every Sunday night buffet of Indonesian food 65000 rp. Good all the time. Local Penestanen expat hangout.
Mades Warung - Penestanen, Good basic Indonesian food. Great prices. Been coming here for 10 years.
Bridges - One of few places in town with good wine selection. Happy hour with wine sampling from 4-7 daily. Great food, beautiful ambience. Special.
Little India - Sweet little place with excellent Indian food. On the same street as Jazz Cafe, about 1 mile down, right side.
Bali Buddha Cafe - Great healthy drink selection and nice healthy food, sweet ambience, across street from post office. One of my favorites is their pumpkin ravioli. Pizzas aren't bad either and have non-wheat choices of crust. Expat hangout
Sopa - Towards the southern end of the road between Jazz Cafe Road and Bali Buddha Cafe Road. Oh dear, what is the name? Cause this place is cheap, delicious, comfy and another expat hangout. The kitcheree is to die for. Ask for and add Sambal Mata to taste.
Melting Wok - Great french restaurant, daily lunch specials, dinner reservations required. On the coolest street in Ubud (this year) called Gootama
Dewi - a down home place for cheap Indonesian and curry. This is where Indonesians and long term westerners mix... Not your tourist nor new age hang out. Also on Gootama. Real people hangout.
Tiramisu - A tiny delightful place with delicious food and even better deserts. Also on Gootama.
Kismet - Also on Gootama! Upstairs, healthy delicious fare.
Cafe Luna - Fun events, including Thursday night Literary nights. Food is just so so. Drinks good. Gootama.
Abe Do - cute little healthy place to eat on Botanic Garden Road. About 1 1/2 miles from main road.
Ubud Sushi - About 1/2 mile up road from main road. Left side. Just after the Dampling sign. Dinner in a Japanese families backyard. Really fresh yum sushi.
Alchemy - the New Age hangout where peeps buy their green juice etc.. Delicious salad bar and drinks and you can get your colonic and blood analysis done here too! Popular expat hangout.
Kafe - the old favorite, is still popular mostly with new peeps traveling thru Ubud. On Hanoman. Expat hangout.
Kabun - North of Kafe by a couple of shops. Same owner but for those who want finer dining, wine, perhaps some meat. Hanoman street.
Clear Cafe- good food, yummy healthy drinks. No alcohol. Expat hangout. Hanoman.
Black Beach Cafe - Good Italian. Foreign movies on 2 nights per week. (SENSITIVE CONTENTS HIDDEN) to find out when. Great sunset views of Ubud from its rooftop restaurant. Reasonable prices. Hanoman Street just south of Clear Cafe.
Casa Taco - yep, this Tex Mex place is so good it even made it onto a list of my Bali faves. On the southern end of Hanoman on a curve, right side after Yoga Barn, before the gas station.
Vespa Cafe - Penestanen. Go to the back entrance to upper Penestanen and turn left instead of right. It's right there on right side. Good food. Open mic nights are Thursdays at the moment. Expat hangout.
Bali Fair - On Sri Wedari Street (Jalan), Right side, about 1/8 mile from main road (Jalan Raya). Go up the stairs. Great seafood, friendly staff. All proceeds go to a local charity - a medical clinic for Balinese.
Seniman Cafe - Across the street and up a little ways from Bali Fair on Sri Wedari. Best (chemistry beaker drip) coffee in town, great breakfasts. Haven't tried lunch here but menu looks yum. Another hangout place for expats.
Soma Cafe - on Dewi Sita (the cross street between Monkey Forest Road and Hanoman which runs past football field). Healthy food made with love. Feather and leather/musician expat hangout.

Wow, that's a lot of great restaurants for a small town like Ubud! And I didn't even get to Monkey Forest Road.
Getting Around
We have English-speaking drivers who can take you anywhere for a very reasonable fee (approx $5 per car to town, $50 half day tour per car, $75 full day per car), and we can arrange a scooter (about $5 per day) and car rentals (about $30 per day). You can walk to town in approximately 20 minutes, but it's a hectic winding road with no sidewalk. Not advisable for safety reasons.
Other Things to Note
Besides being beautiful, this property has the most amazing peaceful energy! There is a house kitty named Cleopatra and she is very affectionate and talkative. Kitchen has a Vitamixer, toaster, toaster oven, juicer, a dehydrator, refrigerator/freezer, and dry/cool cabinet. There is also a walk-in pantry.
DIRECTIONS to villa: Drive into Ubud on Jalan Raya. Turn north on Jalan Suweta and drive 2.1 kilometers. Look for 2 blue flags on left side of road. If you get to a sign that says Villa Indah, you have gone 1 path too far. Park on the street and walk on the path to the villa with the Golden Buddha head on the roof.

Some things to do in Bali:
12-14
What to Do in Bali (while based in Ubud)
in no particular order
Sunrise rice paddy, view walk on Tchampuan Ridge – about a 5
min drive from my villa.
Silent mediation Retreat Center – no structure, just silence, beauty,
quiet, no electronics, good food, quiet. About 20 minutes north of
Ubud.
Hash Harrier back country run/walk
Bird Park
Zoo
Bali Safari and a play (reenactment of Bali's history)
Family Constellations (ancestral sessions held 1-2 times a week.)
Water Temples
Processions – these you usually just sort of happen upon, but if you
want to join or see one, I can ask my staff.
Traditional dance and music shows throughout Ubud
Kecek dance in Junjungan
Performances in villages or at main pavilion in Ubud
Gamelon performance in villages or at main pavilion in Ubud
Art Museums (Arma, Neka, etc.)
Wood carving villages
Stone Carving villages
Zip Line
Elephant Rides in Elephant Park
Yoga classes non-stop, 7 days a week at Yoga Barn or Intuitive
Flow or Radiantly Alive…and more
Ubud Fitness Center – weights, trainers, squash courts, zumba
classes…
Elephant Cave Temple
Spiritual/Energy workshops (breathwork and the list goes
on)…tons and daily.
Five Elements – gorgeous eco resort with raw vegetarian menu,
watsu pool, etc.
Tour of The Green School – see founder, John Hardy's, Youtube
video.
Snorkel or dive in Amed (northeast Bali) or Menjangan Island
(north Bali) or Blue Lagoon near Candidasa. (east Bali),
Permuteran
Beaches: White Sands, Little White Sands, Uluwatu, Bengin
Beach (stay at Mu Hotel or Temple Hotel a couple nights for top
experience, then rent a house/cottage/bungalow on the beach)
30 min boat ride to islands Nusa Lumbongan and Nusa Penida.
Great snorkeling and diving. My favorite place to stay is Dream
Beach in a beachfront Balinese Lumbong.
Gili Islands. My favorite of the 3 islands is Gili Air. Go to the non-
hotel side of the island for sunset. (Gili Islands are a 2-hour boat
trip away from Bali)
Go see the sunset arrival of thousands of herons at Petulu any
evening before sunset, about 15 minute drive from my villa. Word
has it that the birds are the returning souls of those who were killed
in 1965 by a Communist invasion of the island.
Evening dance and live music at:
Havana Salsa nights (lessons before)
Napi Ortis (for the 60's hippy reggae live music experience)
Jazz Café (live music)
Laughing Buddha
And more….
Escstatic dance at Yoga Barn on Sunday mornings at 11, and
Friday evenings at 7:30. Contact dance too, times and place
uncertain at this writing.
Workshops, ranging from half day to 1 week. Check out:
Ubud Retreats, Workshops and Events page on (SENSITIVE CONTENTS HIDDEN).
Five star hotel dinner, drink and/or spa experience:
Viceroy
Hanging Gardens
Alani
4 Seasons (cocktail drink overlooking Agung River)
Maya Ubud
And many more (more 5 star hotels in Ubud area than anywhere
else in Asia)
daylight stroll through Monkey Forest in Ubud.
Climb Mt Batur or Mt Agung before sunrise.
Bicycle tour down volcano and through villages.
Visit the hot springs at the lake below Mt. Batur.
Rating on the Agung River
Temples: (thousands on the island, here are some of my favorites)
Besikah, the Mother Temple
Tempak Siring Temple on the way to Amed (water temple)
Tempul Tirta (near Ubud, water temple)
Gunung Kawi Sebaru Temple (water temple) dedicated to
Saraswati. Many beautiful rice paddies nearby and there are pools
and purification fountains.
Batu Karu Temple & Jatiluwih rice paddies
Visit, Balinese priestess Ida for a blessing.
See a Balinese healer.
Get a mandi lulur spa massage/scrub at Cantika (simple and cute
and cheap) or a nice spa like Taksu or even nicer hotel for a more
upscale experience. Prices start at $20 for one hour and go up.)
Movies:
Buy just about any movie for $1 in Bali (pirated copies naturally).
Paradiso Cinema in Ubud showing various movies each night.
Yoga Barn, 'conscsious movies' shown every other Monday night.
Popcorn and floor cushions provided.
For the current schedule of offerings at Ubud's western spiritual
center – The Yoga Barn, check out (URL HIDDEN) .
They offer yoga, tai chi, talks, workshops, massages, café, you
name it from 7am – 9pm 7 days a week.
Tour a chocolate factory (here's one – (URL HIDDEN) – go as
part of a White Sands Beach day outing.) (For another go on same
day as Green School or Five Elements Resort outing, I forget
name.)
Go to a market
Farmers Market Sat mornings at 9:30 am near Pizza Bagus, tiny
and yummy.
Go to one of the many many health restaurants in town: Alchemy,
Bali Buddha Café, Down to Earth, Dayu's Warung…and many
more
Some links with more info
(URL HIDDEN)
(URL HIDDEN)
(URL HIDDEN)
(URL HIDDEN)
Look up groups on (SENSITIVE CONTENTS HIDDEN)…just type in Ubud and or Bali and
join the groups that show up. They have running announcements
on those pages about upcoming events.
Check the local newspaper "Bali Advertiser" when you get to
town. Full of events.
The Uluwatu Temple and beach below in Southern Bali.
Breathtakingly beautiful. Or the famous one in Tabananan that is
out in the water.
+ More
---
Villa comfortably sleeps 6 (3 couples or 3 singles) in 3 large beds, and can accommodate up to 8 if the lounge/bed with mosquito net under the guesthouse is used. We also have mattresses that can be put on the floors of the large bedrooms in the main villa.
Smoking outside only please.
Please be respectful of neighbors and of the culture in general by maintaining the peace of this area. (i.e. no loud parties please)
Bring copy of your passport to give to "Made" after your arrival. Indonesian law requires that we report staying longer than 24 hours. "Made" will take care of this for you.
Please pet and love Cleopatra, the house cat.
Ask "Made" to show you how to use the washing machine and dryer. She stays busy with the cleaning and breakfast preparations 5 hours per day, 6 days a week, and is available to work more hours if you wish ( preparing additional meals, shopping, etc are extra services but her rates for additional tasks are incredibly low). She can arrange just about anything for you from massages to private yoga classes, to tours, to scooter or car rentals. I let her negotiate the price for extra services with you. Very reasonable! And she loves tips (optional).
+ More
---
---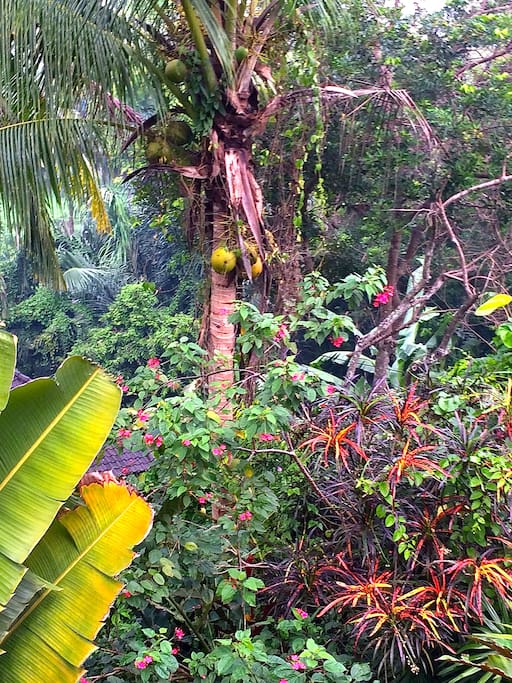 The lush view this morning from the balcony off upstairs bedroom! Dub in the sound of ducks, roosters, bird calls, and breathe in the scent of jasmine and wet earth.
Your Host
---
California, United States
·
Member since February 2012
I'm a travel writer who lives in Bali, Istanbul, and California. I provide vacation rentals much like the ones I like to stay in when I travel. It is my dream that by 'living' in places as opposed to staying in hotels, we will begin to see our world as Oneworld.
+ More
Response rate:
94%
(
past 30 days
)
Response time:
within an hour