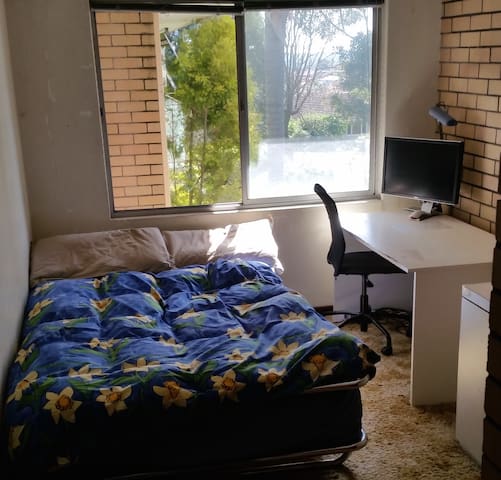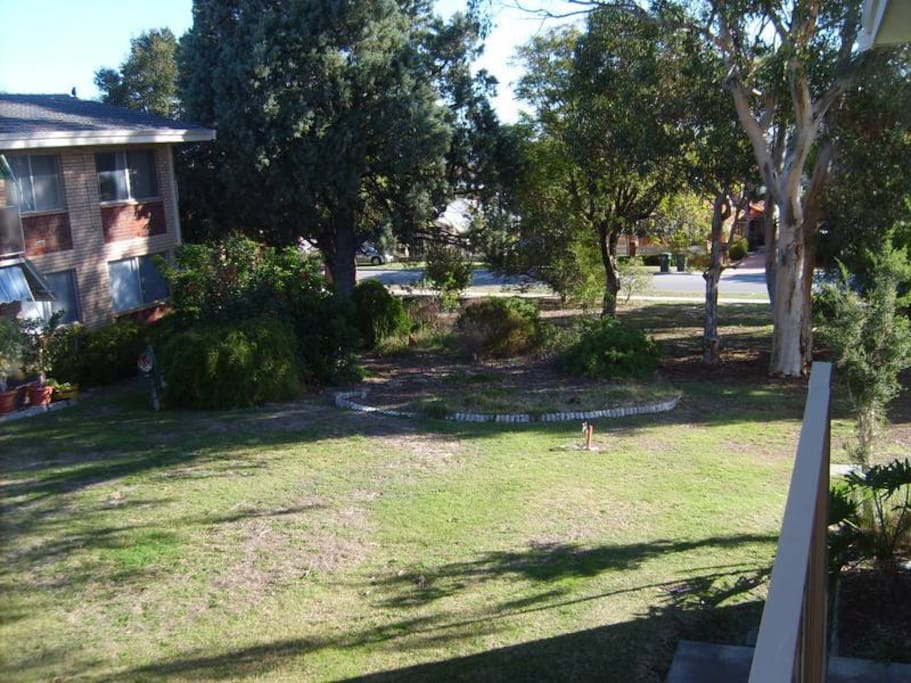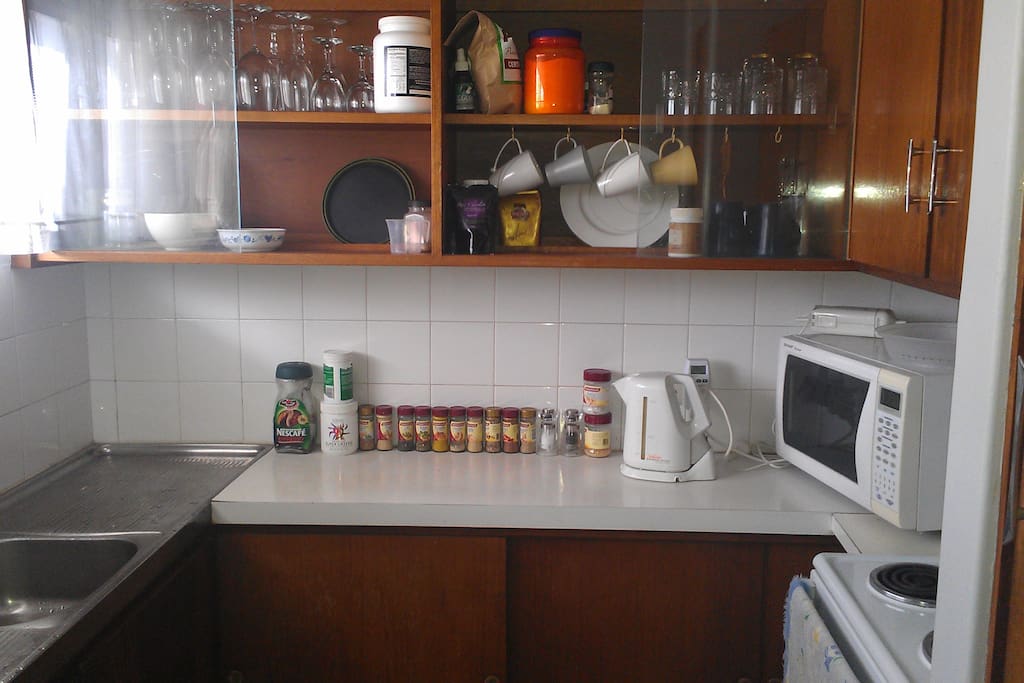 Private room
2 Guests
1 Bedroom
1 Bed
About this listing
Perched near the top of Mount Yokine, 7km north of the CBD just far enough from the noise, but close enough to all amenities even if you like walking.
No reviews, no problem - go here: airbnb.com.au/rooms/(PHONE NUMBER HIDDEN)
(Maxwell Smart visits Control HQ)
---
Accommodates: 2
Bathrooms: 1
Bed type: Real Bed
Bedrooms: 1
Beds: 1
Check In: Anytime after 4PM
Check Out: 9AM
Room type: Private room
---
---
Extra people: $12 / night after the first guest
Security Deposit: $158
Weekly Discount: 15%
Weekend Price: $43 / night
---
The space
Your room is equipped with a bed that comfortably sleeps two, a desk, a phone, an internet connected PC/TV and if you have your own laptop, you can use the wireless internet. A printer is also available.
Guest access
Washing machine, laundry and kitchen items are shared among all occupants.
If you're arriving by car, a car bay can be made available.
Apartment access is controlled by electronic keys.
Please do not touch anything in the office area.
Interaction with guests
More often than not your host will be onsite, so normal social interactions are expected - just like it says on the label:
"Belonging has always been a fundamental driver of humankind. So to represent that feeling, we've created a symbol for us as a community," Airbnb CEO Brian Chesky wrote.
(People/Places/Love). It's social and local and all that rests upon trust.
If you're staying more than a couple of nights, and you're a wannabe secret agent (ghosts, socially inept etc) or other mental disease that requires their room door closed permanently or cannot behave like a human may continue to stay at double the rate or otherwise will be asked to leave with cancellation policy applied. This is Airbnb - not a hotel or a place to see if the 'cone of silence' is working (it never did). It is also somewhat challenging to review mentally disturbed people positively.
Just in case this isn't perfectly clear (and at the risk of flogging a dead horse), let me describe who is not welcome. Those that walk in the front door past other guests without saying anything with breakfast/lunch/dinner in hand, proceed to room, close door, only exiting when others have gone to sleep/work, then usually with flashlight, wander around kitchen/lounge scuttling back like a cockroach if someone wakes or turns a light on.
Airbnb is a trust based system, and if you exude none of it - start looking for a hotel or double your rate.
If you need help with this problem, your hosts are skillful at reforming muppets.
If other hosts reading this would like to know about a past guest, I will give a more elaborate reference.
On occasion, there may be Downtempo/Chill-out/Lounge or Clasical music at low volume.
Bicycles are available and if you're an active person you can tag along to many of the spots that I routinely travel to between Perth CBD and Fremantle throughout the day, which are some of the most scenic cycling paths on the globe. Most of the sites I travel to involve a quick check in or meet with friends at cafe's etc during the day.
The neighborhood
The apartment is located 7km north of city (see map at bottom of page) in a safe, tranquil, location on Mt Yokine.
A small grocery store, pharmacy & gym (ladies only at the moment) is located 200m away and is open 7 days from 7am-9pm. An assortment of restaurants, liquor stores and larger food outlets are within 1km.
Getting around
Buses are a few minutes walk away and operate on a very frequent basis (no timetable needed) to CBD, major shopping areas, and even the major circle route including Fremantle.
Other things to note
If you're planning an extended stay meditation/retreat that requires a vow of silence or use the room as a place of work that requires the room door to operate as if it had a 24/7 self closing mechanism, please advise prior to making your booking. We can take into your account your extra special abilities of mind reading and perception abilities and waive the usual checks - but a special rate will be negotiated. See House Rules for more details.
---
All of the following is common sense, but unfortunately common sense isn't so common. If you find the following absurd to mention, you'll fit in OK here, and you'll probably be wondering.. do people really do that? (yes - all of the ones that close that door 24/7). If however they sound "challenging" but doable, maybe ask how well this will suit you and remember until you're reformed, the rate is twice the advertised one.
Leave everything as you found it. Spill a few crumbs or use a few dishes, clear all food and rinse immediately after preparing food. Hot water clean ups can be done daily as needed. Leave kitchen as you found it (spotless) - the one and only exception is if EVERYONE is sharing the meal.
You'll generally find that the place is clean (albeit quite old) with nothing laying around, and I broadly expect the same from guests.
It is commonly found that guests that left less than 5 star ratings required house training.
Bookings will be cancelled where a guest is repeatedly told to clean up their mess or treat the place like a hotel with maid on call. Alternatively, let me know in advance and we can negotiate your "special" rate.
There is no excessive drinking. The place is quiet and tranquil, and visitors are not allowed without prior approval.
You can smoke outside the building. There are smoke detectors inside.
Under no circumstances shall you park a car in any other car bay than the one allocated - not even for a moment.
Do not turn the taps of tightly - we already know how strong you are.
Internet access is Honeypot, and the password is on the fridge.
Air-conditioning. We rarely get extremes of temperature here, so generally all windows and doors are open almost all the time (never seen a hint of a security issue - and there are cameras at all possible entrances), however if we do get a heatwave or cold-snap, there may be periods of up to a week where the central air-conditioning is turned on, in which case some areas separating living areas from laundry etc will require doors to be always kept closed and windows shut accordingly. Where possible, only the central air conditioning unit should be used and is managed by the home automation system. Room based units are for exceptional circumstances and requires manual override.
That said, if you don't like how things work here, but would still like to stay here, please specify your issue and we'll do our darnedest to work out a special rate for you. Some common requests are:
"I like to daydream in the shower for 30 minutes and I love getting high on the chloroform that forms with the hot water and chlorine" - add $5/30min/day.
"I like the feel of the air-conditioner breeze contrasted with the window wide open next to it" - add $15/day.
"I like to use all your available internet bandwidth/quota to watch movies all day/night by myself" add $5/day
"I eat my main meals in the bedroom with the door closed because I'm weird" add $5/day
"I like spilling things on the floor for other people to clean up because I brought my pet cockroaches" - $5/incident.
I like the sound of aluminium venetian blinds twisting and banging in the wind against the window frame" or "I'm too lazy to lift the venetian blind before moving the window, but like to destroy venetian blinds instead. $200/incident.
"I'm a recovering recluse/muppet/robot, and I want a self closing mechanism on the room door so that I don't have to interact with humans" - add $150 per counselling session.
"I broke [thing]". Replace it or fix it better than it was.
"When I use the phone, I like to imagine I'm using a megaphone - especially at 2am to talk to friends overseas" - close the door/window for duration.
"My plane lands at 2am and reading this book about how to be obnoxious at the airport doesn't suit me so I'm going to arrive at 3am anyway, then I can read it in my room and learn how to close the door and behave like a cockroach for the duration of my stay." - $250 "and pick me up" $500.
"I want more room - can I remove the desk/computer/TV"? No charge!
"I want to see these great bike paths hidden around Perth/Fremantle/River/Beach - can you show me? No charge.
"That [insert activity] looks great.. can I go too?" - No charge.
"Do you know how to fix this [insert issue] on my bike/computer/car" - No charge.
"Wow, these are scintillating conversations - we should do more of this" - No charge.
"This home cinema thing is great. Can I watch this movie with you?" - No charge.
"That spread of food/wine looks divine - mind if I join in?" - No charge.
In general, the aim is to provide a local lifestyle experience at a budget rate. This tends to result in an unfortunate conundrum whereby the low rate also attracts those that cannot even live in a backpacker environment where the attitude of "I paid for this room, and I'll do what I like here", is all too common (we got a special rate for you too). Generally they don't care about reviews, because they just create another fake profile and go annoy another host.
---
---
Perth, Australia
·
Joined in August 2011
Freelance Systems Integrator that is comfortable operating from anywhere that isn't too far away from good communications technology.

A debonair minimalist, that has spent a considerable amount of time showing people the sights. Being someone who has spent a lot of time away from home, I have naturally found very hospitable people that have always shared their homes and lives.
Explore other options in and around Yokine
More places to stay in Yokine: