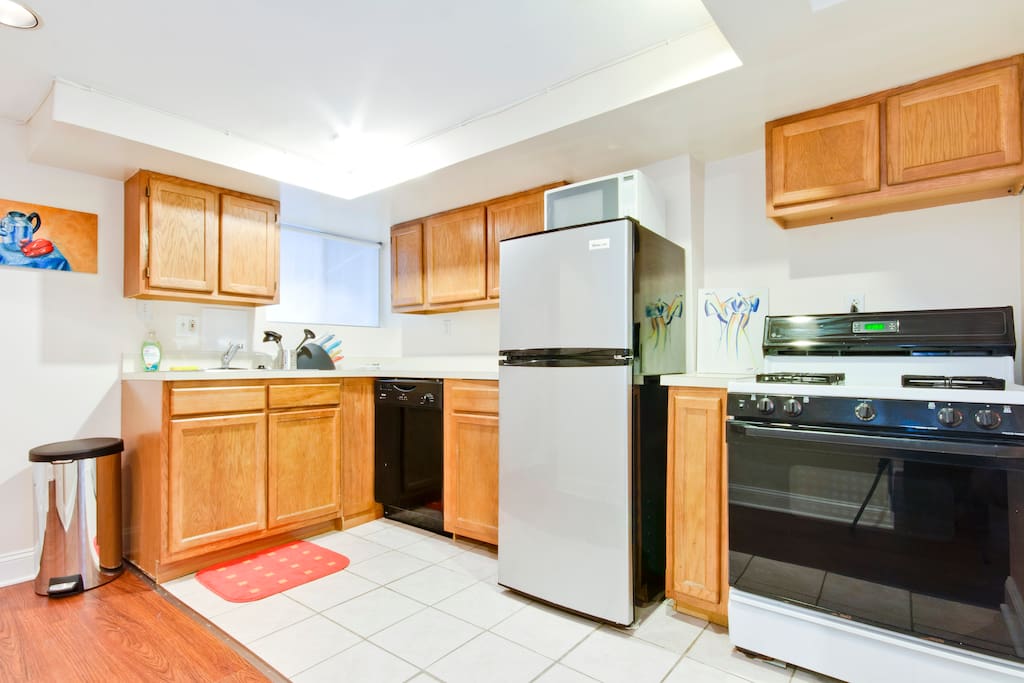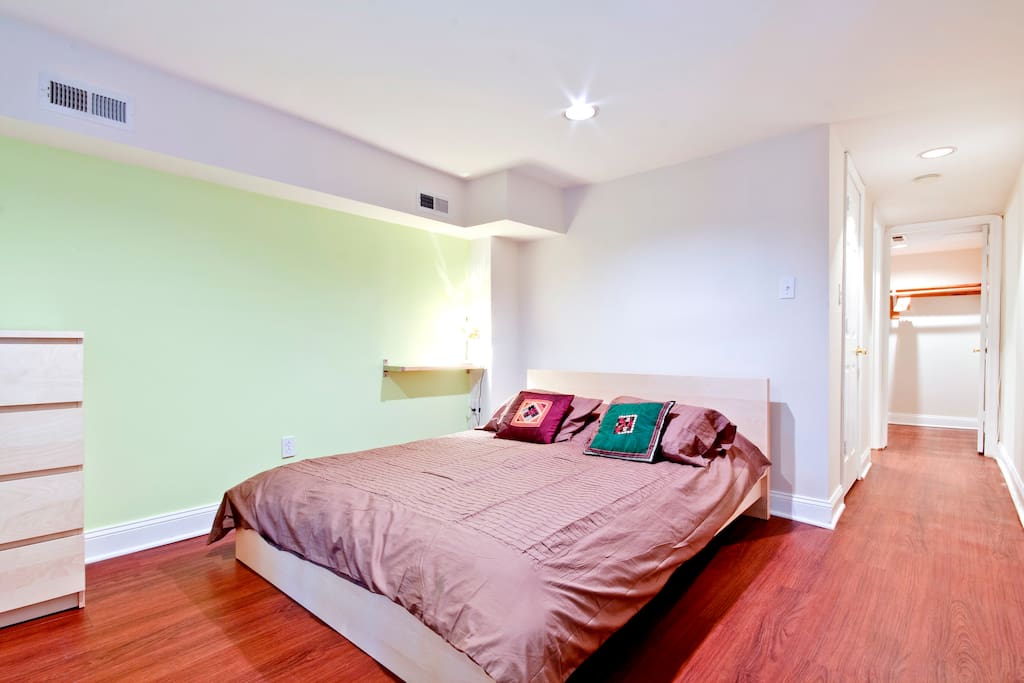 Entire home/apt
6 Guests
1 Bedroom
4 Beds
About this listing
Spacious furnished English basement apartment 5-min walk from Columbia Heights Metro station (Green & Yellow subway lines). All utilities are included. The apartment gets light from windows all around. Access to backyard.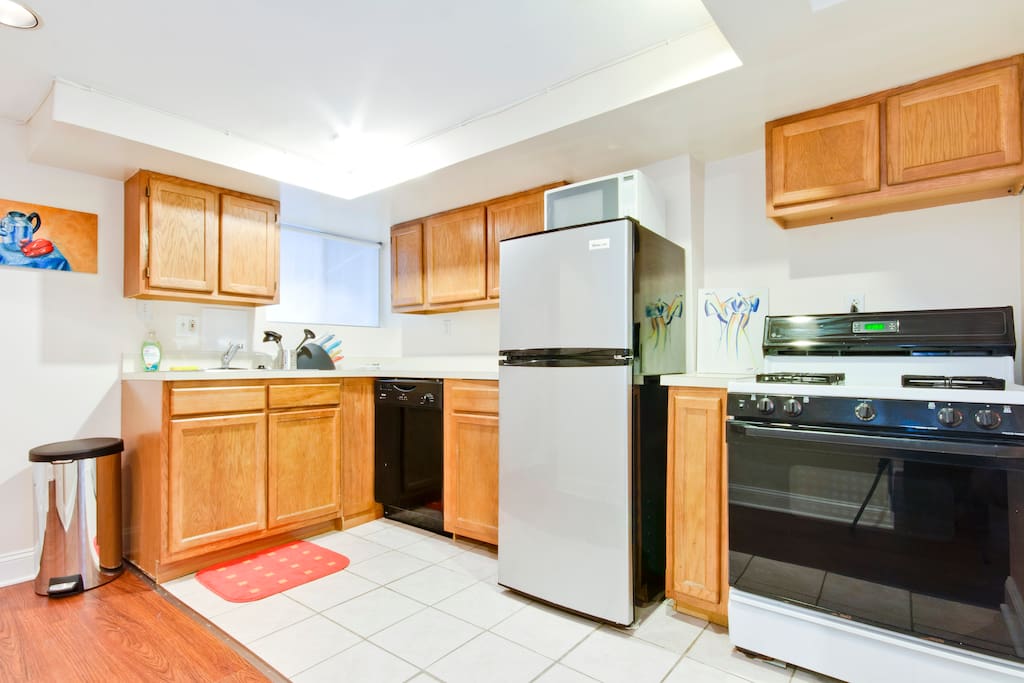 Full kitchen with dishwasher, refrigerator, microwave oven, toaster, gas stove/oven and everything you need to cook and eat and drink; i.e. pots and pan, plates, glasses, wine glasses, utensils, etc.
---
Check In:
Anytime after 4PM
Room type:
Entire home/apt
---
Kitchen
Space where guests can cook their own meals
Essentials
Towels, bed sheets, soap, and toilet paper
+ More
---
Extra people:
$10 / night after the first guest
---
The Space
Spacious adorably decorated and fully furnished English basement apartment only 2 blocks from the Columbia Heights Metro station. All utilities are included: Cable TV, WiFi Internet, Electric, Gas and Water. The apartment gets light with windows all around the house, including two bay windows in the living room.
Also check out my other listing! https://www.airbnb.com/rooms/1284169
Less than a 5-mintue walk to the Metro you have easy access to Reagan National Airport, University of Maryland, China Town, Convention Center, E Street Cinemas, Shakespeare Theatre, Warner Theatre, The Smithsonian Institutes, The Mall, The White House, The Library of Congress, The Capitol, and every site that you would desire to visit!
Direct buses to Catholic University, Washington Hospital Center, Children National Medical Center (10-15 minute ride).
Close walking distance to other amazing neighborhoods of the U Street, Logan Circle, Dupont Circle, and Adams Morgan.
Please provide details about yourselves, the purpose of your trip, and make sure your profile is complete together with a recognizable photo and verifiable email and phone number. I'd like to know a little about you too :)
Guest Access
This 900+ square feet apartment home offers:
* Central A/C and Heat which is controlled by the guests.
* Full open kitchen with dishwasher, disposer, refrigerator, gas stove/oven, microwave oven, coffee maker, and toaster. Kitchen fully equipped with pots and pans, plates, glasses, wine goblets, dish cloths, towels, mittens, etc.
* Private laundry room with washer and dryer. Iron, ironing board, vacuum cleaner, and other cleaning tools, hair dryer.
* The bedroom has a Queen size bed and mattress with 4-drawer dresser with the serenity of the backyard access.
* The large living room has three convertible sofa-beds. One is a double size and the other two are queen size with real mattresses!
* Flat screen TV and cable TV, WiFi Internet access
* Two large closets, one of which is a walk-in closet with plenty of coat hangers! Plus a storage area in the Utility closet!!

* Full bathroom including shower and tub with excellent water pressure!
* Sheets and pillow cases, mattress covers, blankets, and towels are provided.
Interaction with Guests
In case of any questions or needs, I am always available via mobile, text, email, and Airbnb messaging.
The Neighborhood
The historic & beautifully renovated Tivoli Theatre, the house of GALA Hispanic Theatre with year round live performances including a hot flamenco festival in the fall, as well as the DC USA Shopping Center and all the restaurants and bars and coffee houses are only 3-5 blocks from the house (5-10 minute walking distance).
This "trendy" neighborhood, nicknamed "baby New York", with the wonderful 11th & 14th Streets row of restaurants, bars, shops, and coffee shops, is filled with gorgeous Victorian row houses, mostly antique, including mine and is close to a lovely park to relax and walking meditate, if you like. The Meridian Hill park (8 minute walk) offers architectural beauty above and beyond the landscaped gardens -- every Sunday (weather permitting), there's a drum circle where enthusiasts gather and jam and dance, celebrating life and creating an atmosphere of peace. The park offers beautiful views of the city as well as the historical statues such as that of Jean d'Arc and Dante.
Getting Around
Walk to everything! Metro, sports club, dinning, bars, theater and lots of shopping including grocery and pharmacy. Parking is available at a nearby garage and also available free via my guest pass for street parking. Multiple Capital Bikeshare and Zipcar locations are within walking distance for hourly or daily rentals. For overnight garage parking DC USA Shopping Center provides this service for $20/day - they stay closed between 1- 5 AM.
Other Things to Note
Unfortunately:
- Due to the old and charming structure of this building, sound travels and therefore we are unable to host families with infants and/or toddlers who cannot sleep through the night - I love children but we need to be considerate of everyone here.
- We are unable to confirm bookings of less than 5 nights far in advance, unless it fills gaps between other reservations.
Thanks for your understanding :)
+ More
---
Greetings!!
Please read this document carefully along with the Guidelines & Instructions, which will be provided upon reservation confirmation ahead of our walk-through, which will be scheduled within the first 24-48 hours of your check-in. Everyone in your party should read this and be present for the walk-through. I will make a copy of your photo-id(s) upon your check-in.
The House Rules & Guidelines that are provided here on Airbnb serve as addendum to the agreement entered on Airbnb.
The term Premises is used to identify the property and all the fixtures and furniture and belongings of the Host provided to the Guest as a rental package. The term Guest refers to all individuals identified in your party.
Please do not hesitate to message me with any questions or concerns.
Thanks & best wishes,
Roya
HOUSE RULES
============
SECURITY DEPOSIT. Upon the execution of this Agreement, Airbnb shall hold the security deposit as defined in the listing for this property from the Guest. This deposit serves as security for any damage caused to the Premises during the term hereof. Such deposit shall be returned by Airbnb to the Guest, if there are no damages reported by the Host as per Airbnb terms and conditions.
USE OF PREMISES. The Premises shall be used and occupied by Guest(s) (referred to as Guest hereafter) exclusively, as a private single family dwelling, and no part of the Premises shall be used at any time during the term of this Agreement by Guest for the purpose of carrying on any business, profession, or trade of any kind, or for any purpose other than as a private single family dwelling. Guest shall not allow any other person, other than Guests' immediate family or transient relatives and friends who are guests of Guest, to use or occupy the Premises without first obtaining Host's written consent to such use. Guest shall comply with any and all laws, ordinances, rules and orders of any and all governmental or quasi-governmental authorities affecting the cleanliness, use, occupancy and preservation of the Premises.
CONDITION OF PREMISES. Guest stipulates, represents and warrants that Guest has examined the Premises, and that they are at the time of this occupancy in good order, repair, and in a safe, clean and tenantable condition.
ASSIGNMENT AND SUB-LETTING. Guest shall not assign this Agreement, or sub-let or grant any license to use the Premises or any part thereof without the prior written consent of Host. A consent by Host to one such assignment, sub-letting or license shall not be deemed to be a consent to any subsequent assignment, sub-letting or license. An assignment, sub-letting or license without the prior written consent of Host or an assignment or sub-letting by operation of law shall be absolutely null and void and shall, at Host's option, terminate this Agreement.
ALTERATIONS AND IMPROVEMENTS. Guest shall make no alterations to the buildings or improvements on the Premises or construct any building or make any other improvements on the Premises without the prior written consent of Host. Any and all alterations, changes, and/or improvements built, constructed or placed on the Premises by Guest shall, unless otherwise provided by written agreement between Host and Guest, be and become the property of Host and remain on the Premises at the expiration or earlier termination of this Agreement.
NON-DELIVERY OF POSSESSION. In the event possession cannot be for the agreed upon timeframe, through no fault of Host or its agents, then this Agreement and all rights hereunder shall terminate.
HAZARDOUS MATERIALS. Guest shall not keep on the Premises any item of a dangerous, flammable or explosive character that might unreasonably increase the danger of fire or explosion on the Premises or that might be considered hazardous or extra hazardous by any responsible insurance company.
UTILITIES. Host shall be responsible for arranging for and paying for all utility services required on the Premises including water, sewer, electricity, gas, cable TV and wireless Internet.
MAINTENANCE AND REPAIR; RULES. Guest will, at its sole expense, keep and maintain the Premises and appurtenances in good and sanitary condition and repair during the term of this Agreement and any renewal thereof. Without limiting the generality of the foregoing, Guest shall:
(a) Not obstruct the driveways, sidewalks, courts, entry ways, stairs and/or halls, which shall be used for the purposes of ingress and egress only; nor obstruct or cover the windows or doors; nor leave windows or doors in an open position during any inclement weather. Guest shall keep all windows, glass, window coverings, doors, locks and hardware in good, clean order and repair. Guest shall not hang any laundry, clothing, sheets, etc. from any window, rail, porch or balcony nor air or dry any of same within any yard area or space. Guest shall not cause or permit any locks or hooks to be placed upon any door or window without the prior written consent of Host;
(b) Conduct timely replacement of light bulbs, batteries in smoke detectors and fuses. Guest shall ensure the dryer vent indoor water bucket is half way full before using the dryer to avoid accumulation of lint in the utility closet that would cause damages to the furnace.
(c) Keep all lavatories, sinks, toilets, and all other water and plumbing apparatus in good order and repair and shall use same only for the purposes for which they were constructed. Any damage to any such apparatus and the cost of clearing stopped plumbing resulting from misuse shall be borne by Guest.
(d) Keep the Premises in clean order with regular cleaning of all the rooms and surfaces in the Premises, including the fixtures in the bathroom and kitchen. If during seasonal inspections the Host determines a need for house cleaning services, Guest shall agree to remit monthly payments to secure such services either directly or through the Host. Guest shall deposit all trash, garbage, rubbish or refuse in the locations provided in the pit outside the front side of the building and follow building guidelines for weekly trash collections.
(e) Guest and guests shall at all times maintain order in the Premises and at all places on the Premises, and shall not make or permit any loud or improper noises that would disturb other residents;
(f) Smoking is only allowed outside the Premises and in safe and clean conditions.
DAMAGE TO PREMISES. In the event the Premises are destroyed or rendered wholly untenantable by fire, storm, earthquake, or other casualty not caused by the negligence of Guest, this Agreement shall terminate from such time except for the purpose of enforcing rights that may have then accrued hereunder. The rental provided for herein shall then be accounted for by and between Host and Guest up to the time of such injury or destruction of the Premises, Guest paying rentals up to such date and Host refunding rentals collected beyond such date. Should a portion of the Premises thereby be rendered untenantable, the Host shall have the option of either repairing such injured or damaged portion or terminating this agreement. In the event that Host exercises its right to repair such untenantable portion, the rental shall abate in the proportion that the injured parts bears to the whole Premises, and such part so injured shall be restored by Host as speedily as practicable, after which the full rent shall recommence and the Agreement continue according to its terms.
INSPECTION OF PREMISES. Host and Host's agents shall have the right at all reasonable times during the term of this Agreement and any renewal thereof to enter the Premises for the purpose of inspecting the Premises and all buildings and improvements thereon. And for the purposes of making any repairs, additions or alterations as may be deemed appropriate by Host for the preservation of the Premises or the building. Host and its agents shall further have the right to exhibit the Premises and to display the usual "for sale", "for rent" or "vacancy" signs on the Premises at any time. The right of entry shall likewise exist for the purpose of removing placards, signs, fixtures, alterations or additions, but do not conform to this Agreement or to any restrictions, rules or regulations affecting the Premises.
SUBORDINATION OF LEASE. This Agreement and Guest's interest hereunder are and shall be subordinate, junior and inferior to any and all mortgages, liens or encumbrances now or hereafter placed on the Premises by Host, all advances made under any such mortgages, liens or encumbrances (including, but not limited to, future advances), the interest payable on such mortgages, liens or encumbrances and any and all renewals, extensions or modifications of such mortgages, liens or encumbrances.
SURRENDER OF PREMISES. Upon the expiration of the term hereof, Guest shall surrender the Premises in as good a state and condition as they were at the commencement of this Agreement, reasonable use and wear and tear thereof and damages by the elements excepted.
ANIMALS. No animals are allowed in the Premises neither inside nor outside in the backyard.
INDEMNIFICATION. Host shall not be liable for any damage or injury of or to the Guest, Guest's family, guests, invitees, agents or employees or to any person entering the Premises or the building of which the Premises are a part or to goods or equipment, or in the structure or equipment of the structure of which the Premises are a part, and Guest hereby agrees to indemnify, defend and hold Host harmless from any and all claims or assertions of every kind and nature.
ABANDONMENT. If at any time during the term of this Agreement Guest abandons the Premises or any part thereof, Host may, at Host's option, obtain possession of the Premises in the manner provided by law, and without becoming liable to Guest for damages or for any payment of any kind whatever. Host may, at Host's discretion, as agent for Guest, relet the Premises. If Host's right of reentry is exercised following abandonment of the Premises by Guest, then Host shall consider any personal property belonging to Guest and left on the Premises to also have been abandoned, in which case Host may dispose of all such personal property in any manner Host shall deem proper and Host is hereby relieved of all liability for doing so.
ATTORNEYS' FEES. Should it become necessary for Host to employ an attorney to enforce any of the conditions or covenants hereof, including gaining possession of the Premises, Guest agrees to pay all expenses so incurred, including a reasonable attorneys' fee.
GOVERNING LAW. This Agreement shall be governed, construed and interpreted by, through and under the Laws of the District of Columbia.
PERSONAL PROPERTY. To the fullest extent permitted by the Housing regulations of the District of Columbia and by applicable law: All personal property belonging to Guest in said premises shall be and remain at Guest's sole risk, and Host shall not be liable for any damage to or loss of such personal property arising from any acts of negligence of any other persons nor from the leaking of the roof, or from the bursting, leaking or overflowing of water, sewer or steam pipes, or from heating or plumbing fixtures, or from electric wires or fixtures, or from Buffalo Moths or termite, or from any other cause whatsoever, nor shall the Host be liable for any injury Guest, occupants, guests, invitees, or other persons in or about said premises; Guest expressly agreeing to hold Host harmless in all such cases; provided, however, that the foregoing shall not exempt Host from liability for damages caused by or resulting from Host's negligence in the operation, care, or maintenance of the premises. IT SHALL BE THE RESPONSIBILITY OF THE GUEST TO OBTAIN AN INSURANCE POLICY WHICH PROVIDES PUBLIC LIABILITY COVERAGE AND ALSO PROVIDES FOR THE PROTECTION OF GUEST'S PERSONAL PROPERTY.
NOTICE OF ABSENCE: Guest shall give Host notice of an anticipated extended absence of Guest from the property in excess of seven (7) days. During any such absence of Guest, Host may enter the property at times reasonable necessary to protect the property and any possessions of Host on or in the property.
+ More
---
---
2 nights minimum stay.
From Aug 14 - Dec 31, 2016 the minimum stay is 4 nights.
---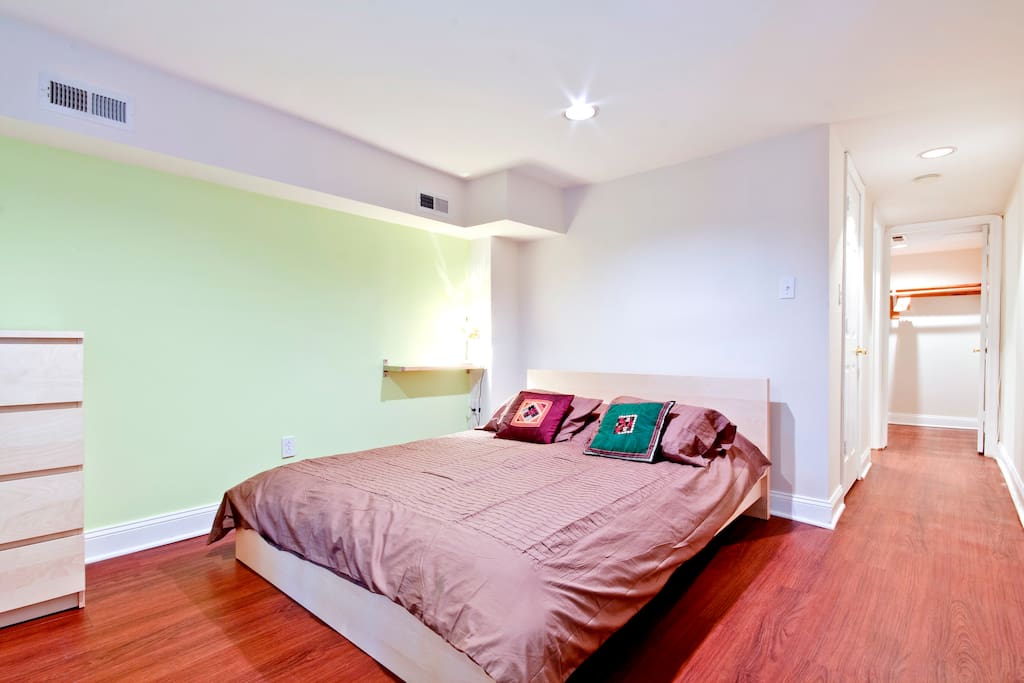 Bedroom with queen size bed, four drawer dresser and walk-in closet. Includes linens, comforter, pillows.
Your Host
---
Washington, District of Columbia, United States
·
Member since August 2012
Greetings!

I have lived most of my life in DC, a city that has a promising capacity to become the next world cultural melting pot. This prospect is quite palpable here in Columbia Heights!

I live right here in the building, which is comprised of three apartments. I take good care of the upkeep as well as the gardens in the front and back.

I love traveling and have been to many countries around the world and so I hope to exchange some great stories with you :)

Besides property management, I am a musician and composer in the World Fusion genre blending various musical cultures and reflecting "the incredible closeness of beings." I hope to share some of my music with you also!
+ More
Response rate:
100%
(
last 10 contacts
)
Response time:
within a few hours
Explore other options in and around Washington