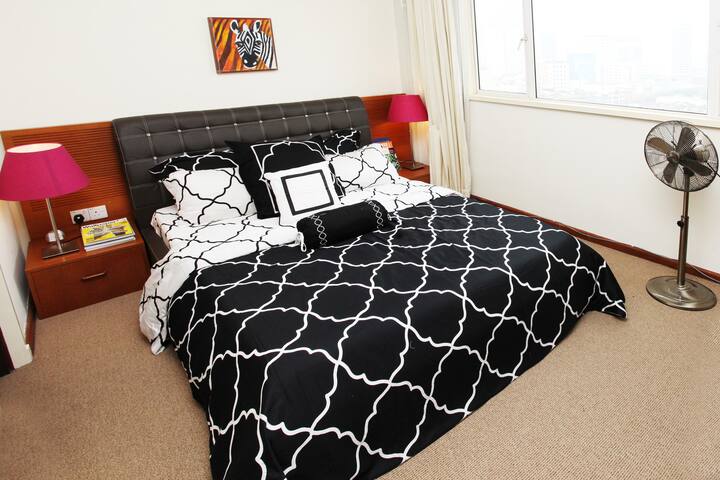 Entire home/apt
4 Guests
2 Bedrooms
2 Beds
About this listing
In the heart of KL! Both upmarket & gritty; local and expats, cheap and expensive cuisines! Be right next to Pavilion Mall, Fahrenheit Mall, Lot 10, KLCC, Bukit Bintang and Jalan Alor!
---
Room type:
Entire home/apt
---
---
---
The Space
OUR OTHER LISTINGS IN THE SAME BUILDING/LOCATION
You can check our other units at;
https://www.airbnb.com/rooms/1262472
https://www.airbnb.com/rooms/1870022
https://www.airbnb.com/rooms/971496
https://www.airbnb.com/rooms/812292
https://www.airbnb.com/rooms/2327769
OUR OTHER LISTINGS IN ANOTHER BUILDING/LOCATION
https://www.airbnb.com/rooms/1210328
REVIEWS OF US BY AIRBNB USERS & GUESTS
We have been consistently reviewed very well and for all the units we have. You can review those on ;
https://www.airbnb.com/users/show/3359577#reviews
WHY SHOULD YOU STAY WITH US?
1.LOCATION! LOCATION! LOCATION!
We are not near central KL - WE ARE CENTRAL KL! This unit is on a high floor with a bird's eye view of KL. We are a 2 minute walk to BUKIT BINTANG, and to pavilion mall, lot 10, fahrenheit mall, restaurants and bars on changkat and the raja chulan monorail stop. We're a 10 minute walk to KLCC and KL tower. this saves you money on transport, time saved stuck in terrible KL traffic, and patience saved dealing with sometimes difficult cab drivers!
2. CLEAN, COSY UNITS WHICH FEEL LIKE HOME & FLEXI CHECK IN CHECK OUTS -
It is super important to us that we provide clean & cosy units to our guests and welcome you with little goodies and stuff. Also, if there are no guests the day you leave, stay all day! If you need to check in early, let us know; we will always try to accommodate you.
3.ALWAYS DO OUR BEST/ BE HONEST – we have taken guests to hospitals, driven them to other guest's houses, baby-sat kids, looked for digs and dives, taken guests out with friends, taken 3 am calls for directions. We're nowhere near perfect, but will always be honest, try our best to do it right, but keep it real with guests.
4.REALLY GOOD VALUE FOR MONEY – the five star Hotel Istana and Park Royal Service Suites are opposite us and 5x our price for the same location. We offer the same location, more space, greater units and a more unique experience. For example, the 360 degree view of kl from our rooftop is unmatched!
5. EXCELLENT WIFI CONNECTION WITHOUT ANY HASSLES - our number one frustration is fussy WIFI when we go anywhere. Therefore, we've made it a point to provide good WIFI w/out any hassles!
THIS CHARMING COSY APARTMENT - BEHIND HOTEL ISTANA - WITH A CENTRAL KL VIEW!
This apartment offers a central view of KL and is located at the prime center of Kuala Lumpur's Golden Triangle. Many of the hip nightspots and KL's top restaurants lined along Bintang Walk, Changkat Bukit Bintang and Jalan Sultan Ismail is a 1 minute walk. Many other landmarks, such as the iconic Pavilion shopping centre, Jalan Alor, Lot 10, Sungai Wang and BB Plaza shopping centers are all within 5 minutes of walking distance.
GUESTS WITH CARS: The parking is operated by an independent contractor and is in the basement of the building - it costs RM 35 a day (about US$11 but don't be surprised if the price fluctuates).
The two bedroom apartment and is ideal for families visiting KL who want the comfort of home, or professionals on a short-term stay in Kuala Lumpur. The apartment has all the amenities, including a small kitchenette with all the essentials - including the Italian stovetop coffee maker! Linens + fresh towels provided ~2x a week during your stay. Full internet access at 10 MB+ wi-fi access, Cable TV (both comparable to 5 star hotels) HD TV & DVD player. Expect to stay in a cosy, bright and comfortable home away from home.

- Enjoy great coffee
-The best restaurants and clubs nearby
- Make a romantic dinner or go down to the many eateries
- Browse the internet, watch TV, or hang out with your family
- We can arrange baby-sitting, so you can have some fun!
THE APARTMENT
*The comfortable lounge has city views, flat screen TV with HD cable, broadband WiFi internet, dining area that seats 4 and a fully functional kitchen.
*The kitchen has all major appliances, just buy groceries from one of the many supermarkets & convenience stores in the neighborhood.
*Air conditioning in each room
*High security environment with security guards in the lobby and secure electronic access to each floor.
*Gym & swimming pool are accessible to all guests
*Dry cleaning service in the lobby.
*We can arrange baby-sitting services
*Indoor paid car parking is available upon request
THE NEIGHBORHOOD
*KL's top restaurants, bars & clubs on Changkat Bukit Bintang are less than minute walk.KL's best located, most central & bustling neighborhood, with multiple 24 hour eateries in the neighborhood. ,
*Shopping at the Pavilion, Fahrenheit, Lot 10, Sungai Wang, BB Plaza, Low Yat- the biggest IT mall, is within 5 minutes walk
*Jalan Alor - famous for its Chinese / Asian restaurants - is also 5 minutes walk.
*KLCC (Petronas twin towers & mall) are 12-15 minutes on the elevated walkway
*Raja Chulan & Bukit Bintang monorail stations are both 5 minutes walk.
Taxis are available at all times outside the building.
Guest Access
The Entire Apartment, Pool, Gym, Unlimited WIFI, Cable TV, Laundrette, Dry Cleaning Service in the Lobby
Interaction with Guests
As Much Or As Little As You Like
The Neighborhood
Bukit Bintang, Changkat, Jalan Mesui, Jalan Alor, Pavilion Mall, Fahrenheit Mall, Lot 10, BB Plaza, KL Tower, Times Square, Twin Towers are all in our neighborhood!

Getting Around
The Jalan Sultan Ismail MRT and Bukit Bintang MRT stop is right next to our apartment. All the landmarks are close enough to walk!
Raja Chulan Station MRT OR Bukit Bintang Station MRT is a minute away or Taxis are near the building.
Other Things to Note
MOHSIN AND SHAMZA
EATS & SHOPPING RECOMMENDATIONS
HELPFUL THINGS
•There is a small mini mart on Jalan Nagasari , a Chinese Shop, for a few basic needs (water, topup, fruit etc) but other big neighborhood supermarkets are 'Isetan' in the basement of LOT 10 and 'Mercato' in the basement of Pavilion Mall
•To gym, pool and coin laundry is on the 2nd floor and you need your access card for that. Also, to use the coin laundry on the 2nd FLR, you need RM 5 in 50 sen coins for a load of laundry and RM 5 in 50 sen coins for a load of drying. The change is provided by the security guards in the lobby.
•As conscientious guests, please help us save energy! Leaving the water heater switch ON is one of the highest cause of energy usage and wastage. We really do appreciate it (and it's good for the earth too).

TOP FIVE THINGS TO EAT, DRINK & EXPERIENCE IN THE NEIGHBORHOOD
1.COCKTAILS AT MARINI'S. Marinin's is a bar at the Mandarin Oriental Hotel on the 58th floor with an awesome view of the twin towers. Great Selfies!
2.DINNER AT 'SUZIE'S CORNER' EXCELLENT STEAKS AT A STALL for a steal. For food lovers and especially steak lovers, go to this dive, which serves steaks, classic style. Cannot beat the value for money and the local experience!
3.JALAN ALOR, a popular haunt for street food, seafood is about 500 meters walk from our building and has good Cantonese style seafood, Thai food, durian, bubble tea and other exciting eats. Our favorite is the one with the green table cloth for Cantonese style food.
4.DRINKS AT PISCO. The drinks are not great at all, but good music and a decent local expat scene. Its just round the corner on Jalan Mesui
5.DINNER OR LUNCH AT 'SAO NAM.' Sao Nam is one of the few Vietnamese Restaurants near Hotel Soleil; a great ambience and pretty decent fare
NEIGHBORHOOD RESTAURANT & CLUB RECOMMENDATIONS
•FEEKA COFFEE SHOP is on Jalan Mesui, an upcoming popular street. Its got great coffee and western style breakfast, in addition to loads of ambiance
•JALAN ALOR, a popular haunt for street food, seafood is about 500 meters walk from our building and has good Cantonese style seafood, Thai food, durian, bubble tea and other exciting eats. Our favorite is the one with the green table cloth for Cantonese style food.
•DRIFT, is a modern Australian Bistro style restaurant that just opened in our building. The food and ambience is now rated one of the best in KL. Definitely, a must-do. Look it up online… Plus their management, are super stars and really good people
•PINCHOS is a Spanish style tapas eatery on Changat around the corner - pretty authentic and great social experience for an evening
•FISH N CHIPS on Changat around the corner, is rated the best in KL and the Baramundi is super delicious. Wash down with a range of beers
•Pavilion Mall > Food Republic, the food court is fantastic; you can walk around and select all kinds of cuisines to eat from. TOAST BOX is a local breakfast chain where you get thick toasted butter bread, peanut butter on top and local tea. If you're not into doing something with the crowd, try Ben's which is a great Bistro style restaurant on the 6th Floor; Al-Amar has good ambiance and Middle Eastern food. Bulgogi Brothers is a very well regarded Korean restaurant. Try the indulgent J-Co Donut in the food-court for excellent donuts.
•Paradise Restaurant is a Pakistani restaurant on Bukit Bintang walk. It's a buffet style eatery with excellent food; definitely not a place to take a date but a place to take 2-4 friends and eat great food (its spicy so beware). Don't miss the mince meat with potatoes or the lady fingers – order some roti (flat bread) and try the salt lassi too. A great food dive!
•Ben's has an outlet here too and great view of KLCC Park, good bistro food, pastas etc. Madam Kwan's & Penang Cafe are good Malay restaurants in KLCC and there are other eateries such as Chilli's and a big food court as well.
•Havana, is another Changkat bar which is an institution. .It has great food as well - wonderful crab cakes, hot wings, nachos and a tasty menu for snacks. It's a great place to go on Friday nights for dancing and people watching – their small balcony upstairs is great to people watch, see what's happening inside the club and watch KL's night scene. They have great mojitos, caprihinias and sambucas. There is no entrance fee.
•Restoran Nagasari Curry House, Jalan Nagasari –a local Mamak style eatery is a shadow of what it used to be. However, if the 'Satay Aunty' is there in the evenings - . try the satay (after 830pm) or the plain tosai – the chicken tandoori is pretty decent (ask them to cook it thoroughly). On a hot day the fresh coconut is bound to cool you down. Cheap & cheerful used to be rated by TimeoutKL in the top 10 eats. Open 24-jam as the say here in KL. No promises on hygiene!
•SK Corner, Tongkat – close to Radius Hotel is also a local eatery open 24 hours. Their Roti Bom a deep fried flat bread with honey is recommended. Also are they many other types of roti, and the buffet has green string beans, which are great. The star fruit juice is very refreshing (ask for less sugar). This place used to be an institution and is still a decent spot for cheap food while people watching.
•'Connection' at Pavilion Mall – Connection is where a strip that connects Pavilion to an air-conditioned walkway to KLCC, also has a strip of restaurants, bars and pubs which is a great spot to sit and people watch. For Western breakfast, you can also check out 'THE PRESS ROOM;' or enjoy a coffee and pastries at CAFÉ DE PARIS. Our recommendations are lunch at Michelangelo's or Press Room, evening Tapas at Boca. That strip is called 'Connection' on Level 3 (the ground fir basically)
•HAKKA – Opposite Pavilion Mall, just off the main double road, is a fantastic open-space Asian/Chinese restaurant; excellent and authentic Hakka food – prawns, steamed fish, and great Chinese food all around. Service is slow, but a great dinner experience in town.
•PISCO BAR, around the corner, has become a popular and cool bar on Jalan Mesui over the past six months; it serves Latin American Tapas and has good gigs on Fridays and Saturdays; a nice place for a drink and to see KL's expat scene.
•Twenty One is a club on Changkat, great for Wednesday nights, which is ladies nights and also rotates good DJ's on the weekend. The balcony upstairs is a good spot to see what's happening on Changkat and sit with a group of friends. There is no entrance fee.
*Going to KL clubs, it's most economical to buy a bottle of alcohol (about RM 400-500); you get your own table, bucket of ice, glasses and sodas and juice - individual drinks are expensive. All bars are required to close at 3am,
SHOPPING: ONE OF THE WORLD'S TOP SHOPPING DESTINATIONS IS IN THIS NEIGHBORHOOD.
•Pavilion – top end mega-mall representing top brands, food & drink and within a 5 minute stroll from Bidara. Lot10 & Farhenheit – homes to the recently opened H&M and UniQlo as well as more of top brands. (5 minute walk)
•Suria KLCC – the mall inside the twin towers. Fun shopping, eating, park destination. Great little science museum too.
+ More
---
HOUSE RULES
ACCESS CARDS: Normally, we provide one elevator access card for the apartment. Additional access cards can be arranged, though a deposit must be left for each one. Upon departure, these have to be returned.
DAY OF DEPARTURE:
On the day of departure, please leave ALL the keys on the dining table. If you provide the keys to security, you MUST inform us.
You do not have to clean the apartment, but kindly ensure the trash is thrown.
THROW TRASH:
There is a central garbage room on each floor - please ensure you throw the garbage out daily.
CLOSED WINDOWS
Windows may be opened solely for the purpose of ventilating rooms. For safety reasons, it is not permitted to lean out of windows, to throw anything from them or sit on their sills. If you would like to ventilate, please let us know and we'll provide keys to open the windows.
SECURITY DEPOSIT
A security deposit will be retained by us for access cards amongst others. This will be reimbursed minus any potential costs arising from damage & losses.
Upon departure, each suite will be inspected
We assume no responsibility for the costs of fire alarms set off by illicit smoking or manipulation of smoke detectors willfully manipulated by Guests. These costs can be deducted from the security deposit.
Bringing illegal substances and weapons into the suite strictly forbidden and will lead to immediate eviction and possible prosecution by the authorities
IN CASE OF EMERGENCY
The fire alarm rings as a loud signal. Once the alarm sounds, it is no longer permitted to remain in or return to the apartment. Please leave the building immediately via the closest exit. In this case, elevator usage is strictly prohibited; please use only the stairwells and emergency stairwells instead. All emergency exits are designated accordingly. Upon evacuating the Building, please go to the designated outdoor meeting point, which is either in front or in the back of the Building, depending on the situation. Building security will cooperate & coordinate exit & return.
+ More
---
---
Explore other options in and around Kuala Lumpur