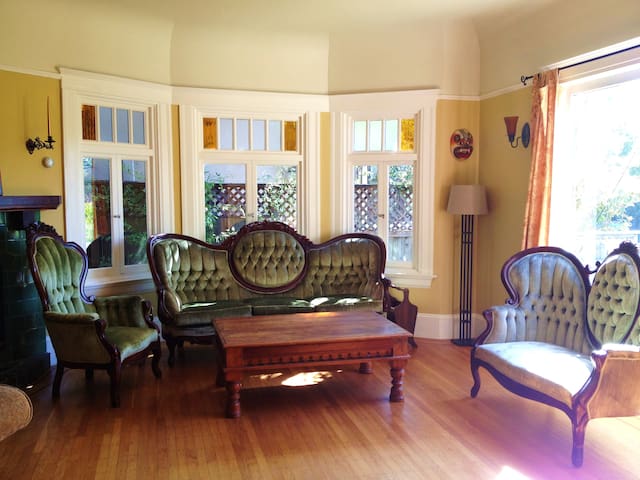 Entire home/apt
10 Guests
5 Bedrooms
10 Beds
About this listing
Private, single family home near UC Berkeley available to use (not abuse) when we travel. Lodging only. No events or parties. Please read the full listing, and confirm that the setup and house rules work for you.
---
Room type:
Entire home/apt
---
Kitchen
Space where guests can cook their own meals
Essentials
Towels, bed sheets, soap, and toilet paper
+ More
---
Extra people:
$25 / night after 6 guests
---
The Space
When we travel, visitors may request a stay in our clean, organized, and gorgeously restored/ remodeled early 20th Century Craftsman home with access to 5-1/2 fully furnished bedrooms, 10 beds, 2 large modern bathrooms, a formal dining room, comfortable living room, large professional kitchen, front porch, and private yard.
When we are not out of town, we can sometimes host a group who doesn't mind sharing the common areas with us. In this situation, we offer a discount off the published price (just ask).
Our place is not a made-for-abuse vacation rental like you may have found on certain other websites, and guests should not expect us to handle things the same way they do (e.g. lockbox and anonymity). When we book a stay in our home, we are placing our most valuable asset in the hands of strangers and letting you into our most cherished space on the planet: our home. So if you or any member of your party are likely to object to reading and respecting our house rules, meeting us for an orientation and ID check, or if you see renting our home as "buying" the right to do whatever you want here, we respectfully ask that you find another property to rent.
We are located in a residential family neighborhood, and we like and respect our neighbors, who work banker's hours and have school-aged children. Therefore, we respect Berkeley's quiet hours (10 pm - 7 am), and have a no-parties rule and other limits. We have invested a great deal of time, money, and love into creating a beautiful, comfortable, peaceful home. We are interested in hosting only quiet, respectful people who keep normal hours, do not abuse alcohol and drugs, and know how to honor the quality home environment we have created. For folks who value a peaceful, high quality home environment during a family vacation or professional retreat, you're in for a treat!
You will sleep soundly with the new, down comforters and goose feather & down pillows (non-down available for those with allergies). Whole house heating will keep you comfy, and each room has extra blankets, too.
You can take your bath or shower in either one of two large, contemporary bathrooms and enjoy a bath in the deep, antique clawfoot tub, which was restored with a white finish and chrome feet. Each bathroom has a privacy screen so families can share.
Each guest receives a set of towels in the same color as their room (to tell them apart). We provide organic bath soap, shampoo, and hair conditioner. We also provide plenty of supplies of toilet paper, paper towels, and other personal items, as well as a first aid kit, fire extinguisher, smoke/Co2 alarms, and other safety features.
All of the guest rooms are clean and beautiful. Each room has an iron and ironing board, a hamper or laundry basket, and extra blankets. Each room also has its own hair dryer and mirrors so makeup and hair can be done inside guest rooms (saving bathroom access for the essentials).
Note: Maximum occupancy of 10 in the home always applies, even though the total possible in all of the rooms and beds is higher, so bear this in mind when reading the room descriptions.
Bedroom #1 - THE WILDCAT CANYON SUITE - sleeps 6
17 ft x15 1/2 ft (263 square feet)
https://www.airbnb.com/rooms/694433
This is our largest space (actually a room and a half), with a king sized bed (sleeps 2), a queen sized futon sofa (sleeps 2), and a small anteroom with a twin futon (sleeps 1) and a chair futon (sleeps 1 child or teen). There's also an antique roll top desk and chair; a sitting area with wicker chairs and a small, round table.
Large windows on two walls supply this room in natural light, which you can filter with the sheers or block with the curtains. The best thing about this room: it's so big, you could live in it!
The suite's namesake, Wildcat Canyon, is a valley just east of the Berkeley Hills where visitors love to go hike and picnic along Jewel Lake and Lake Anza.
Bedroom #2 - THE MUIR WOODS ROOM - sleeps 3
14 1/2 ft x 12 1/2 ft (181 square feet)
https://www.airbnb.com/rooms/694435
This is a medium-large room with a comfortable queen-sized bed, a desk and chair, a comfortable twin-sized futon chair that serves as a second bed, a dresser for your clothes, end tables and lamps, and a closet. The best things about this room: spacious!
The Muir Woods Room pays homage to Muir Woods National Monument, the cathedral of redwoods located 25 miles west of Berkeley, which was established in 1908 when President Roosevelt signed legislation to protect an old-growth redwood forest from destruction.
Bedroom #3 - THE ROSE GARDEN ROOM - sleeps 2
13 ft x 10 ft (130 square feet)
https://www.airbnb.com/rooms/694442
This is a medium-small room, furnished with a gorgeous and comfortable queen-sized bed (sleeps 2), a lovely Victorian armchair, a wooden Queen Anne style desk, end tables and lamps, and a closet.
Named after the Berkeley Rose Gardens, it features floral rose decor and wooden dressers with hand-painted roses. The best things about this room: cozy and pretty!
Bedroom #4 - THE BAYSHORE ROOM - sleeps 3
21 ft x 10 ft (210 square feet)
https://www.airbnb.com/rooms/694437
This is a sunroom with windows on every side, a comfortable queen sized bed (sleeps 2), a futon chair (sleeps 1 child), a teak desk/chair, a cabinet with drawers for your belongings, end tables and lamps, and a closet. The best things about this room: sunny!
Note that the room is cramped when you open & use the futon chair, so only count on using the futon chair if you're okay with that and not inclined to post a negative review about it.
This room is an homage to the bay area's coastal environments, from the bay shores at the nearby Berkeley Marina to the crashing waves of the Pacific Ocean against the rocky shores along Highway 1.
Bedroom #5 - THE ANGEL ISLAND ROOM - sleeps 1
8 ft x 10 ft (80 square feet)
https://www.airbnb.com/rooms/694437
This very small room accommodates one person. It has a single bed, a small desk and chair, a bedside table and lamp, and a small teak hutch that can also open out into a desk. Brand new down and feather pillows and comforters, Egyptian cotton sheets, and cozy blankets offer comfort at the end of a long day.
The room is named after Angel Island State Park, a natural island that is now a National Park in San Francisco Bay.
##
Guest Access
When you rent our home, you have exclusive access to all five and a half bedrooms; the two spacious and immaculate bathrooms; the large, well-equipped kitchen where you can cook and store your food; the comfortable and beautifully furnished living room with antique Victorian sofas, cable TV, and books; the porch and its patio seating to socialize; and the pretty front yard garden which has a teak table and chairs and a new charcoal barbecue grill.
Interaction with Guests
ACCEPTING A GROUP BOOKING. Before we accept a booking, we want to know who is in your group, your anticipated use of the home, and your arrival plans. To avoid problems for you or for us, we won't accept a booking without first ensuring that every member of your group has read the listing and house rules, and is comfortable with them. Your booking holds the home, but the reservation is only final after you sign and return our rental agreement and liability waiver. We will need the full name, age, occupation, city, and email address of each guest who will be staying (required). We don't make anonymous bookings.
WELCOME. We make email contact with each member of a group in advance of their stay to welcome them, provide the house manual, find out if they need any special accommodations, and answer any questions they may have.
CHECK-IN. Since Airbnb hosts also work, take classes, and have other obligations, we can't leave your check-in time open-ended. We will meet you for a 10-minute orientation and check-in appointment, which is normally a half-hour time window between 4 pm and 10 pm. I'm happy to make restaurant, transportation, and sightseeing recommendations at check-in.
DURING YOUR STAY. I'll touch base during your stay to make sure you're finding everything you need. I'm available to handle any maintenance issues that arise (bulb blown, etc). For a stay of a week or more, the housekeepers will visit, mid-stay (by appointment), to clear trash, replace towels, and tidy up.
CHECK-OUT. The day before your check-out, I will send your group members a farewell email, explaining the check-out time and steps, reminding them to check for items they might be forgetting, and asking if they need any special accommodations.
The Neighborhood
The house is located approximately 1/2 mile south of UC Berkeley in the Elmwood neighborhood. This neighborhood is a quaint, walkable, safe, and quiet residential area, just a few hundred feet from the popular Telegraph Ave, College Ave, Claremont Ave shops and restaurants.
Getting Around
BUS STOP: An AC Transit bus stop is just one block away, at Derby & Benvenue, with Bus 51 B getting you to campus in 5 minutes and to the Downtown Berkeley BART station in 10 mins.
BART: Two BART stations are exactly one mile away - Ashby BART and Downtown Berkeley BART. A third BART station (with plentiful parking) is 2.5 miles away: Rockridge BART.
CAR: You'll find an Enterprise Rent-a-Car just a few blocks away. You can also easily get rides from Uber or Lyft most anywhere in the Bay Area.
FREEWAYS: It's an easy jaunt from here to I-80/I-580, via California 13 (Ashby Ave). Ashby Ave intersects with our street just 4 blocks south.
PARKING: One free off-street parking space comes with the house rental. Street parking is available but regulated. Guests may purchase a $10/day street parking pass from me for one additional car belonging to a registered guest (but no more than that). Cars may park on the street without a permit in my neighborhood overnight (7 pm - 8 am) and for up to two hours during the day (8 am - 7 pm). If you wish to park additional cars for longer than 2 hours during the day, you have three options: 1) park it at the nearest BART station for around $2/day; 2) park it in a nearby public parking garage for around $15-20/day; or park it in a neighborhood where parking is unregulated (if you have friends in such a neighborhood, this can work well). I'm not responsible for arranging your parking or for guest's parking tickets.
Travelers to Berkeley are much better off without a car, since public transit is convenient, taxis are easy to find, Zipcars, Lyft cars, and Ubers are plentiful, and parking is expensive and hard to find.
Other Things to Note
FAMILY FRIENDLY, BUT NOT CHILD-PROOFED
We have premium Cable TV, movie channels, Pay-Per-View, and a VCR with a large collection of videos. We also have a cabinet full of games, playing cards, and children's books, and a basket full of plushy toys for children. Other family supplies: high chair, Pack N Play, infant tub, training potty, training seat for toilet, bed protector pads, outlet covers. There are no toxic products in the home. But there are lower cabinets without child-proofed locks, the outlet covers need to be installed by you (they're optional), and the child safety gate is pressure-locked and not secured to the wall.
CLEAN AND GREEN
We provide green living supports (recycling, composting, chemical-free bath products, etc.). Cleaning products are chemical-free and unscented (Seventh Generation and Dr. Bronners), so you'll smell only the fresh air. Please respect our organic home by not bringing any chemical cleaning products, scented candles, incense, paints, etc., inside.
PARTIES/EVENTS
If you hope to host parties, events, or business meetings with outside visitors, our home isn't suitable for you. This restriction is due to limited bathrooms and parking, and our need to manage impacts on our home and neighborhood. There are families with school-aged children living next door who need peace and quiet after 10 pm. We are committed to being good neighbors and we will shut down noisy, late night gatherings immediately. Groups may invite 2-3 family members or friends over, but due to past damage to our property and potential neighborhood impacts, we can't accommodate gatherings of any kind involving more than 2-3 outside visitors. If your group decides to test this limit by filling up the house without approval, you will be required to leave without a refund. This hard line is a direct result of past abuse.
MAXIMUM OCCUPANCY: 10
Families with children and couples can sleep more people here than groups of single adults who won't be sharing beds. We can't accommodate more than 8 single adults (not sharing beds) during one stay because 2 of the beds are futon chairs (smaller than a twin).
DISCOUNTS
Folks seeking discounts may have the option to share the common areas of the house with us and/or other travelers. Just ask.
LAUNDRY
There is no on site guest laundry access, but we supply a wheeled laundry cart and laundry bags you can take to the coin laundromat just a block away, or about 300 feet (91 meters).
APPROVING YOUR RESERVATION
Taking a few moments to complete your traveler profile in advance will save us both time. If your profile is not complete, please include in your inquiry your name and address, place of employment, and the reason for your stay in the Bay Area. We won't rent our home without having this info, up front.
PETS. The house is pet-free (for the sake of allergy-sufferers). Two cats live in my private suite and do not enter the rest of the house. There's an electric HEPA air filter on each side of the door to my space to trap any allergens that cross the threshold. My private suite is kept locked (deadbolt) and I don't enter the main house during a group stay unless you have arranged the house-sharing discount. Past guests with pet allergies have said they had no idea a cat was in an adjoining space, so the HEPA filters are effective.
HOUSE MANUAL
After you book, Airbnb will send you a booking confirmation. It will contain a link to our House Manual. You're expected to print it and bring it with you so you can easily find the address, directions, wi-fi passcode, and our contact information while you're traveling.
TECHNICAL PROBLEMS WITH BOOKING?
Call Airbnb's urgent help line: ate fave fave, fore too fore, savin' too sicks too.
EQUIPMENT AND SUPPLIES RENTAL
For $10/day or $50/week, and a week's advance notice, we can supply you with any of the following (each item):
- A street parking pass
- A tent
- A sleeping bag
- A bike and lock
- A stroller/carseat combo
DEPOSITS
We are more likely to charge your deposit for damage if you fail to notify us or if the damage is due to negligence or disregarding a house rule (such as using coasters on wood surfaces). The best way to protect your damage deposit is to schedule your check-in/orientation at a time that all or most of your group can be present and/or requiring your group to (really) read the house manual.
+ More
---
- CHECK-IN. Contact us at least a week in advance to arrange a 10-minute check-in/orientation appointment (a half-hour window between 4 pm and 10 pm). All or most of your group members should be present. We do not release the keys without it. Please do not book our home if this requirement will be problematic or annoying for you or other members of your group. -|-
- USE WITH CARE. Care for the furniture, bedding, floors, appliances, etc., through common sense, respectful usage. If members of your group manhandle appliances and fixtures, move furniture, leave wet items on our antiques, or otherwise disrespect our home, YOU ARE EXPECTED TO INTERVENE. Any damage caused by your group will be repaired at your expense.
- QUIET HOURS. Respect Berkeley's noise ordinance and our quiet hours 10 pm - 7 am. This is a family neighborhood, with school-aged children next door who need their sleep. During these hours, enter and exit cars quietly (close car doors gently, do not talk loudly to one another), bring socializing indoors (even ordinary conversation travels through neighbors' windows), keep voices and media volume reasonable, close doors and cabinets gently, and walk softly on the wood floors and stairs. -|-
RAMBUNCTIOUS PLAY. Children (including the 6-ft tall kind) should take any running, wrestling, and shouting to the yard or Willard Park (one block away), rather than indoors.
SHOELESS. Remove shoes indoors (slippers provided) and ask your visitors to do the same. -|-
PROTECT SURFACES. Use coasters, placemats, or tablecloths (provided) underneath drinking glasses and other wet items on wood surfaces. Hang damp towels on the bathroom racks, hooks in the rooms, or hangers, NOT ON FURNITURE. Your deposit may be debited for the cost of refinishing or replacing furniture you damage. -|-
PROTECT BEDDING. Prepare adequately at bedtime to avoid damage to sheets, blankets, and mattresses. Wear bandaids if you have skin wounds and adequate protection for monthly cycles. Use bed protectors when changing baby diapers. Do not place baby wipes, cleaning rags, suitcases, or toiletry items directly on the beds/sheets/blankets. Bed protector pads and other protective supplies are provided, free of charge, in the upstairs hallway armoire. -|-
NO PETS. Not even for "a minute." This includes assistant animals and friends' pets who drop by unannounced. If you sneak in a pet, you will lose your entire deposit. -|-
NO BURNING, SMOKING, OR OPEN FLAMES. This includes incense, cigarettes, cigars, 420, candles (anywhere except the dining room), sage/smudge, oil lamps, or any other burning of any kind.
NO CHEMICALS. No chemical toxins or flammables of any kind are allowed indoors. No hair dyes, bleach (or products that contain bleach), solvents, paints, pesticides, insecticides, or repellants (including mosquito repellant). Also, please avoid using perfumes/colognes inside the house, and store them in bathroom, not in guest rooms, as some guests are allergic, chemically sensitive, or offended by chemical fragrances. -|-
KITCHEN CLEANING. Please wash your dishes immediately after meals and as thoroughly as though your own children were eating out of them next. Store foods only in kitchen and dining rooms (not in guest rooms). Urban homes are at risk for rodents. Therefore, we require that you keep foods stored in the refrigerator or the closed-door cabinets at all times when not in use. If you leave open food containers, food, or dirty dishes out overnight or when you leave the home, we will provide mandatory maid service at $75 per day. If you anticipate any problems managing cleanup, please ask for daily maid service in advance.-|-
SECURITY. Lock entry doors when you enter and when you depart, even if someone else is present in the house. Do not loan out, copy, or hide keys. $25 per key lost key fee for internationals/out-of-towners; $130 for locals (cost of rekeying locks and recopying keys) -|-
VISITORS. 2-3 visitors are fine, but you must notify your host in advance if you expect more. No on-site events, parties, or dinners involving non-registered guests. -|-
ENFORCEMENT. Violations of the house rules can result in eviction and/or loss of all or part of your deposit, regardless of who violates them (the person who reserved the place, a member of the group, or a visitor). We're kind, considerate, friendly people, but we have learned that we must hold a hard line on this to avoid constant damage and to repel a certain vacation rental element that expects to be able to abuse other people's property and neighborhoods at will.
NOTE: Renting a private home for a group comes with a few responsibilities. If you are likely to be too busy or stressed to manage your group, then please delegate the task to another group member or choose a hotel.
NEED ANYTHING? Communicate right away if you have any needs, questions, or problems. Give your caring host the opportunity to remedy a problem during your stay rather than first mentioning it in a review.
+ More
---
---
Explore other options in and around Berkeley