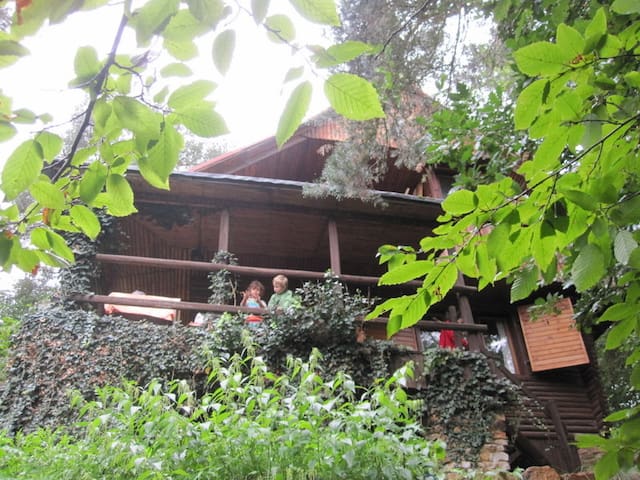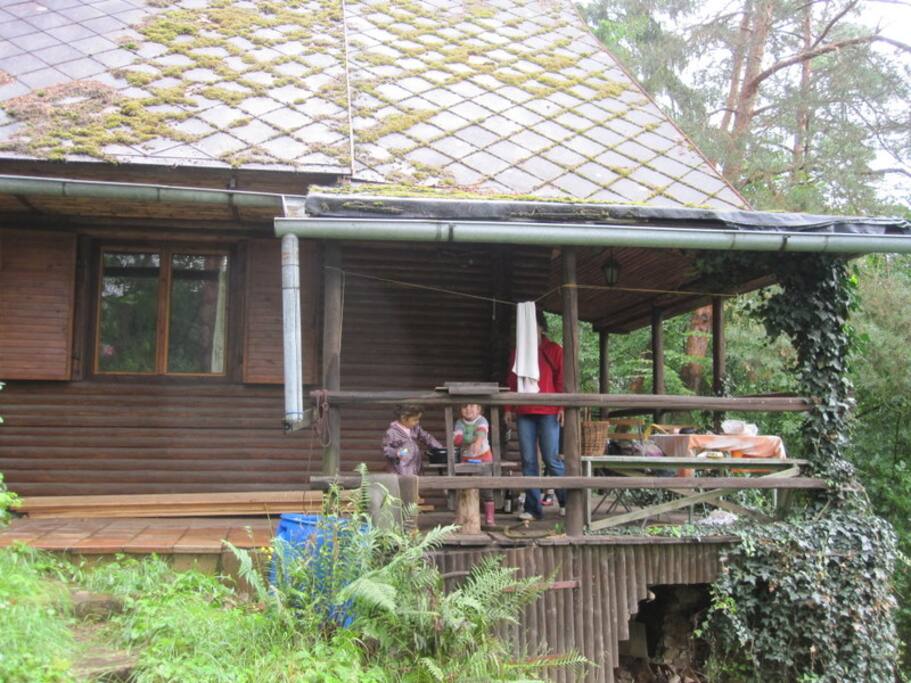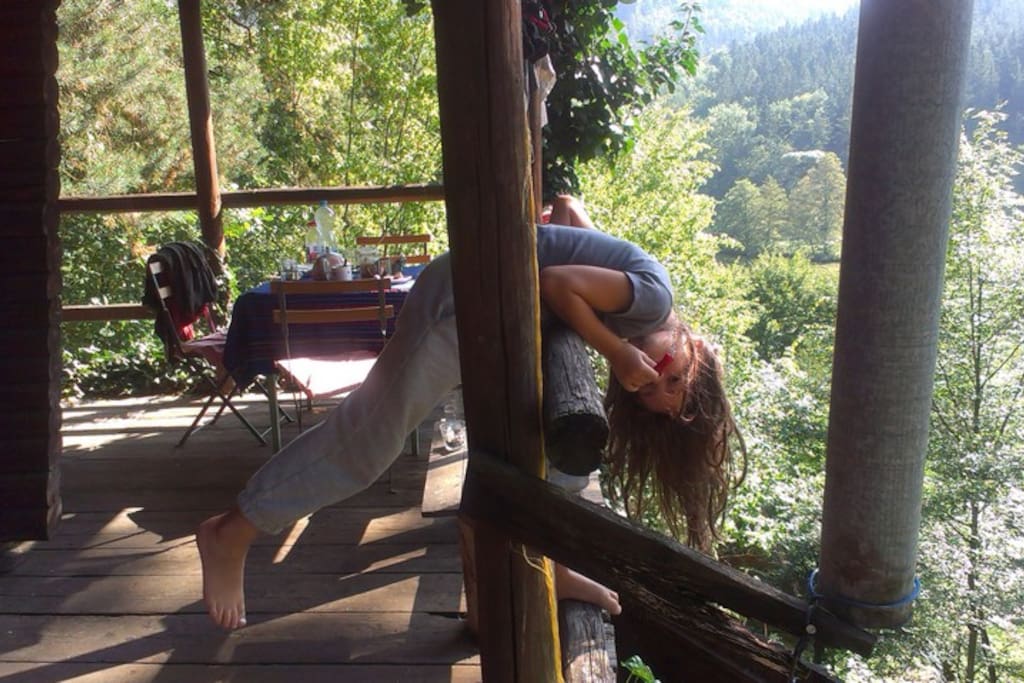 Rustic log cabin in the Krivoklat Forest just 45 minutes drive west of Prague (50km). Tucked into the woods, but not far from a village pub (2km) or a beautiful swimming pond (200m). Great base for biking, hiking & sightseeing.
The space
Log cabin in the Krivoklat Forest about 30 minutes drive west of Prague (50km). Tucked into the woods, but not far from a village pub either (2km up the hill) or a beautiful swimming pond (200m down the hill). Great mountain biking, hiking and mushroom hunting. Near Krivoklat and other notable castles. Halfway between Prague and Plzen (if you really need to get back to a city). A great vacation in the summer and a cozy getaway in the winter.
IMPORTANT CAVEATS:
Water: you have to bring it from a well about 1km away. There is no plumbing and no running water at the cabin.
Bathroom/Toilet: There is a dry latrine (a hole in the ground with a small house on top) for a toilet. For washing yourself and dishes, you have to use water brought from home or from the well (1 km down the road - best to go by car). We have 2 large 20 liter canisters for carrying and storing water.
There is electricity and very weak mobile/GSM signal.
Spiders: This is a weekend cabin in the woods. Spiders live there. Don't be surprised.
Heat: Wood stove, fireplace, 1 electric space heater.
Cooking: Fire pit outside, simple covered bar-b-que (outside), hot plate & electric kettle (inside)
Terrain: The cabin is on a steep, wooded hill. It is pretty and secluded, but not recommended for children under 8 years old. There is not a lot of space to run around.
Bedding & towels: I try to keep clean linen there, but it is not always possible. If you require 100% newly laundered bedding, please bring your own.
The interior:
The cabin has a simple, rustic and well-planned interior - like a sailboat where every nook has a function (sunken food cupboard and beer cellar under the stair case, meat-smoking chamber in the fireplace, washing bowl hidden in a drawer, etc.)
All spaces are wood paneled, floors and ceilings (some stone around fireplace and between kitchen and living room).
ground floor:
1. entry hall (1m2) 2 closets and a small space to throw your shoes.
2. Living room/dining room (5m x 6m) Big fireplace, 2m long dining/working table, folding couch, carpet, 2 windows.
3. kitchen (2m x 2m), wood stove (main heat source), counter space, hot plate and kettle, sink (but no water :).
1st floor:
4. Main bedroom (3m x 3m): 2 twin beds stuck together.
5. 2nd bedroom (4m x 5m): 2 separate twin beds, small refrigerator (1m tall), 2 small storage spaces (1m x2m, sloped ceilings)
6. Attic: (7m x 6m) accessible by ladder, sloped ceiling/roof)
Guest access
Grill
Hot plate
Electric kettle
All cooking & cleaning equipment (pots, pans, plates, glasses, broom, vacuum).
Guitar (Spanish acoustic)
Axe (for splitting wood)
Interaction with guests
I will give you a 30m orientation around the house and local area (how to get water, how to deal with electricity, where to find key equipment). Available for any other questions by phone/SMS.
---
---
Don't burn it down, please :).
---
Edward was very nice! He took a lot of time to show us everything and waited us up, even thou we were late. The house can be some sort of an adventure, but for me there where defenitely too many spiders (also in my bed!), too many neightbours and too less space around the house for the children to play. Also the area is not that interesting for hiking-trips and the lake is not for swimming. For one or two nights ok, but we stayed four nights and the no-water-no-space- and-nowhere-to-go-situation got somewhat annoying and a little claustrophobic. Sorry, Edward!
---
Super! The cosy cabin in the woods fullfilled our expectations, the view over the lake and the mountais was even better. Edward is a very friendly host, he explained everything we needed to know. While reading a book at the veranda I first watched the woodpeckers hopped from tree to tree, then a noisy squirrle got my attention and a few minutes later a deer calmly walked by. We also found some nice swimming places near Čilá and Zvikovec. We enjoyed the Czeck cuisine in Zbiroh, Karez, Zebrak, Skrije, etc.
---
Edward met us as planned and showed us around. In a this forest cabin this meant how to find the secret trail to the cabin, where to get water from and how get your music playing through the local speakers, amongst many other obscure and essential items. Most lovely surprises were the CD collection (folk music) and a hidden forest pub that served Nescafe ... This place is special - on the last night we stayed late, begging the light not to go. At midnight it won.
---
It was really really nice to stay at Edward's log cabin. The view is fantastic and we had the best and cosiest evenings at the fire place. If you want a calm and at the same time adventurous place to stay I would definetely recommend it. Edward is really nice and he takes time to show you everything around.
---
The pictures don't justify this cabin! Reallity was far nicer. It was a perfect getaway in the middle of the woods. No disturbances from outside so it is a great escape from reality! As city people we needed to get used to the absence of running water but it turned out to be a great adventure. I especially loved the fireplace, cutting wood and just enjoying the fire display as nightfall starts. Really cosy! Prague was only a very small hour drive. So if you miss the city, it is perfectly possible to go and have a piece of the hustle. Edward gave us some tips where to have a taste of some local dishes as well. Perfect combination of nature and city activities.
---
I'm an American living in the Czech Republic since 1994. When I get some free time between managing our small farm (6 sheep and various crumbling buildings) and hairless apes (2 kids), I like to run, cycle, read and play a bit of guitar with the guys at the local pub.
Languages:
English, Čeština
Response rate:
100%
Response time:
within a day
Explore other options in and around Ostrovec-Lhotka
More places to stay in Ostrovec-Lhotka: