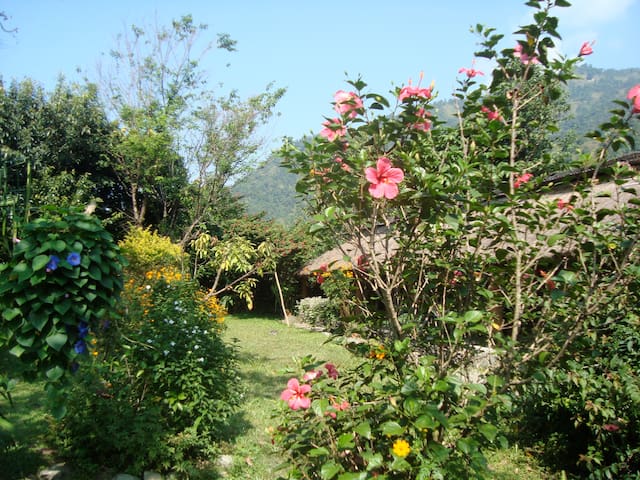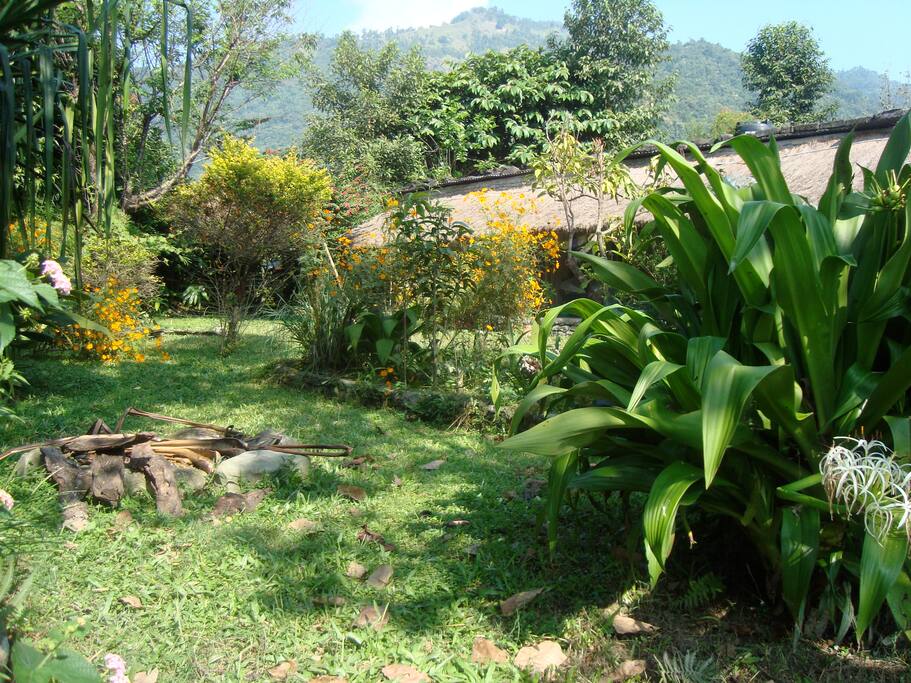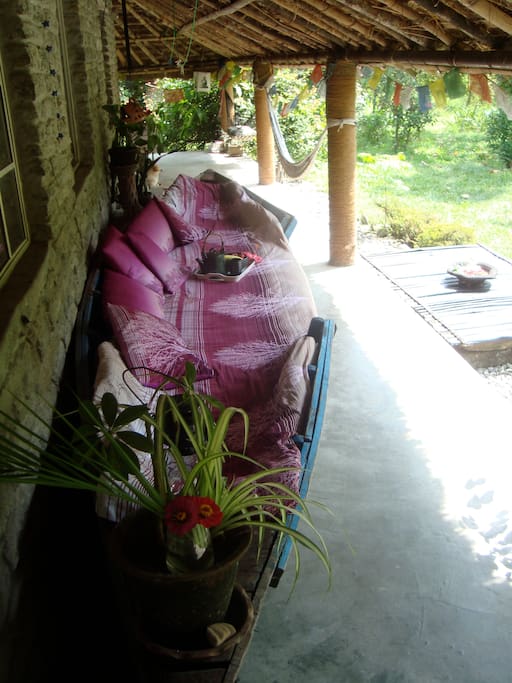 Secluded Home & Dynamic Garden
The space
Namaste and Welcome to Pokhara, Nepal!

Our Secluded Stone Home is nestled amongst a jungle like garden in a nearby village -close proximity to the famous Lakeside tourist area. We are only a few minutes walk to the lake and from there you continue on to the main strip of eateries, shops, temples, boat rides etc. a 15min walk or quick bike ride away.

If you thrive on having an authentic experience- off the beaten track but not too far off- then you'll love the rustic, yet charming peacefulness.

Your bedroom has your own separate entrance that steps out to a covered thatched porch. This allows you the privacy to wake, make your cup of morning coffee and relax with your view of the outdoors- or evenings reflecting on a glorious day.

Our bathroom options are as unique as the location and house. For those of you that enjoy a shower Afresco looking up to the sky above (which is our personal favorite) or those that like to keep their business inside we can provide both. Please note: in the cold season our Alfresco option is indeed left for the more Northern mountain person! With a recent additional outdoor bathtub shell that sits in a peaceful part of the garden to enjoy as a refreshing dip to cool off in the monsoon, or a night time soak under the stars.

A long thatched covered porch houses a hammock for those who want to take in the garden, a book or simply reflect and rest their muscles after an adventurous trek. Or lay back and stretch out in our couch designed from a retired boat.

The kitchen is in an open concept living space and is enjoyed by us for that very reason. However small, it is equipped with the essentials for cooking. We would recommend that you make a stop at a supermarket for all your cooking supplies (as they are not provided in the rate) prior to arrival.
Fresh local eggs, vegetables, milk and curd are available for purchase from the locals- depending on season.

Given that Buddhi has been praised for his local culinary skills, coupled with guest requests for him to give away his secrets- we are happy to offer a truly Nepali cooking experience for a moderate fee. This to include: an early morning ride into town to visit the local vegetable and fruit market where you will have the opportunity to learn about the local seasonal fare, take photos and purchase our items for the evenings dinner. This is an interactive experience whereby come dusk we all pool our energy to prep to begin cooking. Buddhi will help walk you towards a successful creation of your own curry delight so that one day you can throw a Nepali-themed party and wow friends and family with the local dish known as Dal Bhat.

Our campfire pit is situated in the center of the garden and has a terrific view of a star lit sky and full moon rising; a fabulous way to spend an evening in the cold season.

Prudence is our little gem of a dog and is the queen of the (URL HIDDEN) lets hope you like to be greeted with a wagging tail!

Sarangkot is a sought after destination not only for the paragliding community, but most tourist hike up to catch a glimpse of sunrise and the great Annapurna Range- the trail leading up is accessible seconds from your door step...all that it requires is an early morning rise, a yawn, a cuppa and you're on your way. The return trip leading directly back to your cozy room!!

Buddhi was born and raised in Sarangkot -your take off point for Paragliding. He is a Paragliding Pilot for one of the Pioneering Companies "Blue Sky Paragliding" and would be happy to arrange all your flight requests. Pokhara is one of the best places in the world to fly given the conditions and access. Get ready to fly high over the lake with spectacular views!

We are looking to open our home to mature, excited International travelers that can handle a few cobwebs, loads of birds, owls, fox and perhaps a sneak peak at a jungle cat and not be alarmed but overjoyed!! (having recently encountered 2 sightings within several meters..the beauty of the jungle cat!)

Wifi is available, however this is Nepal which means that we are always encountering load shedding - but you will find that if we don't have a connection here then others are experiencing the same issues. You are welcome to our DVD collection for your lap top & our selection of books.

We can provide you with any requests prior to your arrival from a local tour, adventure sports and a experienced trekking guide that can help you maximize your adventure. If you wish to stay with us to prior to trekking you may want to consider giving yourself ample time to organize permits, guides, desired trek etc. We can store your luggage for you with a confirmed return booking. Local taxi drivers can also be arranged for your sight seeing needs.

Transfers to and from Airport can be arranged. Pokhara Airport is a 15min taxi ride.

We look forward to sharing your experience and enhancing your stay in a region of the world that is unlike any other.

Namaste!





---
Bathrooms: 1.5 (Shared bathroom)
Check In: Anytime after 1PM
---
---
Extra people $14 / night after the first guest
Weekend Price $32 / night
Always communicate through Airbnb
To protect your payment, never transfer money or communicate outside of the Airbnb website or app.
Learn more
---
Not safe or suitable for children (0-12 years)
Check in is anytime after 1PM
This is our home so we ask that you respect that no outside guest will be allowed prior to notice and approval.
We ask that when you use the kitchen, clean-up is immediate due to natures creatures. Quiet time after 1030pm unless we are all having a exceptional evening.
Access to room to maintain and clean daily. Laundry service can be arranged at an additional fee.
The most paramount thing is to enjoy your holiday. If there is anything at all that we can assist you with ..you just need to ask and we will do our very best to make it happen! Welcome to the closest village experience to Pokhara Lakeside!
---
---
---
Buddhi and Wendy were WONDERFUL hosts! I immediately felt welcomed in their secluded little garden home (which is beautiful). I was able to enjoy Nepali meals with them, sit by the fire with them and just relax. It was just the vacation I needed. I loved our many conversations and felt like we had been long-time friends, even after just a couple days. They were also so helpful in recommending places around Pokhara, traveling and paragliding! I would highly recommend a stay with Buddhi and Wendy. You will love everything about their home and them!
---
Dit is n baie spesiale plek buitekant Pokhara, klip gooi afstand van die Pewa meer. N asemrowende tuin kompleet met hammock en vuurvliegies! Wendy en Buddhi is awesome en baie hulpvaardig en het ons gehelp met n great guide, Ganesh wat ons op n 8 dae trek deur die berge geneem het! Buddhi het 1 aand vir ons die beste Dal bhat gemaak! Daars lekker koffie en n tydlose atmosfeer! Dankie vir als, julle is awesome! Jaco en Dayle
---
After spending one week already in Nepal, we were anticipating a lovely getaway in Pokhara for three nights at Wendy and Buddhi's secluded garden home. We were not disappointed!! As hosts, Wendy and Buddhi warmly welcomed us into their home with hugs, popcorn and refreshing drinks. Our time here was filled with such relaxation, interesting conversation and great advice on Pokhara and the surrounding area. The home itself is truly beautiful, with such attention to creative detail. The garden is lush and green, and the vegetable garden was not only beautiful, but delicious! Our first night, Buddhi and Wendy were gracious enough to offer us a place at their table and Buddhi cooked for us a meal that was unbelievable. It was a great chance to chat and get to know each other. It was my birthday during our stay and not only was it the perfect setting for such an occasion, but Wendy also recommended a few hot spots in town that made the day so lovely! (& for that we are so grateful). We could have sat in the hammocks sipping red wine for days! The three days were everything we could have hoped for and more. Many memories were made, thanks again Wendy and Buddhi! Lots of love x
Response from Buddhi & Wendy:
Namaskar Sam and Jacinta! Well what can we (URL HIDDEN) hosts you could not ask for nicer Humans. We are so happy and grateful to Sam that he was able to surprise you with a weekend retreat at our home! Both Buddhi and I loved that you were in what seemed to be your element ...laying back kicking up your feet, swinging in hammocks, veggie and berry pick'n, camp fires, enjoying all aspects of our home and garden! How wonderful that we were able to share in your celebration of a special Birthday spent in Nepal. And now in the mountains with our friend and trekking guide...ahhh...See you when you return! Always welcome! Love Buddhi, Wendy and Pru
---
Buddhi and Wendy were very welcoming. The home is so scenic and really allows you to decompress whether coming from the city or lakeside. Buddhi and Wendy are quite social so I would especially recommend this place for folks who love a good chat by the lovely fire.
Response from Buddhi & Wendy:
Namaste Barbara and Luke, We were thrilled to host you in our home! It was a fabulous exchange in experience; and Buddhi could not have been more delighted to discover that you both were fluent in Nepali...a magical night around the fire indeed. You are most welcome any time you feel the need to whisk away to the village once again....and of course "Tika" your beauty of a pup that Prudence was missing the moment you departed. With Love, Namaste Wendy and Buddhi
---
Dear Wendy & Buddhi, I should start by saying thank you for accepting me as your guest and for making me feel so warmly welcomed. I am so grateful to have met such great people and to have spent such a lovely and quaint time with you guys. You both were extremely thoughtful and helpful in making my stay extremely comfortable. I am now back in Dubai and reminiscing about our time together and there is a feeling of nostalgia for the simplicity of your modern nature paradise. Spending time at your home and communing with the natural elements in such a raw way is such a profound experience for a city dweller like me. You have managed, with much work, ingenuity and dedication, to bring all the elements of modernity to your home in the midst of the rice fields and are successfully, and sustainably, mediating the handshake between nature and technology. The guest experience: Extremely comfortable bed, beautifully and comfortably decorated room with interesting artefacts from Wendy and Buddhi's lives and travels. The room is well lit and looks on the garden from two angles. The guest has their own entrance and a couch outside on the porch. Towels and a tooth brush as well as a shower cap are provided and full kitchen access. The nearest shops are about 5 minutes walk and provide for basic needs. The lake side area is about 15-20 minutes walk and the walk is quite pleasant. The entire common area (bathroom, kitchen, porch, garden and living room) are clean and aesthetically pleasing. Buddhi and Wendy have a taxi friend they work with, he is really nice and charges reasonably, they also helped me with my mounting laundry, it was well cleaned and reasonably priced. The entire premises is bathed in a light energy, perhaps emanating from the owners themselves. Highlights of my stay: Listening to the symphony of night creatures from my room. Falling asleep as the fire flies dance above of my head. Laughing and exchanging experiences on the porch as we sip on cocktails. The lovely organic feast. Lemon water s beautiful views of the lake. Buddhi and Wendy helping me retrieve my lost tablet! (thank you thank you!). I have made lovely friends on this trip, and for that I am thankful. Love and warmth, Barack.
Response from Buddhi & Wendy:
Namaste Barack, Wow...We are swimming blissfully in the description of your experience! Breathing in Love and Exhaling Gratitude for such precious time spent! Thank you for embracing and excepting the beauty of nature whilst here in our home. As you mentioned; living at one with nature amongst the elements is a profound experience that we too are gifted daily. It takes a special kind of someone to step aside and live with appreciation, grace and respect-even if only for a few days- and you were indeed that and more Barack! From morning yoga in the garden with Prudence, chickens and company, outdoor showers, evenings spent outside with fire flies, mozzies, geckos, crickets, a night time bathtub dip, a shared traditional Dal Bhat meal, a trusty passenger on a scooter ride, walking through the rice paddies and more! Not bad for a proclaimed "City Boy" Barack! . It makes our hearts smile to know that we were able to contribute to your over all experience here in Nepal. The laughter shared is what will be remember and more importantly - that you arrived as a guest and departed as a friend! Our door is always open to such beautiful energy! See you when we are looking at you! Namaste with Love, Buddhi and Wendy
---
"Having the privilege to stay with Buddhi and Wendy on my trip to Nepal was an absolute miracle. After a crazy first few weeks in Nepal, staying at Buddhi and Wendy's offered me the peace, freedom, relaxation and joy I so desperately needed! My dear friend, Cam, surprised me with the booking to stay at their home and it ended up being just what was needed! So very grateful Cam! Buddhi and Wendy are open, warm, comfortable and giving. It is immediately evident that they open their home and lives as a beautiful gift to others. One of their many gifts! Furthermore, they are professional and made me feel comfortable right away. The home is a gem; beautiful, clean and a unique jungle getaway! I so enjoyed the time spent in the garden, listening to the birds, watching the fireflies at night, hanging out with Prudence (one inspired pup), playing cards and spending time with Wendy and Buddhi learning about this fantastic couple! Thank you guys so much for making my trip to Nepal even better than I could have imagined. -Jessie".
Response from Buddhi & Wendy:
Namaste Jessie & Cameron, We would like to express to Cam how wonderful it was to be a part of such a lovely surprise for your dear friend Jessie...truly a blessing to deliver such a message and experience her overwhelming joy! Breathing in Love and Exhaling Gratitude! Jessie, to meet a fellow Canadian as wonderful as yourself was a gift. Buddhi would like to extend a special thank you for guiding him through some great exercises that he has been implementing daily. We look forward to our paths meeting once again. Cheers to the onward journey with love. Namaste Wendy and Buddhi
---
Buddhi and I met for the first time in this very house after I had traveled here to rent. He came to check in on me and as one would say -the rest is history! I am Canadian and Buddhi Nepalese.

Buddhi is a Paragliding Pilot for one of the very first Paragliding Companies established here in Pokhara -"BLUE SKY PARAGLIDING"

He begins his day by traveling up to Sarangkot where he was born and raised- with tourist that are filled with the excitement of flying high over mountains, the lake and numerous villages, not unlike the one that he grew up in. And if your lucky you might just encounter a fly by and shout out "Namaste" to his father at the age of 76 working the field as you glide above.

Buddhi has visited a number of countries; open minded he sits quietly observing and taking in what others have to offer.

Imagine my surprise after traveling more than 30 countries finally to arrive in Nepal to my home and future. Not only have I traveled over land, but was employed for over 10yrs on the Sea. Traveling the oceans and arriving by port! So to proclaim you live in a land locked Country and are at the top of the world is something else!

We look forward to discovering all you amazing individuals that are on your own journey and share with you our little bit of paradise!




Languages:
English, Español, Hindi
Response rate:
0%
Response time:
a few days or more
Explore other options in and around Pokhara
More places to stay in Pokhara: