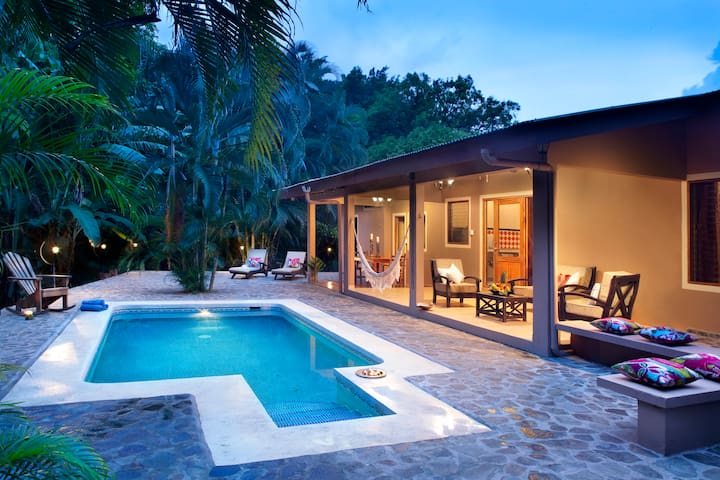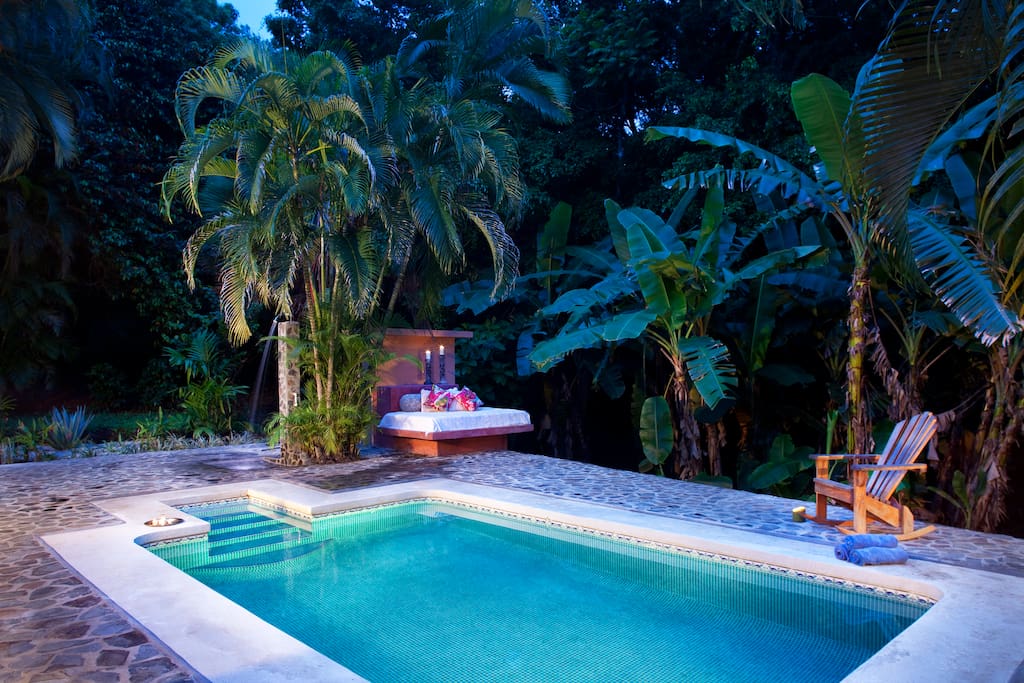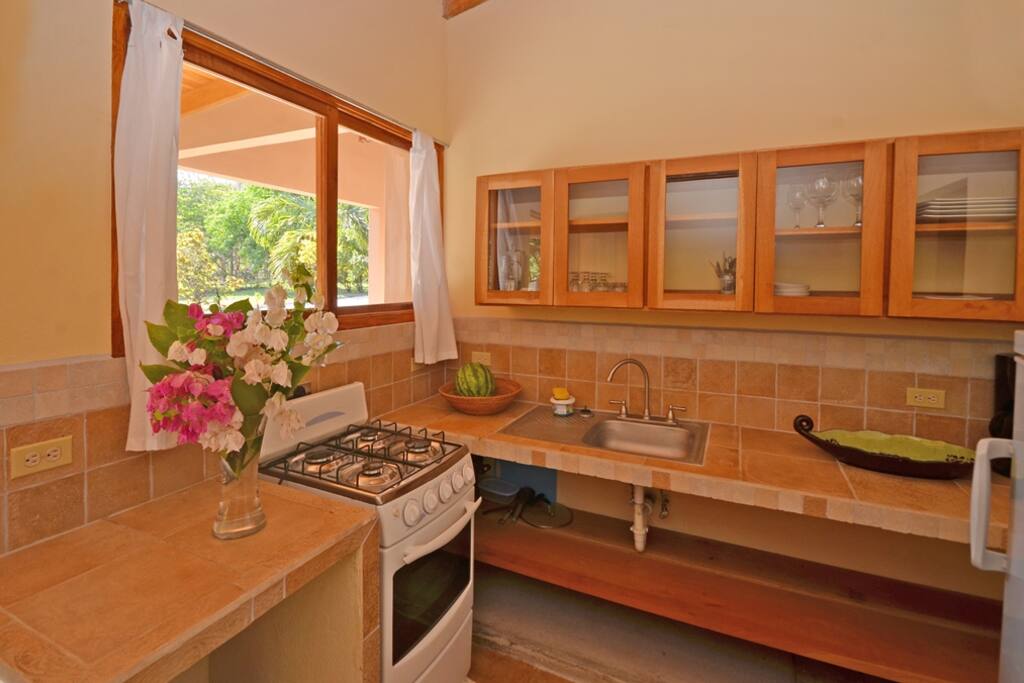 The Finca Austria ist situated at the River Nosara, 6 km off the beach. You can combine here western standard accomodation with jungle feeling.
We recommend a 4 wheel drive car for exploring the surrounding.
The space
Finca Austria, combines sports and adventure with nature, relaxation and culinary spoiling. To enjoy all these wonderful offers, you can rent single rooms as well as the whole villa.
The unit offers a kitchen and a bathroom and 2 seperated bedrooms. In the outside are there also is a Rancho where you can enjoy the view on the River Nosara.
In the rainy season, with some luck, you might get a glimpse of a small crocodile taking a sunbath on the river shore.
Just keep in mind, that you are 3 km off the village. The shortest way coming there is through the river (not during raining time). From Samara to Nosara (and to our finca) is a graveled road.
Our guests are - except for a cleaningladie´s visit - completely private.
The official town center is located 6 km inland from the beach. Within "Nosara town" is the market, pharmacy, post office, churches, school, police station, David S. Kitson public library and Red Cross clinic (Nosara lacks a hospital facility). There is a Banco Popular branch located in the small commercial area near Playa Guiones.
Other things to note
Just keep in mind: Here we have a quite good western standard, but you are in Costa Rica. From Samara to Nosara (and to the Finca Austria) is a graveled road, the shortest way coming here (from Nosara) is driving through the river.
It takes you about 10 minutes to get to the town, but here at the finca, you are on your own.
---
---
Always communicate through Airbnb
To protect your payment, never transfer money or communicate outside of the Airbnb website or app.
Learn more
---
---
2 nights minimum stay.
From Dec 23, 2017 - Jan 02, 2018 the minimum stay is 7 nights.
---
The place was great. We enjoyed the pool and it was a quick drive into town. George was very helpful with everything we needed.
Response from Finca Austria:
Hello Joseph! Although we didn't meet, George told us you have been really nice guests and enjoyed our pool and barbeque beside the house after beach days. We are happy that you enjoyed your holidays at our house. Joseph and his friends (2 couples) also left the house in a good condition. He is always welcome again!
---
Finca Austria is very special and immersive place to stay while in Nosara. The grounds of the Finca are extremely well kept and lush; one truly feels as though they're in a jungle paradise. The small cottage was part of a one level home that is split into two separate spaces. The other space is larger and was accommodating a family of five while my boyfriend and I stayed in the smaller half. Our space included a kitchen (four burner stove, refrigerator, utensils and cookware), two bedrooms with queen-sized mattresses, a shower and sink area and a toilet in a small closet. The inside decor and bedding is by no means fancy, but practical and clean (although they had beautiful vases of flowers). The backyard was really the paradise. The pool was small but adequate and cleaned often. The back dining spaces were lovely with one long table for the larger cottage space and a four seater for us. From the dining table we saw howler monkeys, white-nosed coati, oppossums, and many birds. Palm trees and lush vegetation surround this backyard area. From there, there is a wooden walkway/bridge that leads to my favorite part of the backyard: the gazebo. There are two hammocks to sit on, a side table, and a beautiful view of the Rio Nosara. This space is great for morning yoga, stretching, meditation, or just morning coffee or tea. Chris was very kind and made sure we were comfortable, however we asked for a blanket in addition to the sheet and were never able to get one. Otherwise, he was great with booking excursions and answering our questions without being overly present. The downfall (or positive, depending on how you look at it) is that the Finca Austria is further away from the center of town and reached only by fording a river and traveling on very twisty and bumpy roads. At first this was very wild/exciting/annoying to my boyfriend and me, but became part of our daily routine. If you want super close access to the beach and tiendas super close by, this won't be a good fit. If you desire privacy, an abundance of nature and a place off the beaten track, I highly recommend. Thank you so much Finca Austria for a great visit!
---
Finca Austria was a wonderful place to go for our honeymoon. We stayed in the cottage and it was secluded from everything. The cottage was beautiful, equipped with our own pool and private gazebo overlooking a river. We were about 25 minutes from the beach (Playa Guiones) and about 15 minutes from downtown Nosara. The area itself was very quaint and although we were there during the slow/rainy season (October), there was still plenty of places to go and visit. Something important to note: there are no paved roads in Nosara and things can get a little bumpy (actually, a lot bumpy). However, after our first night, we got over this characteristic and viewed it as a pretty quaint feature to the area. Overall, we loved out time at Finca Austria and Nosara and would recommend it to anyone who wants to get away from a busy hotel/resort and relax.
---
We had a lovely stay at the Finca Austria's small cottage this December. It was a clean and new (and well designed) two bedroom with a small kitchen and bathroom. Chris was super attentive and generous. Having said that I was under the impression that we were staying in a remote cottage that on the same grounds of a larger house/hotel with more amenities, but rather is a very remote house. Maybe staying at the larger house up the hill would have offered that experience. That said, the small cottage is a great place for a vacation where you want to be very disconnected from the rest of the world, in fact you have to ford a river (albeit small) with your car (definitely get a small SUV) which was a fun part of the daily experience. There is a beautiful footbridge to a rancho which overlooks the river, which is the perfect place for a hammock/coffee/bird listening in the morning. It is about a 20 minute drive from the center of activities in Nosara (Coconut Harry's etc). Also, note that it is a bit difficult to get there your first time at night, but eventually is fine once you have done it a couple of times (Chris met us the first time to show us the way). Would definitely consider it
---
Come... here... NOW!!! God, this place is amazing. Full privacy, vibrant sounds of nature free from the noise of cars, the beautiful sound of the river as you're rocking in the hammock... It's just HEAVEN!!! Now let's make something clear: This is NOT your place if you're looking for crowded beaches, an intense bar scene or pampered luxury with perfect highways. Nosara is pretty secluded, and the roads to get here aren't good (a tall car is a must, but 4x4 is probably not necessary) And this place is awaaay from all the rumble. That's what makes it FANTASTIC!! You can still get to a supermarket, drug store, and ATM in a few minutes of driving, so you're definitely NOT abandoned in the rainforest. But it sure feels like you're all alone with nature =) The back side of the cottages share a pool and that gorgeous ranchito you see in the pictures. You'll feel like you just landed on a magazine about luxury retreat spots. I booked 2 nights, and ended up extending that to 4 NIGHTS cause I just didn't want to leave... I still wish I was there... Look, I love nature, I love the beach, I love the rainforest, and I love my country's natural beauty (I'm a tico). I will always enjoy a place surrounded by nature!! But it's very rare for me to be WOW'd. I travel all over my country, I've seen a lot, and I enjoy it all. But this place managed to do something that hasn't happened in a long time: It SURPRISED me. The photos look amazing, but I had NO IDEA that this place would FEEL like that. It's the ultimate RESET button to ground you and return you to your core being. You'll forget your job, your worries, your responsibilities and your insecurities. Finca Austria is the perfect cleanse and re-boot. And the service was SPECTACULAR!! Both Barb on AirBnb, and Chris the on-site manager were SUPER nice the whole time. Chris goes above and beyond to make sure you have everything you need, and he's as nice as they make 'em. Most people in Nosara are super nice and balanced, by the way. But Chris made sure everything was amazing and received any change of plans we had with a huge smile on his face. He checked in every day and gave us his phone number to make sure we never felt abandoned in the rainforest. Beautiful people that will take care of you, whatever it takes. Thanks you two!! I will DEFINITELY come back here again. Guaranteed. That ranchito is still calling me in my dreams... Like I said in the beginning: Come... here... NOW!!! ;)
---
D'abord, il faut savoir que la Finca cottage small est la plus petite partie de la Finca cottage. Que les deux parties sont attachées et qu'il est possible, lorsqu'on a la loue, de devoir partager la piscine et la terrasse avec d'autres locataires. Aussi, la villa est située très loin de Nosara: à 4 km du village et il faut traverser une rivière à chaque fois qu'on veut quitter la villa pour aller au village ou à la plage. Bref, c'est un endroit agréable situé en pleine jungle, mais complètement isolé.
---
The Finca Austria is a 60 ha big landscape, which is hidden beside the Nosara river 6 km off the beach.
There are two parts of the finca, the flat part, we call it "Riverside", where you can find the houses "Mango Cottage" and the "Jungle Lodge" and our "Oceanview" up the hill with the villas "Casa Colibri" and "Villa Mariposa".
The Finca Austria can be used for example for family reunions, training camps, sport events, meeting friends and nature lovers. There is really enough space and you can watch animals and birds without walking too much.
Our soccerfield, tenniscourt and running lap is in good condition.
You will meet here nature accomanied with western standard abroad from the dust near the coast.
When you come here the first time, you will be surprised by the road, our short cut leads through the river during dry season. We recommend a 4 wheel drive to explore the surrounded nature.
Languages:
Deutsch, English, Español
Response rate:
100%
Response time:
within a few hours
Explore other options in and around Nosara
More places to stay in Nosara: