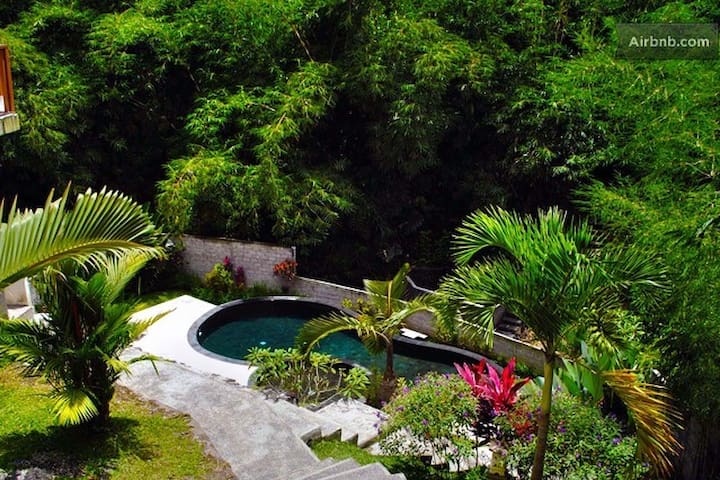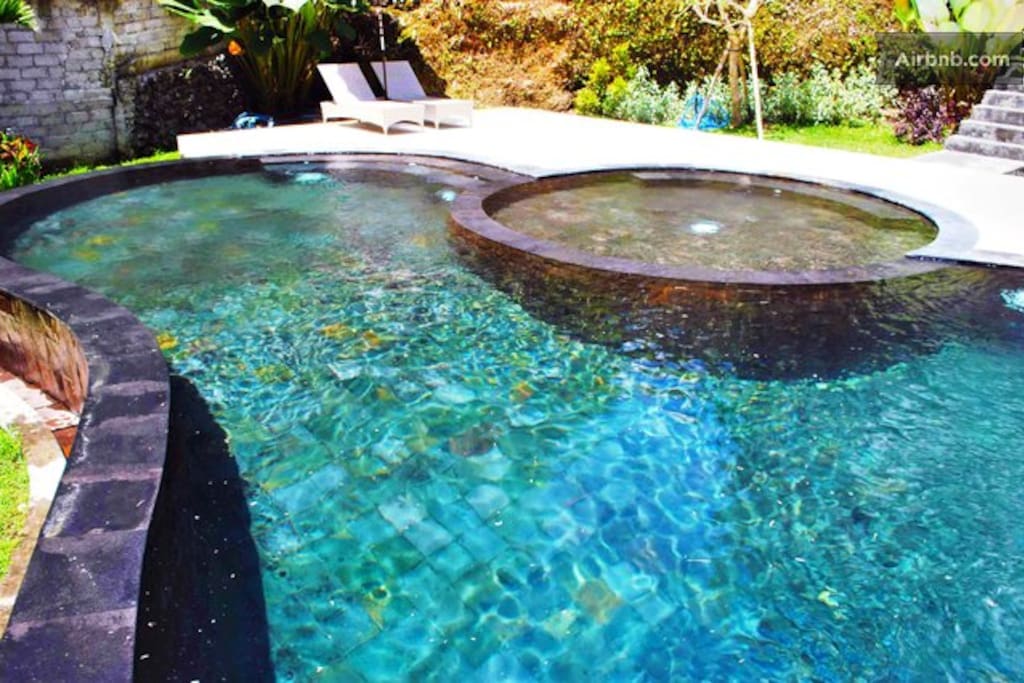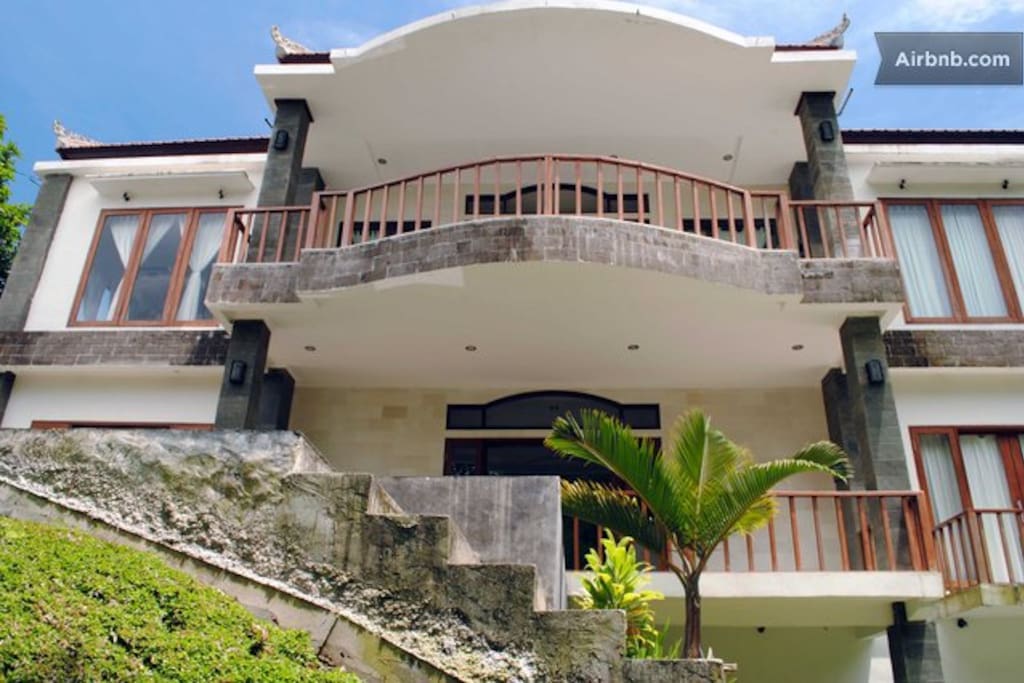 Enjoy a giant one of a kind master suite with magnificent jungle view. Hang out at the private 50 foot pure stone swimming pool or take the short 9 minute walk over to the Yoga Barn for restaurants or Yoga.
The space
This is a master bedroom suite located in downtown Ubud Bali. Super-close walking distance to the dancing events and restaurants in Peliatan at night, a 50 foot pure stone pool to swim in during the day. Walking on marble floors inside or the shaded garden outside, you are secluded yet close to the action and charm only Ubud has to offer. Amazing for a single person or couple. Perfect for a family get-together or group retreat. Make your visit for two weeks or a year. If extra rooms are needed the Villa has accommodations for a grand total of eight with two in each bed. The Villa is just about 7023 square feet total.
Many of our guests will do a quick nine minute walk over for classes at the Yoga Barn. Little reflexology shops do a great hour long foot massage nearby or have our professional Bali masseuse come by when ever you want for a great one hour Balinese full body massage in your room or poolside. All the choices are yours.
We have so many amazing stories of folks getting here and extending their stay due to how nice they feel it is. They just don't want to leave! Truly this is our best complement and lets us know we have done things right.
One of the great aspects here is that everything can be done with a reasonable budget in mind.This has allowed many guests to enjoy long four to six month stays. Many of our long-term health conscious guests found going out and finding super-healthy food and making it at home was the ticket. If you don't feel like cooking and don't want to go out there are a great choice of quality delivery options available.
The Villa is really all about choices and options! You just choose as you go . No need to worry about stuff now.
The best part is you have a clean, quiet and safe home to stay at while your on the Island. You can make your visit really any type of visit you want. Some make it an art purchasing trip, some make it a cloths purchasing vacation while others are getting into that special authentic dancing and music only found on the island of Bali. Some guests make a food tour of the Island!
If just spending peaceful quality time by yourself or with loved ones, you'll not find a better location.
Hanging out reading at the pool has also been popular. Really you decide to make your trip as adventurous or relaxing as you want, all without the busy traffic of staying in an expensive crowded hotel. Days and Nights are quiet and peaceful with only the sounds of the birds around. If it does get too quiet, live music is always being played at a small outdoor club in quaint downtown Ubud minutes away!
Transportation is available directly from the Villa any day for daily adventure scenic drives to any location on the Island. Up to five can enjoy the day together in a new fully air-conditioned tour-van at a super price of $50 usd a day! He is always right on time too!
With many thoughtful design elements there are truly no rooms in Ubud like these. We welcome you to make this Island home your home.
Our housekeeper is a wonderful cook making much of the local dishes for our guests. Seven days-a-week from 8am until 4pm we have great local culinary delights. From a simple Balinese Vegetable Omelet with Potatoes on the side for breakfast, to exotic spicy Sumatra food for lunch or dinner, the choices are truly fantastic. The Chicken Curry with Potatoes is some of the best I have had in competition with many of the finer restaurants in downtown Ubud. The list of exciting authentic dishes to try is staggering. The addition of local spices can be dialed in also, making the food perfect for any one palette. We are also really into obtaining much of the local fruit on a daily basis. There are unique ripe Green Oranges, Mini Pineapples and a choice at times of twenty different variations of local bananas. Purple Mangosteen is a wonderful and super healthy fruit to try here on the Island. The local traditional market across the street typically has a wide selection of these wonderful fruit items for our housekeeper to buy for you every morning.
It does not get any better than this!
A healthy diet here at the Villa is both cost effective and fun. Local Red and White Dragon Fruit, Snake Fruit and Star Fruit are in season and obtainable a good portion of the year. We have also planted many exotic fruit trees on the property.
The dinning process is actually pretty simple for our guests. You make food choices for the day and the ingredients are purchased fresh for you that morning. You pay just the local prices for the food plus a small tip for the chief. The process results in a win-win situation providing exciting ways to experience the local traditional food in high quality with prices even better than even the local low-cost restaurants. Dinning in is super easy and cost effective as well as super healthy. Truly this is one of the greatest additions to the lifestyle at the Villa and providing an educational and unique dinning moment at home if you decide not to go out.
All and all we feel we are offering a very flexible and complete Bali experience, perfect for folks new to the Island or the seasoned return guest. We welcome you to enjoy some of the best Bali Island has to offer. Let us know what your needs are, and we will do our best to accommodate your stay.
Other things to note
We do have two very small and friendly dogs. You may see them on occasion.
Laundry is done by a wonderful sevice, as much and as often as needed.
Bed sheets and towels can be washed anytime with our housekeeper taking them to the laudry and instantly putting in replacements. Washing of small things can also be done by hand within the villa. Typically the guest laundry comes out to anywhere from $15-$25 extra per month with all needed laundry needed included in the extra expense.
As of November 2016 we have upgraded to fiber-optic internet offering non-stop 30MB a second Wi/Fi.
---
Check In: 2PM - 12AM (midnight)
---
---
Always communicate through Airbnb
To protect your payment, never transfer money or communicate outside of the Airbnb website or app.
Learn more
---
Not safe or suitable for children (0-12 years)
Check in time is 2PM - 12AM (midnight)
There is no smoking inside the house. Many areas on the decks adjoining the rooms for smoking.
---
Strict
Cancel up to 7 days before your trip and get a 50% refund. Cancel within 7 days of your trip and the reservation is non-refundable.
---
---
Just finished staying here for the last month. The accommodation surpassed my expectations. Sak Ming and Gregory were such lovely people and wonderful hosts to my mother and I. They were always there when we needed and willing to help us in any way they could. They made us feel right at home and went above and beyond on so many occasions...even invited us to a local wedding! Truly, great hosts. The room itself was beautiful and spacious with a fantastic view of the backyard trees and gardens - lush green all around. The pool is perfection on a hot day. I loved the proximity to Yoga Barn and quiet 'real Bali' feel of the neighbourhood. Dayu, brought us a beautiful breakfast of fresh coconut water and vibrant fruits every morning. She also cooked me beautiful vegan meals whenever I asked; although her English is minimal, her non-verbal communication skills and comprehension are quite developed and she's quick to understand, I never found communication with her difficult at all. She was such a blessing. I'm so glad that I chose this spot for my mom and I, as it was perfect for us. A little bit of a walk (15ish) into town, but the trade off is the quiet you get being away from the bustle of the traffic - so I really didn't mind. I'm sad to have left and hope to be back again soon! Would absolutely recommend!
---
Pros: My stay with Greg and Sak Ming was lovely. The house was as I imagined. They were always friendly and supportive if I needed anything. The house is well located, outside of the city, but close even to walk. Although, after a week it was really tiring to walk, so scooter is a great option to go around. The views from the room are amazing, susets too. My favourite location was the terrace upstairs, where the internet works the best. Dayu is super sweet and helpful. She will really increase the quality of your stay. Improve: For my learning, I'd prefer that the place has more organic and environmental approach. I'm pretty sure what's used to clean the pool are chemical - probably like most of the pools in Ubud. Also the neighbours spray a very toxic gas to eliminate mosquitos. Greg said they do not have control over it. Well, good thing there are no mosquitos. The sustainability and environmental things are something to think about in future, as more and more people start awakening. Internet is not good in the room, but it did not bother me so much. I got a device to use by Greg, but it was just too complicated to always connect on it. The swimming pool can be dark sometimes due to the trees and sun's there until 4pm. But the atmosphere around the pool for sure compensates, it's beautiful and there's a beautiful biodiversity to be spotted. I fully recommend the place, hosts and Dayu.
Response from Gregory And Sak Ming:
Well, we're truly happy you enjoyed your stay. But................. Interestingly our new guest in the exact room at this very moment is enjoying perfect internet. If you read all 53 reviews we have, the internet is 100% percent perfect, as we have zero bad reviews about our internet anywhere in the villa or even poolside. You are simply the first here to experience internet issues. I included that extra device to help you overcome your internet issue, it's simply a mobile router which has a simple 7 number code, which goes on with a push of one button; the code stays memorized in your computer which finds it everytime. I'm confused you never mentioned your issues with the router until writing our review here? Our pool is actually the most enjoyed part of the residence, if you read all the past reviews? We use very little chemicals and the pool man comes every other day. Our pool is actually a minimal chemical pool, which requires a very special style of every other day professional attention to maintain the low use chemical balance. The chemicals used are the same as all over the world, but in lower but perfectly safe amounts here at the villa. The small percent of pools built which don't use any (zero) chemicals at all have a fresh underground spring consistent water supply filtering past the land or an organic sea salt water pool. This different pool water methodology is only in use in 1% of pools around the world, and expensively hard to maintain or geographicaly special. Interestingly the crystal clear pool is something we are very proud of and have worked very hard to achieve. I personally never go swimming in any other pools being spoiled by the perfect water in ours. The water is emerald blue only because it's 100% clean. You need to research about how pools are maintained before becoming critical about your vacation destination, you may have a better vacation? Funny you never asked about how the pool was maintained, but remark about it now only after your trip? We could have helped to try and educate you on how we maintain the pool, how the process is actually better and safer than normal. I understand your environmentalist ideas and commend you for wanting to change the world............but. Here we are trying to run a business the safest and best of way possible. We have done the research and feel we offer the best and healthiest villa experience in Ubud. The spray you talk about is used all over Indonesia, your bringing up an occurance which was maybe a 5 minute spray during the month you were here and it was across the valley at a neighbors, and not a situation in our control. That same spray is perfectly safe as far as we know and used inside all restaurants and homes in Indonesia and Malaysia. We use zero insecticide inside our home as we have many of the same environmental concerns as you. I'm sorry you felt your walking distance was slightly too far, as it could be for someone looking to travel all the way across Ubud. We are a 15 minute walk to Monkey Forrest Road; the center of town. We are a slight 9.5 minute walk to the Yoga Barn, where 50% to 70% of our yearly residents go. We hope to have you as a guest again and did truly enjoyed your presence as a person. Hope you understand my response to your review is in fact simply a window into our reality and find that we too would like to make the world a safer and more enjoyable place to exist in.
---
This house was just perfect for a longer stay. Great value for money really spacious room and bathroom. Beautiful view gardens and gorgeous pool all to yourself. Sak Ming and Greg understand the perfect balance of being available to help you and giving you privacy, great local advice and I really loved the area. I felt very safe to walk around, even return home after dark, lovely families surround the area and people are welcoming. So close to yoga barn and a nice distance from town. Dayu the housekeeper was also always available to clean your room or arrange clothes washed and made us delicious dinners which was easy to arrange. The other people staying were also lovely, I felt safe and nurtured here truly a haven in hectic ubud! Would love to stay again, I highly recommend this place!
---
This house is an amazing deal. It's gorgeous with a nice view in the middle of Ubud. Gregory and Sak Ming are amazing hosts and are available to help out with all sorts of stuff. The location is close to Ubud, although not right in the middle of town. It's about a 5 minute motorbike ride to anywhere I want to go.
---
We stayed for 5 weeks in the upstairs room. I'm glad we made that choice as we felt we had more privacy up there not being adjacent to the kitchen where the housekeeper and the night guard would usually be. We had no furniture on our balcony (I did see furniture on the other balcony's though) and we didn't bother to ask for it, as we were able to use their private balcony upstairs which was lovely! We enjoyed some late nights outside there. What's also nice is that they spray against mosquitos in the garden regularly so you can sit out there itch-free! We had a night flight in and they were helpful in arranging a taxi to pick us up, which was nice not having to figure that out after 24 hours of traveling :) Greg was waiting for us at the house at 2 am in the morning. Despite it being night, he took the time to welcome us in. Throughout our stay they were helpful in providing us with information, renting a scooter and such. We enjoyed our stay and I recommend it as good value for your money. A few things I will mention as feedback below, as I wish I would have known them prior to booking, to be better prepared as to what to expect. Both the bedroom and the bathroom are large and spacious, which is nice. The air-conditioning works great too and the noise of roosters next-door didn't bother us at all. Though there was a bath, I was really disappointed that we could not use it. Technically I could have, but the bath is so enormous that filling it would have taken 45 min (according to Greg), which I think would have depleted the water supply for the rest of the house, and the bath would have been cold by the time it was full. After a few days, we found out that towels are not really part of the deal: we were given 2 and had to take care of getting them washed ourselves. Not a big deal, but since we didn't know, we came without our own towels in our suitcase. In the end they provided us with 4 towels, so we could rotate them getting them washed at a laundry-place just down the road where we got our clothes washed as well (it costs little to nothing to have this done in Bali). Dayu, the housekeeper, is indeed a sweet lady and she cooks a wonderful meal, but we found it very difficult to communicate with her as she speaks no English at all. As often in Balinese culture, they will say "yes" even if they don't understand... I tried even with (SENSITIVE CONTENTS HIDDEN) translate, but it just did not work. As a result, we had quite a few misunderstandings and, in all honesty, we just got tired of having to deal with it or having to ask Sak Ming to translate. After a while, we just decided...
Response from Gregory And Sak Ming:
Hi Anna, Wow, thank-you for your nice review. The bath works perfect. It does take about 15 minutes to fill up, but works fine. It does not use up all the water. It may use up the hot water, but that is heated-up again in 10 minutes. You didn't even try to use the bath? I wish you would have asked us more about it, so we could have gone and showed you how to use it. Funny we talked so much about so many other things but you never asked about the bath till now? Glad you enjoyed the larger outside balcony. Again, we would have been happy to get you a chair or two for your balcony, still you did not ask? The chairs there became weathered and in fact we are just getting around to replacing them so that room has outside chairs, just like the other rooms. Again an easy fix for us, if only we would have known. Glad you had a great time and thank-you for the feedback so we can improve. The amount of towels is just what we have provided all these six years with not a single complaint or question from other guests. Though that is a good idea, maybe we should provide even more of them? Dayu is such a great help that we thought her English was not an issue. All of our guests have thought she was just the best. We would look into getting a replacement but don't think we could ever find such a great cleaner and cook. Still thank-you for your pointers, we will study your ideas and make changes if we see fit.
---
I had a really nice and relaxed stay at Gregory and Sak Ming's place. They were both incredibly nice, friendly, and helpful. They helped when I needed a car, to rent a scooter, to renew my visa, etc... In addition, the room and bathroom were very large and comfortable with a nice view of the pool and surrounding jungle and creek. A/C works really well too. The house is in a great central location in a nice Ubud neighborhood with families and children out playing... which is nice being away from the hotels and tour buses. The internet worked really well and very fast about 80% of the time, and slow but functional the other 20%(of course it slows down when there are more guests staying). But I didn't need to take my computer to a cafe to work... so that was good. They also have a really lovely helper, Dayu, who would cook for me sometimes and kept the place really nice and clean. I was sick for a bit during my stay and she made me ginger tea and dragon fruit all the time which was really great! There are some loud chickens next door, but rarely will you find a place in Bali that does not have chickens nearby. (Ambient chicken noise is a part of living in Bali) Oh, and of course the pool is really great. Wish I had made more time to swim in it. Thanks Gregory and Sak Ming!!
---
We try and keep things simple and quiet. We offer our guests friendly smiles and advice about making the most out of their special visit to Bali.

Our goals are to always be improving, making the yard nice or working with the staff to make things one notch better.
Response rate:
100%
Response time:
within a few hours
Exact location information is provided after a booking is confirmed.
Explore other options in and around Ubud
More places to stay in Ubud: