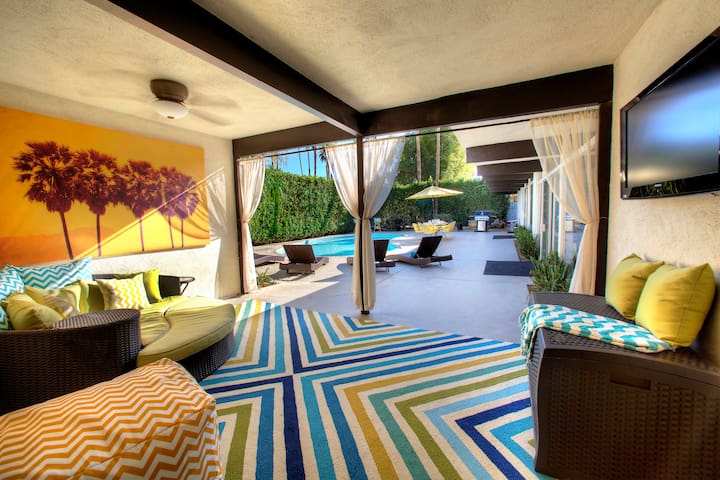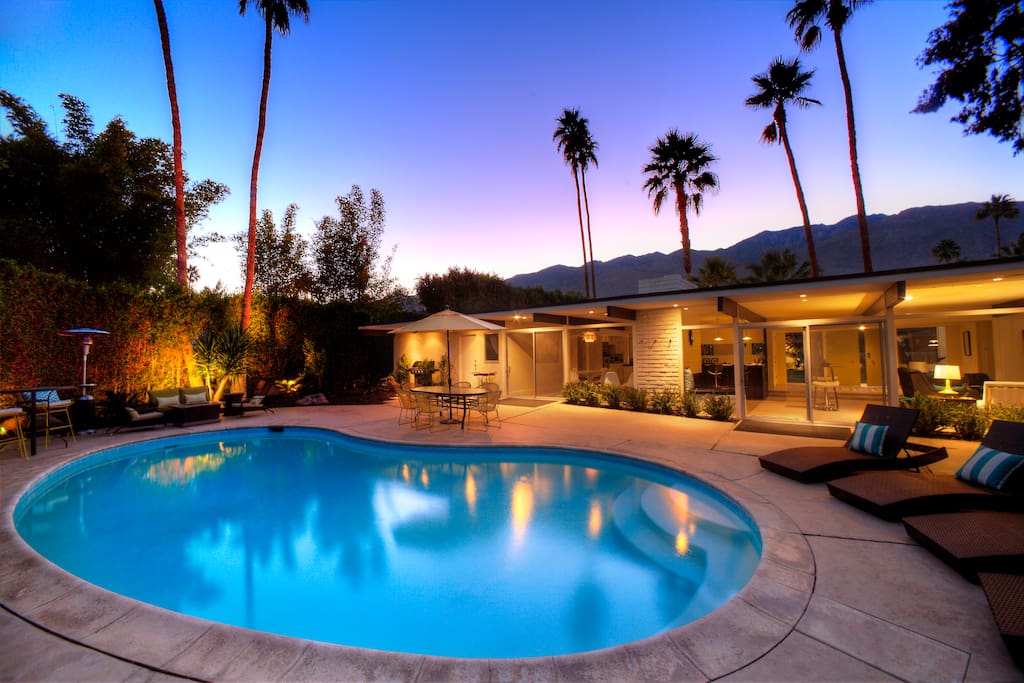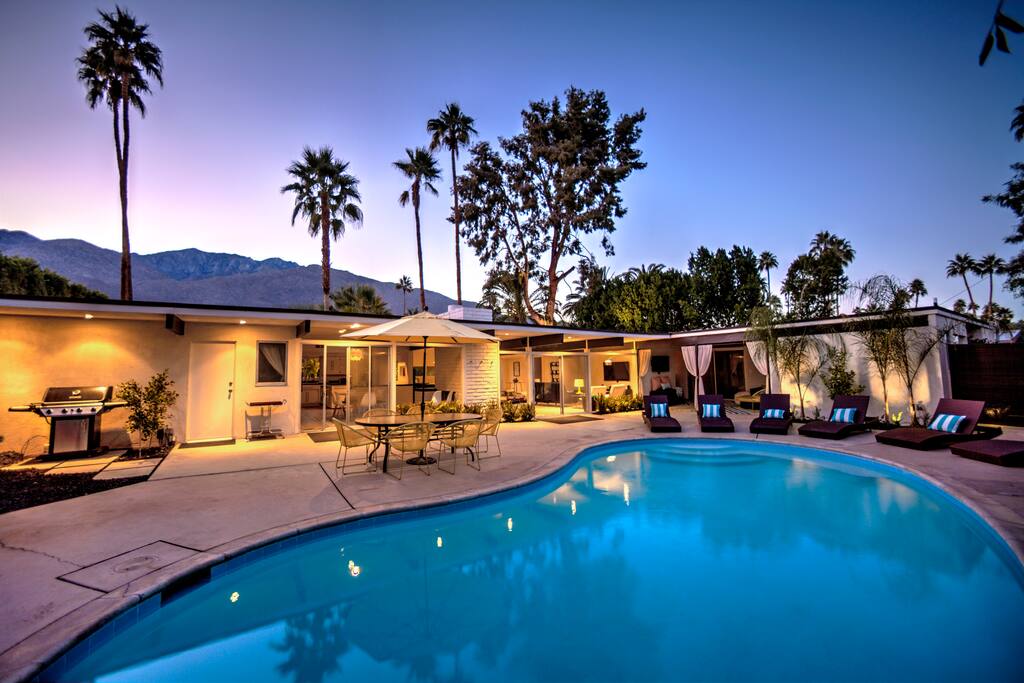 About this listing
The Wexler House was recently featured on Refinery29!
Experience a doorway to the '50s, The Wexler House greets visitors with a dramatically expansive floorplan, beautifully curated Midcentury Modern interiors, and an outdoor living space boasting a private cabana and heated pool. Designed in 1959 by Donald Wexler and Richard Harrison, this 3,147 sqf 4b/3b villa is located in the prestigious Deep Well Estates located 4 blocks from the Ace and Saguaro hotels.
The space
The Wexler House was recently featured on Refinery29!
Experience a doorway to the '50s, The Wexler House greets visitors with a dramatically expansive floorplan, beautifully curated Midcentury Modern interiors, and an outdoor living space boasting a private cabana and heated pool. Designed in 1959 by Donald Wexler and Richard Harrison, this 3,147 sqf 4b/3b villa is located in the prestigious Deep Well Estates located 4 blocks from the Ace and Saguaro hotels.
Like the man himself, Wexler's buildings chronicle desert modernist beauty and intelligence. His classic designs include The Spa Resort & Casino, The Dinah Shore Estate, The Palm Springs International Airport (1966). The Wexler House is a featured property during Palm Springs Modernism Week.
Rest, relax, and enjoy our 4 bedrooms sporting luxury interiors, Beverly Hills Hotel mattresses, and quality linens. The vast living area offers a 70" LED Display, DirecTV, Apple TV, and HiFi Denon surround sound system with a MusicHall Turntable and an assortment of midcentury era vinyl. The beautiful fireplace and original Mad Men themed bar compliment the living and dining area showcasing the open floorplan.
The Wexler House patio is enclosed with a beautiful hedge for maximum privacy, a sparkling renovated pool, lounge chairs for 8, firepit to seat 4, and an outdoor dining set to seat 6. Off the master bedroom leading to the pool is a private cabana, complete with a 46" Display, Apple TV, DirecTV and daybed.
Master Suite: California King Bed
Suite 2: California King Bed
Suite 3: California King Bed
Suite 4: Two Full XL Beds
Experience the ultimate Palm Springs retreat.
$349 cleaning fee
Inquire for small pets
Pool Temperature Options:
65 degrees: Complimentary
85 degrees.: $45/d (most popular)
95 degrees: $65/d (spa-like)
11.5% TOT tax applied to reservations shorter than 29 days. Will be applied on top of published rates.
Checkin: 4:00pm
Checkout: 11:00am
Maximum Guests: 8
Maximum Daytime Occupants: 12
Maximum Vehicles: 4
City of Palm Springs TOT Permit #: PS6227
Interaction with guests
Our onsite management team will be available for any maintenance related issues that might arise.
---
This listing has essential business travel amenities.
---
Check In: Anytime after 4PM
Room type: Entire home/apt
---
---
Always communicate through Airbnb
To protect your payment, never transfer money or communicate outside of the Airbnb website or app.
Learn more
---
Check in is anytime after 4PM
Short Term Vacation Rental Agreement
1344 S. Calle De Maria, Palm Springs, CA 92264
Occupant, by confirming a reservation, acknowledges and agrees on behalf of occupant and all overnight and daytime guests of Occupant as follows in addition to terms described on the listing website which are incorporated herein (collectively, all such terms are referred to herein as "Agreement"):
1. SHORT TERM VACATION RENTAL: Occupant rents for vacation purposes, the real property, improvements and furnishings described as 1344 S. Calle De Maria, Palm Springs, California 92264 ("Premises"). The Premises consists of 4 bedrooms and 3 baths, a pool, and includes fixtures, furnishings, personal property and equipment. Occupant is renting the Premises as a transient lodger, for an agreed period of days ("Term"), unless sooner terminated as provided in this Agreement. The Owner (described in Section 30), Kirkwood Collection as Owner's agent and representative, and Acme House Company ("AHC"), as managing property agent for Owner and Kirkwood Collection, retain full legal, possessory and access rights at all times. Owner reserves the right to require Occupant to consent to and sign a different long-term rental agreement for longer-term occupancies.
2. RENTAL AND DEPOSIT PAYMENT TERMS: After you submit your requested dates online, you will be asked to confirm review of rental terms and conditions. Upon confirmation, a request for payment ("Request for Payment") will be generated and submitted to you via email. The Request for Payment will confirm or adjust available dates of the reservation ("Arrival Date" and "Departure Date"), itemize the reservation rental total, taxes, fees and deposits ("Rental Amount"), and provide a link to online payment. Your reservation will not be considered booked and the calendar blocked until ALL of the following are received by us:
a)50% of Rental Amount ("Rental Deposit") if reservation is made more than 21 days prior to check-in date, with the balance due 21 days prior to the Arrival Date. The full Rental Amount is due upon reservation if made 21 days or less before the Arrival Date. Failure to pay the balance of the Rental Amount will result in cancellation of the reservation.
b)Your email confirmation of review and acceptance of terms and conditions set forth in the rental listing and herein.
c)A copy of Occupant's government issued identification (required by the Vacation Rental Ordinance).
Type, purpose and amounts for deposits are as set forth in property rental listing (collectively, "Deposits"), may change from time to time, and are not in under any circumstances intended to serve as a limitation of liability of any Occupant or guest or a limitation of damages recoverable by Owner, except as otherwise specifically set forth herein. In the event any check is returned NSF or a credit card charge declined or subject to charge-back, Occupant shall pay the greater of $25 or the actual charges incurred by Owner, as a fair and reasonable estimate of the costs incurred, and the reservation is subject to immediate cancellation and subject to the cancellation policy in Section 6 below.
3. OCCUPANCY AND GUESTS:
A. Occupancy is intended for the purposes as set forth in Section 1 above for a total number of occupants for overnight use of not more than 8 persons, with an additional 5 guests permitted during the day ("Maximum Occupancy"). Daytime hours are set by the City of Palm Springs ("City") as 7 a.m. to 10 p.m. All adults, children and infants are counted for purposes of Maximum Occupancy. Maximum Occupancy may not be waived, as it is established by the City. Names of occupants to be provided upon request of Owner.
B.Any additional guests staying overnight beyond the number specified by Occupant must be authorized by contacting Kirkwood Collection prior to their arrival. This includes all children and adults. If there are more persons staying or present at the property than the lesser of the number designated by Occupant or the Maximum Occupancy for overnight or day use, or if the Premises are being utilized by any person in a manner inconsistent with a transient occupancy vacation rental, then AHC or Owner in their sole discretion, shall have the right to terminate occupancy under this Agreement without refund to Occupant.
C.Occupant must be at least 25 years of age or older and provide a copy of a valid government issued identification, to rent the Premises. This requirement may not be waived. It is a requirement of the City. By continuing with your reservation and delivering Deposits to Owner, Occupant represents that they are older than 25 years of age and further warrants that other occupants are either over the age of 25, or are accompanied by an adult guardian.
D.Occupancy is regulated by this Agreement and the Palm Springs Municipal Code ("City Code"). The most important parts of the City Code for purposes of this Agreement are the Vacation Rental Ordinance (Ch. 5.25) and the Noise Ordinance (Ch. 11.74). Under the Vacation Rental Ordinance, this Agreement must be signed by a guest who is designated as the "Responsible Person" who is legally responsible for compliance of all occupants of the Property and guests with all of the provisions of this Agreement and the City Code. By signing this Agreement, Occupant consents to be such Responsible Person, legally responsible for all other occupants and guests.
4. ENTRY: Owner, AHC and their representatives and agents have the right to enter the Premises at any time. Generally access is required with little to no notice: (i) for the purpose of making necessary repairs, to supply necessary or agreed services; (ii) to verify that the Occupant has complied with the terms of this Agreement or to investigate disturbances, check occupancy, or check for damages; or (iii) in case of emergency. In the event Owner, AHC or AHC's representatives or agents request to enter the Premises for other business purposes (ex: to show property for sale or rental), attempts will be made to provide reasonable notice.
5. DAMAGE DEPOSIT:
A.The Damage Deposit will be transferred to, and held by Owner. Funds will not be segregated, held in a trust account or accrue interest for the benefit of Occupant.
B.All or any portion of the Damage Deposit, upon termination of occupancy, may be used as reasonably necessary to: (i) cure Occupants' default in payment of rent, or other sums due; (ii) repair damage which is above ordinary wear and tear, caused by Occupants' guests or licensees; (iii) clean the premises due to excess cleaning necessary; (iv) replace or return personal property or appurtenances; (v) pay for any charges related to service visits caused by or requested by Occupant for assistance at a rate of $55.00 per hour; or (vi) for alarm company, false alarm and police charges, or any other expense, fee, fine, penalty or charge resulting from occupants stay.
C.Within 15 working days after Occupant vacates Premises, Kirkwood Collection shall: (1) furnish Occupant an itemized statement indicating the amount of any Damage Deposit (i) received, (ii) withheld and the basis for its disposition, and (iii) withheld pending receipt of estimates or any other bills outstanding; and (2) return any remaining portion of the Damage Deposit to Occupant.
6. CANCELLATION/REFUND: Due to the unique nature of the Premises, late cancellations may result in the inability of to rent the Premises in sufficient time to replace the lost rental income. Any special services ordered on behalf of Occupant, which cannot be cancelled in time to receive a refund, will not be refunded to Occupant. ** PLEASE CONSIDER TRIP INSURANCE – CSA Vacation Rental insurance coverage details is described in the property rental listing site.
A. Cancellation More Than 21 Days Prior to Arrival: ANY RENTAL AMOUNT PAID IS REFUNDABLE. If Occupant cancels or otherwise terminates this Agreement more than 21 days prior to Arrival Date, the full Rental Amount that has been paid by Occupant shall be refunded to Occupant.
B. Cancellation 21 or Less Days Before Arrival: RENTAL AMOUNT, INCLUDING TRANSIENT OCCUPANCY TAX ON SUCH AMOUNTS, IS NON-REFUNDABLE AND CONSIDERED EARNED.
7. LATE CHECK OUTS / HOLDING OVER: Occupant agrees there shall be no unauthorized late check-outs, or holding over. With only a few hours between check-out and check-in, every moment is needed for cleaning the home. If you have an emergency, we will do our best to accommodate you. Please contact us as soon as you are aware of a problem. Absent prior authorization, and without limiting our right as to any other legal remedy, we reserve the right to charge for occupancy of the Premises beyond check-in time at the rate of one and one-half times the highest seasonal daily rate. Occupant shall be responsible for any expense incurred by Owner as a result of such failure to vacate, including but not limited to loss of rental revenue and relocation expenses or concessions for the next occupant.
8. CONDITION OF PREMISES:
A.Inventory: Information regarding individual listings is believed accurate but cannot be guaranteed. We have made every effort to ensure that all the information on listing website(s) is current and accurate. Furnishings are subject to change without notice. Furniture, bedding, mattress pads, utensils or any other property supplied with the Premises must not be taken out or transferred from one property to another. Loss of these items, as well as damage to the property or furnishings in excess of normal wear will be charged to the guest(s).
B. Occupant Responsibility: Occupant shall, upon arrival, examine the premises, all furniture, furnishings, appliances and fixtures, as well as general cleanliness. Occupant shall immediately report to Kirkwood Collection any items that are unclean, damaged or broken. Reporting these issues does not give Occupant the right to cancel the Agreement or receive a refund of any payments made or receive a discount. Any reports of uncleanliness, or damage to premises, which occurred prior to your arrival, must be reported on first day of arrival so that we can attribute the problem to the correct party and rectify as necessary.
C .Emergency Items: Reporting of issues of COMPLETE non-operation of refrigeration and main cooking appliances, HVAC systems, water heating systems, any pool heating equipment, entire interior lighting systems, will necessitate prompt attention to repair. Depending on availability, time of day, weekend, and level of emergency, it could take from 1 hour, to 1 day, to make these repairs. If repairs cannot be made within 24 hours, Owner, at its sole discretion, may, remedy by any or none of the following:
1.Move occupants to a different property that may or may not be owned by Owner and may not be a vacation rental home (for example, a hotel stay may be provided on an interim basis).
2.Offer a full or partial refund.
READ THIS CAREFULLY: In any case of refund, Owner will NEVER refund in excess of the sum calculated as follows: The total number of the days of outage experienced by Occupant times the pro-rated daily rent.
D. Non-Emergency Items: Amenities such as TV's and media, small appliances, furniture, etc, are fixed as quickly as possible, but are not considered emergencies. Any item not listed in "C" above as emergency items are not treated as emergencies. No refunds are given on unavailability of non-emergency items.
E. Owner Promise: Prompt attention to the issue is our responsibility. This home is well maintained, however problems may occur, as they do at your own home. Items may break or fail during your stay. Our promise to you is that we will do our best to rectify issues as soon as reasonably possible after we become aware of the condition.
9. CLEANING: Premises will be delivered to Occupant in a professionally cleaned condition. Upon termination of Occupancy, Occupant will deliver the Premises in a similar condition, less ordinary wear and tear. Occupant will be charged a nonrefundable fee set forth in Section 2 of this contract. This fee is for a general cleaning. If cleaning is heavy, in our sole determination, the extra cost will be documented and may be deducted from the Damage Deposit.
10.PET(S): If evidence of pets are found without prior permission or signed pet addendum, a minimum fee of $500 will be charged to you or withheld from your Damage Deposit, and occupancy under this Agreement may be terminated at Owner's discretion. Any unauthorized pet-caused damage to the home, yard or furnishings will be handled as intentional damage. In the event one or more pets are approved for Occupancy, in advance, by Owner, such pets will only be allowed pursuant to a signed Pet Addendum (provided upon conditional acceptance of pet) and payment of separate rent and/or deposit fees applicable to the pet(s) only. Owner reserves the right to exclude any and all pets or breeds.
11. NO SMOKING: NO SMOKING IS PERMITTED INSIDE THE HOME, OR OUTSIDE THE HOME NEARBY OPEN WINDOWS AND/OR DOORS. Remediation of smoke odor inside the home or any other damage caused by smoking inside or outside the home will be handled as intentional damage, and if evidence of smoking inside the home is found, a minimum fee of $500.00 will be charged to the Occupant or withheld from the Damage Deposit.
12. PARKING: Parking can be an issue for neighbors, and excess cars tend to indicate over-occupancy to both Owner/AHC and the City of Palm Springs. Bringing and parking more vehicles than identified upon occupancy, without prior written permission, is a violation of this agreement, and may result in being required to vacate the premises without any refund of any sums paid. DO NOT BLOCK DRIVEWAYS OR MAILBOXES.
13. UTILITIES:
A. Pricing of Home and Utilities: We hope you picked this property because of the location, the decor, its amenities, and also, because it is a very fair deal. Our concept is to keep rates low, so please be considerate when using equipment that draws a lot of gas or electricity, such as air conditioner and pool heater.
B. Pool Heat: The flat rate for pool heat is as set forth in the rental listing and is based on Occupant's desired temperature setting.
14. RULES AND REGULATIONS: Occupant agrees to comply with any and all rules and regulations that are at any time posted on the Premises, contained in this Agreement or the house manual, or otherwise delivered to Occupant. Occupant is responsible for ensuring that all occupants and guests comply with the same.
15. NO ASSIGNMENT OR SUBLETTING: Occupant shall not assign any interest in this Agreement or subrent any part of the Premises. Any attempted assignment or subrental shall be void and ineffective and shall result in termination of this Agreement and occupancy of the Premises. In the event of such termination, Owner shall be entitled to retain all sums paid by Occupant.
16. UNAVAILABILITY or RELOCATION: If for any reason beyond the reasonable control of Owner or their representatives, the Premises are unavailable, Owner may cancel this agreement. In this event, a full refund will be made immediately to Occupant, of all payments made.
17. OCCUPANT'S OBLIGATION UPON TERMINATION OF OCCUPANCY: Upon termination of occupancy, Occupant shall: (i) give AHC all copies of all keys and opening devices for gates and garage, which were given to Occupant upon arrival or during occupancy, (ii) vacate the Premises and surrender it empty of all persons; (iii) deliver the Premises in the same condition, less ordinary wear and tear appropriate to the duration of stay, as received upon arrival.
18. PERSONAL PROPERTY AND INJURY:
Owners and agents are not responsible for any accidents, injuries or illnesses occuring while on the Premises or its facilities. Owners and agents are not responsible for the loss of personal belongings or valuables of the Occupant or any guest. By accepting this reservation, it is agreed that all guests, including but not limited to Occupant, are expressly assuming the risk of any harm arising from their use of the Premises or others whom they invite to use the Premises.
A.INSURANCE: Occupant's or guests' personal property, including vehicles are not insured by AHC, Owner, Kirkwood Collection or either of their agents, against loss or damage due to fire, theft, vandalism, rain, water, wind, criminal or negligent acts of others or any other cause. AHC, Owner, and their agents, do not insure against personal injury to Occupant, occupants, guests, or licensees, due to any cause or reason. Occupant is encouraged to consult their own insurance carrier to determine coverage prior to occupancy.
B.INDEMNITY AND HOLD HARMLESS: Occupant, for himself/herself, his/her heirs, assignors, executors and administrators, fully releases and discharges AHC and Owner and agrees to indemnify, defend and hold harmless, AHC, Kirkwood Collection, and Owner, and any of their agents, employees, representatives, successors and assigns, from all claims, disputes, litigation, judgments, costs and attorney fees resulting from loss, damage, theft or injury to Occupant, other occupants, guests or licensees, or their personal property, arising out of or in connection with Occupant's use and occupancy of the Premises, which is made, incurred or sustained by Occupant, other occupants, guests or licensees. The foregoing shall not apply to willful misconduct or gross negligence of Owner.
19.JOINT AND INDIVIDUAL OBLIGATIONS: Without limiting the provisions of Section 3.D., above, if there is more than one occupant over the age of 18, each one shall be responsible for the performance of all obligations under this Agreement, jointly and individually with every other occupant, and shall be responsible for any and all persons under the age of 25.
20.AMERICANS WITH DISABILITIES ACT: Due to building codes applicable to residential homes not requiring full handicap accessibility, this home is NOT ADA compliant. Please call us with any questions on accessibility.
21. DISCLOSURE AND WAIVER OF LIABILITY FOR POTENTIALLY HAZARDOUS CONDITIONS: RENTAL OF THIS HOME INCLUDES ACCESS TO RECREATIONAL FACILITIES AND AMENITIES, THE USE OF WHICH PRESENTS INHERENT RISK OF INJURY AND/OR DEATH EVEN WHEN USED CAREFULLY AND IN COMPLIANCE WITH ALL RULES AND RECOMMENDED SAFETY MEASURES. Without limiting any other provision of this Agreement, use of such amenities is subject to the provisions of this Section 21 and Section 18. Read this Section 21 very carefully, and please consider the warnings and other information contained herein. If these amenities are not desired at the home you are renting, or if you are not in agreement with the release of liability in favor of Owner, Kirkwood Collection, and AHC, you must stop here and cancel your reservation. Should you proceed with your reservation, you do so with the assumption of risk of injury and/or death associated with use of the Premises and all amenities and facilities to which you will have access, including but not limited to the following:
A.POOL USE: The undersigned Occupant, on behalf of Occupant and all other occupants and guests during the Term, acknowledges renting a home that includes a swimming pool, and may hereafter include a spa (in which case, the terms "pool" and "pool amenities" herein will be deemed to include the spa). Occupant further acknowledges that they have INTENTIONALLY ELECTED to rent that home that includes the POOL AMENITIES. If a pool and/or spa is not desired at the home you are renting please stop here and cancel your reservation.
OCCUPANT(S) ACKNOWLEDGE THAT POOL AMENITIES CARRY INCREASED RISK FOR POTENTIAL PERSONAL INJURY AND/OR DEATH DUE TO, BUT NOT LIMITED TO, THE FOLLOWING:
1.The inherent risk of drowning associated with immersion in water.
2.The inherent risk of falling injury/subsequent drowning associated with hard surfaces surrounding the pool (and tracked water indoors on hard surface floors) which may become slick because of water on those surfaces, a risk particularly enhanced by horseplay and careless behavior. UNSUPERVISED CHILDREN are particularly susceptible to the dangers inherent in the use of the pool and spa amenities. DO NOT leave children unsupervised for any period of time.
3.The inherent risk of drowning is enhanced by the USE OF ALCOHOL, and such use is not recommended before or during the use of the pool and spa amenities. This home is located in a desert. The effects of alcohol may be enhanced by dehydration and desert heat.
4.Spas can reach temperatures exceeding 98 degrees. Prolonged immersion in high temperatures can result in overheating of the body and subsequent medical complications, including death. Certain persons may have known and unknown conditions that make use of a spa more dangerous, resulting in injury or death.
Occupant(s) acknowledge that neither Owner/Kirkwood Collection nor AHC provides supervision or other protection against the inherent risks associated with pool use, whether by Occupant, their children or their guests, and Occupant accepts full responsibility for the increased level of care and potential injury associated with these amenities. Occupant further acknowledges that DIVING IS PROHIBITED in the pool, which is neither of sufficient depth or design to accommodate diving. Diving will likely result in SERIOUS INJURY or DEATH.
B.FLOORS: Please take care to mop up any spills or standing water accidentally tracked indoors from the pool area. Like all solid surfaces, indoor and outdoor FLOORS CAN become slick and present a falling hazard if water is spilled or dripped on them. Even damp feet and shoes are slippery. Additionally, the pool water contains salts and chemical, which if left standing on house floors and, can stain and etch the floor.
C.STAIRS: Please be aware and remember during your stay that there are stairs down to the sunken living room. Stairs may present accessibility issues and safety hazards. Keep all belongings away from the stairs. Keep all areas around the stairs dry and unobstructed. Use the handrail when moving up or down the stairs.
D.GLASSWARE: A full set of plastic glassware is provided for your enjoyment, please USE PLASTIC SERVICEWARE ONLY when in the pool or the immediate surrounding area. If broken glass accidentally enters the pool, please notify Kirkwood Collection immediately for your safety and the safety of future occupants.
E.OUTDOOR GRILL: If an outdoor grill is provided for your enjoyment, please remember to turn it off when you are finished preparing food. Failure to do so will result in excessive gas consumption and a potential fire hazard. BBQ grills can be extremely hot, both near the grill surface and on the outside and can result in a serious burn if touched. Do not touch any part of the grill with other than an appropriate cooking tool.
F.EQUIPMENT, FURNISHINGS, TOYS: Certain amenities and toys, sports equipment, bicycles (referenced in Paragraph G below), etc. (collectively, "Recreational Equipment"), may be supplied for the entertainment of Occupant and guests only. The selection of such items may vary from time to time. Use of such items is at the sole risk of Occupant and guests. Recreational Equipment is provided for use "AS IS" and any equipment believed by Occupant to be damaged or unsafe or defective in any way must not but used, and Kirkwood Collection must be notified promptly. Occupant accepts full responsibility for the care of the Recreational Equipment used for any activity and will be responsible for the replacement at full retail value of any equipment damaged or not returned. Use of such items is at the sole risk of Occupant and guests. Do not use any equipment with which you are unfamiliar or uncomfortable using. Occupant accepts full responsibility for dangers inherent in such use, including but not limited to horseplay in the pool area, around furnishings and the home, or on wet floors.
G.BICYCLES: With respect to any bicycles provided, any person regardless of age, must respect all rules of the road under California law and any rules of the City. California law provides that all persons under the age of 18 must wear a helmet while riding a bicycle on any public road. Bicycle riding is fun and healthy, but presents the risk of physical injury or death resulting from rider error, equipment malfunction and collision with vehicles, other bicycles, inanimate objects and persons, and road conditions. A bicycle safety brochure produced by the California Department of Motor Vehicles is included in the house manual. Please review it before using any bicycles.
22. CRIMINAL ACTIVITY: All criminal activity, including but not limited to the possession or use of illegal drugs at the home is strictly prohibited, and such criminal activity shall cause occupancy to be terminated. In case of such termination, without limiting any other right or remedy, Owner and AHC shall retain such sums as have been paid by Occupant.
23. ENFORCEMENT OF NOISE, PARKING & NEIGHBOR RULES: Please remember that you are renting a home in a neighborhood and respect your neighbors. The City, rental owners, neighborhood groups and individuals have worked together to develop a special set of rules for vacation rental properties in order to maintain harmony between residents and vacation guests, and to maintain the safety and desirability of neighborhoods. These rules are incorporated into the Vacation Rental Ordinance, which in turn incorporates the Noise Ordinance and other areas of the City Code. A summary of areas covered is also found in the City's "Good Neighbor Brochure For Vacation Rentals", a copy of which is provided to Occupant in the Property's house manual. The Vacation Rental Ordinance, the Good Neighbor Brochure, and other valuable vacation rental information and resources can be viewed on the City's website at: City Vacation Rental Resources.
Noise is one of the biggest areas of concern. Under the Vacation Rental Ordinance, Occupant must not create unreasonable noise disturbances, engage in disorderly conduct, or violate provisions of the City Code or any state law. Generally, any TV audio or music, or any other noise (including but not limited to loud or animated conversations, screaming or laughter) that can be heard from the property line is considered a noise violation. Any radio receiver, musical instrument, loudspeaker, sound amplifier, or any device for the playing or reproducing of any sound shall be conducted within the fully enclosed home and shall not be audible at the property line.
By signing below, Occupant acknowledges that Occupant has been informed of and has had an opportunity to review and ask questions regarding the Good Neighbor Brochure and the Vacation Rental Ordinance. Further, Occupant agrees to comply with the City Code, including but not limited to the Vacation Rental Ordinance and Noise Ordinance. Occupant, as the designated Responsible Person, acknowledges and accepts responsibility for sharing this information with all overnight and daytime guests and agrees to these terms on behalf of all occupants and guests.
Violation of these ordinances may result in the imposition of fees, fines and penalties against Occupant and Owner of the Property from the City or police department, and may even result in the loss of Owner's vacation rental license. Occupant shall be responsible for all fees, fines and penalties, or any other such damages suffered by Owner as a result of Occupant's occupancy of the Property. Occupant further agrees that an additional charge of $50 per incident for Owner's time in the event response is required for Occupant violation of any ordinance or this Agreement.
24. ACCESS CODE, LOCKS, ALARM: Upon arrival, Occupant will receive the access code for entry and a garage remote. Occupant acknowledges that locks to the Premises have not been re-keyed and the keypad may or may not have been re-coded. Keys and openers may not be duplicated, the access code is not to be distributed to any person other than an authorized guest. If the Premises are alarmed, Occupant will be responsible for any and all false alarm response charges by the alarm company and/or the police department.
25. ATTORNEY FEES: In any action or proceeding arising out of this Agreement, including but not limited to any action for recovery of possession of the Premises or for property loss or damage, the prevailing party shall be entitled to their reasonable attorney fees and costs.
26. LIMITATION OF LIABILITY OF OWNER, KIRKWOOD COLLECTION AND AHC: In the event of any claim for damages against Owner, Kirkwood Collection and/or AHC for any reason, whether based on breach of contract or tort, any recovery shall be limited to reimbursement of all sums actually paid by Occupant under this Agreement. Under no circumstances shall Owner, Kirkwood Collection and/or AHC be liable for and Occupant hereby waives any claim for consequential, punitive and/or exemplary damages. Owner, Kirkwood Collection and/or AHC shall not be liable for events beyond their control that may interfere with Occupant's occupancy, including but not limited to Acts of God, acts of governmental agencies, fire, strikes, war, or inclement weather. NO REFUND will be offered in these circumstances. Nothing in this Section 26 is intended to limit the provisions of Section 18 above.
27. VIOLATION OF AGREEMENT: Occupant acknowledges and agrees that this Agreement is not a rental agreement subject to California Civil Code Sections (PHONE NUMBER HIDDEN) but is intended to be an agreement for transient occupancy, even if the term of occupancy exceeds 30 days. If Occupant violates any of the conditions of this Agreement, AHC, Owner or Kirkwood Collection may terminate this Agreement and enter Premises. Upon notice of termination of this Agreement, Occupant and all other persons shall vacate the Premises immediately and forfeit all rents, prepaid fees and charges, and security deposits.
28. MISCELLANEOUS: Time is of the essence in all provisions of this Agreement. All prior agreements between Owner and Occupant are with respect to the current reservation are incorporated into this Agreement, along with any addendums and attachments, which constitutes the entire contract. It is intended as a final expression of the parties' agreement, and may not be contradicted by evidence of any prior agreement or contemporaneous oral agreement. Any provision of this Agreement that is held to be invalid shall not affect the validity or enforceability of any other provision in this Agreement. The waiver of any breach shall not be construed as a continuing waver of the same or any subsequent breach. This agreement shall be governed and construed in accordance with the laws of the State of California. This Agreement is deemed to have been entered into in Palm Springs, California, and California shall have personal jurisdiction over the parties and the county in which the premise is located. The Indio Branch of the Superior Court of Riverside County, California, shall be the forum and venue for any legal action brought in relation to this Agreement.
29. LIQUIDATED DAMAGES: OCCUPANT ACKNOWLEDGES AND AGREES THAT CERTAIN CHARGES DESCRIBED HEREIN, INCLUDING BUT NOT LIMITED TO SECTIONS 6, 7, 10, 11 and 23, ARE A REASONABLE ESTIMATE OF OWNER'S DAMAGES IN THE EVENT OF VIOLATIONS OR DEFAULT IN SUCH PROVISIONS OF THIS AGREEMENT BY OCCUPANT. THE PAYMENT OF SUCH AMOUNTS AS LIQUIDATED DAMAGES IS NOT INTENDED AS A FORFEITURE OR PENALTY WITHIN THE MEANING OF CALIFORNIA CIVIL CODE §3275 OR §3369 BUT IS INTENDED TO CONSTITUTE LIQUIDATED DAMAGES TO AHC UNDER CALIFORNIA CIVIL CODE §§(PHONE NUMBER HIDDEN), AND 1677. NOTHING IN THIS AGREEMENT WILL, HOWEVER, BE DEEMED TO LIMIT OCCUPANT'S LIABILITY TO OWNER, KIRKWOOD COLLECTION OR AHC FOR DAMAGES OR INJUNCTIVE RELIEF FOR BREACH OF OCCUPANT'S INDEMNITY OBLIGATIONS UNDER THIS AGREEMENT, FOR ATTORNEYS' FEES AND COSTS AS PROVIDED IN THIS AGREEMENT, CLAIMS MADE AGAINST OWNER, KIRKWOOD COLLECTION AND/OR AHC BY THIRD PERSONS WHERE THE CLAIMS ARE A RESULT OF A DEFAULT BY OCCUPANT UNDER THE TERMS OF THIS AGREEMENT.
30. OWNER AND MANAGEMENT: Occupant is to communicate with the Kirkwood Collection for all matters relating to this Agreement and the Premises, to the attention of Alex Kirkwood (unless otherwise directed) at ((PHONE NUMBER HIDDEN) or (EMAIL HIDDEN) Kirkwood Collection is authorized agent for all purposes under this Agreement for the owner of the Premises, Alexander Kirkwood, Kimberly Kirkwood, Charles Kirkwood Jr., and Linda Kirkwood. Acme House Company is Owner's agent for purposes of certain property management functions.
---
Strict
Cancel up to 7 days before your trip and get a 50% refund plus service fees back.
---
---
The Wexler House is a great place to stay in Palm Springs. The house is a perfect mid century modern, exactly what you think of when you think of Palm Springs. Check in was smooth and seamless and the property manager was super helpful and responsive to communication. The location was great, and just a quick ten minute drive to all of the restaurants and bars on Palm Canyon Drive.
---
WOW! This place is amazing and worth every penny. The pool and backyard are phenomenal, and where we spent the vast majority of our time. Everything is ultra clean. It's a huge house with a ton of bedrooms - we comfortably had nine girls there and never wanted for shower or bed space. There is a fully stocked kitchen, towels, bedding, laundry facilities, televisions, etc. The host was incredibly responsive and helpful, and even offered restaurant and grocery store tips on our first day. I would *strongly* recommend this AirBNB to anyone looking in Palm Springs.
---
From the moment you walk into the Wrexler house you know you're in Palm Springs. The house is just gorgeous and furnished beautifully. It has all the amenities you could possibly want in a house in upscale luxury style. The beds were super comfortable and the pool area was just so lovely, our 2 year old just wanted to stay in the pool all day. The house is in a lovely part of town, nice and quiet yet still very close to all the hot spots. We thoroughly enjoyed our time here and no-one wanted to leave. Hope to be back one day to mid century heaven!
---
Our WexlerHouse stay provided a perfect spot for a multi generational vacation. Everyone loved the pool and entire outdoor space. We ate outside, relaxed in the hammock and read on the lounge chairs. The ease of everything was amazing. The location superb. Steve, the concierge, started our stay with so much helpful information about PalmSprings as well as about the house. And Alex did so much to make everything run smoothly. We hope to return soon.
---
Response rate:
100%
Response time:
within a few hours
Exact location information is provided after a booking is confirmed.
Explore other options in and around Palm Springs
More places to stay in Palm Springs: